Asparagus Ricotta Frittata is a simple and delicious recipe that's made with fresh asparagus, shallots, ricotta cheese, eggs, and mozzarella. This classic Italian egg dish is simple to make and perfect for any occasion.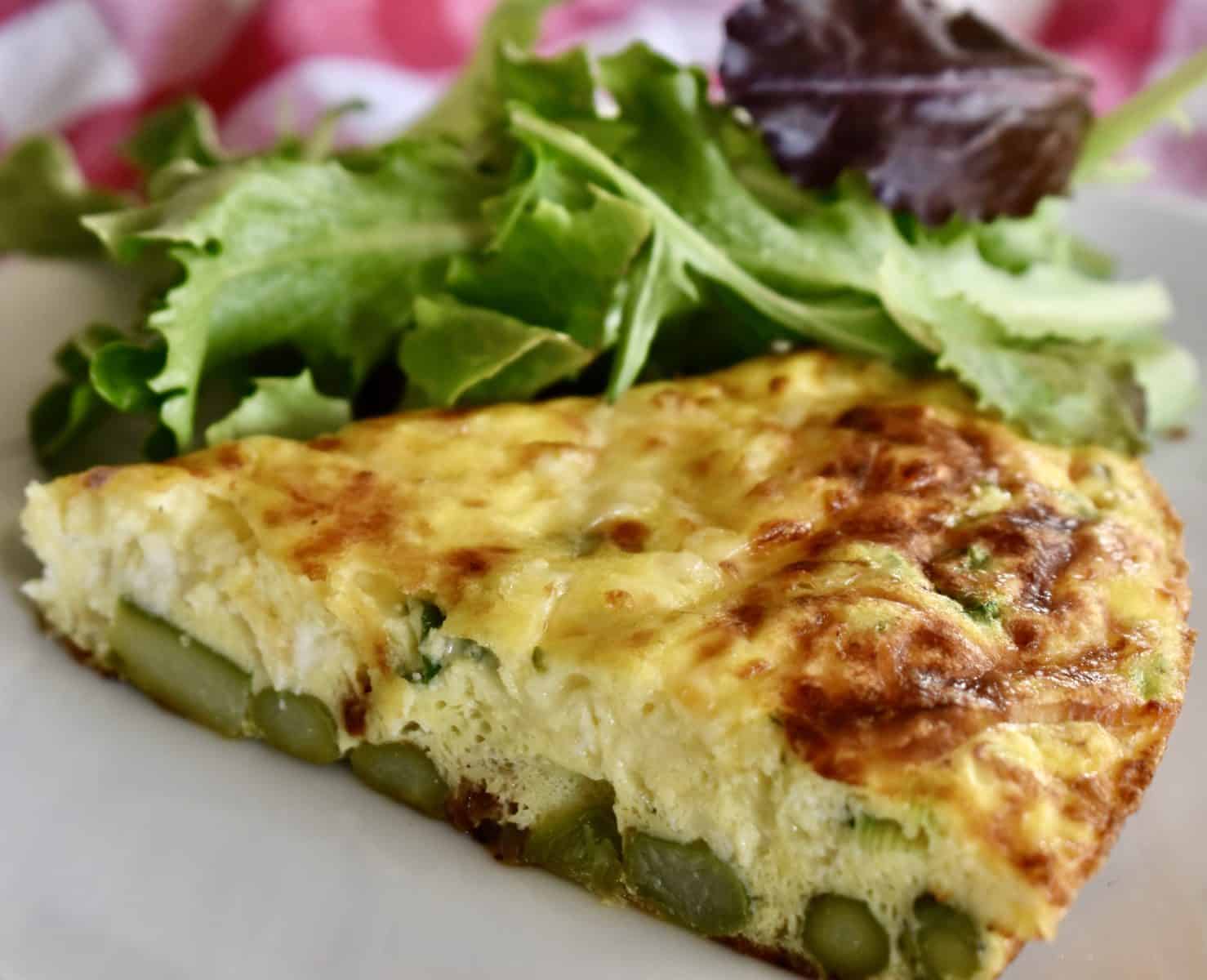 Frittatas are simple to put together and once you've made one, you are capable of making hundreds! They are a great way to use leftover meats or veggies, and are perfect for brunch, a light lunch, or even a late night dinner.
But what is a frittata? Frittata is an Italian egg-based dish. It is similar to a crustless quiche or an omelette. It usually includes meats, veggies and cheeses, and is cooked partially on the stove, then finished in the oven.
This asparagus ricotta frittata is a great way to use the abundance of spring asparagus that is available come February to June. This recipe is particularly popular for Italian Easter Brunch and is great to include aside other favorites like Italian Easter Bread.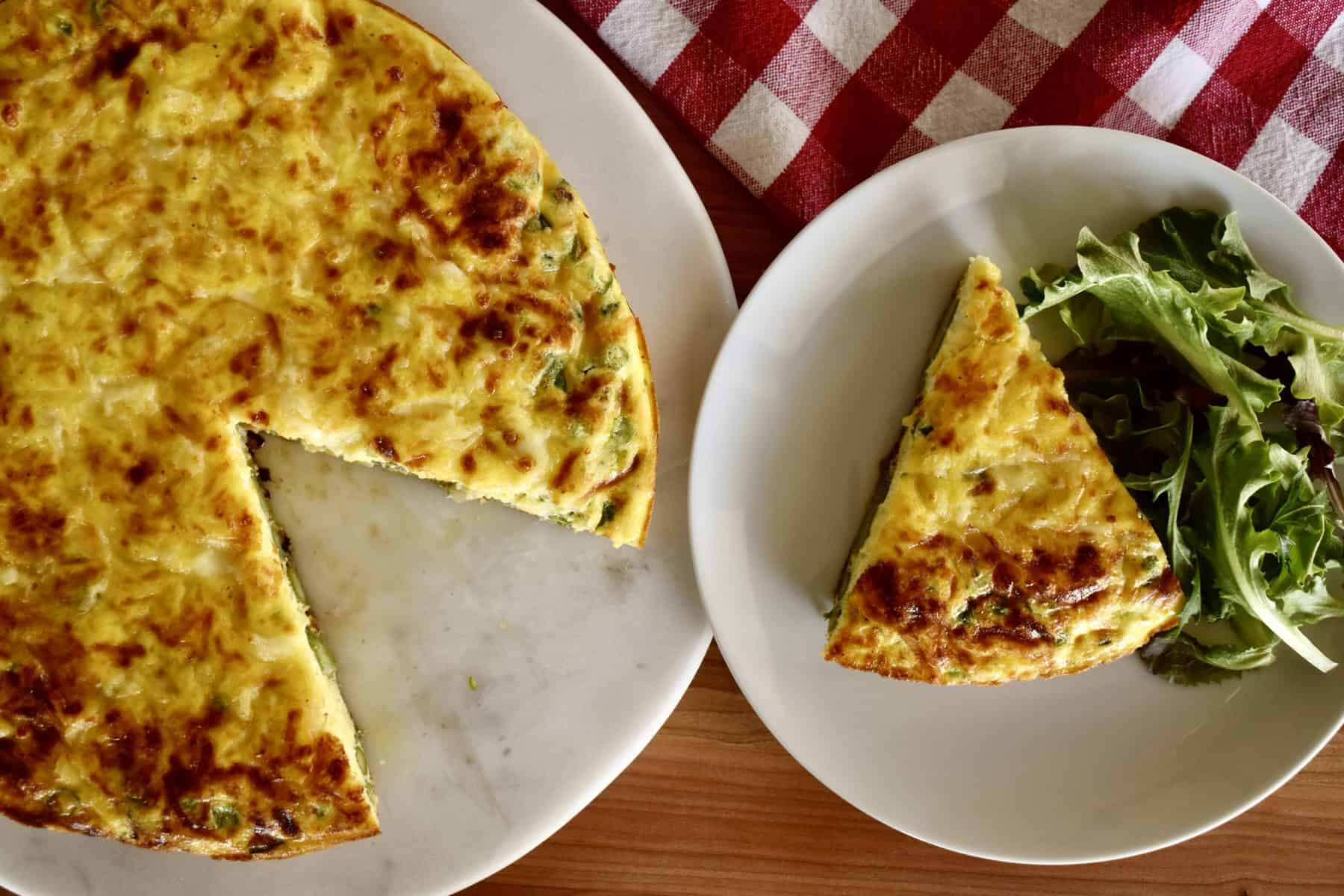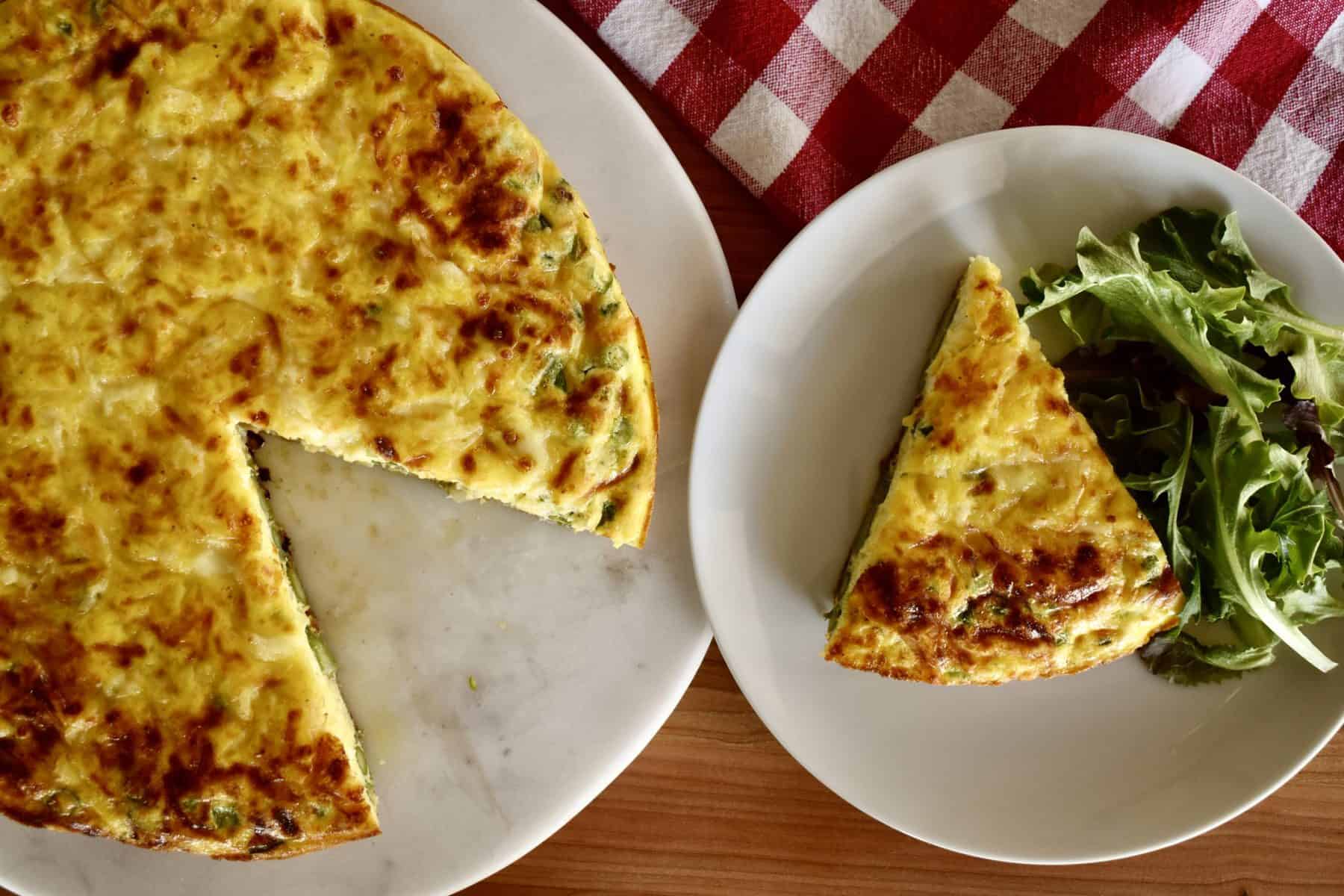 So give this recipe a try and see how easy and quick it is to make frittata. And be sure to check out my other easy Italian breakfast recipes below.
The Best Frittata Pans
The key to making a show-stopping frittata is using the right pan. Otherwise, you risk having a burnt bottom or having to scrape the eggs out of the pan.
You need a pan that is capable of moving from the stovetop to the oven. I recommend a nonstick skillet or a cast iron skillet. My favorite nonstick skillet is the Zwilling J.A. Henkels Spirit Ceramic Non-Stick Frying Pan. I've had mine for years and I love it's nonstick capabilities and that it easily moves from the stove to oven.
If you prefer to use cast iron, make sure you use one that is well coated. Also, be aware of your temperature since cast iron will get hotter than most pans. The Le Creuset Cast Iron Skillet is a great option. It's an investment piece that will last you forever.
How to Make Asparagus Ricotta Frittata
Firstly, whisk together the egg mixture. Here I used seven large eggs, a cup of ricotta cheese (part skim works), diced green onion, and seasonings. Set aside while you prepare the asparagus.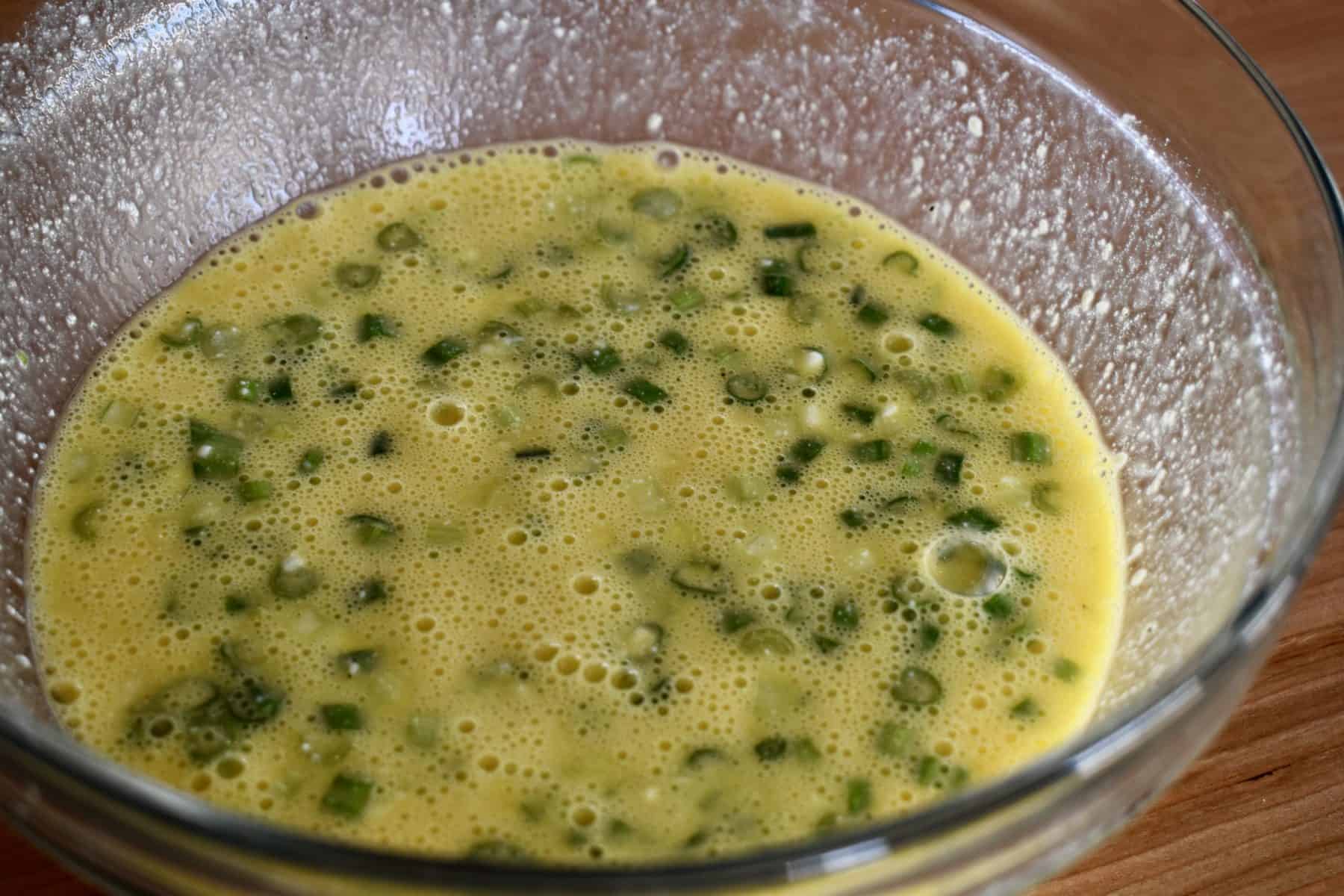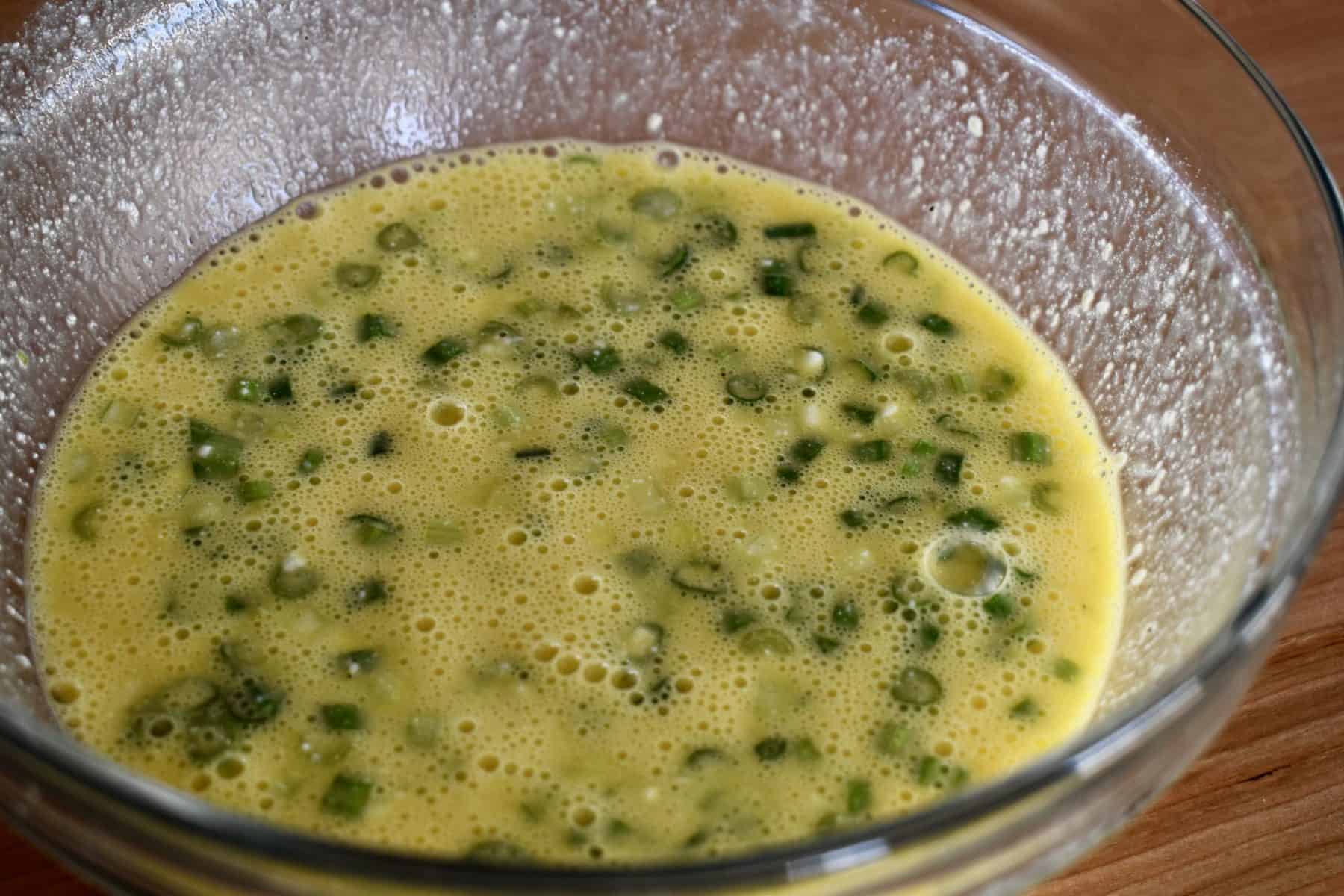 Heat olive oil in a nonstick or cast iron skillet over medium heat. Add in a diced shallot and trimmed, diced asparagus. Be sure to snap off the hard bottoms of the asparagus before cutting them into 1 inch pieces.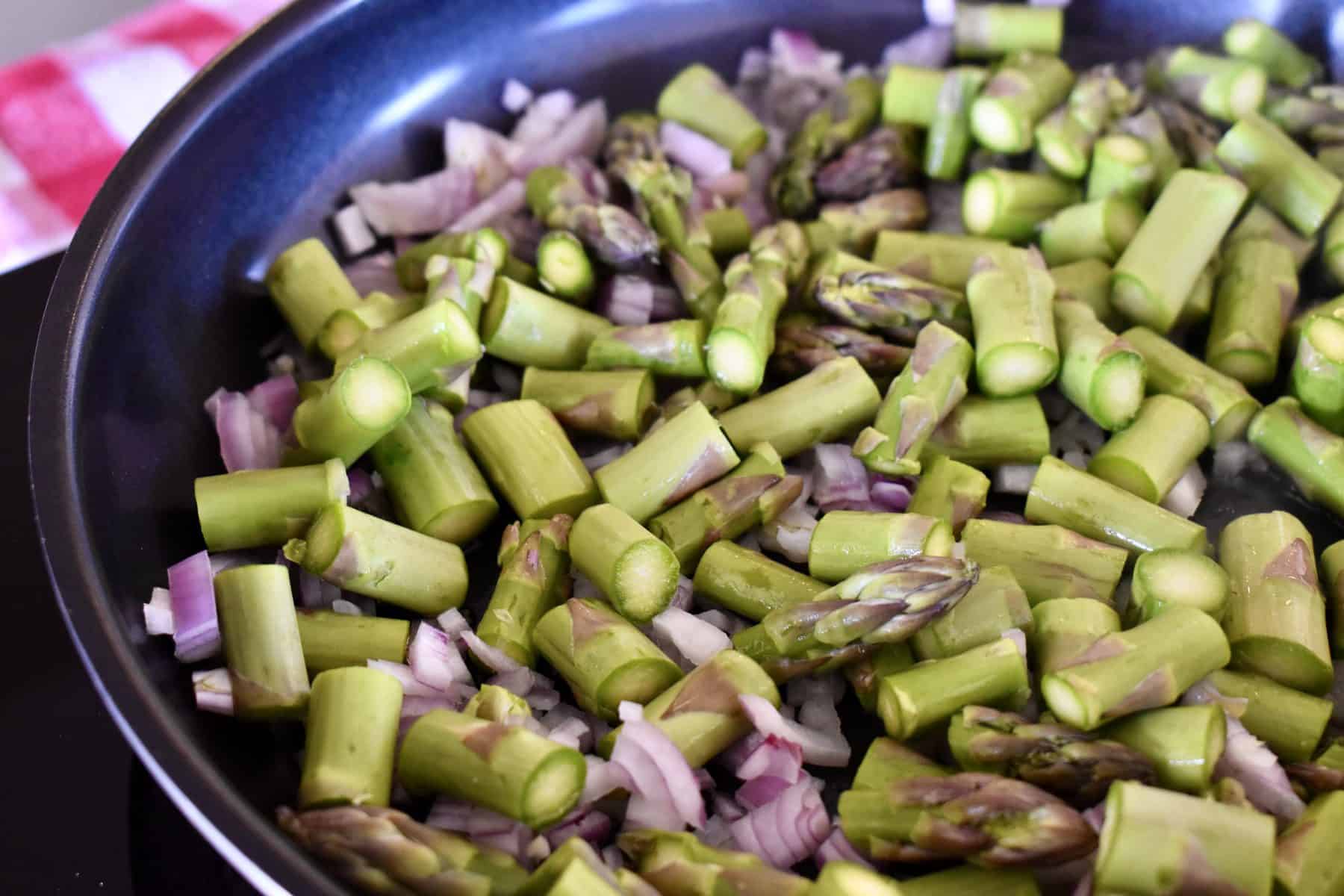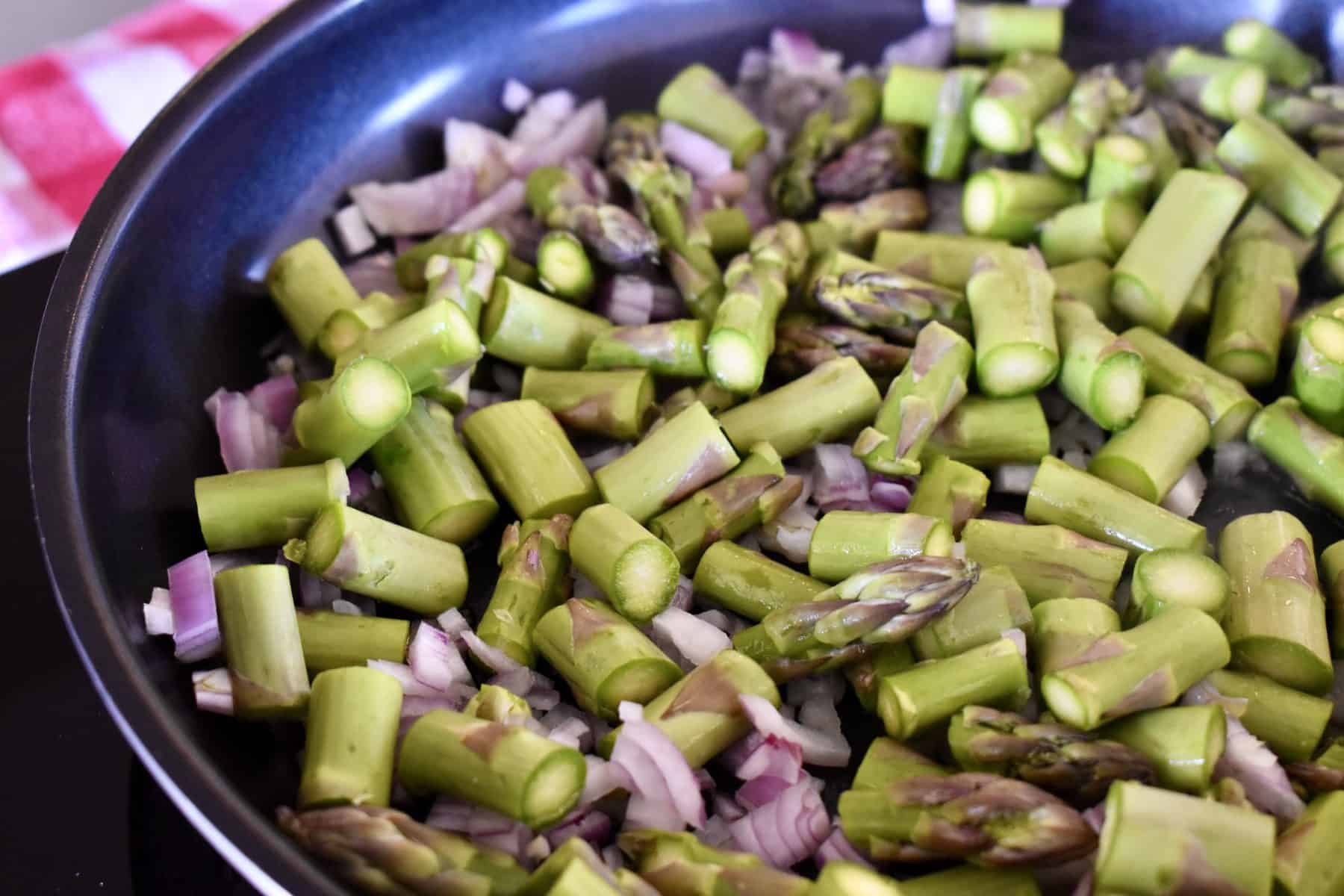 Cook the vegetables until al dente - this will happen when the asparagus has softened but still has a bite to it.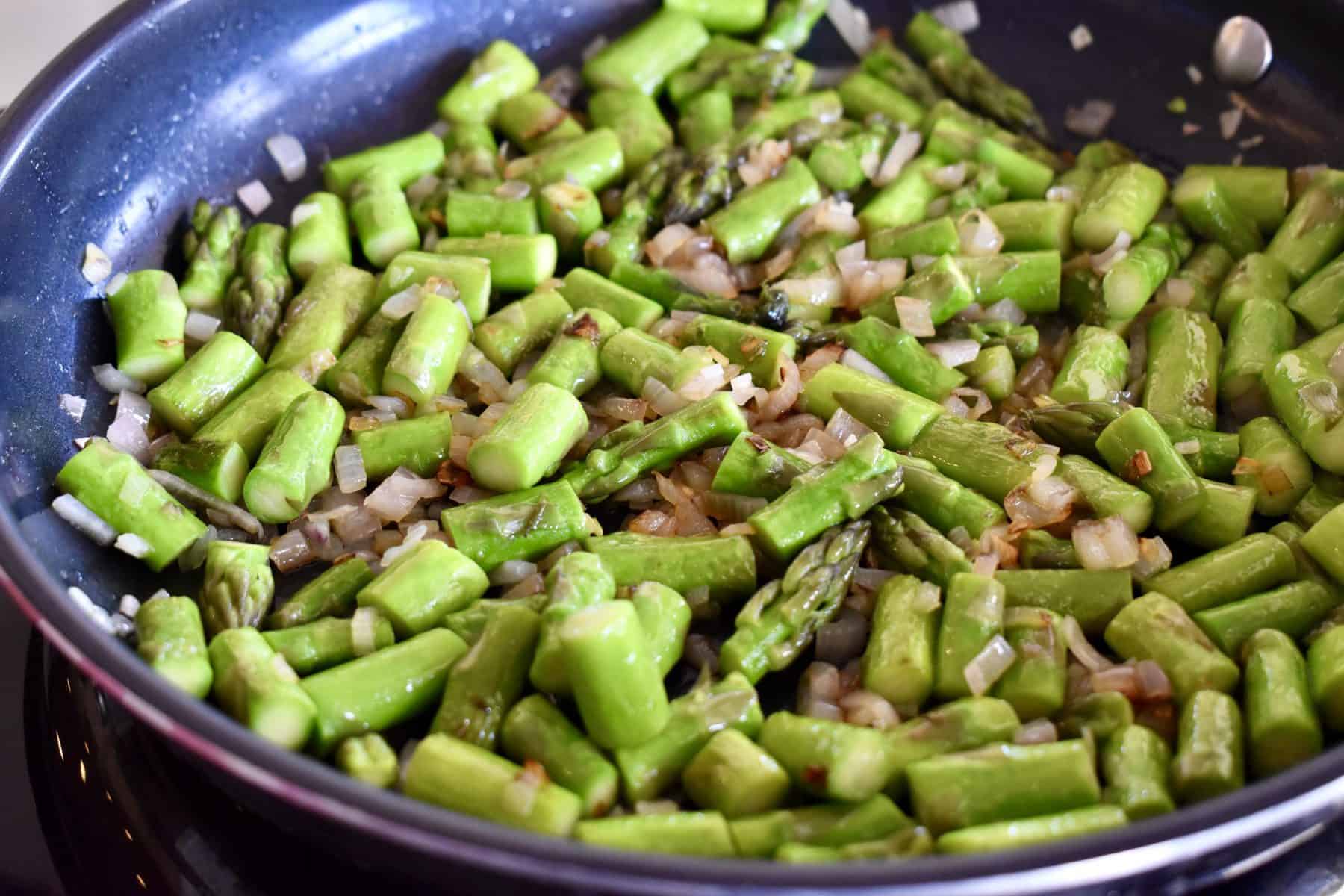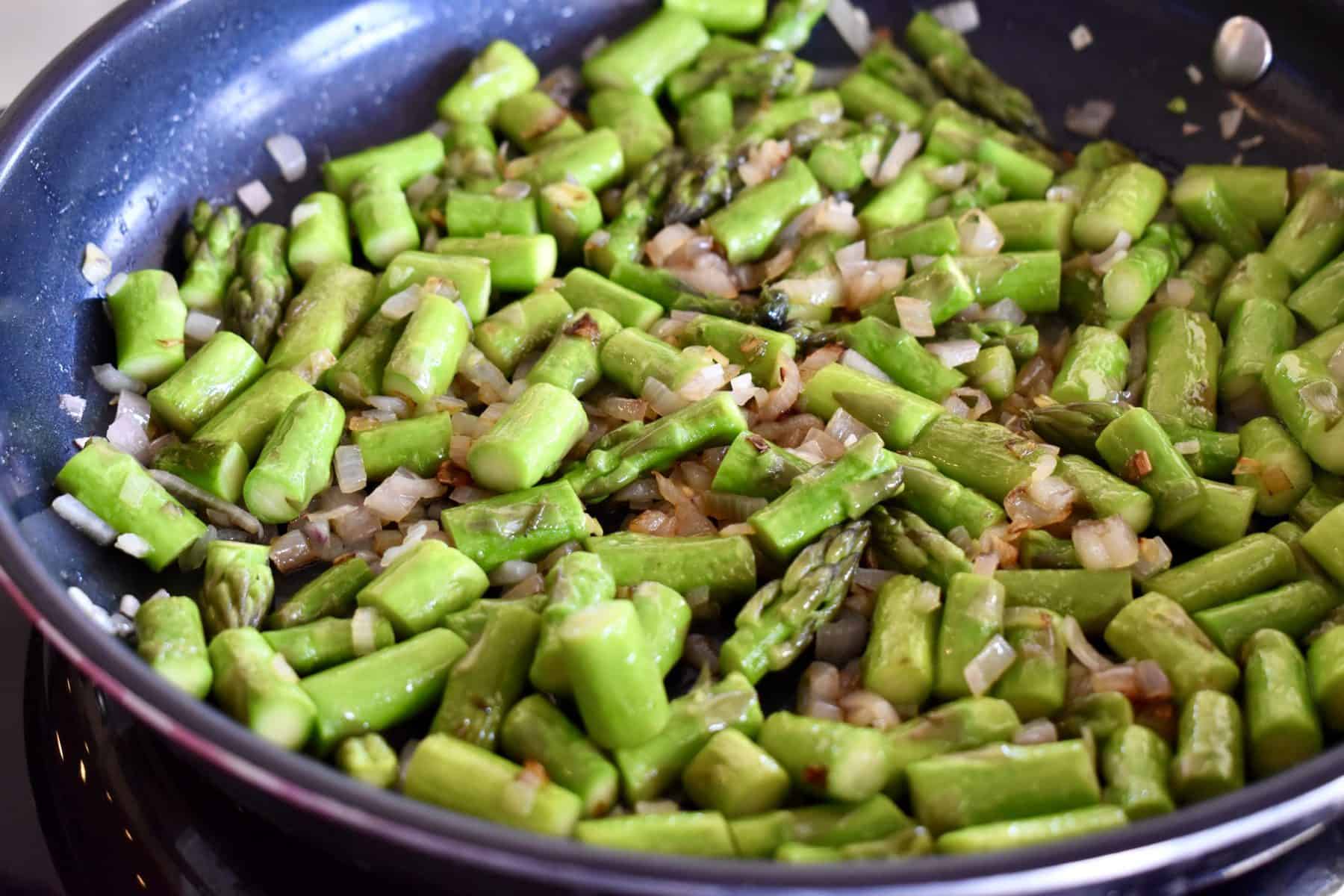 Next, arrange the asparagus so that it covers the bottom of the pan. Slowly pour in the egg mixture to cover the asparagus.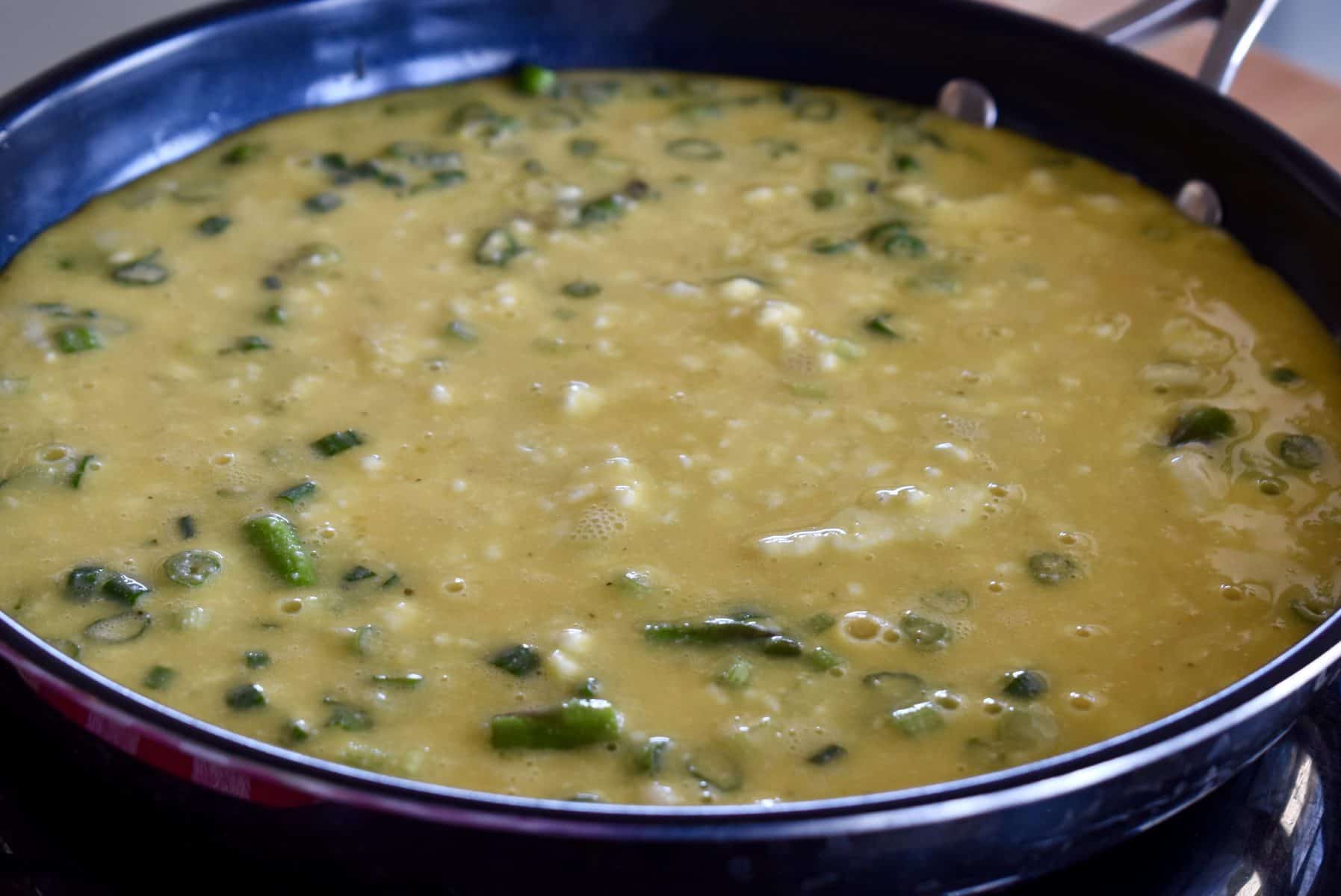 Let the egg mixture sit, without stirring, for about 3-4 minutes, or until the eggs begin to set and pull away from the edges of the pan. Then, sprinkle the mozzarella and parmesan on top of the eggs.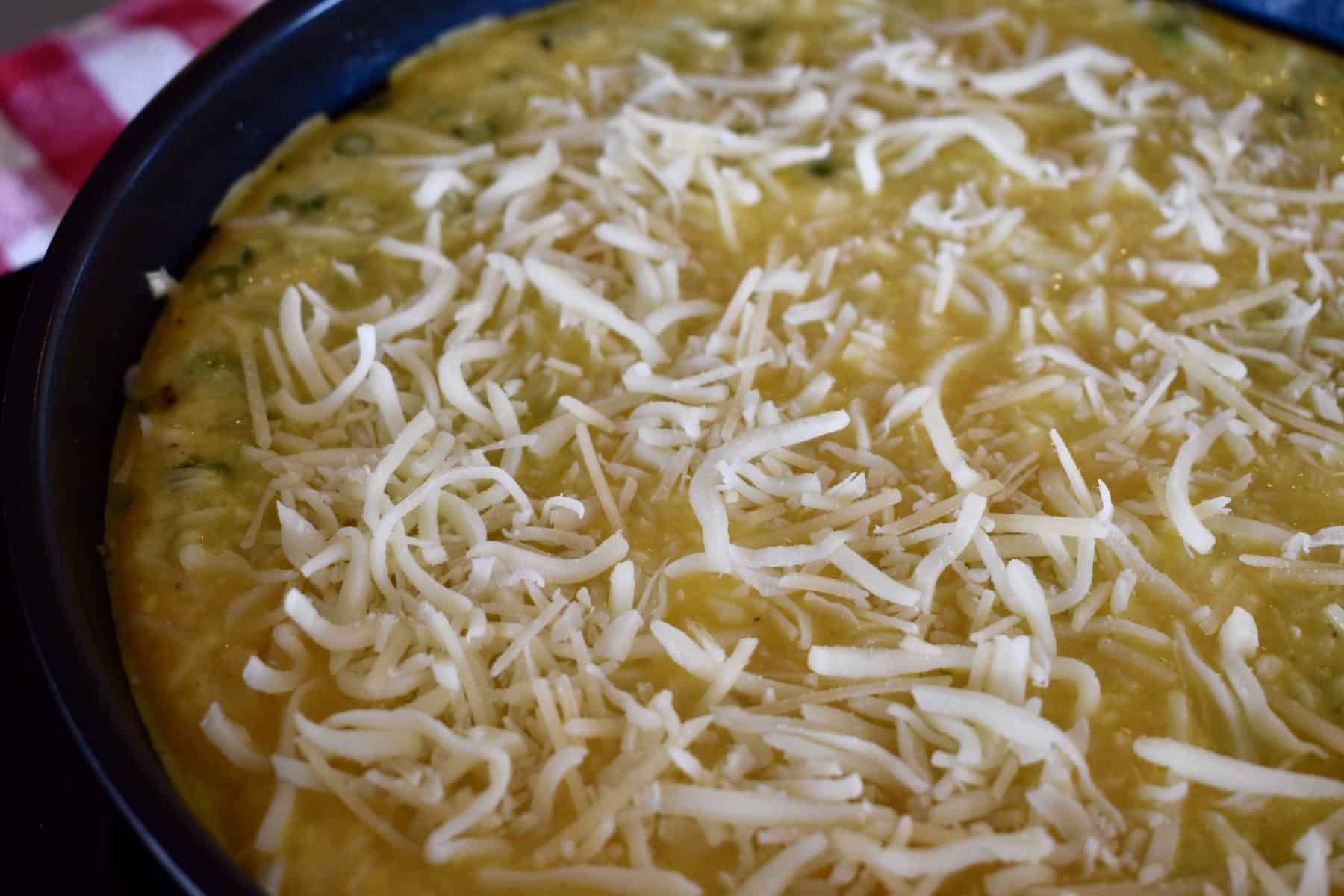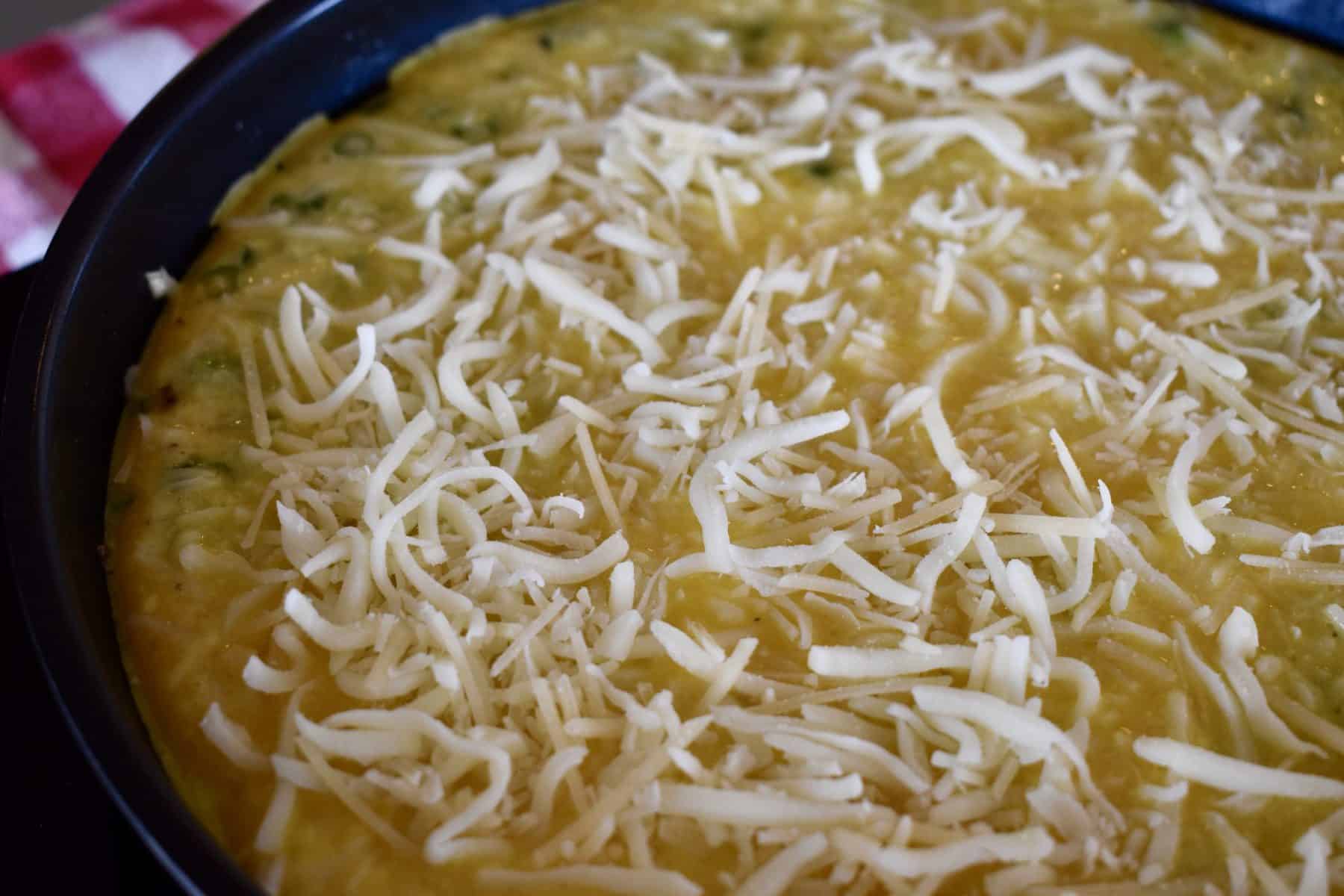 Move the frittata to the oven and let bake until the eggs are set, about 10-12 minutes. You can test for doneness by inserting a butter knife in the center of the eggs and see if comes out clean. Place the pan under the broiler for a minute or two if you want to brown the cheese slightly.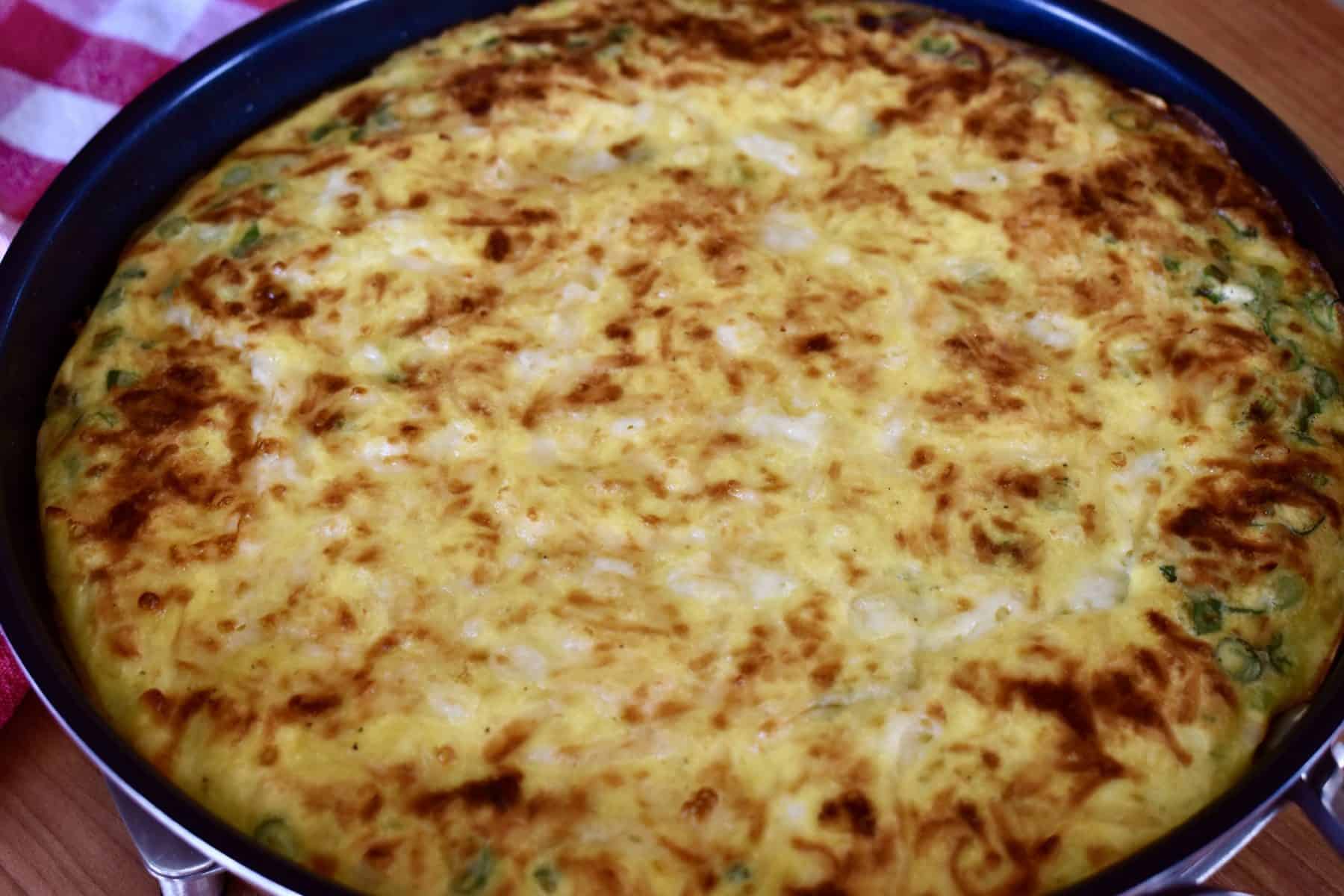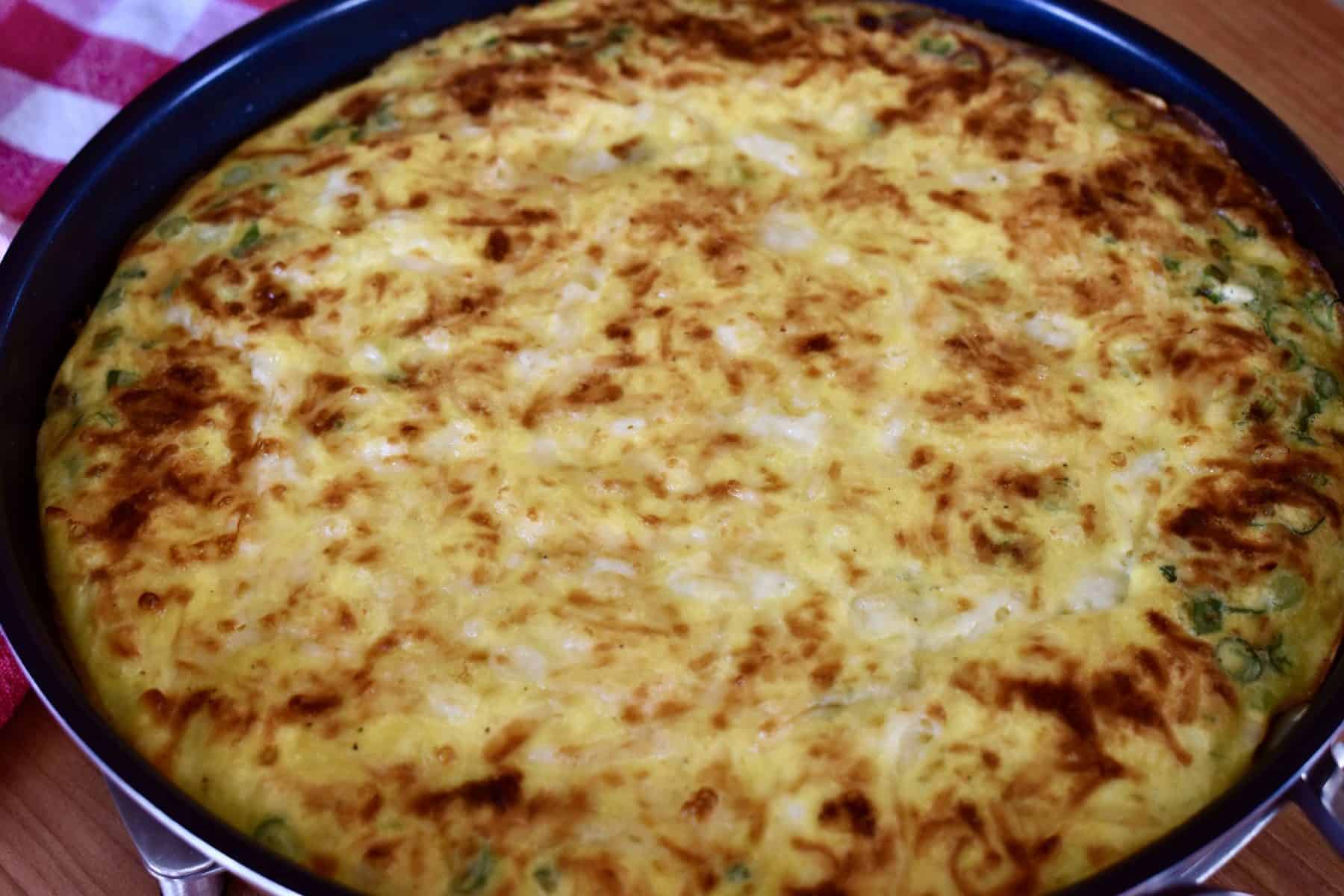 How to serve asparagus ricotta frittata
Let the frittata cool in the pan slightly before serving. You can serve directly out of the pan or transfer to a plate or platter for serving.
If you want to transfer the entire dish to a plate for serving, you will need to loosen the frittata from the pan. To do this, run a rubber spatula around the edges and underneath of the frittata. Then, tilt the pan over the plate and gently coax the frittata onto the plate.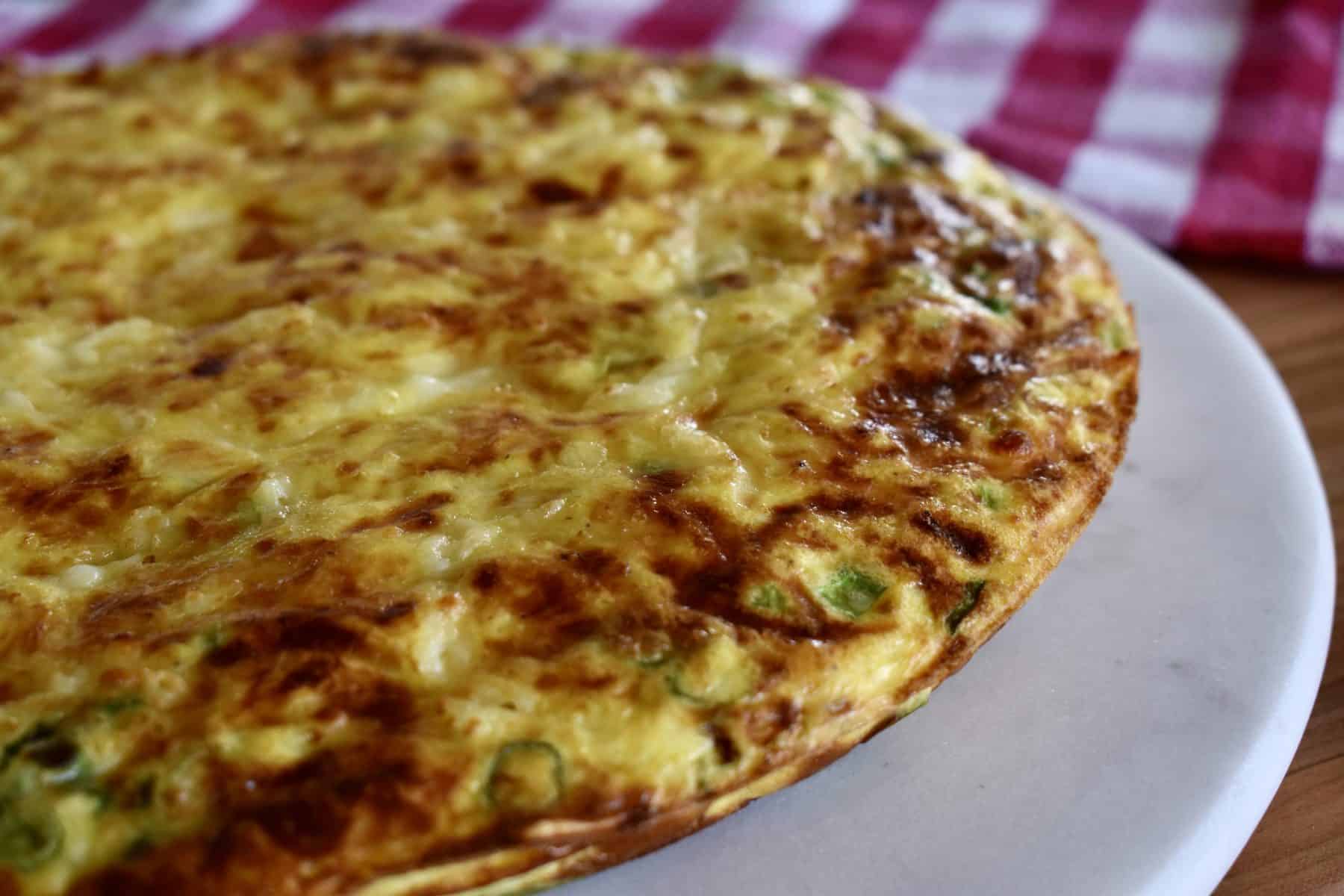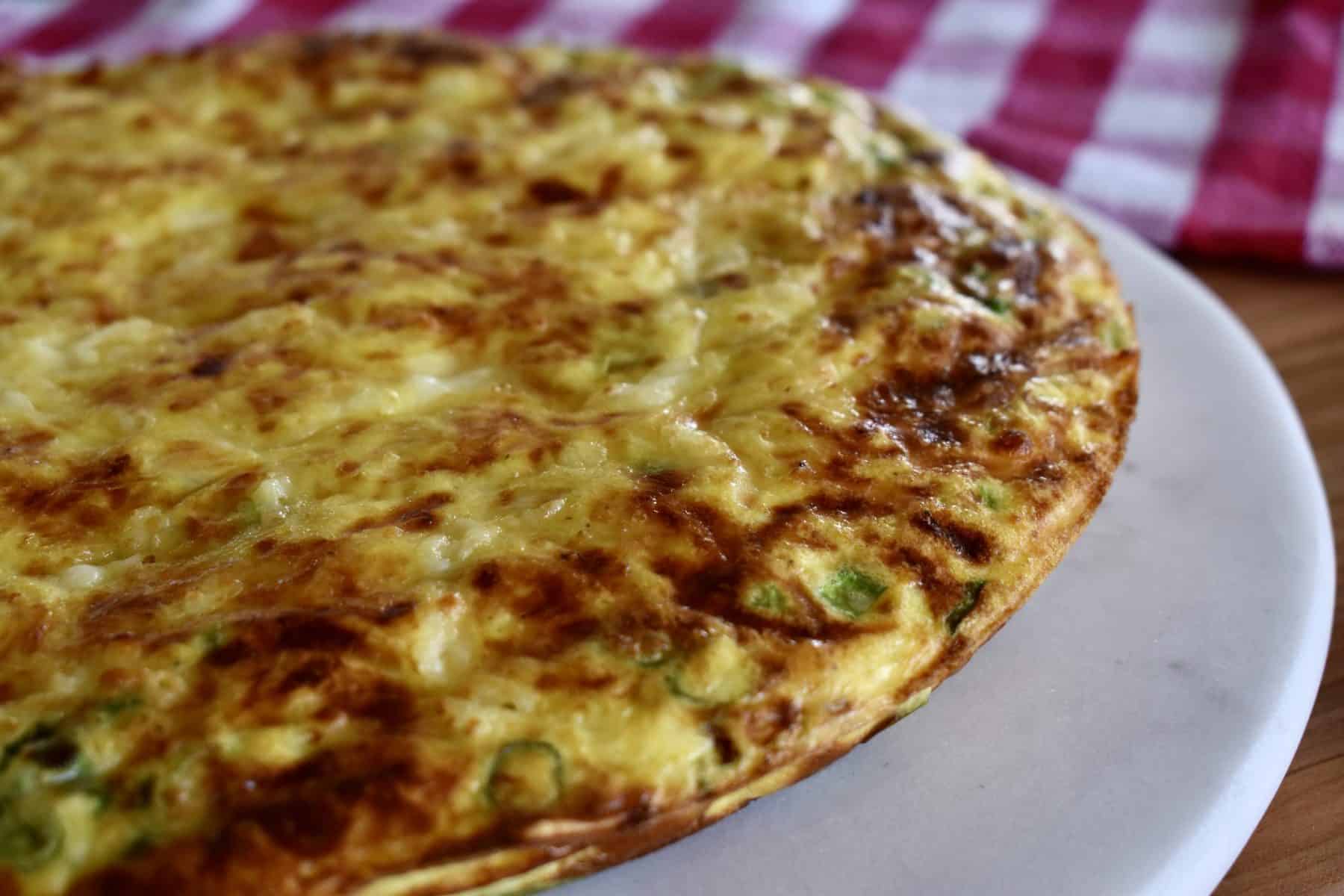 You can then slice and serve from the platter. Before serving, feel free to garnish the frittata with diced herbs or green onions. I like to serve mine as part of a brunch buffet or paired with a simple green salad.
Italian Breakfast Ideas
For Italians, breakfast is usually a simple meal. Often it involves a pastry or bread, fruit, and coffee or espresso. Here are some delicious Italian-inspired breakfasts that are great for any occasion.
Panettone French Toast Casserole
Olive Oil Bundt Cake with Lemon Honey Glaze
Hope you love this Asparagus Ricotta Frittata! Be sure to comment below if you try it. Enjoy!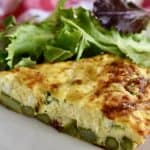 Print Recipe
Asparagus Ricotta Frittata
Tasty and elegant frittata that's great for special occasions but simple enough for everyday breakfast. Makes for great leftovers too.
Equipment
10 inch nonstick frying pan (oven safe)
Ingredients
2

tablespoons

olive oil

1

large

shallot, diced

1

pound

asparagus, trimmed and cut into 1 inch pieces

7

large

eggs

1

cup

ricotta cheese

(whole or part skim)

2

green onions, diced

½

teaspoon

kosher salt

¼

teaspoon

pepper

¾

cup

shredded mozzarella cheese

¼

cup

grated parmesan
Instructions
Preheat oven to 400 degrees.

Heat olive oil in a 10 inch nonstick skillet over medium heat. Add in shallots and asparagus and cook until asparagus is al dente; about 5 minutes.

Meanwhile, in a bowl whisk together the eggs, ricotta, green onions, salt and pepper. Pour the egg mixture over the aspargus and shallots so that the vegetables are evenly covered. Cook for about 3-4 minutes, or until you see the eggs at the edges of the pan beginning to set and pull away from the pan.

Sprinkle the cheeses evenly over top of the egg mixture.

Bake the frittata on the center rack of the oven for about 8-10 minutes, or until the eggs in the middle are set and no longer runny. Move the pan to the upper rack of the oven and broil for 1-2 minutes, or until the top of the frittata is bubbly and light golden in color.

Carefully remove the pan from the oven and let cool in pan for 5 minutes. Use a rubber spatula to run around the edges of the pan and slide the frittata onto the serving platter. Cut into 8 slices and serve warm or at room temperature.
Notes
This simple recipe is great to serve for brunch or holidays. You can substitute whatever veggies and cheese you have on hand. 
Nutrition