Ricotta Filling Recipe is a classic Italian ricotta cheese mixture that combines three types of cheeses and is perfect for filling manicotti, stuffed shells, or layering on lasagna.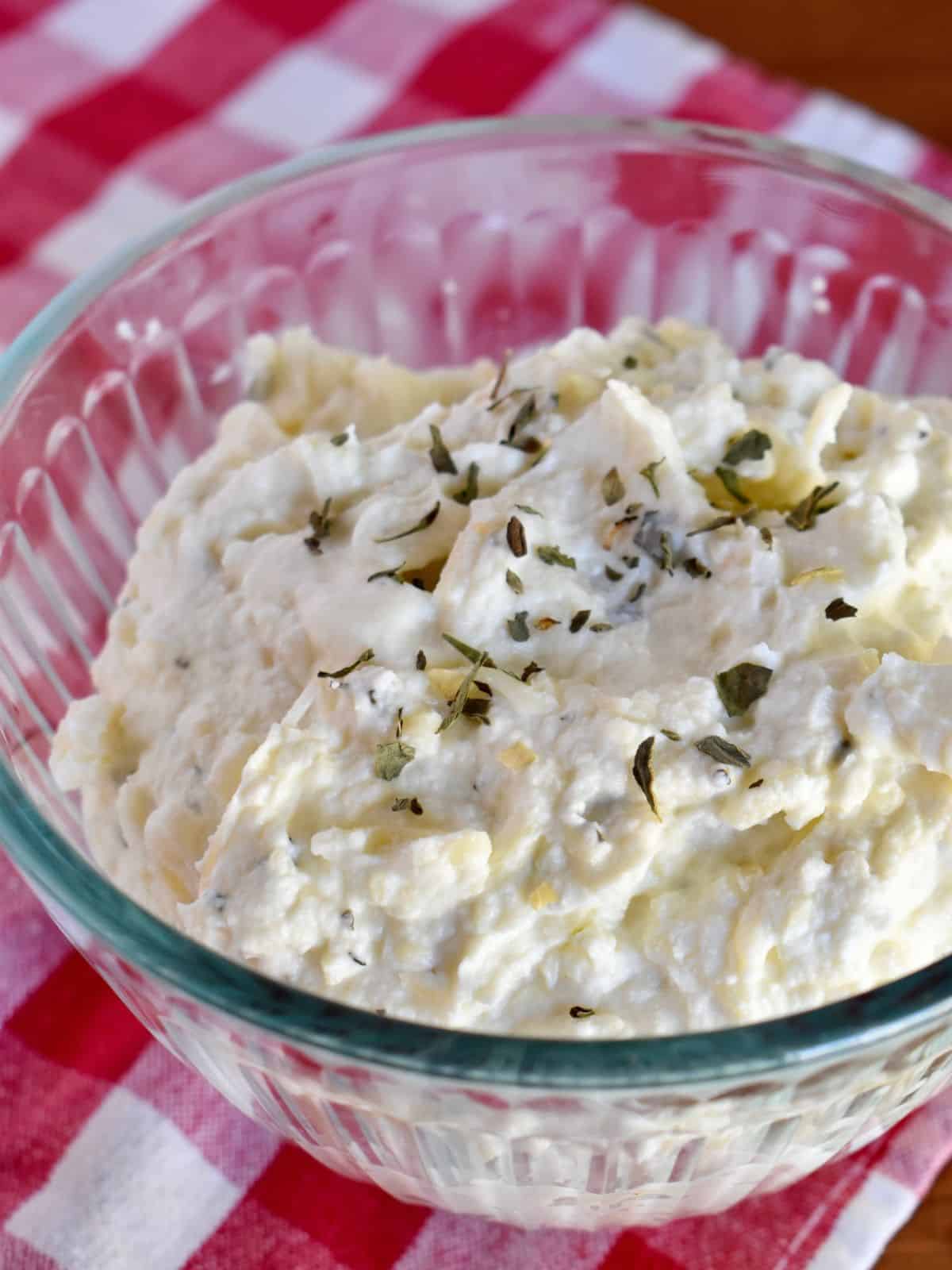 This ricotta filling recipe is the classic recipe that is used in so many Italian baked pasta dishes and is essential in Italian cuisine. It's creamy and easy to make, and perfect for laying in lasagna or using to stuff pasta shells.
If you love baked Italian pastas, be sure to try my Authentic Italian Mostaccioli recipe, Turkey Spinach Manicotti, or this flavorful Cheese Beef Stuffed Shells recipe.
You'll Love this Ricotta Filling Recipe!
This classic recipe for ricotta filling is so versatile and easy to make, it's sure to become your new favorite.
Once you make this filling, you'll see how easy it is to add creamy flavor to all of your pasta recipes. Made with just a few ingredients, and no eggs, you'll want to eat this straight from the bowl.
I like to keep things simple here. For this recipe you'll need a 15 ounce container of ricotta cheese, either whole milk or part skim work.
Combining the creamy ricotta with salty parmesan and melty mozzarella, really does give the filling the perfect balance of flavors. Plus, it's even better when it gets hot and melty and tastes so good with tomato sauce.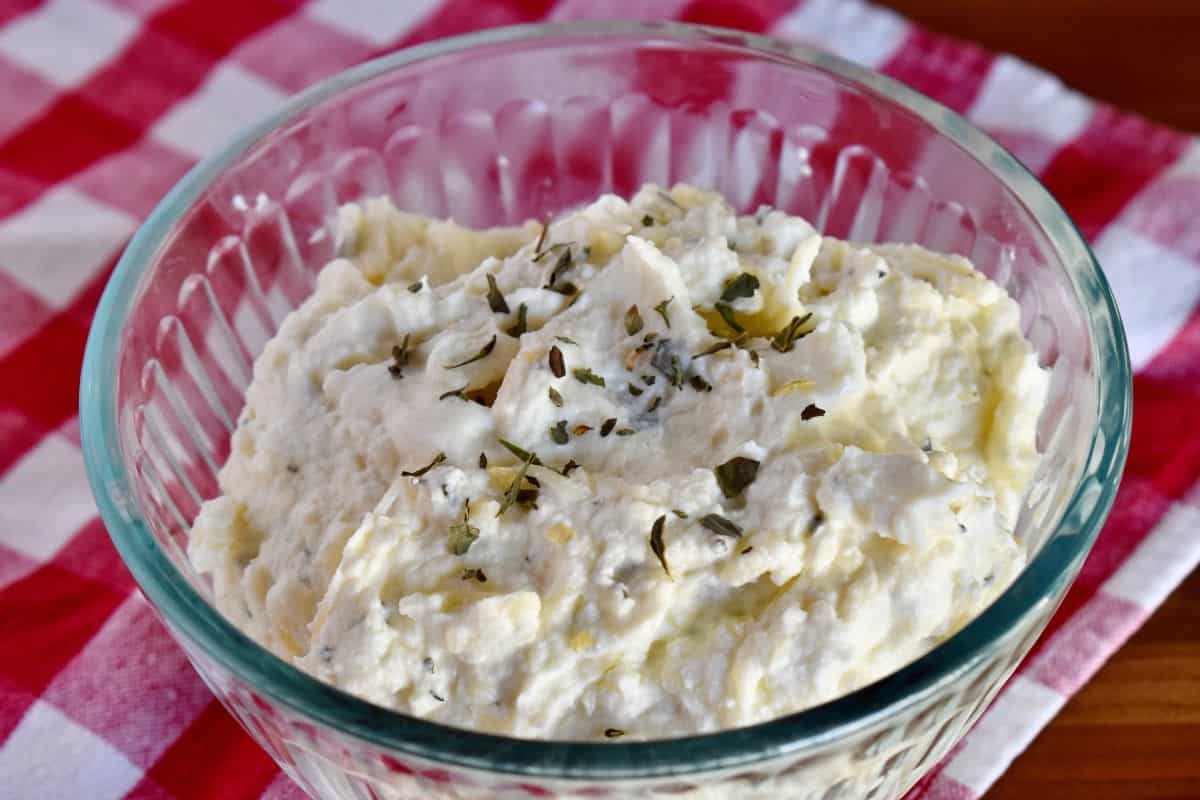 You can use this filling when making homemade lasagna, like my Italian Turkey Lasagna. It's also great to stuff manicotti crepes. You can use either the store-bought shells or make it the classic Italian way and use Italian Crepes.
This ricotta filling recipe comes together fast and doesn't require any difficult ingredients. It's the perfect way to add creaminess to all your Italian pasta dishes.
Ingredients for Ricotta Filling Recipe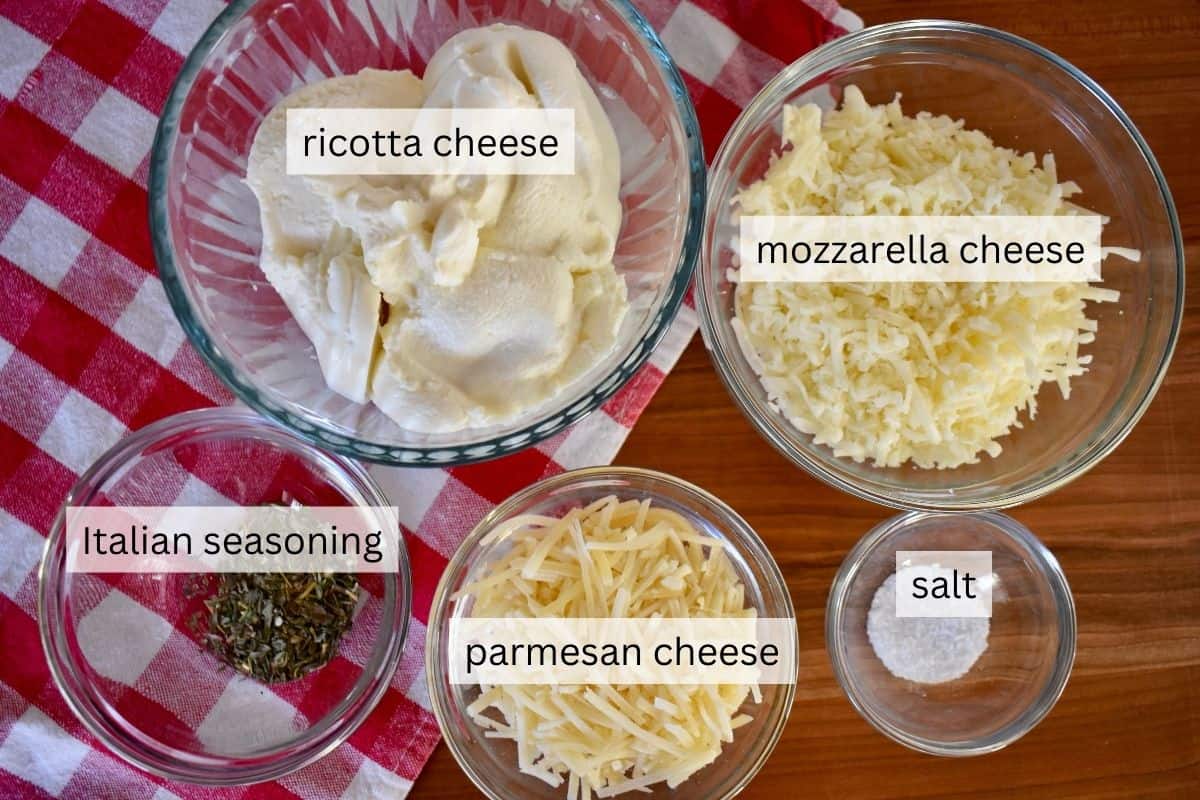 Ricotta cheese: use your favorite good quality store-bought or homemade ricotta cheese. Either the part-skim or whole milk ricotta cheese would work. You can find ricotta cheese in the dairy section at the grocery store. In a pinch, you could use cottage cheese instead, however, I don't recommend using cream cheese here.
Mozzarella: you want to use the dry mozzarella cheese (not the one in water) for this recipe. Otherwise the ricotta cheese mixture would be too wet. Grating the cheese is ideal rather than buying it pre-shredded.
Parmesan: parmesan cheese adds a salty bite to the ricotta filling recipe. Use your favorite brand. You could also substitute Romano cheese, or use a mixture of both.
Italian seasoning: I like to keep this dish very simple and just use an Italian seasoning blend. You could use whatever fresh herbs you have on hand like basil, parsley, or thyme.
Kosher salt: use kosher salt at your discretion to add flavor to the recipe. The salt may not be necessary depending how salty the parmesan is. A little bit of black pepper is great here too.
Variations
Change up the flavor of the ricotta filling recipe by adding your own favorite ingredients. Here are some recommended additions:
Spinach: cooked and drained spinach is a great addition to the filling. Chop the spinach well before adding the mixture.
Ground beef: you could add cooked ground beef. I also like to combine the ricotta with a little bit of meat sauce.
Lemon juice: lemon juice and lemon zest are a delicious addition to the ricotta cheese filling.
Parsley and basil: adding fresh herbs will bring out the flavors of the filling.
Roasted veggies: chop up and add in roasted veggies. This would add a delicious flavor to your dish when paired with the creamy ricotta cheese.
How to Prepare Ricotta Cheese for Lasagna
This ricotta filling recipe is super versatile and great for filling manicotti, jumbo shells, as a base for ricotta gnocchi, or layering in lasagna. Plus, there is no raw egg in here so it could be used to dress up veggies or as a dip with a drizzle of olive oil.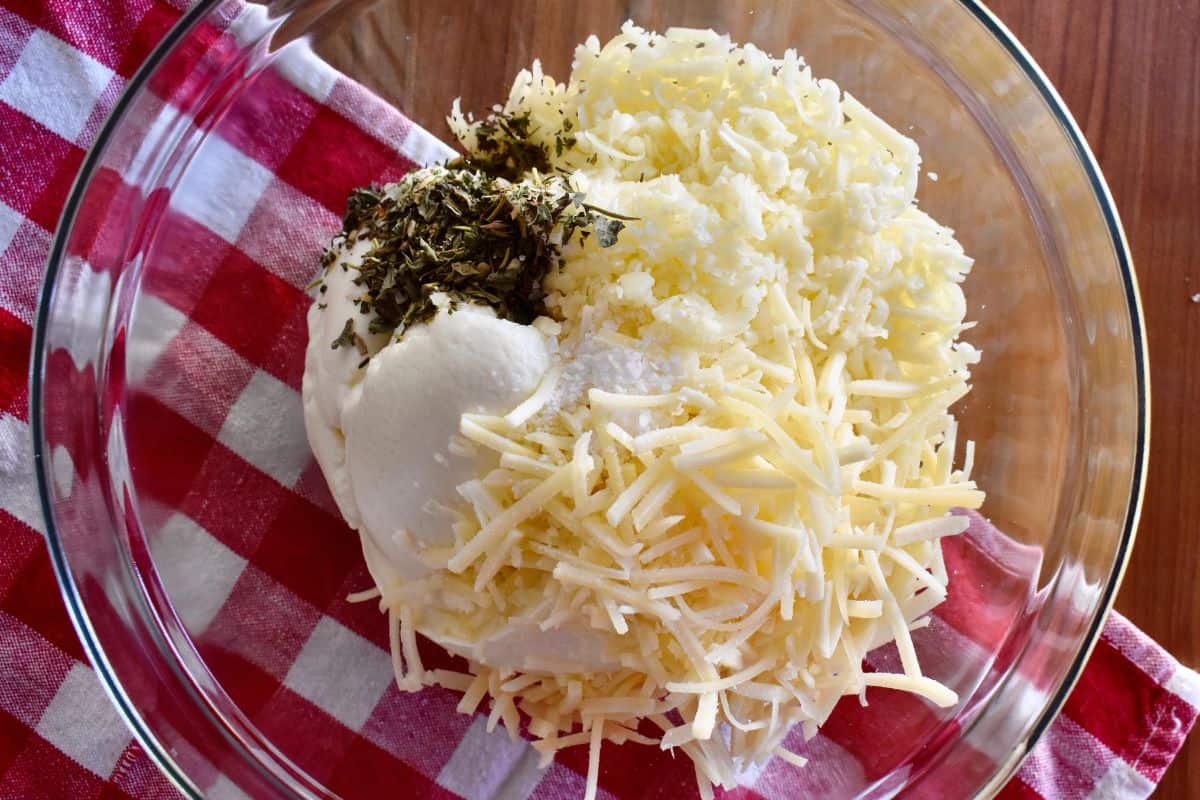 You're going to love that this ricotta filling recipe comes together fast and can be made in just a large bowl. All you have to do is combine all of the ingredients and stir.
Simply combine the ricotta cheese, shredded mozzarella and parmesan, Italian seasoning, and salt, in a mixing bowl and stir. Use a rubber spatula to scrape the bottom of the bowl and ensure that all of the ingredients are well combined.
The filling can be used immediately or stored for later. To use later, just store in an airtight container or cover with plastic wrap. Chill in the refrigerator until ready to use.
Recipe Tips
How to use: To use the filling, you can either spoon the ricotta cheese mixture directly into or onto the pasta. For filling manicotti or stuffed shells, it may be easier to use a pastry bag. If the cooled filling is difficult to spread, let it get to room temperature before using.
Uses: this ricotta filling recipe can be used in manicotti, jumbo pasta shells, or for laying on lasagna or any baked pasta dish. This recipe makes enough to fill an 8 ounce box of manicotti or jumbo shells.
Variations: this is a great base filling for savory recipes. You can change up the flavors by adding fresh basil, parsley, cooked ground meat or Italian sausage, or chopped spinach.
Leftovers: store leftover ricotta filling in the refrigerator for up to five days.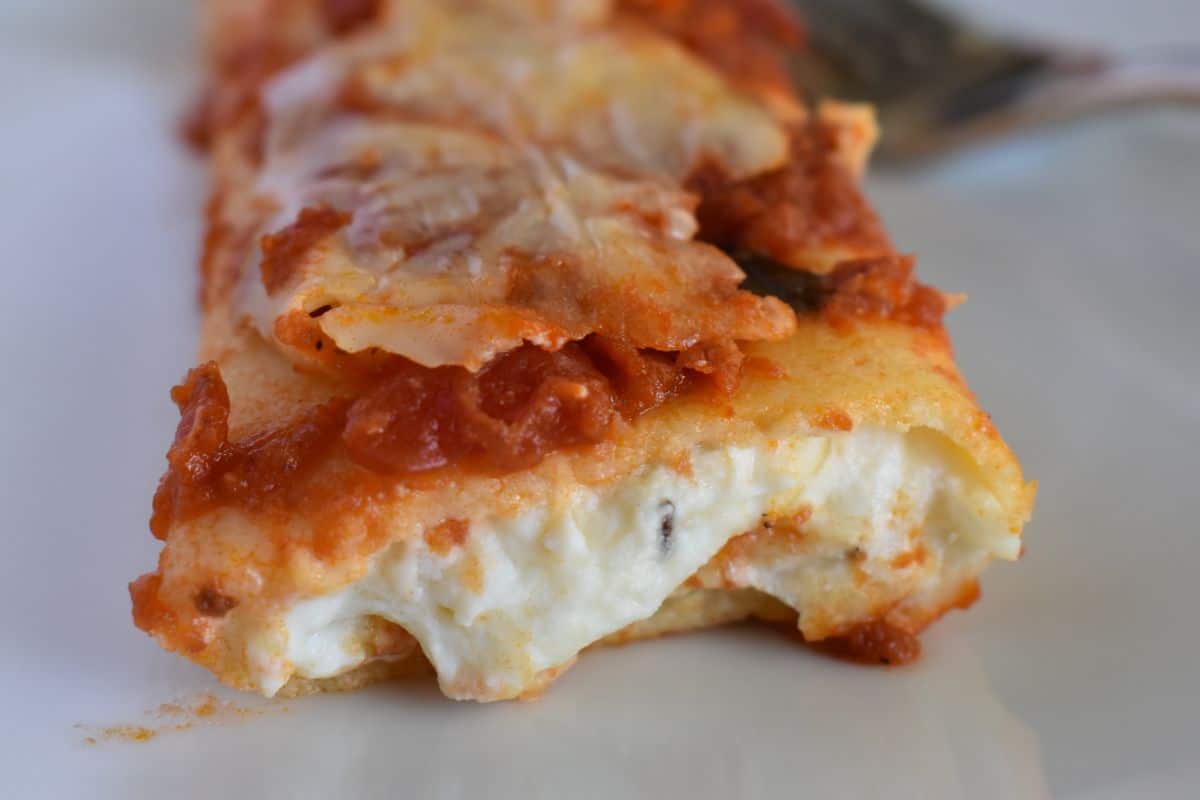 Frequently Asked Questions
What is ricotta cheese?
Ricotta cheese is a creamy and mild Italian dairy product made from whey, a byproduct of cheese-making. Ricotta cheese is made by heating whey and then recooking the curds that form, resulting in a creamy and versatile dairy product.
Do you have to mix eggs with ricotta for lasagna?
Eggs are commonly used in ricotta cheese for lasagna to help bind the ingredients together, but it is not necessary and can be omitted.
How do you fill manicotti tubes?
You can fill cooked manicotti tubes by spooning the mixture into the tubes using a small spoon. However, using a zip-top bag with the corner snipped off as a makeshift piping bag for easier filling.
More Savory Ricotta Dishes
Love this recipe? Please leave a 5-star rating in the recipe card below and/or review in the comments section further down the page.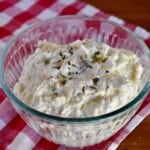 Print Recipe
Ricotta Filling Recipe
Ricotta Filling Recipe is a classic Italian ricotta cheese mixture that combines three types of cheeses and is perfect for filling manicotti, stuffed shells, or layering on lasagna. 
Ingredients
2

cups

ricotta cheese

(whole milk or part skim)

1

cup

shredded mozzarella cheese

½

cup

shredded parmesan cheese

1

teaspoon

Italian seasoning blend

½

teaspoon

kosher salt
Instructions
In a medium bowl, use a rubber spatula to mix together the ricotta, mozzarella, parmesan, Italian seasoning blend, and kosher salt. Mix until well combined, scraping the bottom of the bowl to ensure everything is incorporated.

If using immediately, spoon the filling into the cooked manicotti shells or jumbo shells, or layer on your lasagna. If using later, cover the manicotti filling and store in the refrigerator for up to 5 days.
Notes
Ricotta cheese: you can use part skim or whole milk ricotta cheese for this recipe. One 15 ounce container will give you two cups of ricotta. 
Uses: use this filling to stuff manicotti pasta shells, jumbo shells, or use it as a filling for Italian crepes (crespelle). 
Eggs: you'll notice that there are no eggs in this recipe. While eggs can be added to help bind  the mixture, I find that it's not necessary. Feel free to add an egg if you'd like.  
Additions: you can add other flavors to this filling such as cooked drained spinach, cooked Italian sausage, or other roasted vegetables. 
Leftovers: store leftover ricotta filling in an airtight container in the refrigerator for up to 5 days.
Nutrition
Calories:
175
kcal
|
Carbohydrates:
3
g
|
Protein:
12
g
|
Fat:
13
g
|
Saturated Fat:
8
g
|
Polyunsaturated Fat:
0.4
g
|
Monounsaturated Fat:
4
g
|
Cholesterol:
47
mg
|
Sodium:
385
mg
|
Potassium:
85
mg
|
Fiber:
0.1
g
|
Sugar:
0.4
g
|
Vitamin A:
424
IU
|
Vitamin C:
0.01
mg
|
Calcium:
277
mg
|
Iron:
0.4
mg