Cannoli Pound Cake is a moist and delicious recipe for classic ricotta pound cake using all of those cannoli flavors you love! Chopped pistachios, mini chocolate chips, orange zest, and ricotta cheese make this Italian pound cake truly a special recipe for any occasion.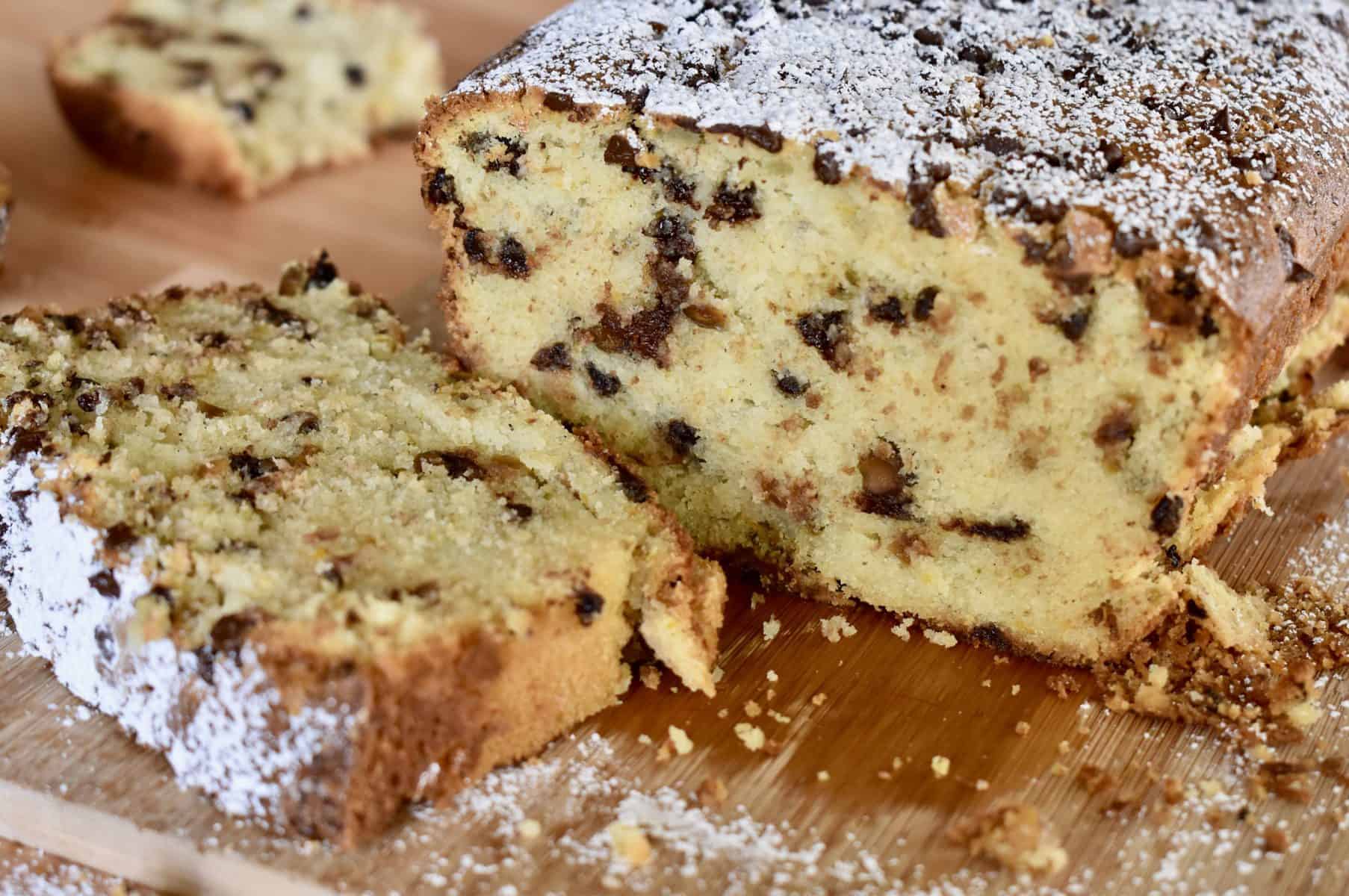 Love the flavors of cannoli but don't want to put in the work to make them? This cannoli pound cake has all of those delicious flavors and is so simple to make.
With chopped pistachios, mini chocolate chips, orange zest, and ricotta, one bite of this Italian ricotta pound cake and you'll be hooked! Plus, this simple treat comes together in minutes and stays moist for days.
This is a great cake to have on hand for any occasion. It's perfect for brunches, served with fruit for a quick breakfast, or even dessert. I like to have a loaf on hand during the holidays when guests stop by.
If you've never had pound cake before, it's a cake traditionally made of a pound of each ingredient: flour, butter, sugar, and eggs. While this recipe doesn't quite adhere to the classic measurements, it still has that slightly dense and moist texture you'll love.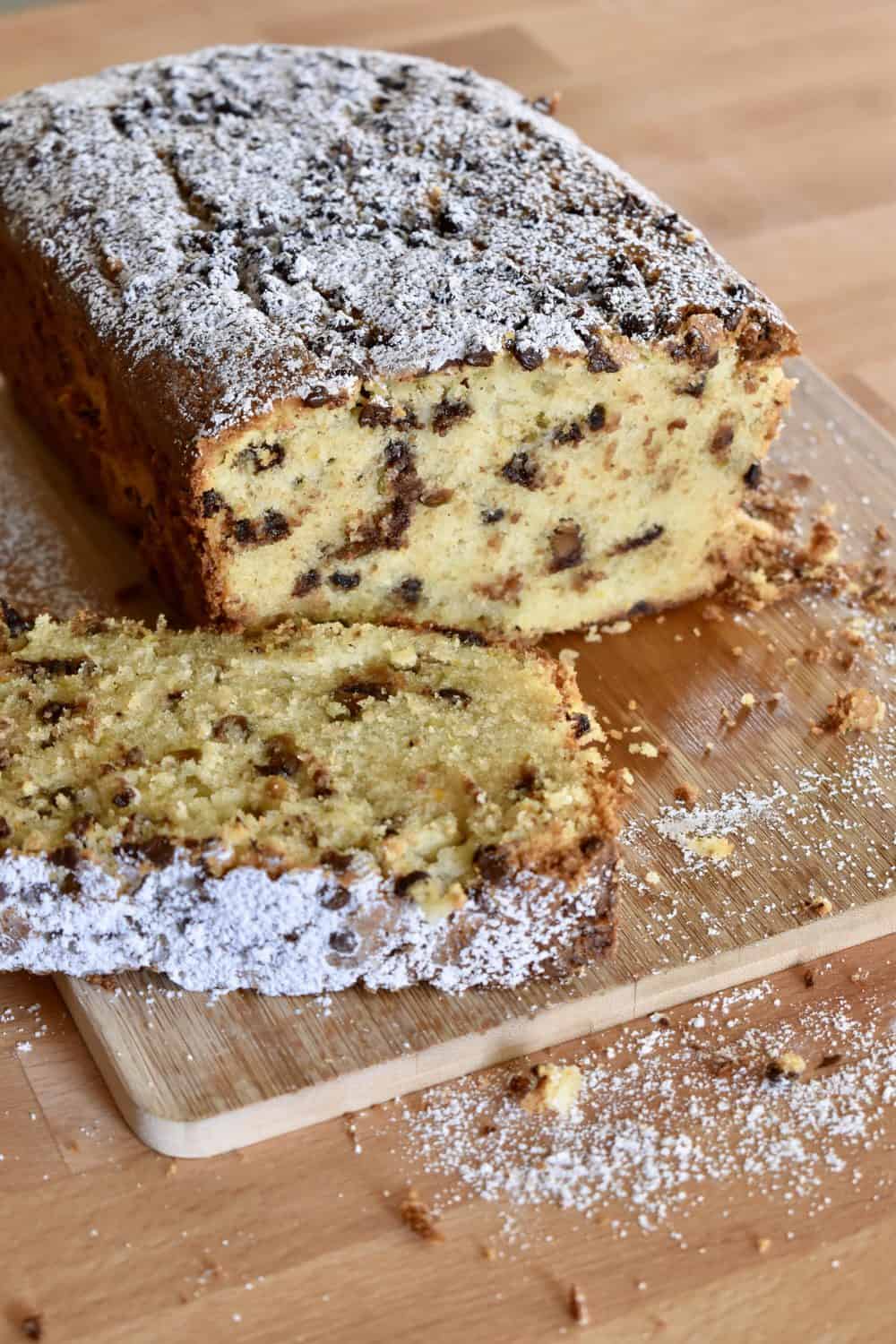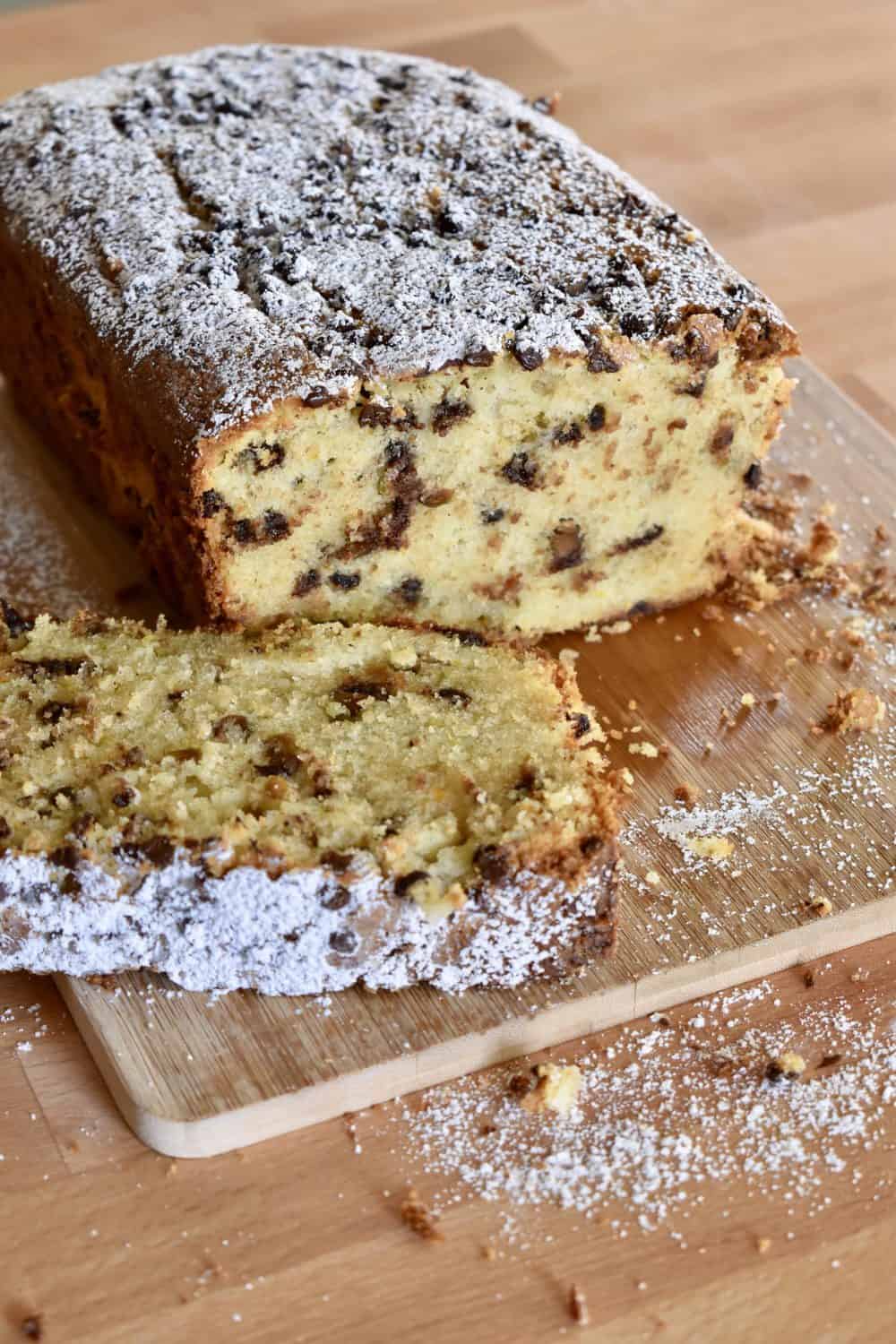 Pound Cake Pans
Pound cakes are generally baked in either a loaf pan or bundt cake pan. For this recipe, I use a lined loaf pan. My favorite is Cuisinart classic loaf pan. Just be sure that if you are using a loaf pan for this recipe, you use the 9 x 5 variety since there will be a lot of batter.
If you decide to make this in a bundt cake pan, you'll need to decrease the baking time by about 20 minutes. Be sure to check the cake for doneness using a toothpick around the 40 minute mark.
Baking with Ricotta Cheese
Ricotta cheese is great to bake with. It adds a creamy texture and moistness to baked goods. And, because the cheese is so mild, you don't get any cheese flavor in your baking.
Ricotta is less calories and fat than butter. It adds a butter-like texture making baked goods moist and light. Here are a couple of tips when baking with ricotta cheese:
If your cheese is on the wet side, be sure to drain it over a fine mesh sieve or cheesecloth before adding it to your recipe.
Use the full fat ricotta for baking. Save the part skim ricotta for recipes like manicotti or lasagna.
Be sure to cream together the butter, sugar, and ricotta for at least 4-5 minutes. You need to cream it to ensure the recipe is light and airy, rather than dense.
If possible, bring the ricotta to room temperature before baking.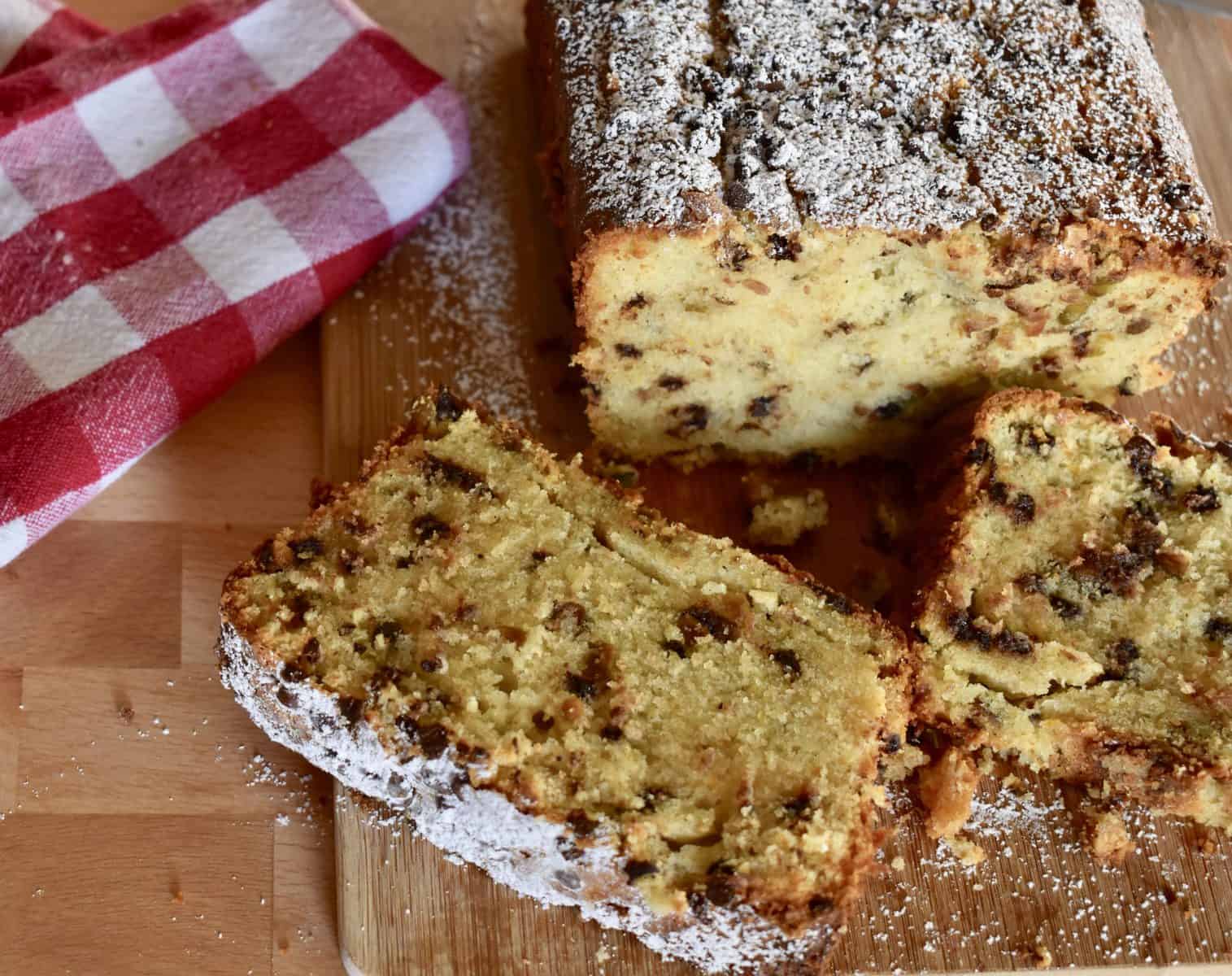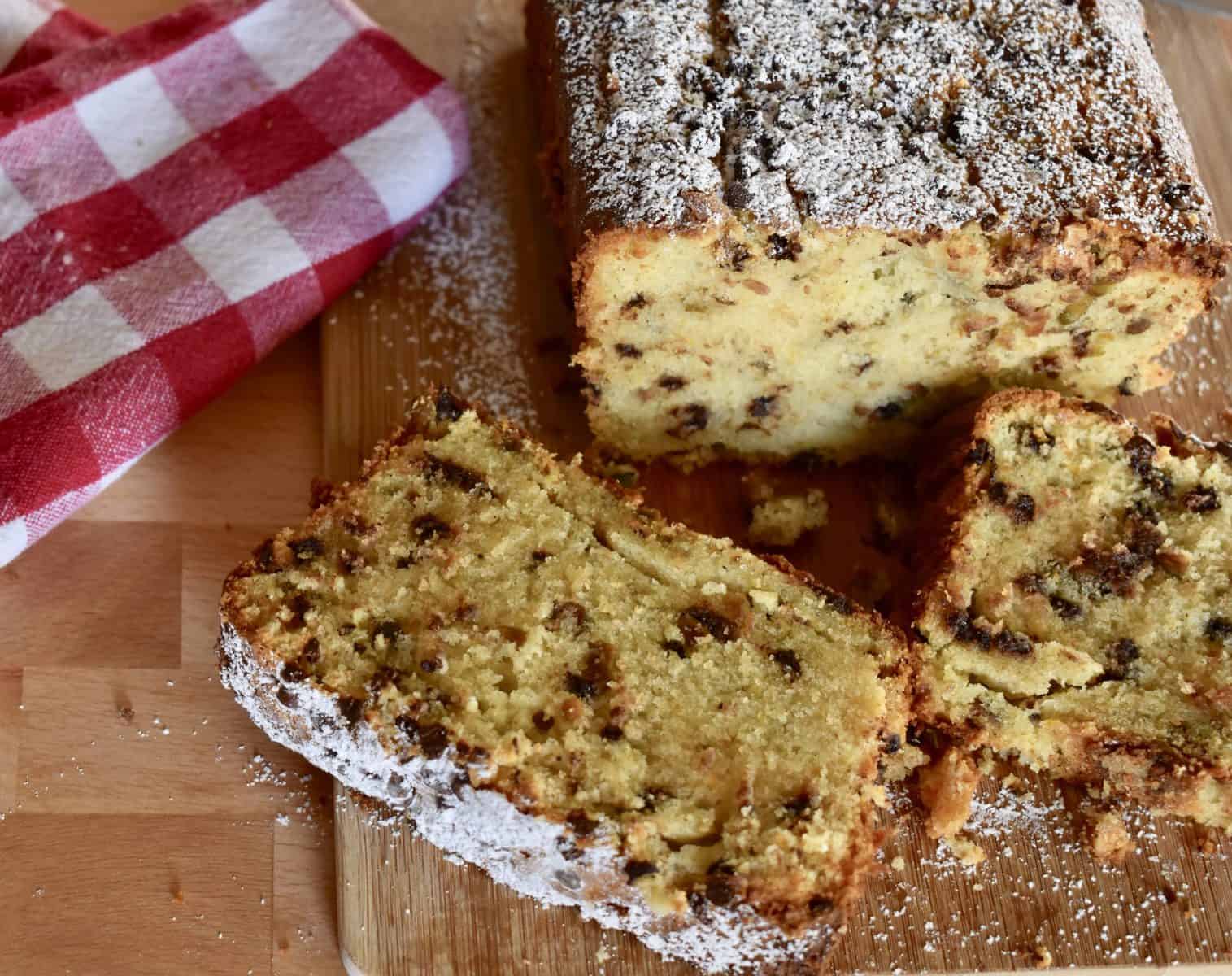 Italian Ricotta Dessert Recipes
Once you try baking with ricotta, you'll be hooked! Its light and airy texture gives your Italian baking so much flavor. Which is why it pairs perfectly in this Cannoli Pound Cake recipe.
Be sure to try these other Italian ricotta dessert recipes:
If you love pound cakes, be sure to check out this super moist and flavorful Amaretto Pound Cake with a hot amaretto butter glaze. And if you love classic Italian cakes featuring ricotta cheese, this Italian Lemon Ricotta Cake is sure to be your new favorite!
During the fall months, I love to make this Pumpkin Streusel Coffee Cake with a delicious brown sugar layer. And, if you love coffee cake, try my Blueberry Ricotta Coffee Cake with a delicious ricotta crumb layer.
How to Make Cannoli Pound Cake
This moist and tasty cake is made with all of the cannoli flavors you love like pistachios, chocolate chips, orange zest, and ricotta cheese. And the best part is that it takes a lot less work than frying and filling traditional cannolis.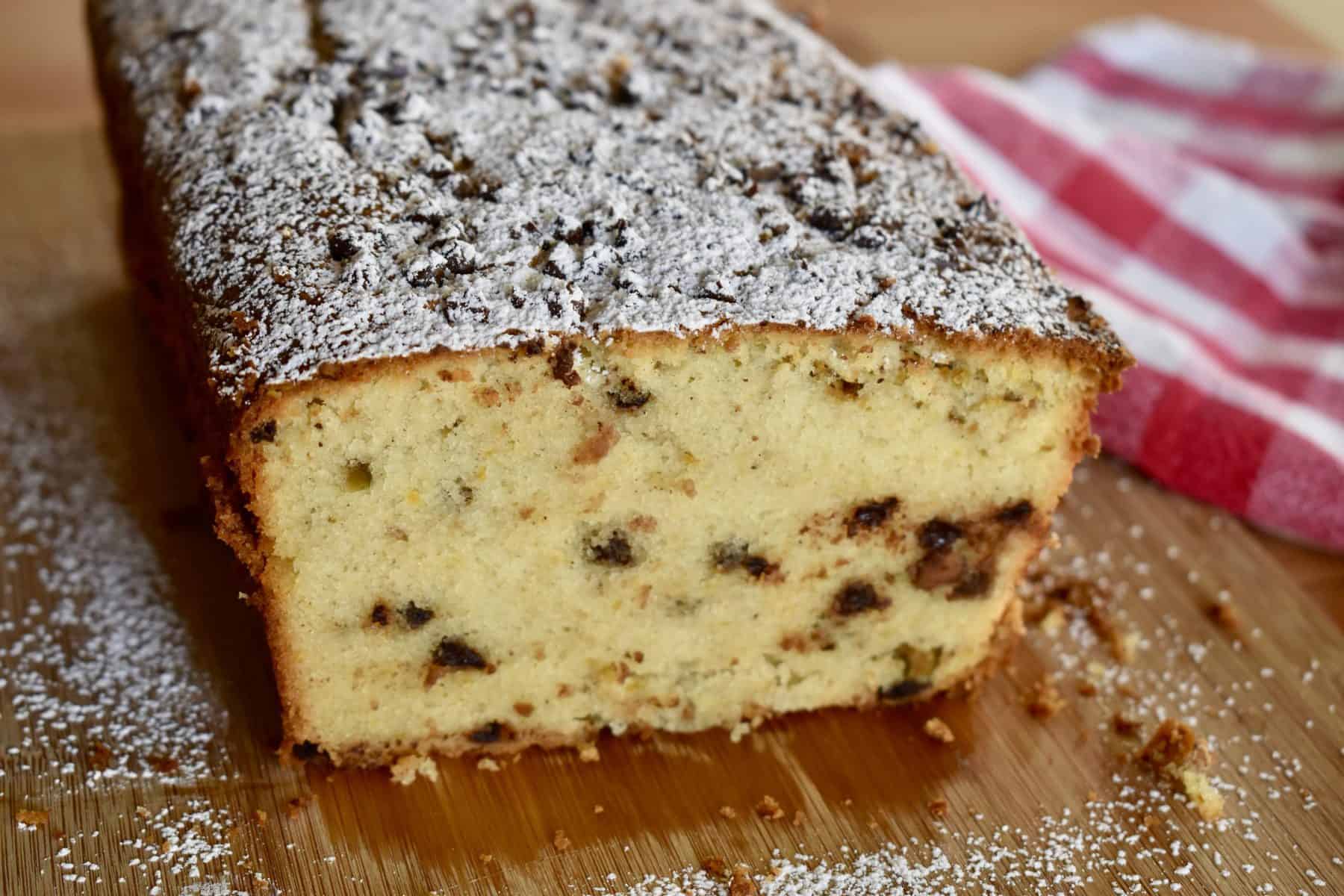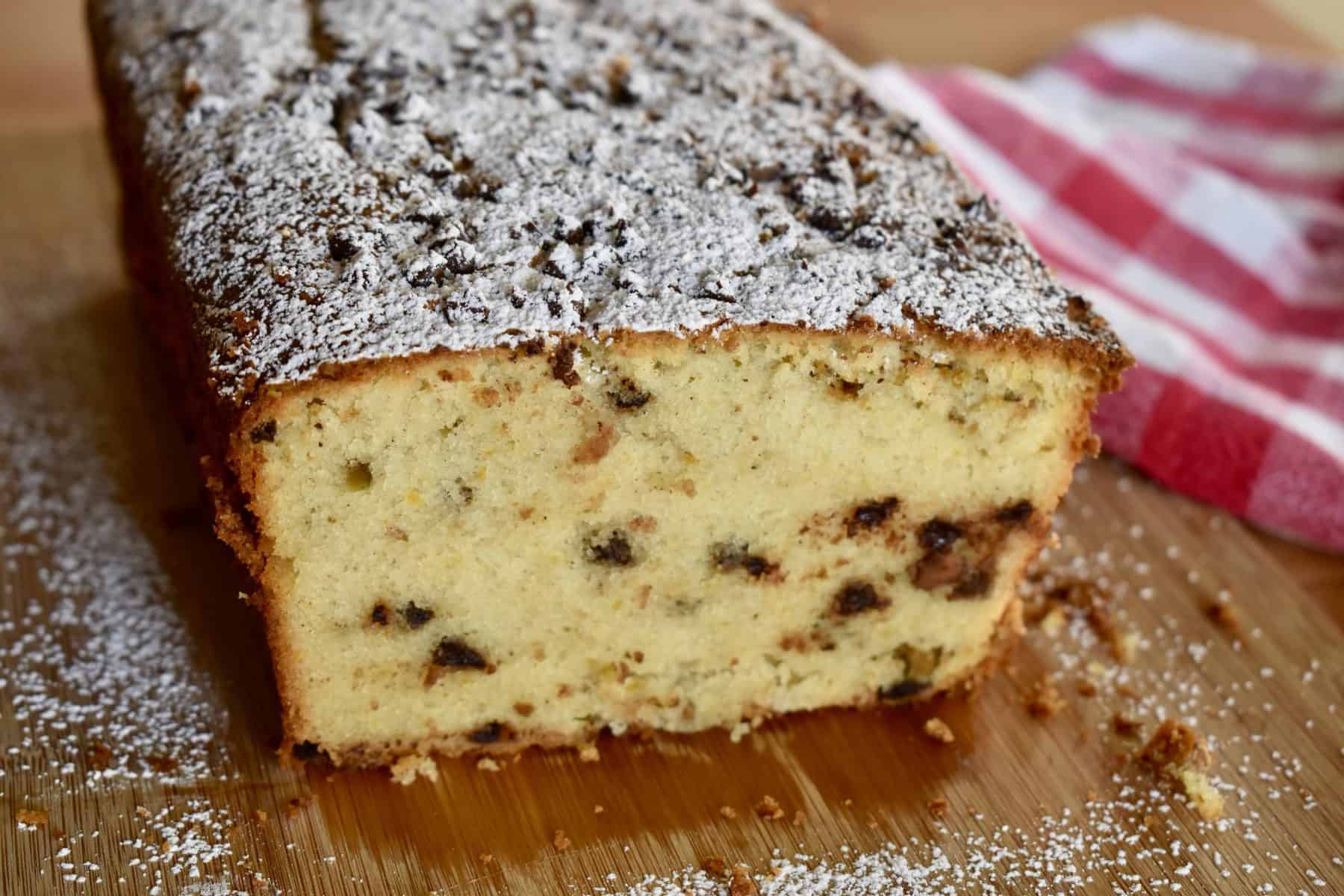 Firstly, you will need room temperature ingredients. Also, if your ricotta seems wet, it's a good idea to drain before adding it to the batter.
Cream together the butter and sugar until well combined and pale in color. You can use either a hand mixer or stand up mixer for this. Next, add in the ricotta and cream on high for about five minutes. This will allow the ricotta to get airy and fluffy. That way you don't end up with a super dense pound cake.
Next, add in the eggs, one a time. Grate in the orange zest. Orange is a traditional Italian cannoli flavor. However, if you don't have orange or if you would prefer to leave it out, that is fine too. Lemon zest is also a fine substitute here.
Beat in the dry ingredients until just combined. Lastly, fold in the mini chocolate chips and chopped shelled pistachios. If you can find the pistachios with their shells already removed, it will save you time. Otherwise, you will need to de-shell and coarsely chop before adding.
Baking the Cannoli Pound Cake
Once your batter is prepared, you can get ready to bake. Here, you can use either a 9 x 5 loaf pan or a standard size bundt cake pan.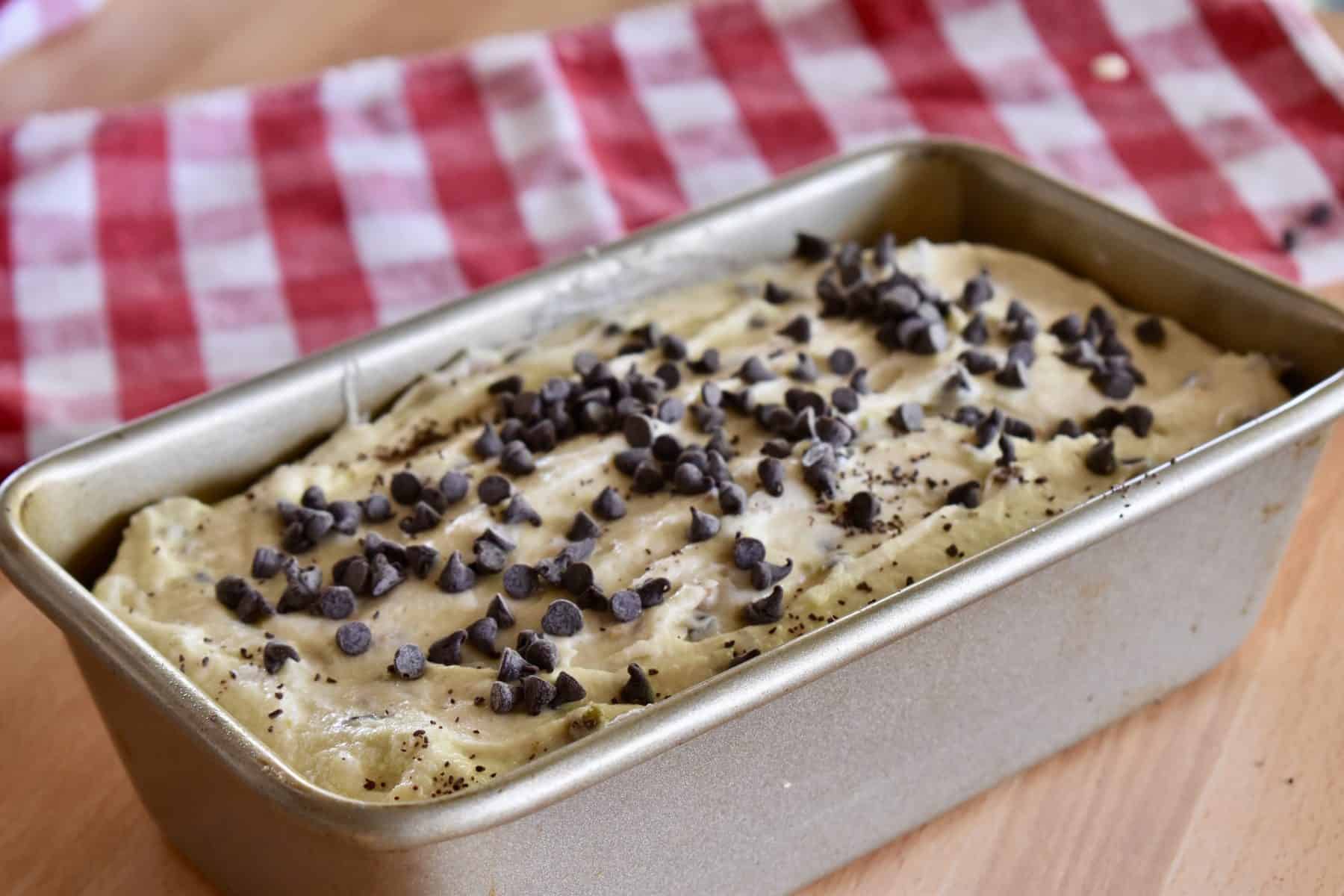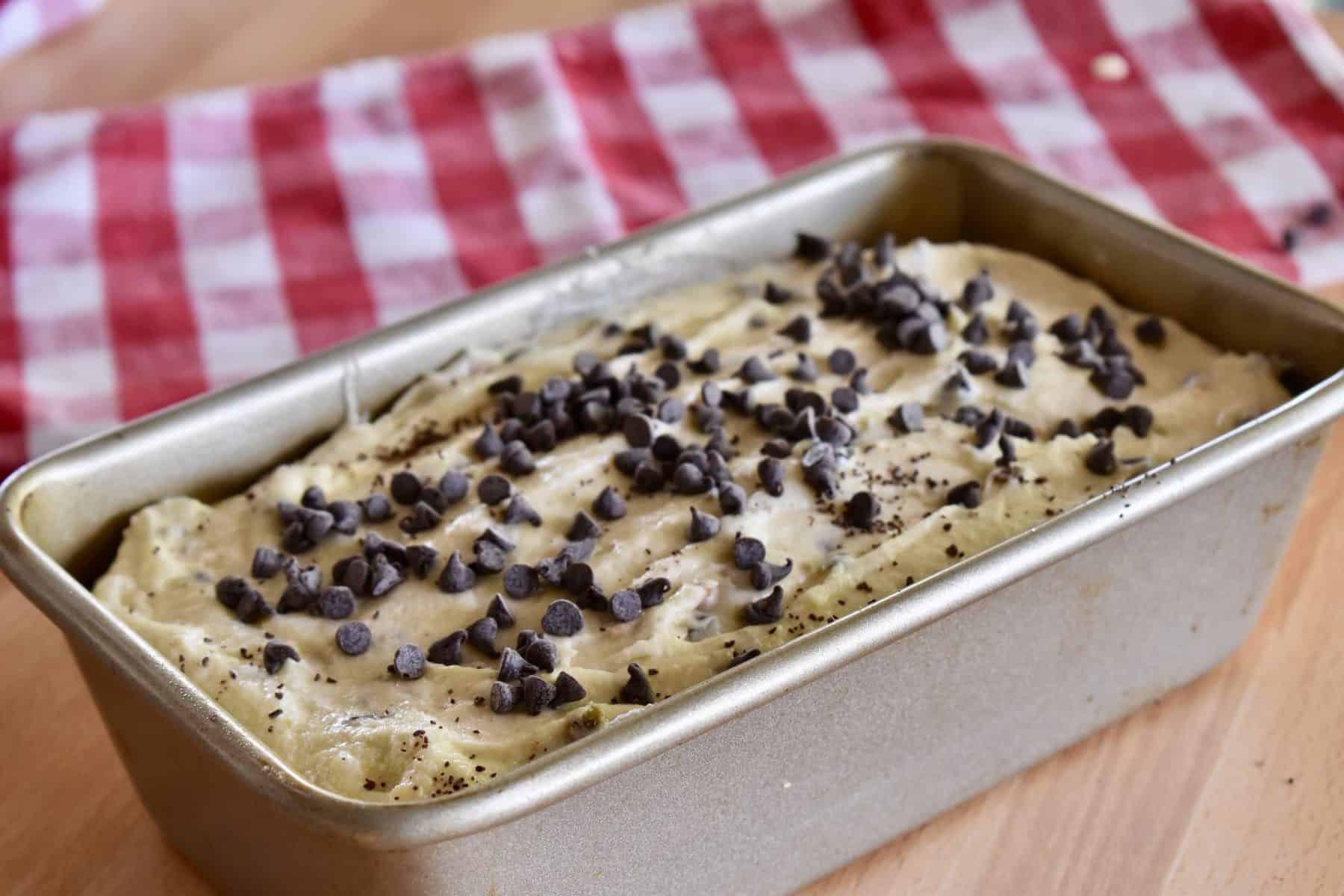 If you are baking in a loaf pan, be sure to use the larger 9 x 5 x 5 pan so that it will hold the batter and have room to rise. Alternatively, you could split the batter and bake in two smaller loaf pans.
Note that if you are baking in a loaf pan, be sure to spray with cooking spray AND line with parchment. Because this is such a heavy and slightly dense batter, you need the parchment to help lift out the pound cake and keep it intact.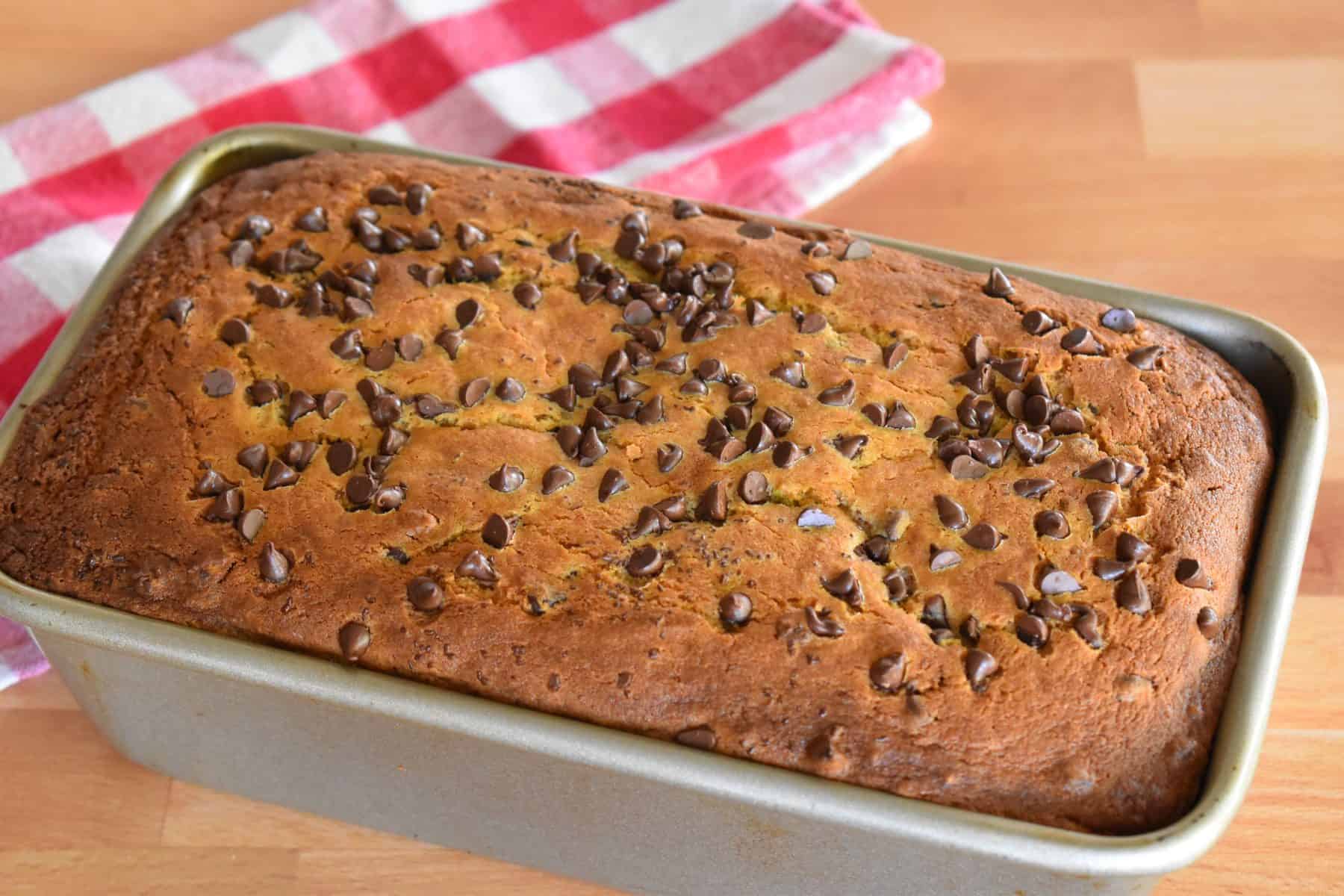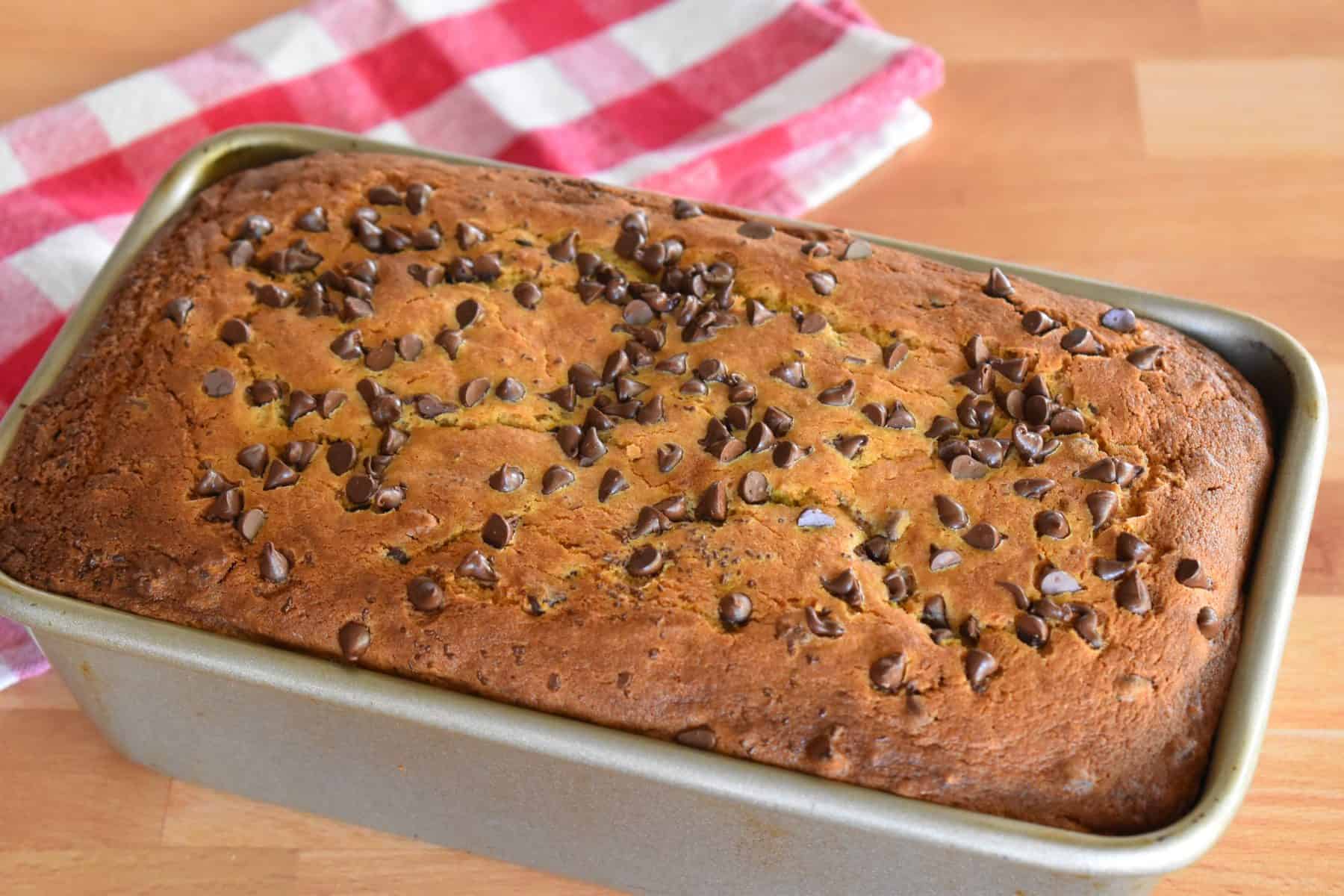 This cake can also made in a bundt cake pan. You will need to adjust the baking time, checking for doneness using a toothpick after about 40-50 minutes. Once the toothpick comes out clean the cake is done.
Let your cannoli pound cake cool on a wire baking rack for at least 15-20 minutes before lifting it out to cool completely. Be sure the cake is completely cool before using a serrated knife to cut into pieces. For another pound cake recipe, give this Sour Cream Pound Cake a try!
Lastly, sprinkle powder sugar over the cooled pound cake. Enjoy!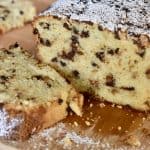 Print Recipe
Cannoli Pound Cake
Cannoli Pound Cake has all of the cannoli flavors you love in an easy-to-make pound cake loaf. You'll love this super moist and slightly dense cake that's perfect for any occasion!
Equipment
9 x 5 inch loaf pan (see notes below)
Ingredients
1 ½

cups

sugar

¾

cup

butter, softened

(one and a half sticks)

15

ounces

ricotta cheese

3

large

eggs

1

orange, zested

1 ½

cups

all purpose flour

2 ½

teaspoons

baking powder

½

teaspoon

salt

½

teaspoon

cinnamon

¼

teaspoon

nutmeg

½

cup

mini chocolate chips

½

cup

shelled pistachios, lightly chopped

powdered sugar for sprinkling (optional)
Instructions
Preheat oven to 350 degrees. Grease a 9 x 5 inch loaf pan with butter and line with parchment; set aside.

In a large bowl, using a handheld mixer, mix together the butter and sugar until well incorporated and light in color; about 2-3 minutes. Add in the ricotta and mix until light and fluffy, about 4-5 minutes. Beat in the eggs, one at a time, until incorporated. Add in the zest of one orange and stir to combine.

In a seperate bowl, whisk together the flour, baking powder, salt, cinnamon, and nutmeg. Add the flour mixture to the wet ingredients and beat until just combined. Fold in the mini chocolate chips and pistachios.

Pour the batter into the greased and lined pan and top with extra mini chocolate chips if desired. Bake on the center rack in oven for 65-75 minutes, or until a toothpick inserted in the loaf comes out clean. Let cool in pan for about 15 minutes, then use a knife to loosen the edges and lift out using parchment to help. Let the pound cake cool completely. Spinkle on powdered sugar if desired.
Notes
*This recipe yields a lot of batter, so if you don't have a large loaf pan, you can substitute a standard bundt cake pan. Just be sure to adjust baking time and test for doneness using a toothpick. 
Nutrition