Panettone French Toast Casserole is a delicious make-ahead overnight casserole that's great for brunch or the holidays. With a tasty creme brûlée brown sugar topping, this is sure to be your favorite breakfast casserole.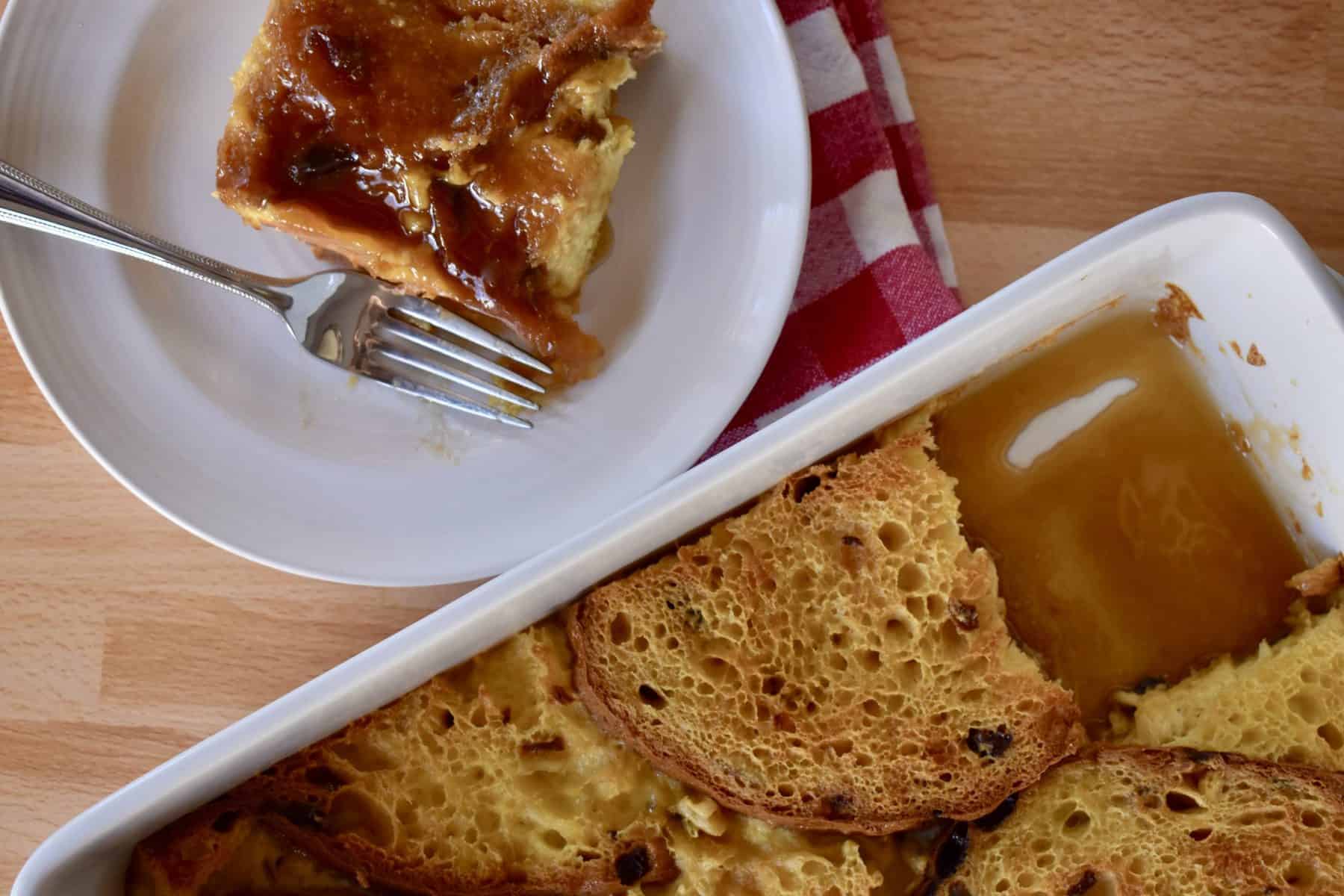 One taste and you'll be hooked on this Panettone French Toast Casserole. This dish is easy to make and such a treat! With a brown sugar butter topping, this sweet treat is great for a holiday brunch or any special occasion.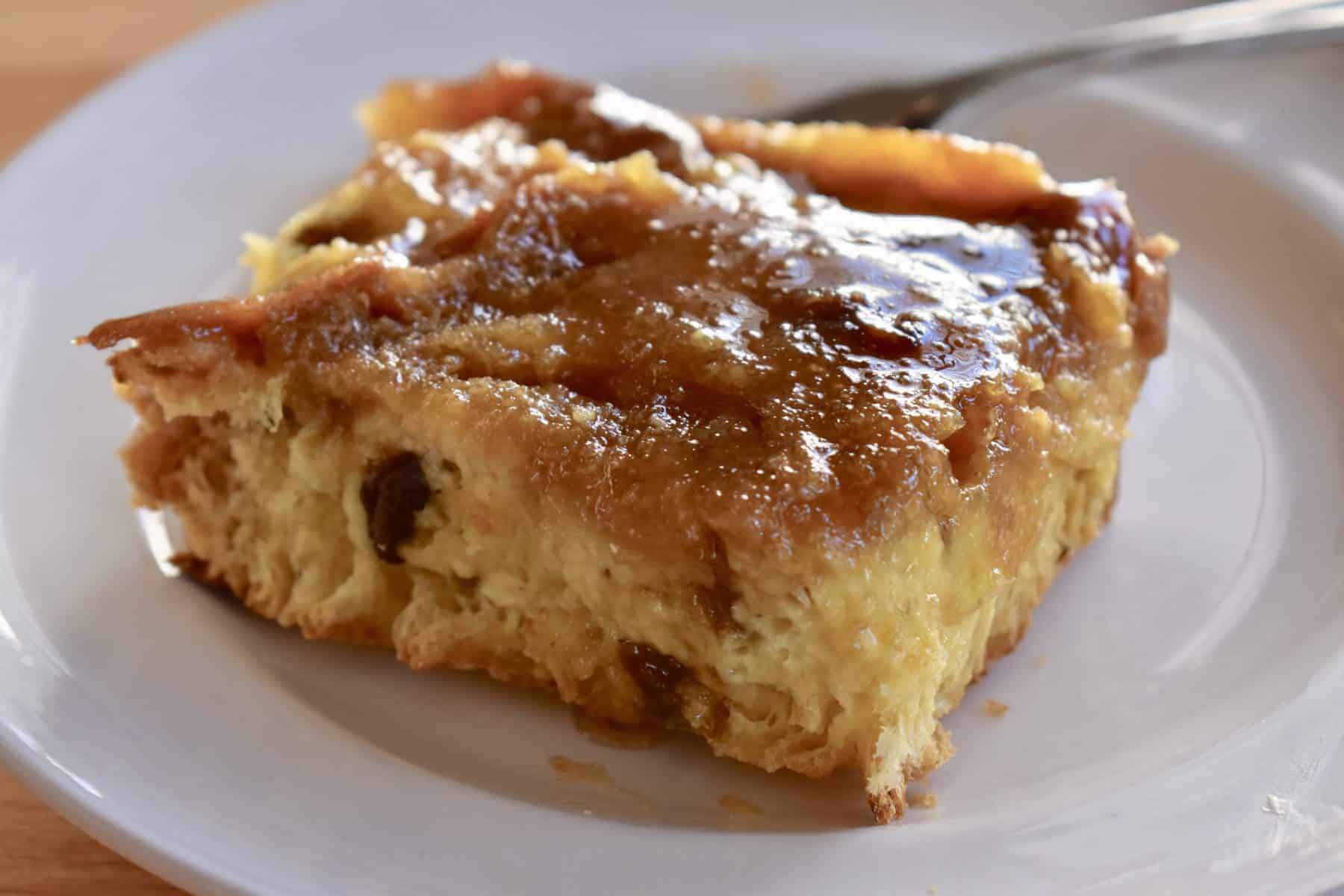 This dish features layers of panettone bread soaked in a delicious egg custard. Moreover, you can make the entire dish ahead and refrigerate overnight. You could also make and bake immediately.
So, if you're looking for a delicious Italian-inspired brunch dish, you're going to love this Panettone French Toast Casserole! Featuring classic Italian panettone bread, this dish is sure to please everyone who tries it!
If you love Italian-inspired pastries and breakfast treats, be sure to check out Cannoli Pound Cake or this delicious Zucchini Ricotta Ciambella!
What is Panettone?
Panettone is a tall, dome-shaped cake filled with candied fruit and nuts. It is a traditional Italian dessert served most often during the holidays.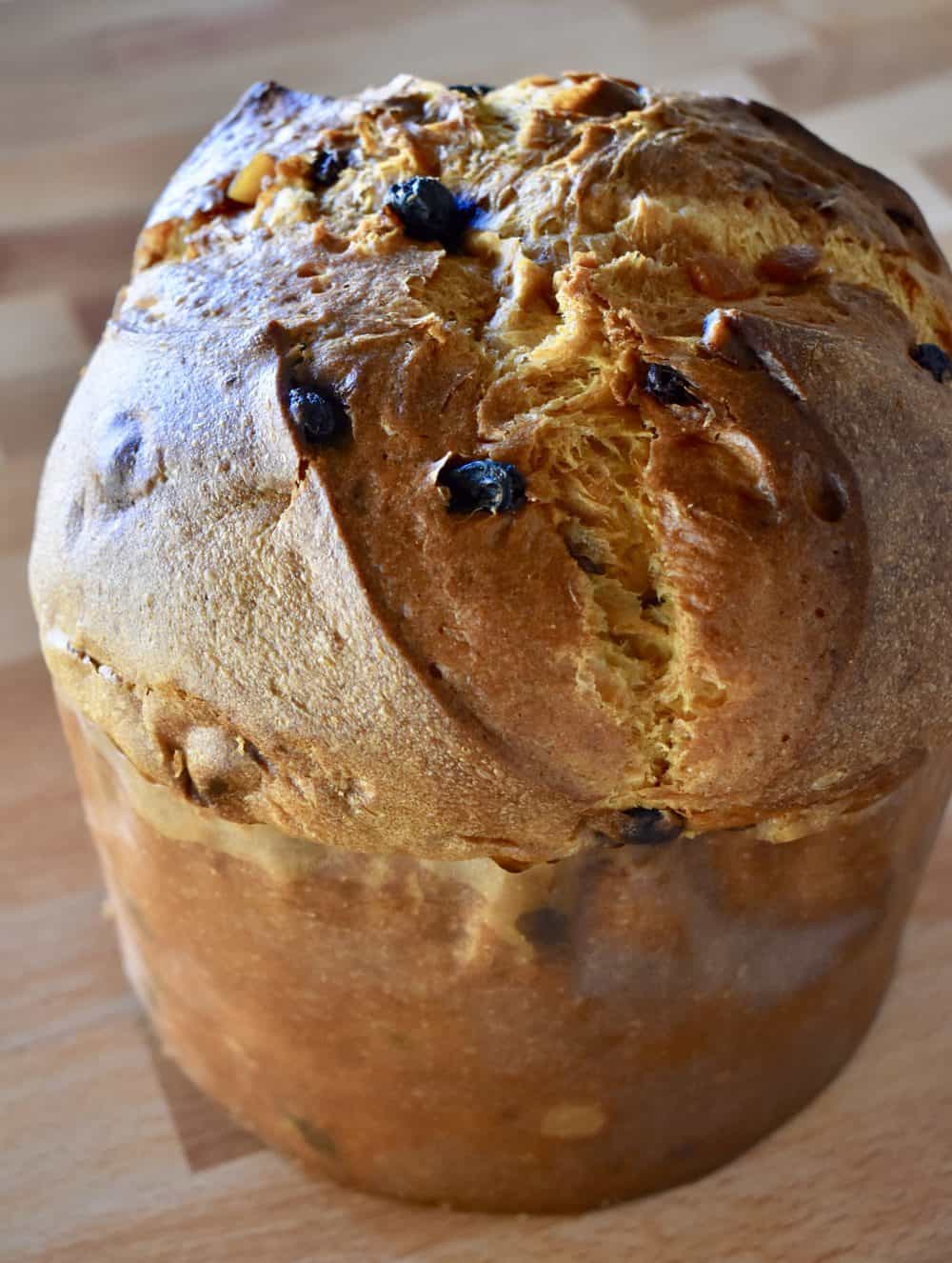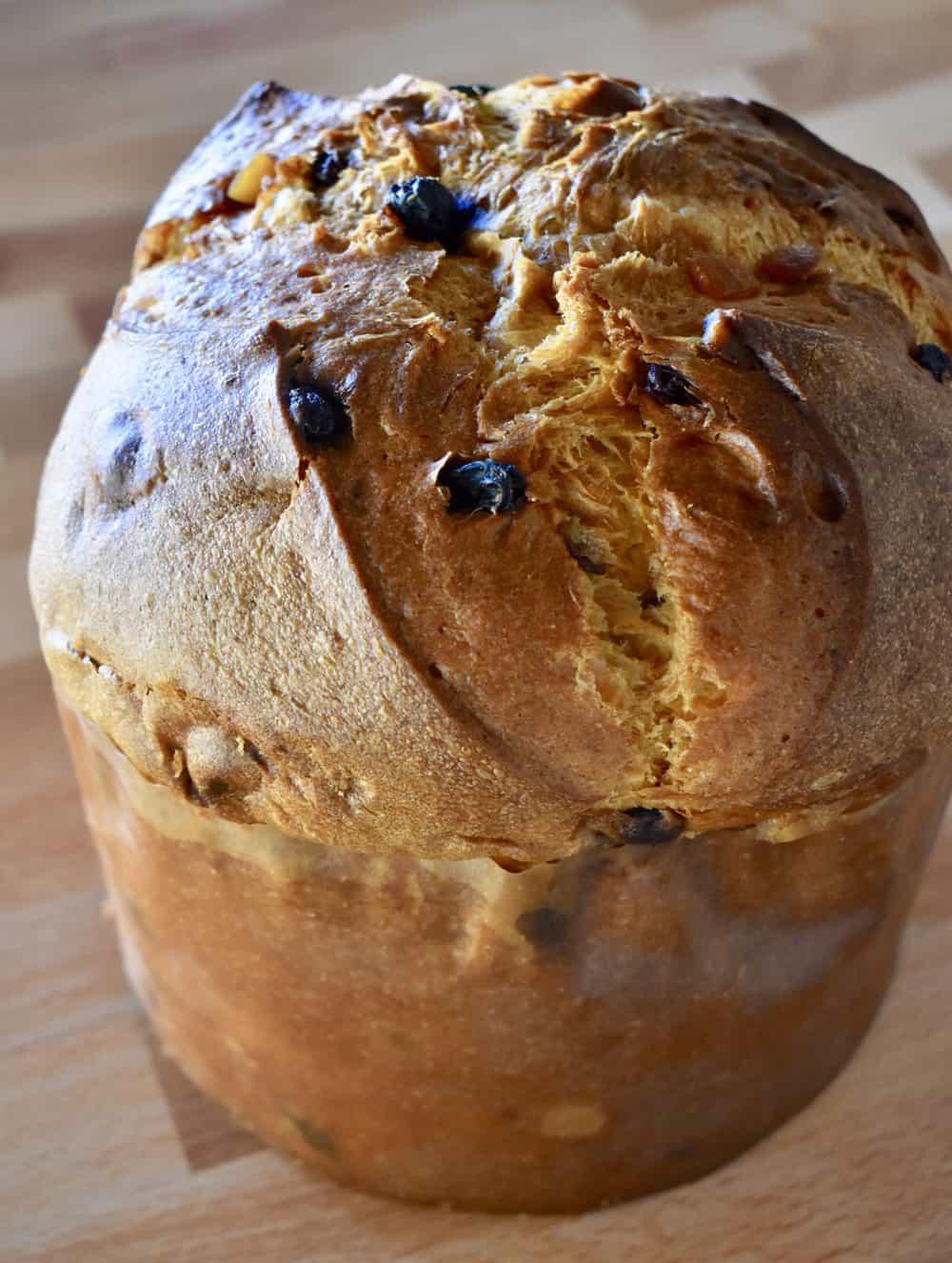 Making panettone from scratch is a labor of love. The process involves preparation and time, as it goes through multiple rising stages. Luckily, you can buy these delicious breads at most grocery stores during the holiday season. You can even buy panettone online!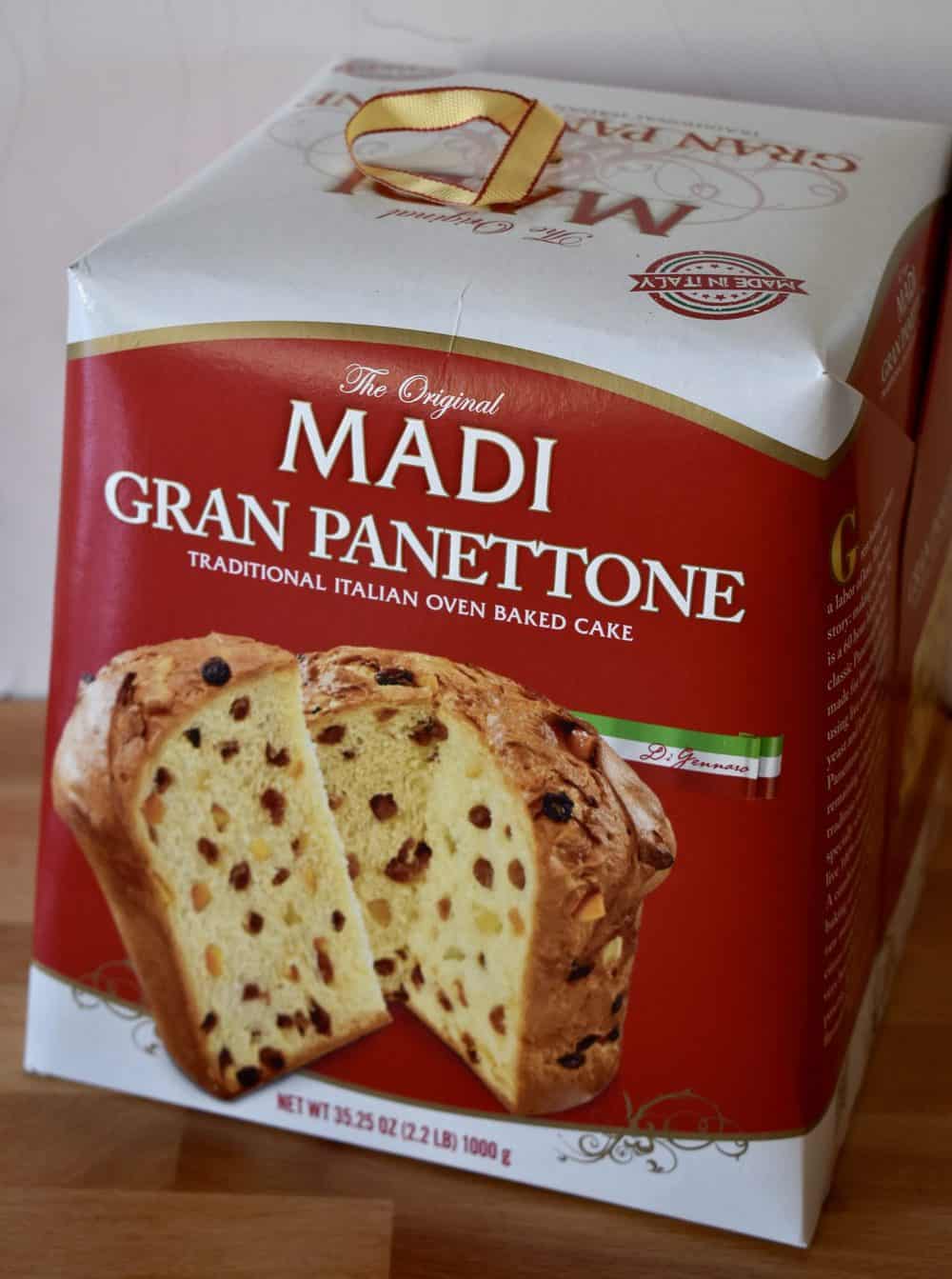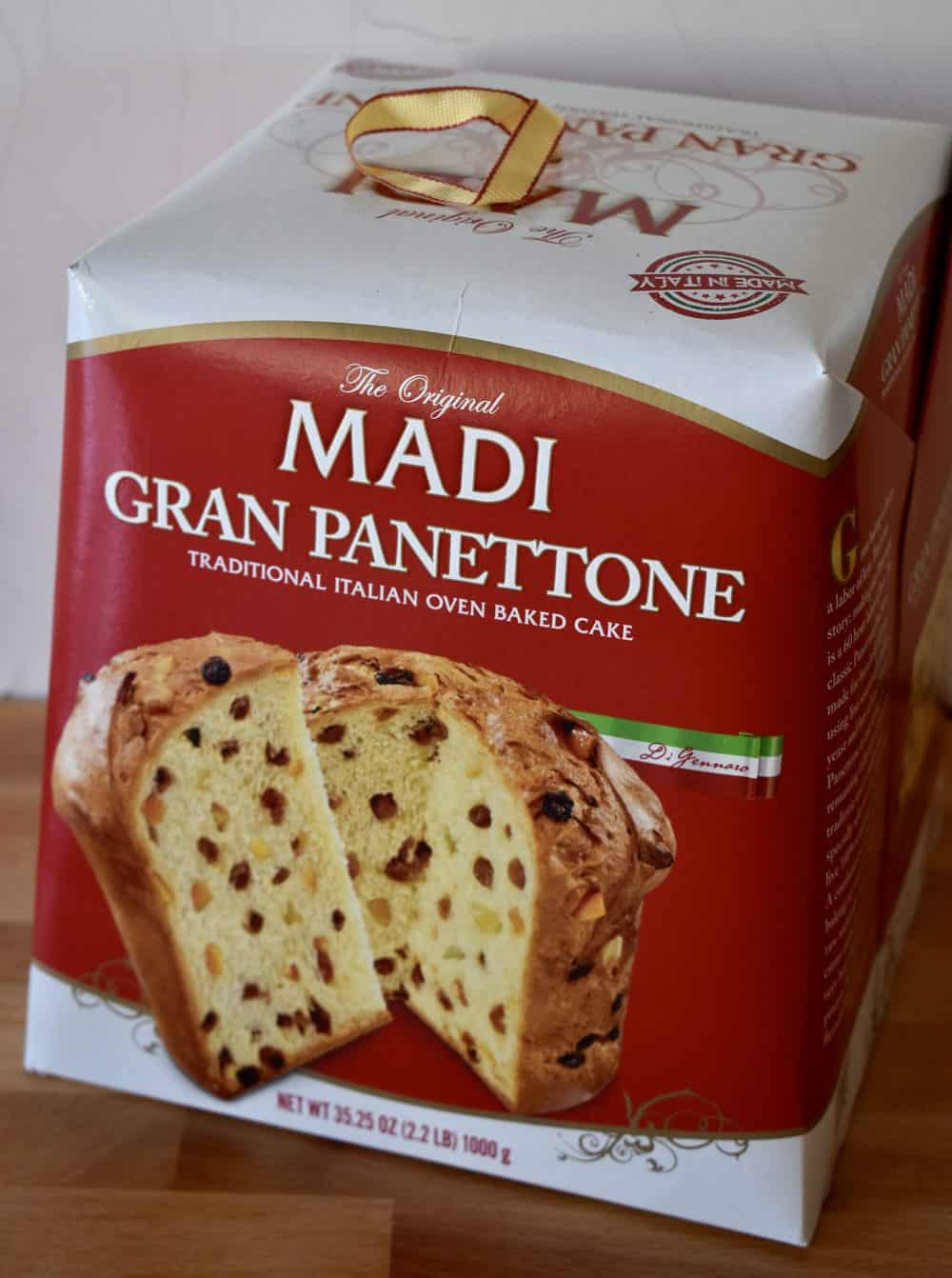 There are many different varieties of panettone. You can get them with nuts, sweetened like tiramisu, or with pistachio cream. Any variety of panettone works great with this recipe. Simply remove the paper wrapper and slice into about one and a half inch slices.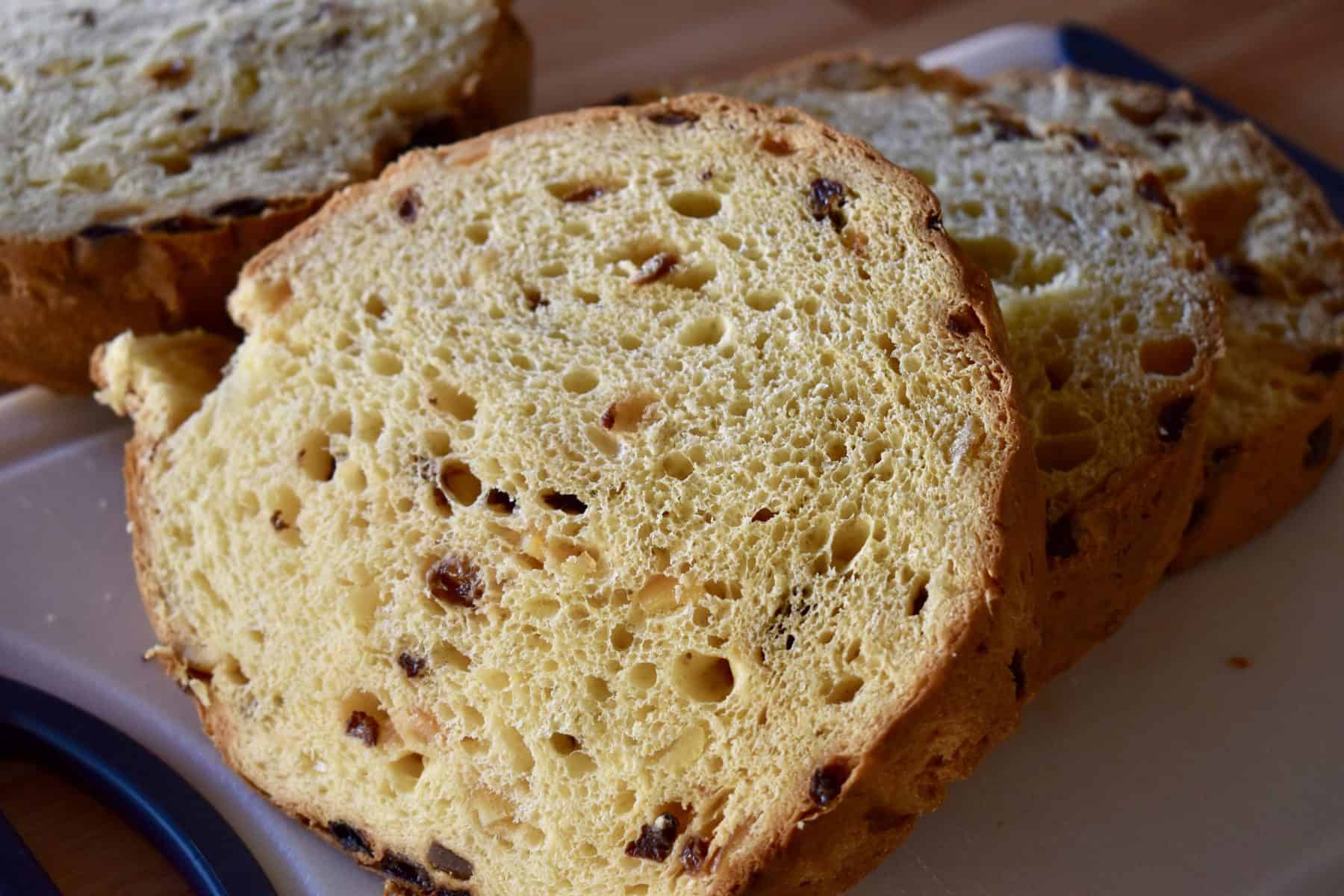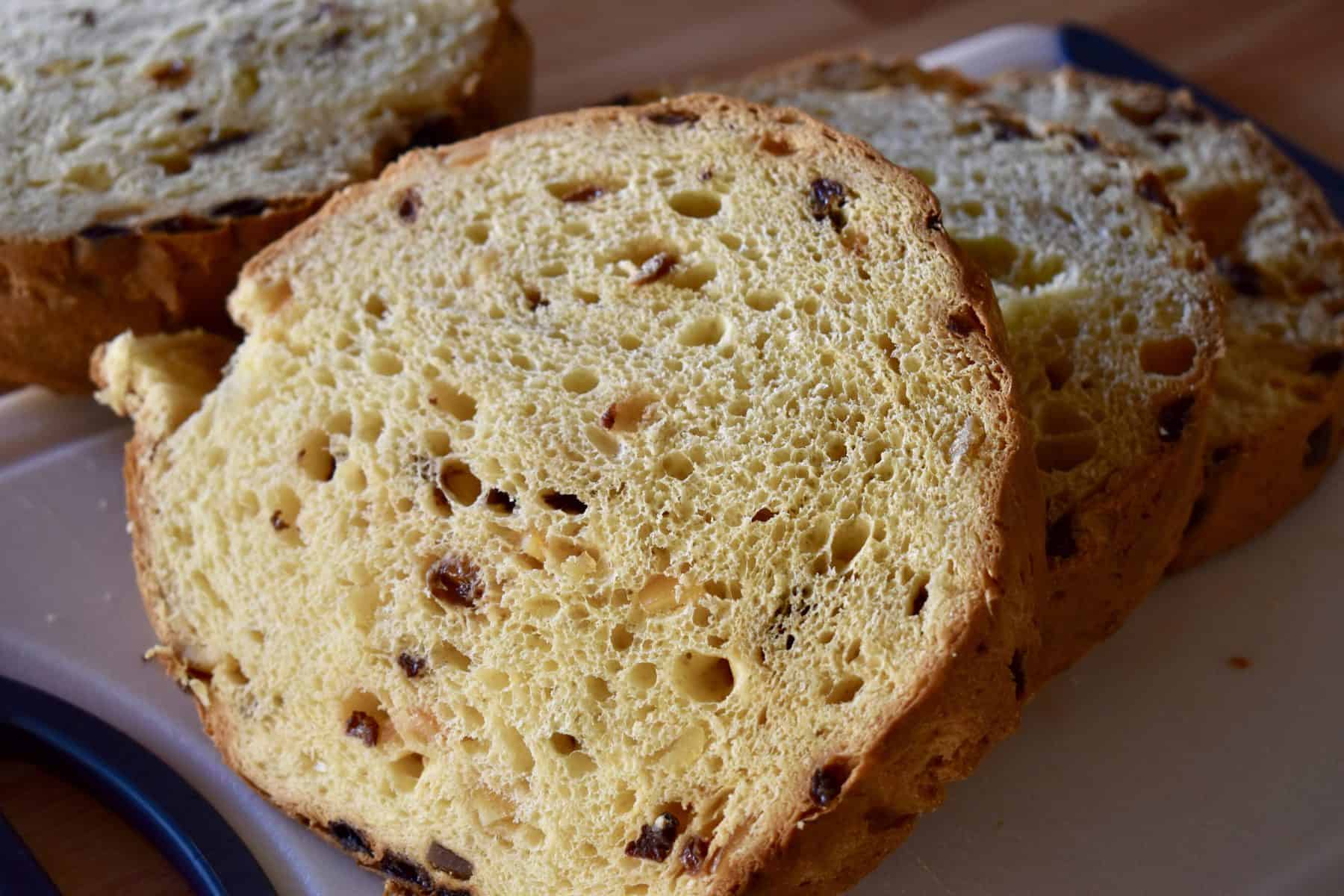 Any leftover panettone is a great breakfast or light dessert. You can also freeze leftover panettone in an airtight bag for up to three months.
Panettone French Toast Casserole
You can make Panettone French Toast up to a day in advance or bake immediately. Firstly, start by making the brown sugar topping for the casserole.
In a small saucepan, combine butter, brown sugar and corn syrup.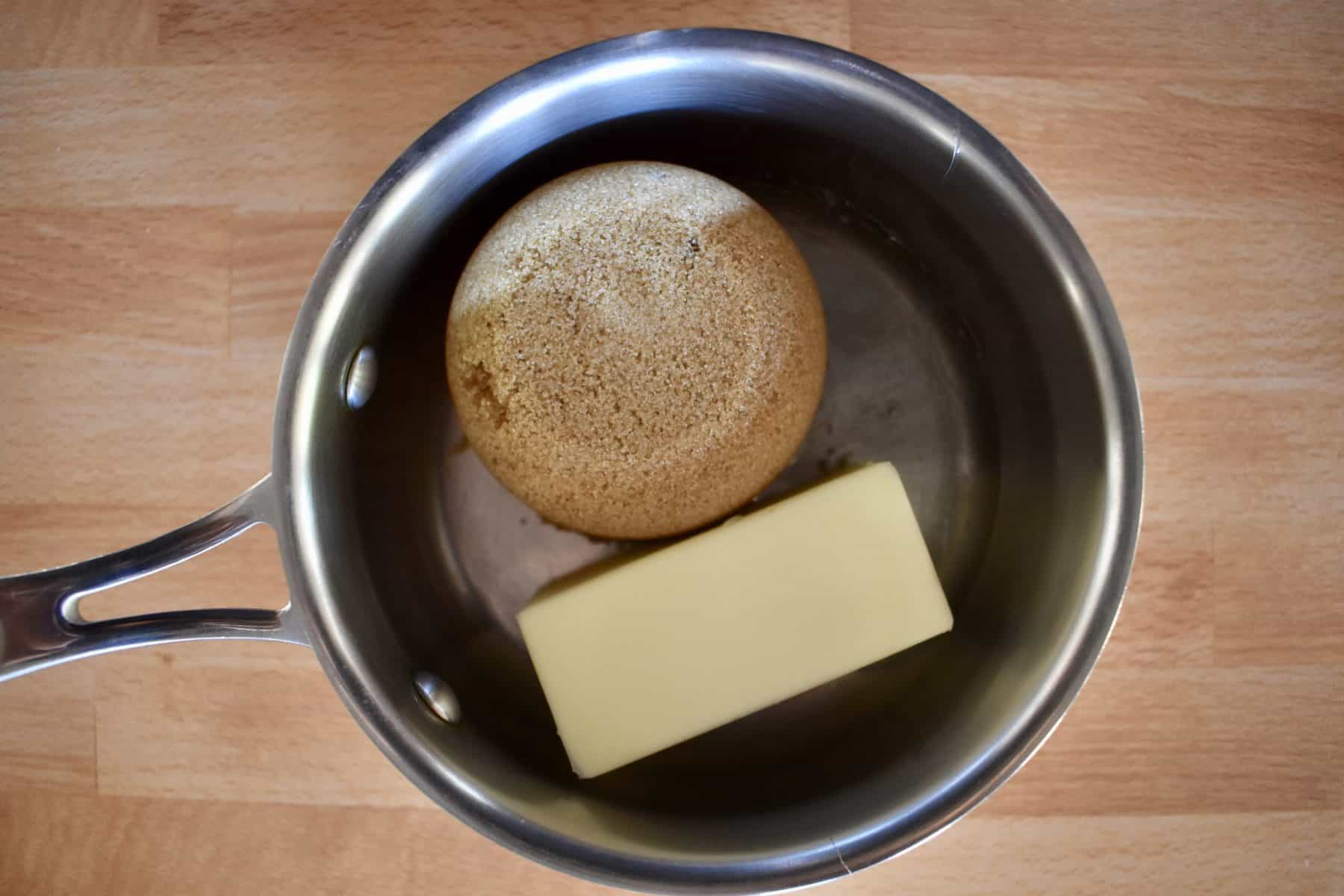 Bring to a low simmer and whisk until the sugar and butter are fully incorporated.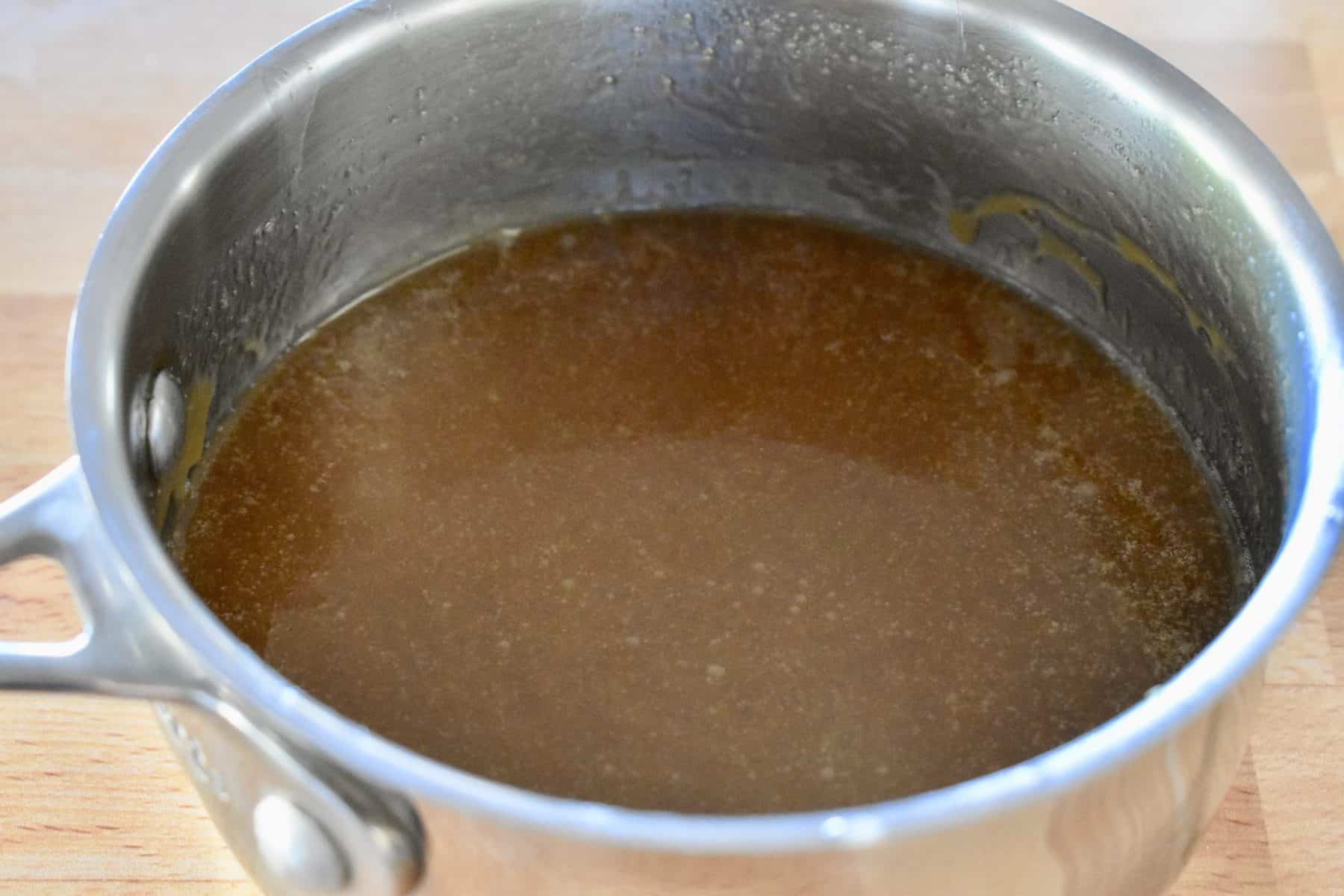 Pour the brown sugar mixture into the bottom of a casserole dish that measure approximately 9 x 13 inches. If you don't have one, check out this white casserole dish that is similar to what I'm using here.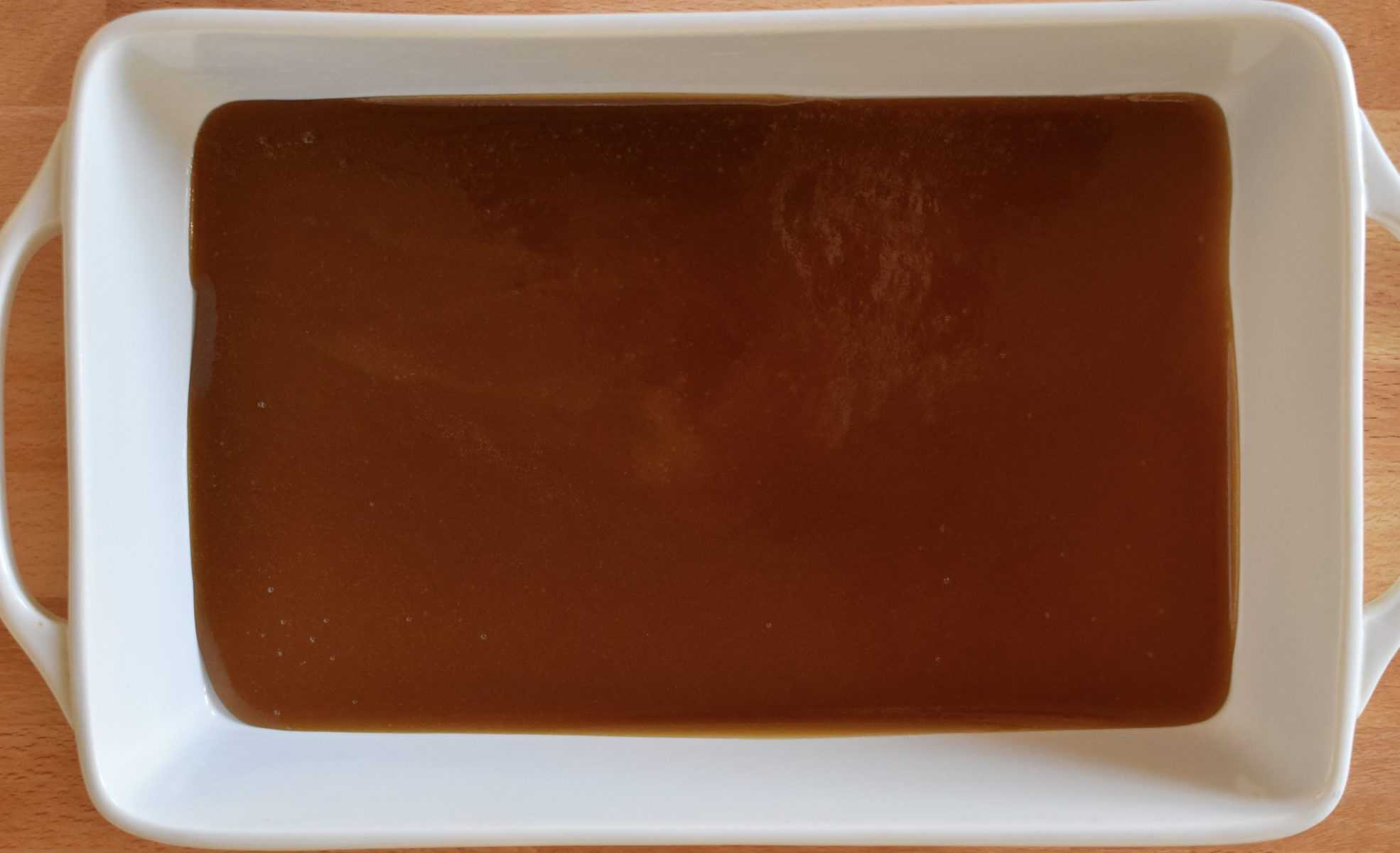 Next, add one and a half inch slices of panettone bread on top of the brown sugar butter mixture, cutting and arranging so they fit snuggly.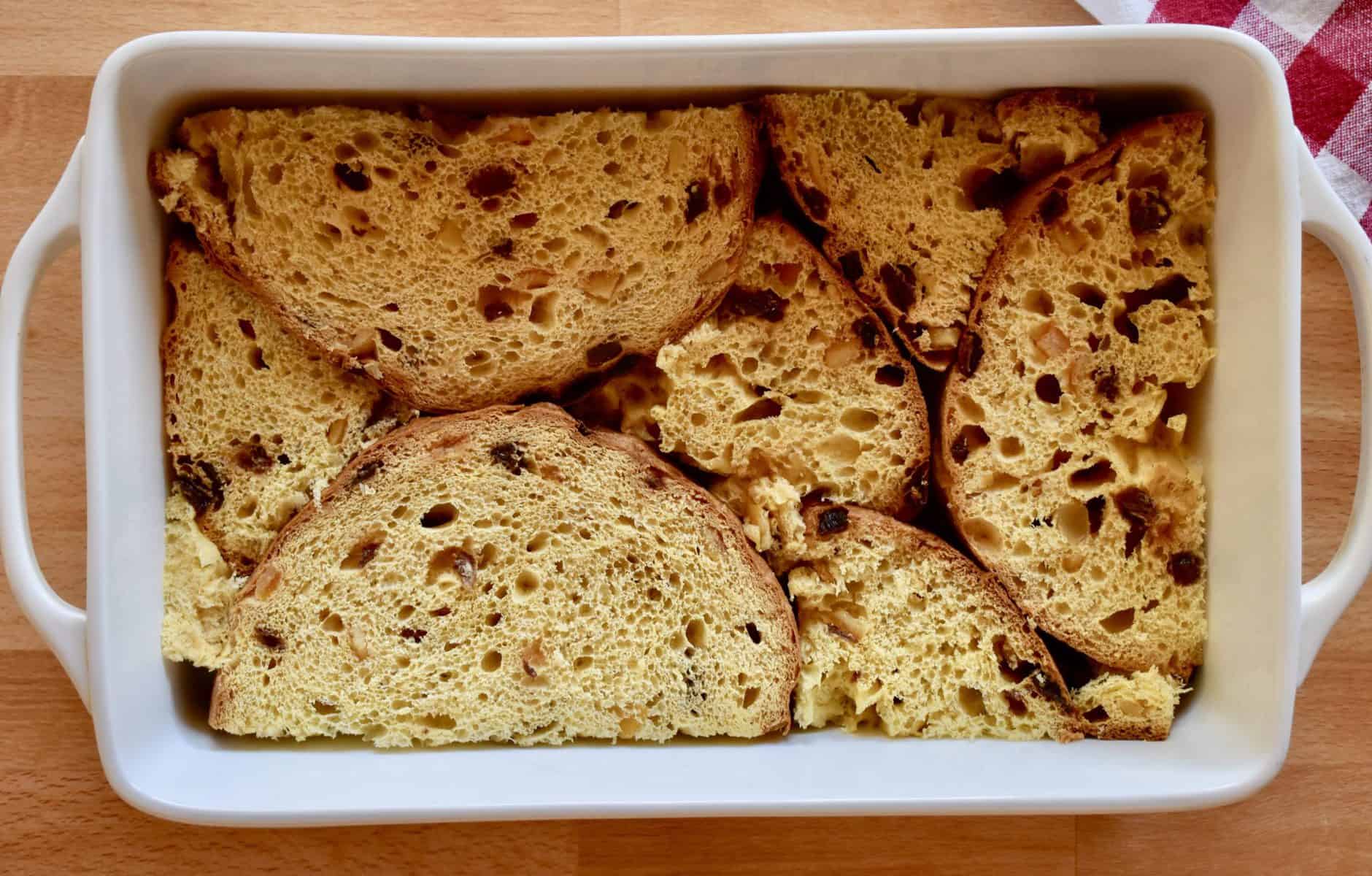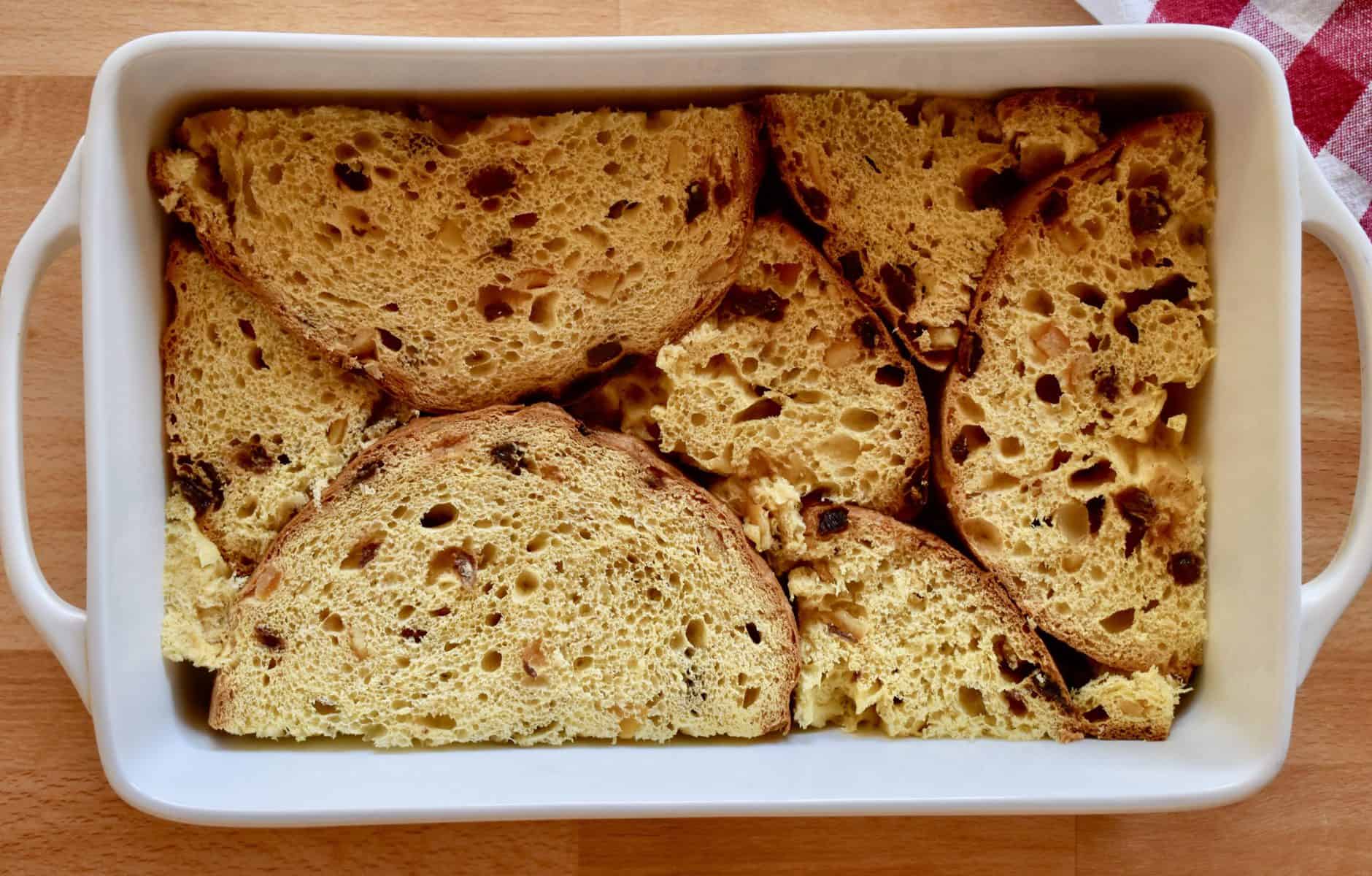 Lastly, prepare the custard mixture to pour over the casserole. In a large bowl, whisk together eggs, half and half, and vanilla.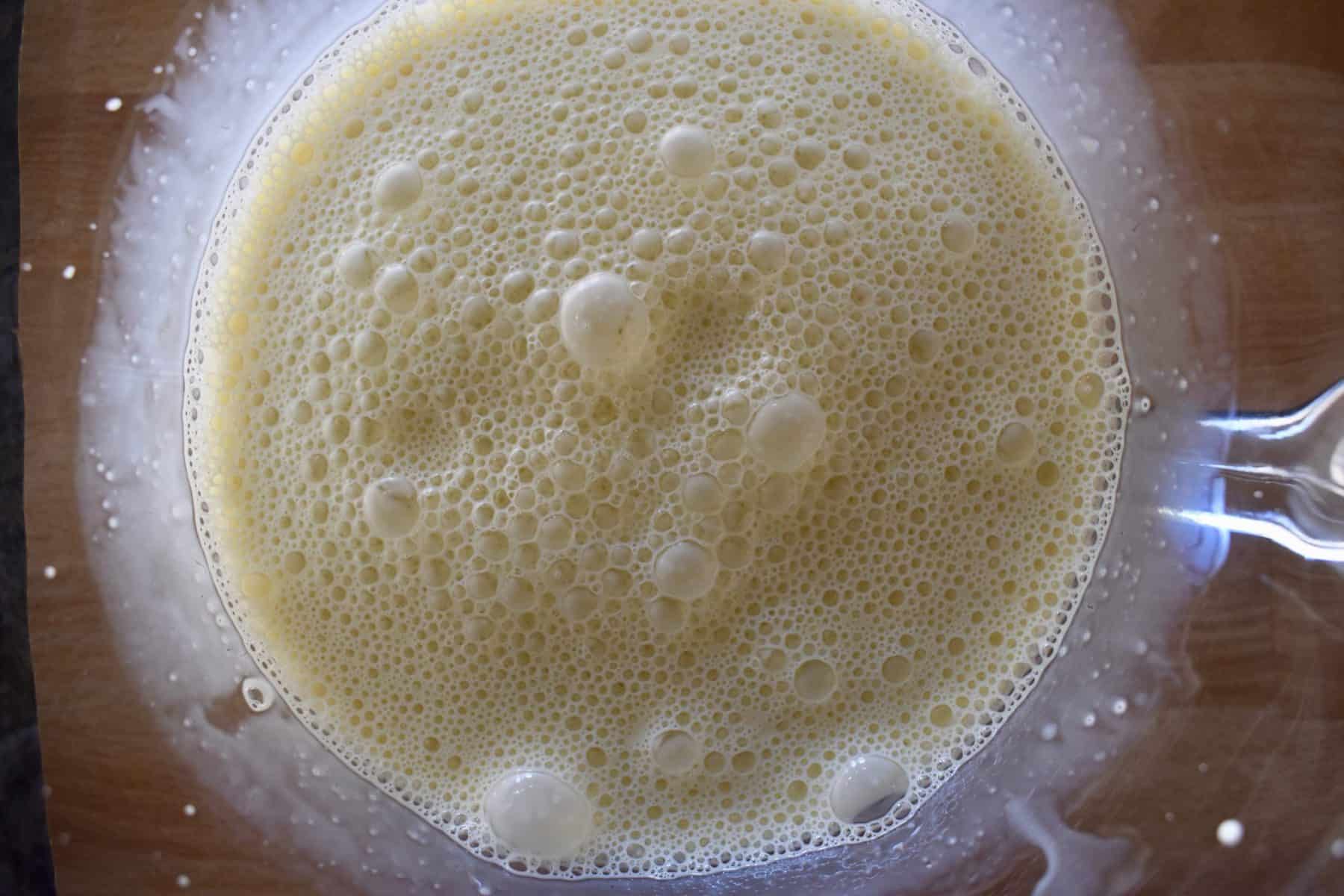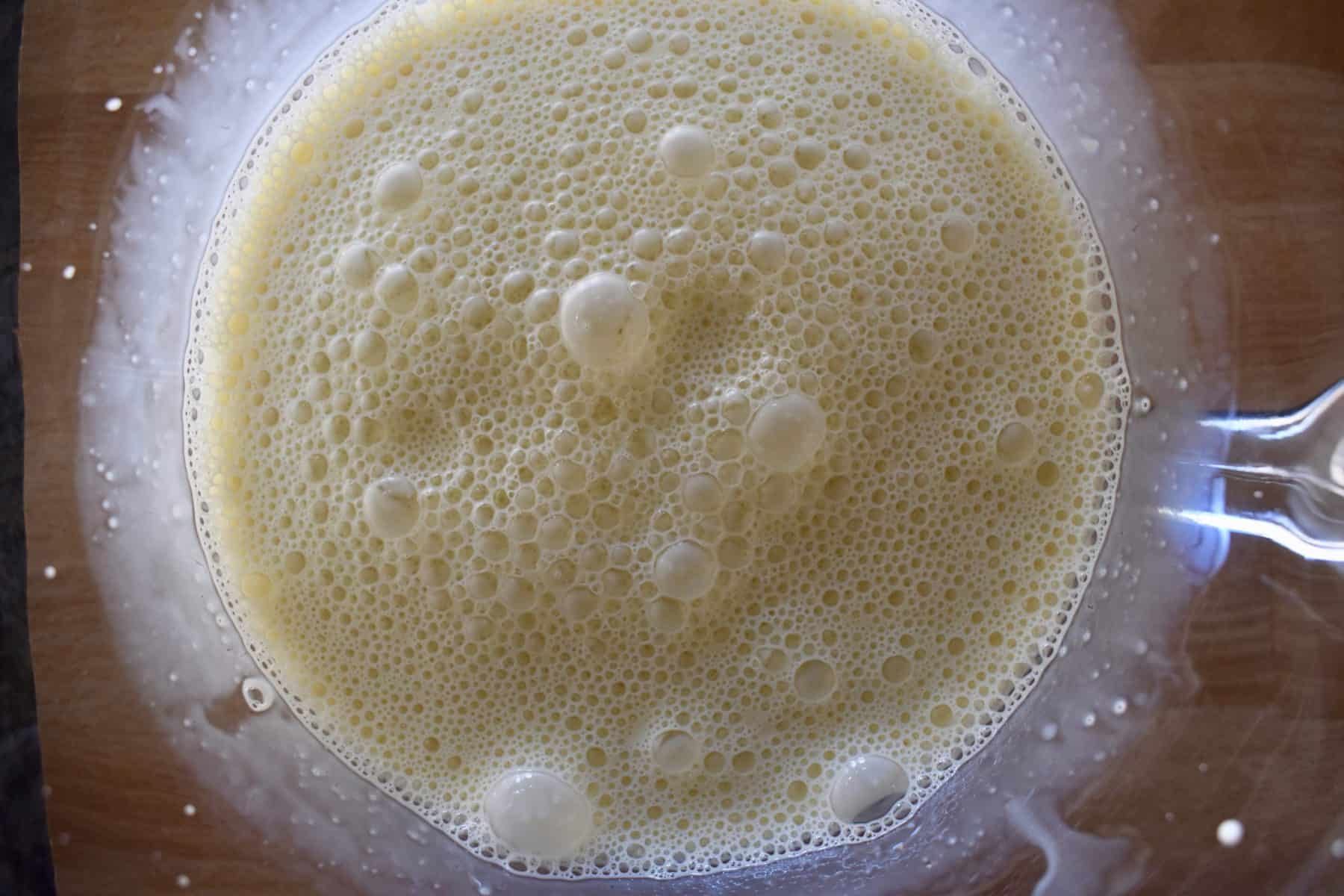 Pour the custard mixture over the panettone casserole and press down slightly to make sure that all of the bread is coated.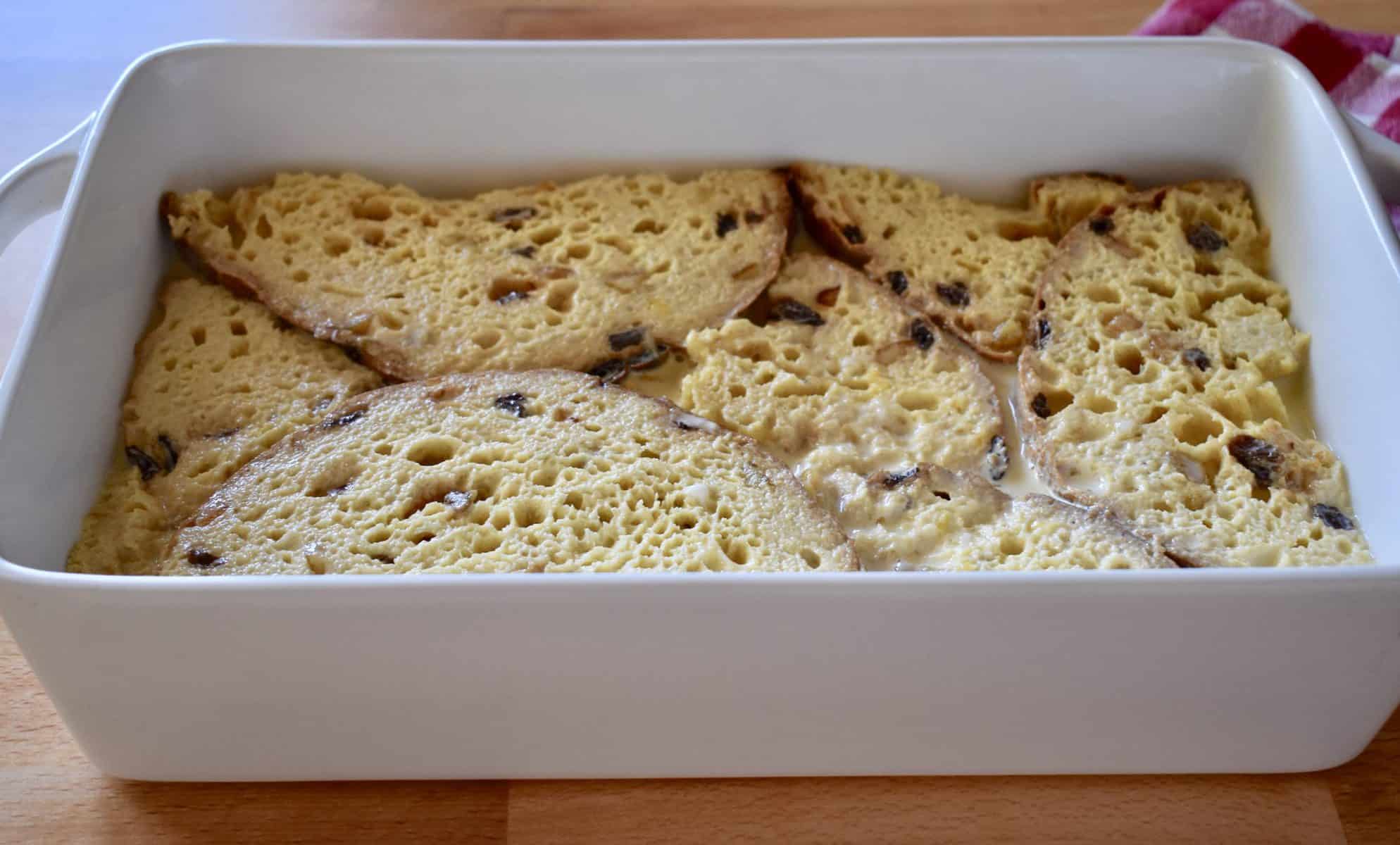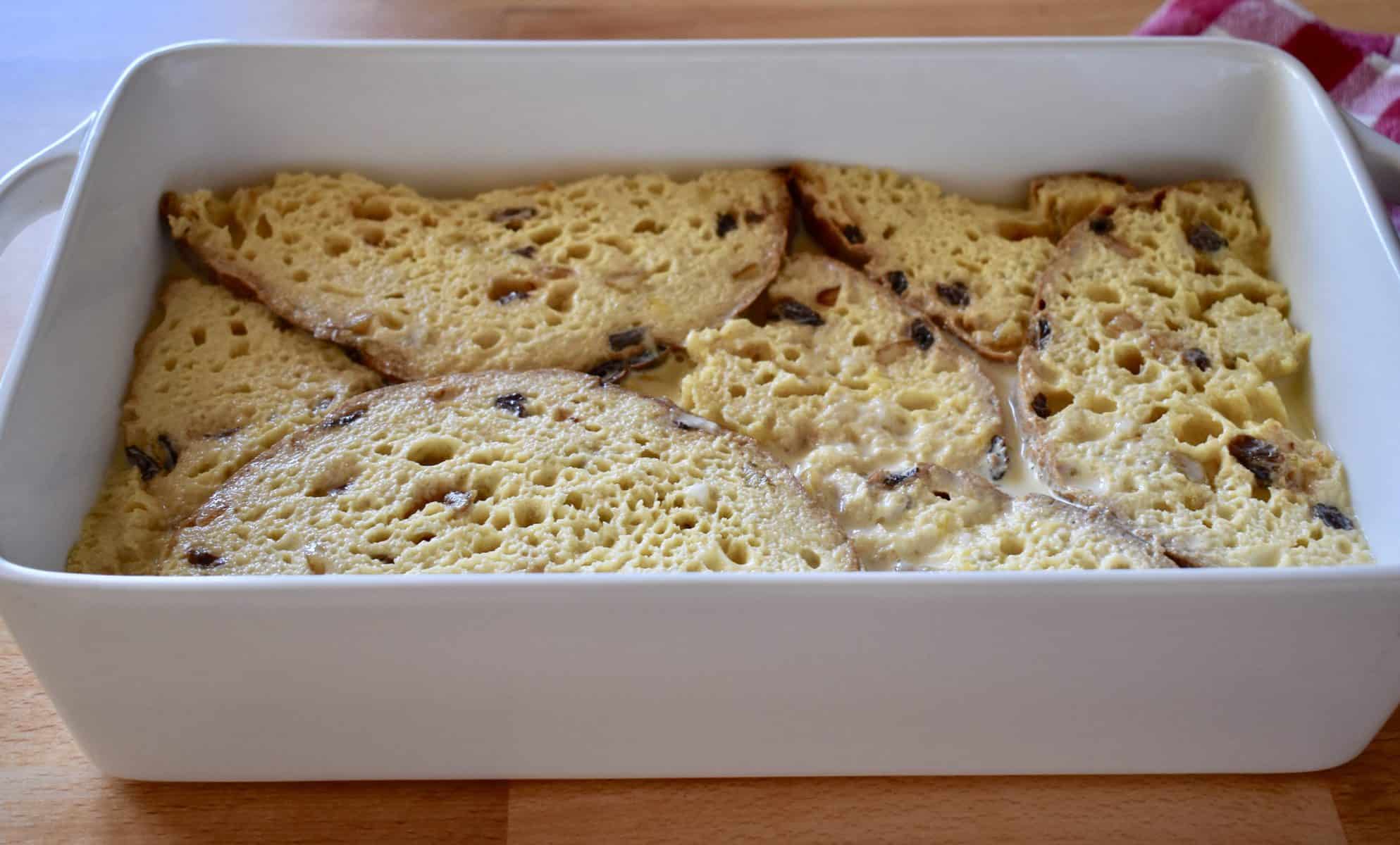 Bake immediately or refrigerate overnight
Panettone French Toast Casserole is great because you can bake it immediately or cover and refrigerate overnight. That's what makes this a great option for brunches or the holidays.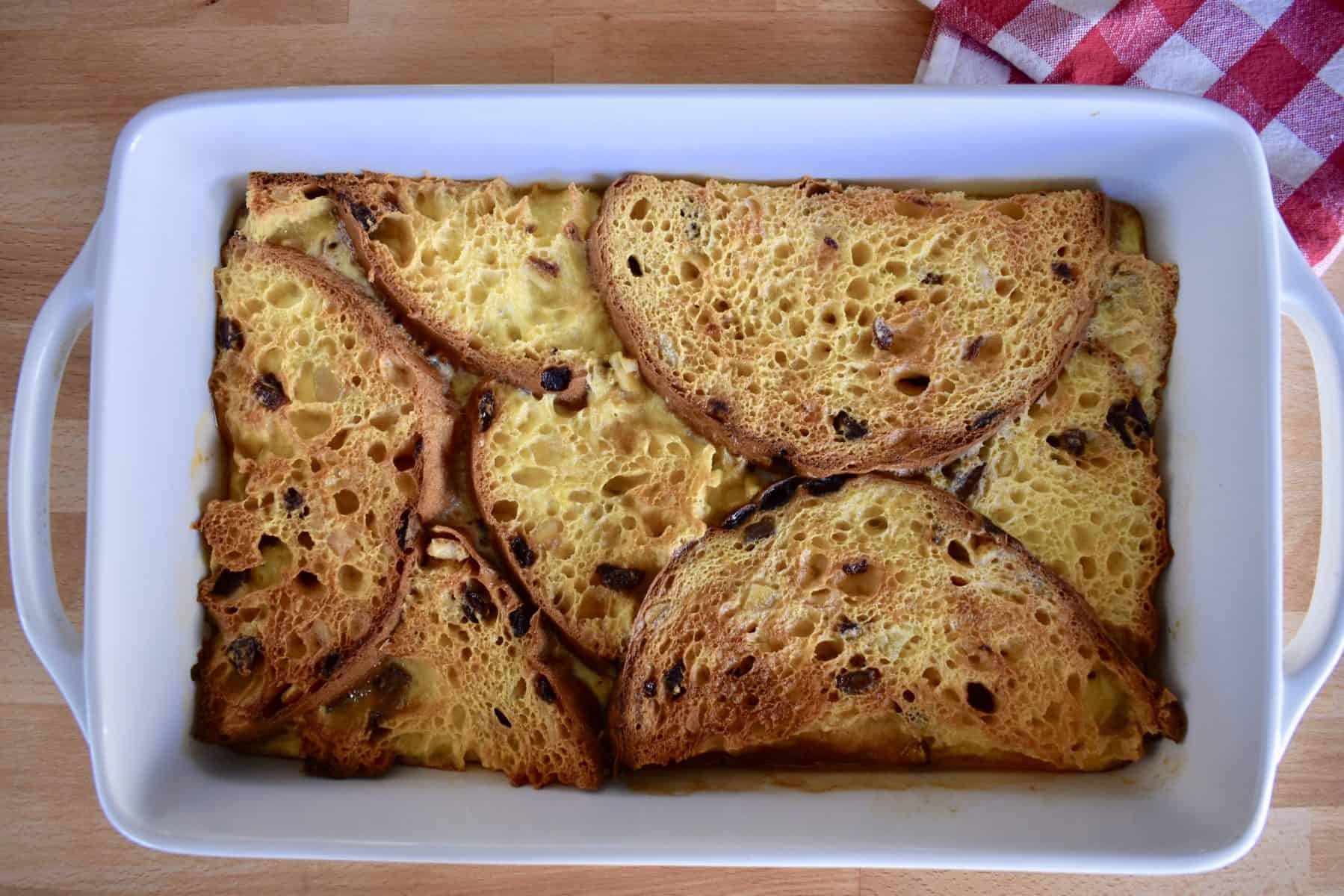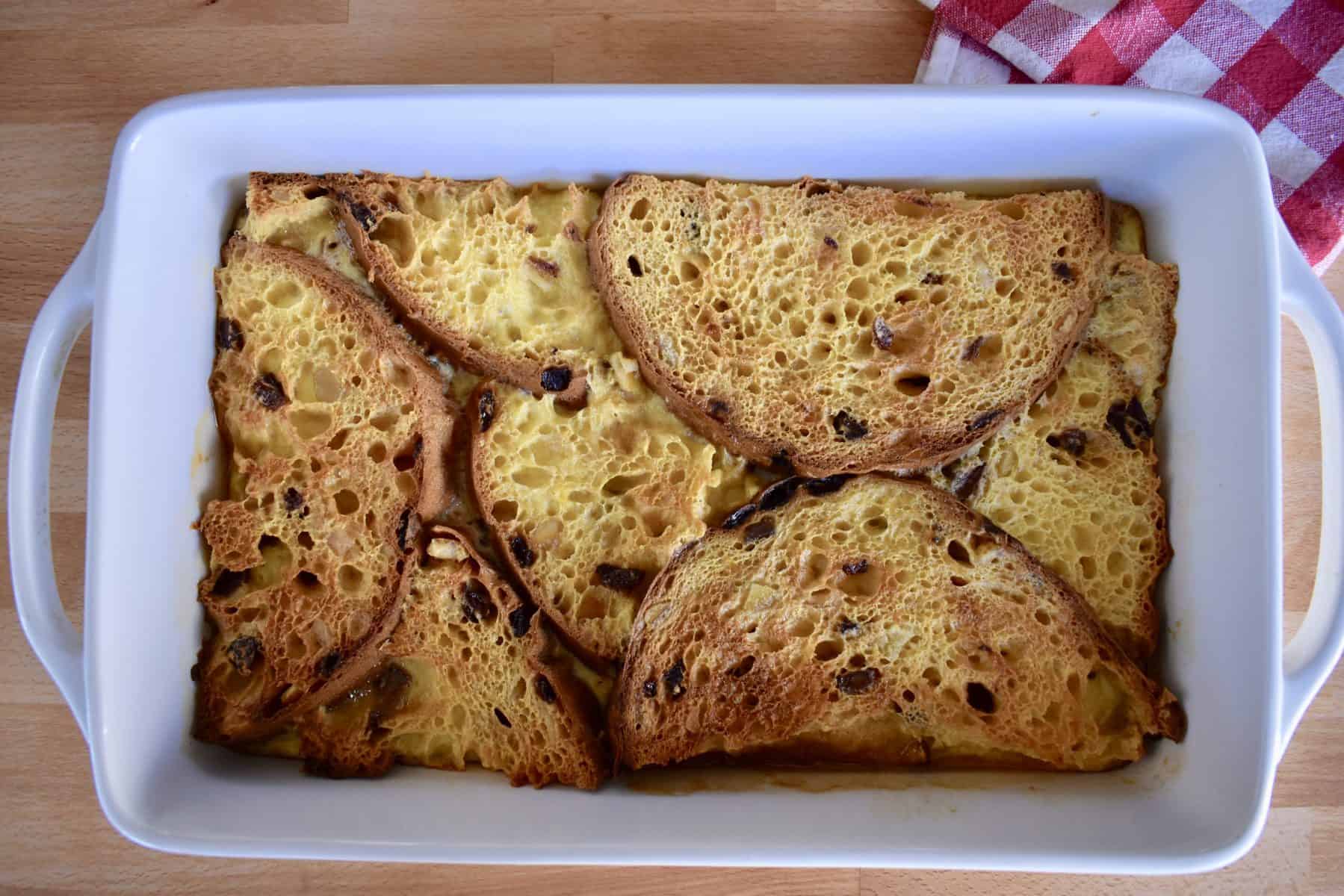 Bake in a preheated oven for about 40-45 minutes until the panettone puffs up and browns slightly. Also, make sure the custard is set in the middle and edges of the pan.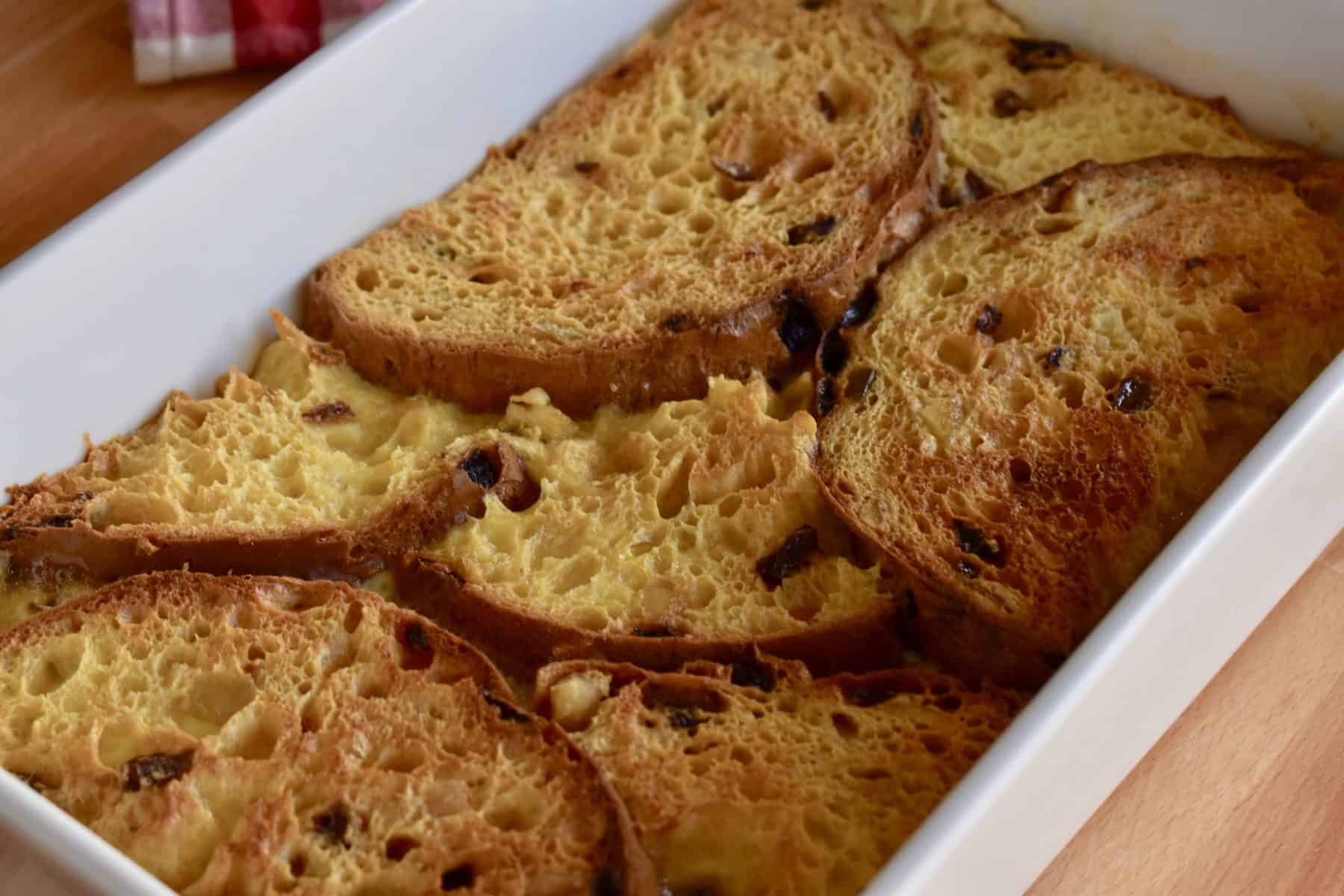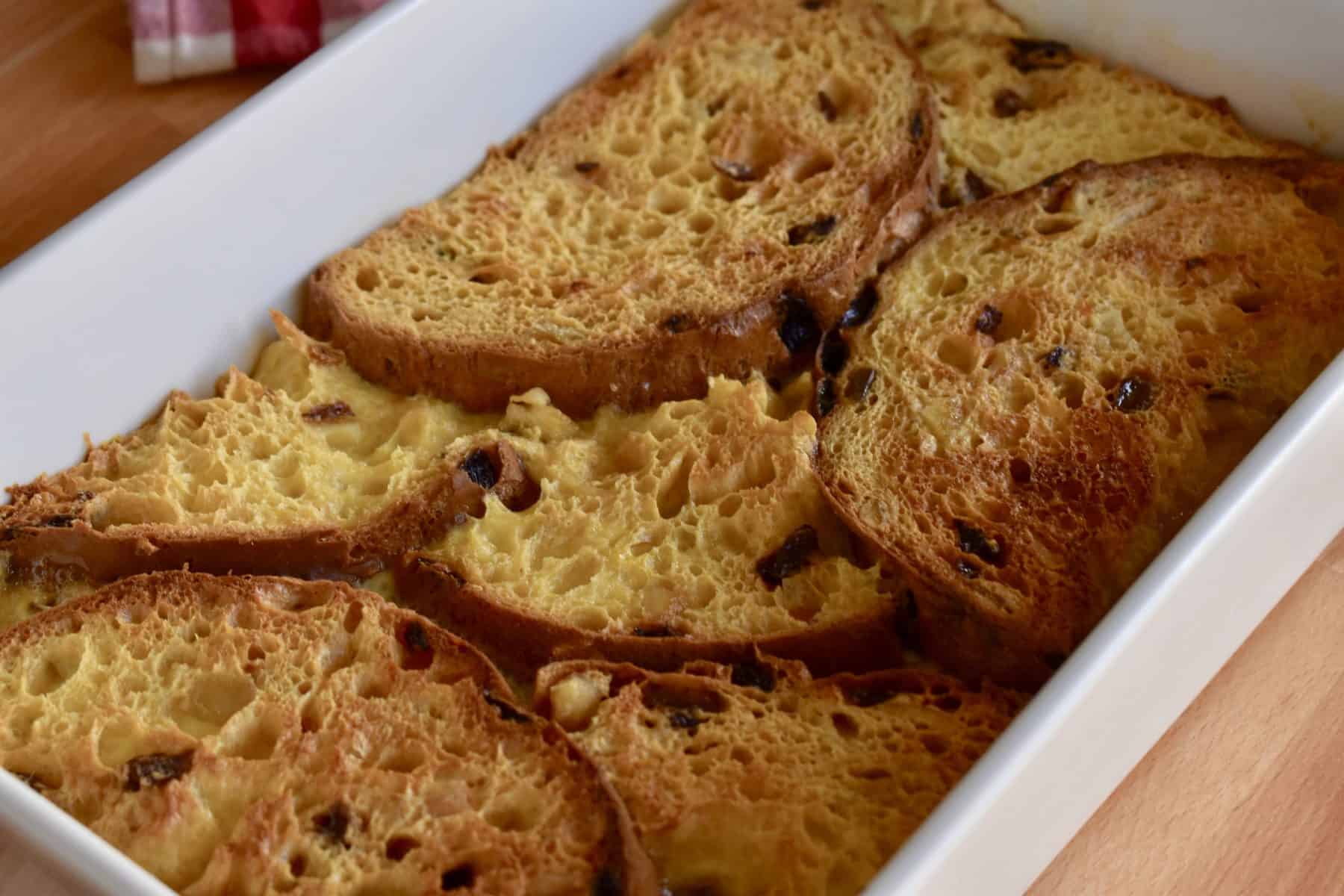 Serving Panettone French Toast
One of the best parts of the panettone French toast, and what makes this recipe so special, is the brown sugar topping. When serving, cut a piece of the French toast and use a large serving spoon to serve.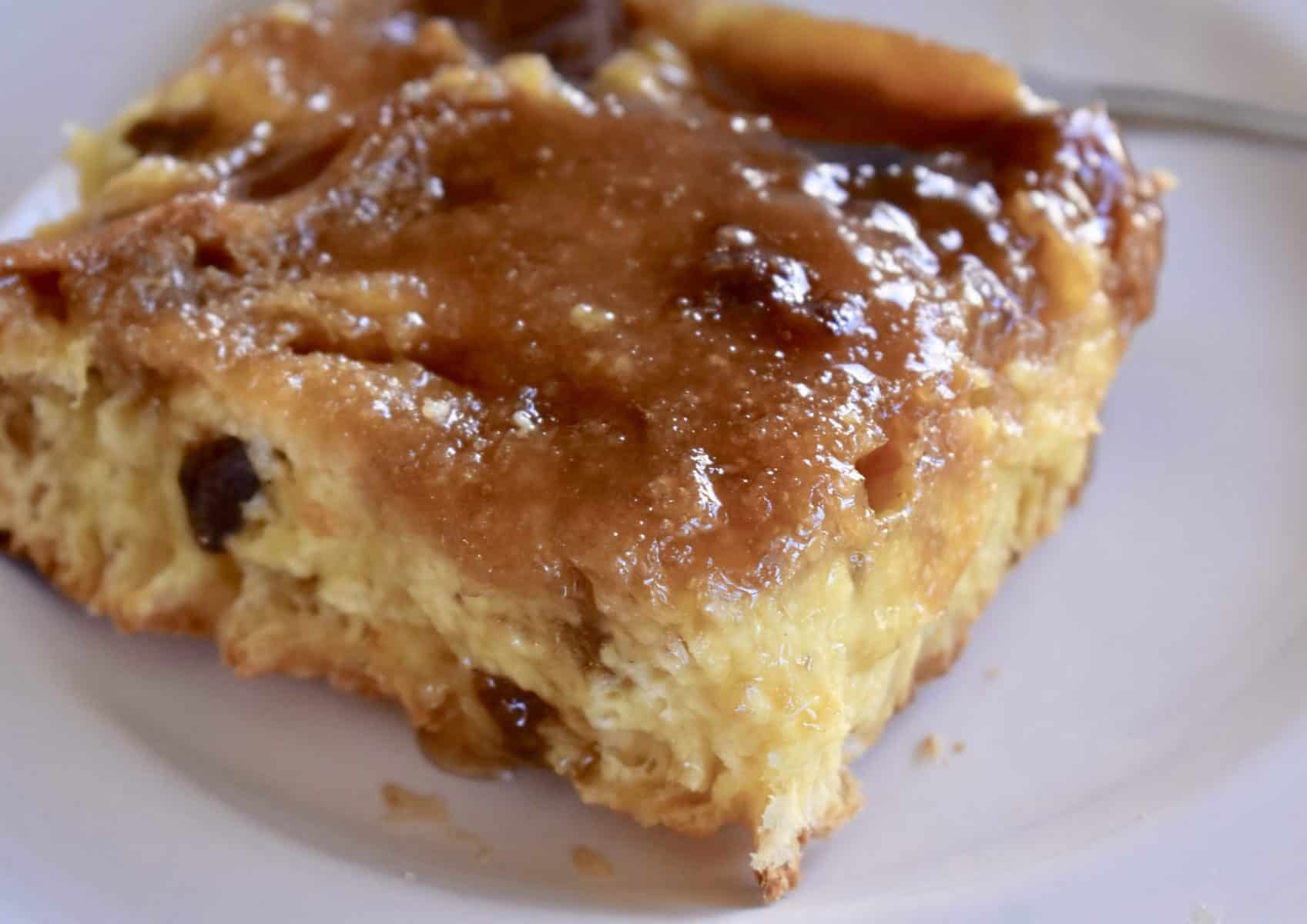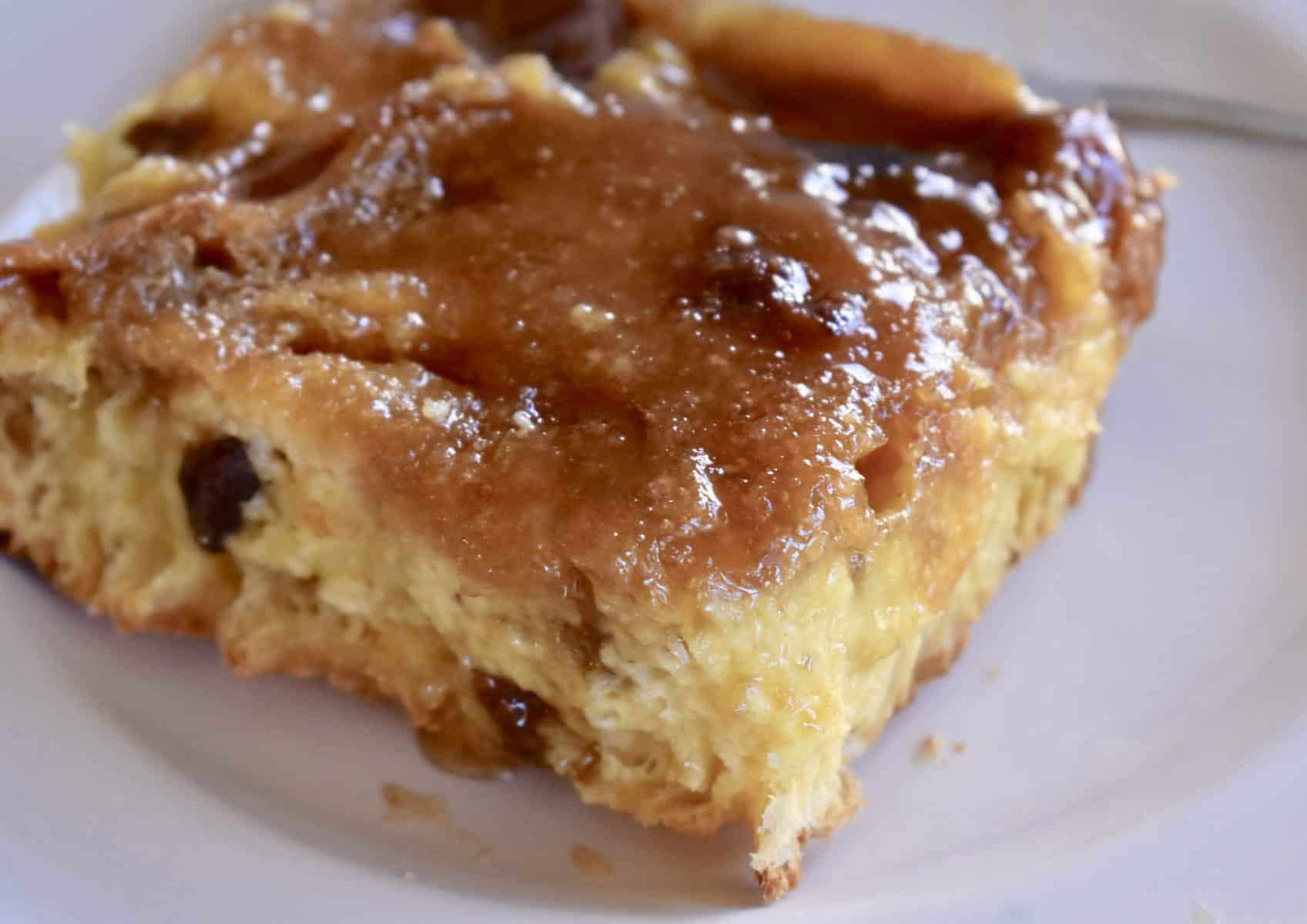 Carefully flip the slice of bread so that the bottom of the French toast is on top, showing all of the delicious brown sugar sauce. Finally, serve with warm maple syrup on the side.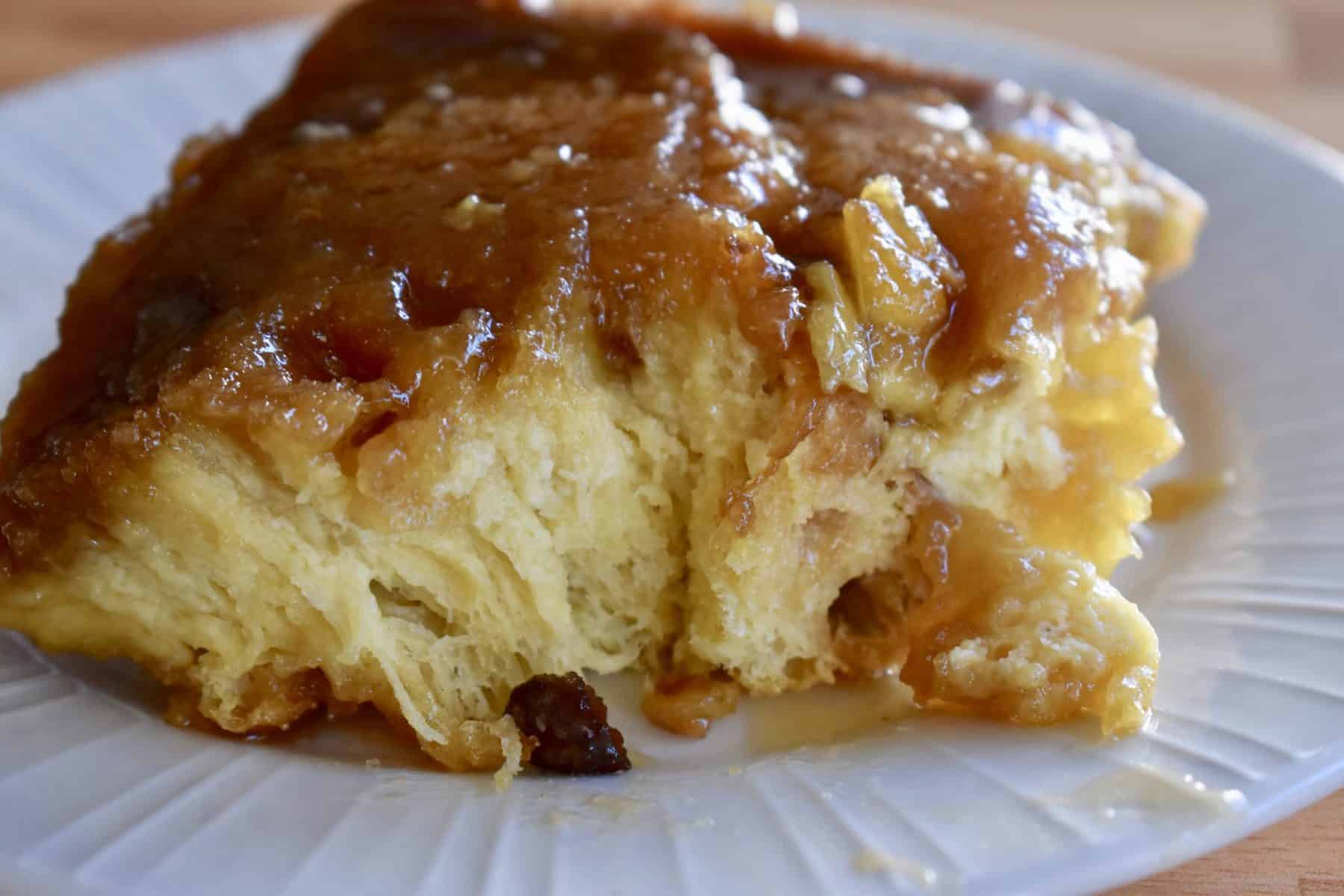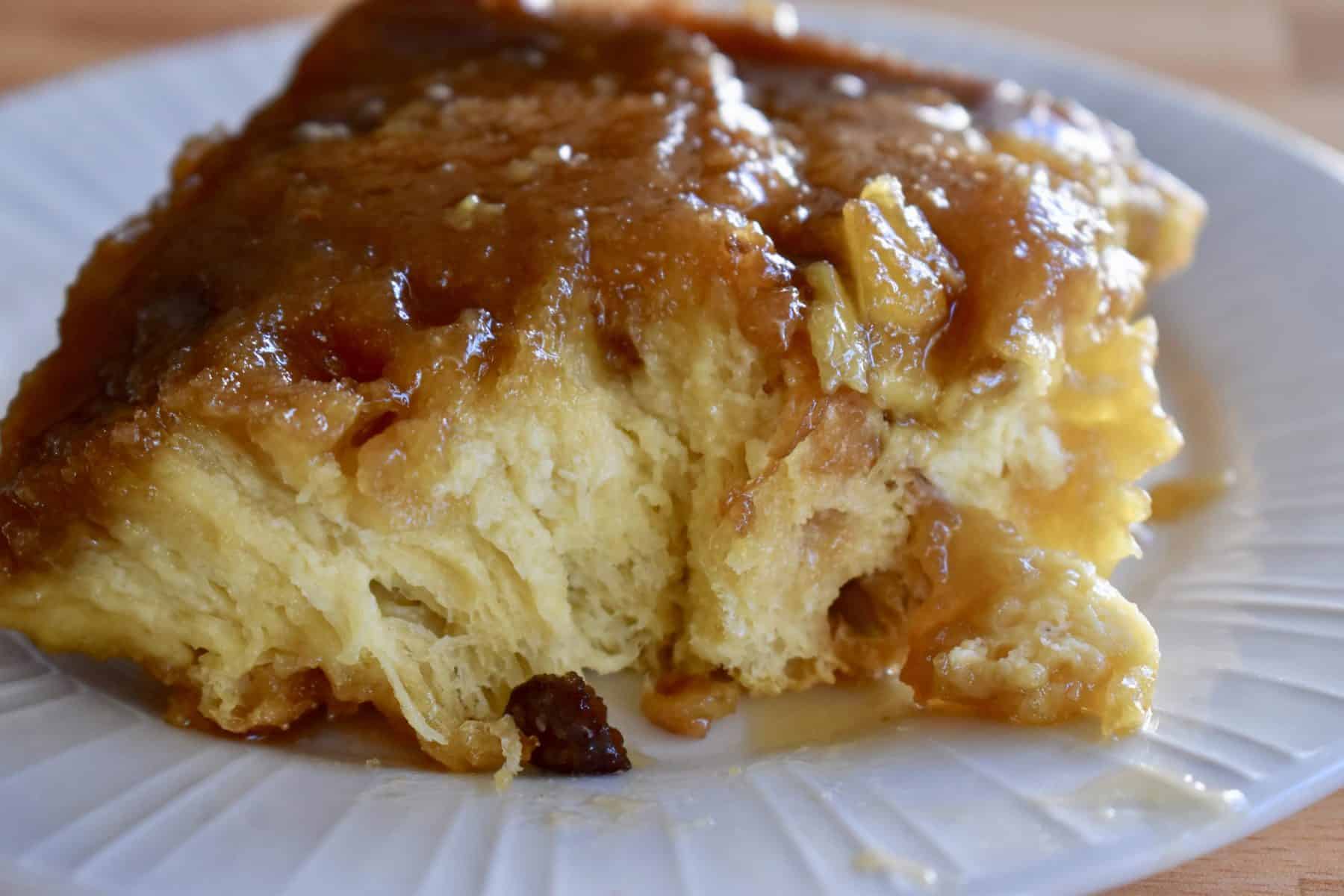 The delicious soft and flaky texture of panettone makes the for most flavorful and scrumptious breakfast casserole. Moreover, with the added texture of the raisins and dried fruit, this is the perfect brunch treat that everyone will love.
Make-Ahead Breakfast Casseroles
Stress less in the morning with these delicious and easy to make breakfast casseroles!
Cannoli Baked French Toast has all of the cannoli flavors you love with layers of sweetened ricotta cheese.
Baked Eggnog French Toast has a few ingredients and is a perfect use for your holiday eggnog.
Overnight Bagel French Toast uses sweet bagels and has a delicious cinnamon cream cheese sauce.
Sausage Hash Brown Breakfast Casserole uses frozen hash brown potatoes, breakfast sausage, and shredded cheddar.
Eggs Benedict Casserole with Hollandaise Sauce is a great way to make eggs Benedict without all of the work.
Croissant Baked French Toast with Cinnamon Apples is the ultimate breakfast casserole featuring delicious cooked cinnamon apples and brown sugar.
I hope you love this recipe for Panettone French Toast Casserole! Be sure to comment below if you try it. Enjoy!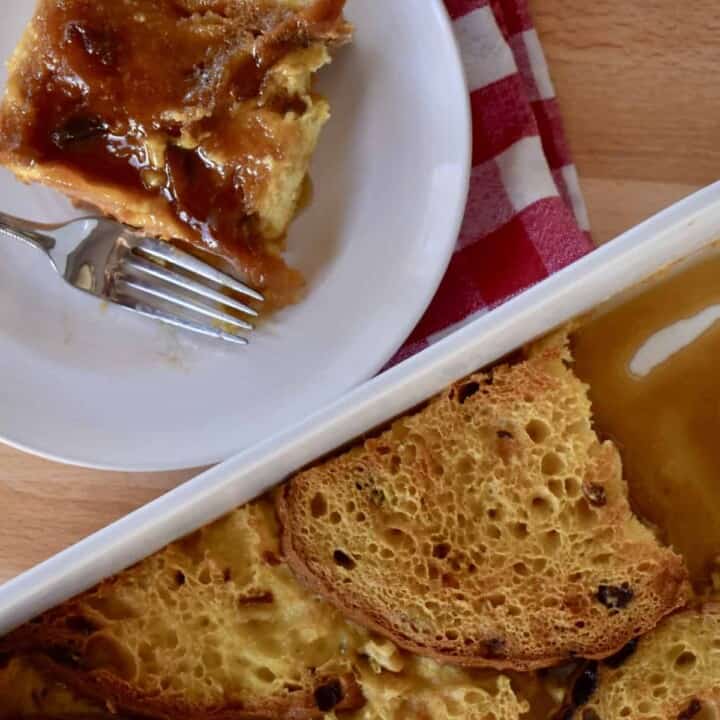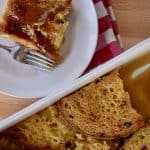 Print Recipe
Panettone French Toast Casserole with Brown Sugar Topping
Use delicious Italian panettone to make a flavorful french toast casserole with a tasty brown sugar topping. Perfect recipe for the holidays and brunches.
Ingredients
1

cup

brown sugar

½

cup

butter

(one stick)

2

tablespoons

corn syrup

5

large

eggs

1 ½

cups

half & half

2

teaspoons

vanilla

1

loaf

panettone bread

(about a pound)
Instructions
Melt butter, brown sugar, corn syrup in a small saucepan. Once melted, remove from heat and whisk to combine the mixture until smooth and fully incorported. Pour into a 13 x 9 baking dish or casserole dish.

Cut one and a half inch slices from the panettone bread and arrange them in a single layer in the baking dish, cutting and squeezing them to fit snuggly.

In a bowl, whisk together eggs, half & half and vanilla. Pour over the panettone. Gently push bread down to make sure the custard covers all pieces. If making ahead, cover the casserole and refrigerate overnight. If baking immediately, proceed to next step.

Preheat oven to 350 degrees. Bake uncovered until the panettone is puffed and the edges are pale and golden, approximiately 40 minutes.

Let sit five minutes before serving. Serve with maple syrup on the side.
Notes
This is a great recipe to make ahead and bake the next day. It can also be prepped and baked immediately. Scoop and serve so that the brown sugar bottom of the casserole is on top. 
Nutrition