Mushroom Pea Risotto is a classic Italian recipe that is simple and delicious. Made with arborio rice, mushrooms, frozen peas, and parmesan cheese, this recipe is perfect for any occasion.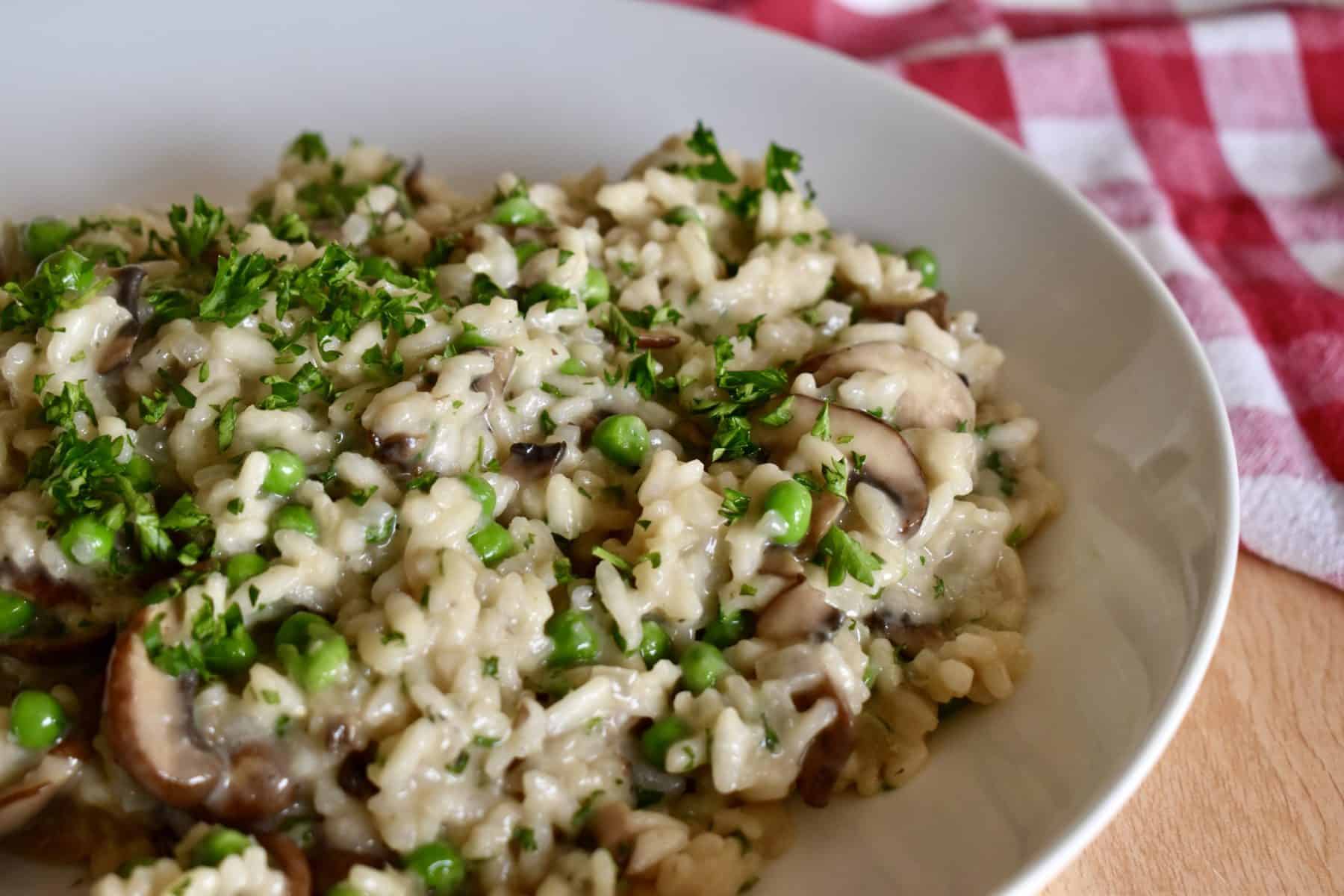 Creamy and delicious risotto doesn't have to be difficult to make or reserved for special occasions. This Mushroom Pea Risotto recipe uses simple ingredients, comes together fast, and is great for weeknight dinners.
Risotto is a very common rice dish in Italy. It is made from arborio rice - a short grain rice with a high starch content. This combination makes it perfect for getting that creamy texture without adding any cream or milk.
Cooked properly, risotto will yield a super creamy texture without adding extra fat. Here, the only milk fat added is a tablespoon of butter used for finishing the dish.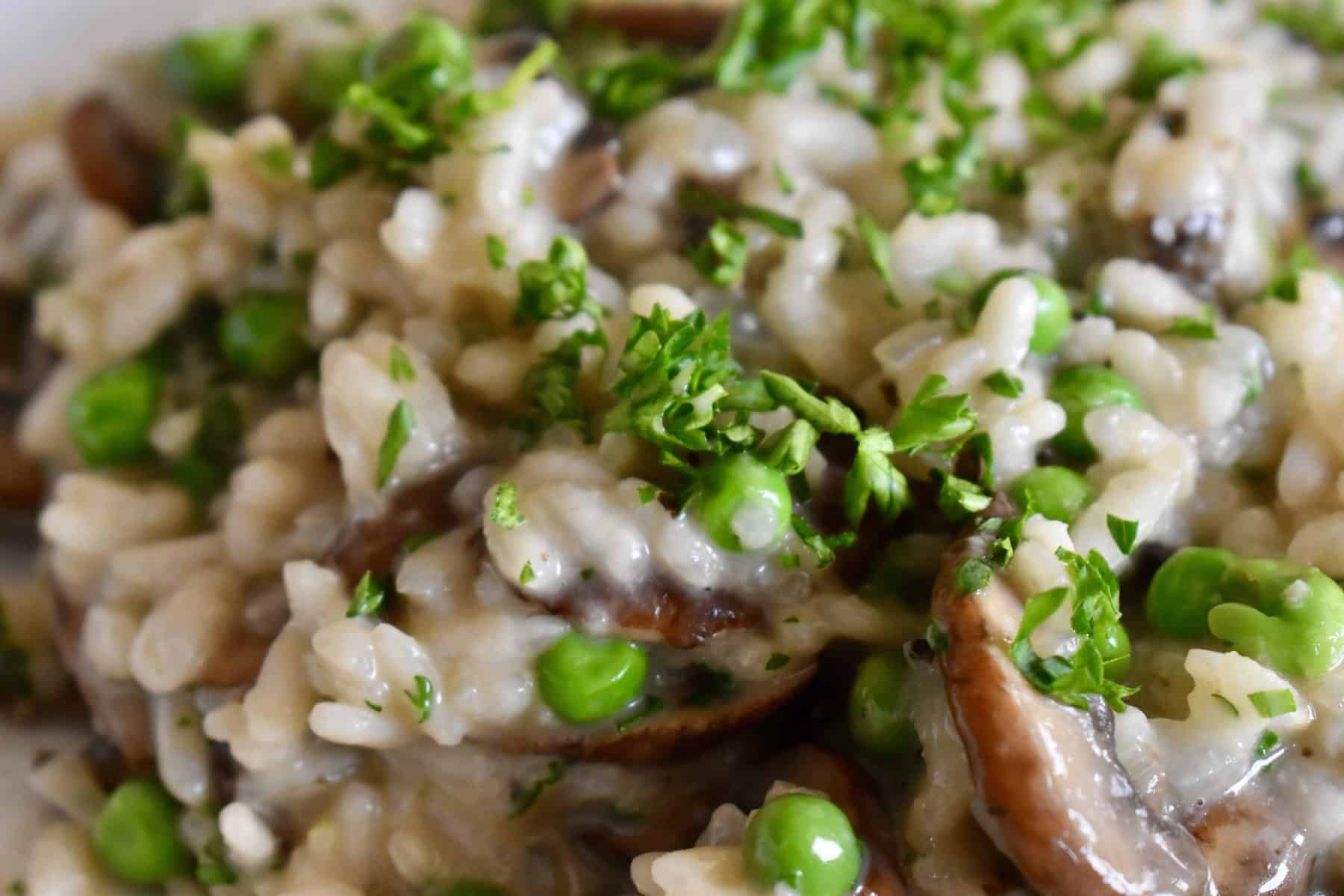 Be sure to give this recipe a try and see for yourself how simple it is to make creamy risotto at home! And, if you love delicious Italian recipes, try my Italian Sausage and Lentils and the very popular Italian Turkey Lasagna. And for a true classic Italian dish, don't miss this Anchovy Breadcrumb Pasta!
Mushroom Pea Risotto Recipe
This tasty risotto comes together quick and uses simple ingredients you probably already have on hand. Use a skillet for sautéing the mushrooms while you prepare the rice, and have this dish done in less than 30 minutes.
Firstly, prepare the mushrooms. For this recipe, you can use whatever mushrooms you like or happen to have on hand. I typically use baby Bella mushrooms, but portobello, shiitake, or even button mushrooms would be fine.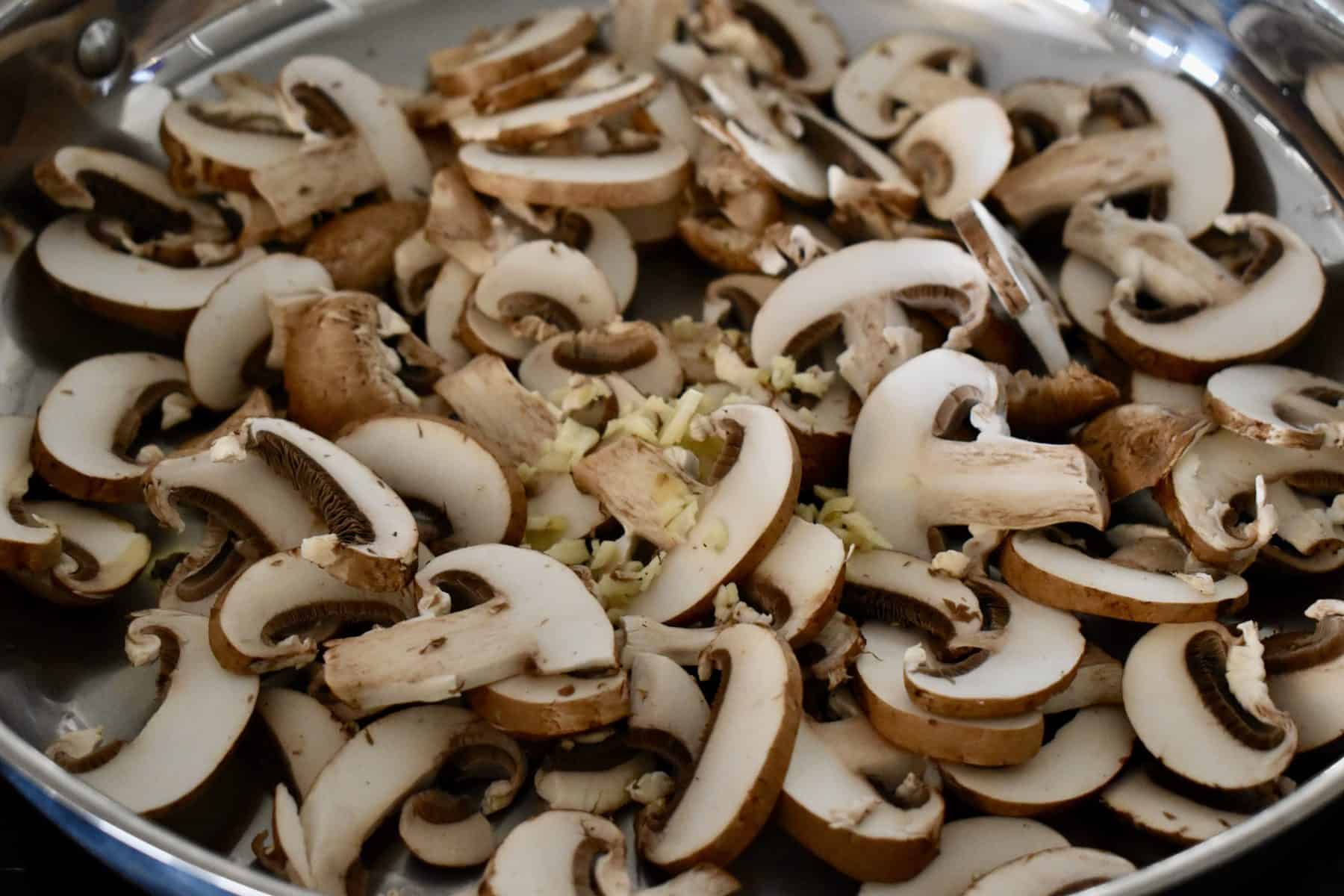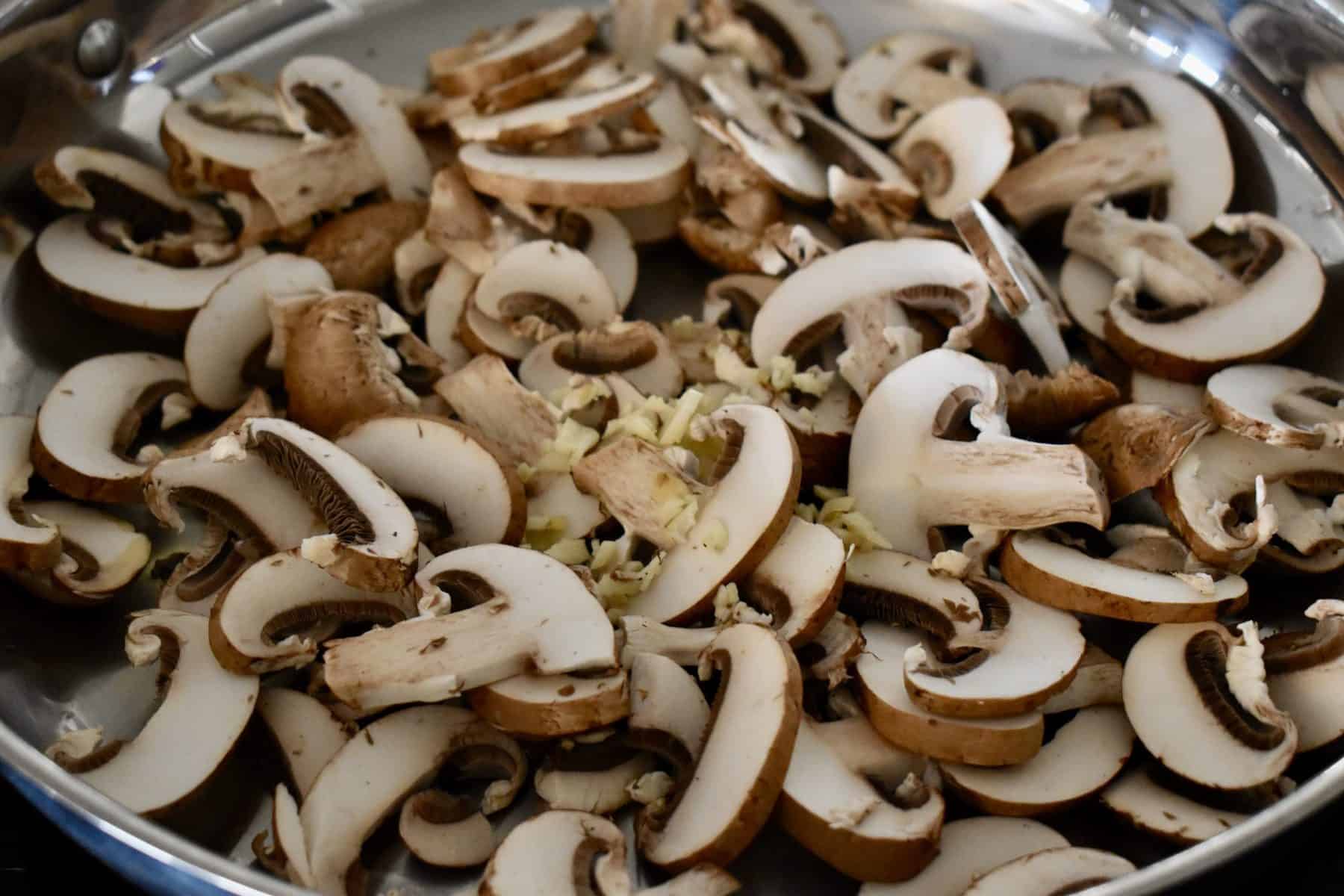 Slice the mushrooms and sauté in a tablespoon of olive oil and garlic over medium high heat. You want to cook the mushrooms just until they start too brown and release some moisture.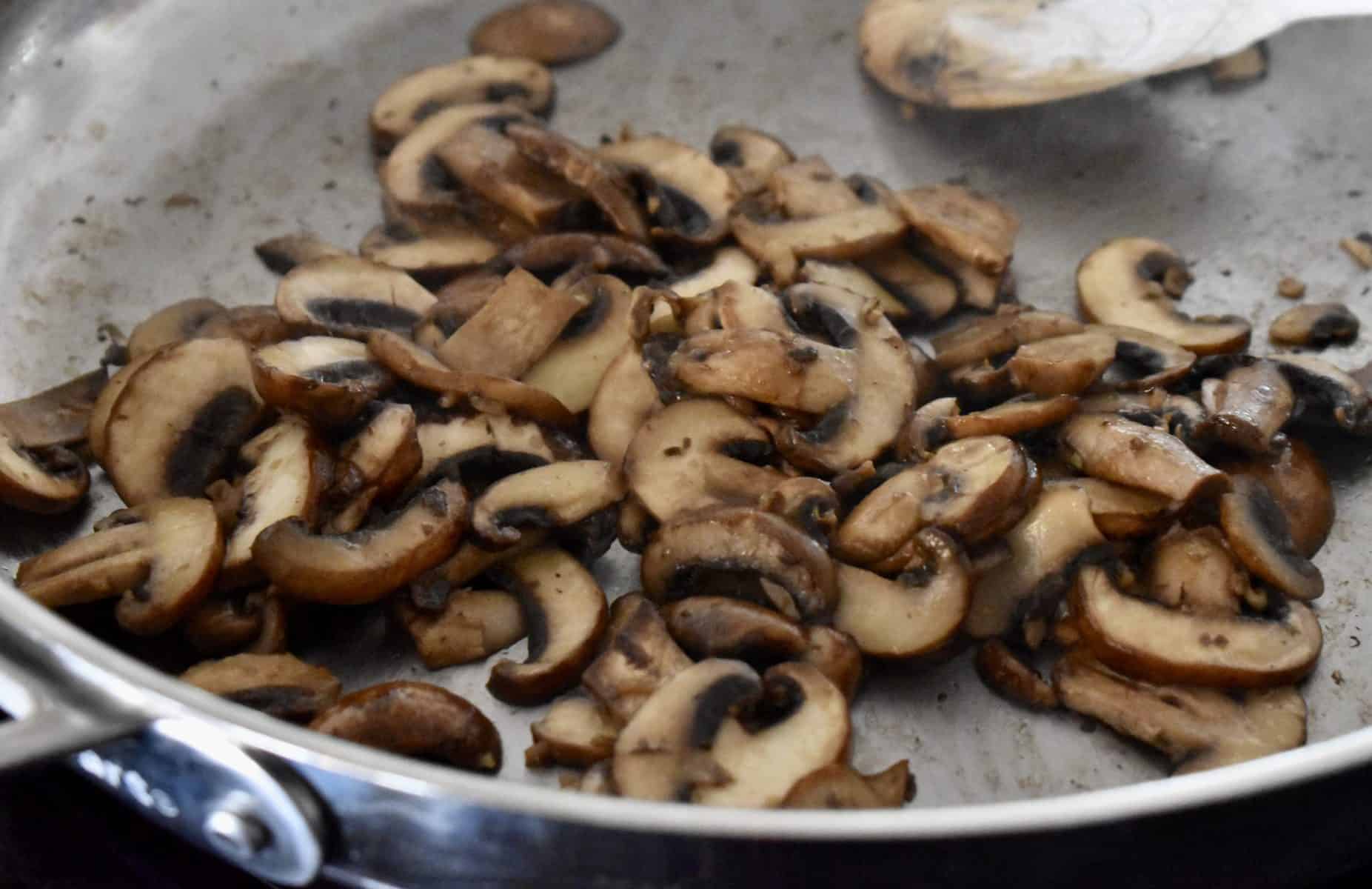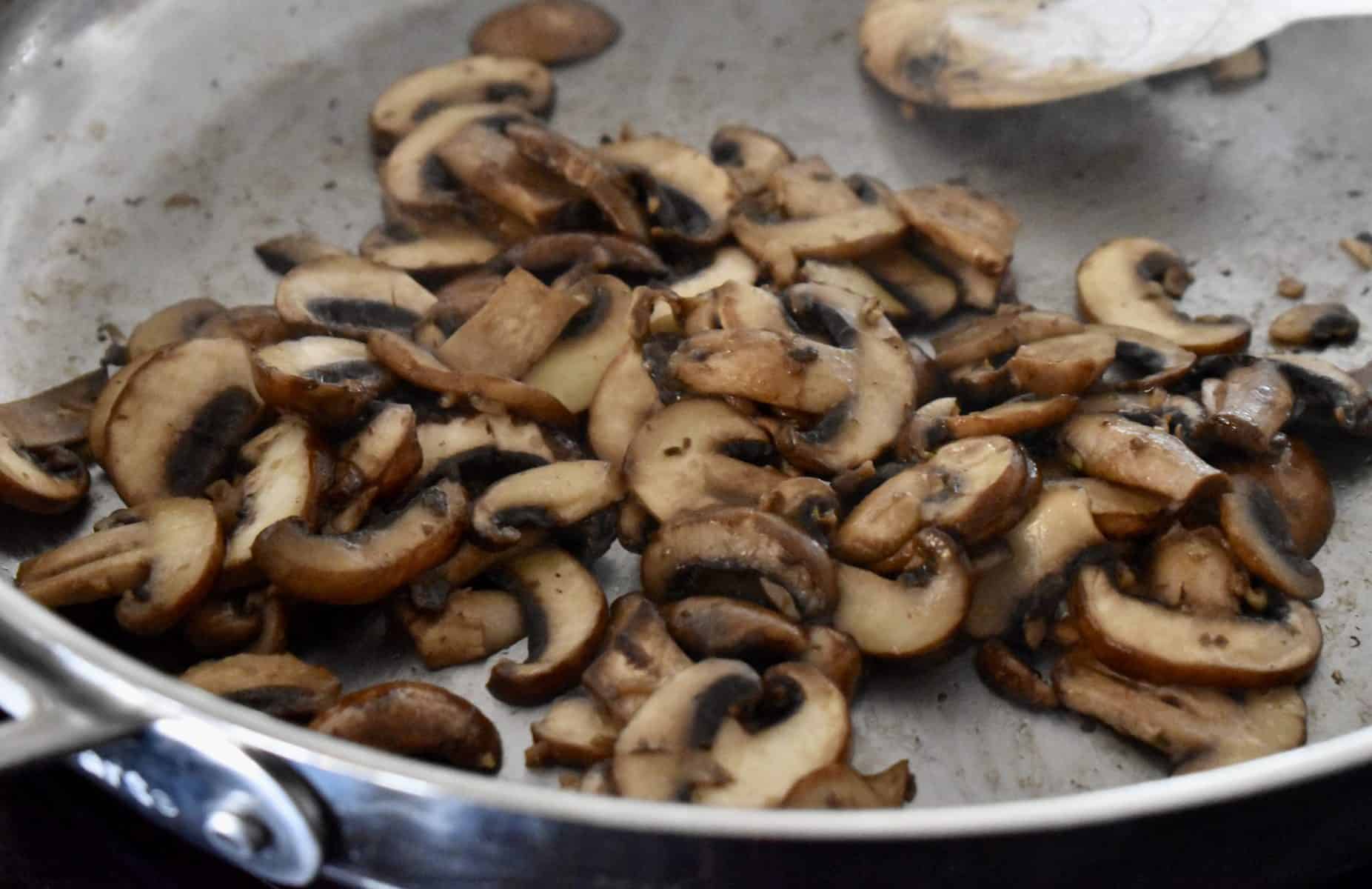 Set the cooked mushrooms aside while you prepare the risotto.
How to make risotto
Once you learn how to make risotto, you'll see that it's actually simple to make and a quick and elegant dish to serve anytime.
Risotto does require more attention than other rice dishes. To get a creamy and tender rice, you will need to release all of then starches of the arborio grain. To do this, you will need to stir it every minute or so, but definitely not constantly.
Moreover, to really release all of those creamy starches, you will need to slowly add the liquid to the rice. Since you are adding liquid to the risotto as it cooks, it's best to have hot liquid so that it doesn't bring down the temperature of the rice.
I like to measure out my broth and set it to a low simmer in a saucepan on the stove where I'm making risotto. That way I can ladle in the broth as the rice absorbs it.
In total, for a cup of uncooked arborio rice you will need about 3 cups of liquid. This includes the wine that the rice cooks in initially as well as the 2 ½ cups of broth that will be added to the rice as it cooks.
Cook the arborio rice just until it's al dente. You don't want overcook or add too much liquid, otherwise you risk the risotto getting mushy. Once the risotto is finished cooking you can finish it off with a tablespoon of butter and some grated parmesan cheese.
Step-by-step mushroom pea risotto recipe
To start, sauté olive oil and diced onions in a large saucepan or dutch oven over medium heat. Cook just until the onions start to soften and become translucent.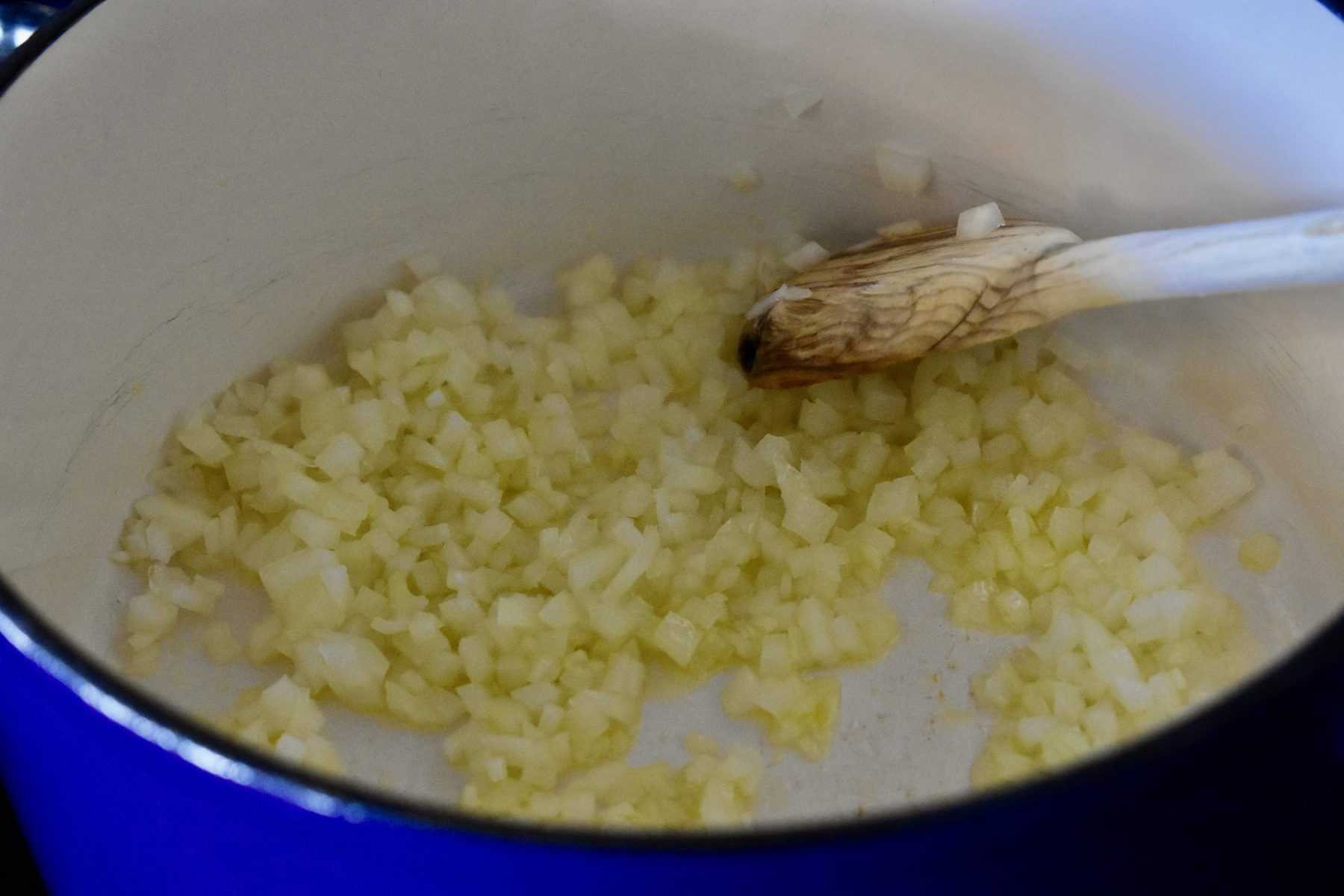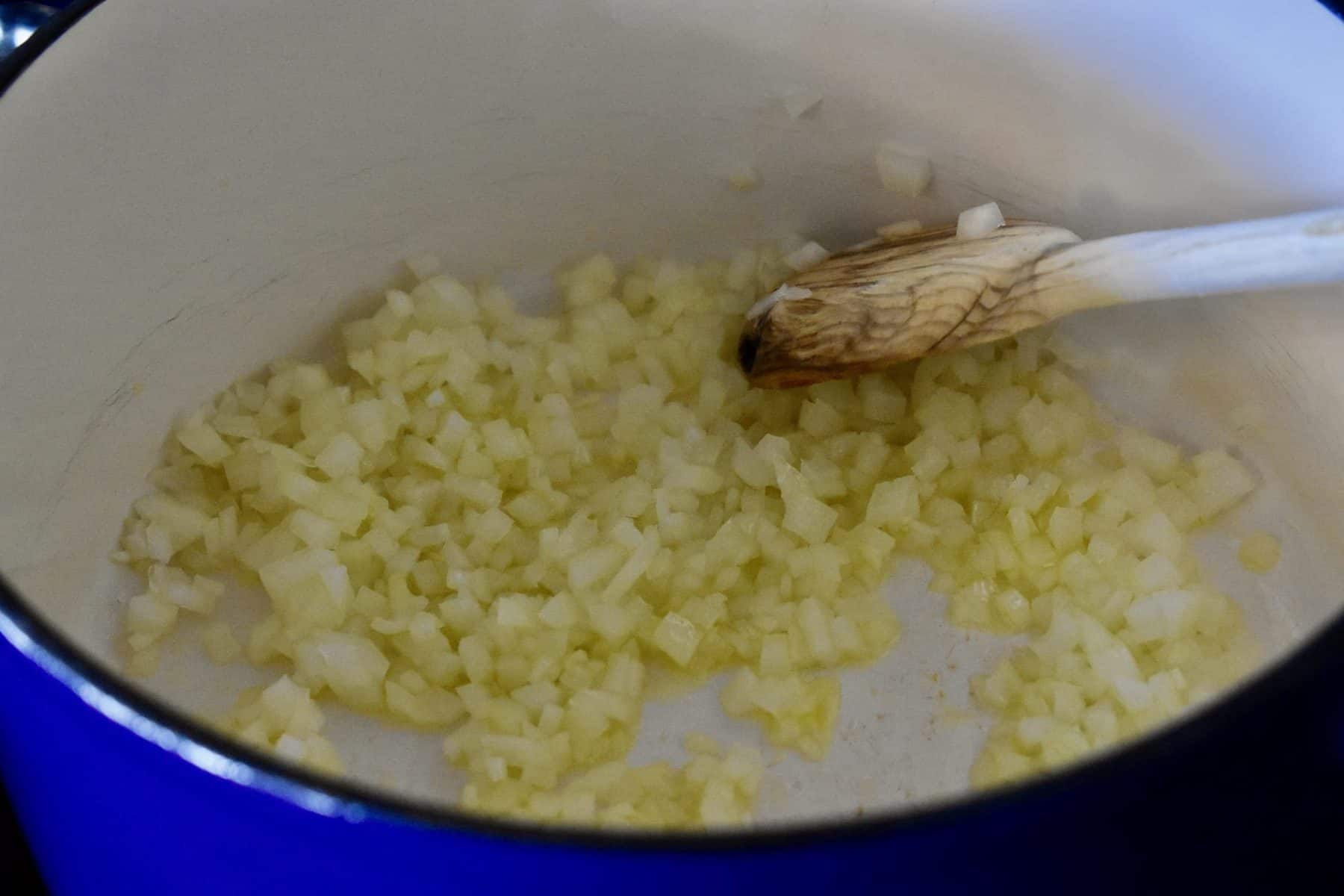 Next, add in the arborio rice. Stir with the onion mixture for at least a minute, allowing the rice to get some color from the pan.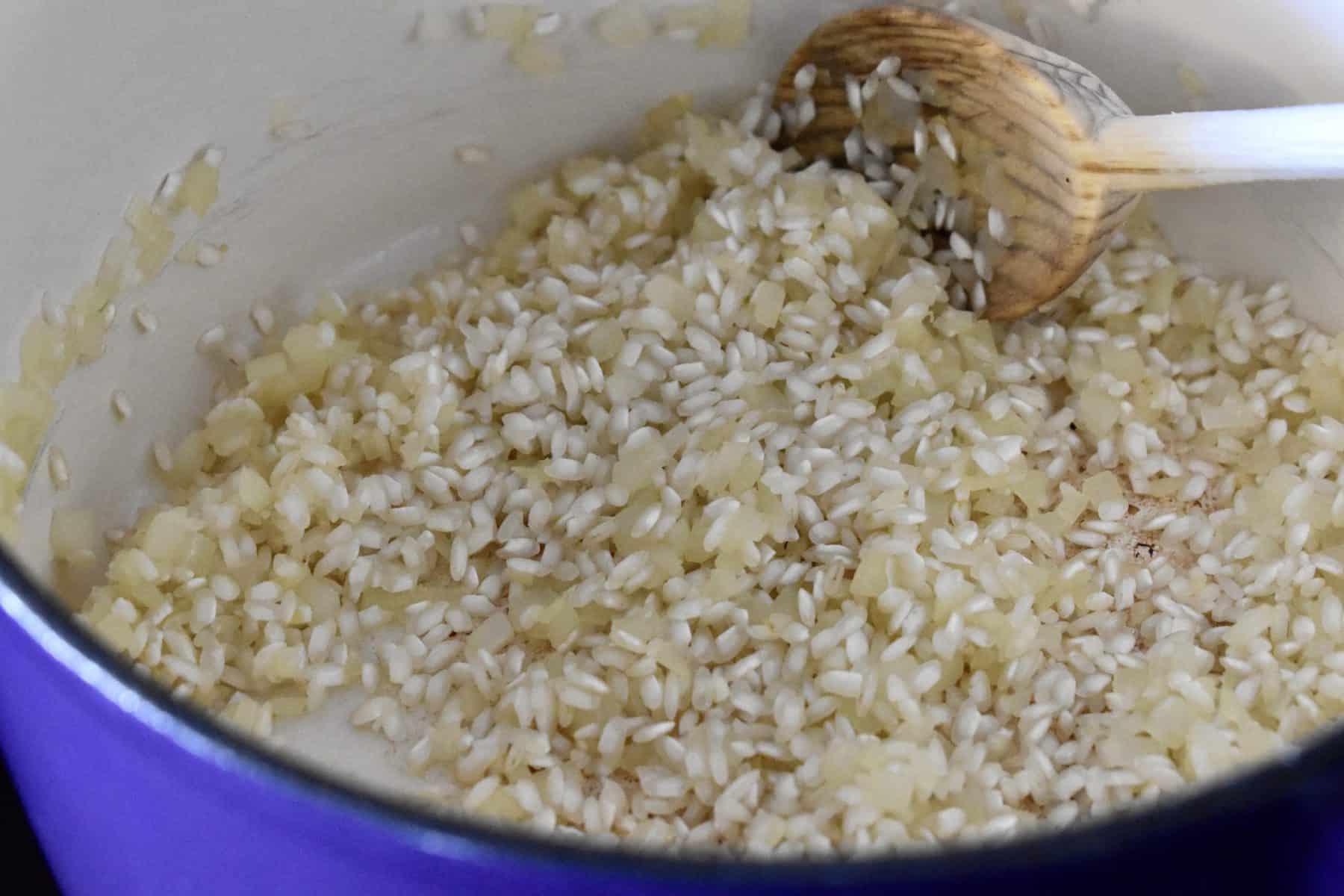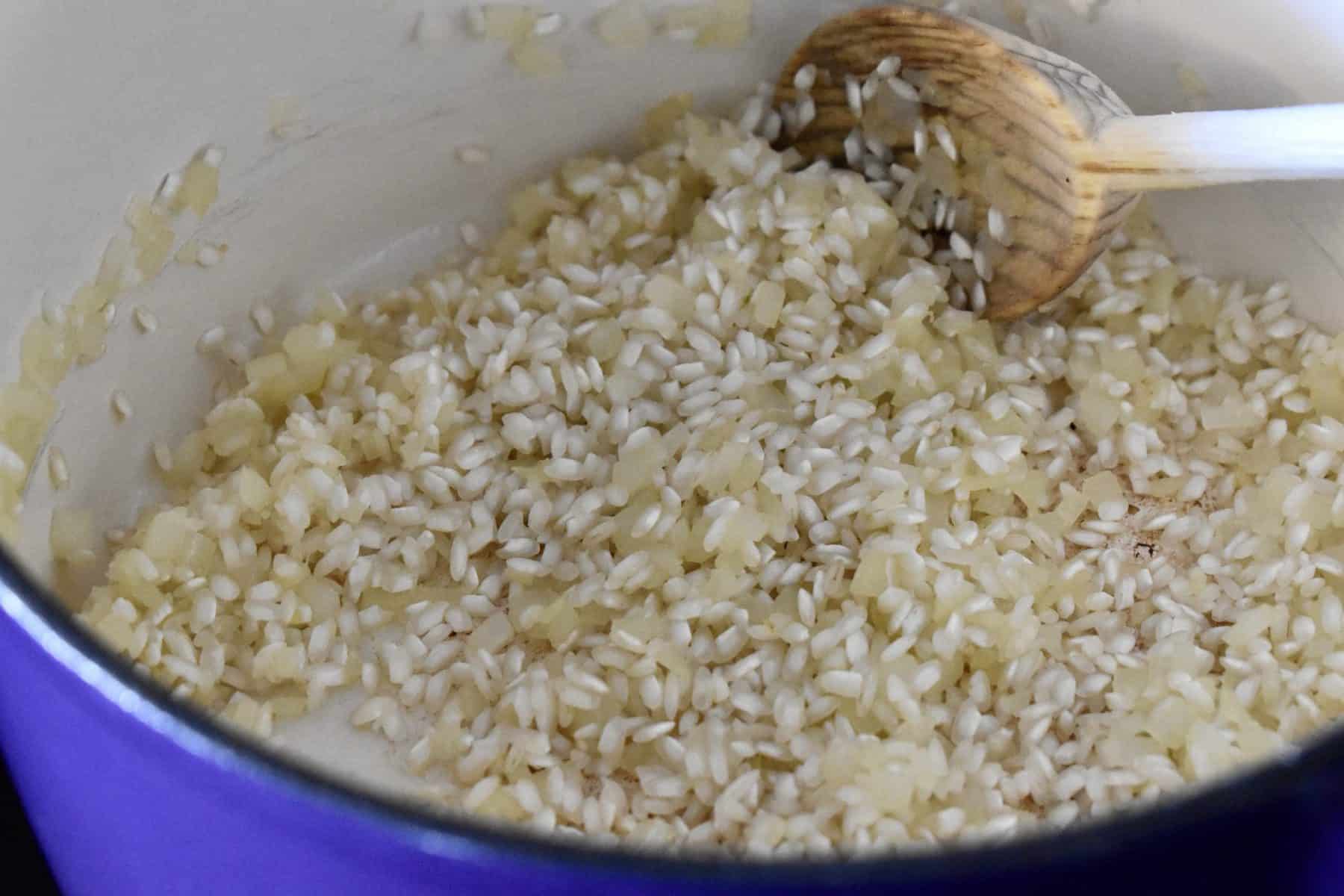 Pour in the dry white wine. Any white wine you have on hand works here, just as long as it's not super sweet. Stir the mixture until the rice absorbs all of the liquid.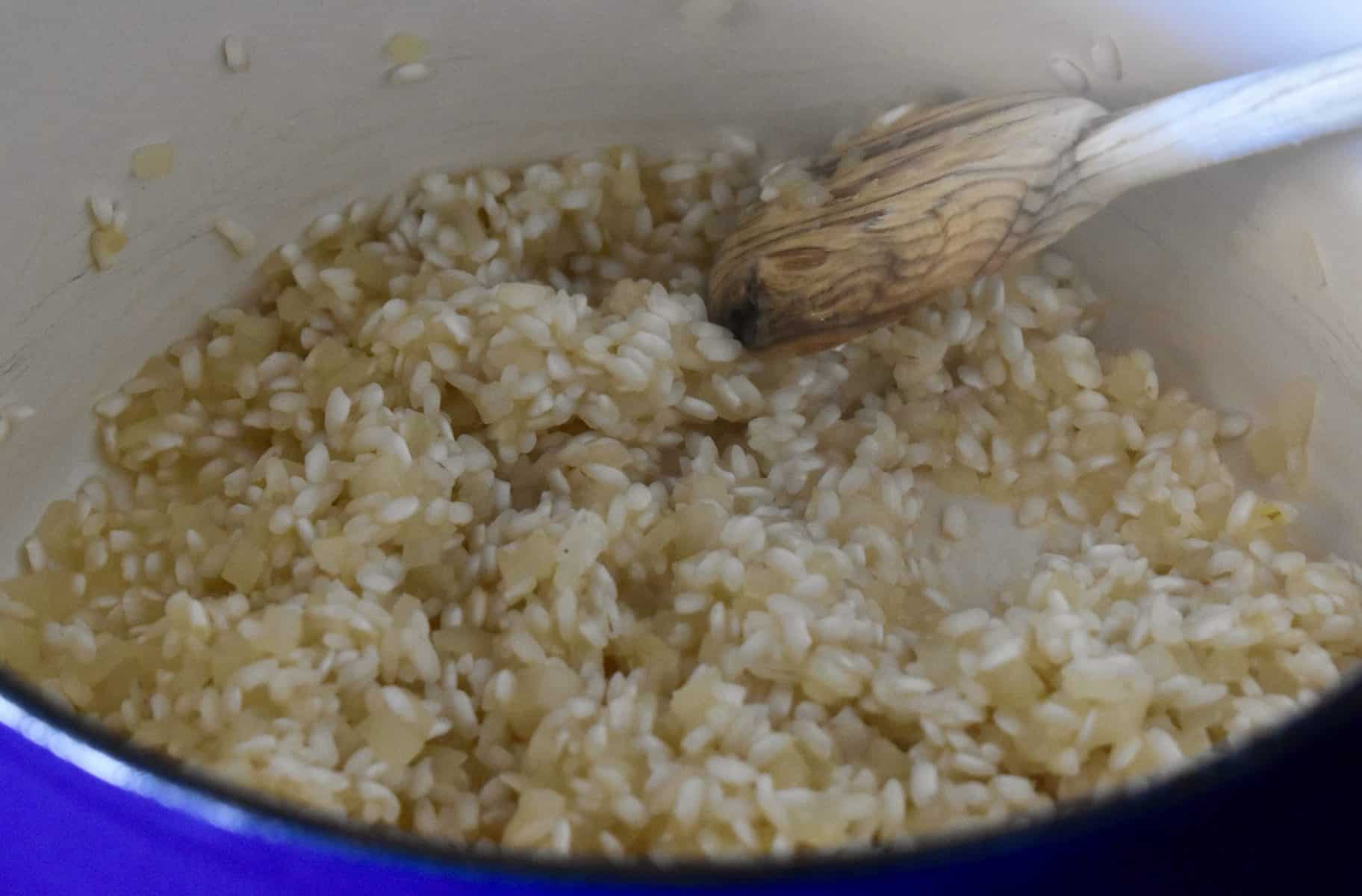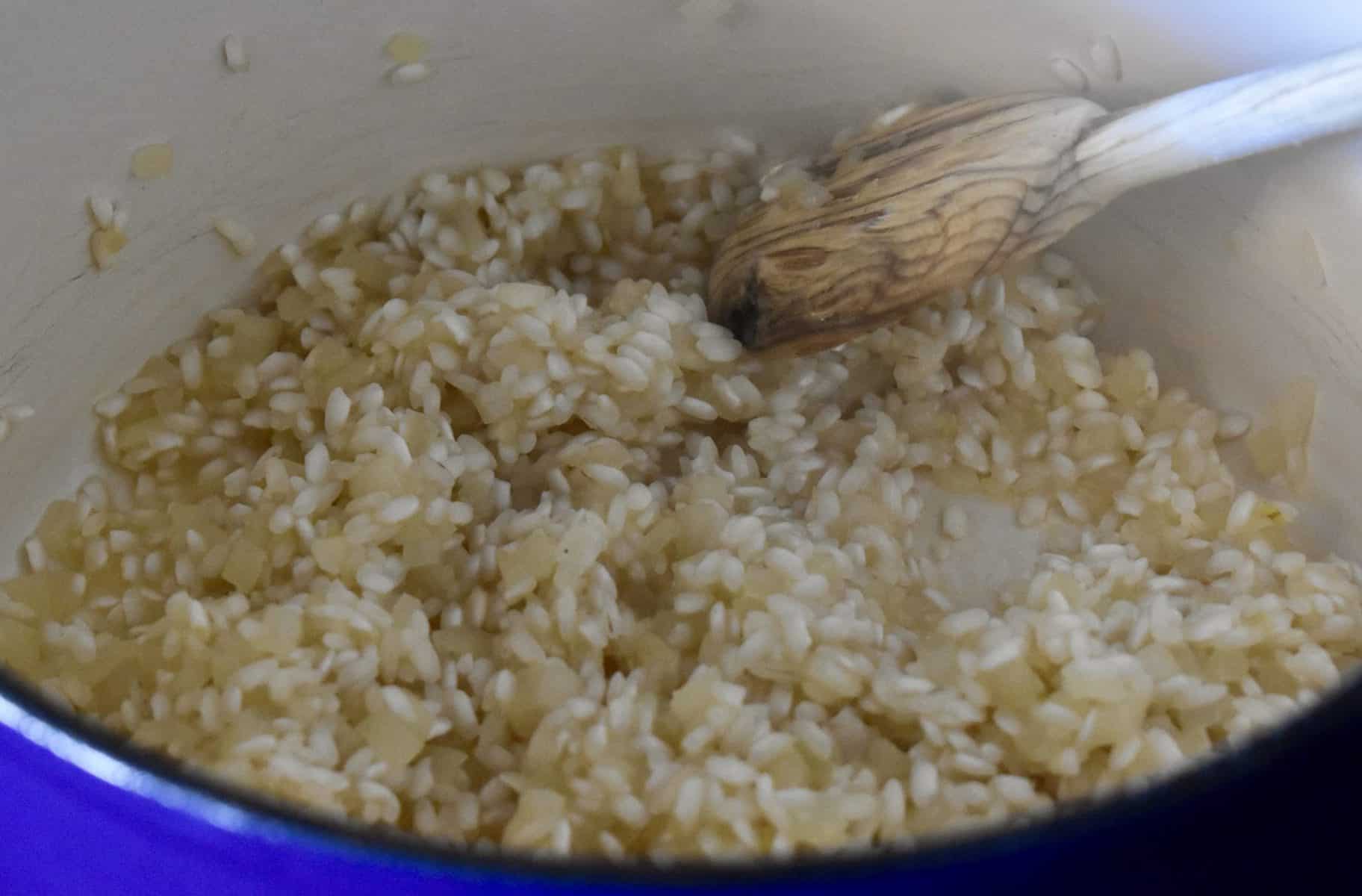 Next, add in one cup of hot broth. You can use either chicken or vegetable broth for this recipe. Stir the rice about every minute or so to release the starches and prevent sticking.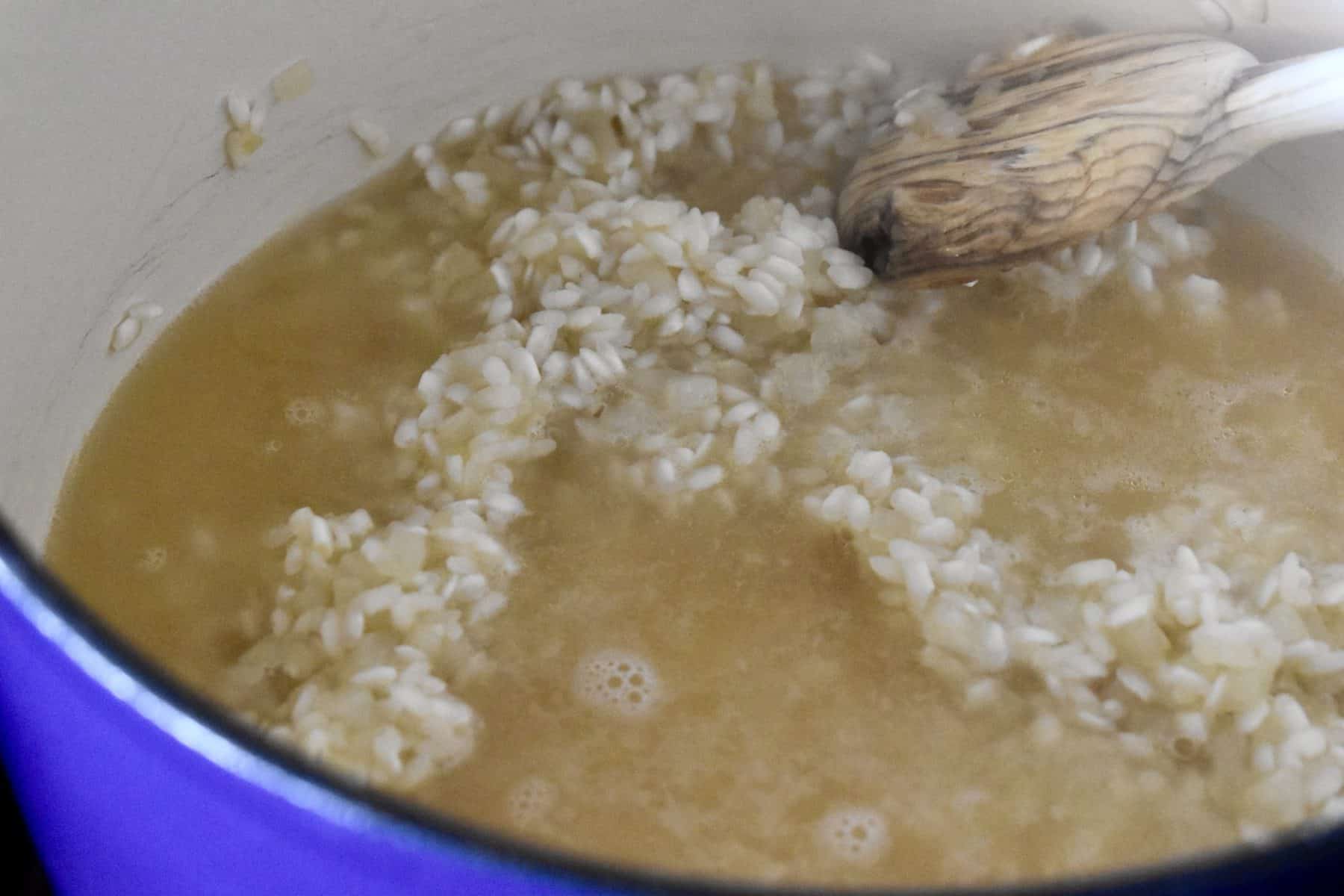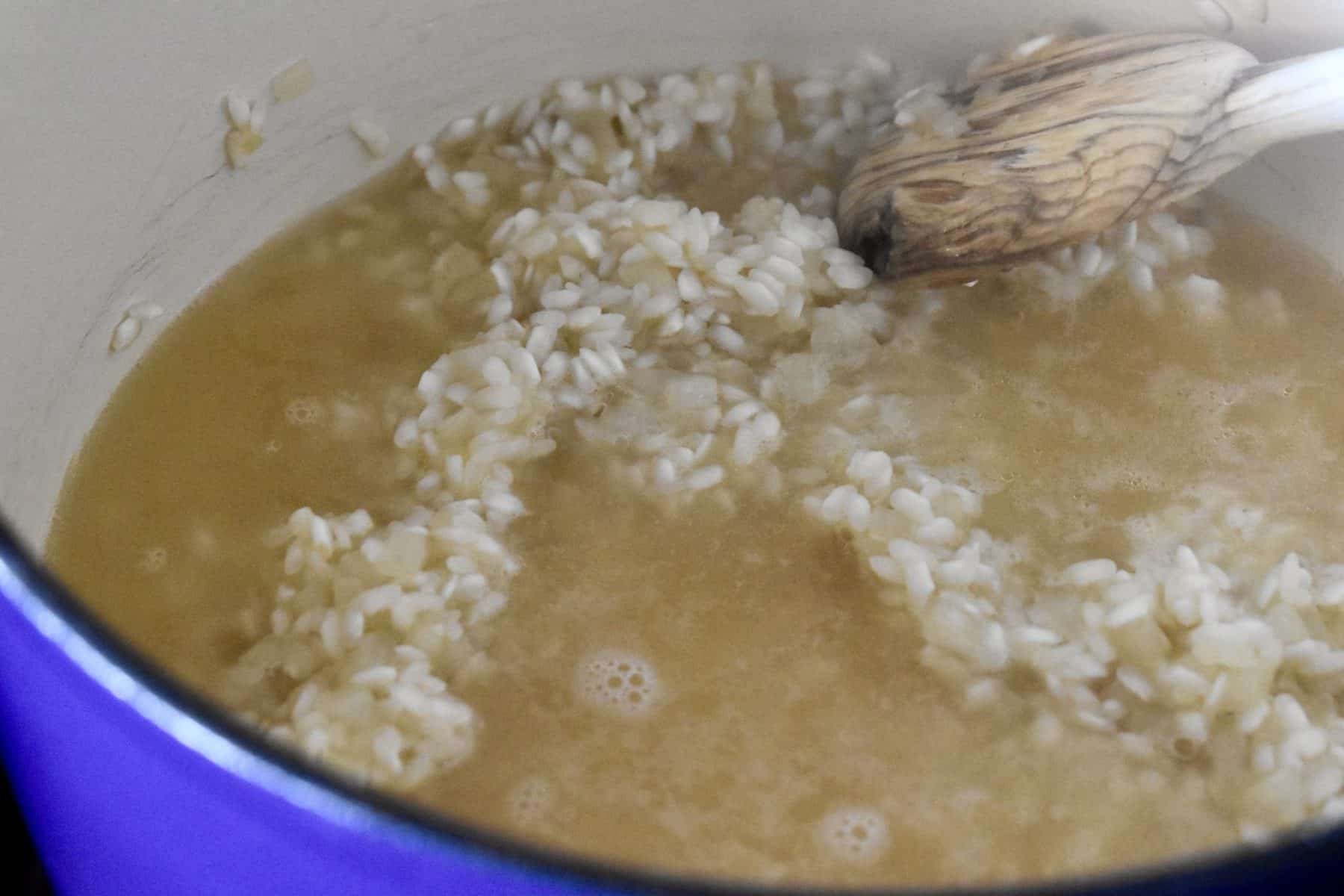 Once most of the liquid is absorbed, add in another cup of hot broth. Continue stirring every minute or so until the liquid is absorbed. At this point you can add in the mushroom mixture.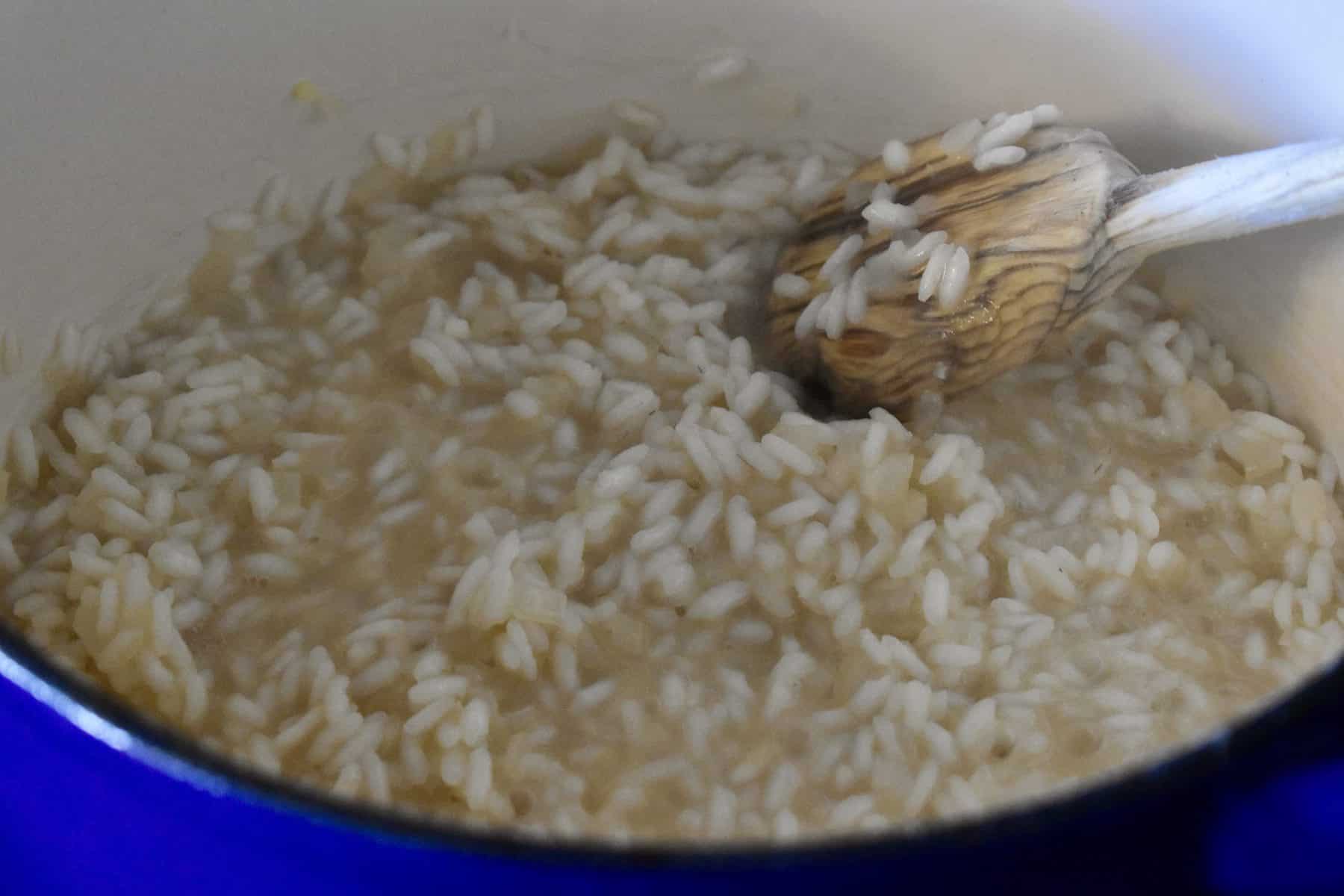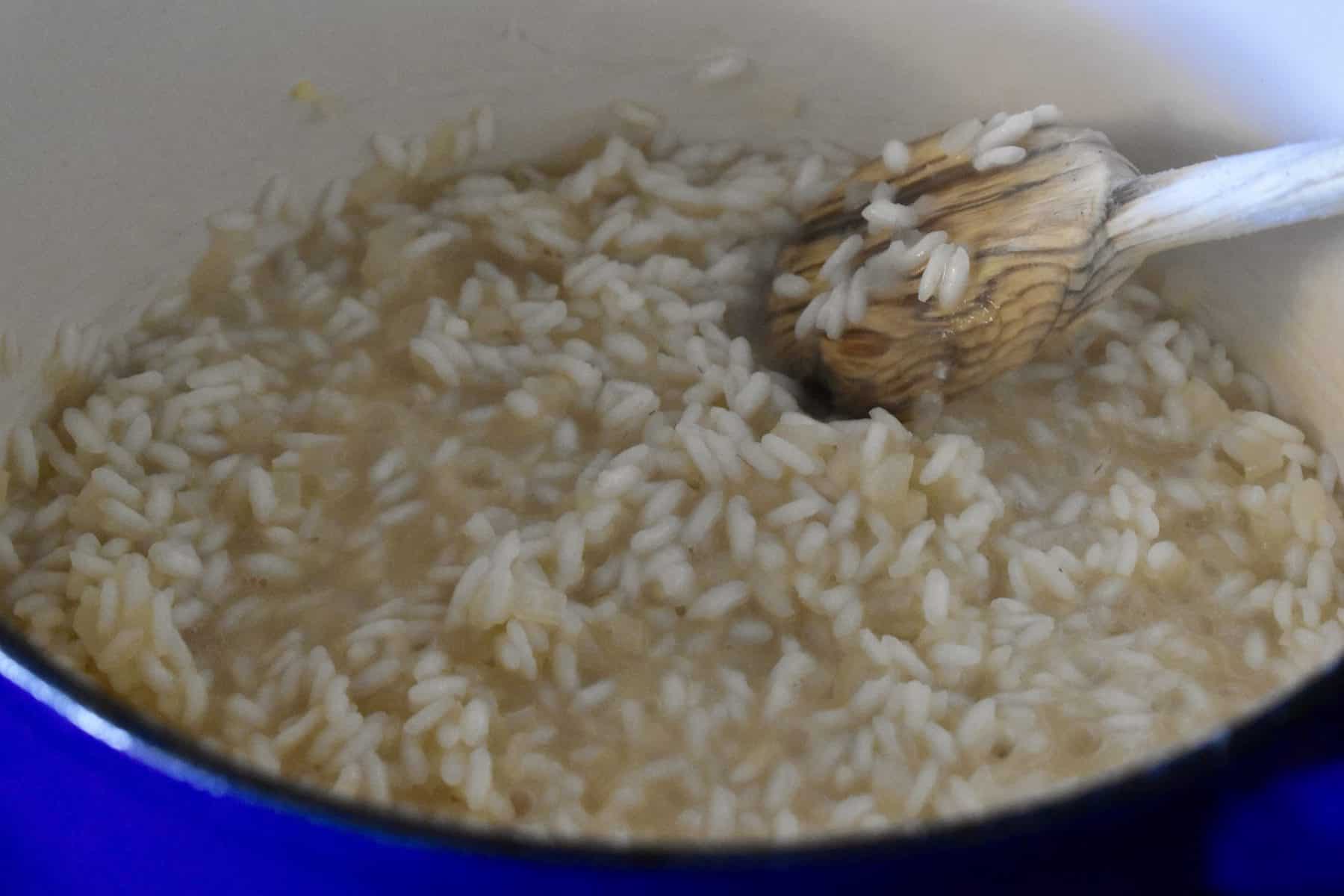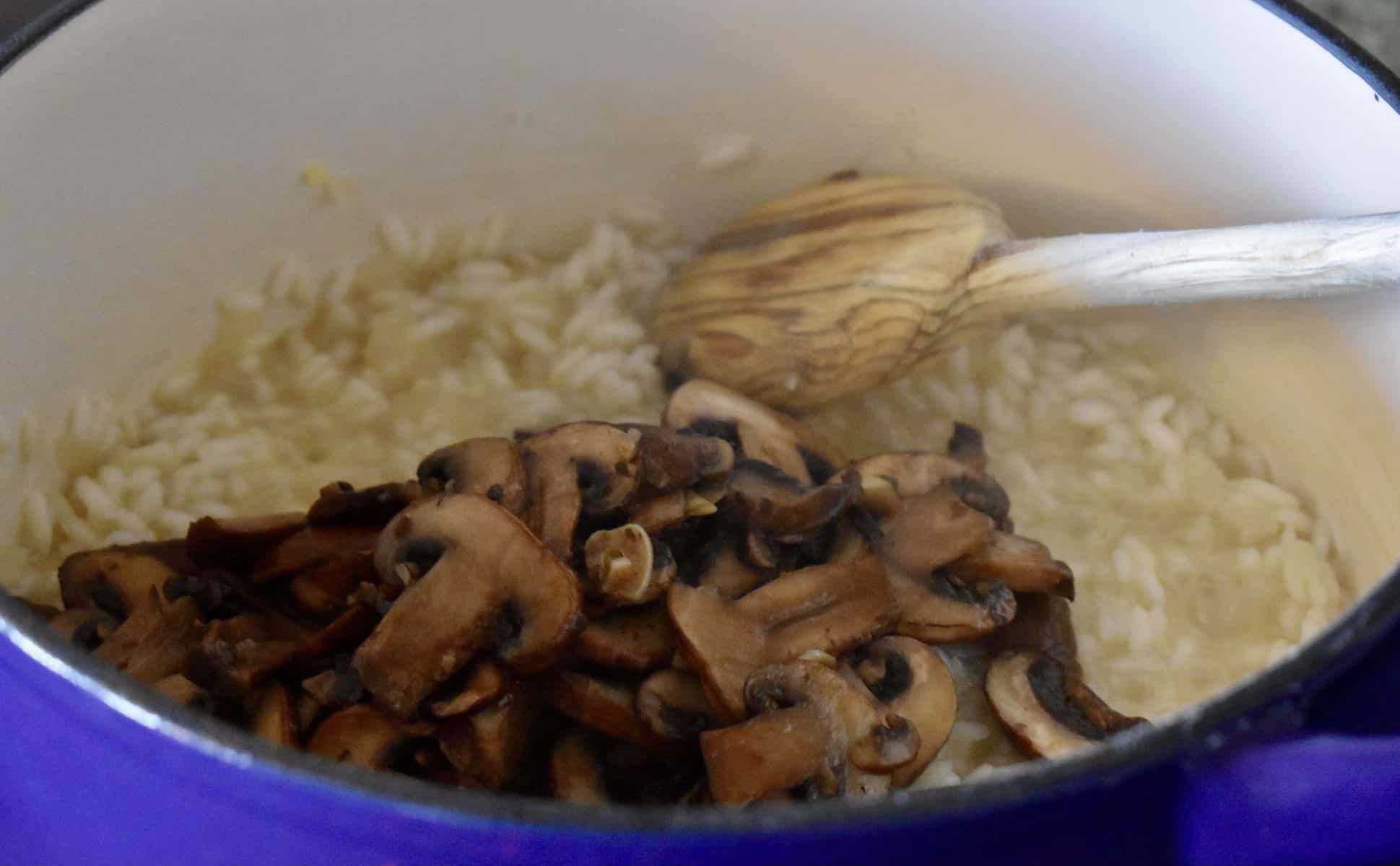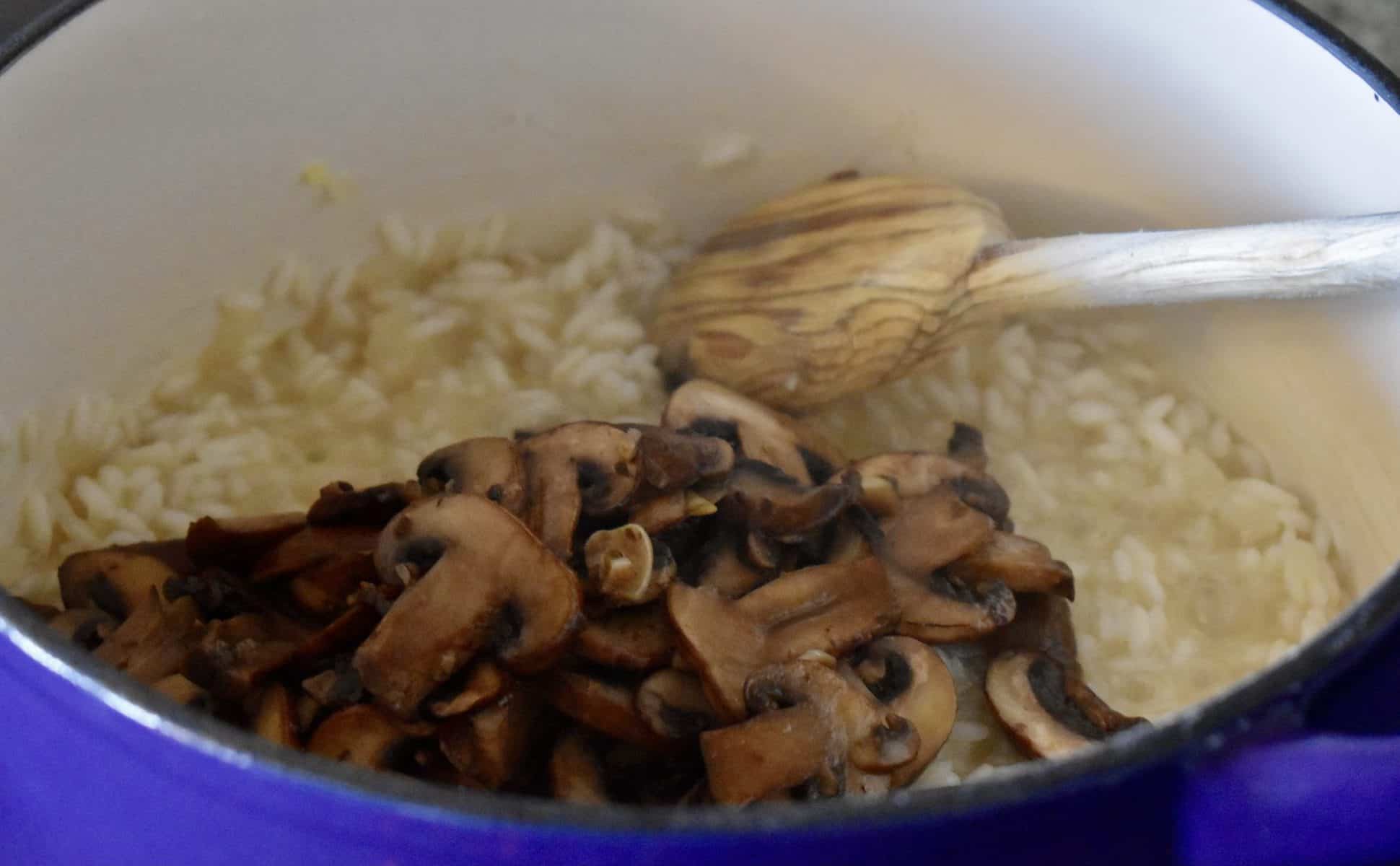 To finish, add in an additional ½ cup of hot broth. Continue stirring until all of the rice has absorbed the liquid. Taste the rice; if it seems crunchy add in more broth and continue the process. You want the rice to be al dente, but definitely not mushy.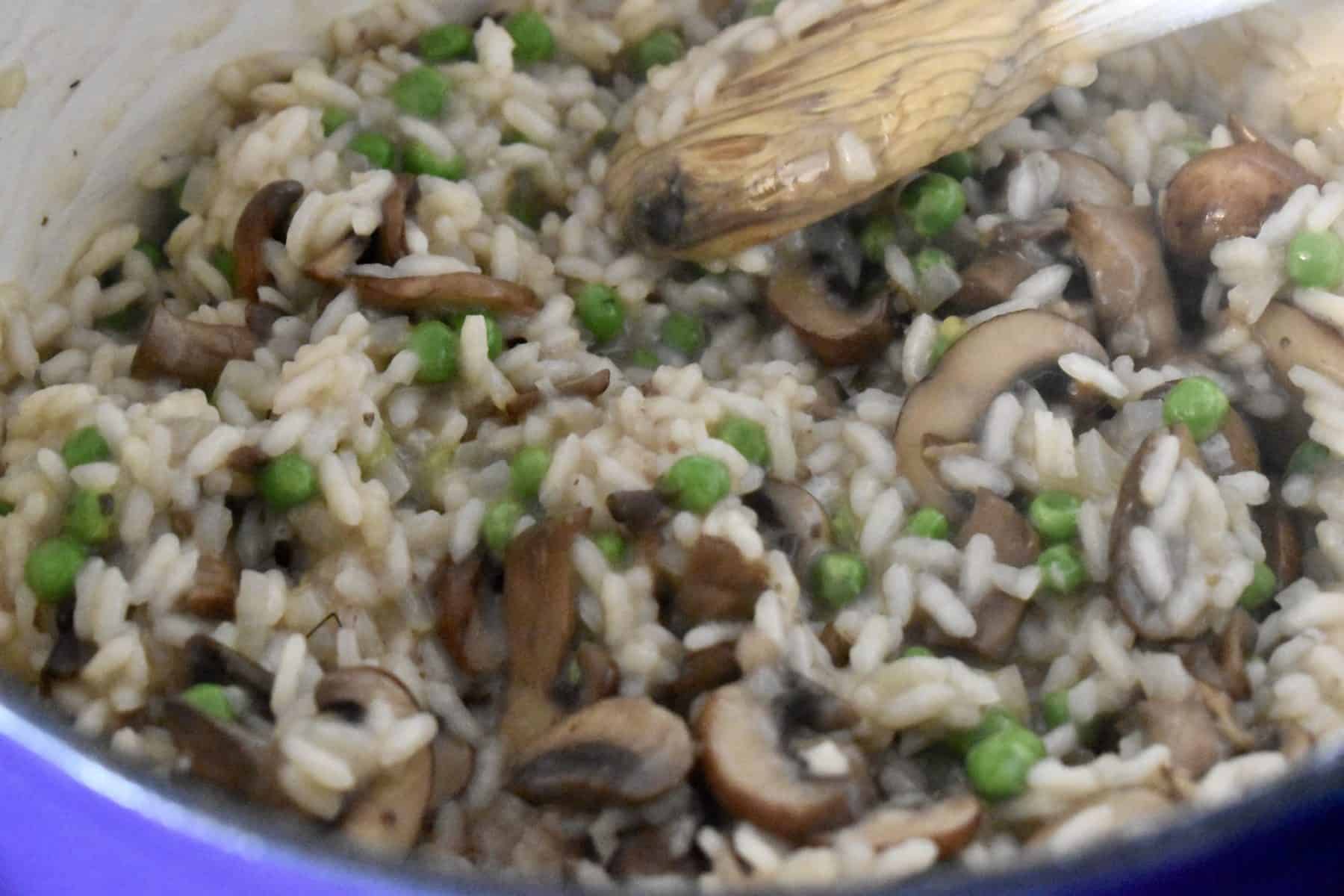 At this point, add in the peas if using. Otherwise, stir in a pat of butter and parmesan cheese. Mix until fully incorporated and the risotto is creamy, not dry. Taste for seasonings and add more kosher salt if desired.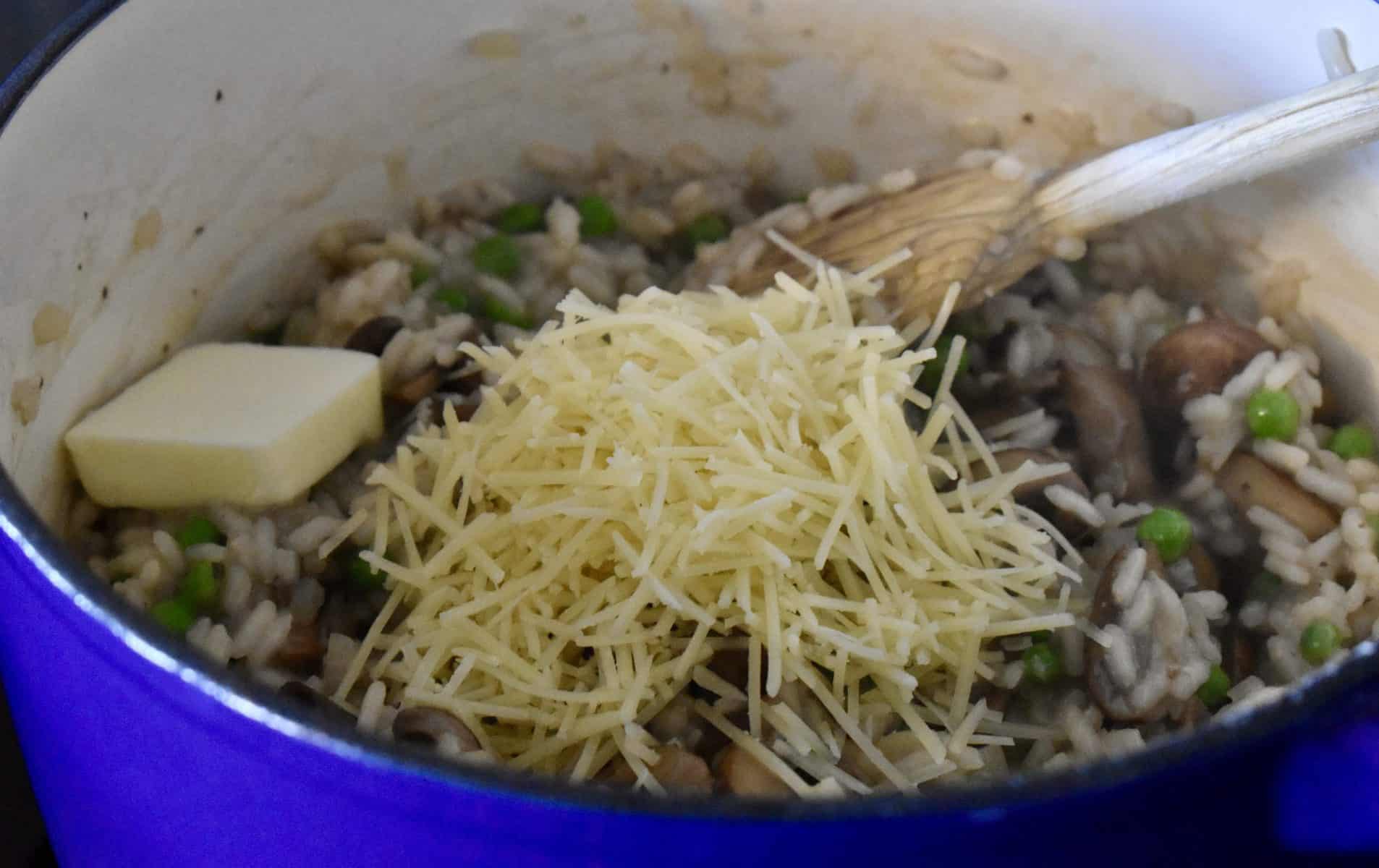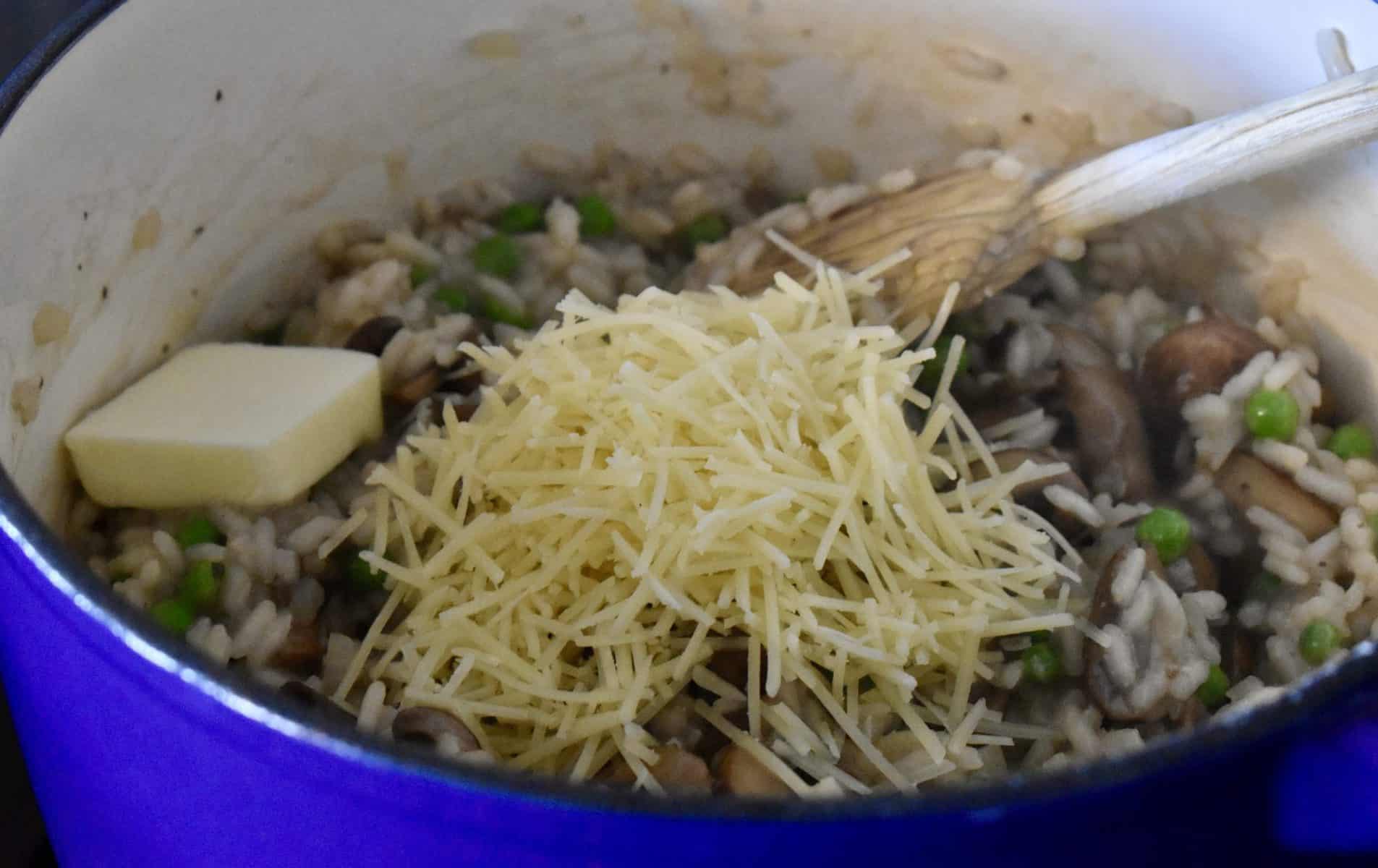 Lastly, you can stir in some chopped Italian parsley to add a fresh pop of color to the dish. Serve immediately or keep warm until ready to serve.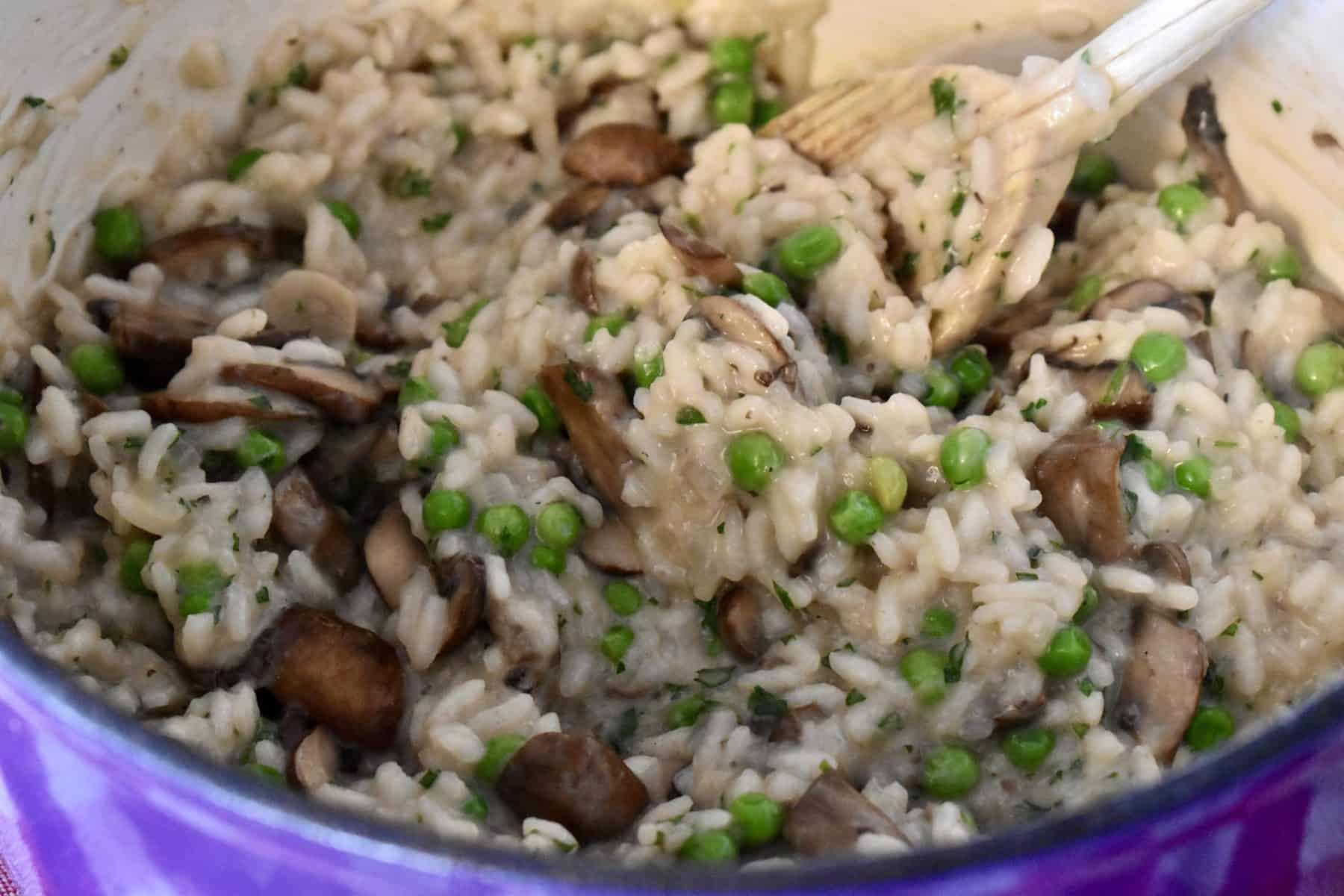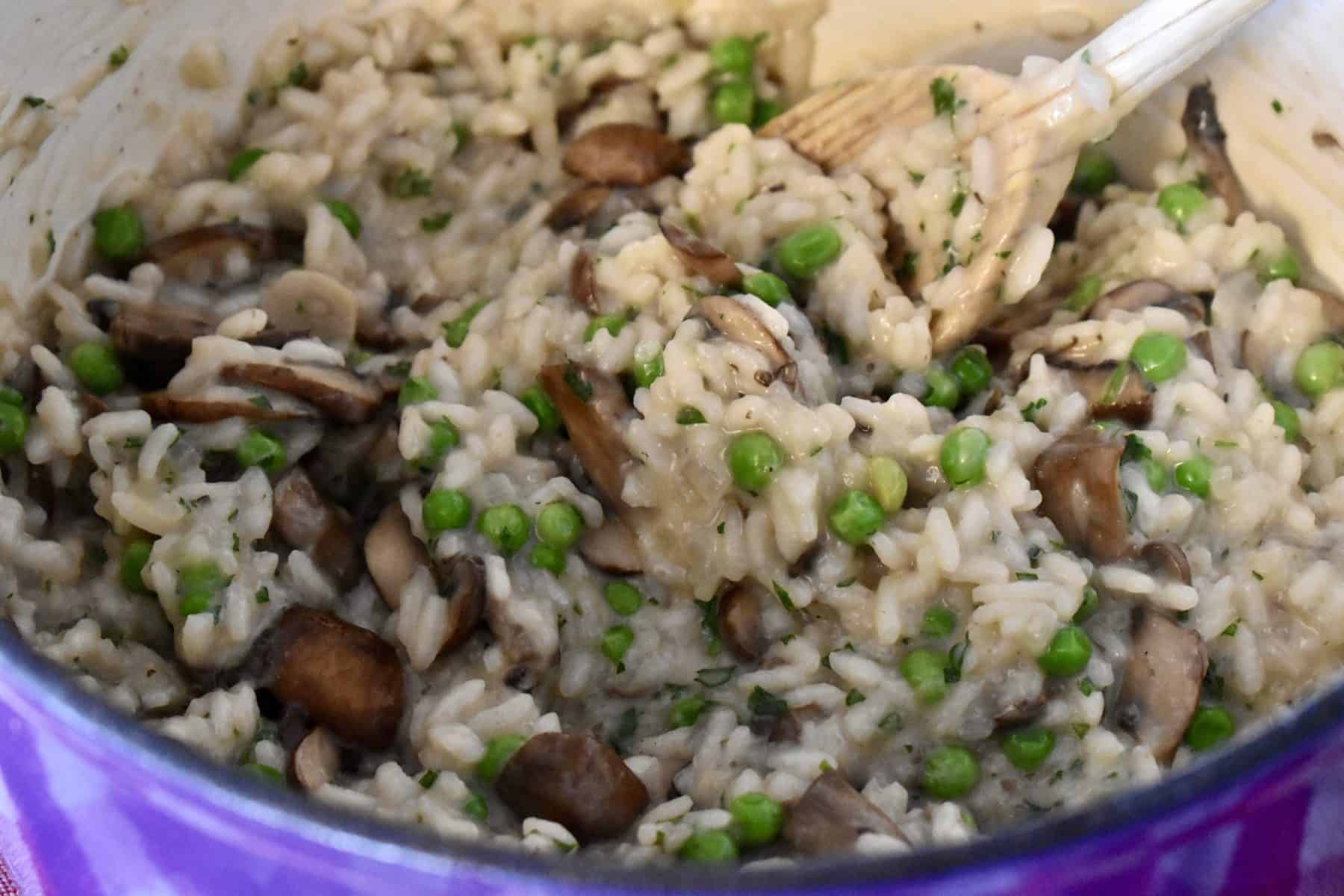 Italian Main Course Recipes
If you love classic Italian recipes, you're not alone! Italian food is all about simple ingredients and lots of comfort. Be sure to check out some of these classic Italian recipes (some of them lightened up!) which are sure to be your new favorites:
Italian Stromboli with Salami and Mozzarella
Ground Turkey and Spinach Manicotti
Pasta e Fagioli with Bacon and Pinto Beans
Cheese and Beef Stuffed Shells
Italian Turkey Sausage Meatballs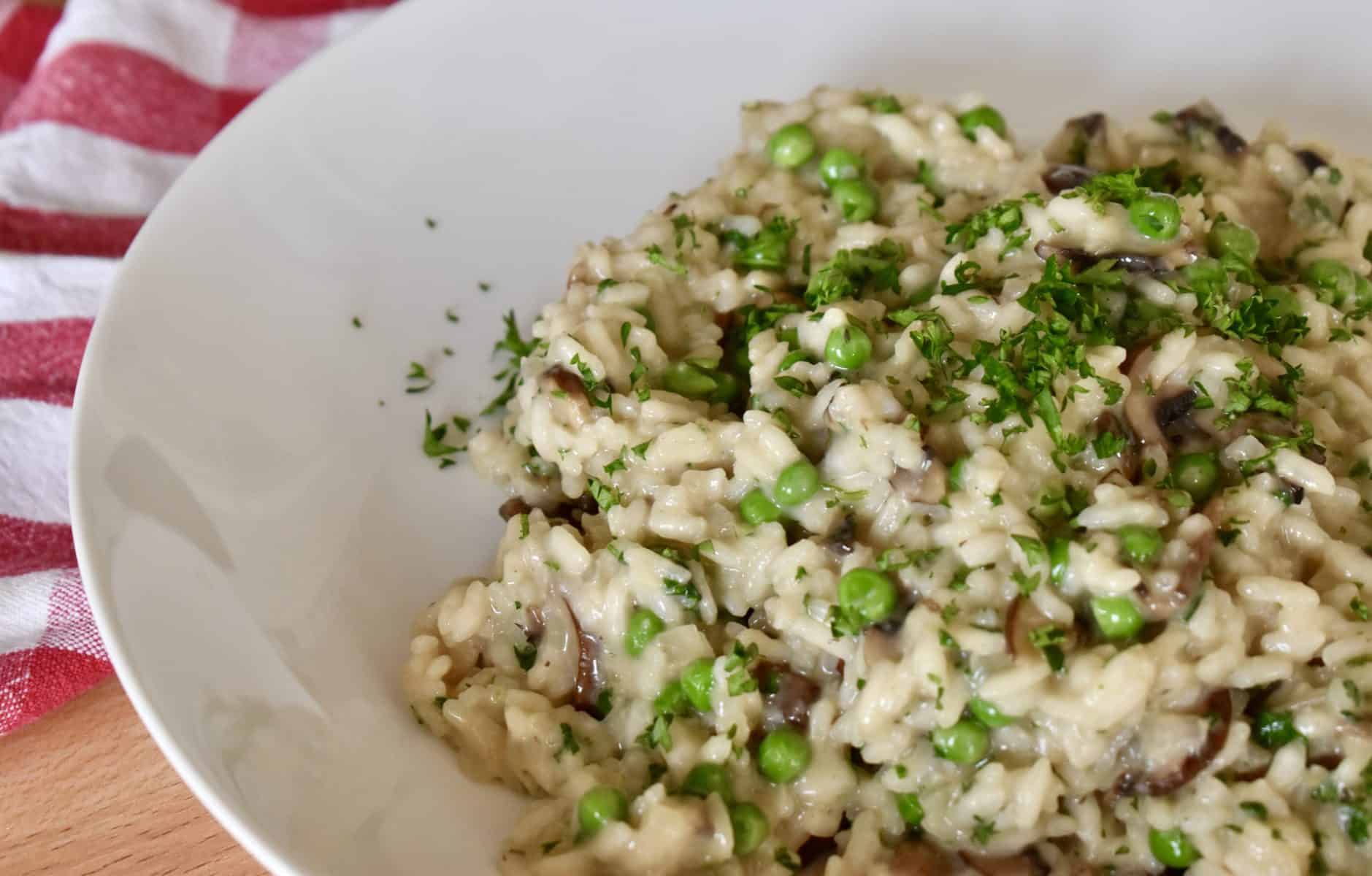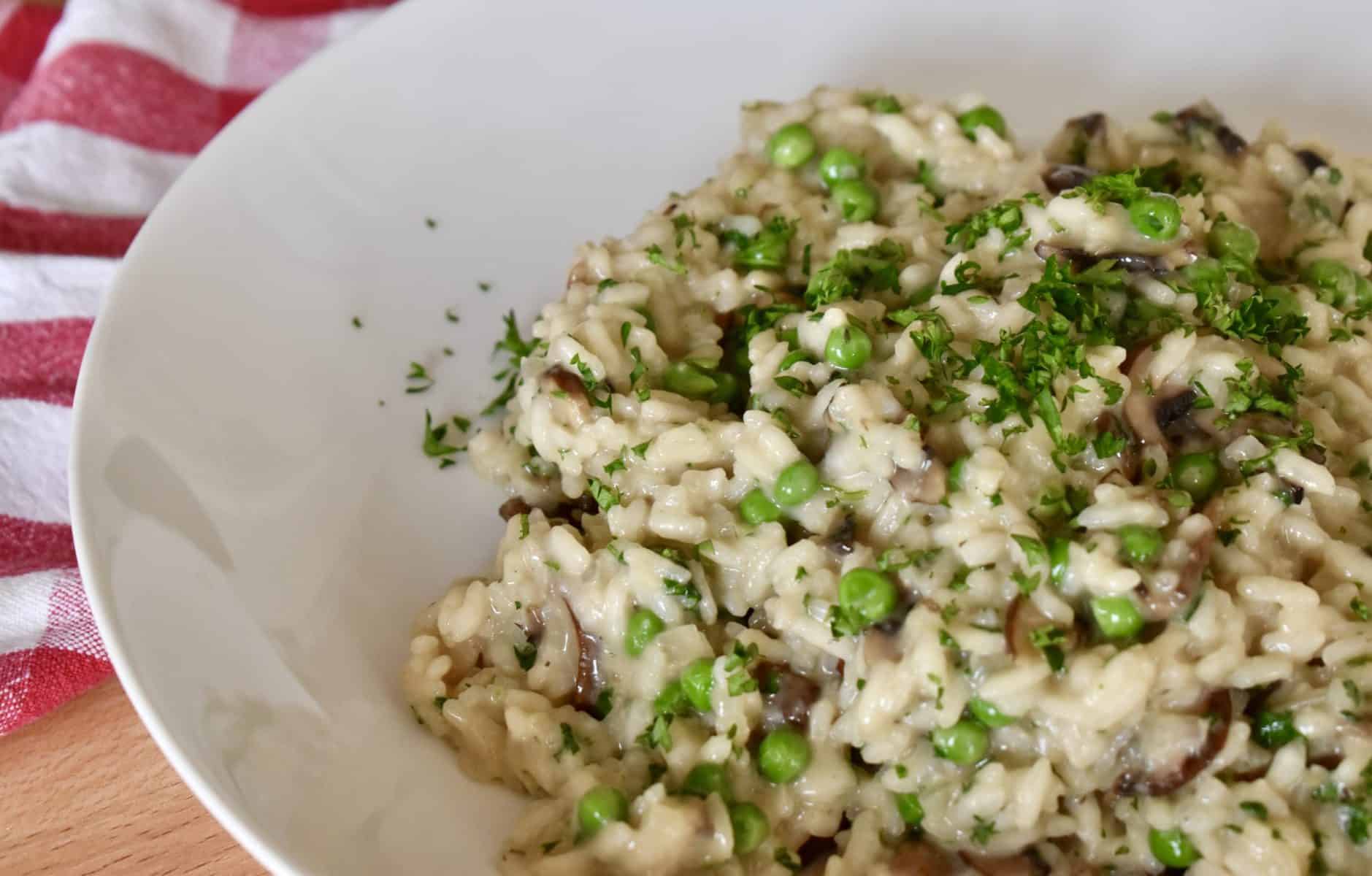 Hope you love this recipe for Mushroom Pea Risotto. Be sure to comment below and let me know what you think. Enjoy!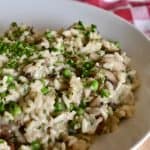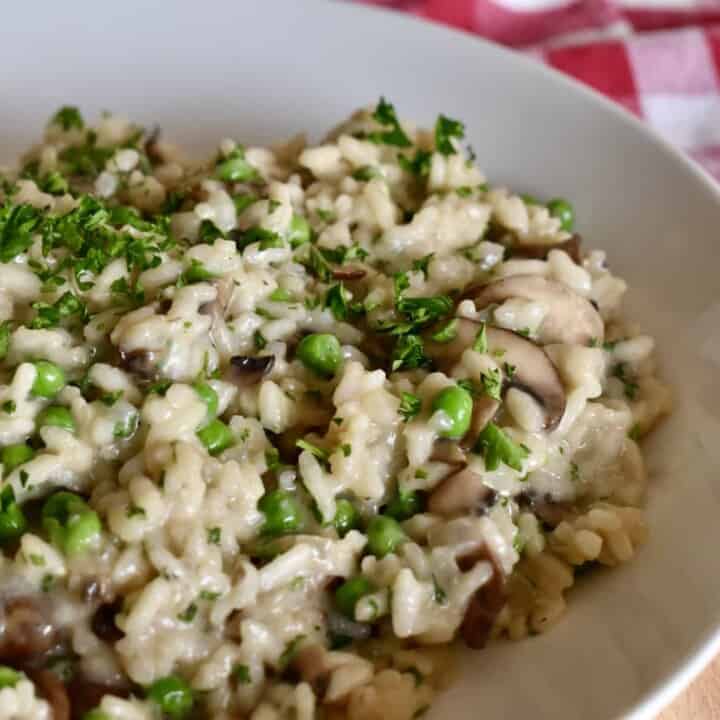 Print Recipe
Mushroom Pea Risotto
Never be intimated to make risotto again! This recipe comes together fast and is great as a main course or side dish.
Equipment
skillet

Saucepan or Dutch Oven
Ingredients
2

tablespoons

olive oil, divided

8

ounces

*mushrooms, sliced

1

clove

garlic, minced

½

onion, diced

(about ¾ cup)

1

cup

Arborio rice

½

cup

white wine

3

cups

broth, heated

(chicken or vegetable broth work)

¾

cup

frozen peas, thawed

1

teaspoon

kosher salt

½

cup

shredded parmesan

1

tablespoon

butter

¼

cup

Italian parsley, chopped
Instructions
Heat 1 tablespoon of olive oil in a skillet over medium high heat. Add in the sliced mushrooms and minced garlic. Cook, stirring frequently, until mushrooms have lightly browned, about 8 minutes; remove from heat and set aside.

While the mushrooms cook, add remaining tablespoon of olive oil to large saucepan. Add in diced onion and cook until softened, about 3-4 minutes. Stir in the arborio rice and cook for 1 minute. Pour in the wine and continue to stir until the wine has soaked into the rice. Add in 1 cup of hot broth and continue cooking, stirring occassionally, until all of the liquid has been absorbed. Pour in another 1 cup of broth and continue cooking until absorbed.

Add in the cooked mushrooms and ½ cup of hot broth. Continue cooking and stirring. Taste to see if the rice is al dente; if it is too crunchy add in the additional ½ cup of broth. The final dish should be loose and creamy, not stiff.

One the rice is cooked, stir in the peas and kosher salt. Off the heat, stir in the butter and parmesan cheese until melted and creamy. Stir in the chopped parsley and garnish with more if desired. Serve warm.
Notes
*For the mushrooms, use whatever you like or happen to have on hand. I used Baby Bella mushrooms here, but portobello, shiitake, or even button mushrooms work great.
Nutrition
Calories:
376
kcal
|
Carbohydrates:
49
g
|
Protein:
12
g
|
Fat:
14
g
|
Saturated Fat:
5
g
|
Polyunsaturated Fat:
1
g
|
Monounsaturated Fat:
7
g
|
Trans Fat:
0.1
g
|
Cholesterol:
22
mg
|
Sodium:
1484
mg
|
Potassium:
375
mg
|
Fiber:
4
g
|
Sugar:
4
g
|
Vitamin A:
407
IU
|
Vitamin C:
13
mg
|
Calcium:
135
mg
|
Iron:
3
mg