Italian Easter Bread recipe without yeast is going to be your new favorite way to make Easter Bread. This quick and easy Italian Easter tradition takes minutes to make and is so delicious.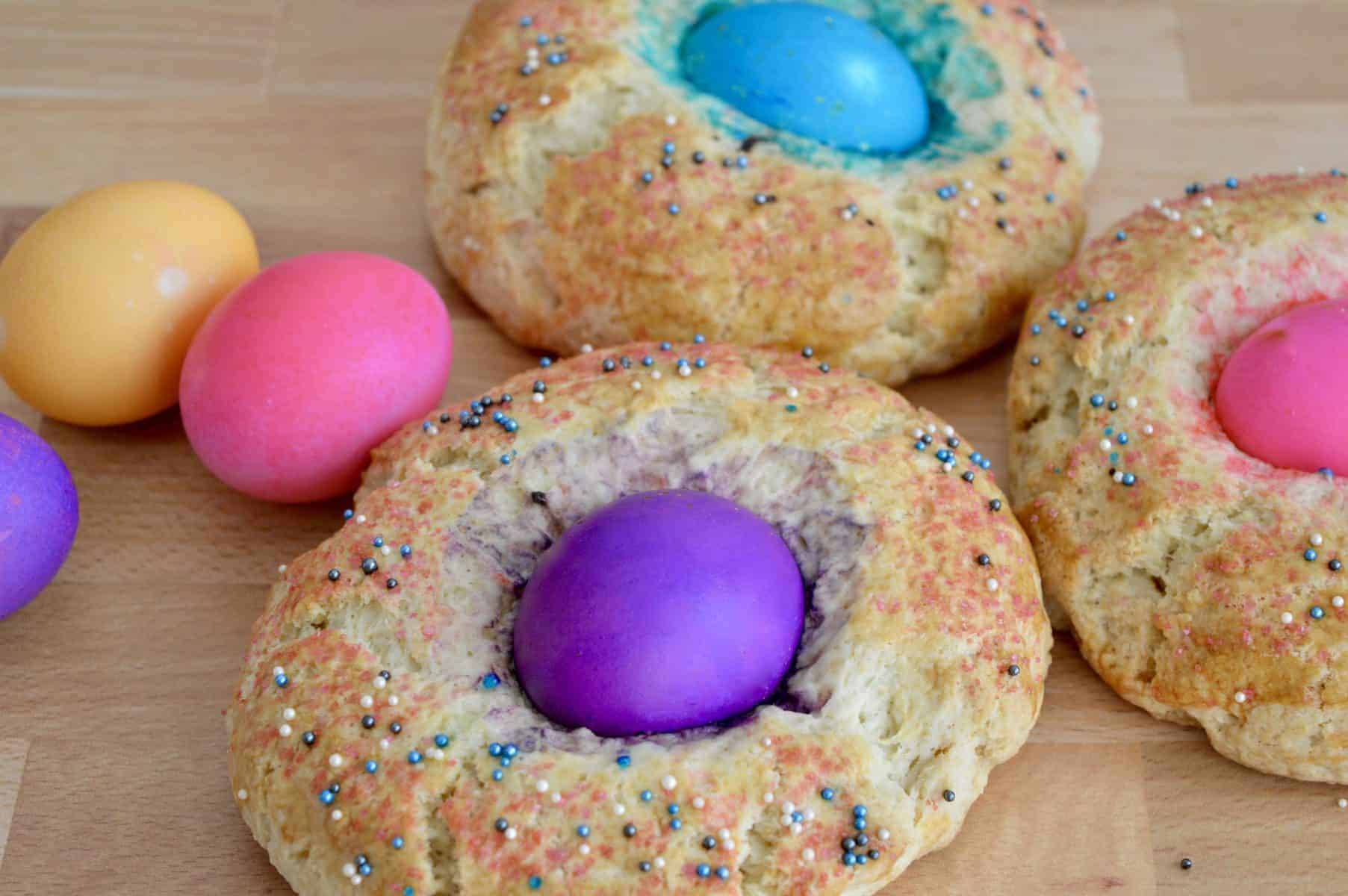 Nothing gets me more excited for Easter than thinking about this delicious recipe for Italian Easter Bread. There are many different ways to make this bread. My version here is the one that I grew up eating and has a sweet flaky texture, almost similar to a scone.
This bread may be different than the bread you are used to because it doesn't use any yeast. This Italian Easter Bread is similar to Irish soda bread in that it uses baking powder to rise and doesn't require any extra time to sit.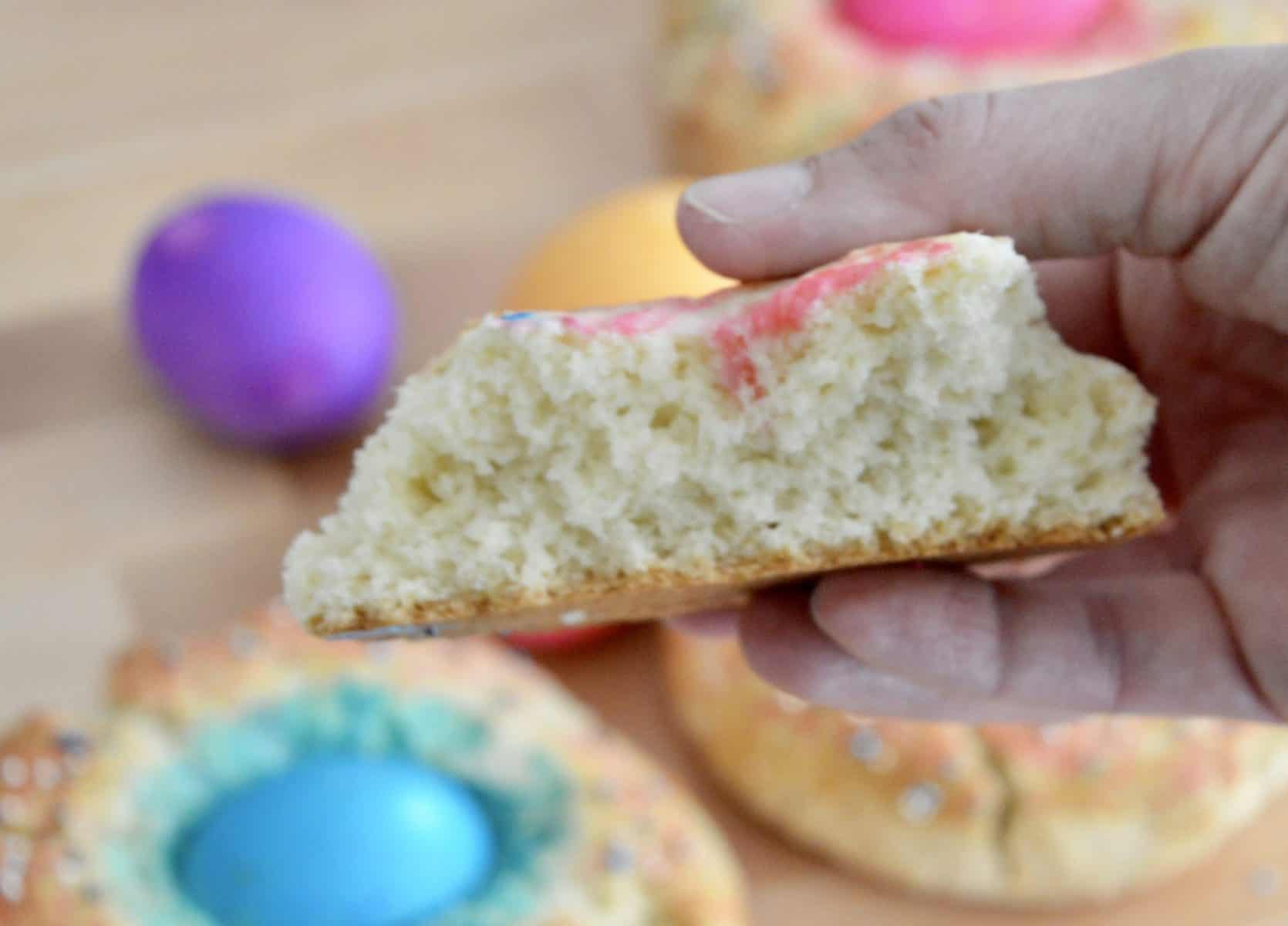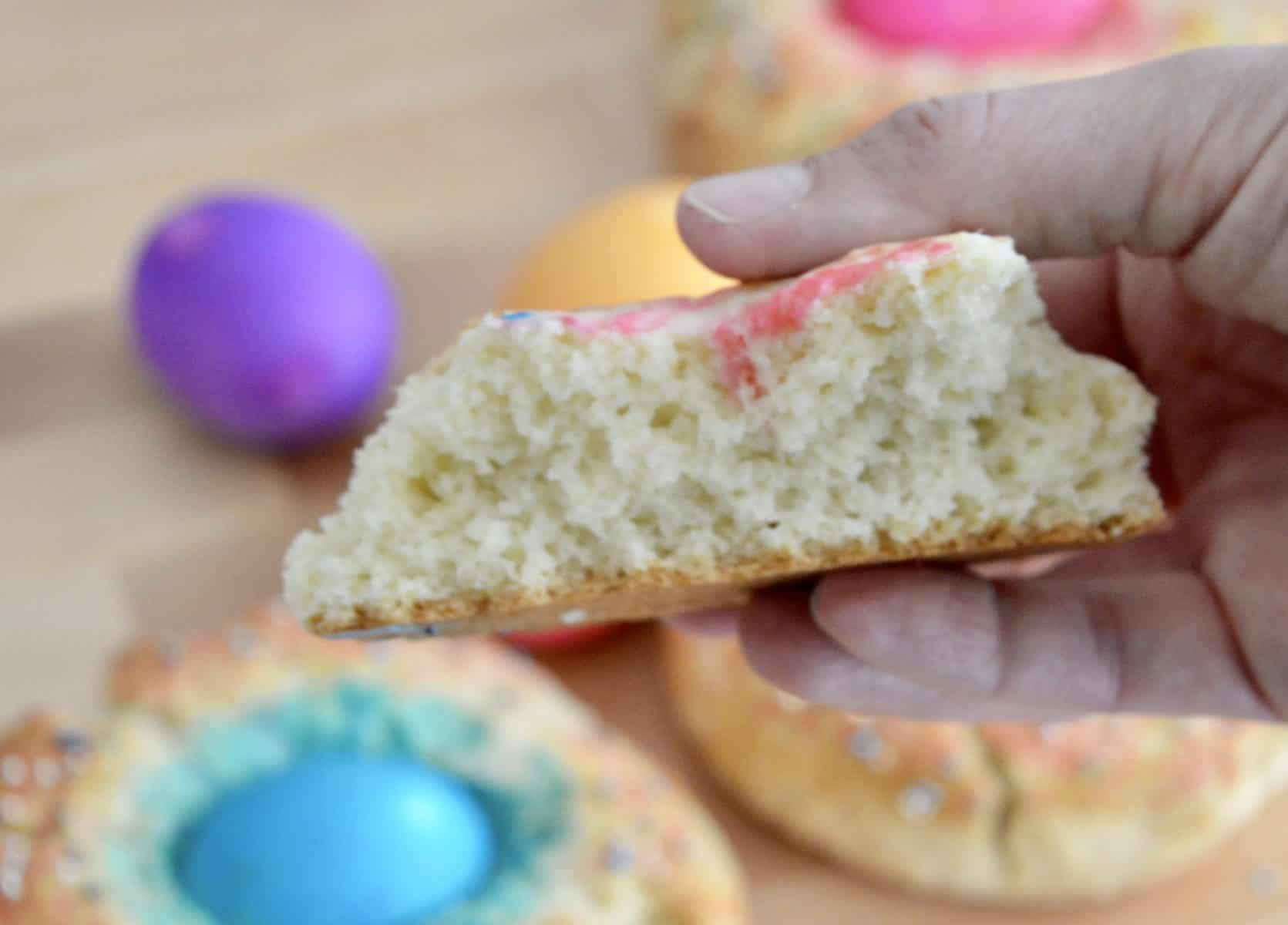 This recipe is subtly sweet and perfect with a hot cup of coffee or espresso on Easter morning. Adorned with colored eggs and sprinkles, this simple to make, fast recipe, is sure to become a family favorite in your home.
And, if you're looking for a traditional Italian Easter Bread recipe, be sure to try this Pane di Pasqua recipe!
How to make easter bread without yeast?
To make bread without yeast, you will need another leavening agent to allow the dough to rise. This recipe calls for baking powder which will produce enough gases within the batter to produce a high rising porous bread.
It is important to check the expiration date on the baking powder before using it in this recipe. Because you are relying on it entirely for the texture of your bread, the baking powder shouldn't be expired. As a good rule of thumb, you should replace your baking powder and baking soda every six months.
Additionally, because you are not using yeast, the bread dough is going to be flakier and not as easy to braid or shape. Do a quick google image search and you'll see beautifully decorated braided Easter breads. Here, because we are not using yeast, the dough is not as easy to form.
To make the dough more pliable, use your hands to gather all of the batter and form it into a tight disk. You can then wrap it in saran wrap and refrigerate for a couple of hours. This will make the dough easier to shape.
How to Shape Easter Bread
When making Italian Easter Bread without yeast, you will not be able to get the intricate shapes that you normally would with yeast bread. Here, the dough is crumblier and not as easy to shape and braid. However, the taste and texture more than makes up for the simplistic shape.
If you are wanting to roll the dough and make designs, you will need to adequately knead and chill your bread before starting. Chilling the bread allows it to stay together and not crumble as much.
Here, my bread takes a simple donut-like shape. This is achieved by using ⅓rd of the dough and rolling it into a log, about eight inches long. Then, bring the two ends together and pinch to attach.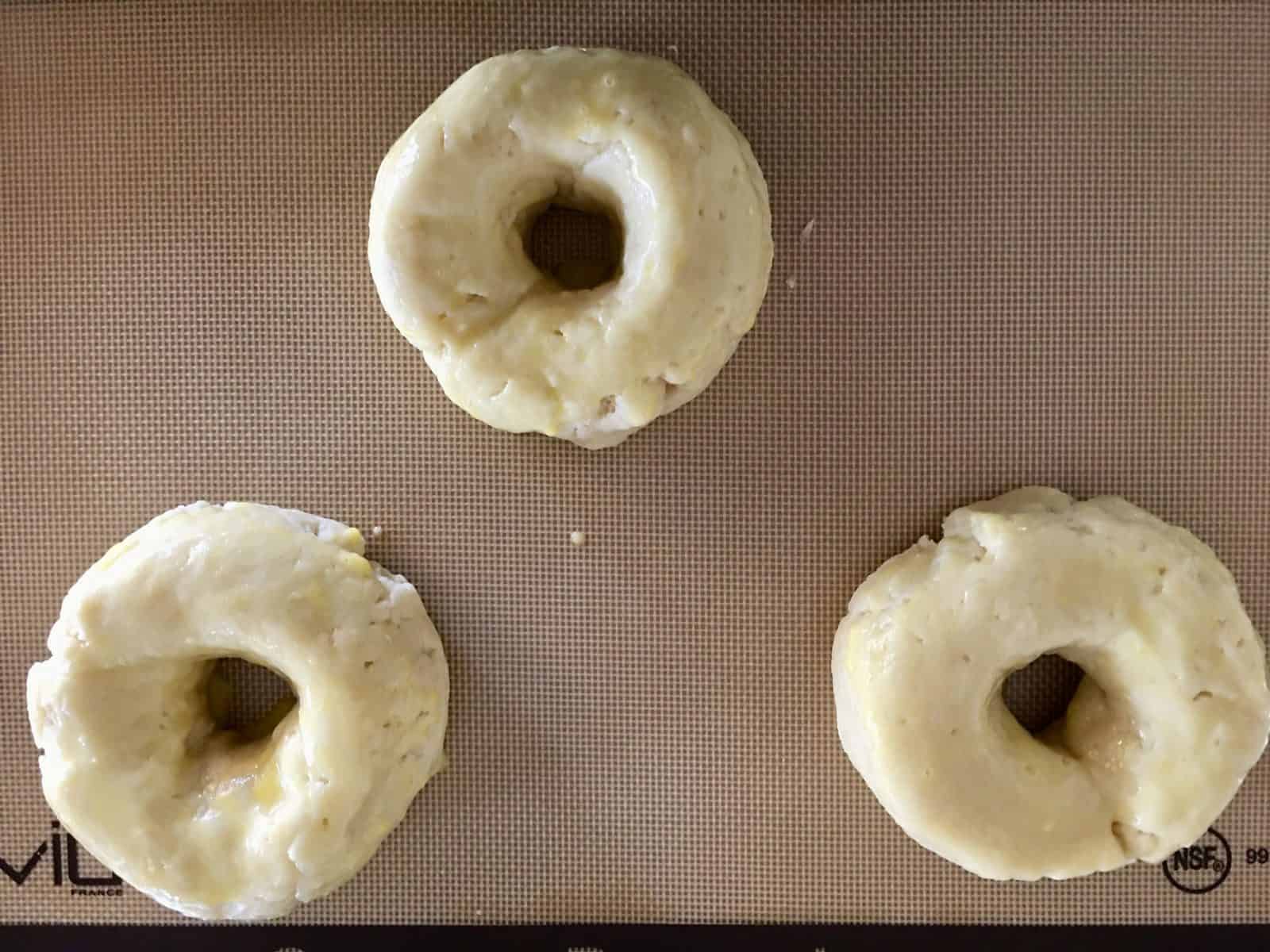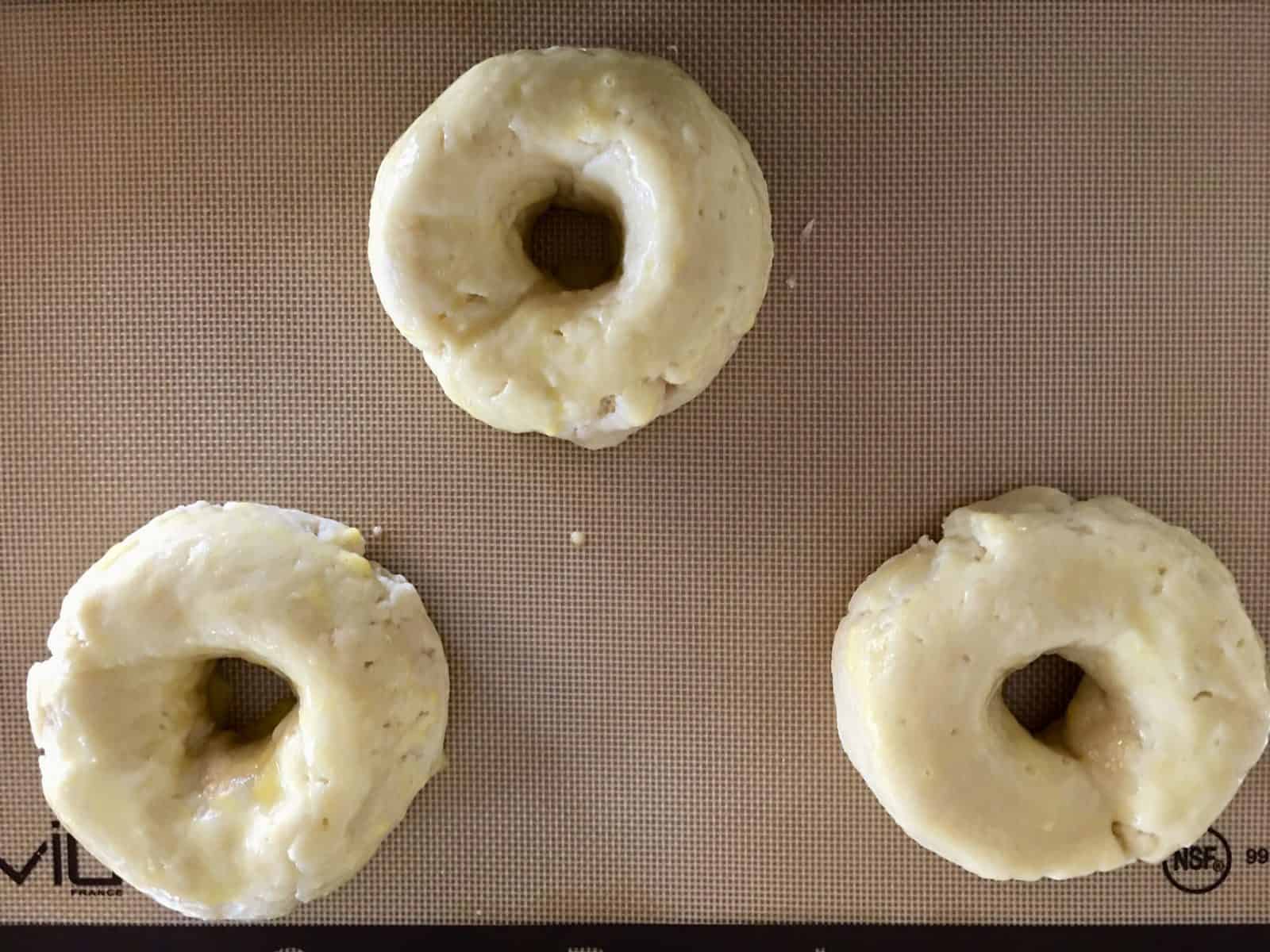 Brush the tops of the breads with egg wash and top with sprinkles.
Garnish with Sprinkles and Colored Eggs
Adorn your Easter bread with beautiful colored eggs and festive sprinkles. This is a simple addition to the bread and makes such a fun impact for the final product.
Once the bread has been formed and placed on the baking sheet, brush the tops of the bread with an egg wash. Next, top with festive sprinkles. Place the dyed egg in the middle of the bread and bake.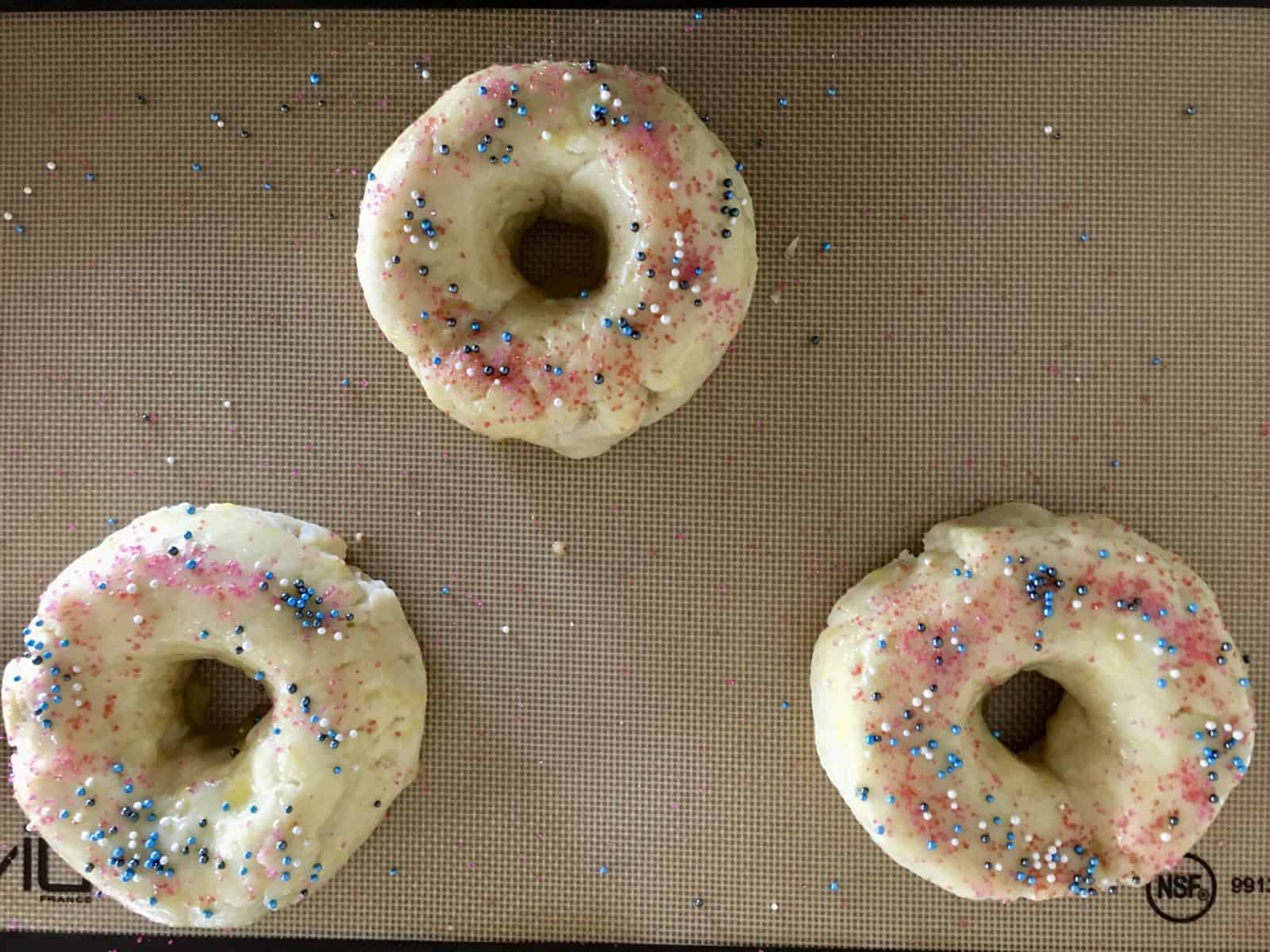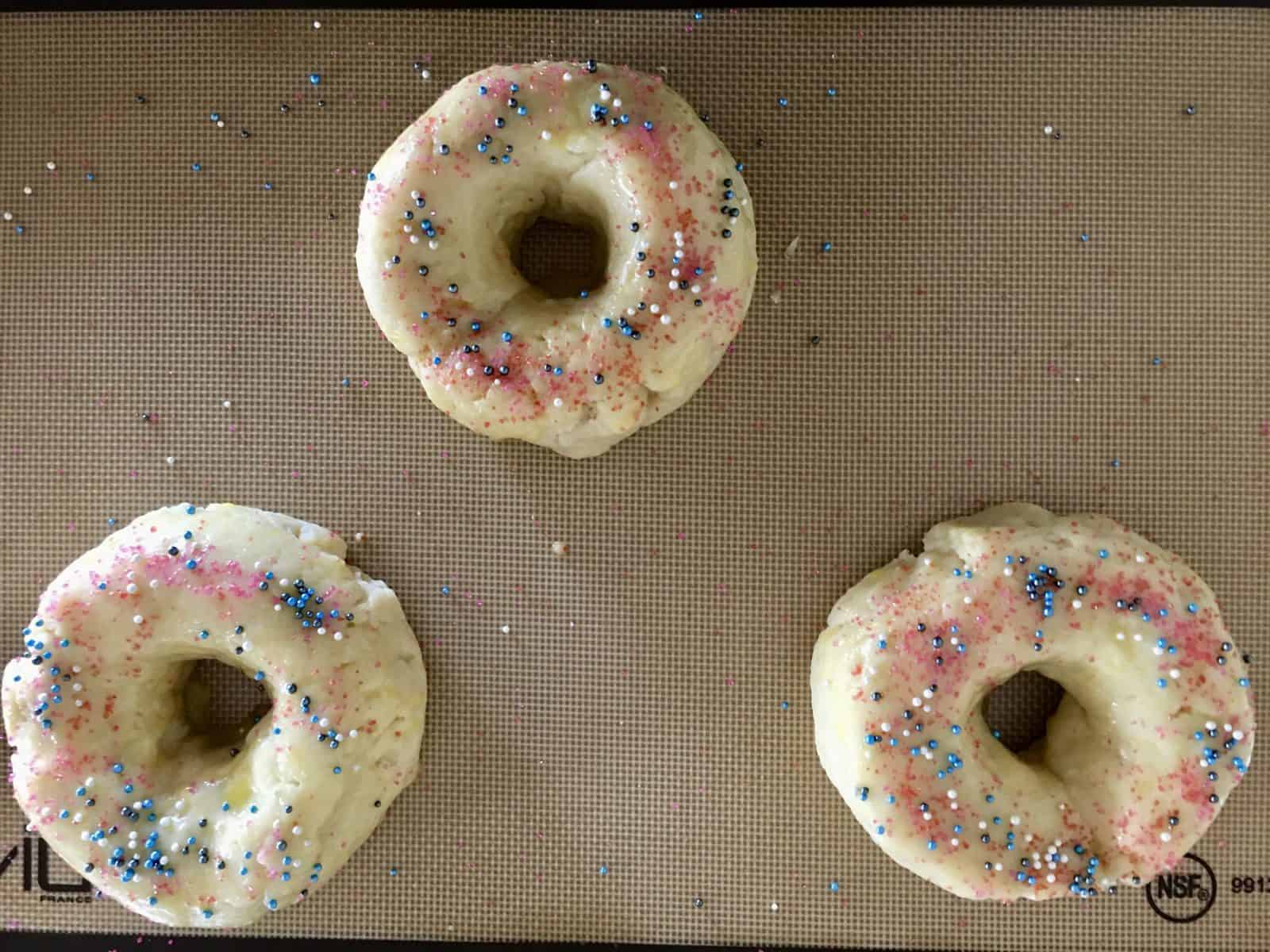 Do you need hard-boiled eggs for easter bread?
You do not need to boil your eggs before placing them in the easter bread. This is such a terrific short cut. Simply dye the raw eggs, then place them into center of the bread before baking. The eggs will cook in the oven yielding the perfect hard boiled egg.
To dye the raw eggs, simply mix a couple drops of food coloring with a teaspoon of vinegar and enough water to cover the egg. Let the egg sit in the dye while you prepare the dough.
When ready to bake, remove the egg from the dye and dry using a paper towel. Place in the bread and bake as usual.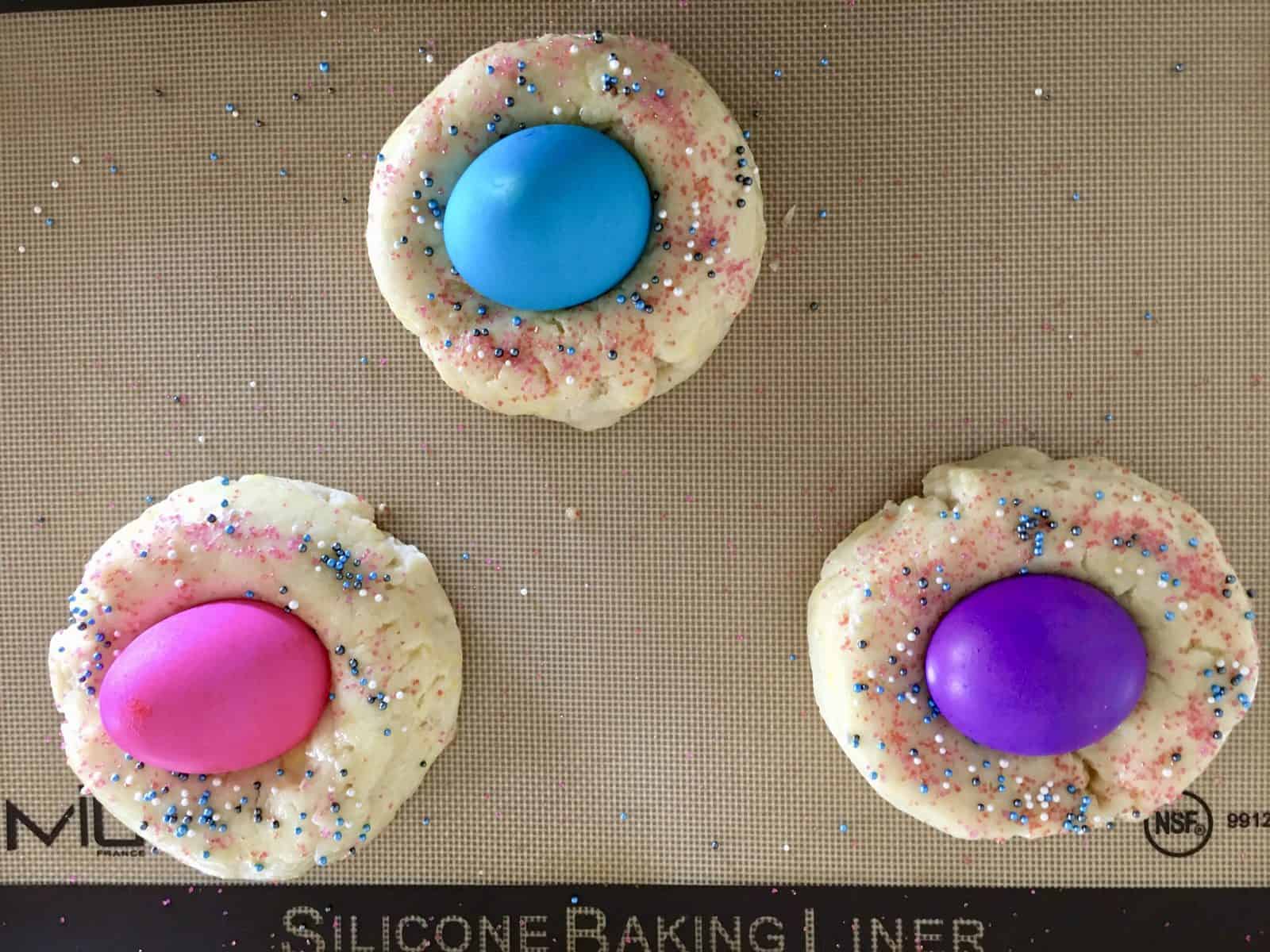 As the bread cooks, so will the eggs. The end result is a delicious and flaky bread that everyone will love.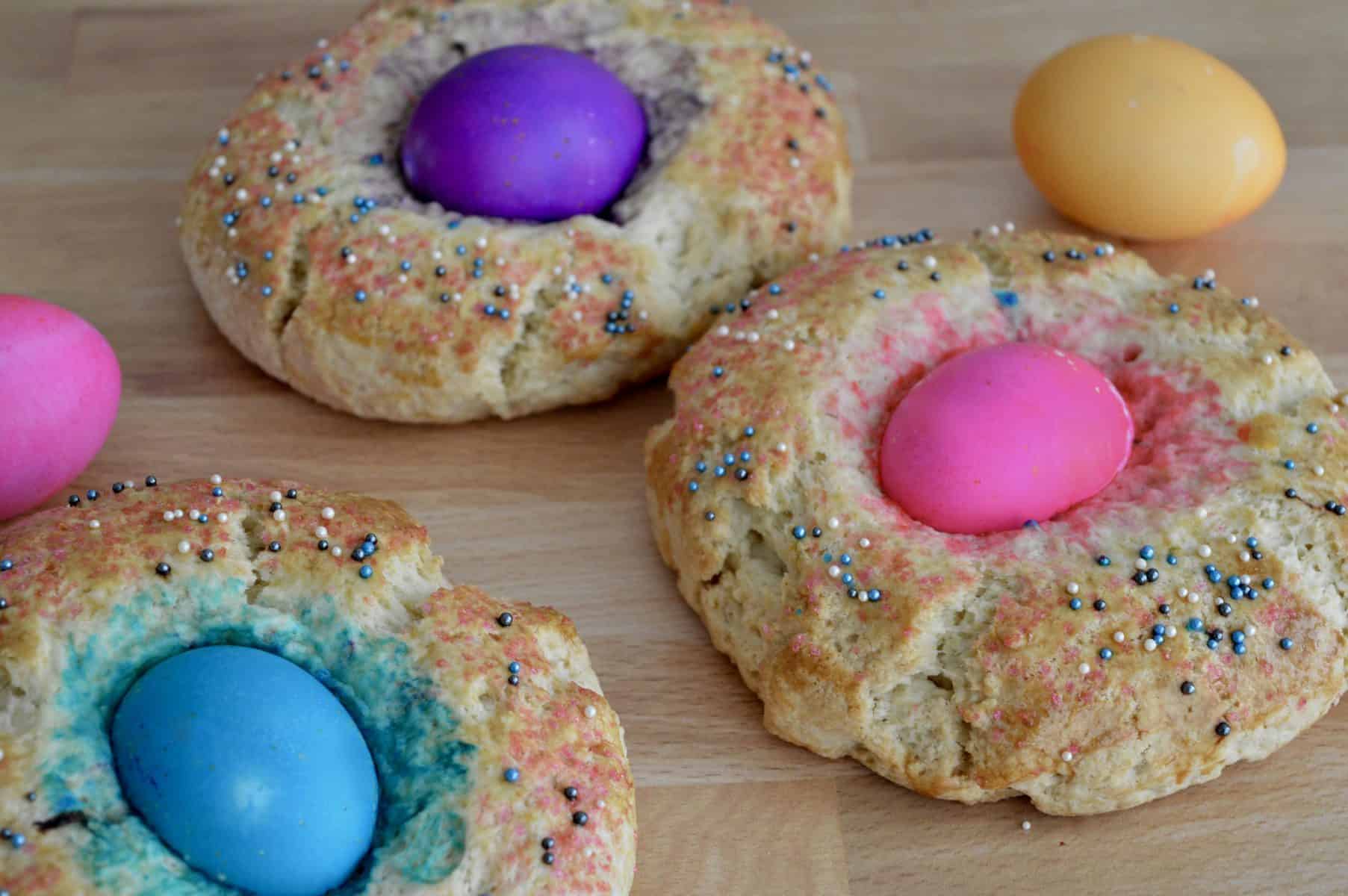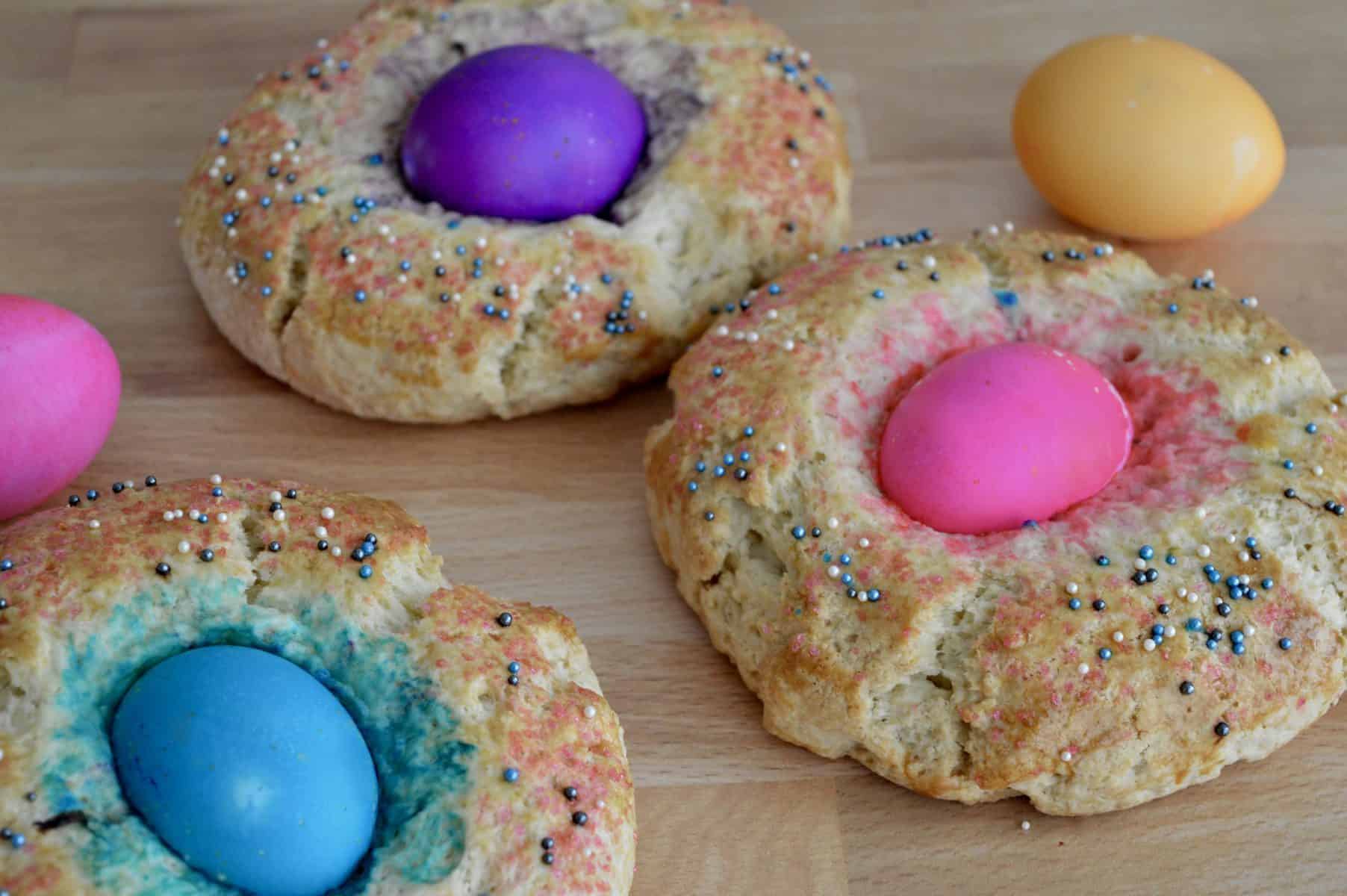 More Italian holiday recipes
Italians love their holidays... and who can blame them! Family is paramount, as is great food. Here are some of my absolute favorite Italian holiday recipes:
Hope you love this recipe for Italian Easter Bread without yeast. Comment below and let me know what you think. Enjoy!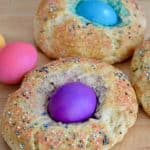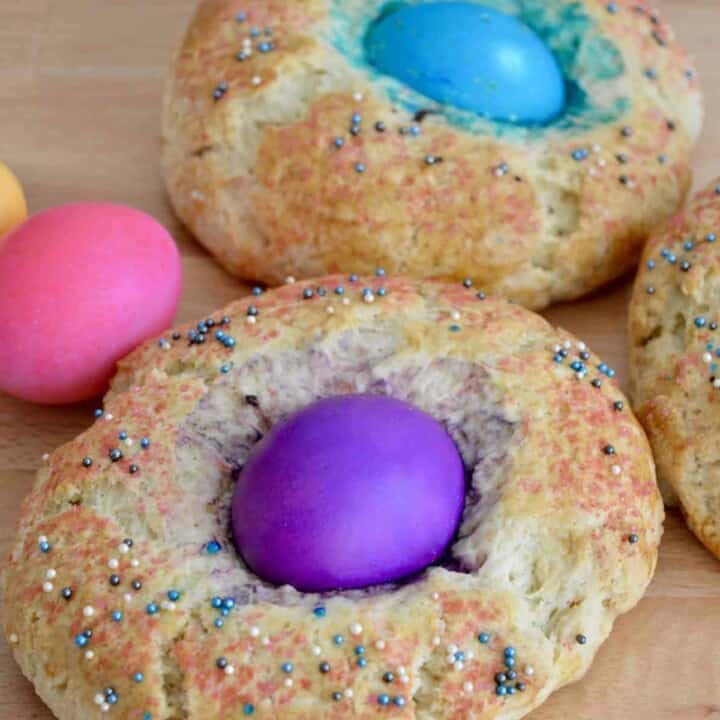 Print Recipe
Italian Easter Bread | No Yeast Recipe
This no-yeast Italian Easter Bread is easy to make and perfect for Easter Brunch. This recipe can easily be doubled or tripled with excellent results. The dough is crumblier than traditional Easter breads, so forming into a donut shape is usually the easiest way to prepare it. Top with sprinkles and a raw colored egg (that cooks in the oven) to make this bread extra festive.
Ingredients
2 ¼

cups

all purpose flour

(plus more for dusting counter)

1

tablespoon

baking powder

¼

teaspoon

salt

½

cup

butter, softened

(one stick)

½

cup

sugar

1

large

egg

½

teaspoon

vanilla

¼

cup

milk

1

large

egg, beaten

(for brushing the tops of breads)
Decorating
3

dyed eggs

(optional)

multicolor sprinkles

(optional)
Instructions
Preheat oven to 375 degrees. Line a baking sheet with parchment paper or a baking mat; set aside.

In a bowl, combine flour, baking powder, and salt. Set aside.

In a bowl or stand up mixer, cream together the room temperature butter, sugar, egg, and vanilla. Reduce speed of mixer to low, and gradually add in the flour mixture and milk until combined.

Pour mixture out on to floured surface and press together into a disk shape. Divide the dough into three equal parts. Roll the dough pieces into about 8 inch logs and form into donut shape. Place on baking sheet, leaving about 2 inches between each bread.

Brush breads with beaten egg and top with sprinkles if using. Place the colored egg in the middle hole of the bread.

Bake for 25-30 minutes until golden brown.
Notes
This no-yeast bread recipe is slight sweet and pairs perfectly with a cup of coffee or espresso. Store in an airtight container in the refrigerator for up to a week. 
Nutrition