This recipe for Italian Lemon Ricotta Cake is the BEST out there! Light, fluffy, and full of flavor, it is the perfect Italian dessert. Easy and simple recipe made with ricotta cheese and lemon.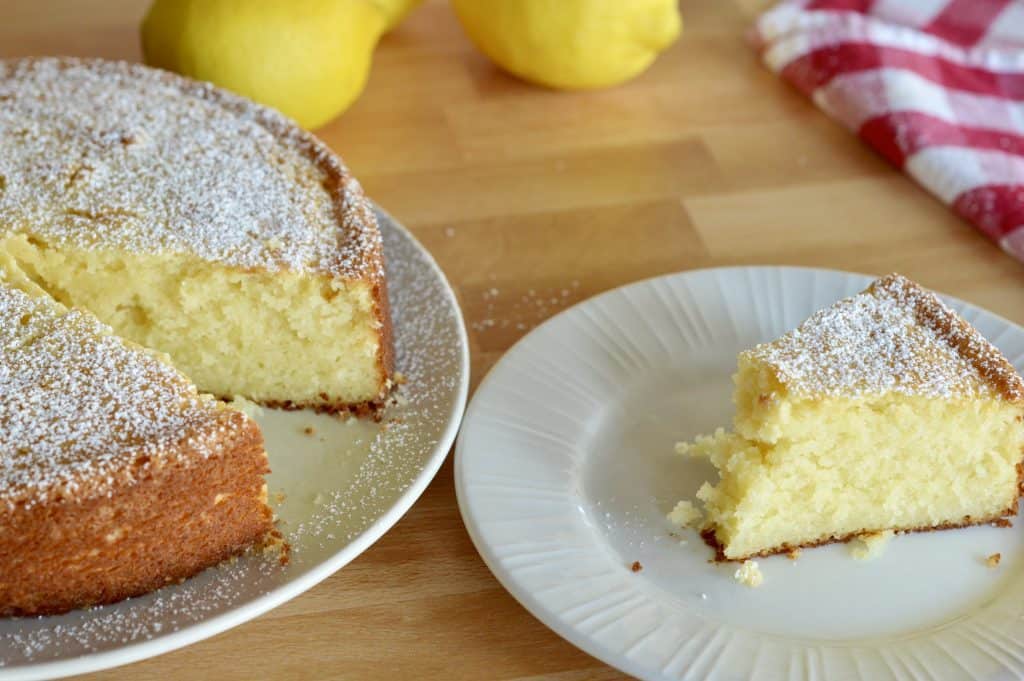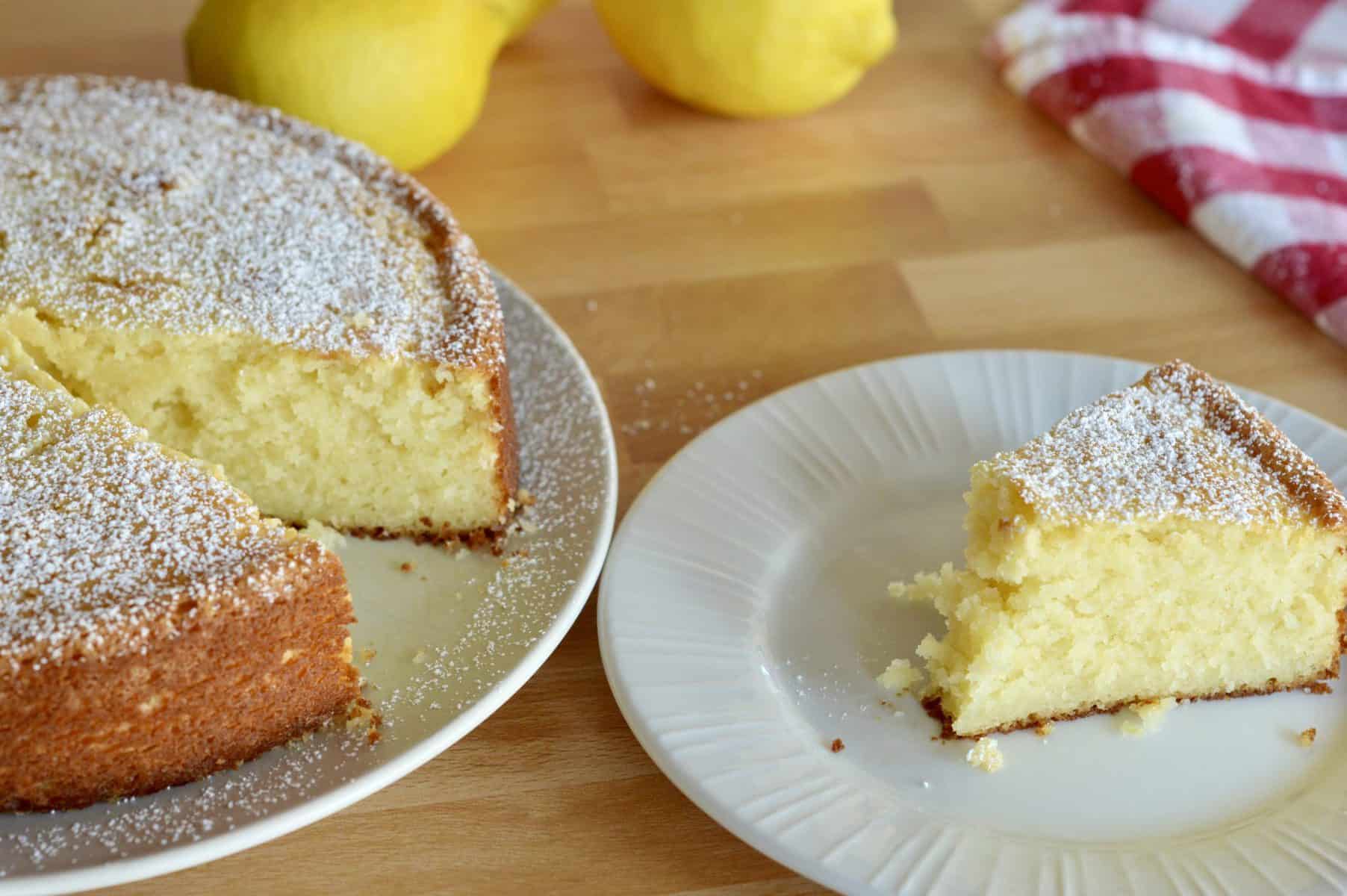 This traditional recipe for Italian Lemon Ricotta Cake is sure to become your new favorite. I love to serve this at the end of a hearty Italian dinner, like Italian Turkey Sausage Meatballs; or even as a tasty breakfast treat.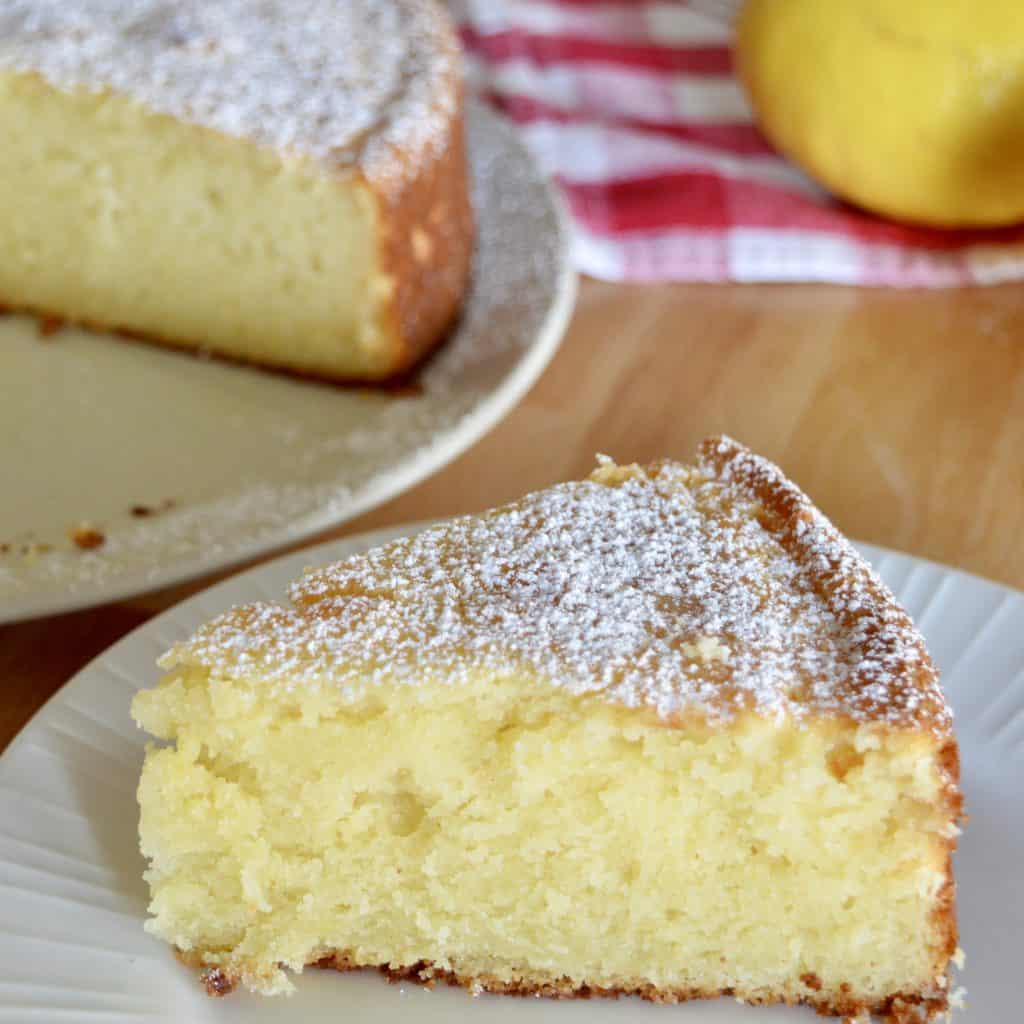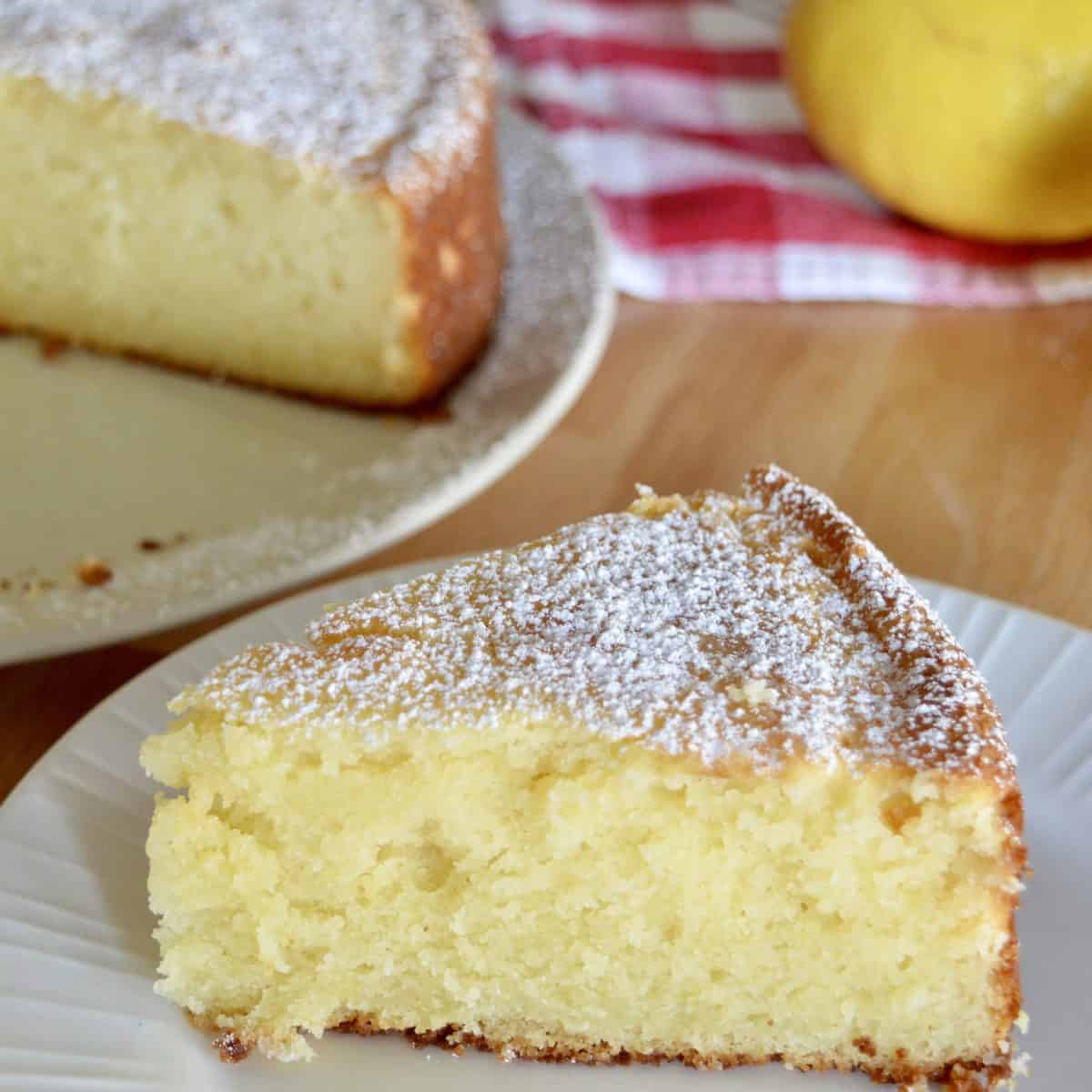 This simple cake has an unbeatable flavor and texture combination thanks to the fresh lemon juice and ricotta cheese. If you've never had a lemon ricotta cake before, than this is the recipe for you to try.
What is Lemon Ricotta Cake?
Lemon ricotta cake is similar to a traditional lemon cake, however it is not as sweet and has a slightly denser texture. It's a traditional Italian cake that is often served after the meal or with a piece of fruit for breakfast.
Traditionally, you'll find this cake stored in glass pedestals on countertops in Italian kitchens. It's a social cake that's great as a snack or with served with a hot cup of coffee. Moreover, it's a cake that keeps well both at room temperature and in the fridge. And, thanks to the ricotta, it stays moist and rich tasting.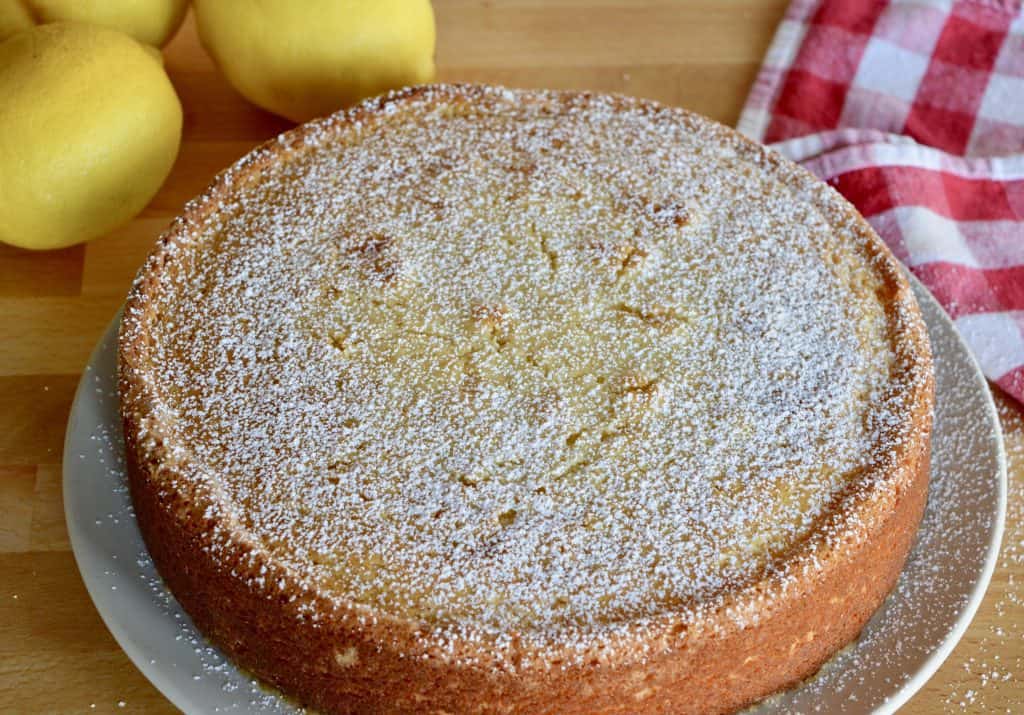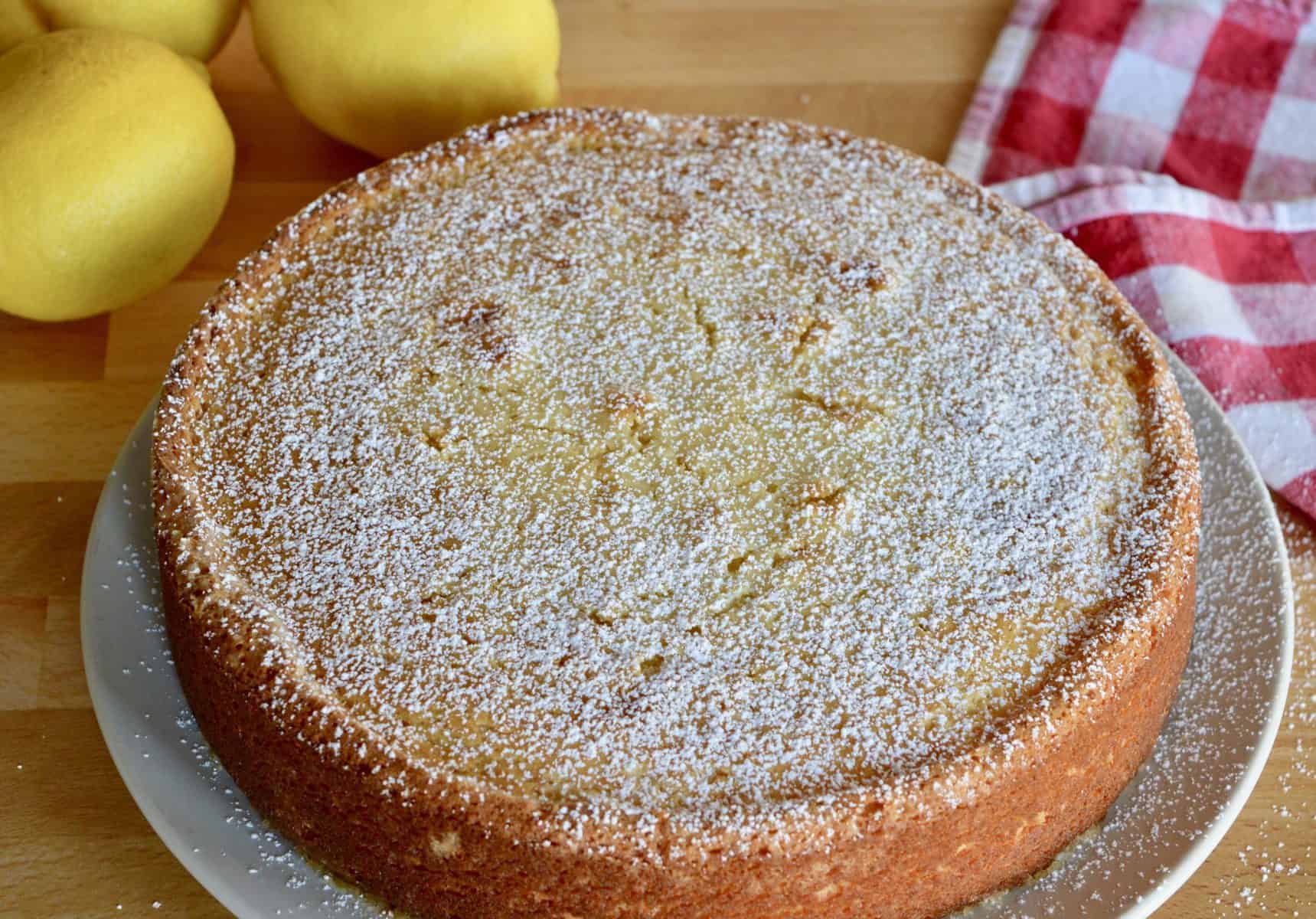 How to make fluffy ricotta cake
The key to making a fluffy (not dense) ricotta cake is to beat the ricotta with the butter and sugar, before adding the other ingredients. It can take up to five minutes of beating to get the desired texture, so a handheld mixer or stand up mixer is ideal here.
Ricotta cakes are notorious for being dense and having a texture similar to a pound cake. However, this simple task of taking the time to whip air into the ricotta can make a world of difference in how your cake turns out.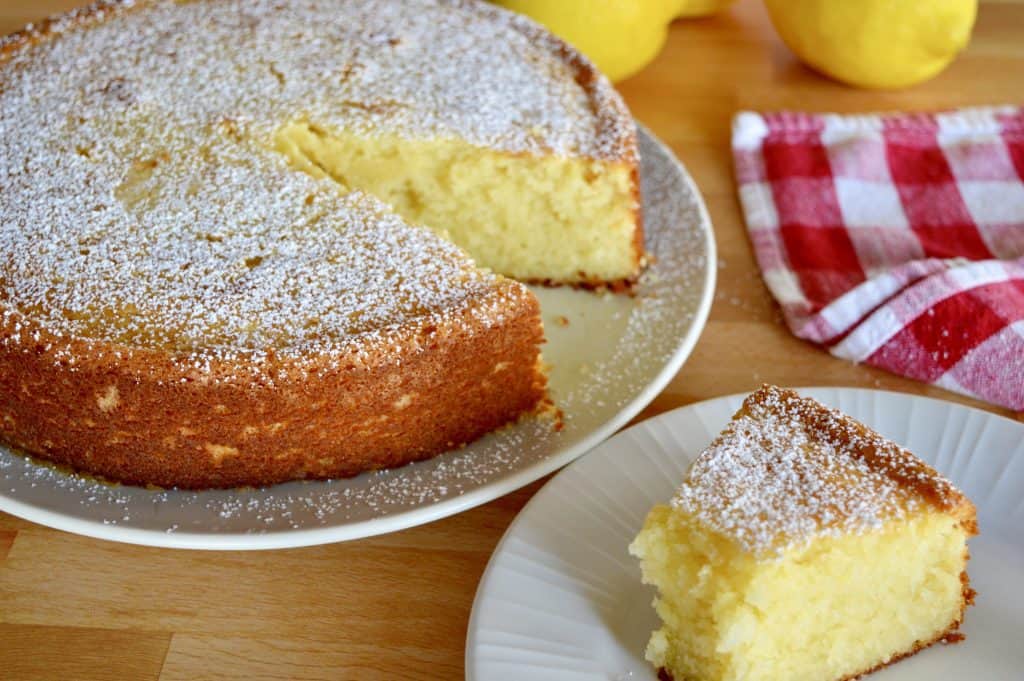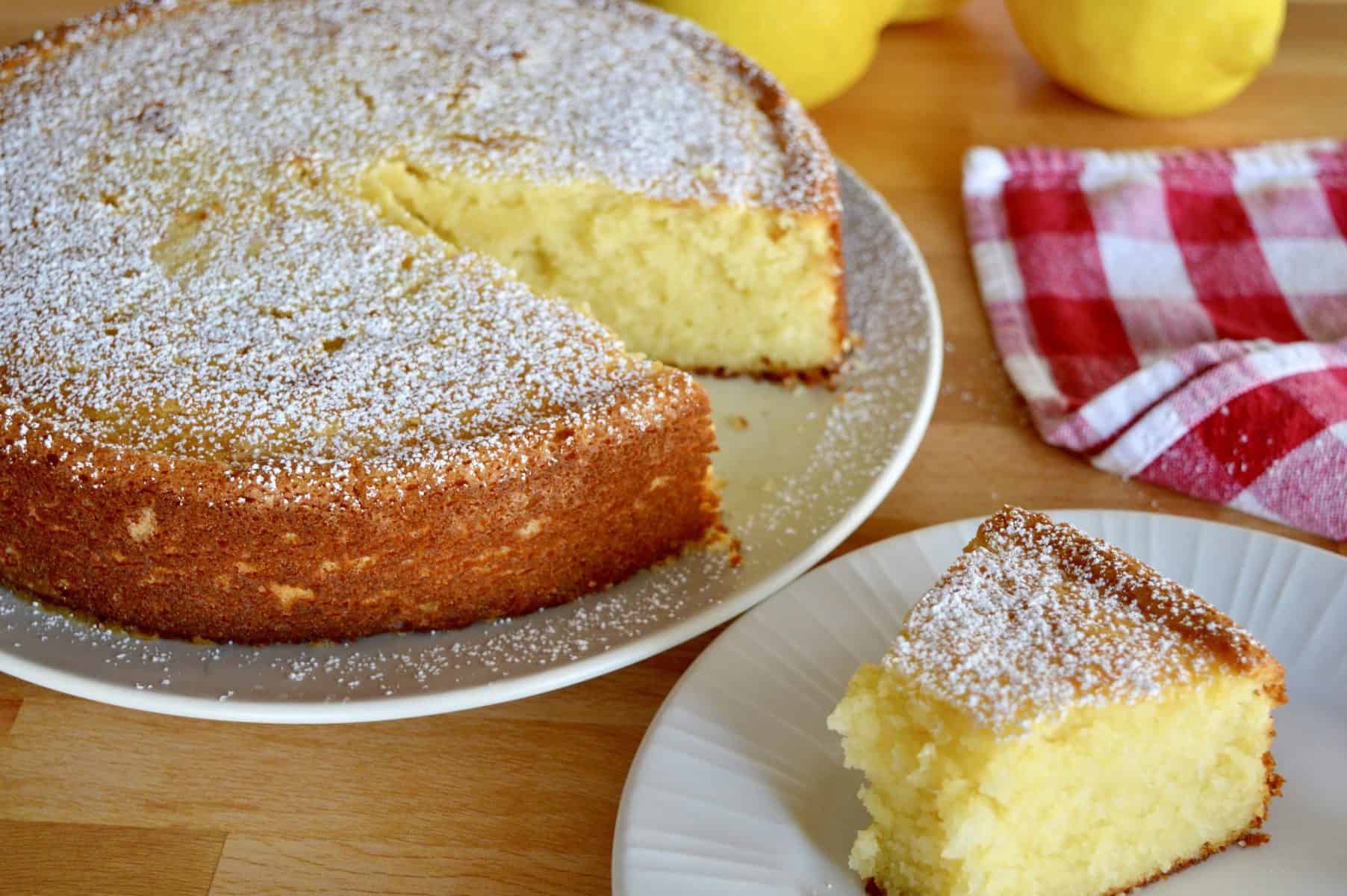 While incorporating air into the batter can be done using a wooden spoon or whisk, I recommend breaking out your stand up mixer for this process. You could also use a handheld mixer on the highest setting. The key is patience... and a little bit of aggression!
You don't need to be delicate with beating the ricotta. Just be sure to start with room temperature butter and, ideally, ricotta before starting.
Can I use part skim ricotta for ricotta cake?
While full fat ricotta cheese is ideal, you can use part skim ricotta cheese when making a ricotta cake. The key to making the texture right is to throughly beat the ricotta, butter, and sugar together before adding the other ingredients.
So, if you don't have whole milk ricotta, don't worry. Your cake will still be fluffy and delicious. However, if you have a choice, always opt for full fat dairy when baking.
Can I make a Lemon Ricotta Layered Cake?
You can absolutely use this recipe as a base for a delicious lemon ricotta cake. To do so, simply make the cake as instructed, but divide the batter evenly into two round cake pans that have been greased and lined with parchment.
Bake for about half of the normal baking time, 25-30 minutes. Test the cakes doneness using a toothpick inserted in the center of the cake.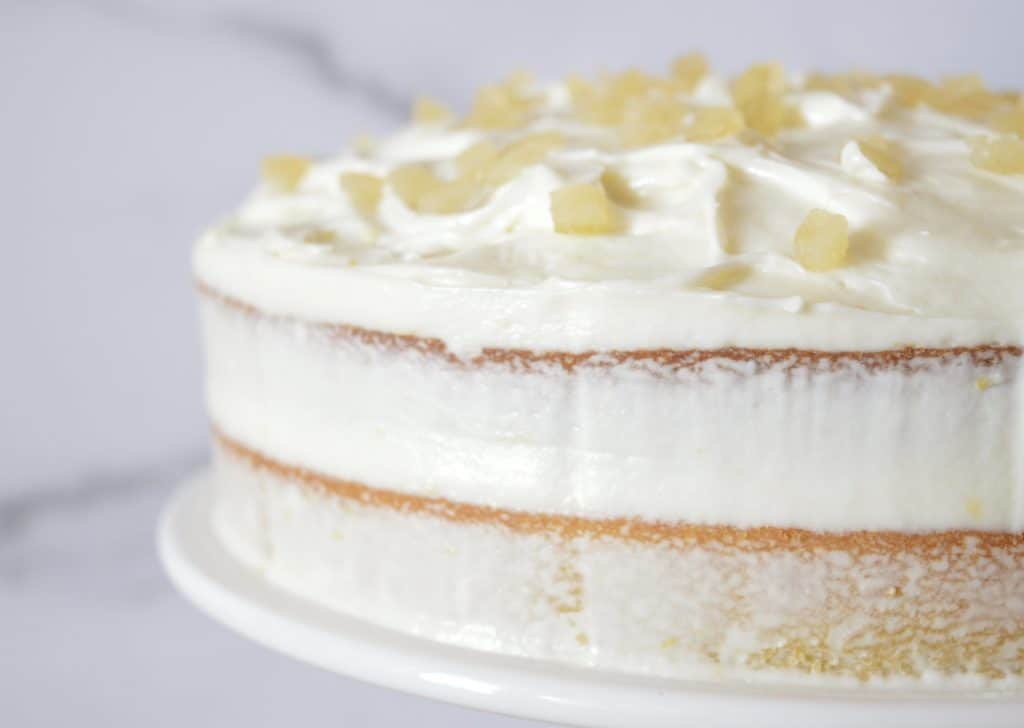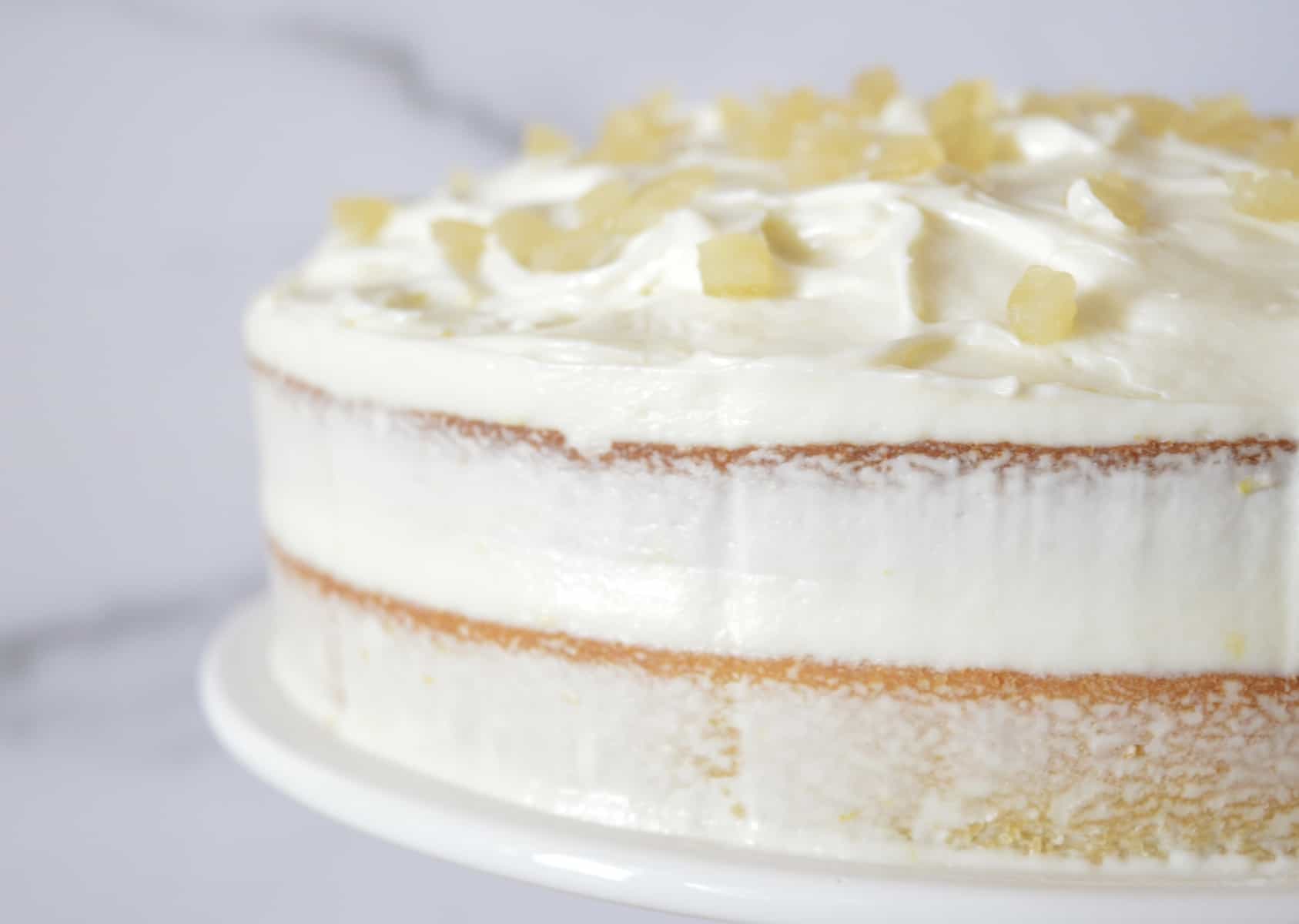 This cake would be delicious with a limoncello or lemon cream cheese frosting. For a similar cake and frosting recipe, see Limoncello Ricotta Cake from This Delicious House. You can also get a similar recipe for Lemon Ricotta Bundt Cake that uses a lemon glaze and candied lemon peel for texture.
How to make Italian Lemon Ricotta Cake
To start, you will need to grease a 9-inch springform pan with butter and powdered sugar. To do this, just use your hands to spread around about two tablespoons of butter. Then add in about a tablespoon of powdered sugar and move it around so that it adheres to the butter. Tap any excess sugar out of the pan.
If you don't have a springform pan, you could always make this cake in a tall 9 inch cake pan lined with parchment. A bundt pan would also be a good alternative.
What I love about this recipe is how simple it is to make and how quickly it comes together. Everything is done in one bowl too, so less mess!
Firstly, cream together the room temperature butter and sugar. Next, add in the ricotta cheese. Now, and this is important, be sure to cream together the butter, sugar, and ricotta for four to five minutes to allow mixture to become light and airy. This is what will make the cake fluffy, rather than dense.
Next, add in the eggs, one at time, followed by the zest and juice of a lemon. I don't really measure the zest or juice for this recipe. Just use the best looking lemon you can find and zest it right over the bowl using a microplane lemon zester. Once it's zested, cut the lemon in half and use a handheld juicer to squeeze the lemon juice into the batter.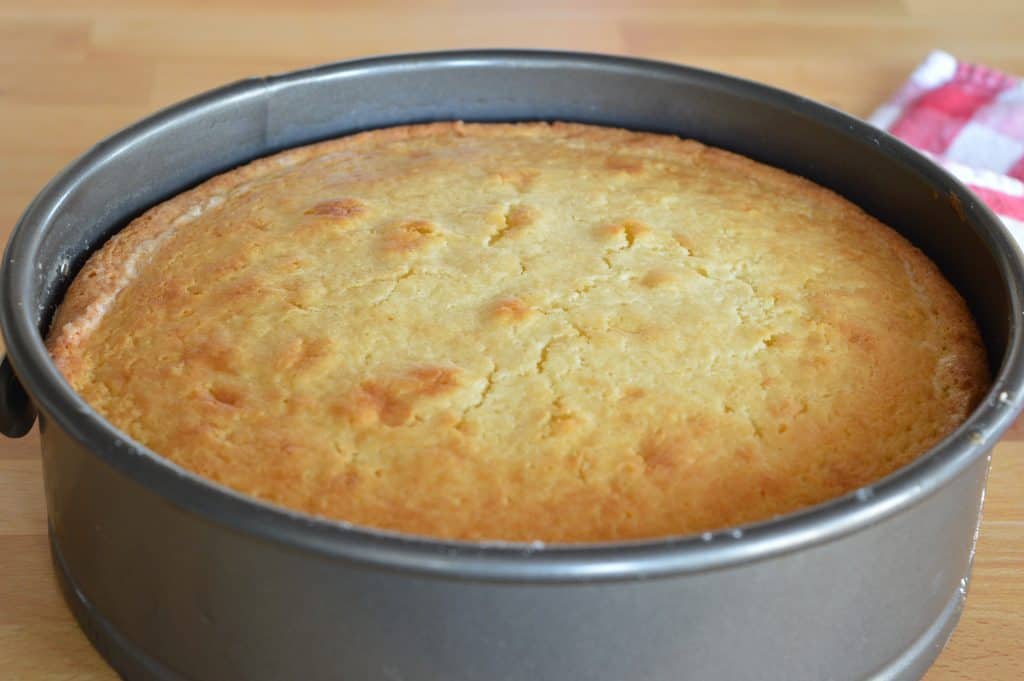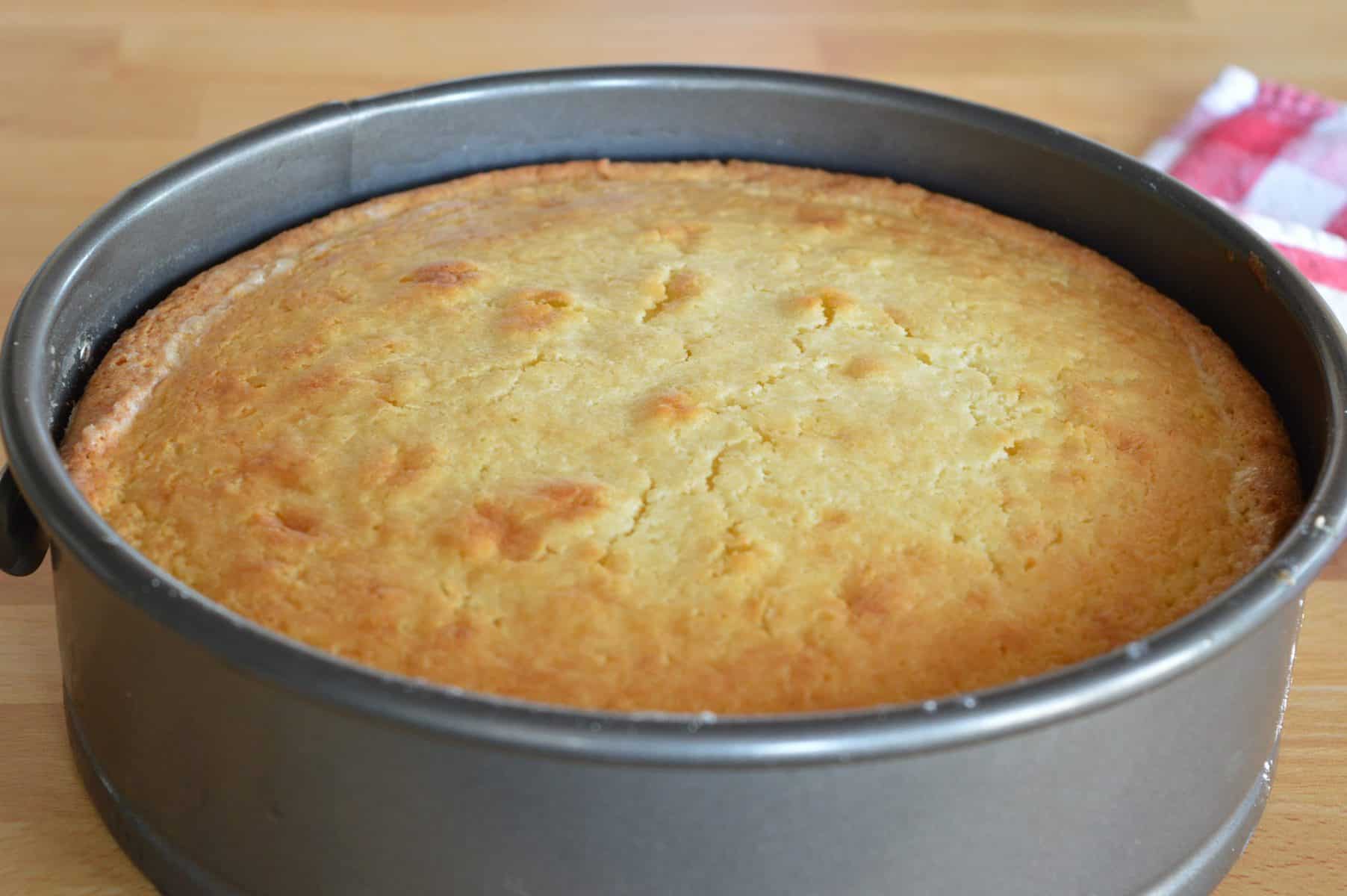 Stir in the dry ingredients. Pour the batter in your greased springform pan and bake for a little less than an hour.
Finishing off the cake
When the cake is done, remove from oven and let rest for 15 minutes before loosening the collar. Move to a wire cooling rack to allow to cool completely.
Lastly, sprinkle powdered sugar on top of the cake before serving. Italian Lemon Ricotta Cake would also be delicious served with a dollop of whipped cream and some fresh berries.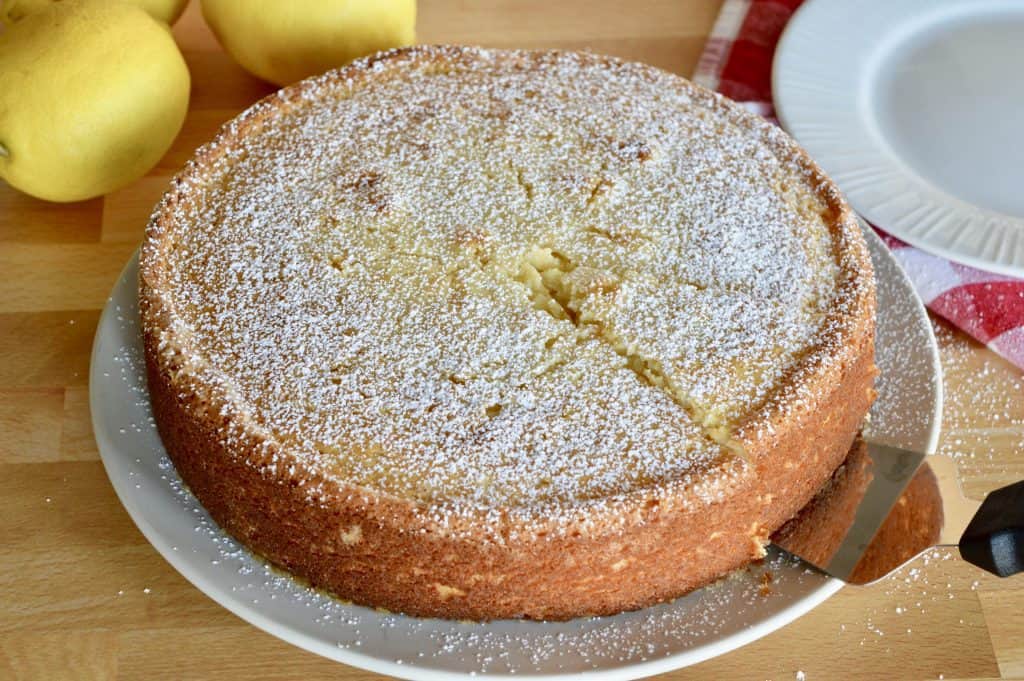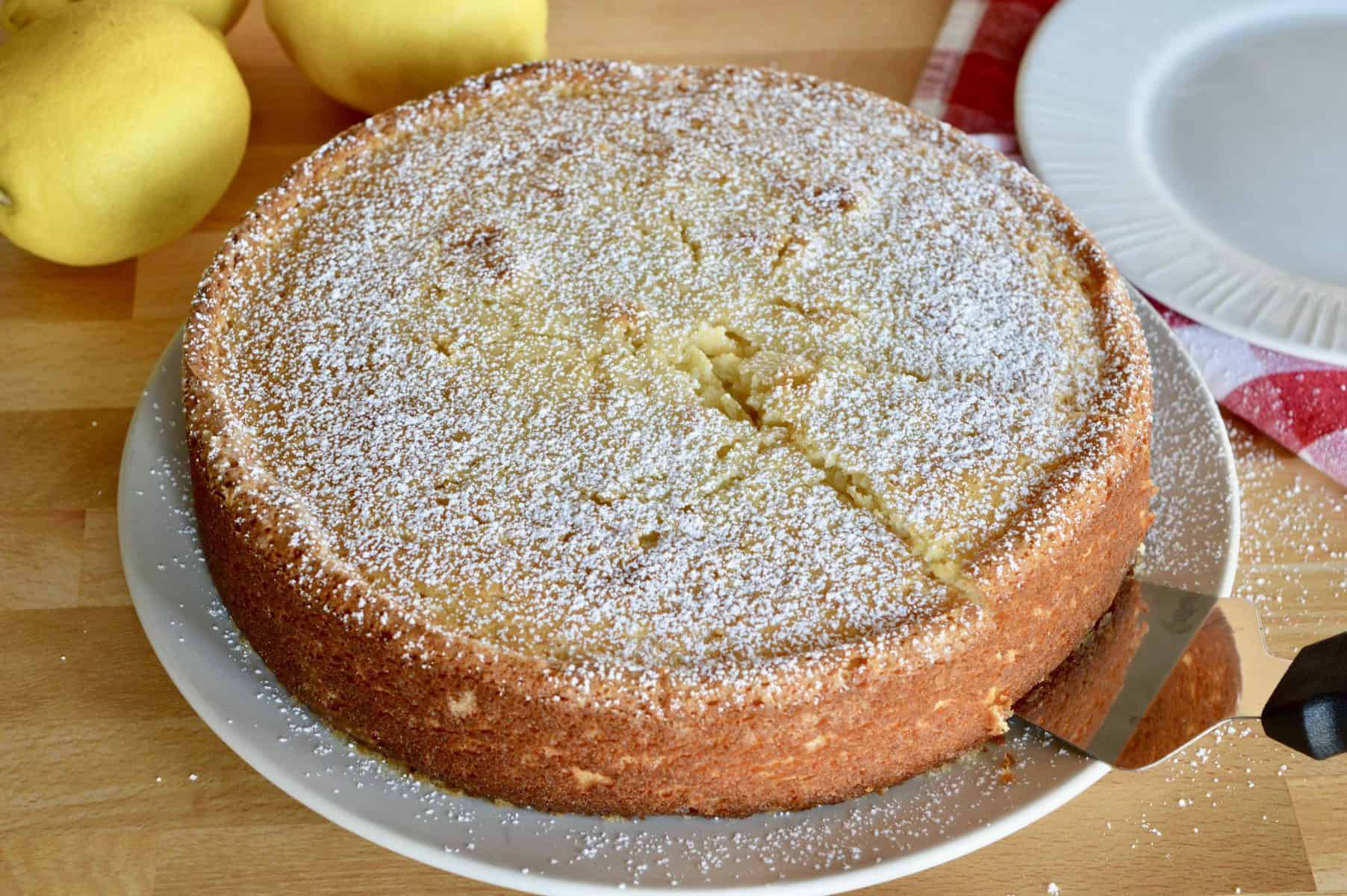 Store covered at room temperature for three days. To keep it fresh even longer, store in an airtight container in the refrigerator for up to a week.
Traditional Italian Desserts
This Italian Lemon Ricotta Cake is one of many delicious traditional Italian desserts. With Italian desserts, you'll find that many have a cheese base (like ricotta or mascarpone) and incorporate fruit or citrus flavors. Additionally, these desserts will have an almond (amaretto) or anise flavor.
Here are some traditional Italian Desserts that are great for every occasion:
Hope you love this recipe. Comment below and let me know what you think. Enjoy!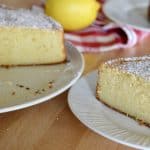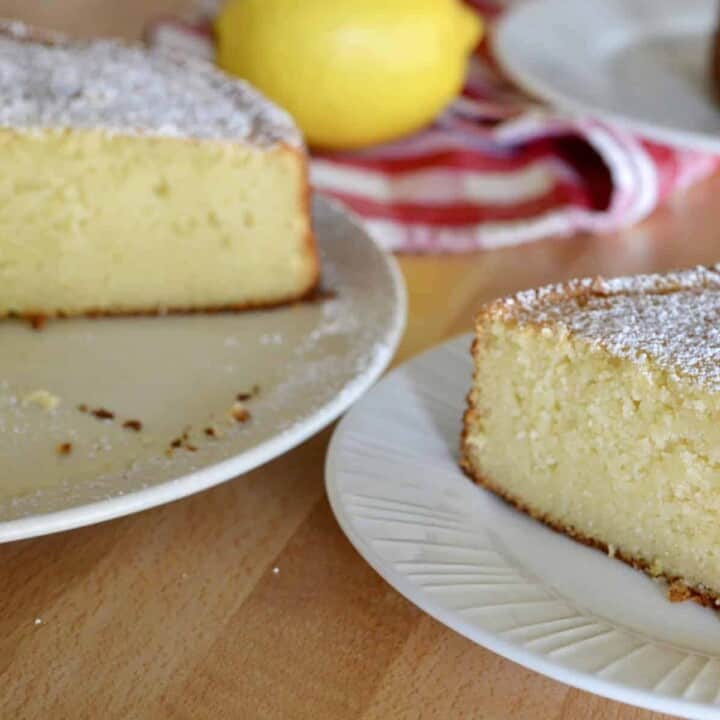 Print Recipe
Italian Lemon Ricotta Cake
This Italian Lemon Ricotta Cake is light, fluffy, and full of flavor. Made with ricotta cheese and fresh lemon, you're going to love this traditional Italian dessert that's also great served as a breakfast or brunch treat.
Ingredients
¾

cup

butter, softened

1 ½ sticks

1 ½

cups

sugar

15

ounces

whole milk ricotta cheese

3

large

eggs

1

teaspoon

vanilla

1

large

lemon, zested and juiced

½

teaspoon

baking soda

½

teaspoon

salt

1 ½

cups

flour

powdered sugar for dusting top of cake

(optional)
Instructions
Preheat oven to 350 degrees. Grease a 9 inch springform pan using butter and powdered sugar; set aside.

In a large mixing bowl or stand up mixer, cream together the butter and sugar until combined. Add in the ricotta cheese and blend until light and fluffy, about 4 to 5 minutes.

Mix in the eggs, one at a time. Add in the vanilla, lemon zest, and lemon juice and mix to combine. In the same bowl, stir in the baking soda and salt. Lastly, add in the flour and mix until just combined, scraping down the sides of bowl to full incorporate all of the ingredients.

Pour the batter into the prepared springform pan. Bake for 45-55 minutes, or until the cake is set and a toothpick inserted in the middle of the cake comes out clean.

Let cool in pan for 15 minutes before removing the collar and base of the pan. Cool on a wire rack and dust with powdered sugar before serving.
Notes
This is a great make ahead recipe. Refrigerate in an airtight container for up to a week. Or you can store in a domed pedestal on the counter at room temperature for three days. 
Nutrition