Italian Almond Chocolate Cookies are a deliciously chewy treat that's naturally gluten free. Made with ground almonds and cocoa powder, these subtly sweet cookies are perfect for any occasion.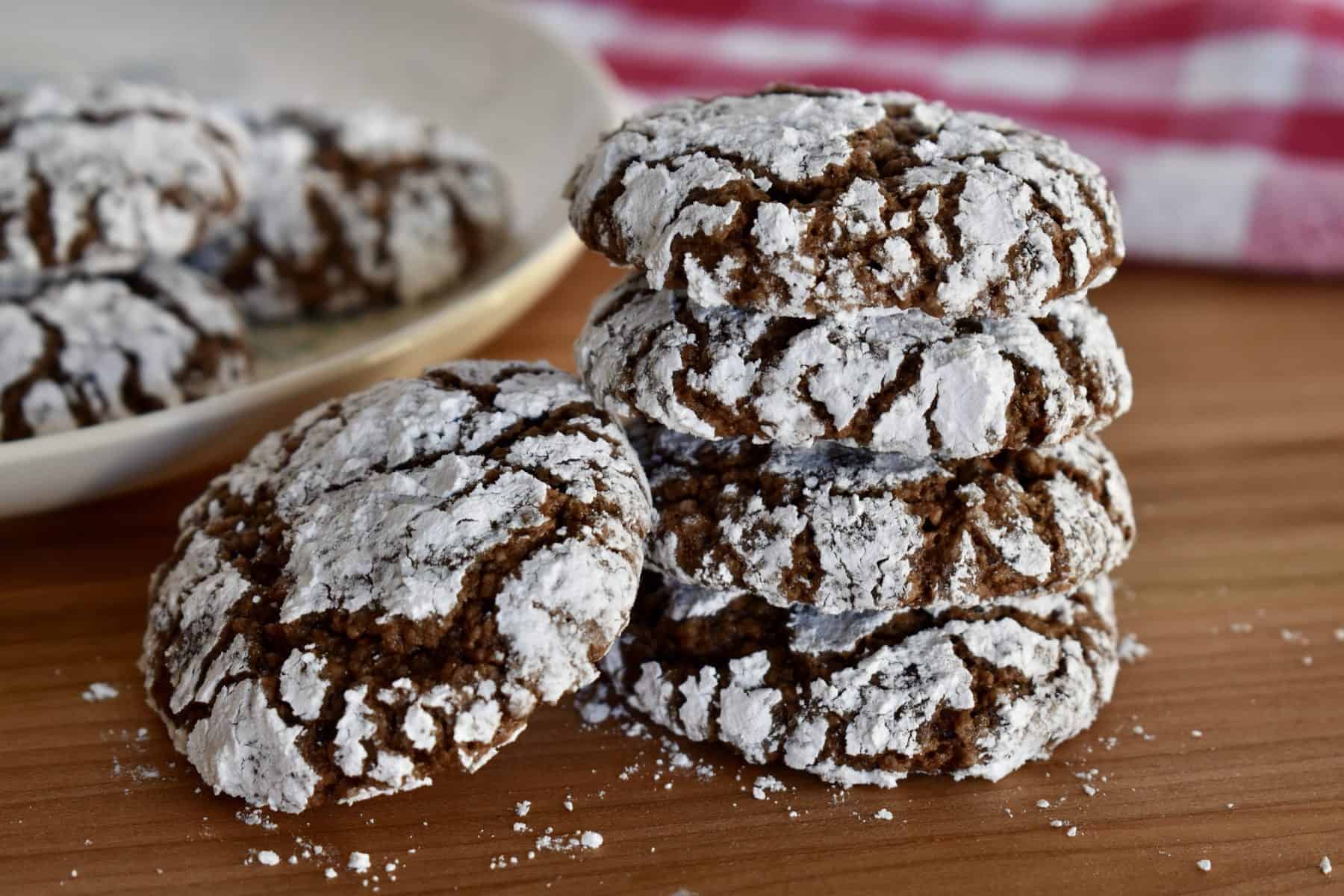 If you are craving a light and chewy treat, then these Italian Almond Chocolate Cookies are for you. You're going to love this slightly sweet and flavorful cookie that's great to make ahead.
This recipe was passed down to me from my Zia Lina. I remember this cookie being served at the holidays, but it's a great treat to have year round. I have since tweaked the recipe a bit adding more cocoa powder to play up that chocolate flavor.
Also, since the original recipe called for Paneangeli, an Italian vanilla baking powder, I substituted baking powder and vanilla extract. If you do happen to have Paneangeli, you can use that in place of the baking powder and vanilla in this recipe.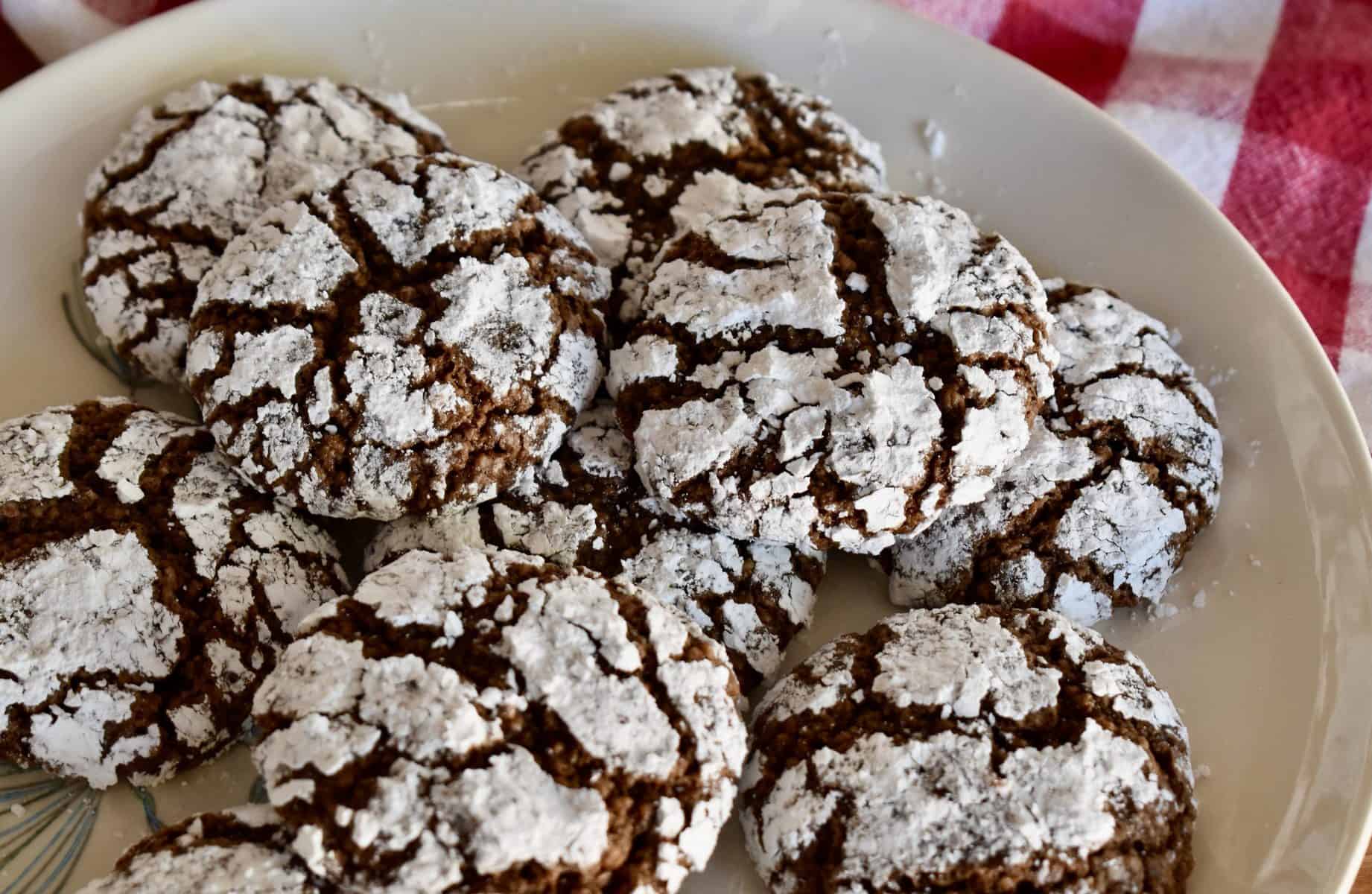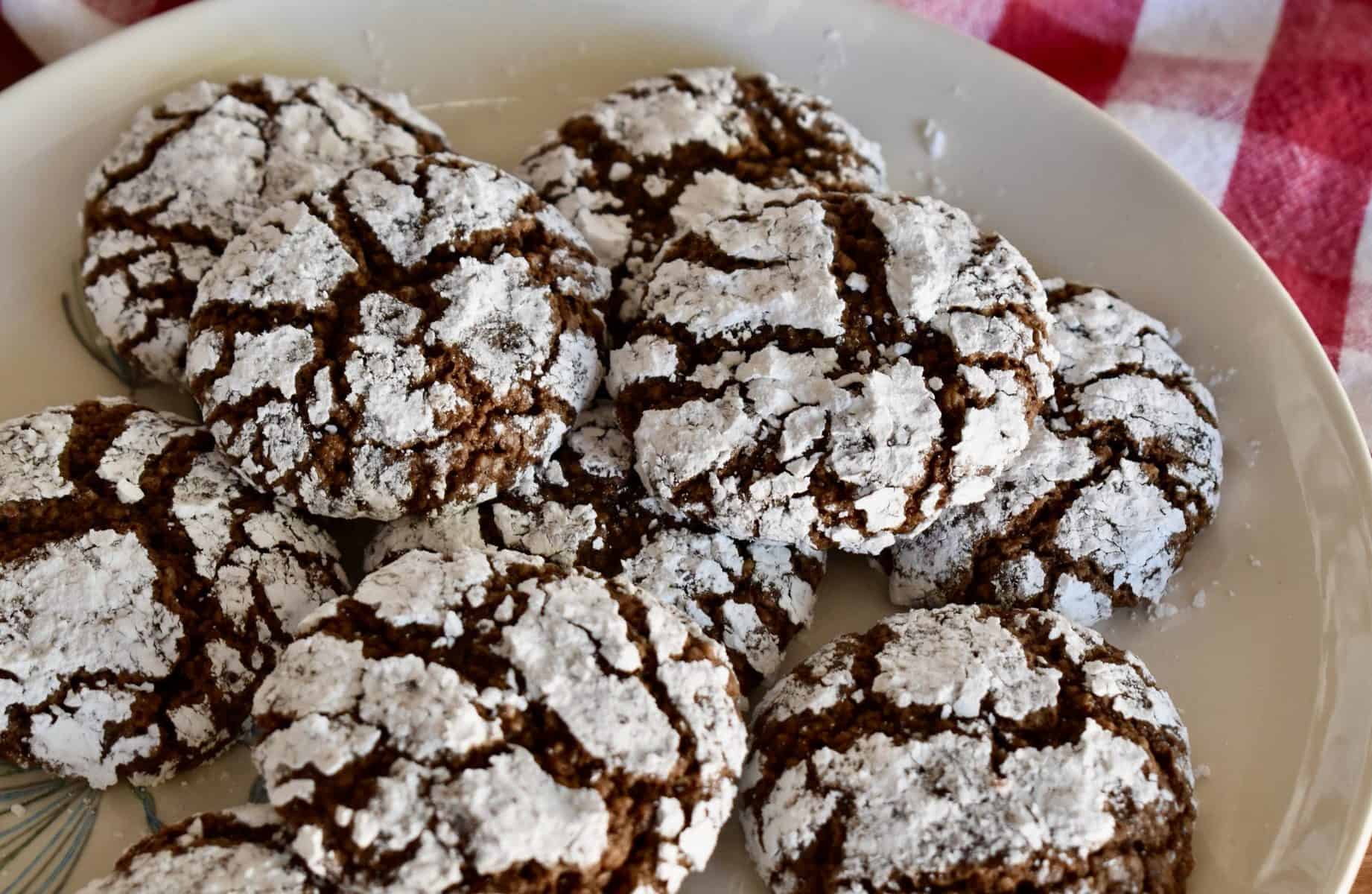 Gluten-free Italian Cookies
Italian Almond Chocolate Cookies are also naturally gluten free thanks to the crushed almonds acting as the "flour" for the cookies. For a gluten-free chocolate cake, be sure to try this Torta Caprese recipe or this Italian Walnut Cake recipe!
With this recipe, I recommend grinding almonds in the food processor rather than using almond flour. You want a bit of a crunch with this cookie.
There are other naturally gluten-free Italian cookies out there as well. Be on the lookout for anything made with almond flour - a common ingredient in Italian baking.
Amaretti Cookies are a great gluten-free cookie option. Moreover, you are going to love that this cookie is crunchy on the outside and chewy on the inside.
Pignoli Cookies are a classic Southern Italian cookie made with almond paste and pine nuts.
Lemon Amaretti Cookies are another version of this chewy cookie confection. Filled with tasty lemony flavor, this cookie keeps well and is great for any occasion.
Lemon Polenta Cake is not a cookie, but a naturally gluten-free cake that's made with cornmeal!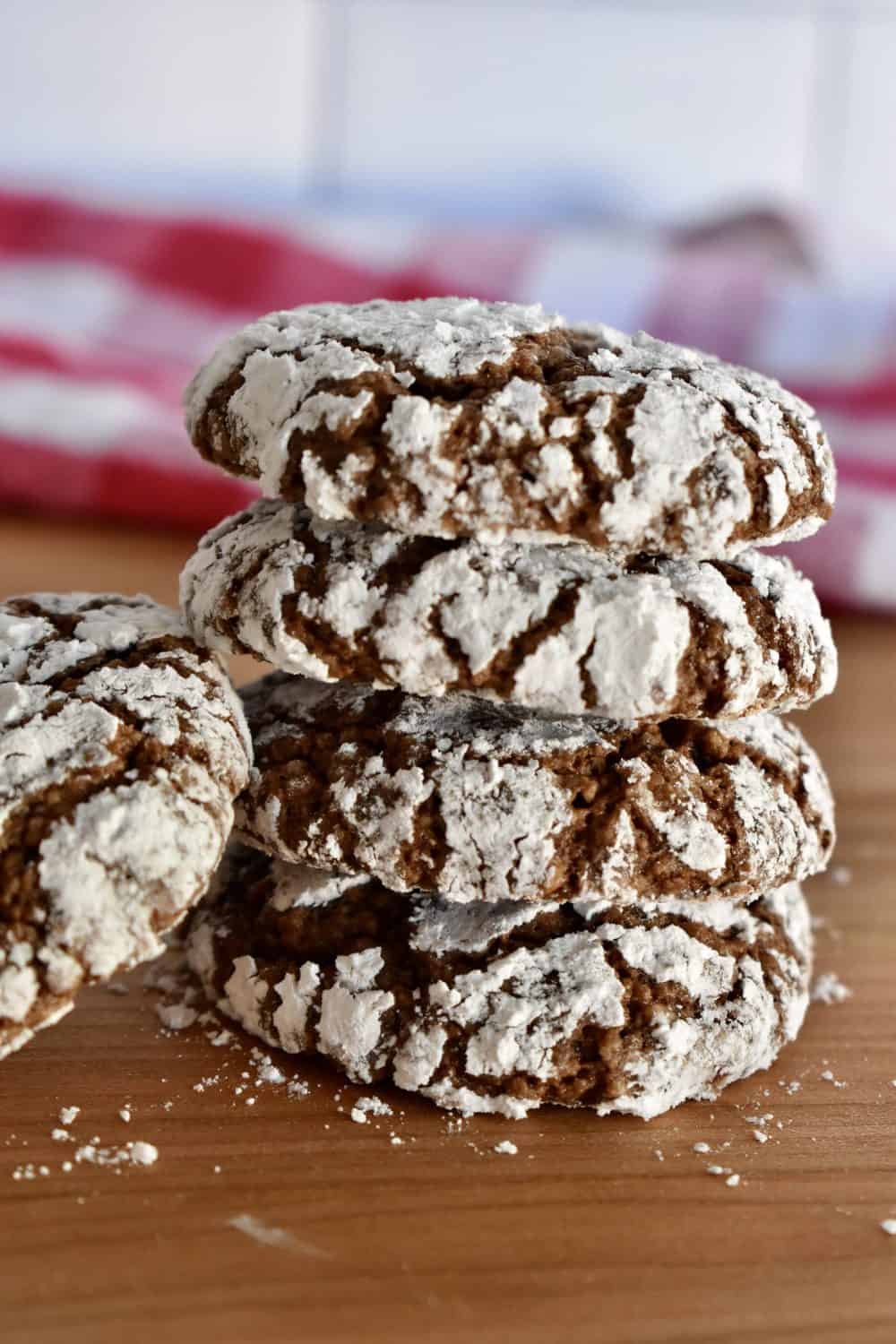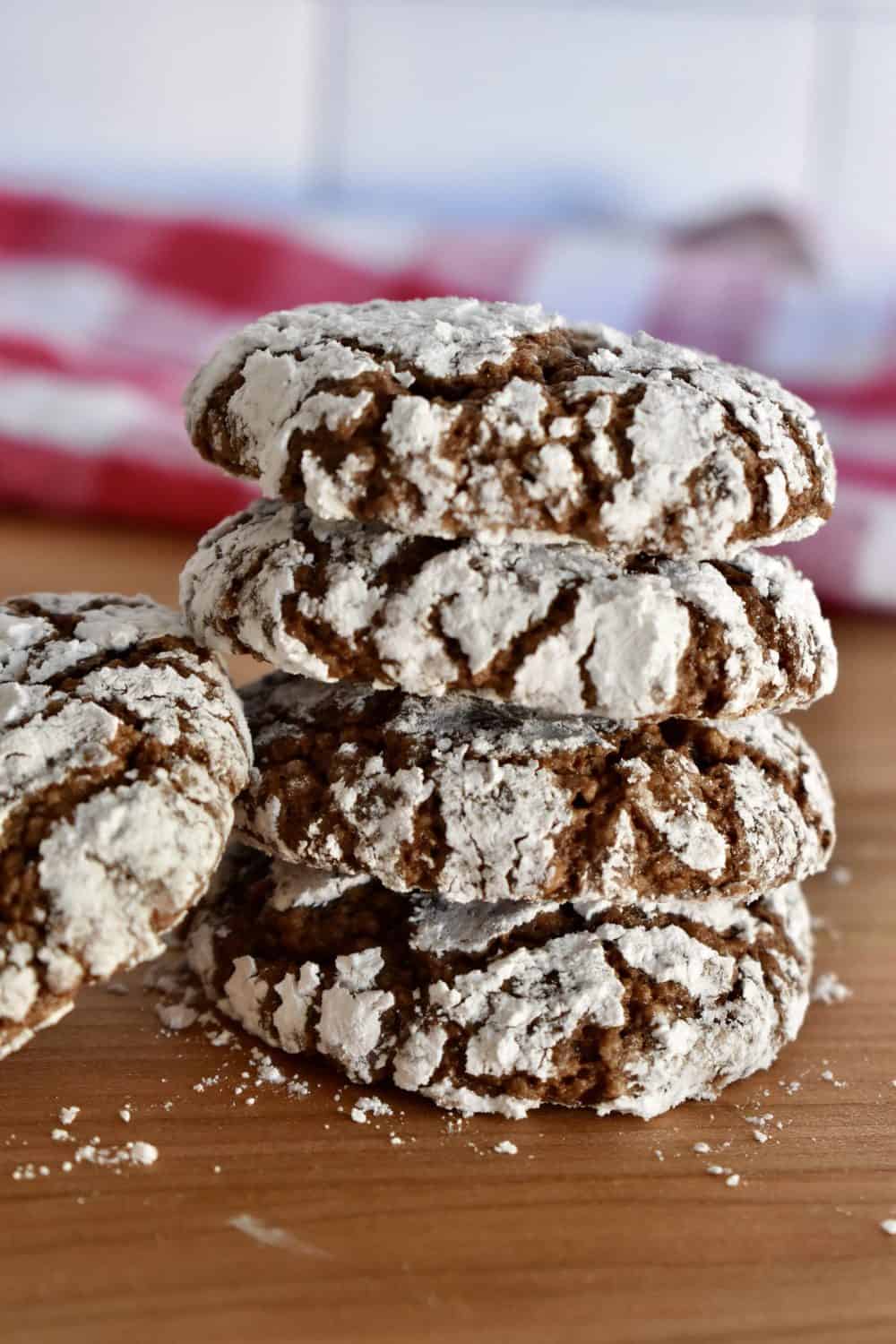 Italian Almond Chocolate Cookies
This recipe comes together fast and is super easy to make. The only piece of equipment you need other than a cookie sheet is a food processor.
You could use almond flour or almond meal for this recipe, but it would give you a much different texture. Almond flour uses blanched (peeled) almonds, while almond meal is whole ground almonds. If you wanted to skip the of grinding your own almonds, I would recommend almond meal over almond flour.
Firstly, you will need to grind the almonds. Here I use about 2 ¼ cups of almonds to start with, which is about 12 ounces. Then, place it in the food processor with the internal mixing blade attached. Blend until the almonds resemble a fine ground.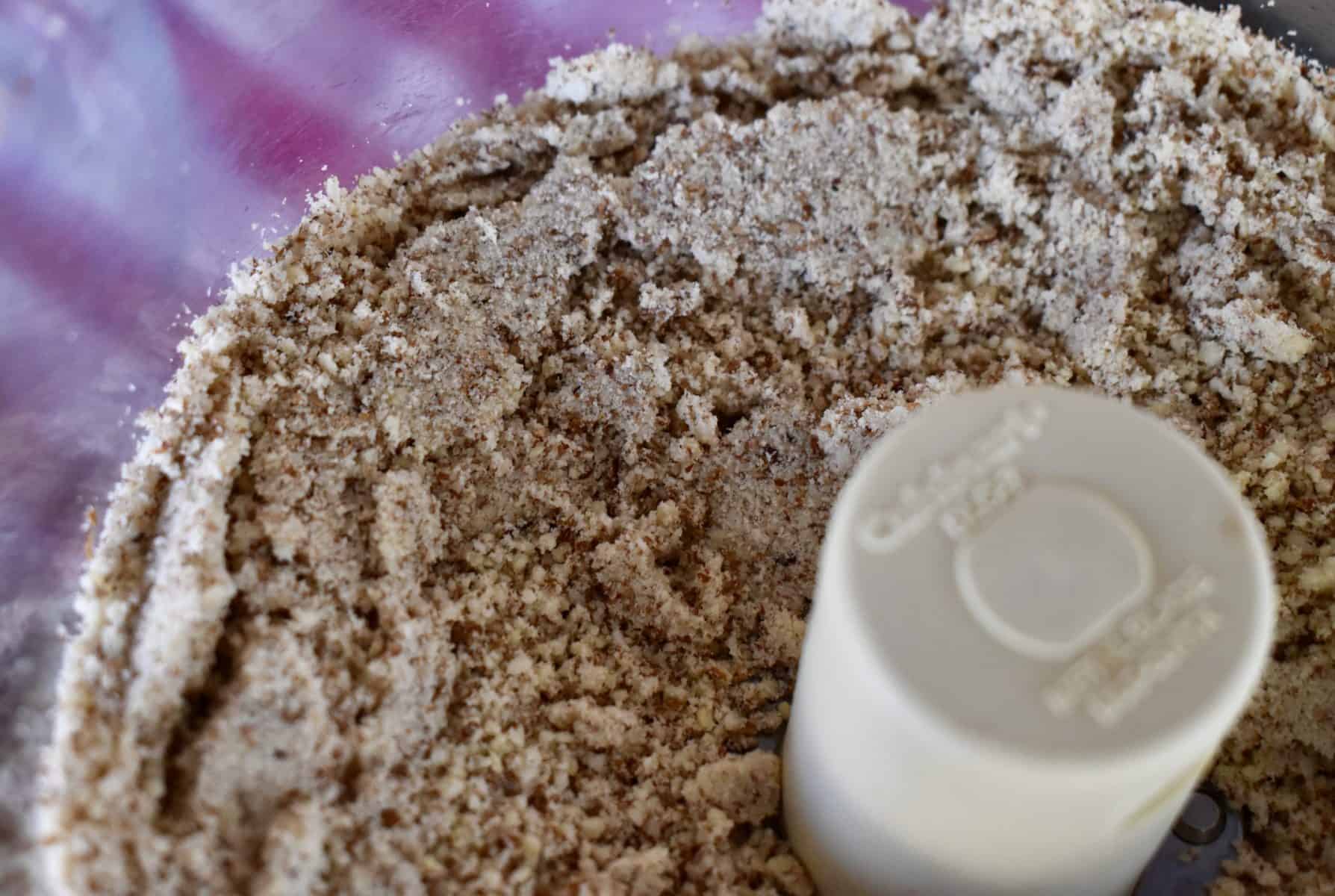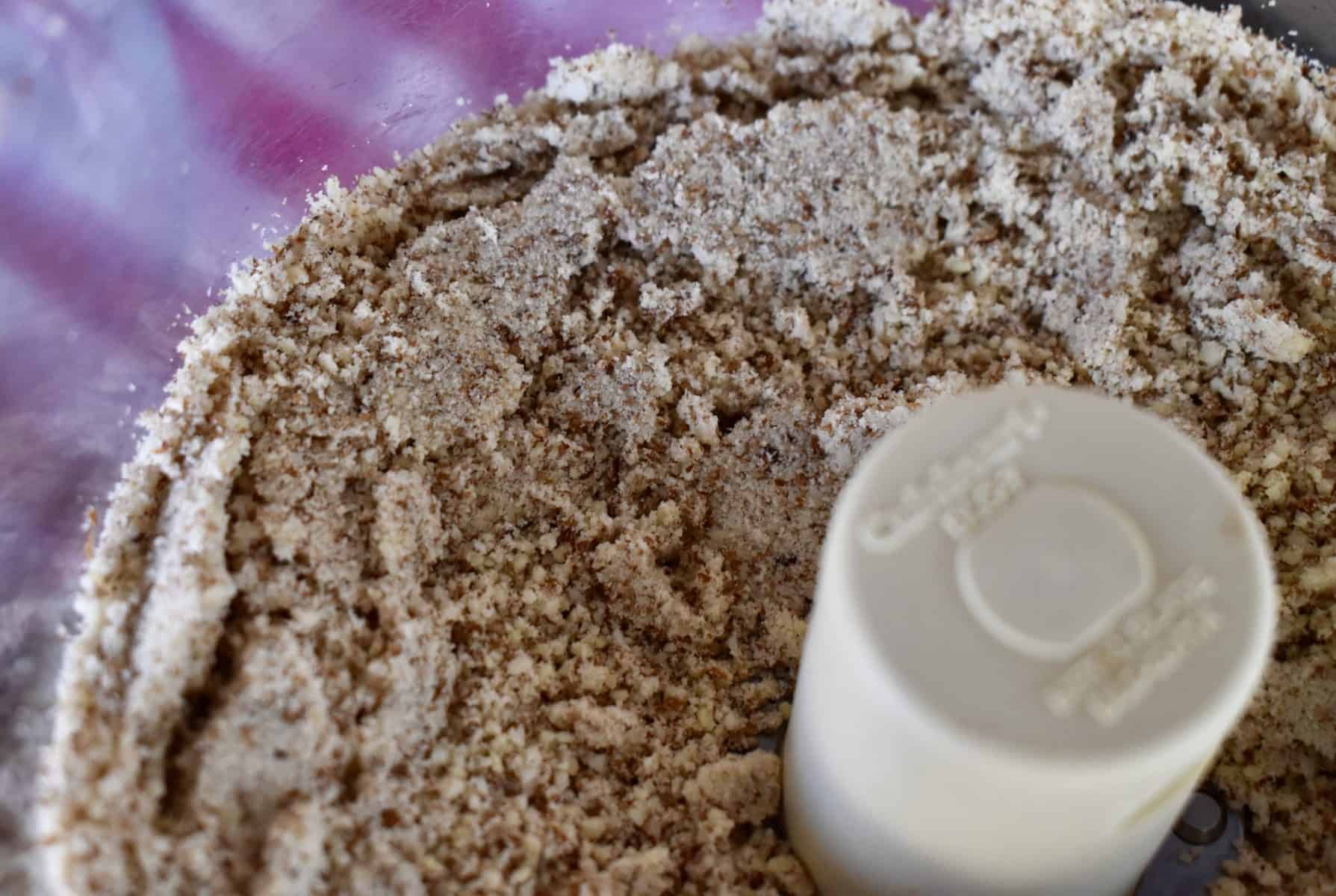 If you prefer a crunchier cookie, you could grind the almonds less. However, I find that the ideal texture is when the almonds are ground to nearly the consistency of flour.
Next, pour the almonds into a large mixing bowl. Then, stir in the sugar, cocoa powder, and baking powder. Add in the beaten eggs, vanilla, and almond extract.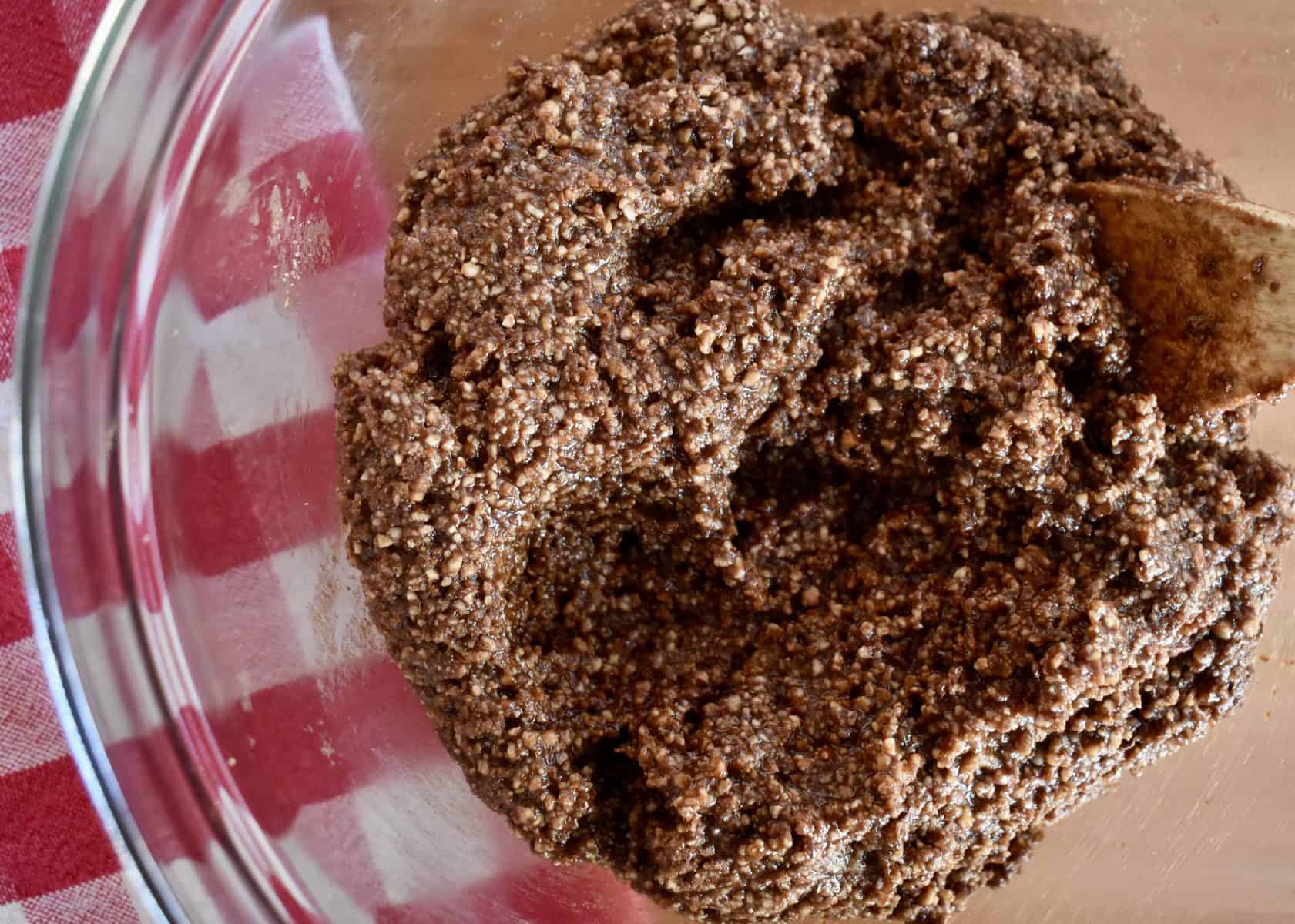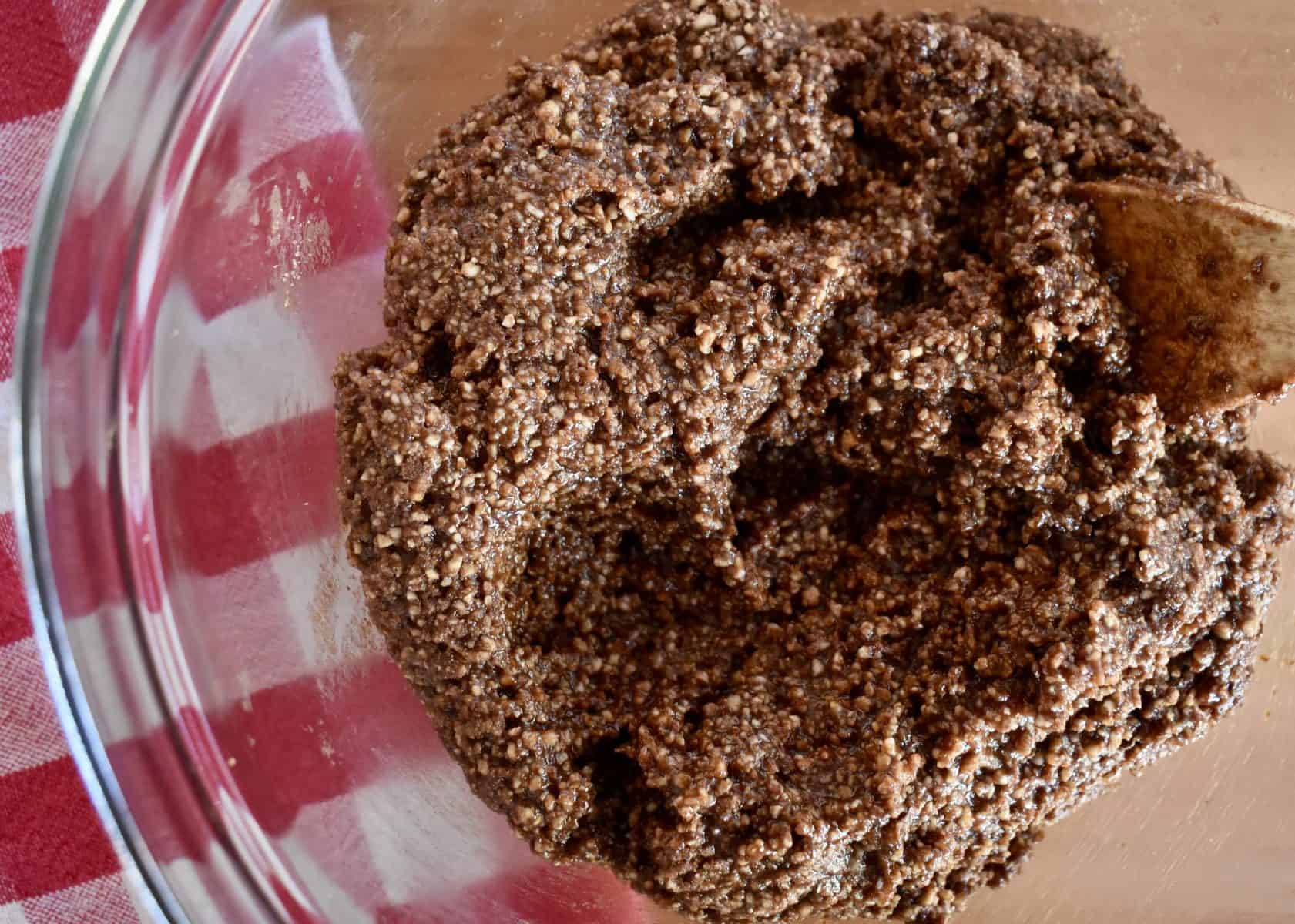 The batter will be dense, but continue mixing until the dough is evenly combined. This can take up to a minute.
Roll Italian almond chocolate cookies into balls and coat in powdered sugar
Lastly, use a cookie scoop to measure about 1 inch balls of cookie dough. Use your hands to roll the dough into a ball. Then, toss the cookies in powdered sugar and place on a lined cookie sheet about a two inches apart.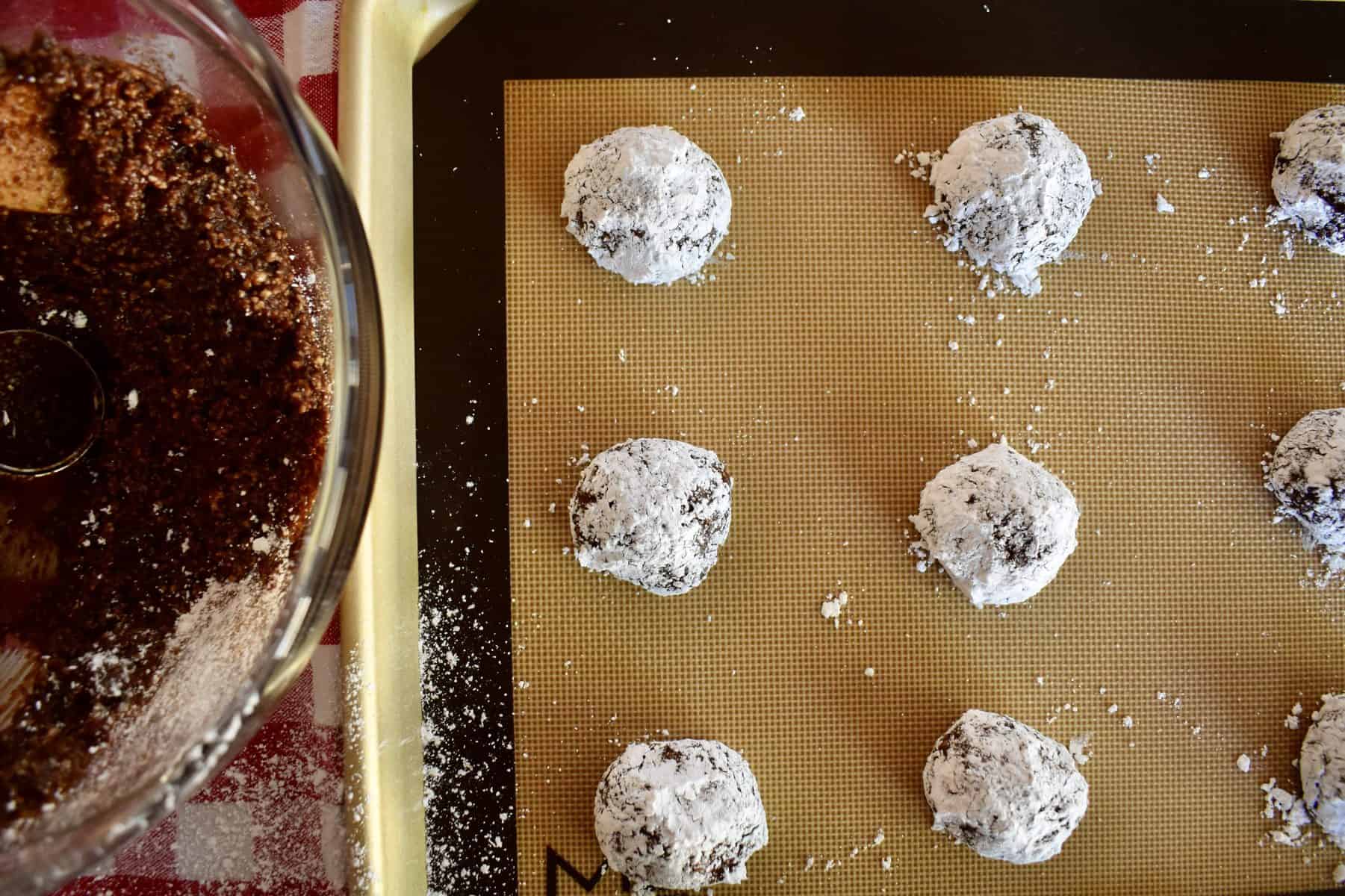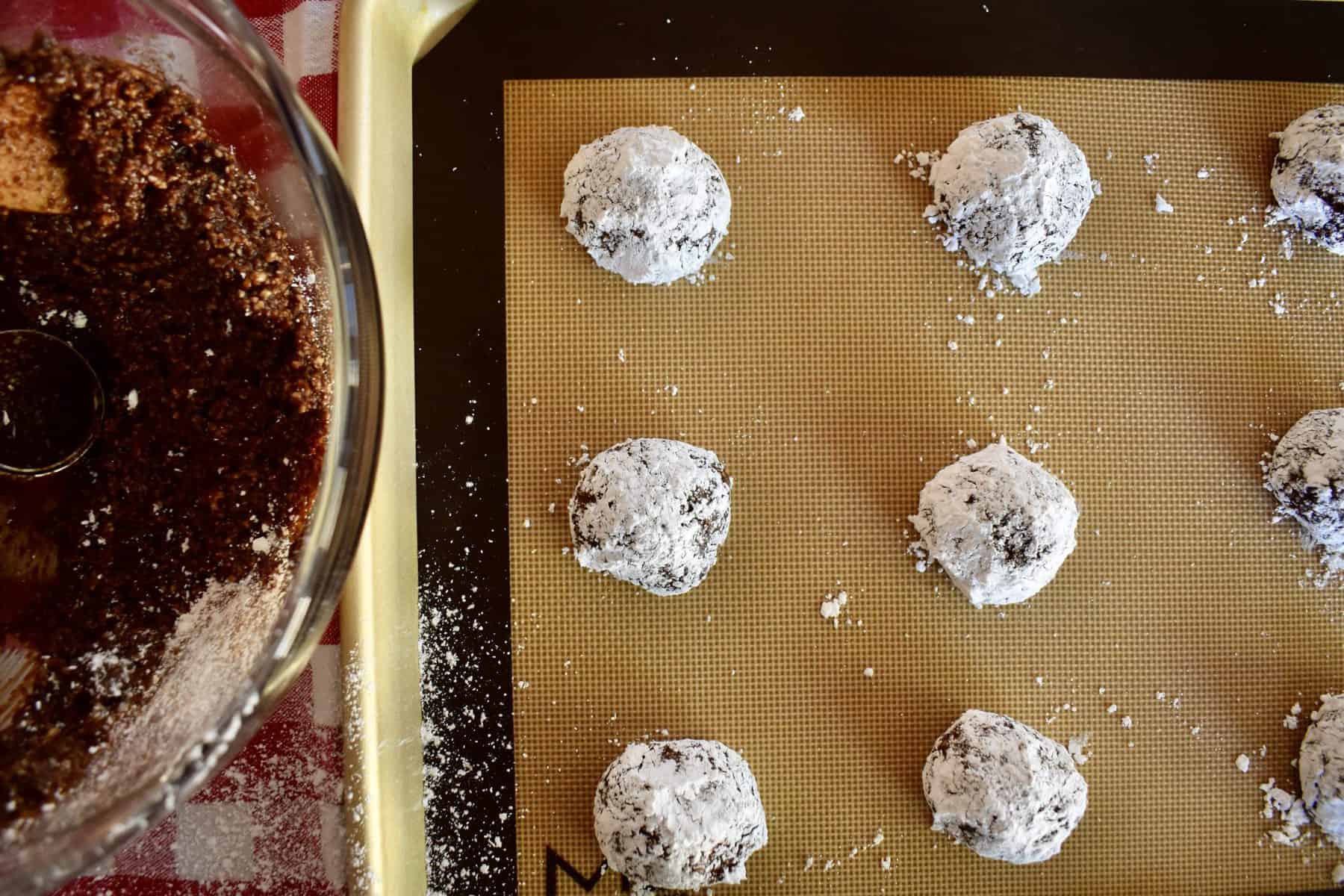 Bake for 12-14 minutes, or until the cookies are just set. The cookies will be soft. Let them cool on the baking pan for about 5 minutes before moving to a rack to cool completely.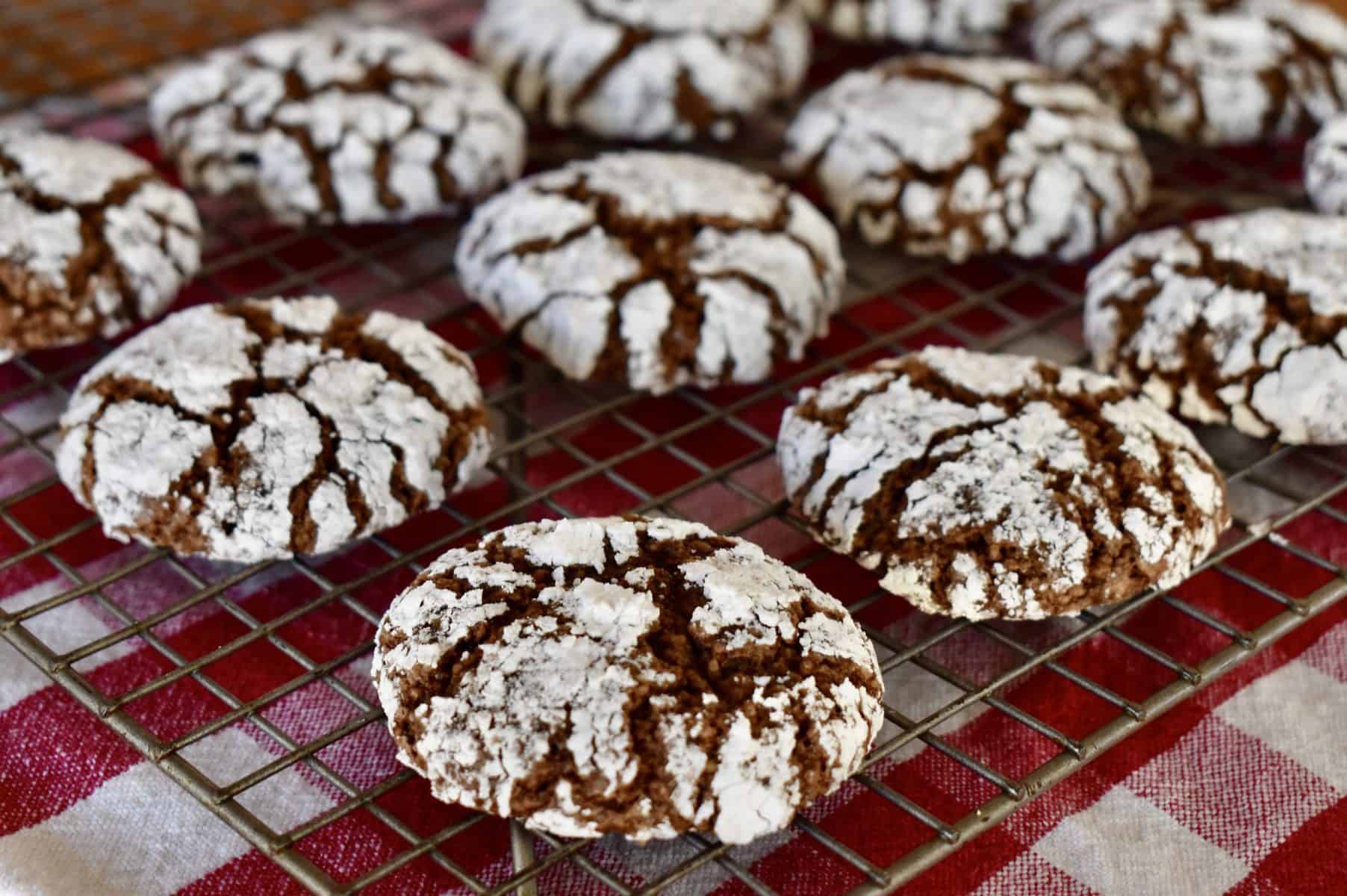 Italian Cookie Recipes
Italians make some of the most delicious cookies out there! Be sure to check out these other favorite Italian cookie recipes: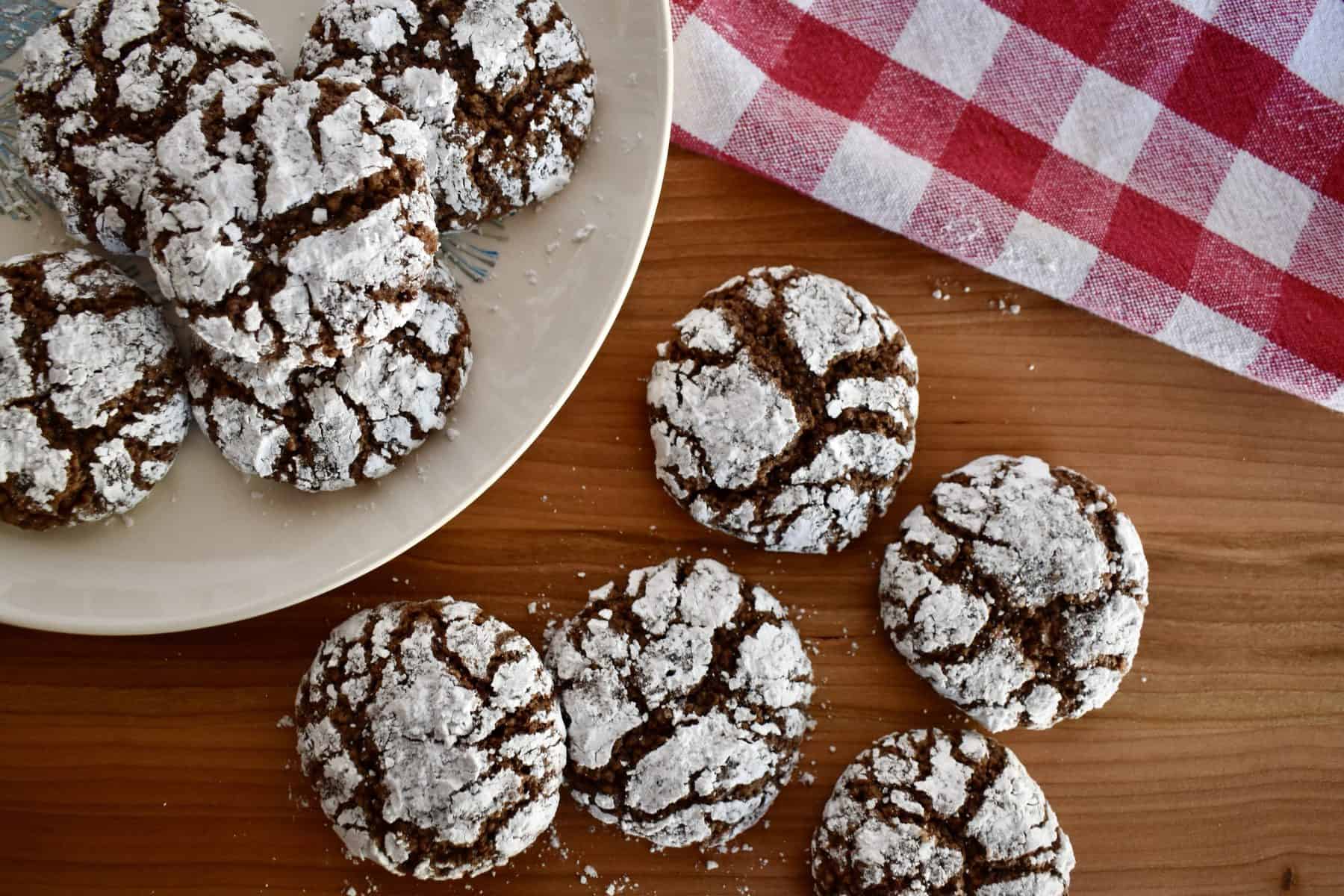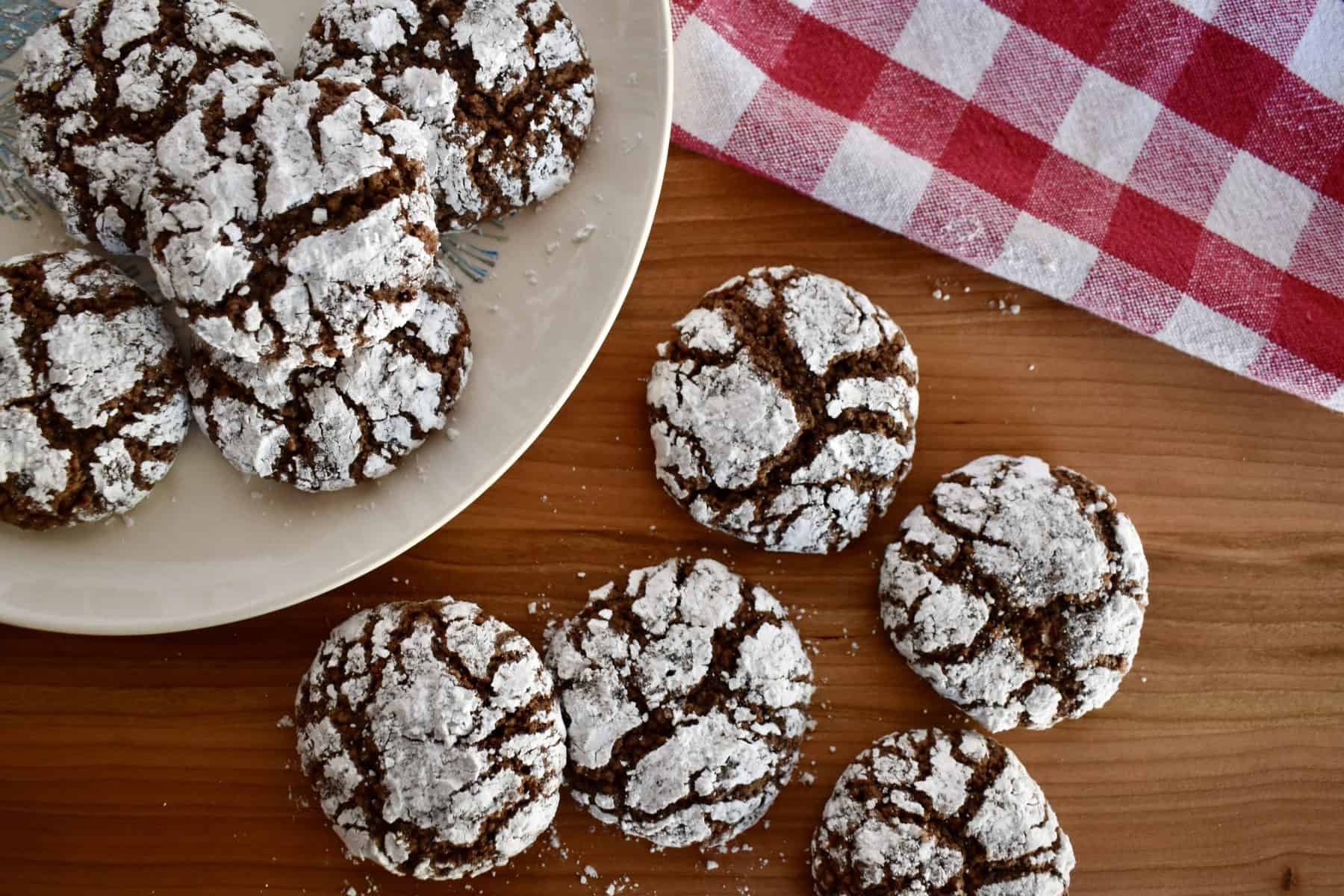 For another delicious holiday cookie, be sure to try these White Chocolate Cranberry Cookies. And for a fun twist on chocolate chip cookies, be sure to try these Triple Chip Cookies!
I hope you love this recipe for Italian Almond Chocolate Cookies! Be sure to comment below if you try them.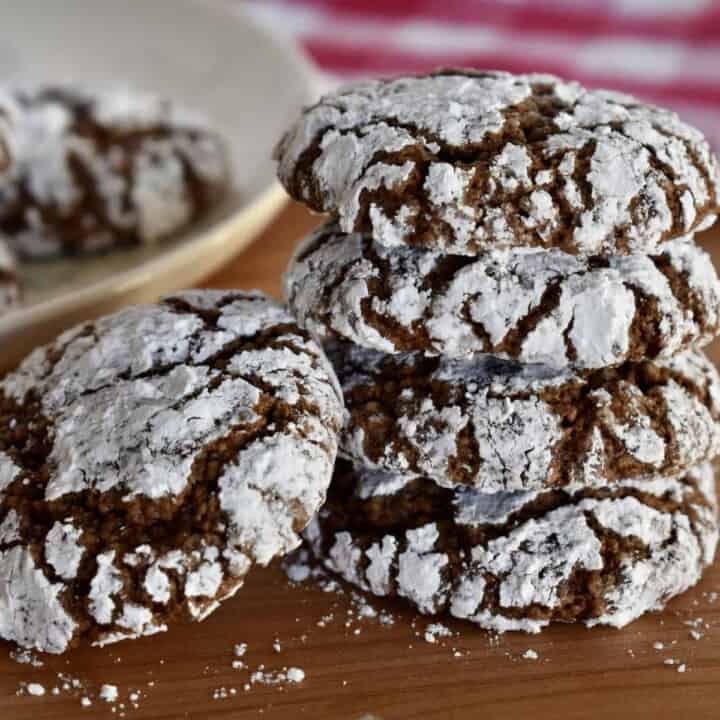 Print Recipe
Italian Almond Chocolate Cookies
Italian Almond Chocolate Cookie are a slightly sweet and moist cookie that's naturally gluten free. Great for holidays or with a cup of espresso or coffee.
Equipment
food processor

baking sheet
Ingredients
2 ¼

cups

almonds, finely ground

(about 12 ounces)

⅔

cup

sugar

¼

cup

cocoa powder, sifted

1

teaspoon

baking powder

2

large

eggs, beaten

1

teaspoon

vanilla extract

½

teaspoon

almond extract

¼

cup

powdered sugar
Instructions
Preheat oven to 325 degrees. Line a baking sheet with parchement or a baking mat; set aside.

Place almonds in a food processor fitted with the chopping/mixing blade. Process until the almonds are very finely ground; almost to a flour-like consistency.

In a large bowl, whisk together ground almonds, sugar, cocoa powder, and baking powder. Stir in eggs, vanilla extract, and almond extract until mixture is combined.

Place the powdered sugar in a small bowl. Use a small cookie scoop to scoop out 1 inch balls of the dough. Use your hands to roll the dough into a ball shape. Then roll the ball in powdered sugar just to coat. Place the cookie on the baking sheet leaving about an inch and a half between each cookie.

Bake for 12-14 minutes or until the cookies are just set. Cool in the pan for 5 minutes before moving to a wire rack to cool competely.
Notes
These delicious cookies can be made ahead and kept in an airtight container at room temperature for four days. You can freeze in an airtight container for up to a month. 
Nutrition