Cranberry Ricotta Cake is a deliciously moist Italian cake recipe that only takes 10 minutes to put together! Great for the holidays, you are going to love this sweet and slightly tart ricotta cake.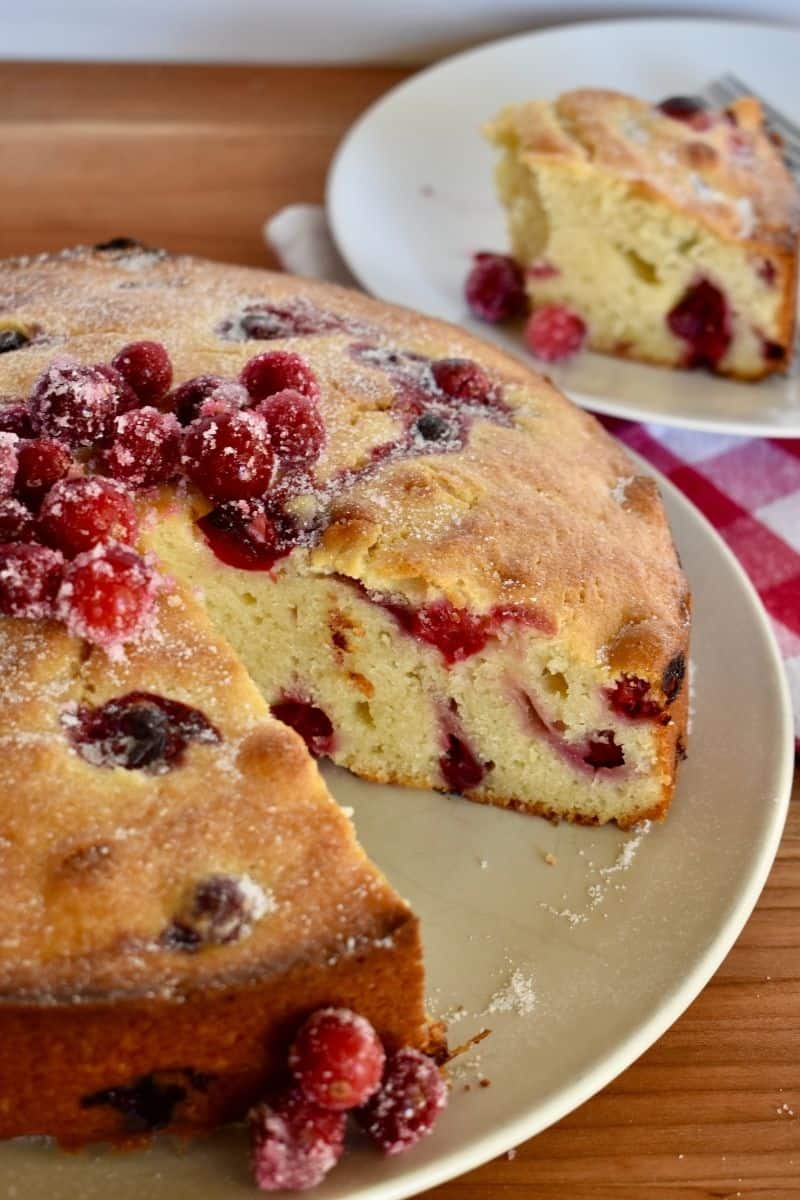 One bite of this Cranberry Ricotta Cake and you'll be hooked! Made with ricotta cheese and fresh cranberries, this is a one recipe you don't want to miss.
If you love ricotta cakes, then be sure to try this classic Almond Ricotta Cake or Orange Ricotta Cake. And don't forget my most popular recipe ever for Italian Lemon Ricotta Cake! If you have blueberries on hand, be sure to try this flavorful Blueberry Ricotta Cake with a delicious lemony finish. And, for the summer months, don't miss this delicious No Bake Ricotta Cheesecake!
Why this recipe is the best!
If you've never baked with ricotta, you are missing out. This mild Italian cheese, which is similar to a cream cheese, adds so much flavor and texture to baked goods.
The combination of the sweetness of the cake and the tart bite of the cranberries is what makes this dessert so special. It's a great recipe to make and have on hand when guests arrive. I like to serve it with coffee or espresso.
Cranberry Ricotta Cake comes together in ten minutes and just takes a few ingredients to bake. You can serve this for brunch, a midday snack, or dress it up with powdered sugar and sugared cranberries for a festive holiday dessert.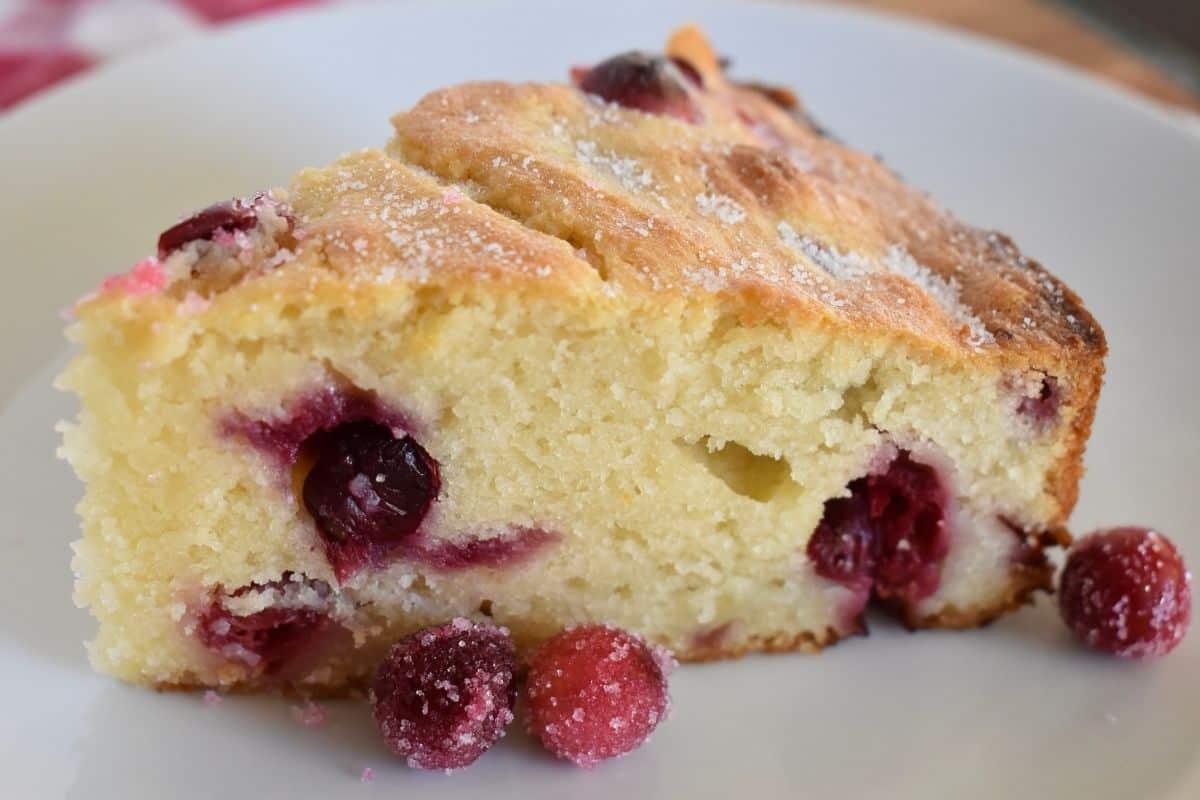 And, if you have leftover cranberries, this cake is the best way to use them up. This recipe calls for fresh cranberries, so dried just won't work. I love to make this for the holidays when fresh cranberries seem to be everywhere and are relatively cheap.
Ingredients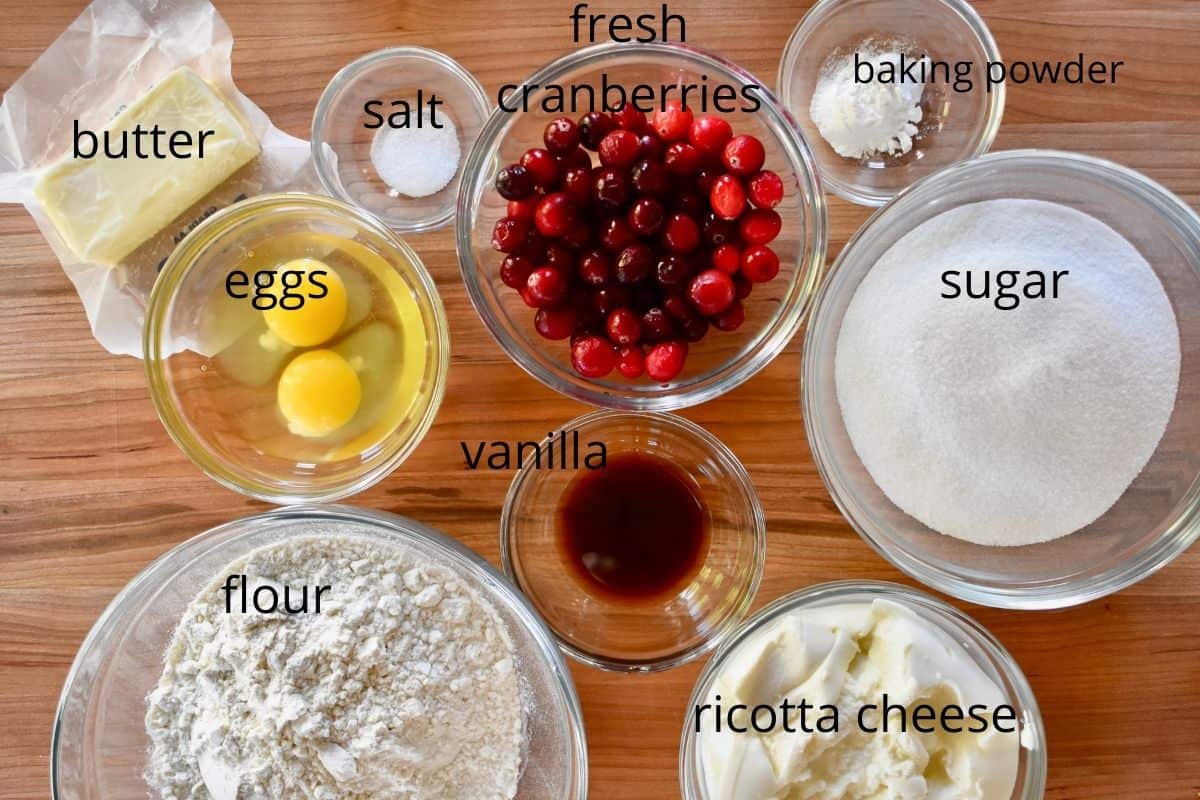 This cake requires just a few ingredients, most of which you probably already have on hand. Here you will need: flour, baking powder, salt, butter, sugar, ricotta cheese, eggs, vanilla, and fresh cranberries. Additionally, you can dress this up with powdered or superfine sugar and sugared cranberries.
Ricotta Cheese - the ricotta is a necessary ingredient for this recipe and cannot be skipped. I recommend making the cake with whole milk ricotta, however you can substitute part skim if needed. I don't drain my ricotta before adding it, but you can if you happen to have a runnier ricotta.
Fresh Cranberries - you cannot substitute dried cranberries or canned cranberry sauce in this recipe. If using frozen cranberries, let them come to room temperature or add a couple of additional minutes to the baking time.
Sugared Cranberries - I like to dress this cake up with sugared cranberries when I'm serving it for dessert. This is optional, and absolutely not necessary.
While this cake is plenty sweet and tasty by itself, you make it extra special by serving with a dollop of whipped cream or even a scoop of vanilla ice cream.
How to Make Cranberry Ricotta Cake
This easy cake comes together in minutes and is simple to make. Be sure you follow the instructions below to ensure that you end up with a fluffy and light cake.
To start, mix together the dry ingredients in a bowl. Then, in a separate bowl, use a handheld mixer to mix together the ricotta, butter, and sugar (step 1 and 2).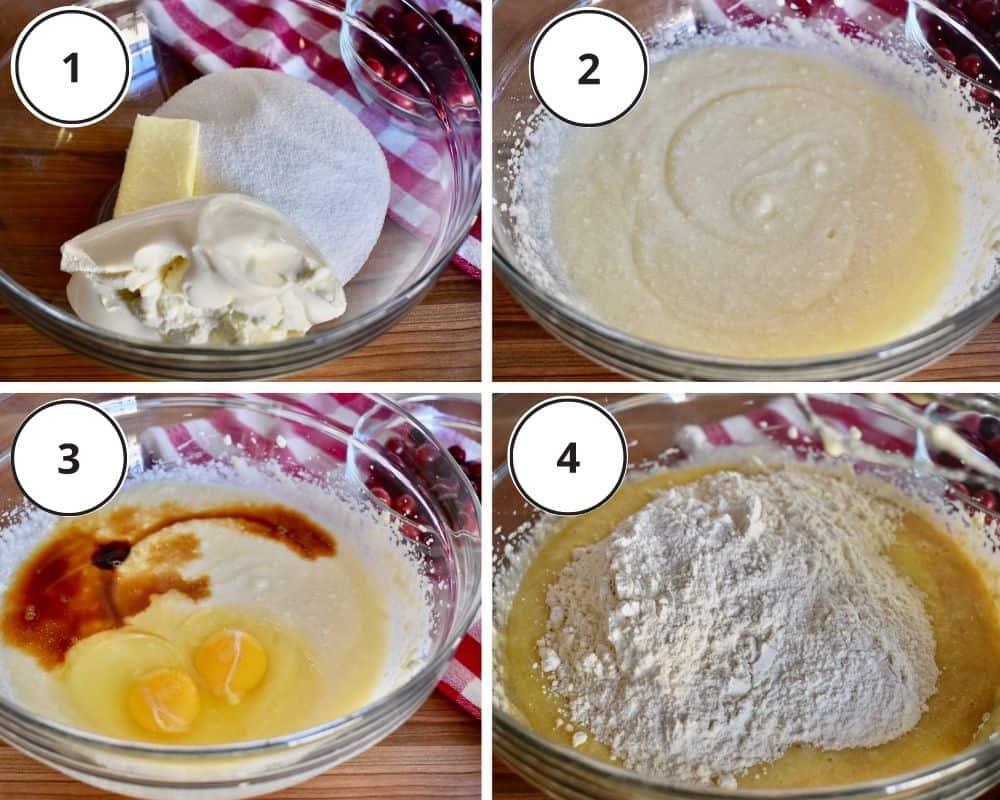 Be sure to mix the butter, ricotta, and sugar together until it is light and fluffy. I recommend mixing for five minutes. If you just mix to combine, then you will end up with a dense cake.
Next, beat in the eggs and vanilla to combine (step 3). Then, add in the flour mixture (step 4) and mix to combine.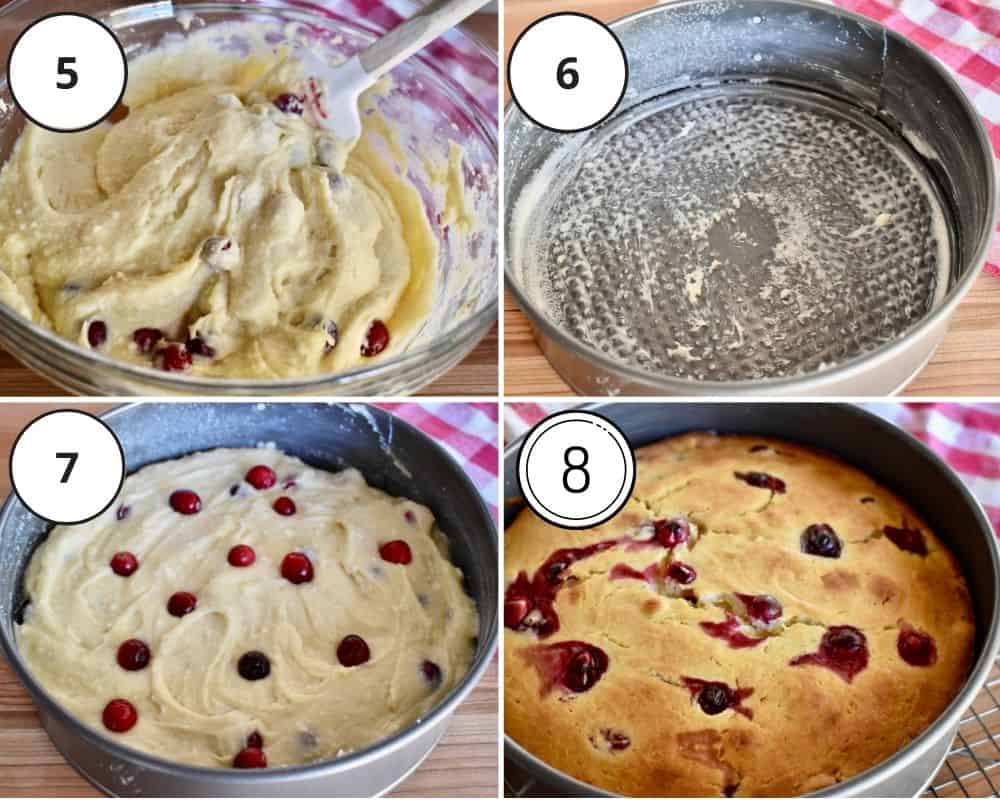 Fold in most of the cranberries into the batter (step 5) - I like to leave a couple out to top the cake with before baking.
Butter a 9-inch springform pan and dust lightly with powdered or superfine sugar (step 6). Spread the batter into the pan and smooth with a spatula. Top with remaining fresh cranberries (step 7).
Baking Instructions
Bake the cake in a preheated oven on the middle baking rack. The cake will take anywhere from 50 to 60 minutes to bake, depending on your oven.
The cake will turn a light golden color when done (step 8). However, the best way to check the whether the cake is done is to insert a toothpick into the center of the cake. If it comes out clean, the cake is done.
Remove the cake from oven and let cool on a wire baking rack for 10 minutes before removing the collar of the springform pan. Then, let the cake cool completely before dusting with powdered sugar.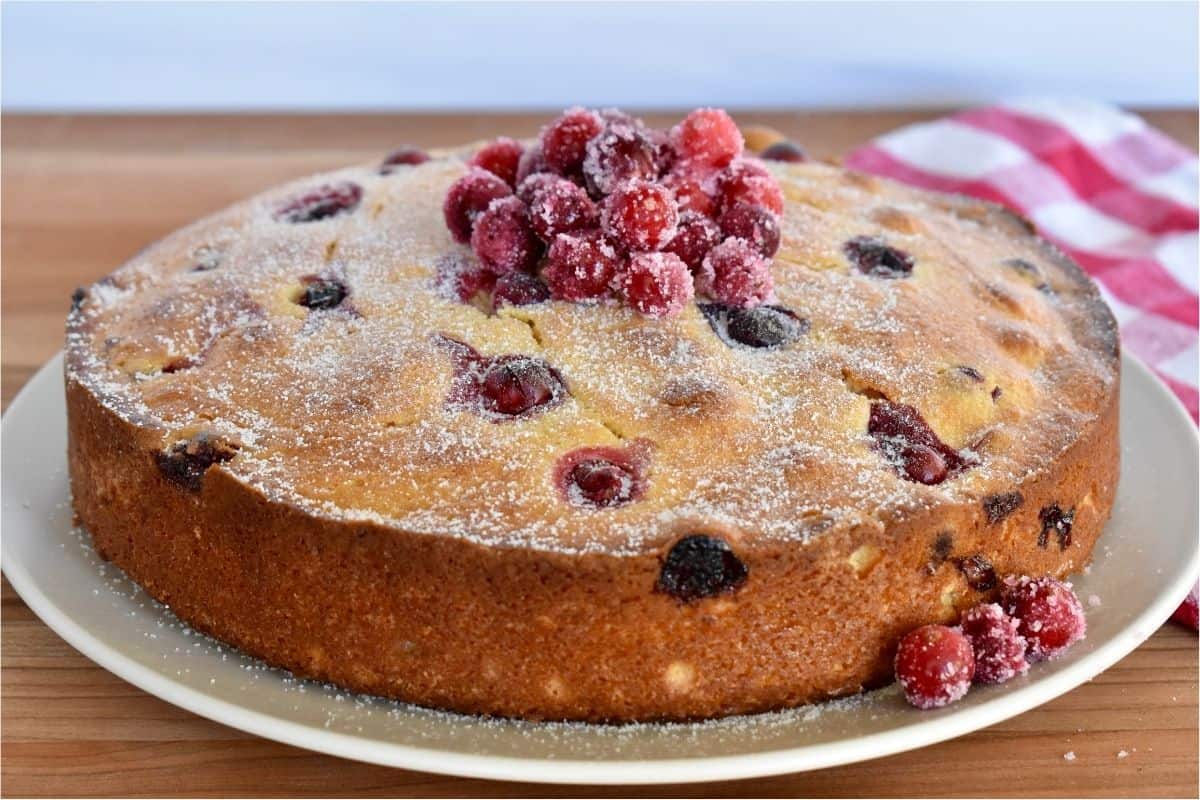 To dress up the Cranberry Ricotta Cake, you can dust with powdered or superfine sugar and top with sugared cranberries. To make the sugared cranberries, simply dip fresh cranberries in sugar water. Let the cranberries dry completely, then toss with granulated sugar.
Expert Tips and FAQs
To make the best cranberry ricotta cake, be sure to follow these tips and check out the frequently asked questions.
The ricotta, butter, and sugar needs to be mixed together with a handheld mixer for five minutes. Don't skip this step or you risk having a dense, rather than light, cake.
If you don't have fresh cranberries on hand, you can use frozen. Just prepare as directed. You may need to add an additional minute or two to the baking time. Note that dried cranberries are not a suitable substitute here.
If you don't have a 9-inch springform pan, you can prepare this in a 9 x 9 baking pan or a 10-inch cake pan. Just be sure to line with parchment and grease well before adding the batter.
What is ricotta cheese?
Ricotta is a fresh cheese. It is a by-product made from the watery whey drained off other Italian cheeses such as mozzarella and provolone. While you can eat this sweet, smooth cheese on its own, ricotta is most commonly an ingredient in desserts and pasta dishes. You can find containers of ricotta cheese in your grocery's cheese section, usually near the cream cheeses.
Is ricotta cheese good for baking?
Ricotta cheese is a great way to add a rich dense texture to your baked goods without a lot of additional calories. When baking with ricotta, it is a good idea to use a handheld mixture to beat the ricotta until it is fluffy, otherwise you'll end up with a dense cake. If you ricotta is watery, strain it before adding to your batter.
Ricotta cheese substitute for baking?
When baking with ricotta cheese, try to use the whole milk version. Part skim ricotta cheese can be used if that is what's available. If the recipe calls for a small amount of ricotta cheese, cream cheese or mascarpone would be a good substitute. Greek yogurt is also a good substitute when baking.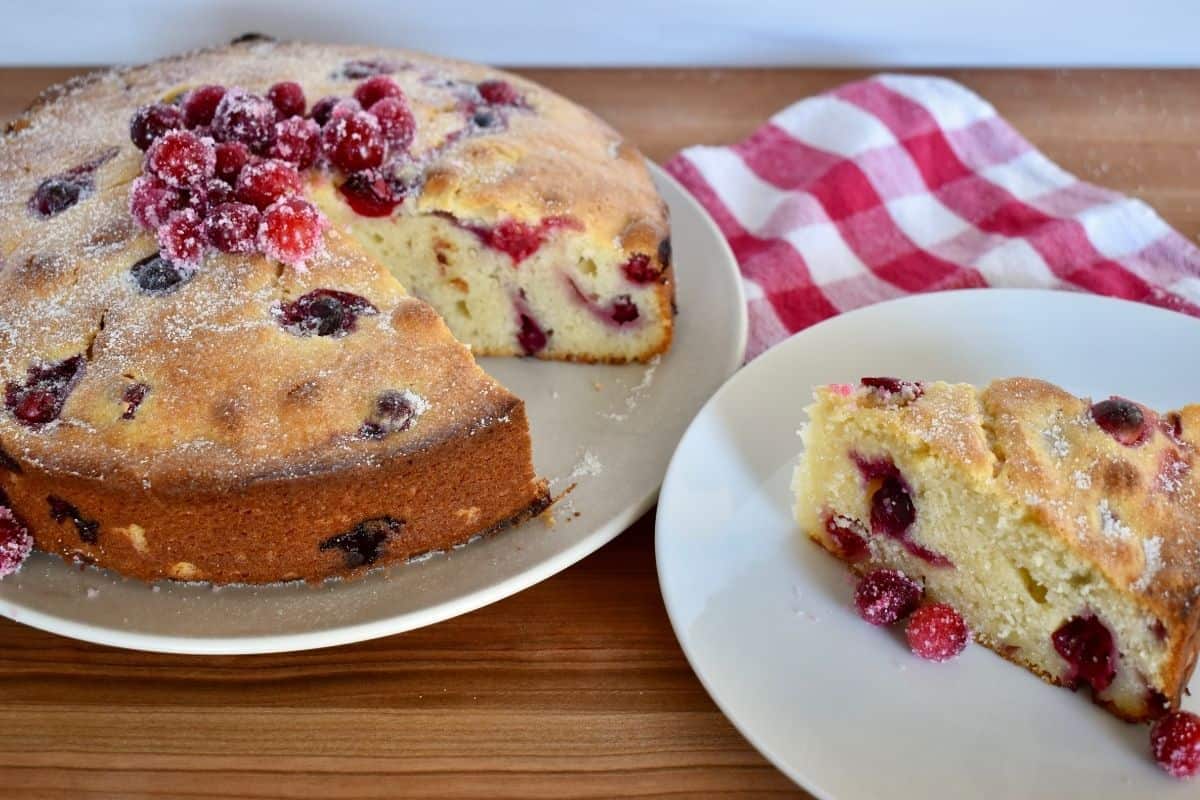 Italian Ricotta Desserts
If you love baking with ricotta, be sure to check out these other delicious Italian ricotta desserts:
Italian Almond Ricotta Cookies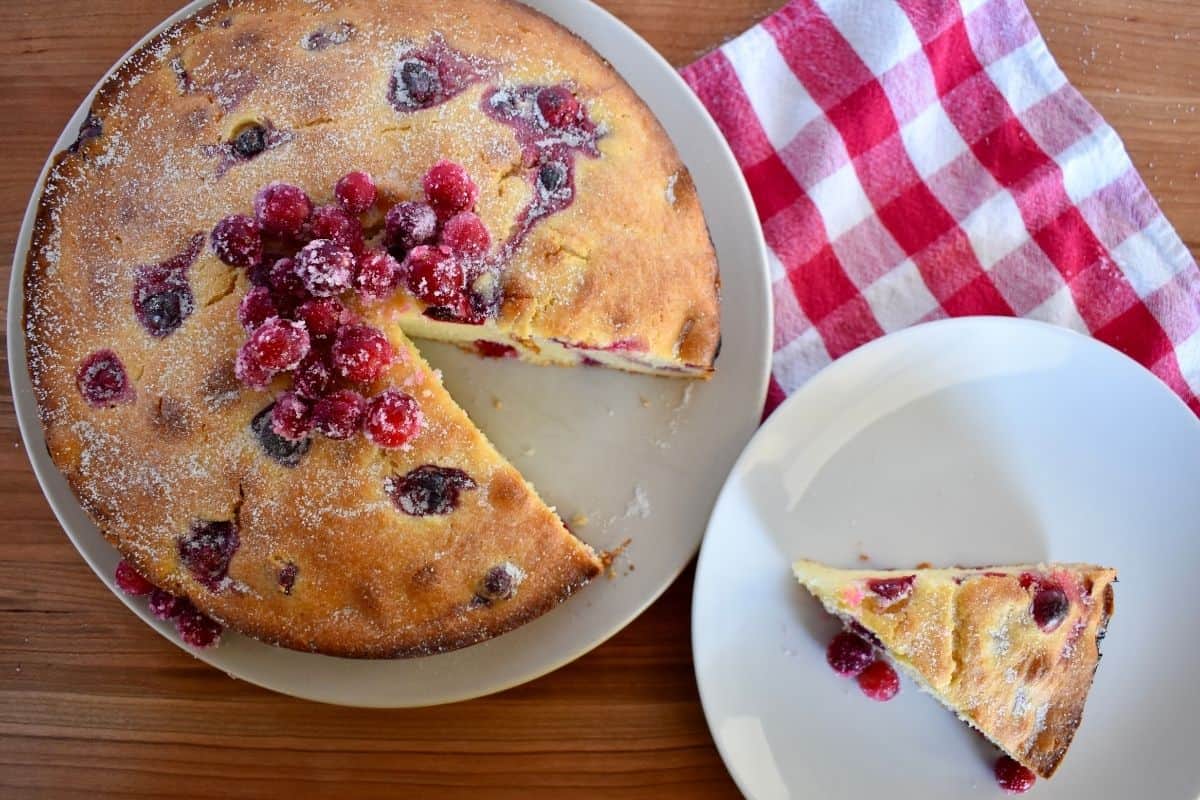 If you have leftover cranberry sauce, be sure to try this Cranberry Shortbread Bars recipe! Or use dried cranberries to make these classic Cranberry Almond Biscotti.
Love this recipe? Please leave a 5-star rating in the recipe card below and/or review in the comments section further down the page.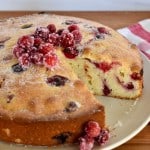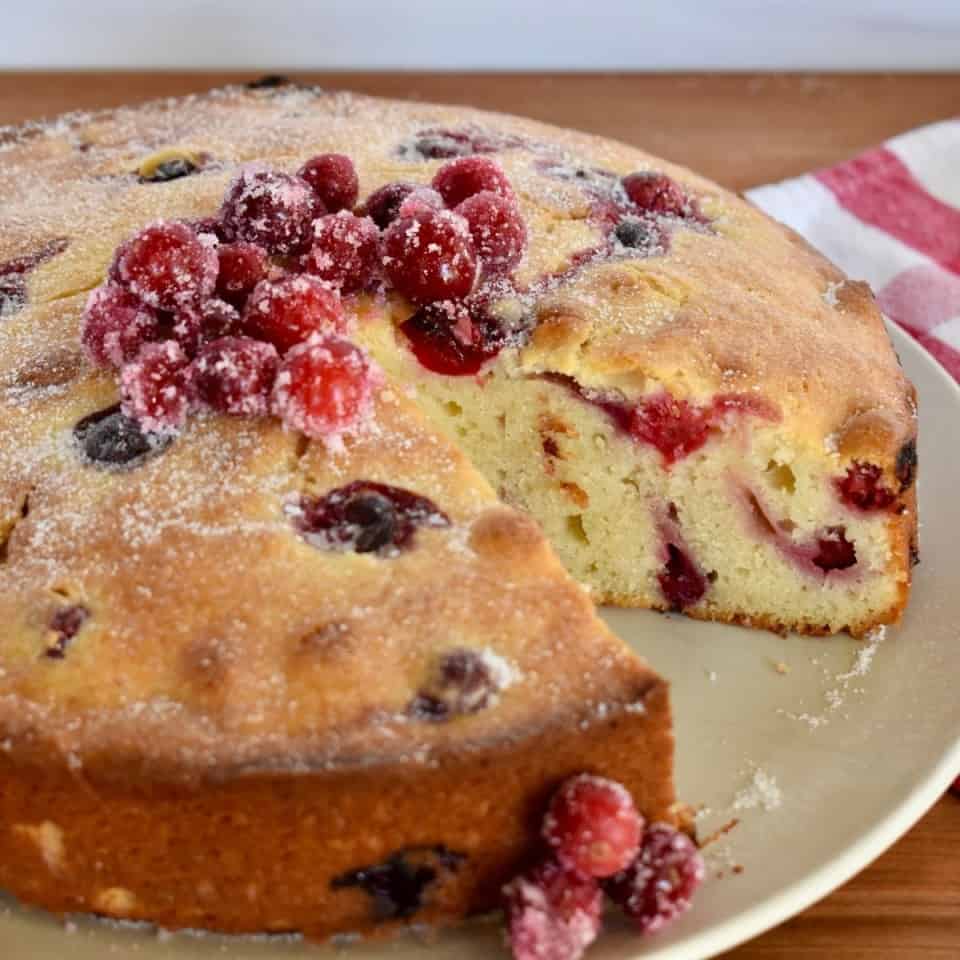 Print Recipe
Cranberry Ricotta Cake
This Cranberry Ricotta Cake is a traditional Italian cake that's perfect for the holidays. Top with sugared cranberries for an extra festive look.
Ingredients
2

cups

all purpose flour

(290 grams)

1

teaspoon

baking powder

½

teaspoon

salt

½

cup

unsalted butter, softened

(one stick)

1 ½

cups

sugar

1

15 ounce container

whole milk ricotta cheese

2

large

eggs

2

teaspoons

vanilla

1

cup

fresh cranberries
Topping
1

tablespoon

powdered or superfine sugar

½

cup

sugared cranberries (optional)

*see note below
Instructions
Preheat oven to 350 degrees and position baking rack in the middle of the oven. Grease a 9-inch springform pan with either butter or cooking spray; set aside.

In a medium bowl, whisk together the flour, baking powder, and salt; set aside.

In a large mixing bowl with a handheld mixer or a stand up mixer fitted with paddle attachment, beat together the softened butter, sugar, and ricotta cheese until light and fluffy, about 5 minutes. Add in the eggs and vanilla, and mix together. Pour in the flour mixture and mix until combined. Fold in the one cup of cranberries.

Pour the batter into the prepared springform pan. Bake on center rack for 55-65 minutes, or until a toothpick inserted in cake comes out clean. Let cool in pan for at least 10 minutes before releasing springform and cooling on wire baking rack completely.

For the topping, place powdered or superfine sugar in a fine mesh sieve and shake on top of cake until just covered. Spoon sugared cranberries on center of cake if using.
Notes
* To make sugared cranberries, bring equal amounts of sugar and water to a low simmer and stir until sugar has dissolved. Remove from heat and stir in cranberries. Use a slotted spoon to remove cranberries and let dry on a cooling rack for an hour. Roll in granulated sugar and use cranberries to garnish your cake. 
Recipe Notes: 
Make sure you use your handheld mixer or stand up mixer to beat together the ricotta, butter, and sugar until light and fluffy, at least 4-5 minutes. If you don't, you'll end up with a denser cake. 
If you don't have a springform pan, you can bake this cake in a 9 x 9 baking pan or a 10-inch cake pan. 
Bake the cake until a toothpick inserted in the cake comes out clean. This time will vary depending on your oven and the size pan you use. 
Once the cake is cooled, you can sprinkle on either powdered sugar or superfine sugar. The superfine sugar mimics the texture on the sugared cranberries. 
Nutrition
Calories:
258
kcal
|
Carbohydrates:
42
g
|
Protein:
3
g
|
Fat:
9
g
|
Saturated Fat:
5
g
|
Polyunsaturated Fat:
1
g
|
Monounsaturated Fat:
2
g
|
Trans Fat:
0.3
g
|
Cholesterol:
51
mg
|
Sodium:
146
mg
|
Potassium:
44
mg
|
Fiber:
1
g
|
Sugar:
25
g
|
Vitamin A:
287
IU
|
Vitamin C:
1
mg
|
Calcium:
31
mg
|
Iron:
1
mg