Cannoli Cookies are made with all of the cannoli flavors you love in a light and fluffy ricotta cookie! With pistachios, chocolate, orange zest, cinnamon and nutmeg, this Italian cookie is sure to be your new favorite.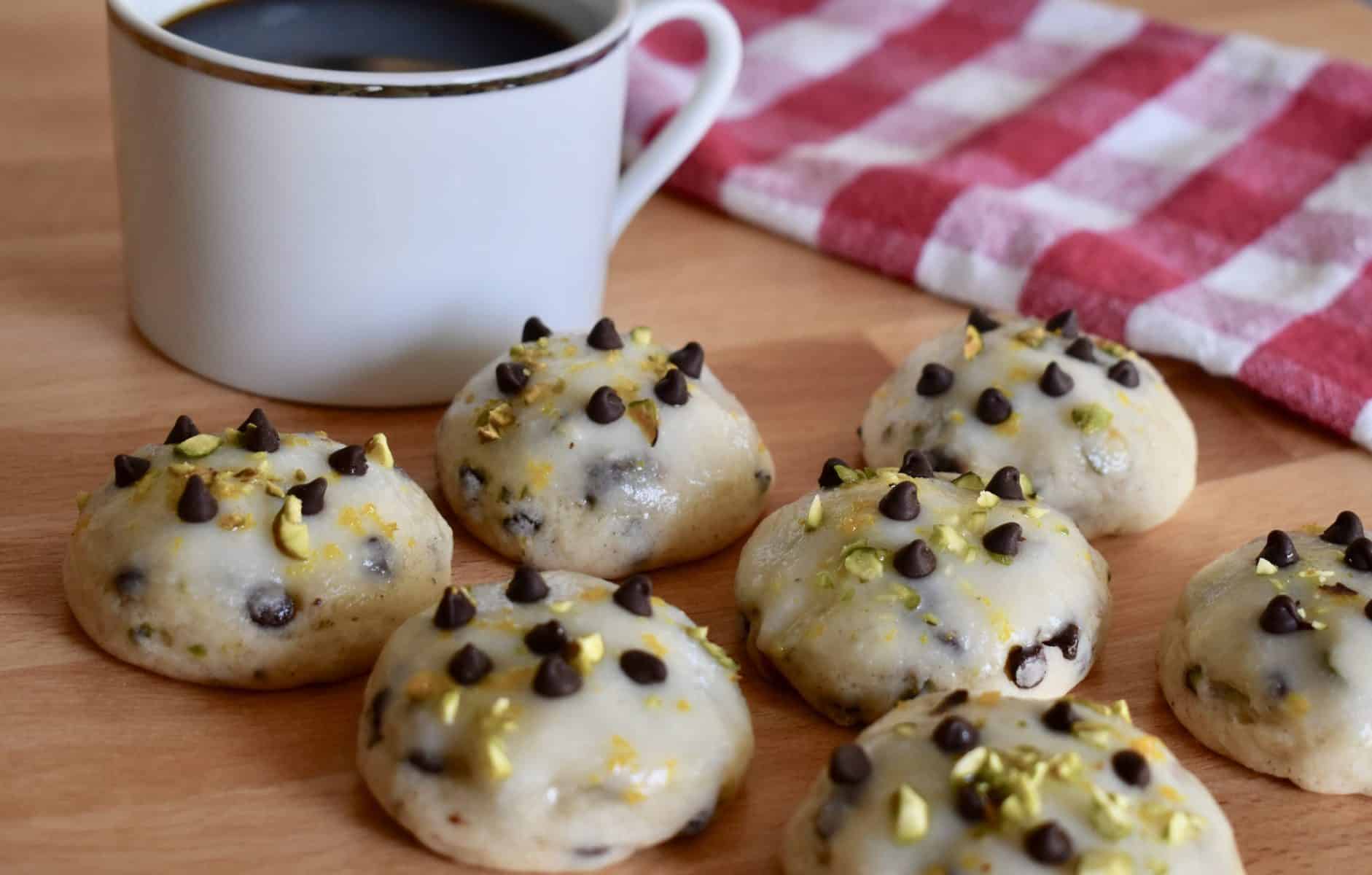 Cannoli Cookies are such a treat and so much easier to make than traditional cannoli. These little cookies are perfect for the holidays, gift giving, or anytime you are craving those delicious cannoli flavors.
These light and fluffy cookies are subtlety sweet and have the most perfect cake-like texture, thanks to the ricotta cheese. If you love ricotta cookies, then you'll definitely want to try Almond Ricotta Cookies and these super popular Lemon Ricotta Cookies or Limoncello Ricotta Cookies. Both are super fluffy and the perfect Italian Christmas cookie to serve along with your authentic Torrone!
So give this delicious and simple Cannoli Cookie recipe a try; it may just be your new favorite cannoli recipe.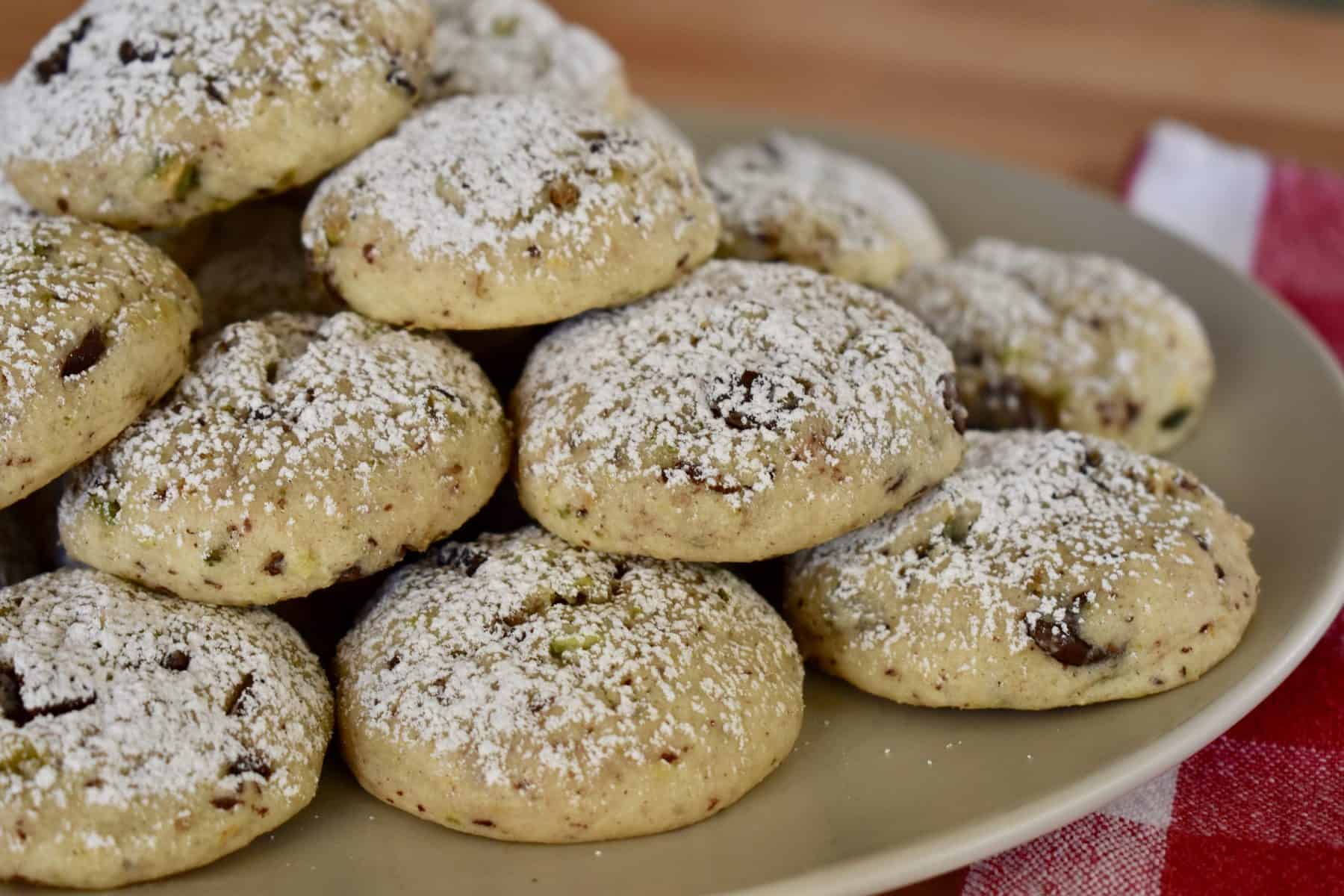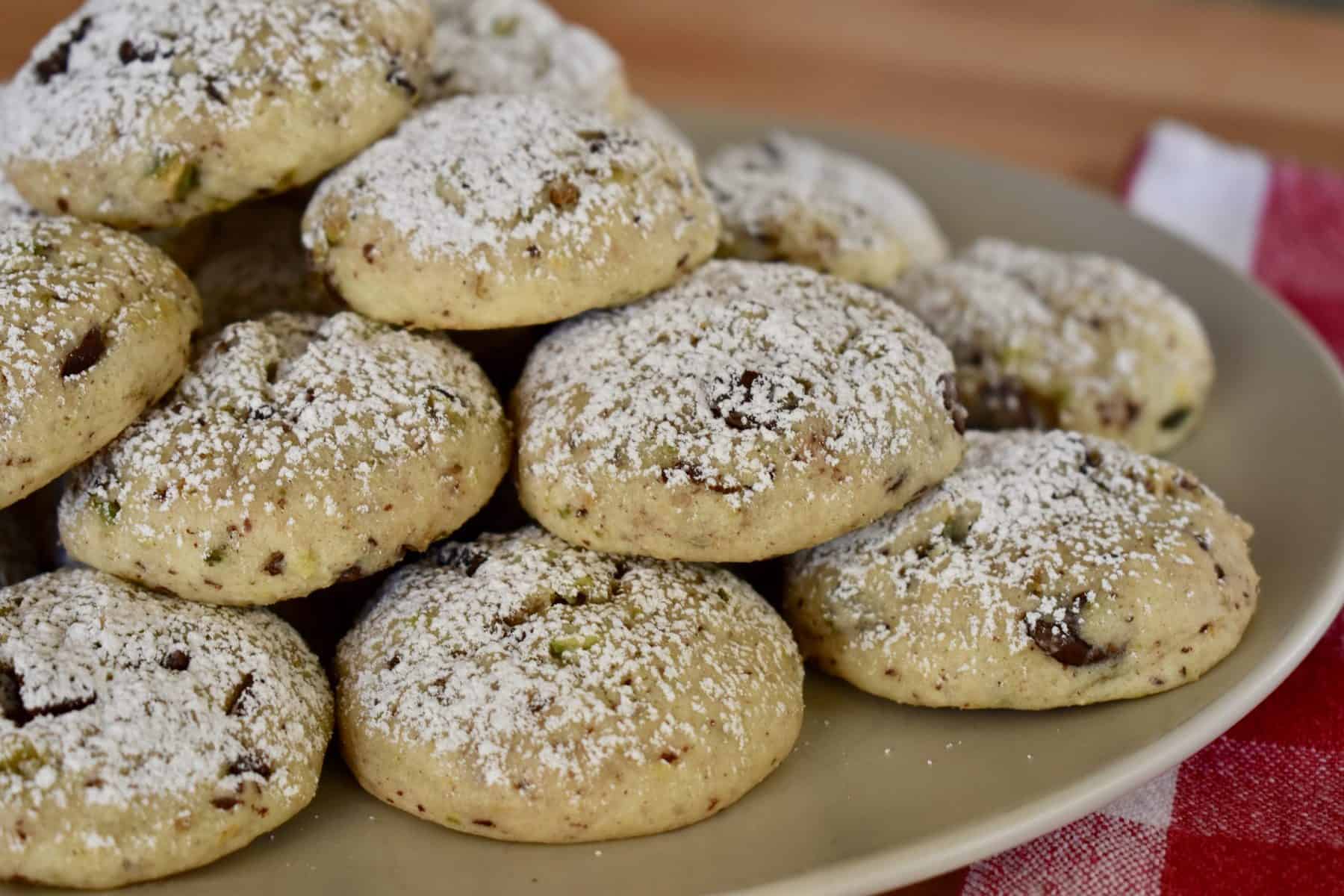 Traditional Cannoli Flavors
Cannolis are traditionally flavored with chocolate chips, pistachios, orange and/or lemon zest, and a hint of cinnamon and nutmeg. These are all of the flavors included in my Cannoli Cookies.
But the main star of the cannoli is the delicious ricotta filling. In this recipe, I add an entire 15 ounce container of ricotta cheese to really play up the soft and delicate flavors of the cannoli.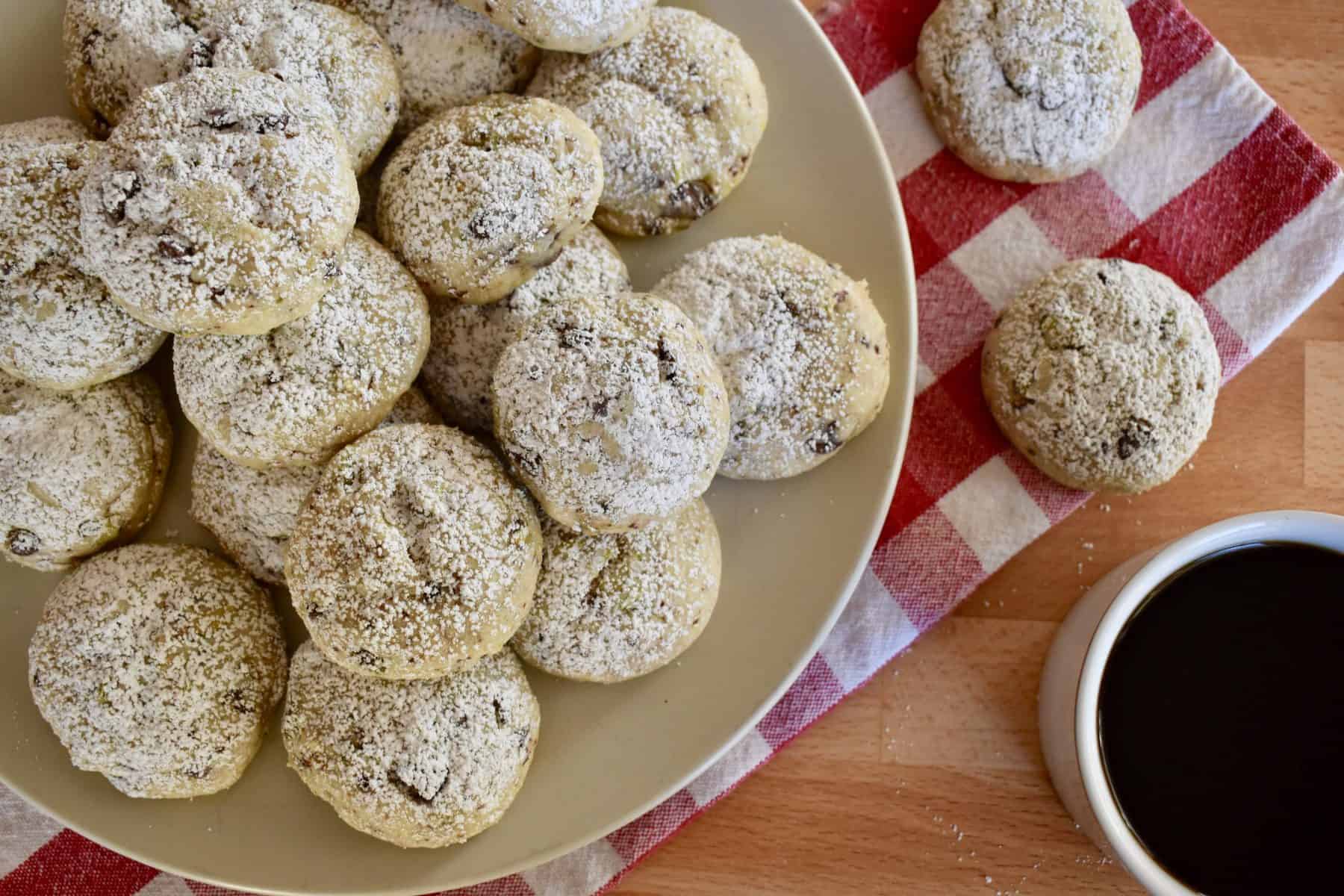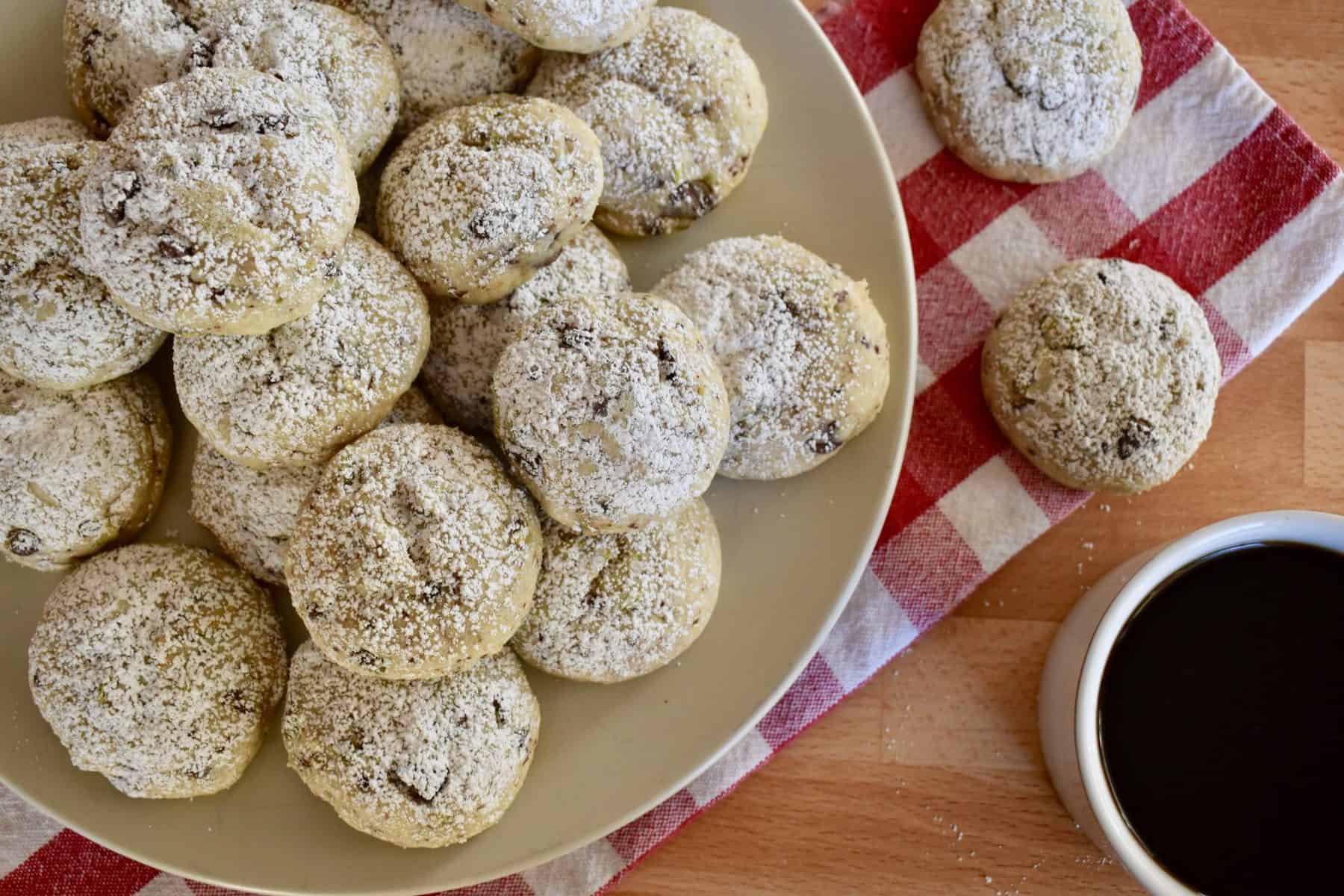 As a final touch, these cookies are sprinkled with powdered sugar, the most common way to finish off traditional cannoli. As an alternative, you can top these cookies with a simple orange glaze.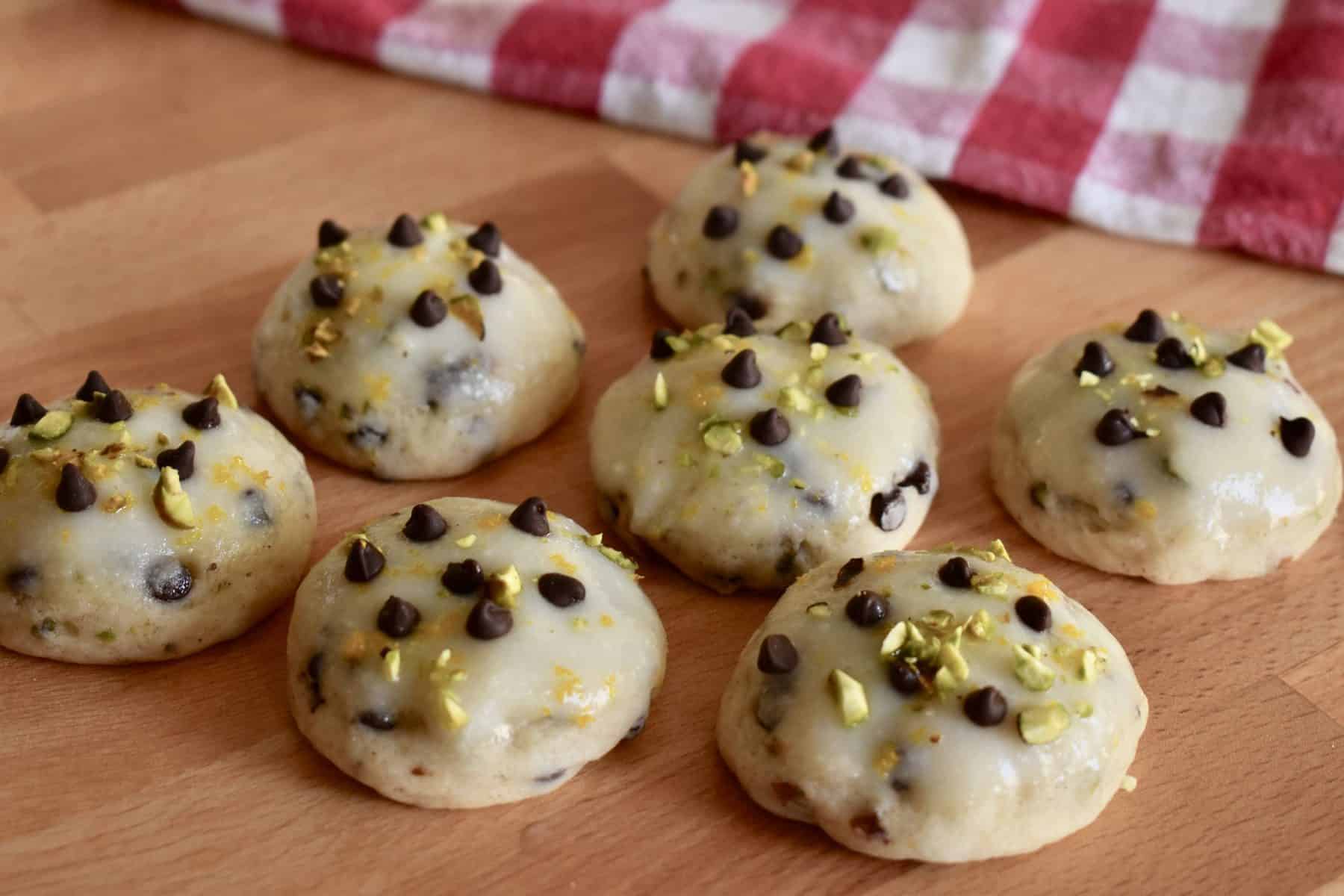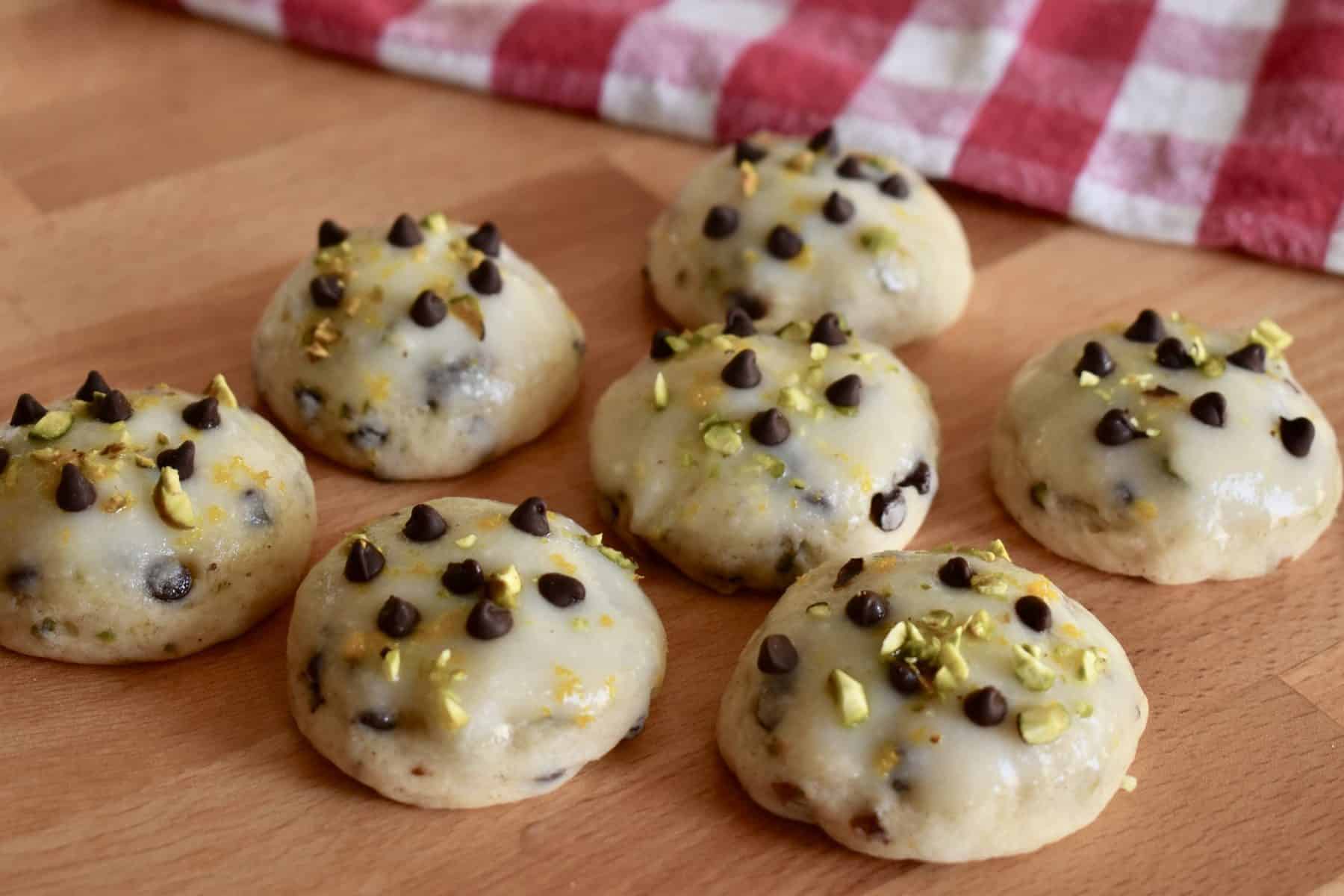 I love use the traditional cannoli flavors in my baking. If you are looking for a fun brunch recipe, Cannoli Baked French Toast is an excellent dish for entertaining. For a delicious treat, be sure to try Cannoli Pound Cake, a super moist and flavorful cake thats alway a hit with guests.
Cannoli Cookies Recipe
This cannoli cookie recipe really does fit the bill when you are craving cannolis! While not the traditional way to make cannolis, I think you'll agree that this recipe is simple and perfect for every occasion.
To start, mix together the dry ingredients. Here all you need is flour, baking powder, salt, cinnamon, and nutmeg.
Next, in a separate bowl, use a hand mixer to cream together the butter, sugar, and orange zest. You want to mix for about 2 minutes on medium/high speed so that the sugar has a chance to dissolve in the butter.
Then, add in the ricotta cheese and one large egg. When I make this recipe, I never drain the ricotta before adding it to the batter. However, if you happen to have a very wet ricotta, you can absolutely drain off the top before adding it.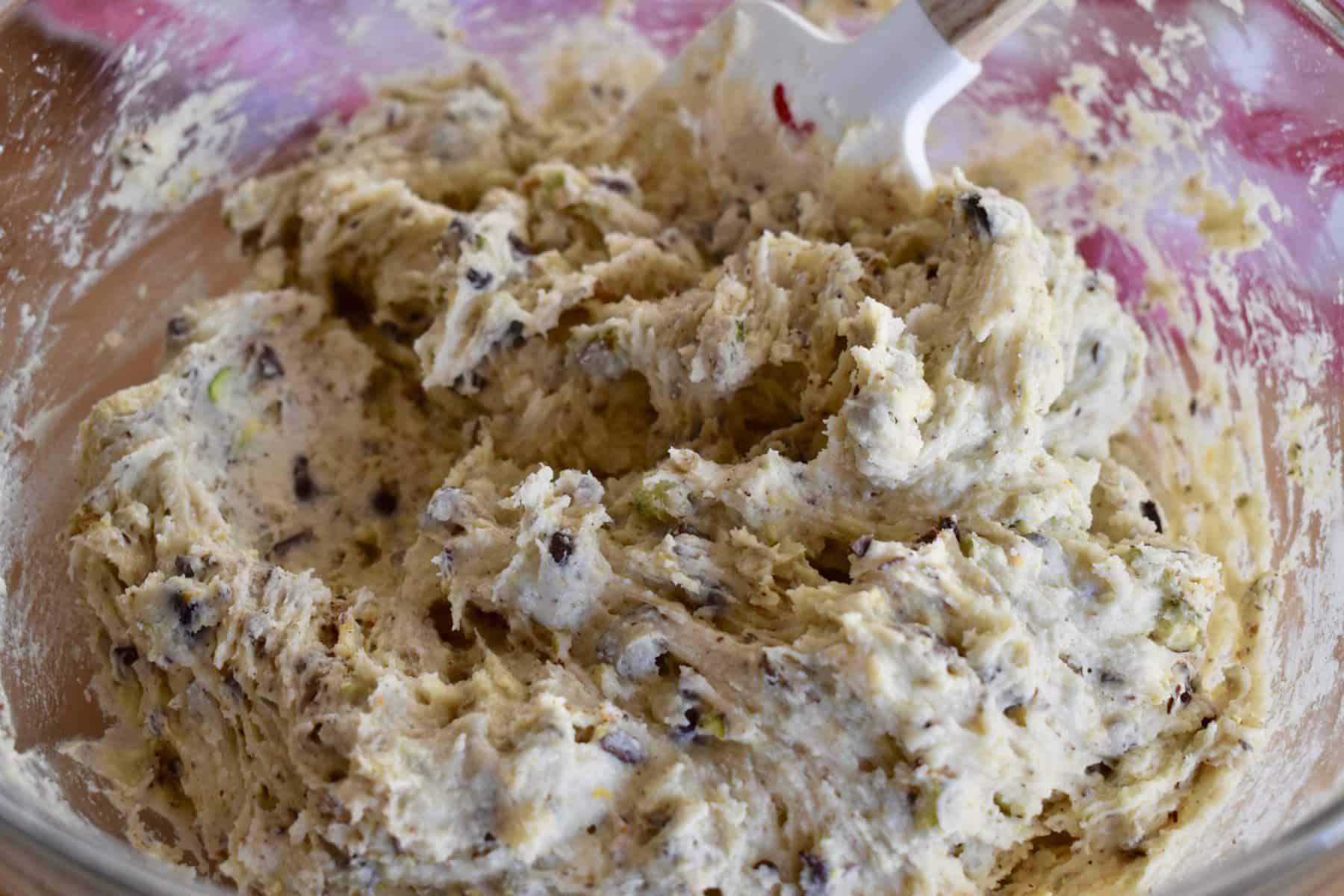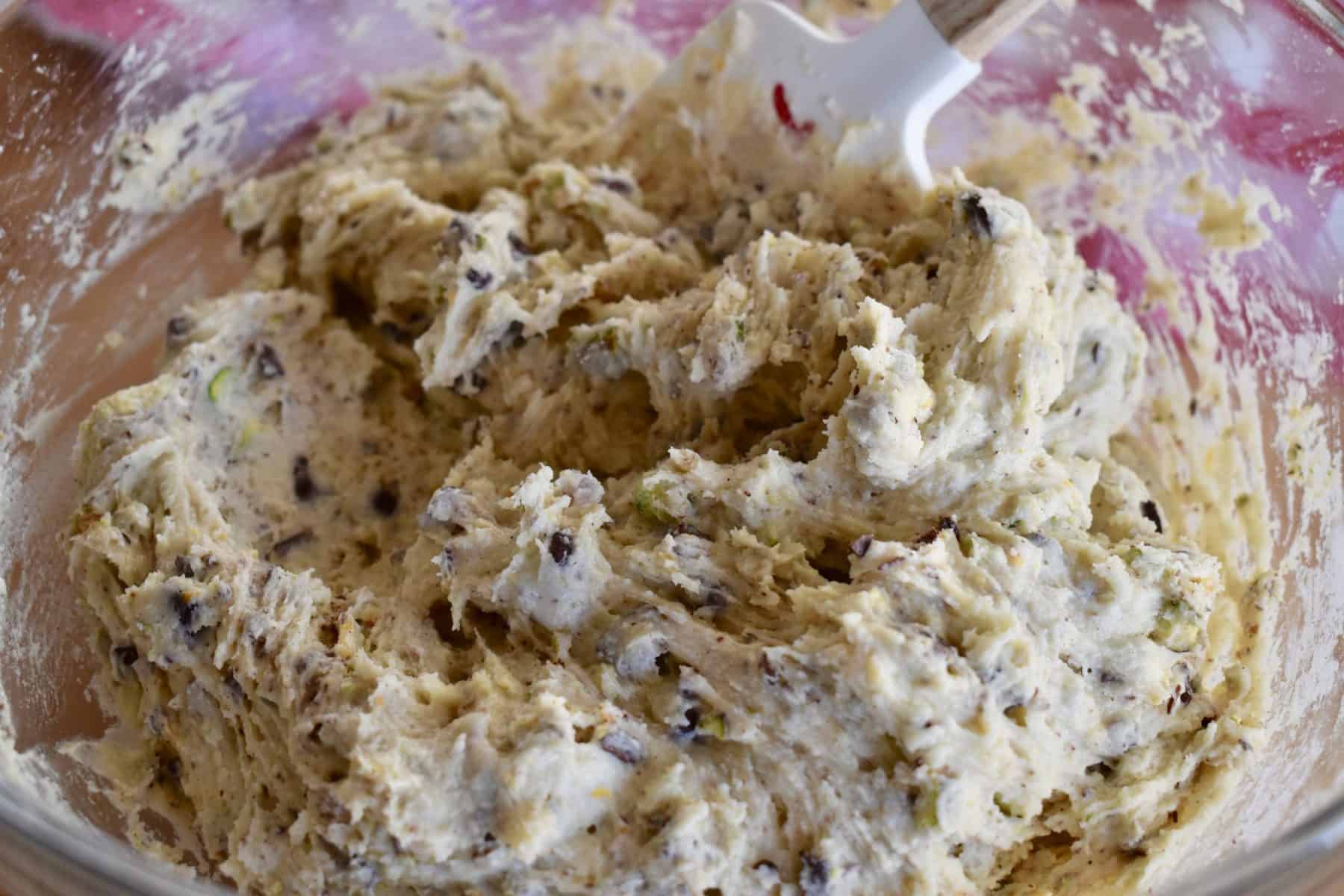 Pour the dry ingredients into the wet and mix to combine. Once fully incorporated, add in the chopped pistachios and chopped chocolate.
Pistachios and Chocolate
When it comes to pistachios for the cannoli cookies, it's always best to buy the already shelled pistachios. However, in a pinch you could shell them yourself. Be sure to give the pistachios a coarse chop or even bang them in a bag to break them up a bit.
The chocolate you use in the cannoli cookies is really up to you. Traditionally, mini chocolate chips are used. However, I like the look of little specks of chocolate. So you can either chop up a chocolate bar, coarsely chop full-sized chocolate chips (which I did here), or use mini chocolate chips.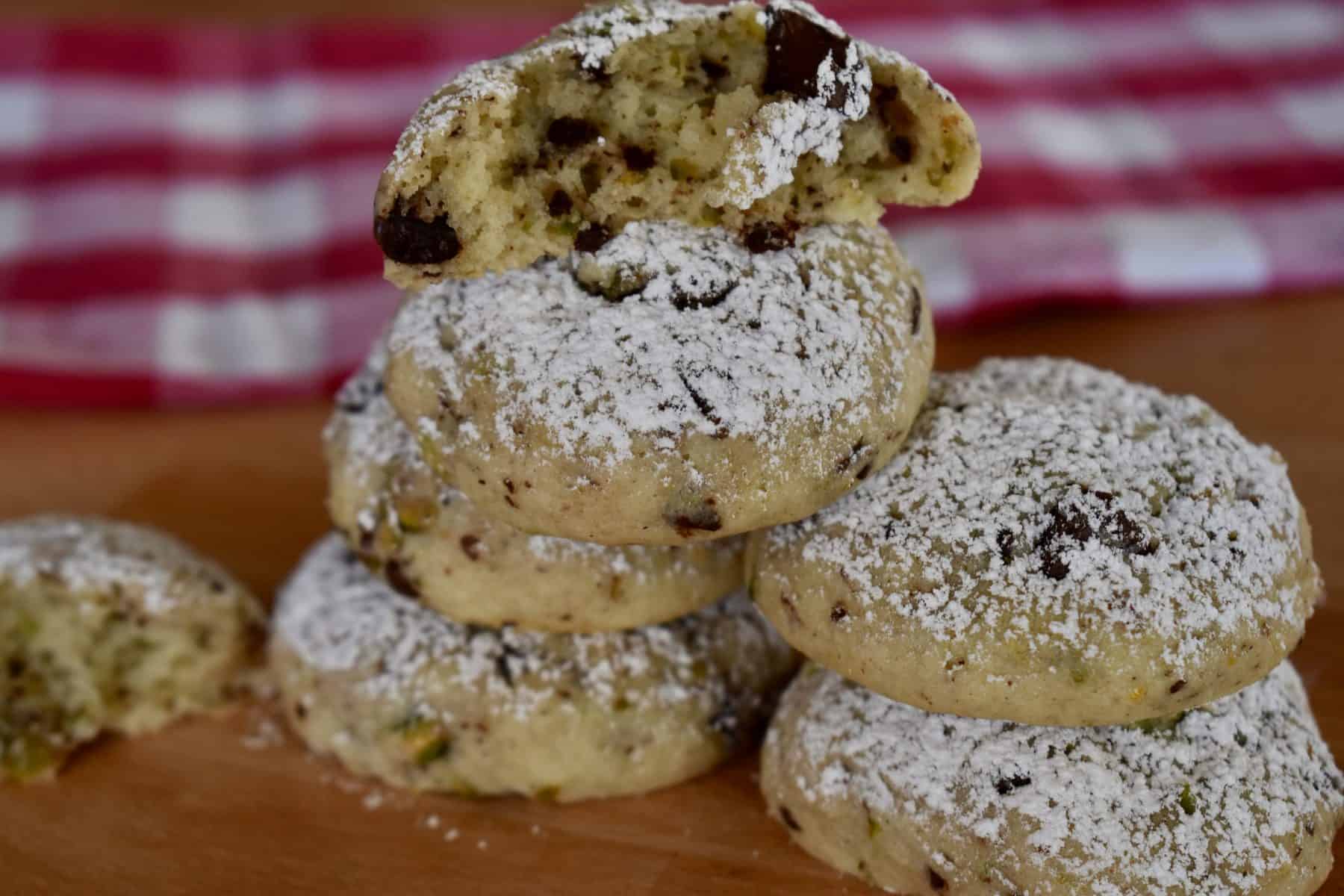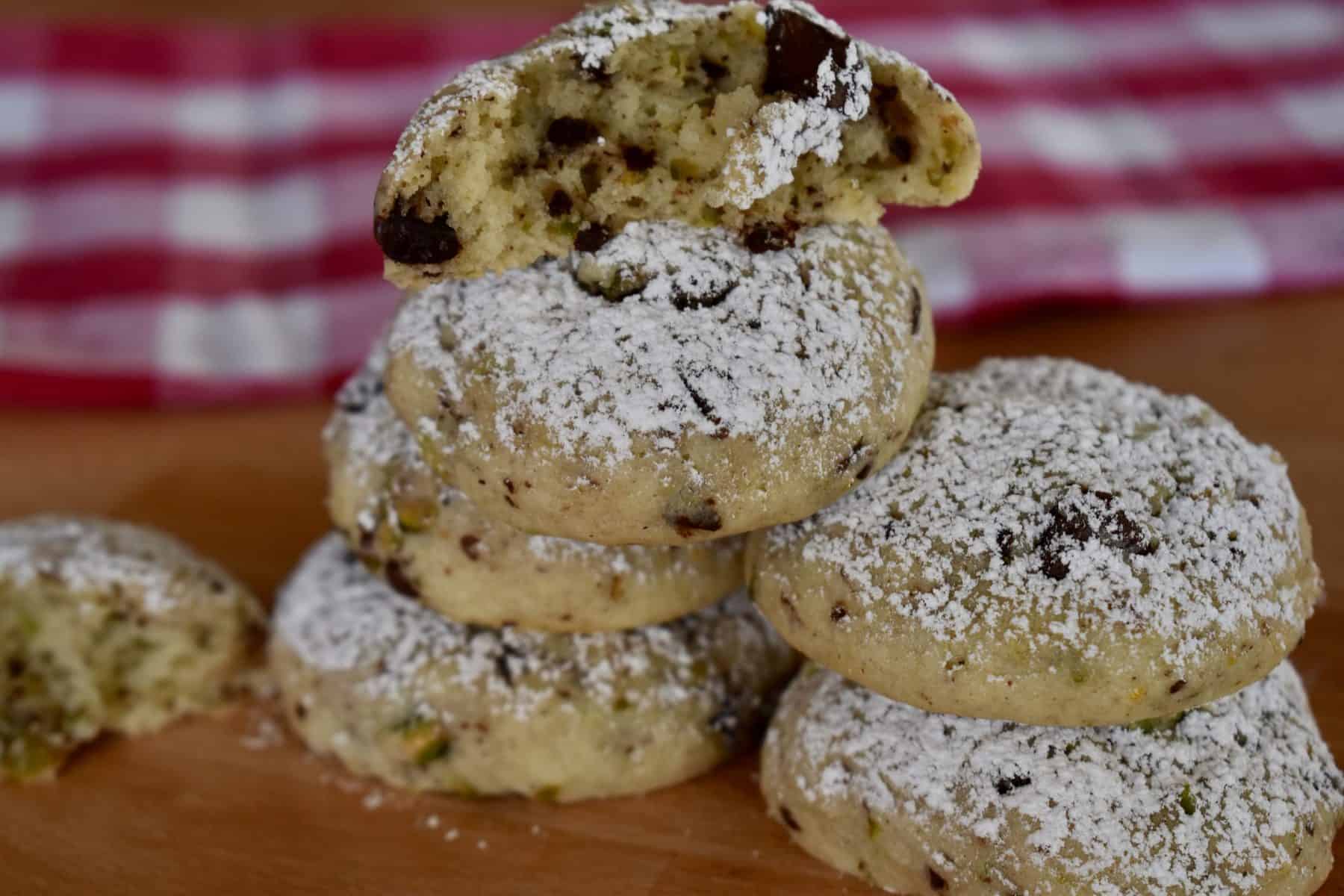 Refrigerate the cannoli cookie dough
The dough will be sticky and slightly wet compared to traditional cookie dough. It is best to refrigerate the dough for at least 2 hours before baking so that the cookie holds it shape.
Simply cover the dough and refrigerate for at least 2 hours or up to 24 hours before baking. You could even freeze the dough for up to a month in advance.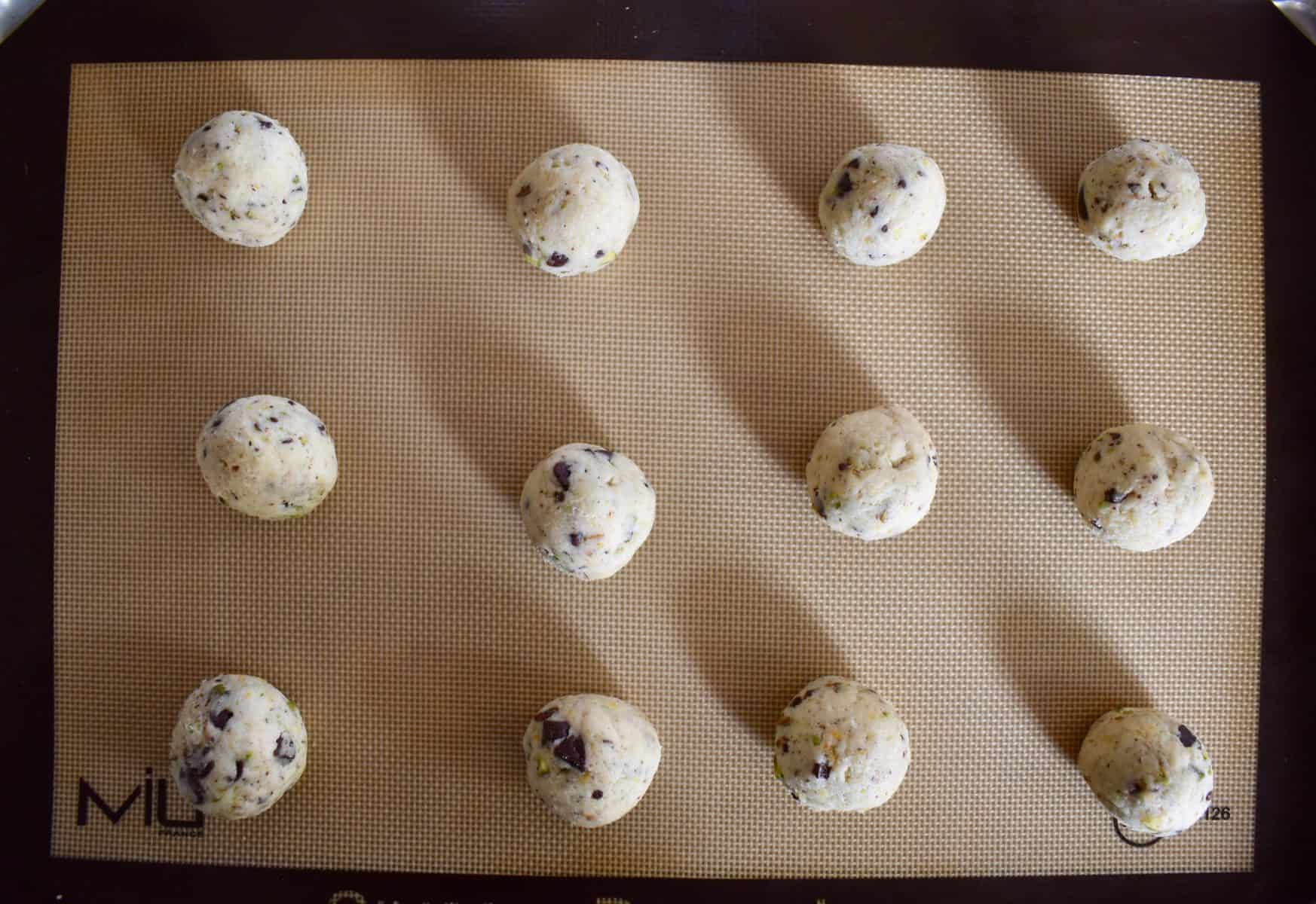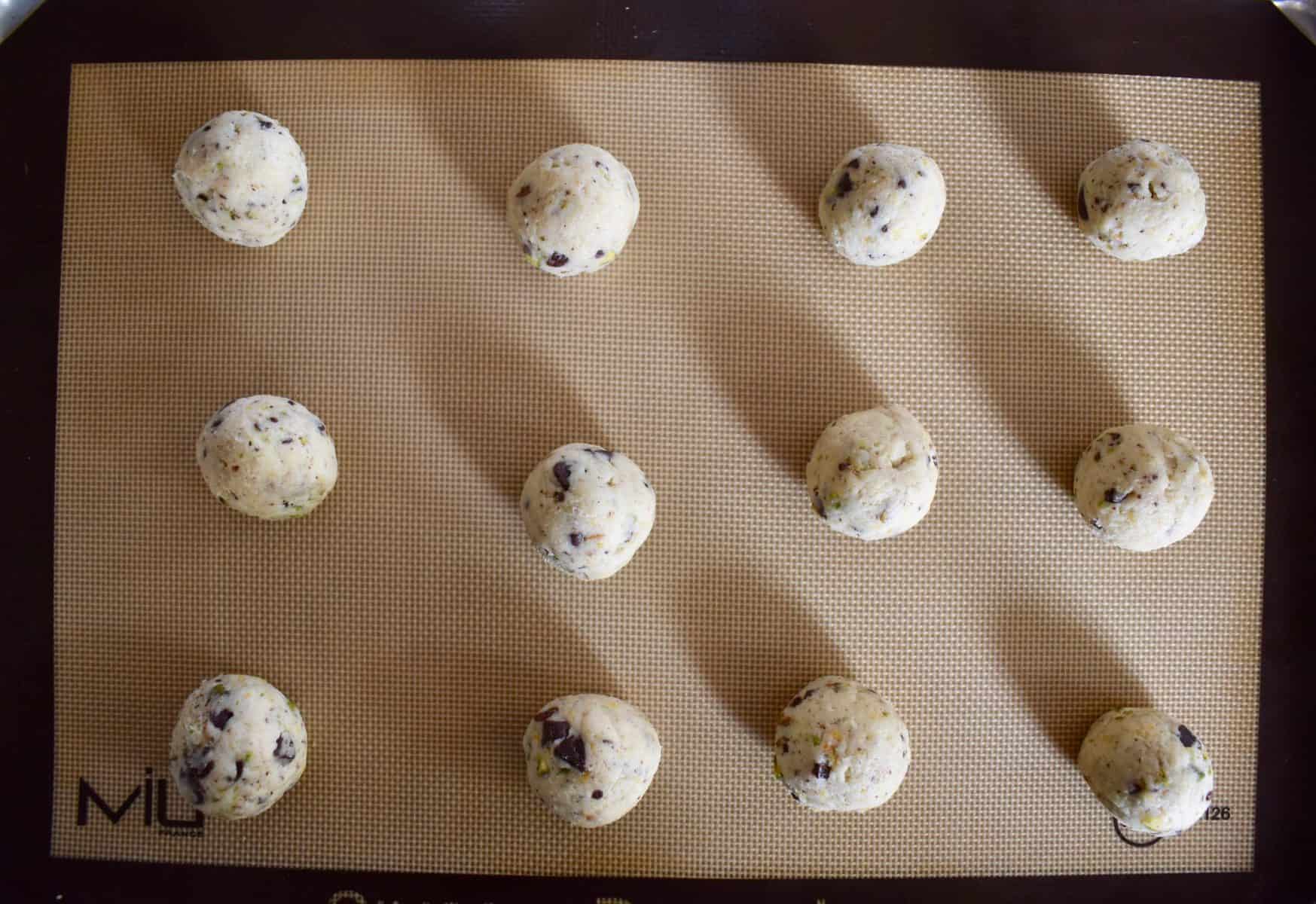 When ready to bake, preheat the oven to 350 degrees and line a baking sheet with either parchment or a non stick cooking mat. Use a cookie scoop to scoop out about tablespoon amount of batter. Roll into a ball using your hands and place on cookie sheet about 2 inches apart from each other.
Bake the cookies for about 12-14 minutes, or until the bottoms turn slightly golden in color. Note that the cookies won't change color much.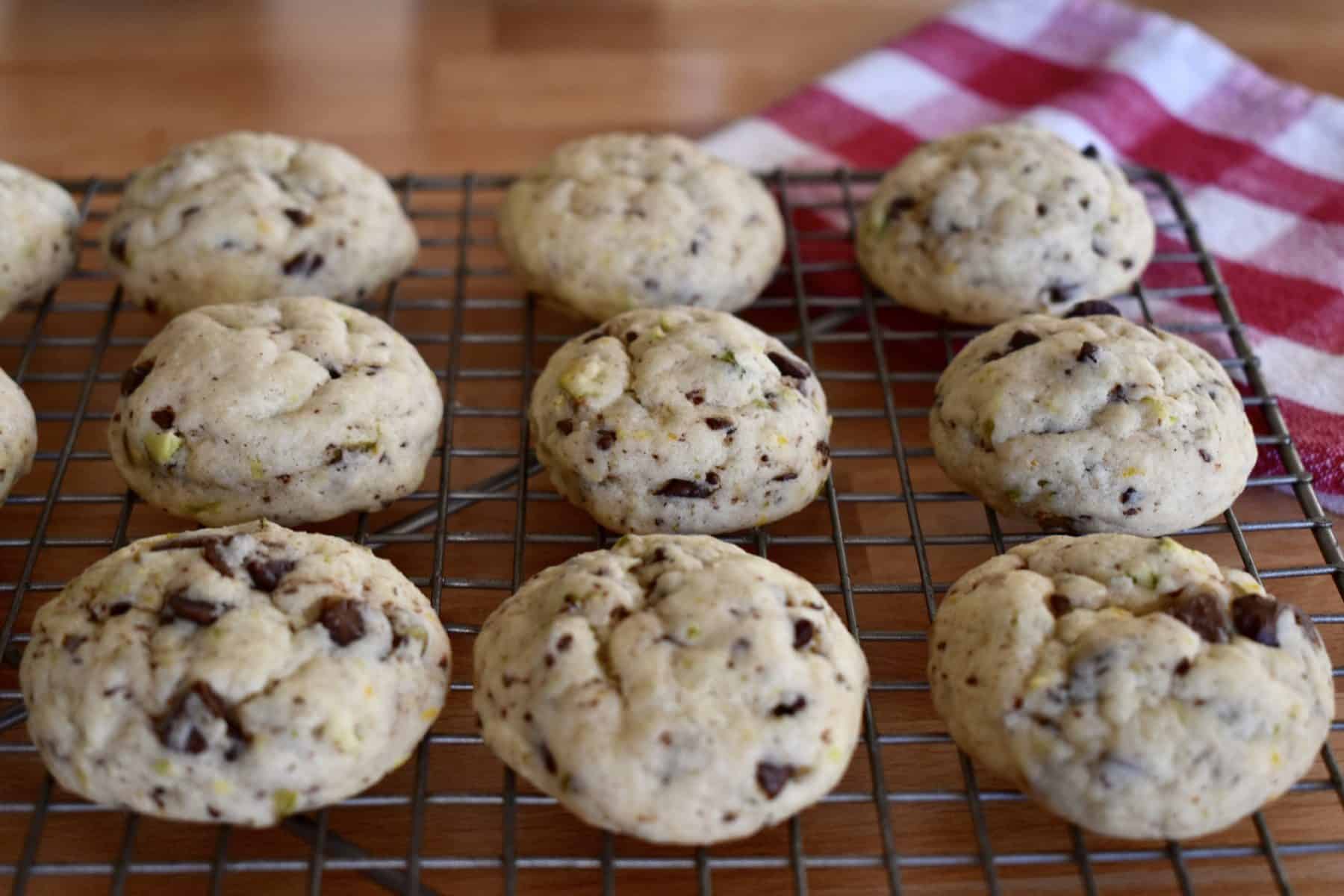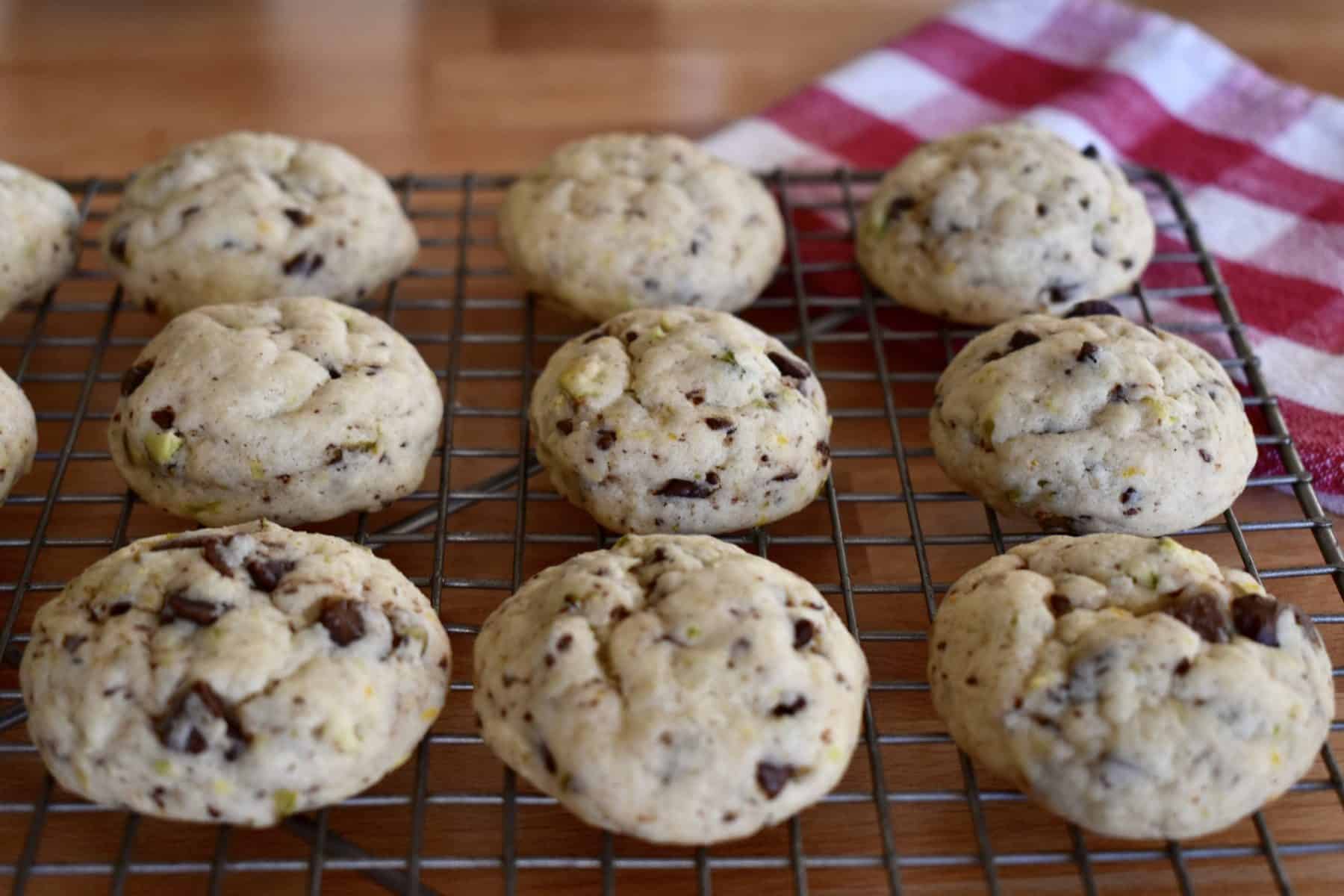 Let the cookies cool on the pan for about 5 minutes, then move to wire rack to cool completely. When completely cool, dust the tops of the cookies with powdered sugar.
Adding Orange Glaze to Cannoli Cookies
For special occasions, like the holidays, you may want to dress the cookie up a bit with a simple orange glaze. To do this, combine powdered sugar, milk, and zest in a small bowl.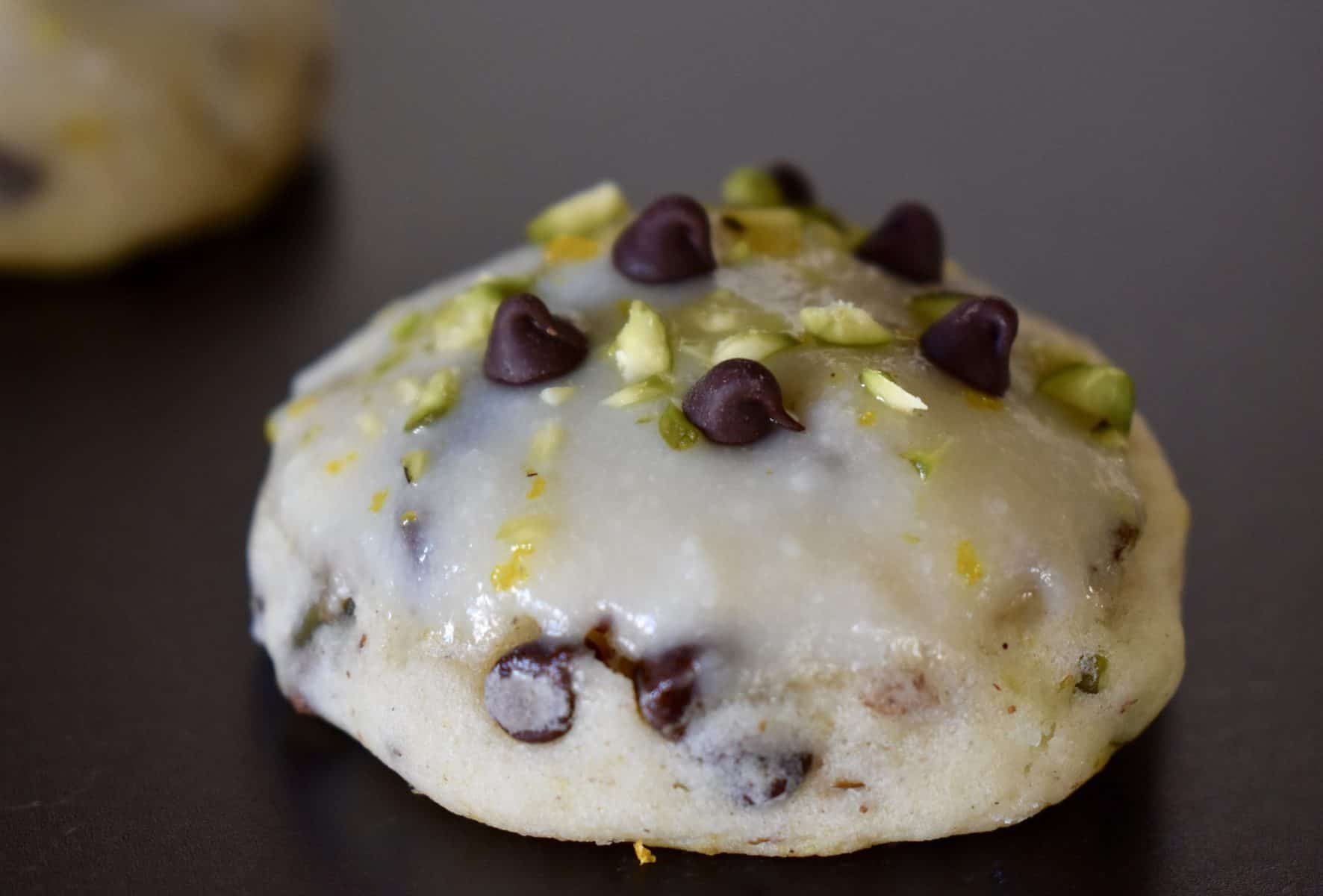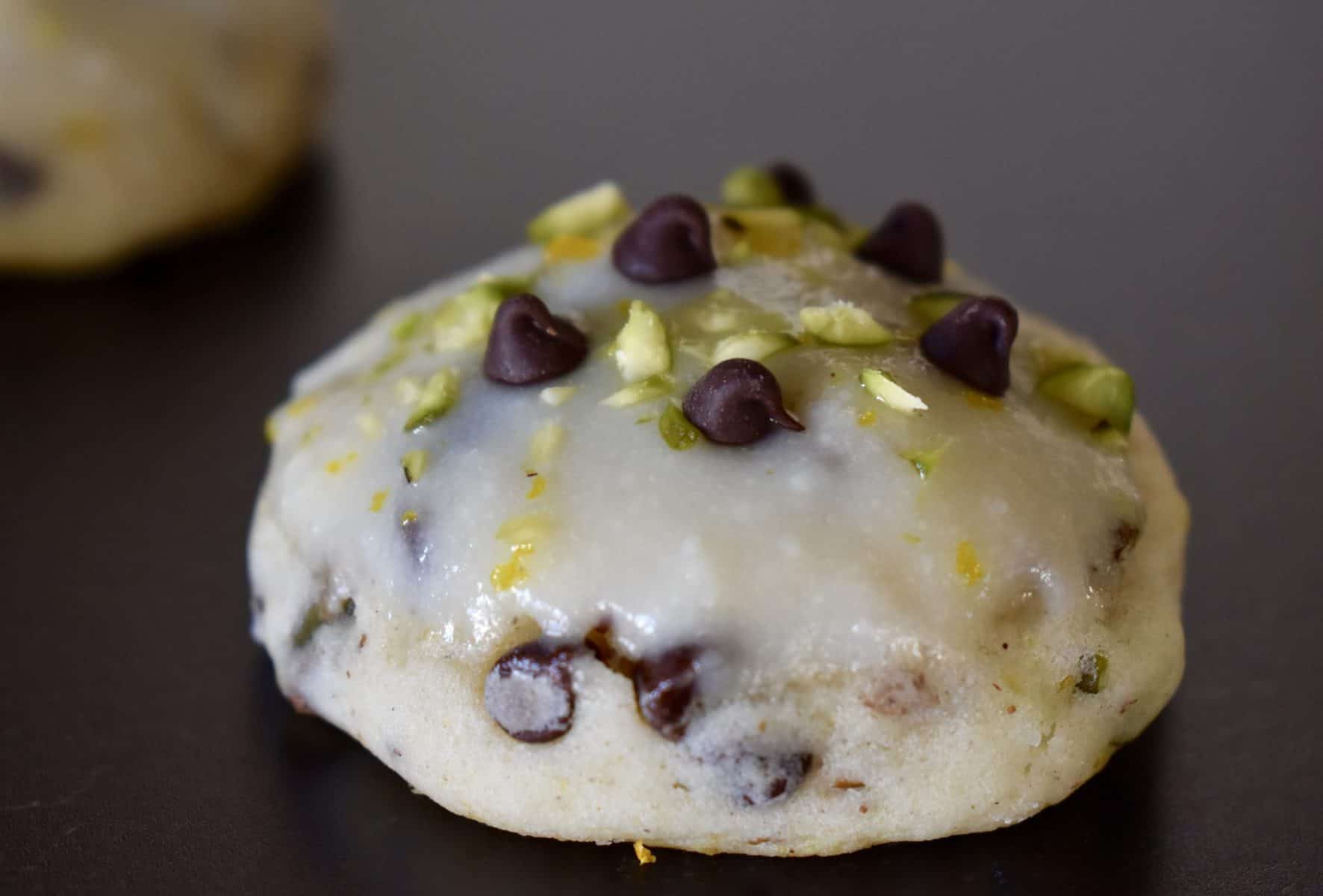 Dip the cookies into the icing, letting it drip off slightly. Then, top with diced pistachios and mini chocolate chips.
Storing Cannoli Cookies
Cannoli cookies can be baked and frozen, or refrigerated in an airtight container. You can bake and freeze up to a month in advance, or bake and refrigerate up to a week in advance.
If you choose to bake ahead, be sure to bring to room temperate then sprinkle on the powdered sugar. Otherwise, the cookie will absorb the powdered sugar and you won't get that freshly dusted look.
You can also make the batter for the cookies ahead of time and refrigerate up to two days in advance before rolling and baking the cookies. You can freeze the batter as well, just be sure to thaw in the refrigerator ahead of time.
For another delicious Italian cookie, be sure to try this Chocolate Espresso Cookie made with chocolate chips and instant espresso powder!
More Italian Ricotta Desserts
Italians love to bake with ricotta cheese. It makes for a fluffy and delicious texture that everyone loves. Here are some of the best Italian ricotta dessert recipes: Chocolate Ricotta Bundt Cake is topped with a delicious and simple chocolate glaze and has the best smooth texture.
Blueberry Ricotta Coffee Cake is light and fluffy with a delicious streusel topping.
Almond Ricotta Cake is a fan favorite with its moist and flavorful crumb.
Limoncello Ricotta Cake has a tasty cream cheese frosting and a delicious lemony flavor.
Zucchini Ricotta Ciambella is a great snacking cake.
Chocolate Chip Ricotta Cake is light and fluffy cake that's simple to make and stays moist for days.
Italian Lemon Ricotta Cake is the ultimate ricotta cake with so much flavor and a delicious fluffy texture.
I hope you love this recipe for Cannoli Cookies! Be sure to comment and rate the recipe below if you try it. Enjoy!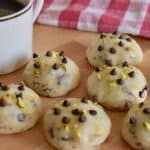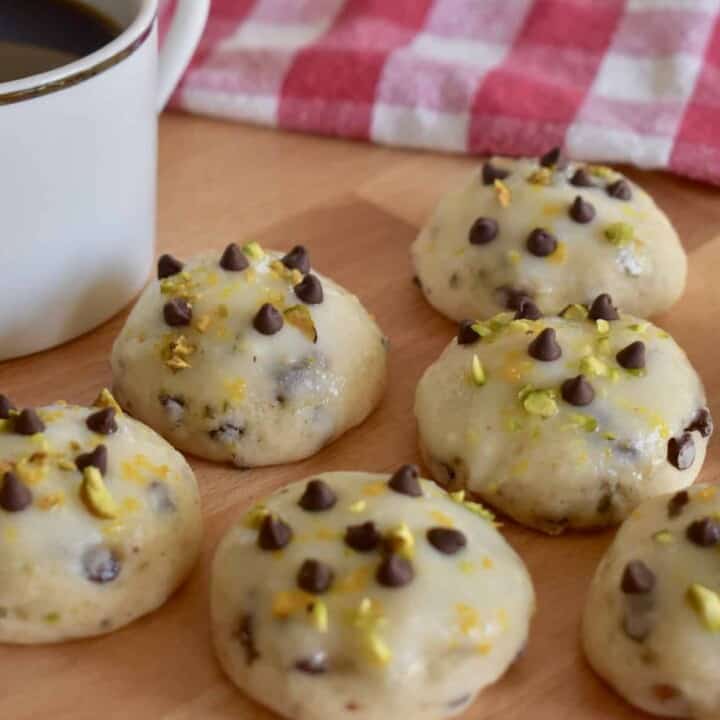 Print Recipe
Cannoli Cookies
These cookies have all of the flavors of traditional cannoli in an easy-to-make cookie! You can top the cookie with a simple orange glaze or dust with powdered sugar.
Ingredients
2

cups

all purpose flour

2

teaspoons

baking powder

½

teaspoon

salt

½

teaspoon

cinnamon

¼

teaspoon

nutmeg

1

cup

sugar

½

cup

butter, room temperature

(one stick)

1

teaspoon

orange zest

1

cup

whole milk ricotta cheese

1

large

egg

½

cup

chopped semi sweet chocolate

(mini chocolate chips work too)

½

cups

shelled pistachios, lightly chopped

1

tablespoon

powdered sugar, for dusting (if not frosting)
Orange Glaze
1

cup

powdered sugar

2

tablespoons

milk

½

teaspoon

grated orange zest

pistachios and mini chocolate chips for topping (optional)
Instructions
Line a baking pan with a baking mat or parchment paper; set aside.

In a medium bowl, whisk together the flour, baking powder, salt, cinnamon, and nutmeg; set aside.

In a large bowl, use an electric mixer on medium/high to mix together the sugar, butter, and orange zest, until mixture is light and fluffy, about 2 minutes. Beat in the ricotta, and egg, and mix until combined. Add in the flour mixture and mix until just combined. Fold in the chopped chocolate and pistachios.

Cover the cookie dough with plastic wrap and chill in the refrigerator for at least 2 hours.

Preheat oven to 350 degrees. Remove cookie dough from refrigerator and use a cookie scoop to measure out about a tablespoon of batter and roll into a ball. Place on preapred baking sheets leaving about 2 inches between cookie balls.

Bake for 12-14 minutes or until the bottom of the cookie starts to brown slightly. Note that the cookies will not change color much. Cool in pan for 5 minutes before removing to wire rack to cool completely.

Once cooled, use a fine mesh sieve to dust the top of the cookies with the powdered sugar or orange glaze (see below).
Orange Glaze
For the orange glaze, whisk together the powdered sugar, milk and zest in a small bowl. Dip the top of the cookies in the icing and top with pistachios and chocolate chips.
Notes
These Cannoli Cookies can be made ahead and stored in an airtight container in the refrigerator for a week, or in the freezer for up to a month. 
Nutrition
Calories:
122
kcal
|
Carbohydrates:
17
g
|
Protein:
2
g
|
Fat:
5
g
|
Saturated Fat:
3
g
|
Polyunsaturated Fat:
0.4
g
|
Monounsaturated Fat:
2
g
|
Trans Fat:
0.1
g
|
Cholesterol:
16
mg
|
Sodium:
85
mg
|
Potassium:
51
mg
|
Fiber:
1
g
|
Sugar:
10
g
|
Vitamin A:
127
IU
|
Vitamin C:
0.2
mg
|
Calcium:
35
mg
|
Iron:
1
mg