Pumpkin Biscotti drizzled with white chocolate make the best fall treat! Get all of the pumpkin spice flavors you love in these easy to make pumpkin biscotti that are perfect dipped in hot coffee.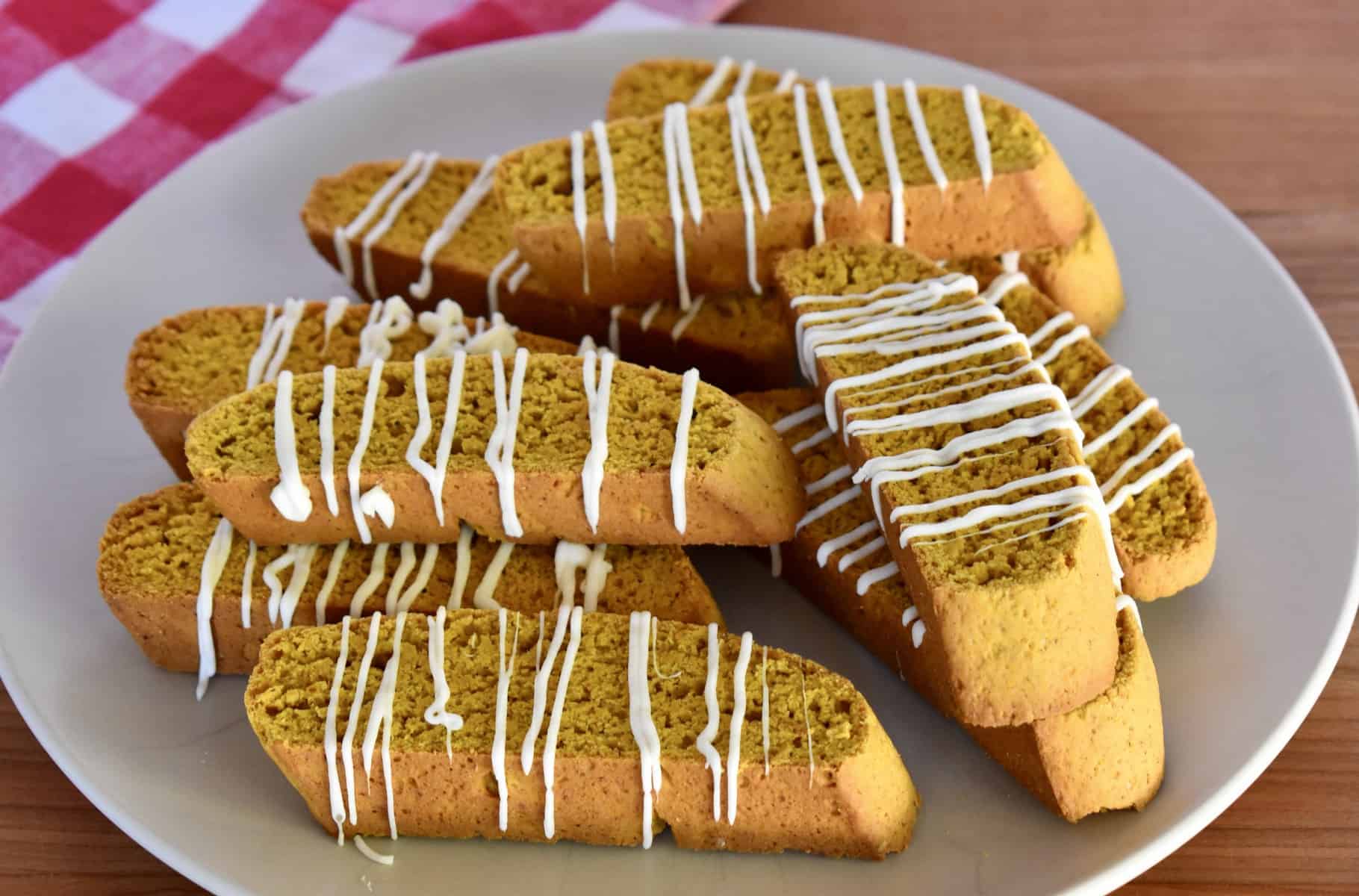 Once the weather cools, pumpkin biscotti are going to be your favorite autumn snack. These crunchy cookies are best dunked in a hot cup of coffee and enjoyed as a light breakfast or midday treat.
Pumpkin biscotti are full of fall flavors like cinnamon, nutmeg, ginger, and pumpkin. Add a simple drizzle of white chocolate and make these biscotti extra special and even great for gifting.
Once you see how easy biscotti are to make, you'll be making them all the time. I used to be intimidated to make biscotti, however, make them once and you'll see how simple and easy they are.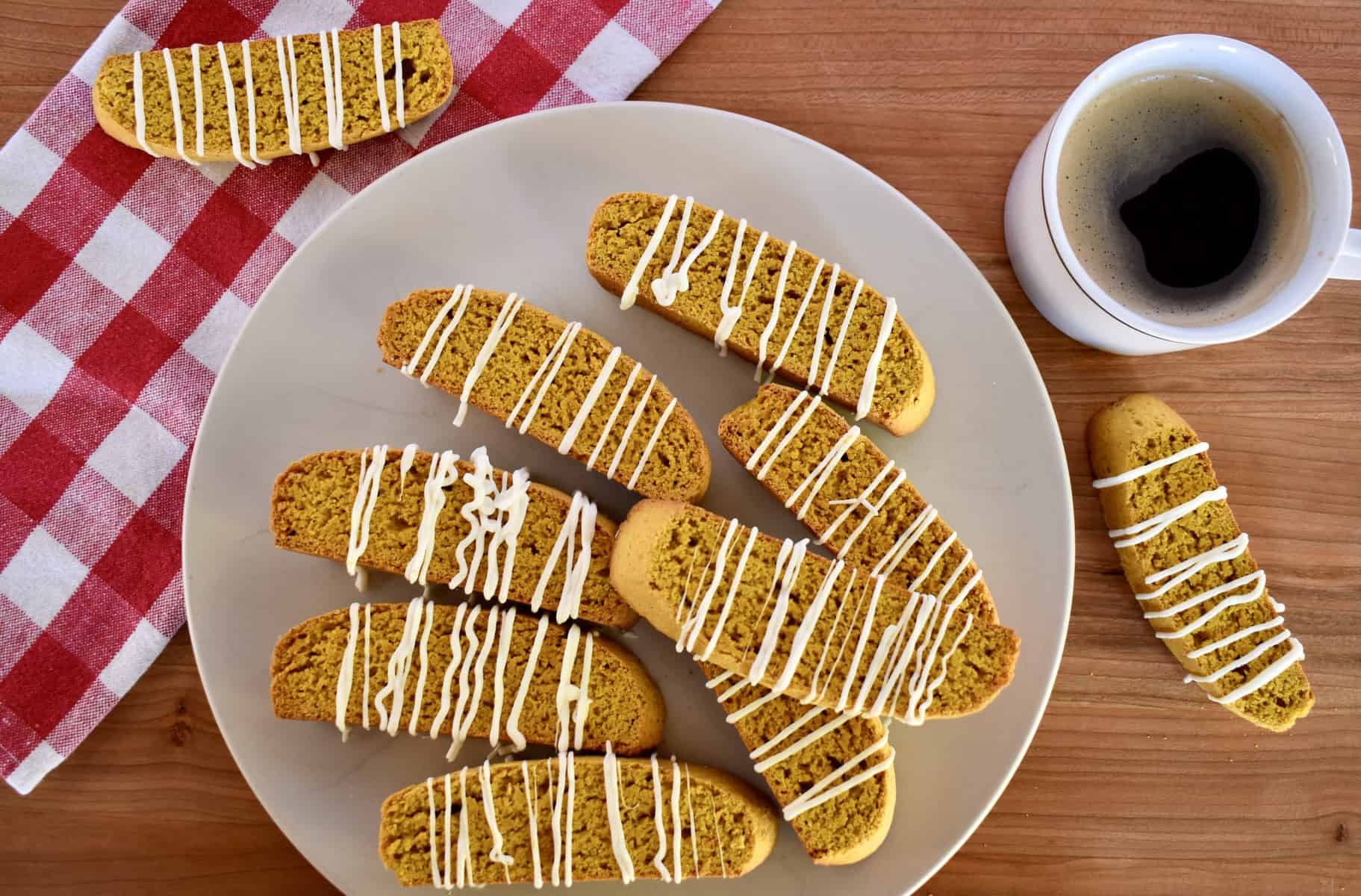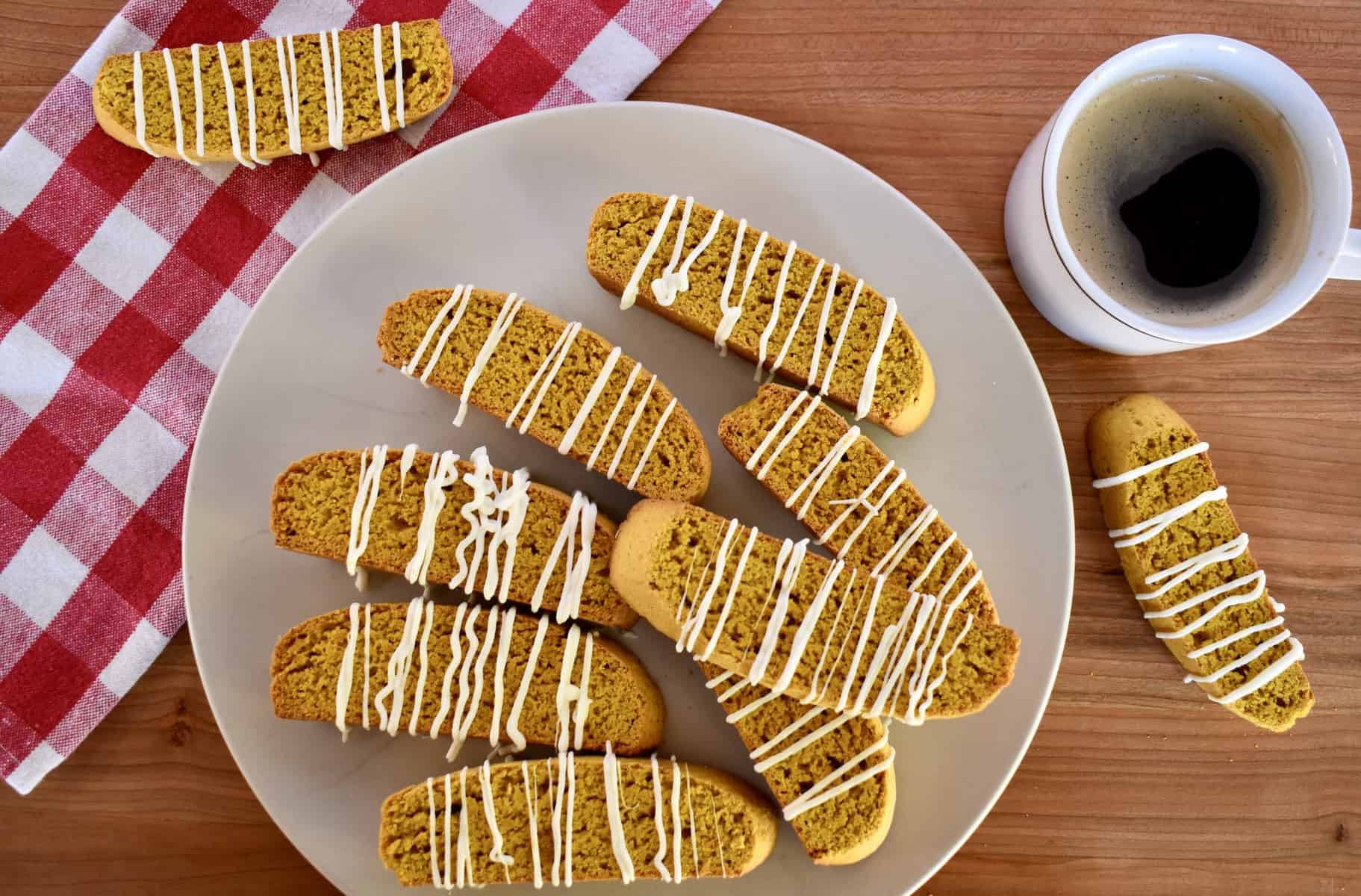 These pumpkin biscotti are better than store-bought and so much cheaper too! Plus, you'll know exactly what's in them too. Also, while you are baking, be sure to check out this delicious and simple recipe for Italian Apple Cake, another fall staple in my house! And if you love spiced cakes, try Almond Flour Pear Cake - a naturally-gluten free cake that's super moist!
If you love fall baking and treats that go great with coffee, be sure to check out these Oatmeal Pumpkin Cookies. They are another simple to make treat for the fall. Winter baking already? Then you're going to love these festive and fun Candy Cane Kiss Cookies! And, if you want a truly special Christmas Morning casserole, be sure to try this Panettone French Toast Casserole with an irresistible brown sugar topping.
Read on to see how easy it is to make homemade pumpkin biscotti with white chocolate drizzle. One bite and I guarantee you'll be hooked!
Pumpkin Biscotti Ingredients
Pumpkin biscotti are easy to make and use ingredients you probably already have on hand. Plus, there is no special equipment needed to make these. For pumpkin biscotti, you will need:
softened butter
sugar
one large egg
canned pumpkin puree (not pumpkin pie filling)
spices: cinnamon, nutmeg, and ground ginger
baking soda and salt
all purpose flour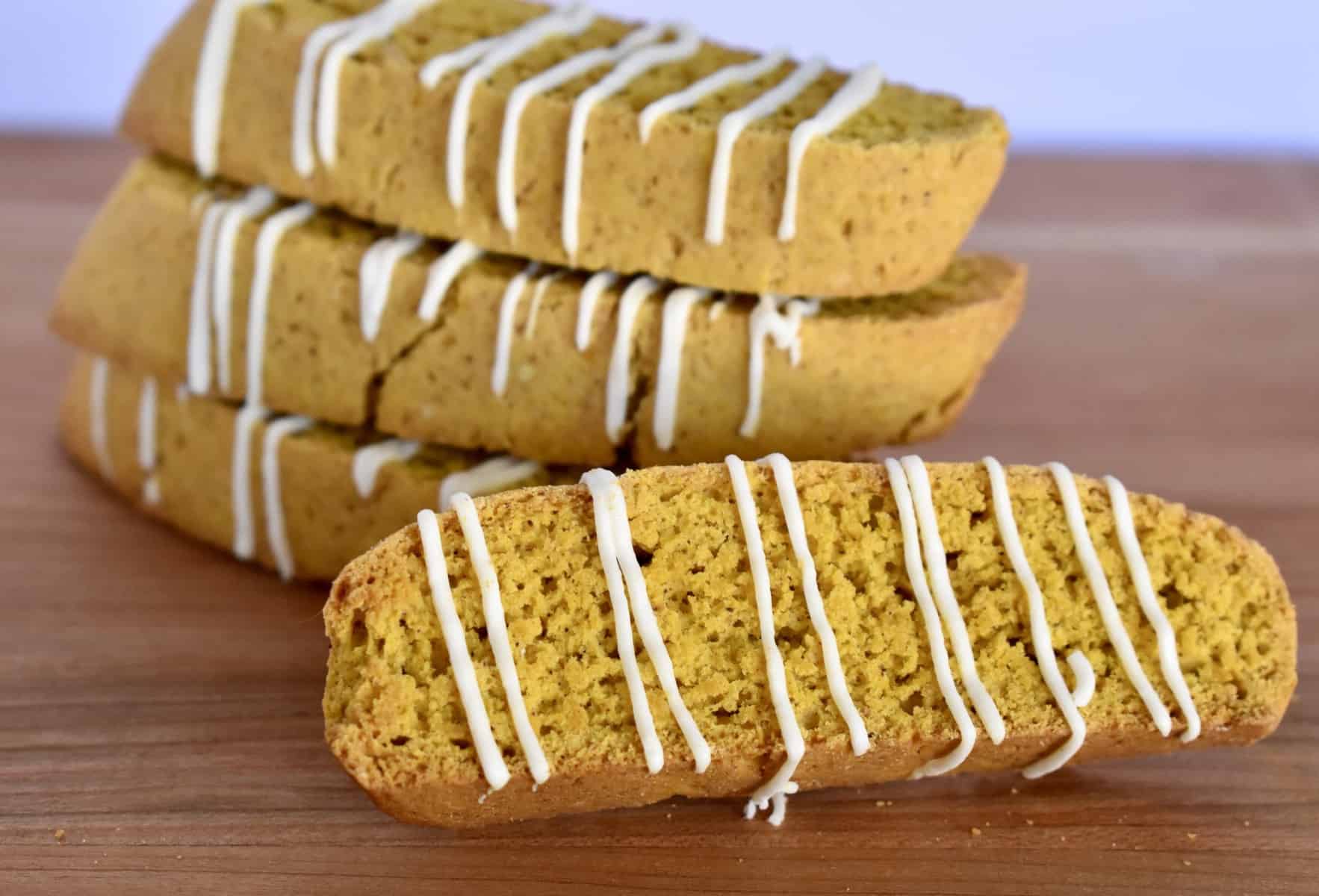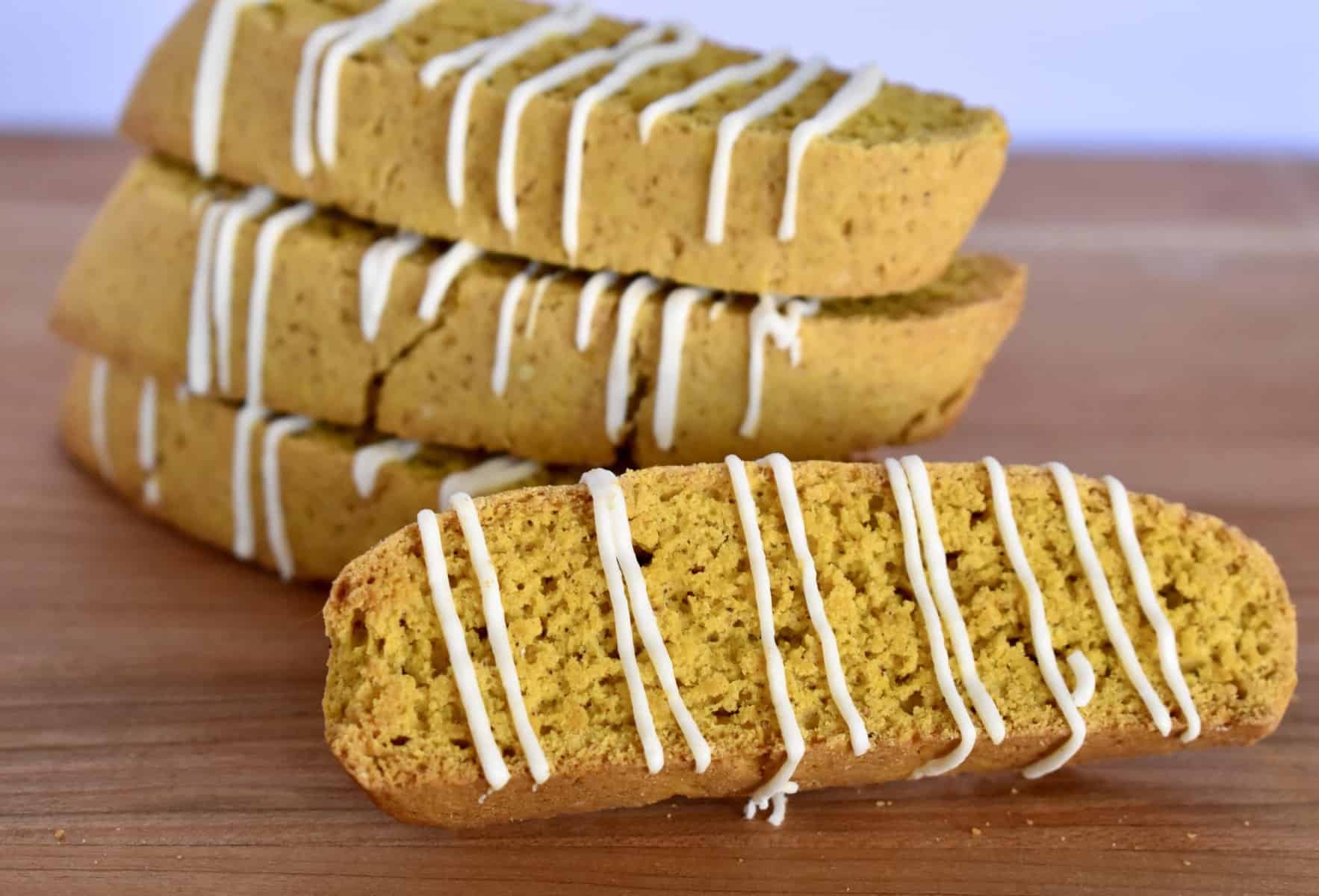 Like I said, simple ingredients and probably items you already have in your pantry and fridge!
Substitutions and Additions
There are various additions you can add to change up the flavors of your pumpkin biscotti. Most common would be add nuts. Here, pistachios, walnuts, pecans, or sliced almonds would be delicious.
You can also add dried cranberries or raisins to the batter. Cranberries would be especially festive during the holiday season. Mini chocolate chips would also be a great addition to this biscotti.
Have Pumpkin Pie Spice on hand? You can substitute equal amounts of pumpkin spice with the spices listed in this recipe. Also, if you're not a fan of white chocolate, you could always substitute chocolate chips or leave out the drizzle all together.
What equipment do you need to make biscotti?
All you need to make biscotti is a baking sheet, parchment paper or a nonstick baking pad, and a serrated knife. It is common to think that biscotti are a difficult cookie to make, but really it's no different than any other cookie, it just requires a little extra baking time.
If you are using parchment instead of a nonstick baking pad, be sure that you have two pieces of parchment. You will need one for the first bake and a new one for the second bake.
Now that you have your ingredients and equipment, see how easy it is to make delicious homemade pumpkin biscotti!
How to Make Pumpkin Biscotti
This easy recipe comes together quick and is ready to eat in less than an hour. To start, you will need to line a baking pan with a piece or parchment or a nonstick baking mat. Preheat your oven to 350 degrees.
In a large bowl, use a handheld mixer to beat together the butter and sugar until it is light; about 2 minutes. There is not a lot of butter in these cookies. This gives them that essential crunch without making them too soft.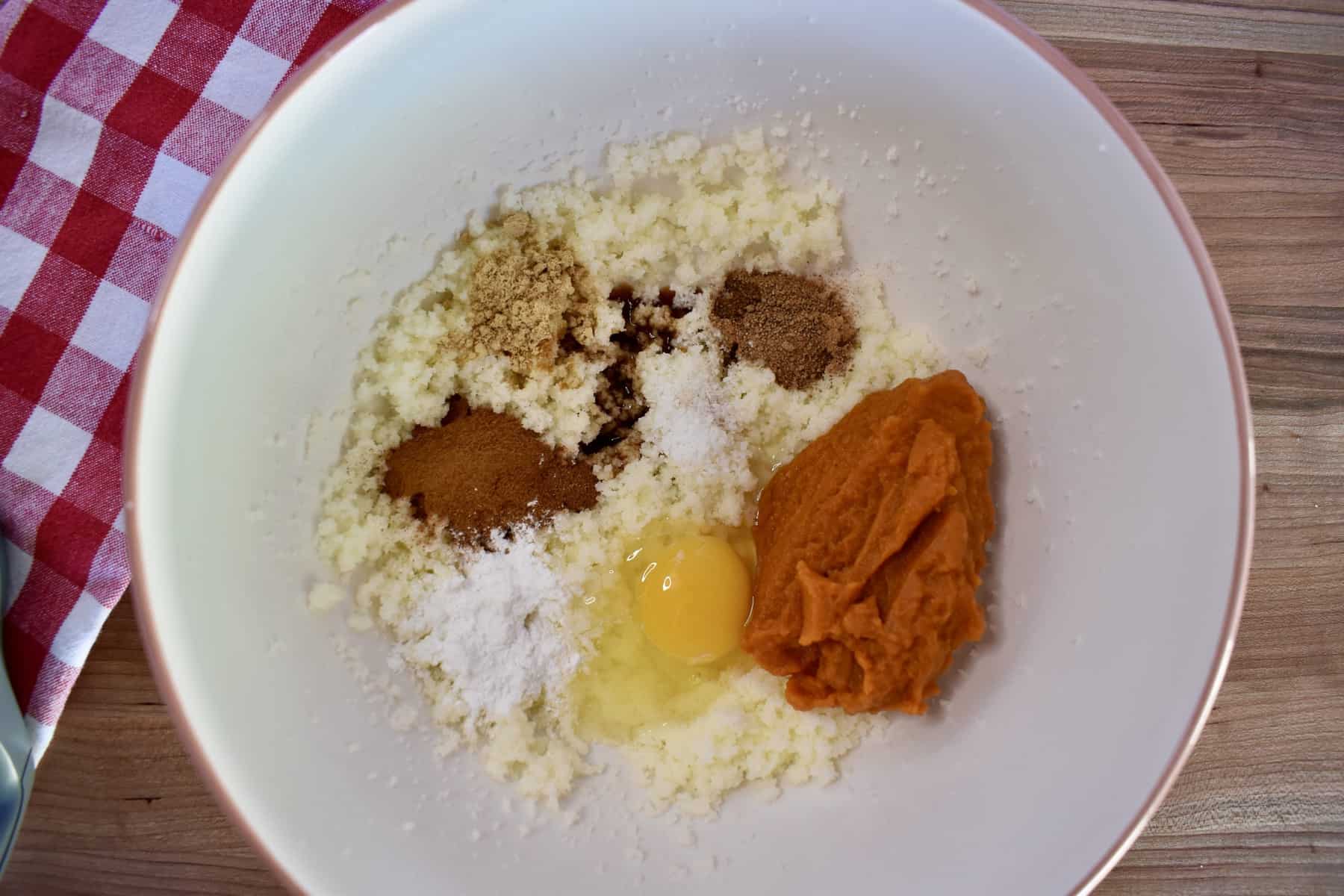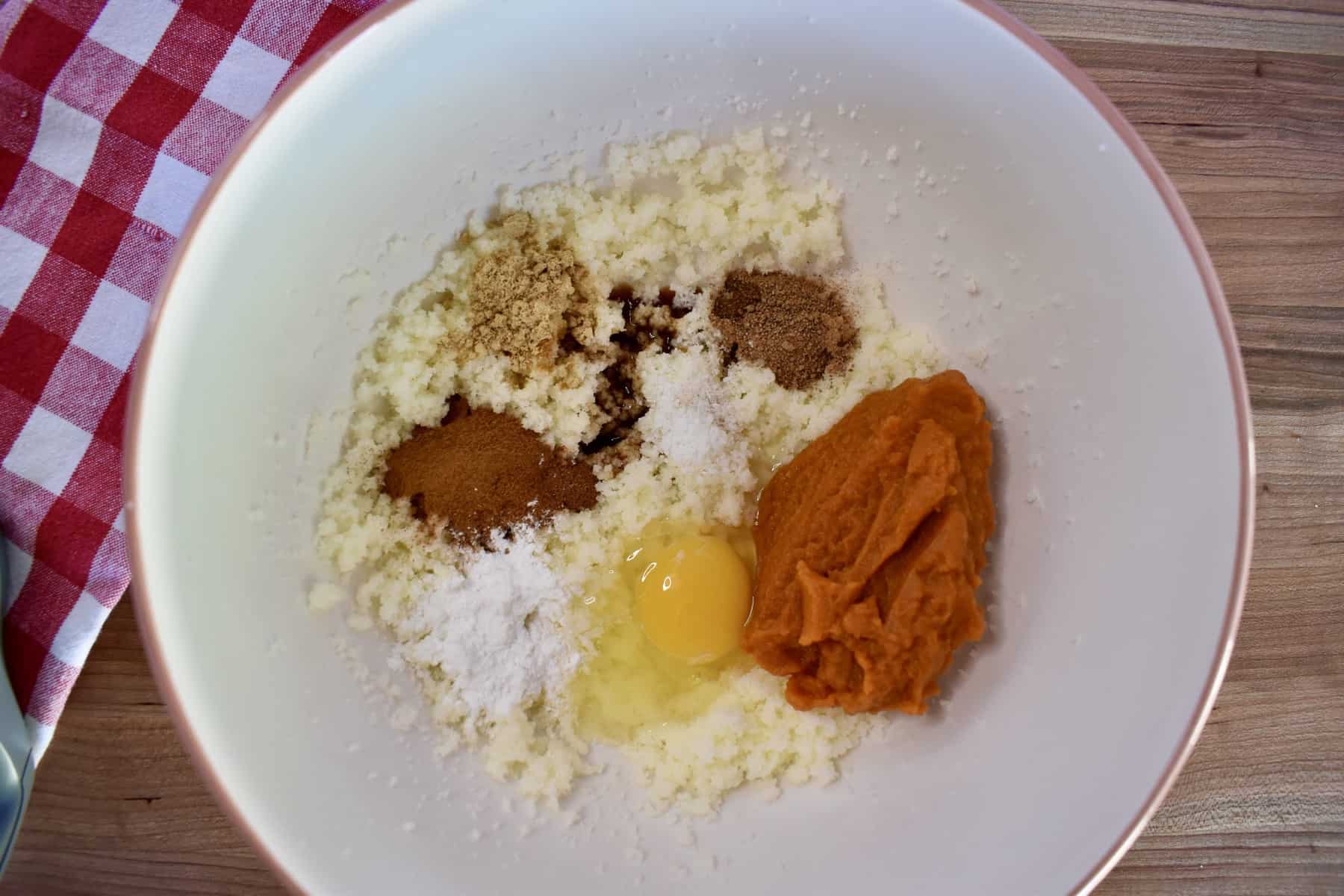 Then, add in an egg, pumpkin puree, vanilla, cinnamon, nutmeg, ground ginger, baking soda, and salt. Another thing I love about making biscotti is that the dough can be made in one bowl!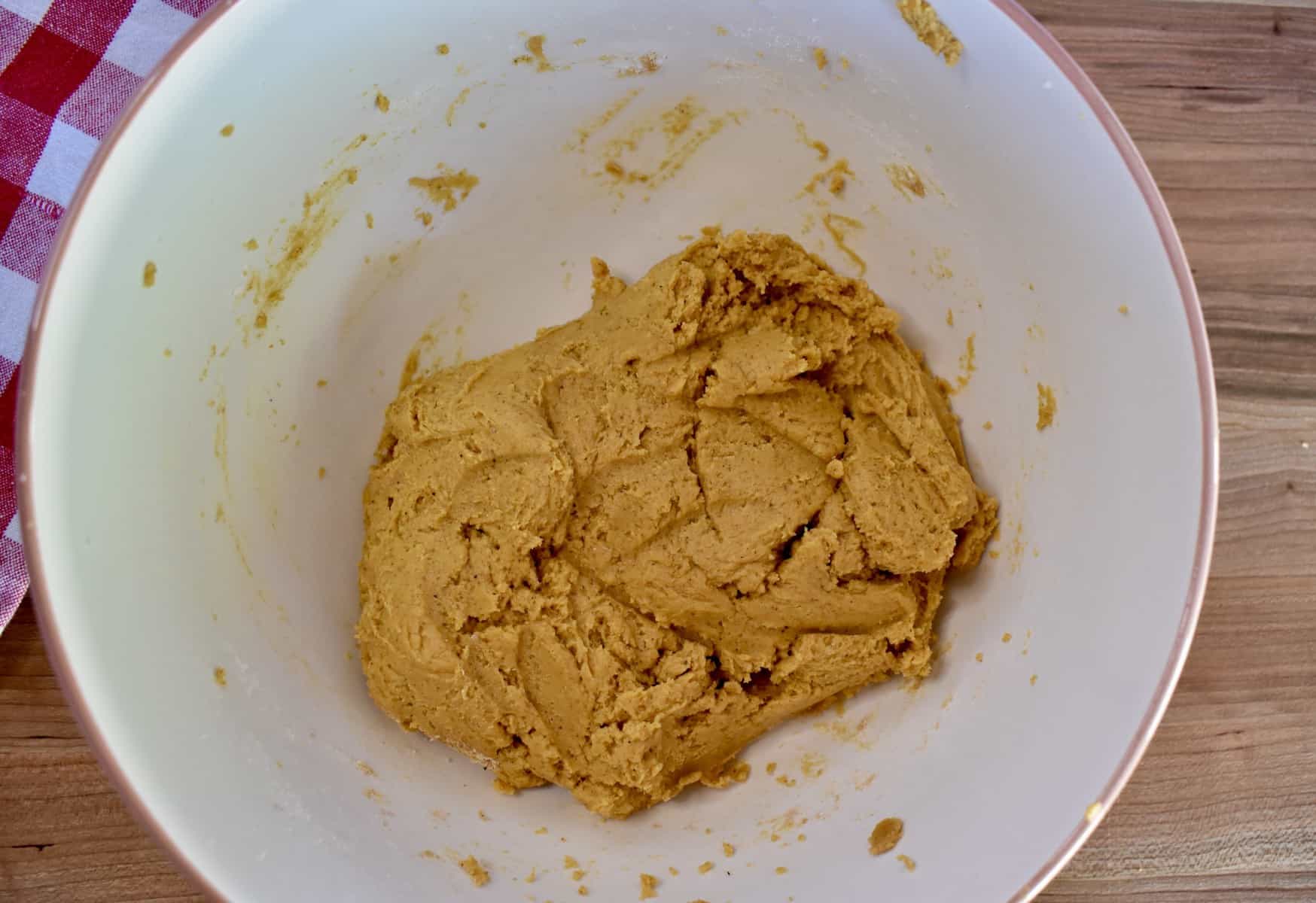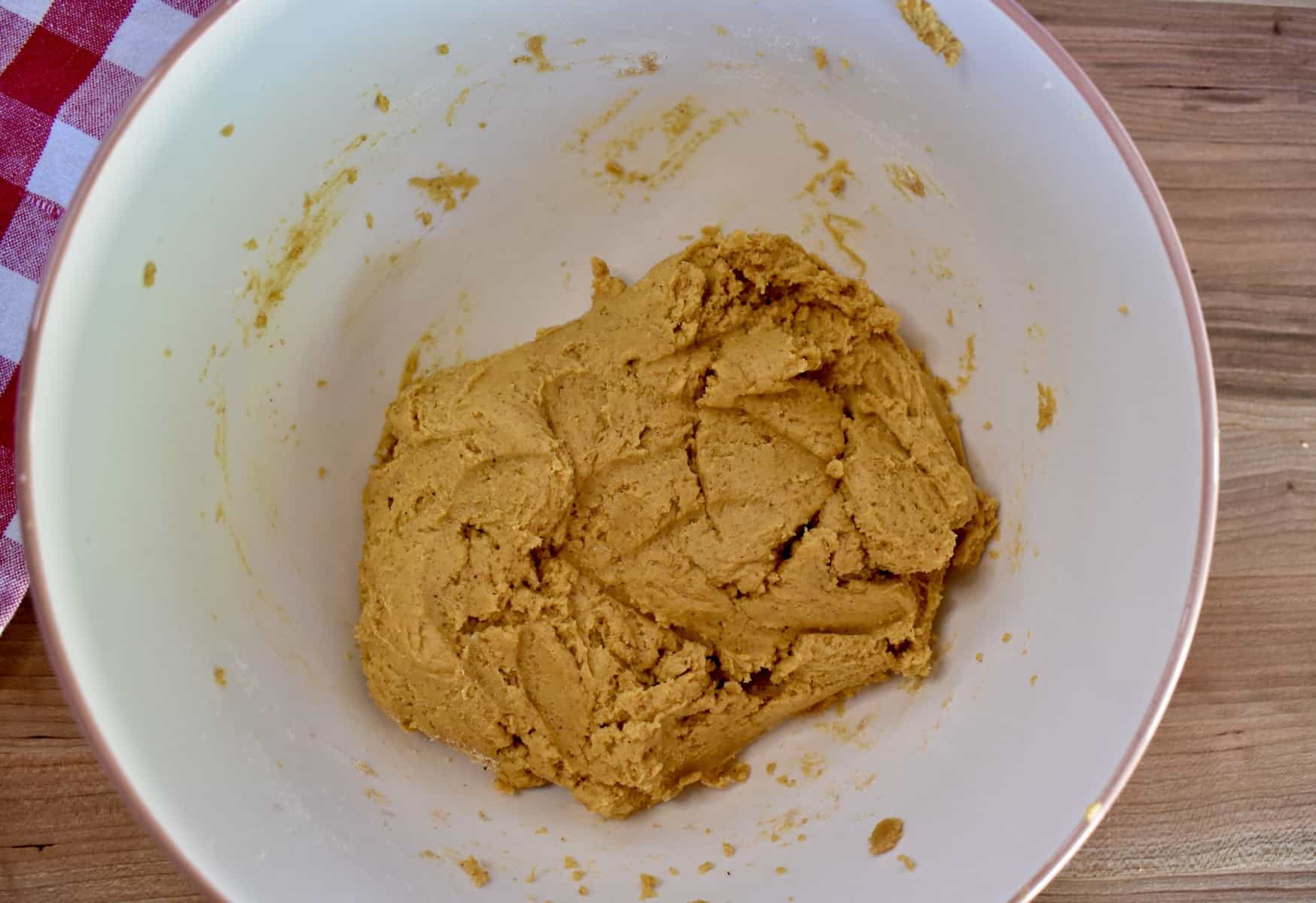 Once those ingredients are mixed, add in the flour. The batter will start to come together and form a dough. Use a rubber spatula to scrape all of the ingredients together.
Divide the dough into two logs and place them on the lined baking sheet.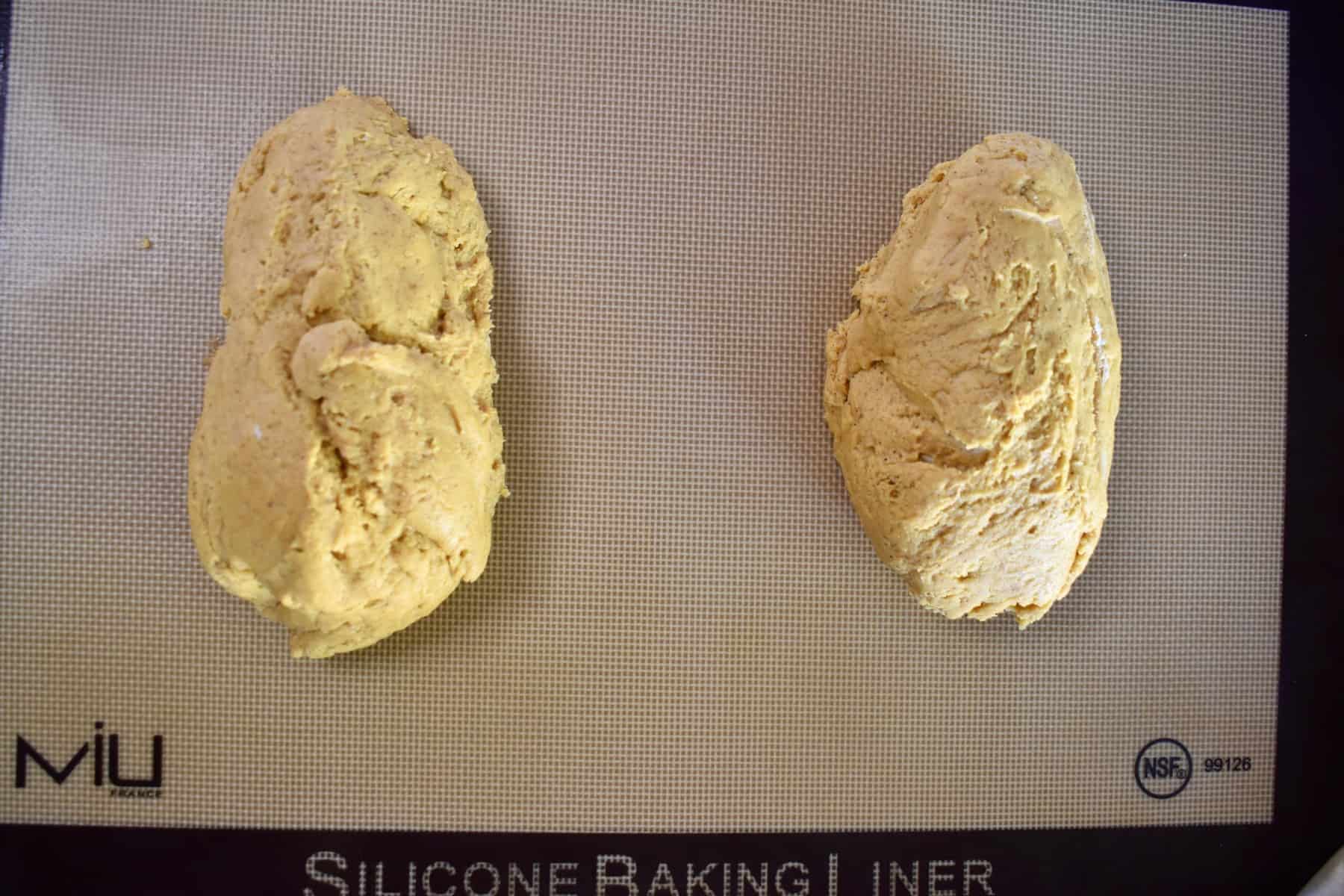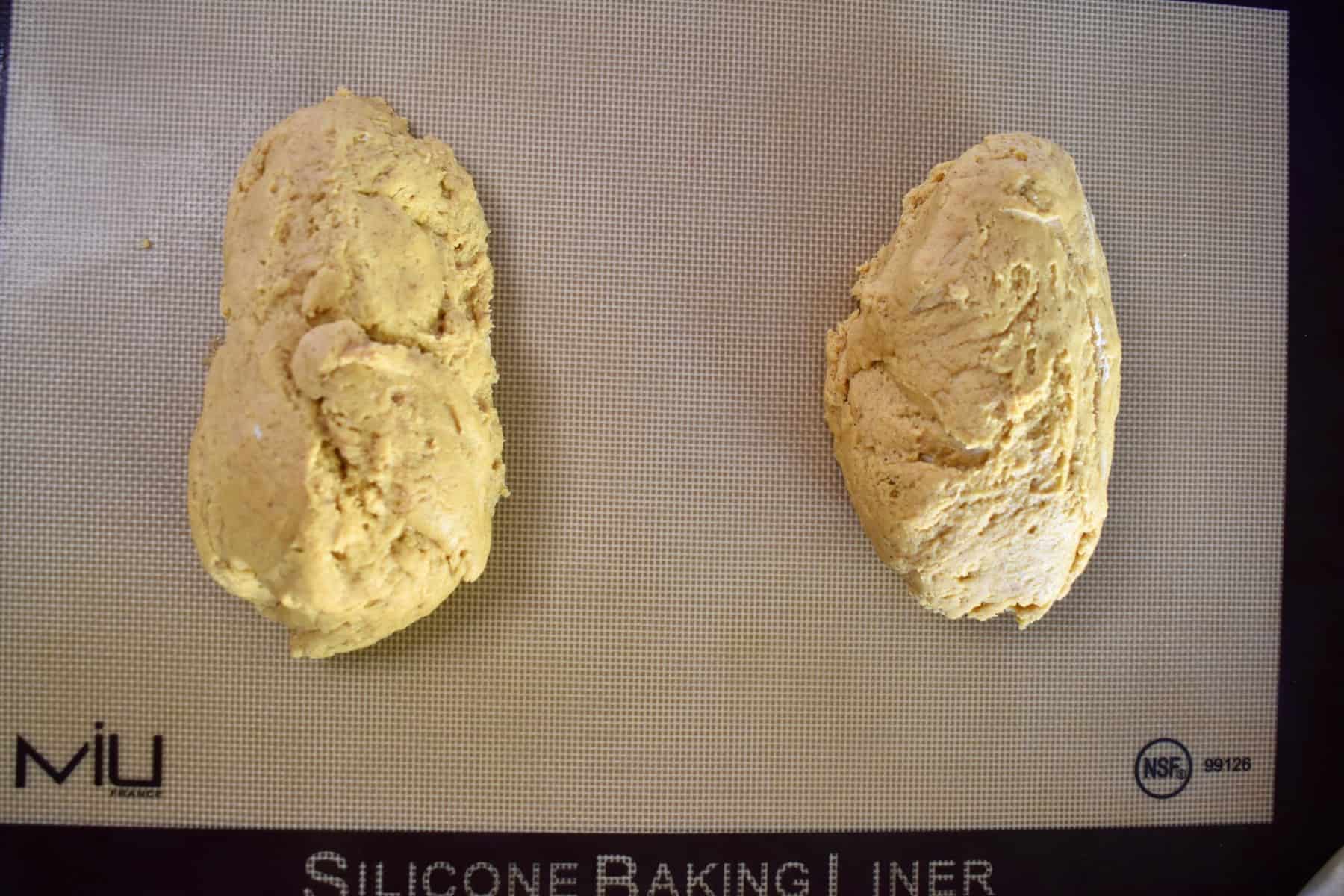 How to form biscotti
Once you have your dough logs divided and on the baking sheet, start forming into rectangular pieces. This pumpkin biscotti dough will give you enough to make two 10" x 2-3" rectangular "logs" on the baking sheet.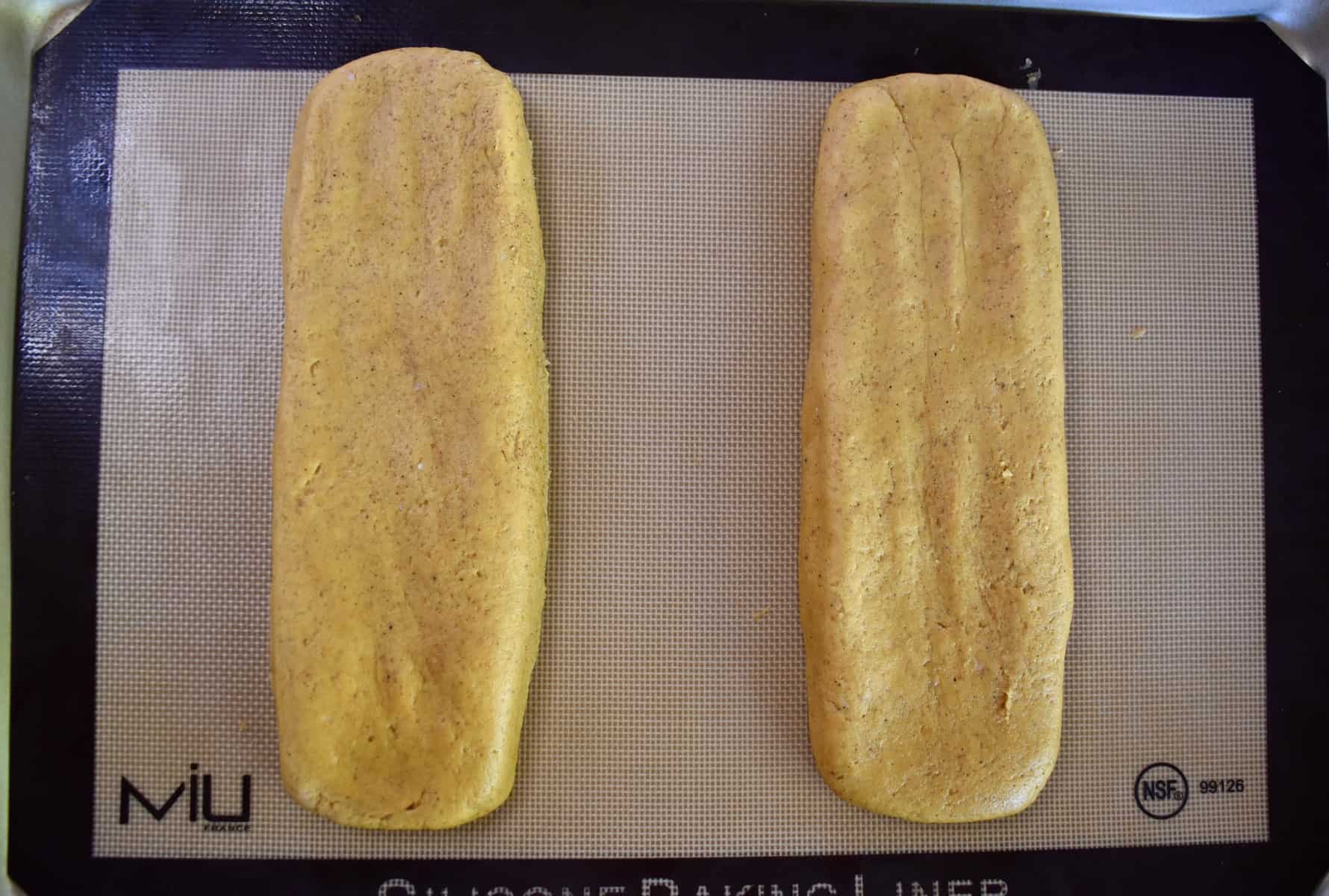 To form the biscotti, use your hands to gently press and spread the dough into the desired shape. This dough should be firm enough to use your hands to shape. If you wanted, you could use a rubber spatula to get the desired shape and size.
The first bake
Biscotti need to be baked twice. Once when they are formed into a rectangle and the second when they are sliced into cookies.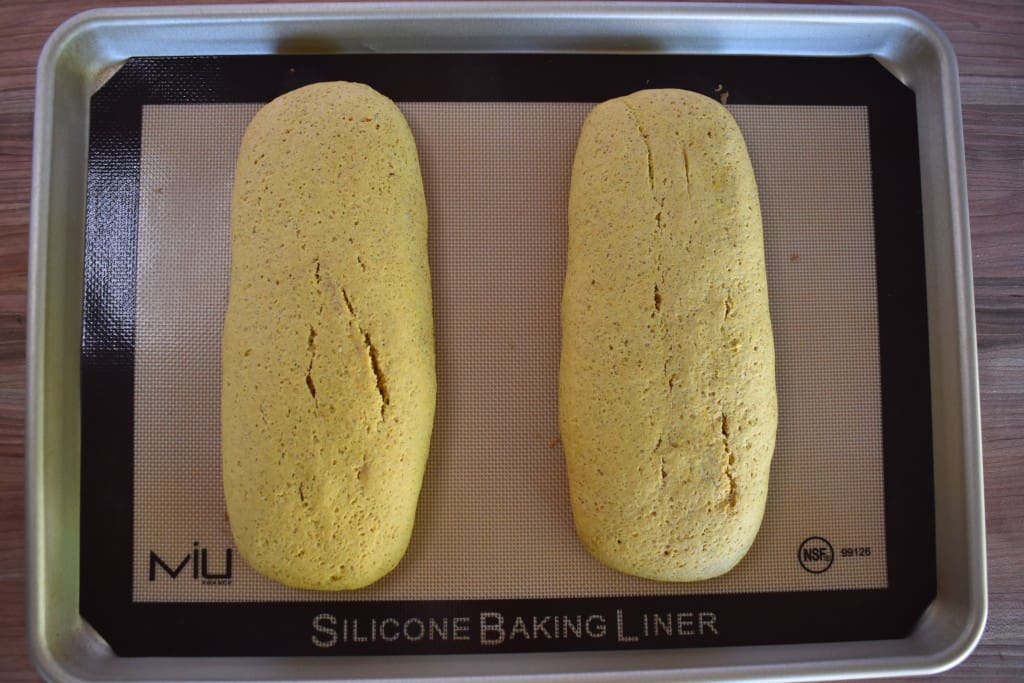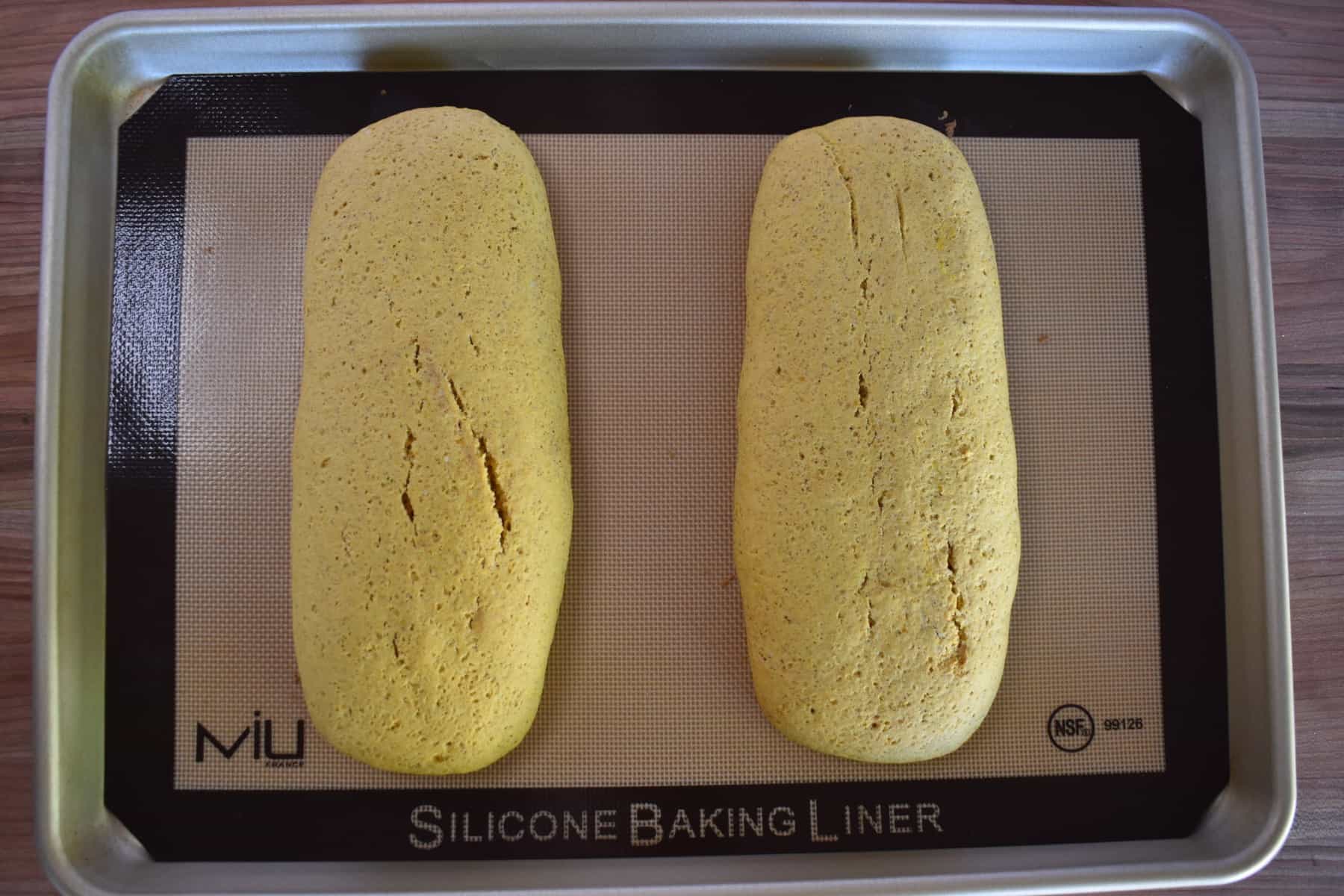 Place the biscotti into your preheated oven and bake for about 25 minutes. The biscotti logs will turn a light golden brown and will feel dense. Let the biscotti cool on the baking mat for five minutes before slicing them.
How to slice biscotti
Once the biscotti logs have cooled for five minutes, you can slice them into long biscotti cookies. To get a clean slice, you will need to use a serrated knife.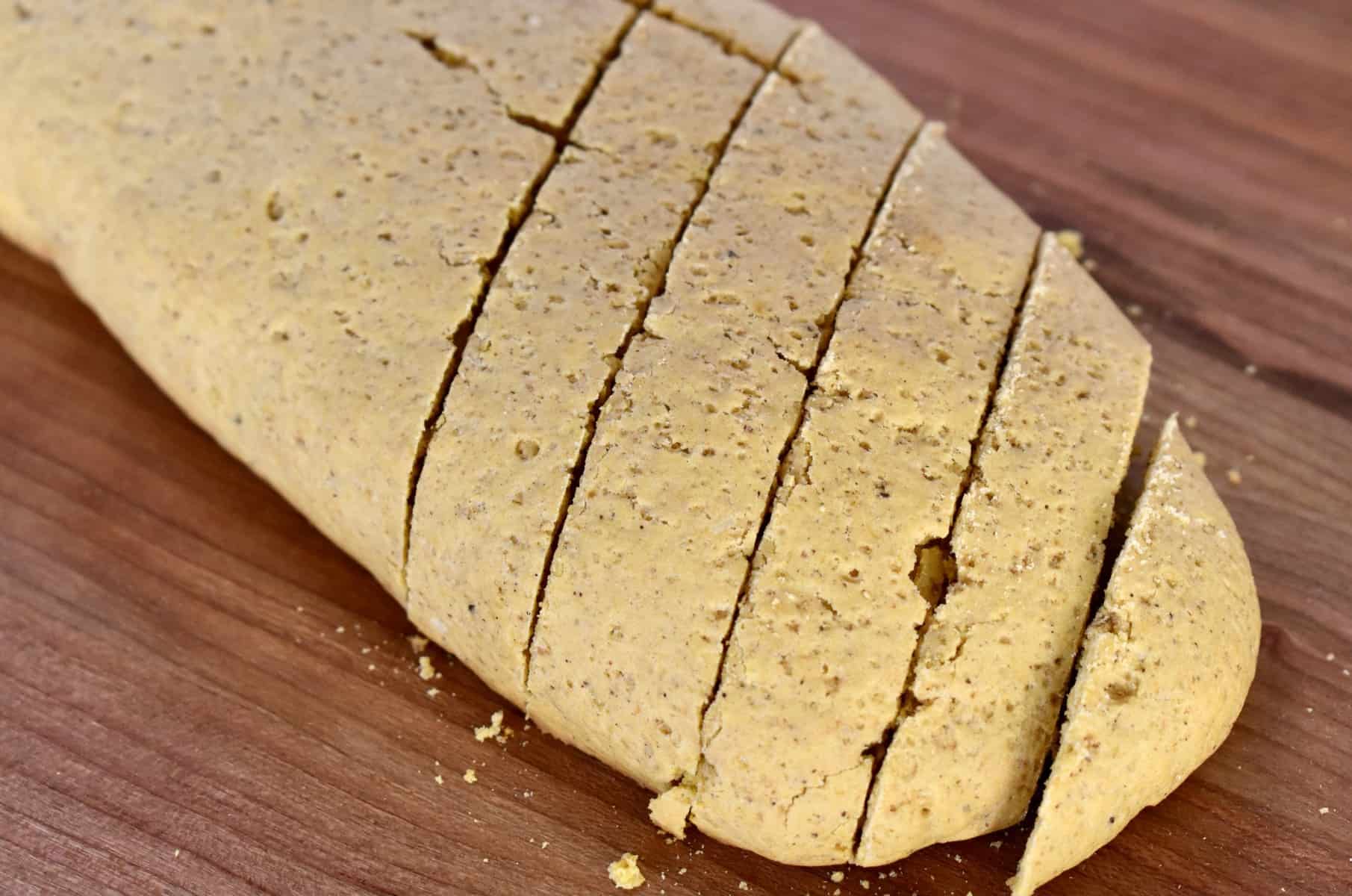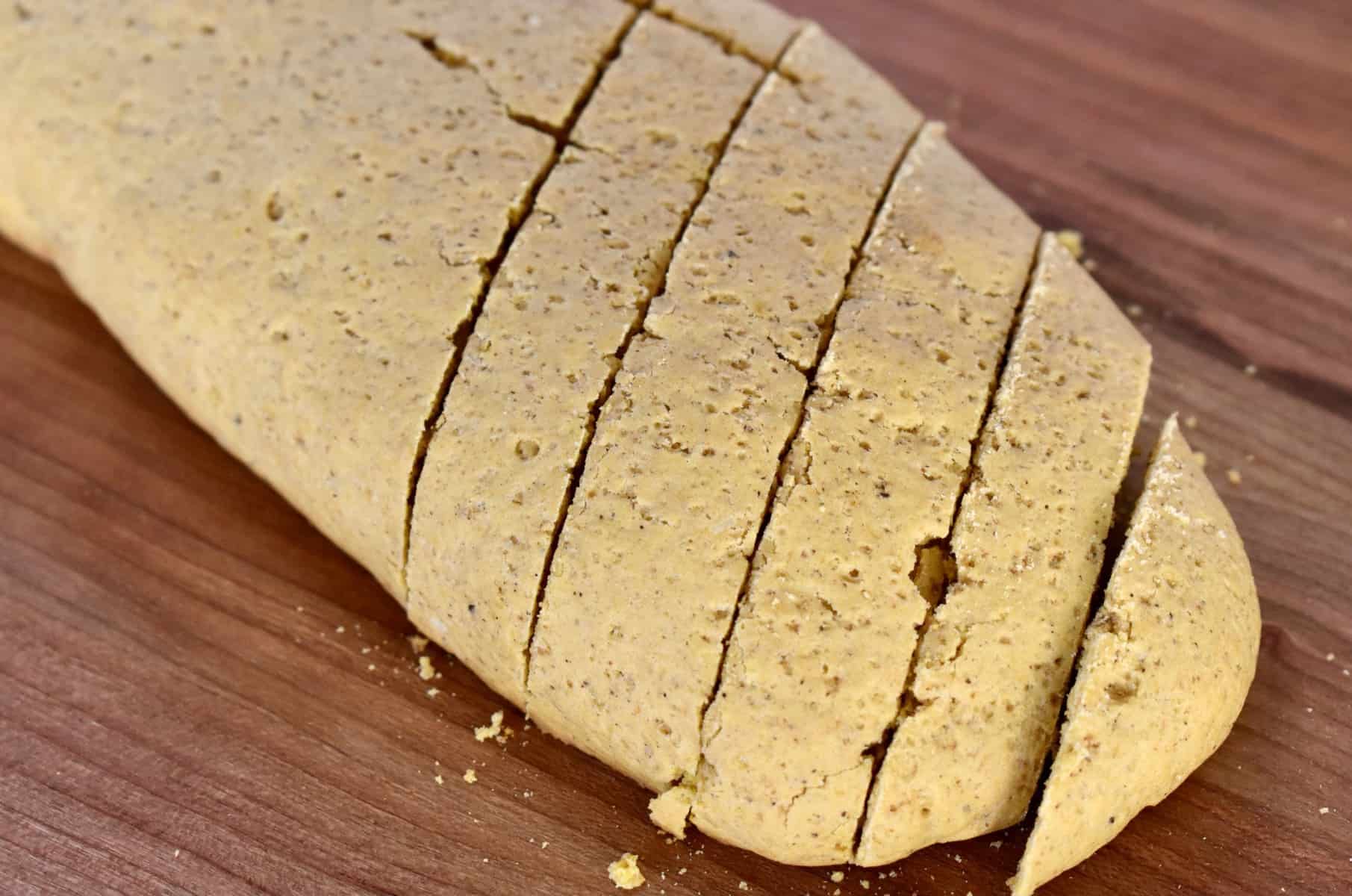 You can slice the logs either diagonally or crosswise. You will get more cookies slicing crosswise. However, diagonally is the traditional way of making biscotti. You can discard the end pieces or bake them along with the rest of the biscotti.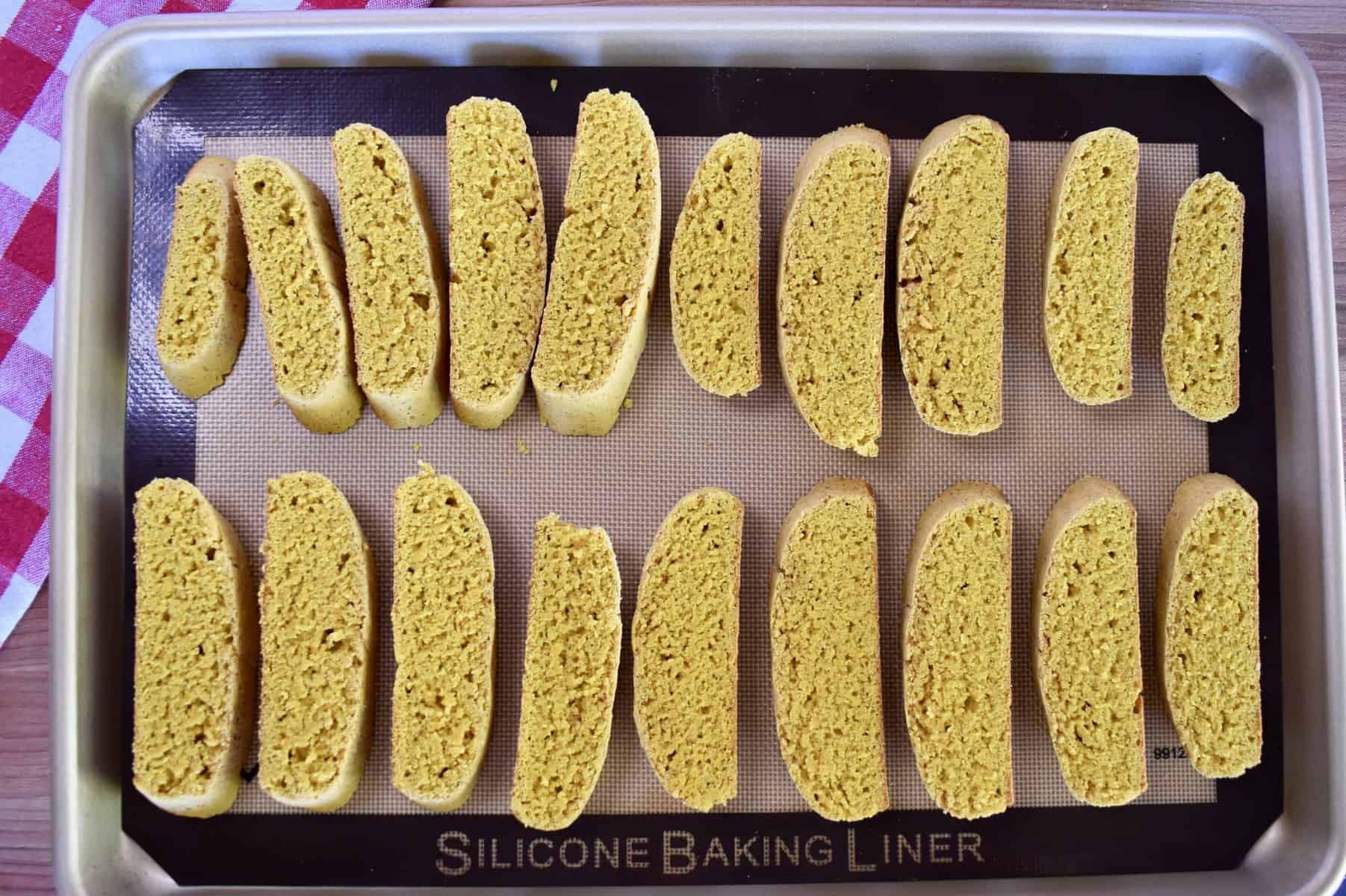 Place the biscotti cut side up on your baking sheet. If you used parchment, be sure to replace the parchment paper for the second bake.
The second bake
Place the sliced biscotti back in the oven. Bake for about 15-25 minutes, or until the edges of the cookies are golden brown in color. The inside of the biscotti won't change color much.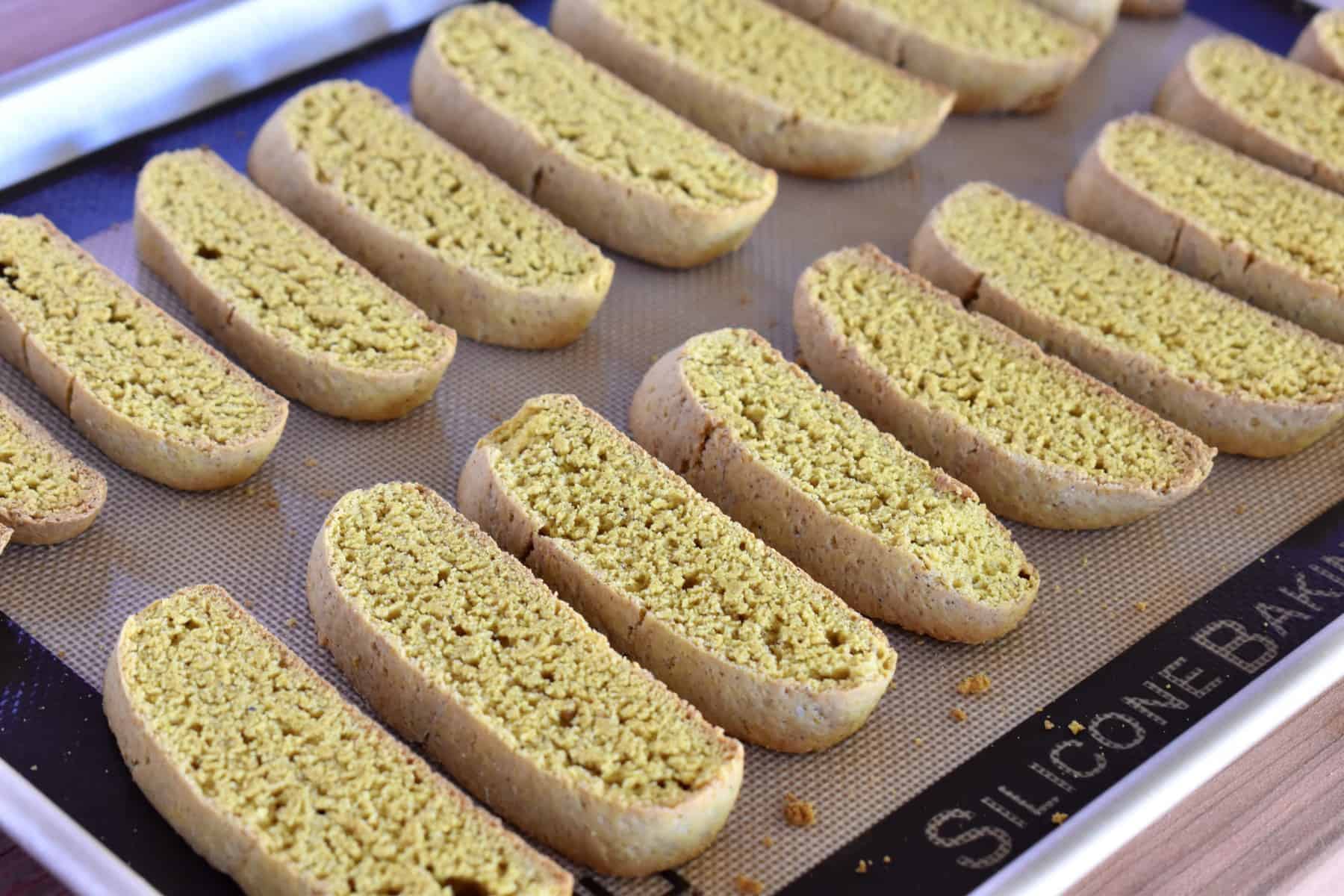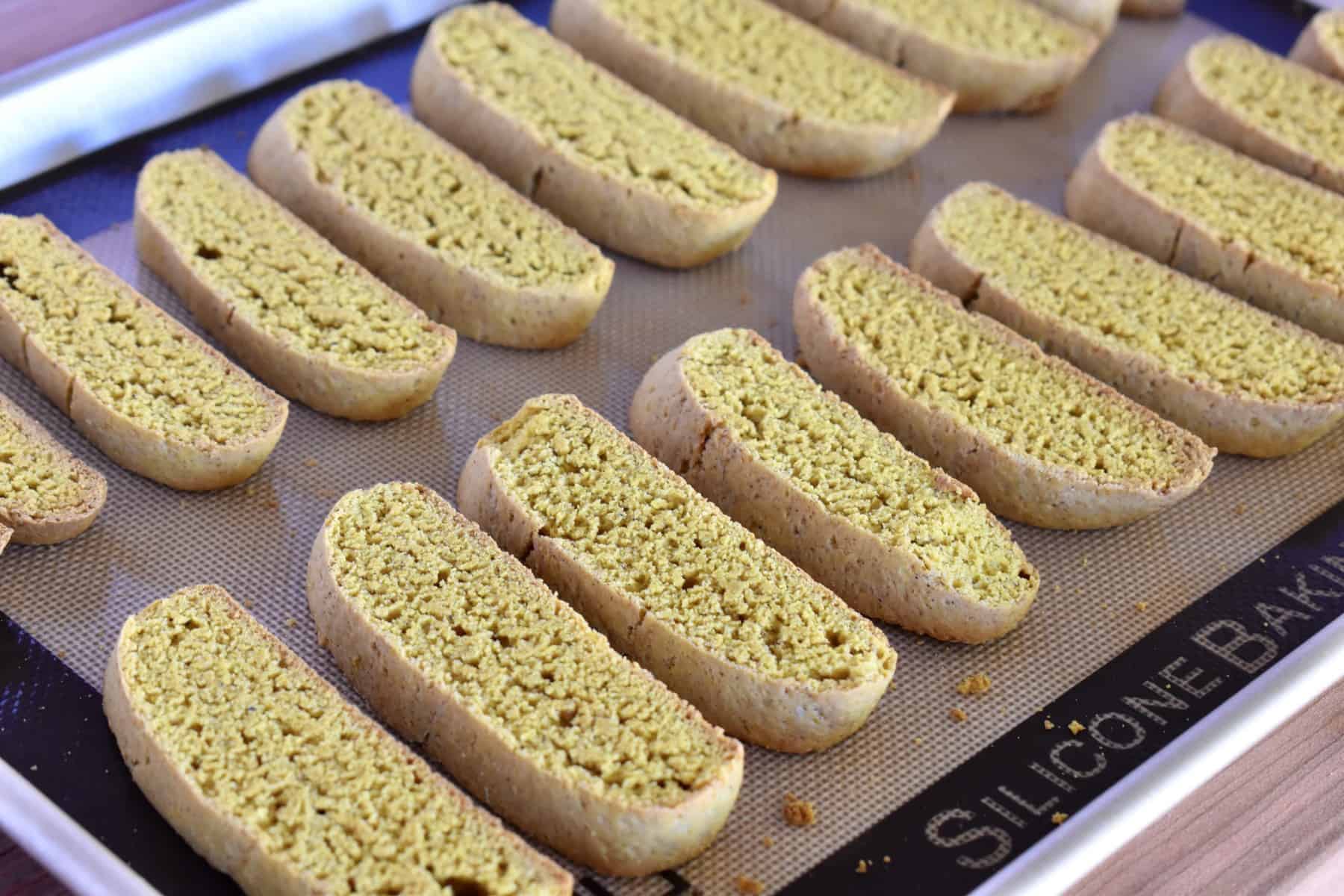 The longer you bake the biscotti, the harder they will get. However, if you like a more dry and crunchy biscotti, leave the cookies in for the full 25 minutes. Otherwise, 15 minutes should be sufficient. Let cool on baking rack completely before adding the white chocolate drizzle.
White Chocolate Drizzle for Pumpkin Biscotti
Once the biscotti have cooled completely, you can add a white chocolate drizzle. Not a white chocolate fan? These pumpkin biscotti are delicious with chocolate drizzle or no drizzle at all.
Keep the drizzle simple by melting a third of a cup of white chocolate chips in the microwave. The best way to do this is to place the chips in a small glass bowl. Then, microwave for about three minutes at 50% wattage, stopping to stir in 30 second increments.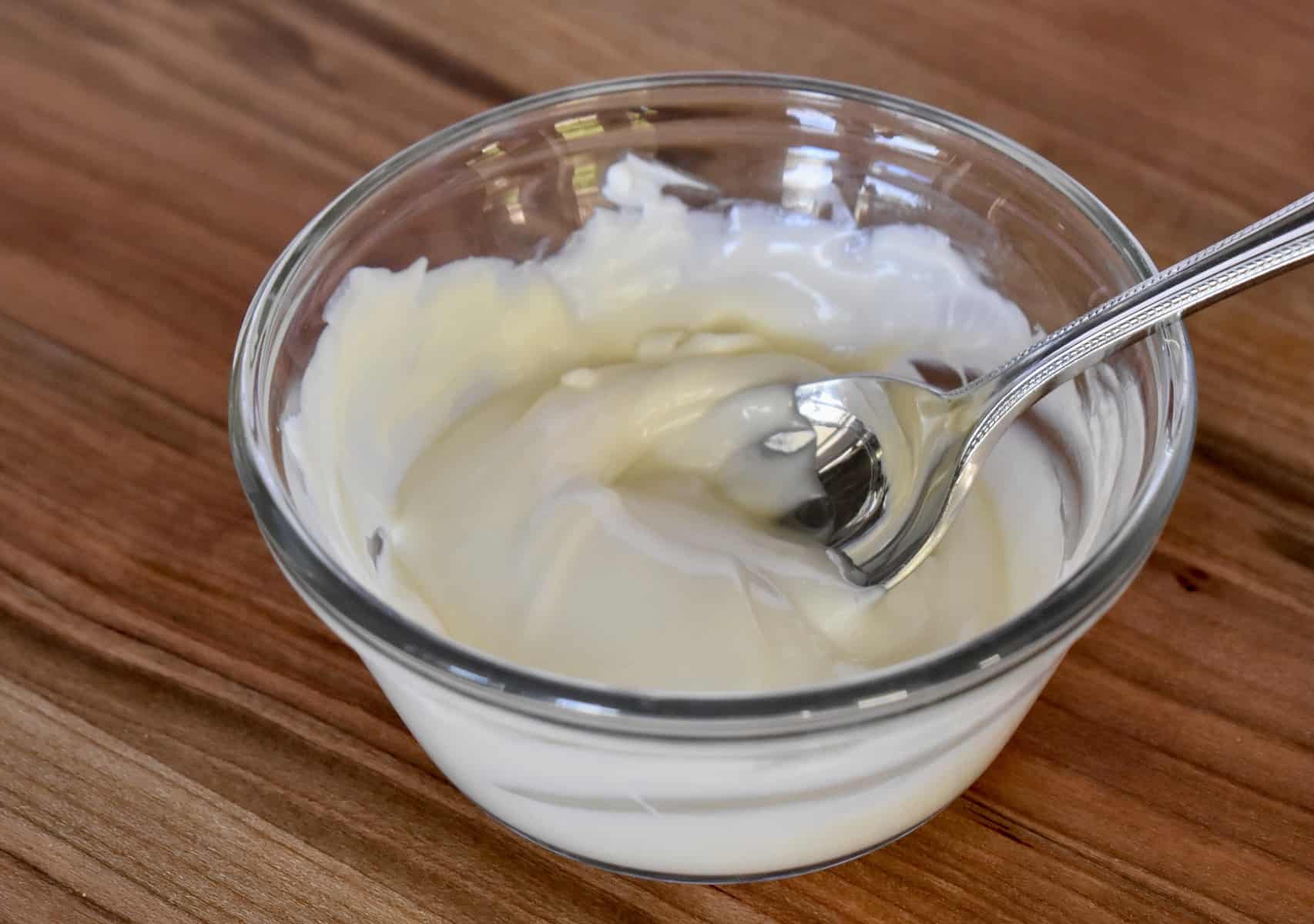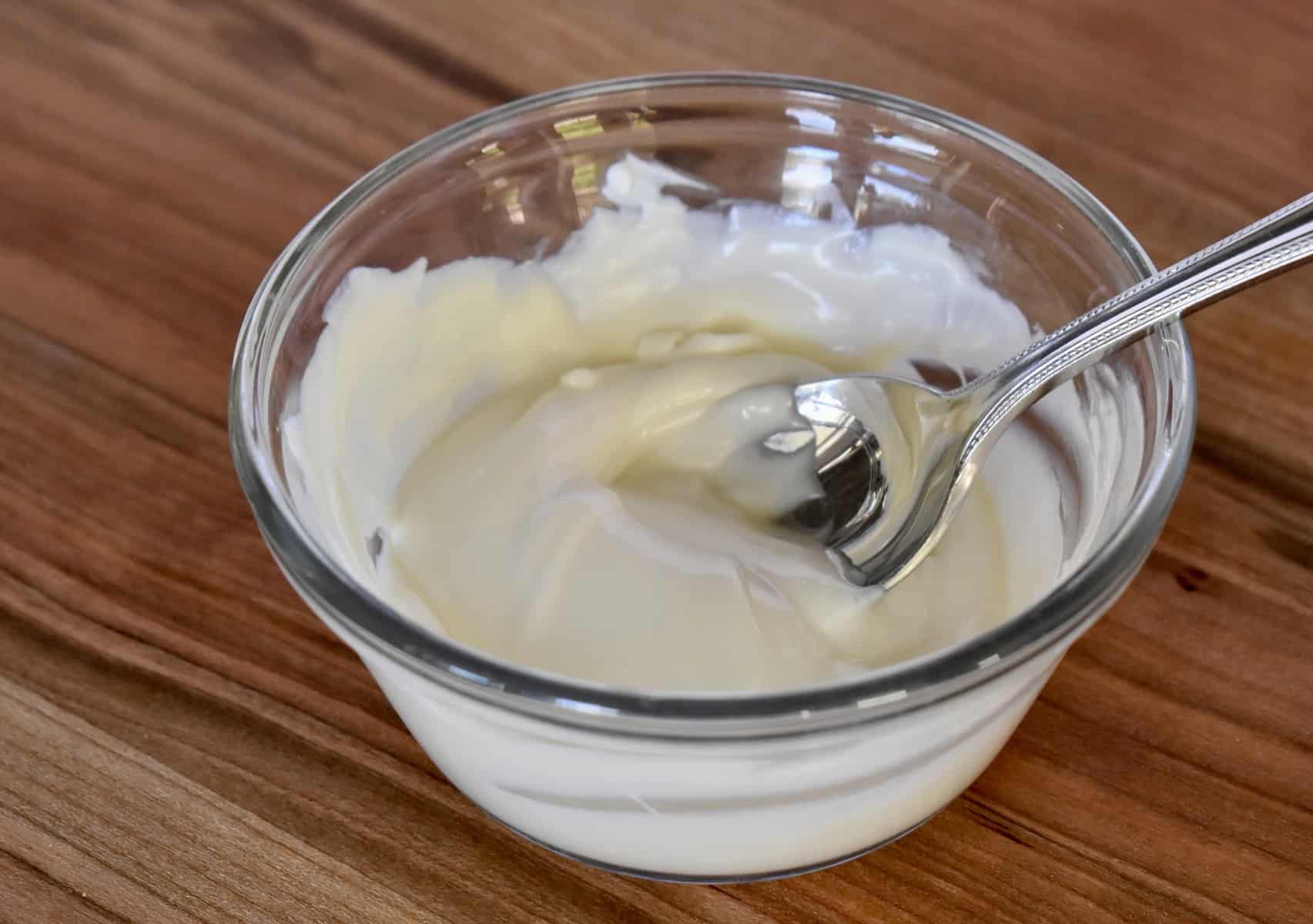 Once the white chocolate is melted, pour it into a small piping back or the corner of a ziplock sandwich bag. Then, snip off a small piece of the tip of the bag and drizzle in a back and forth motion over the cooled pumpkin biscotti.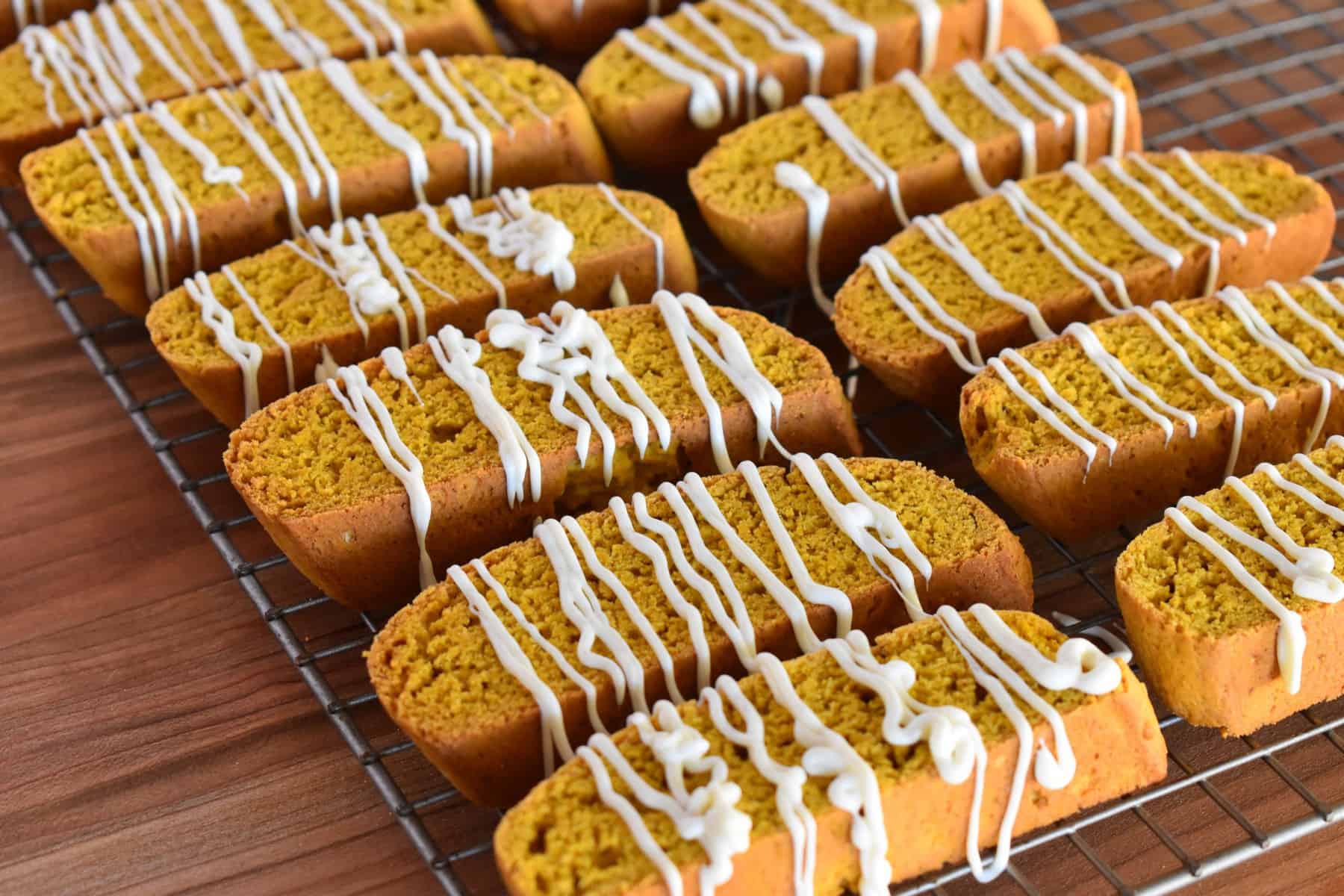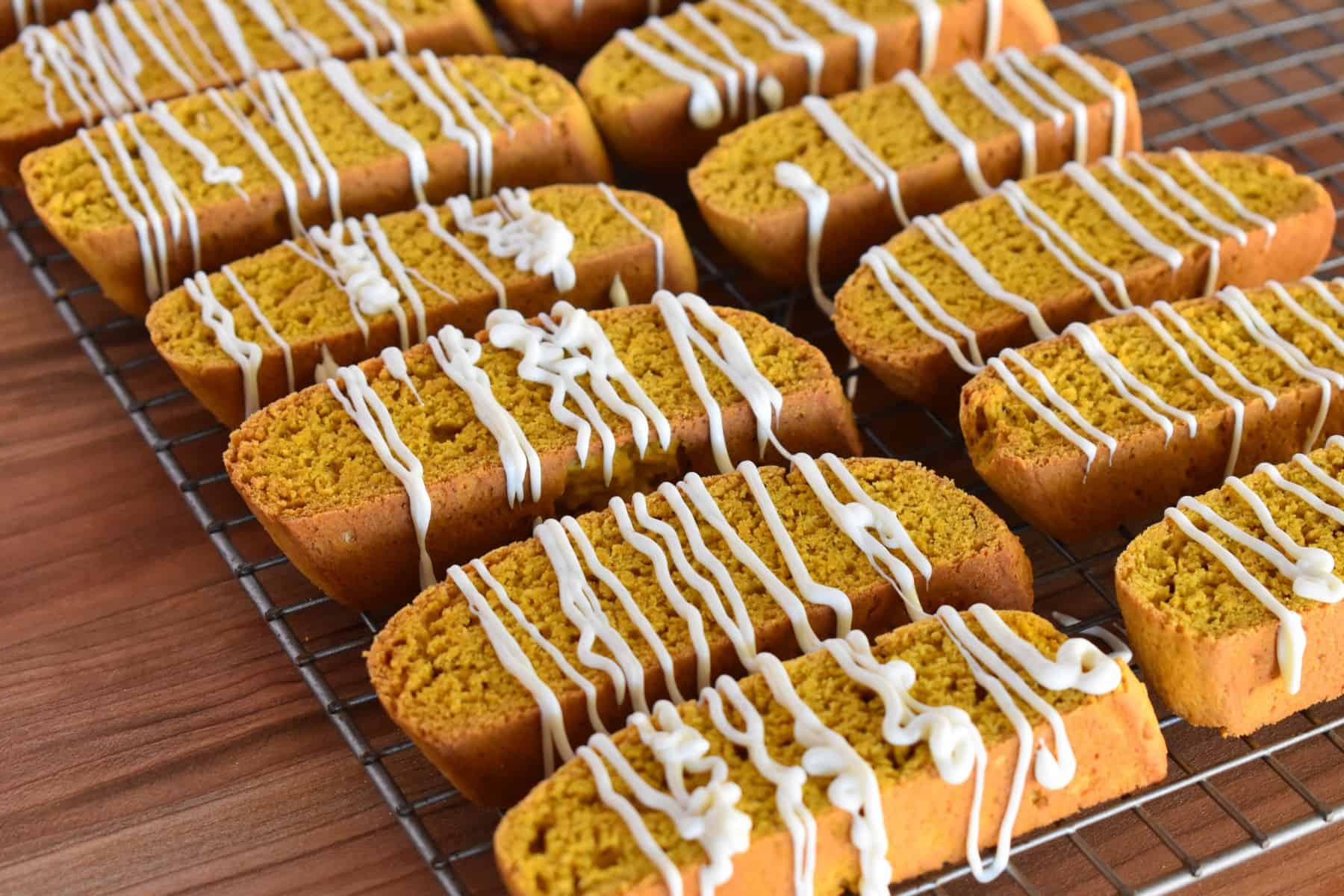 Let the white chocolate harden completely before moving the biscotti and storing them.
How to store pumpkin biscotti
Allow the biscotti to dry completely before storing. Then, move to a large airtight container separating the layers of biscotti with wax or parchment paper.
You can store biscotti on the counter for up to a week. They will keep longer in the refrigerator and even long in the freezer. Just be sure you are using an airtight container for storage.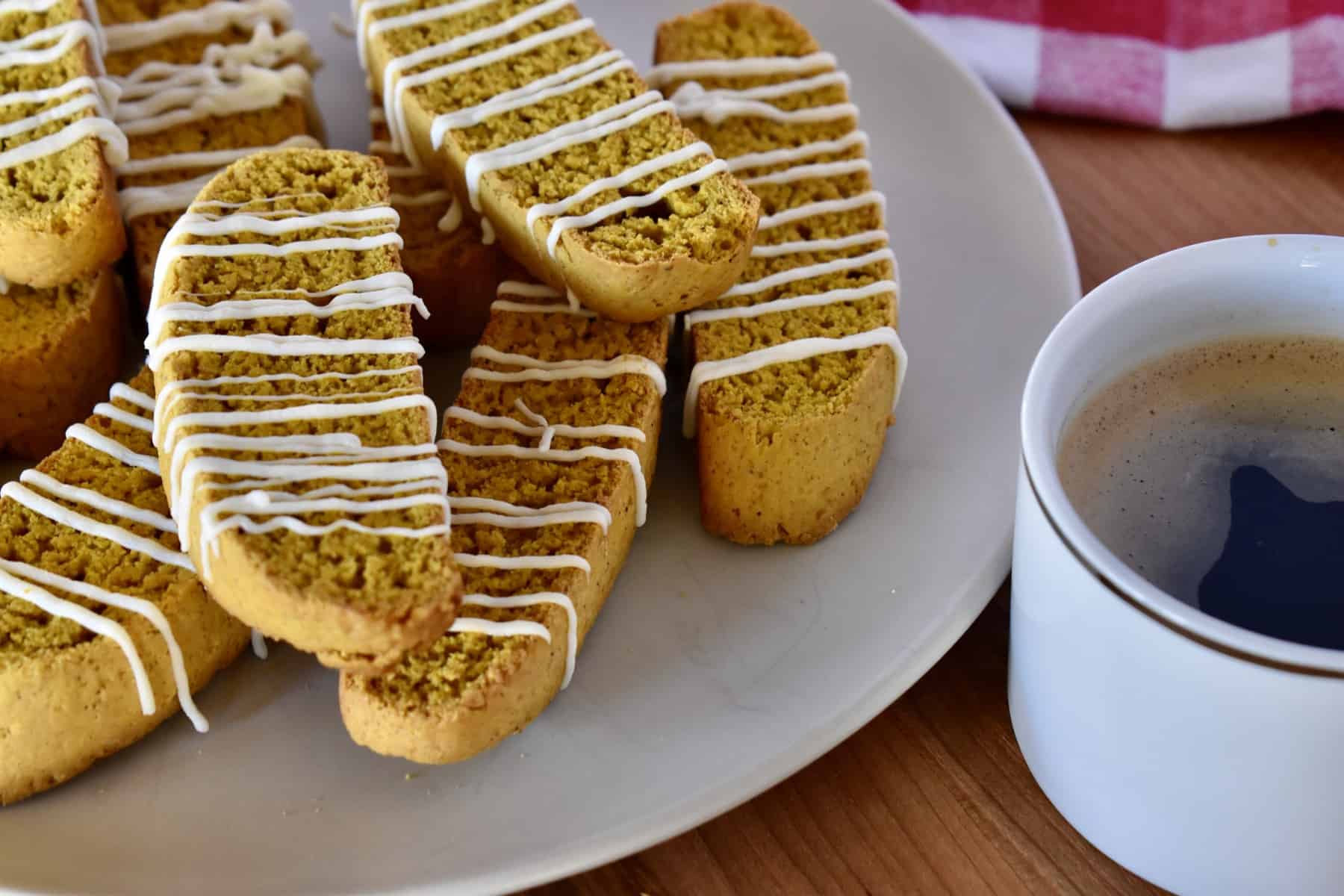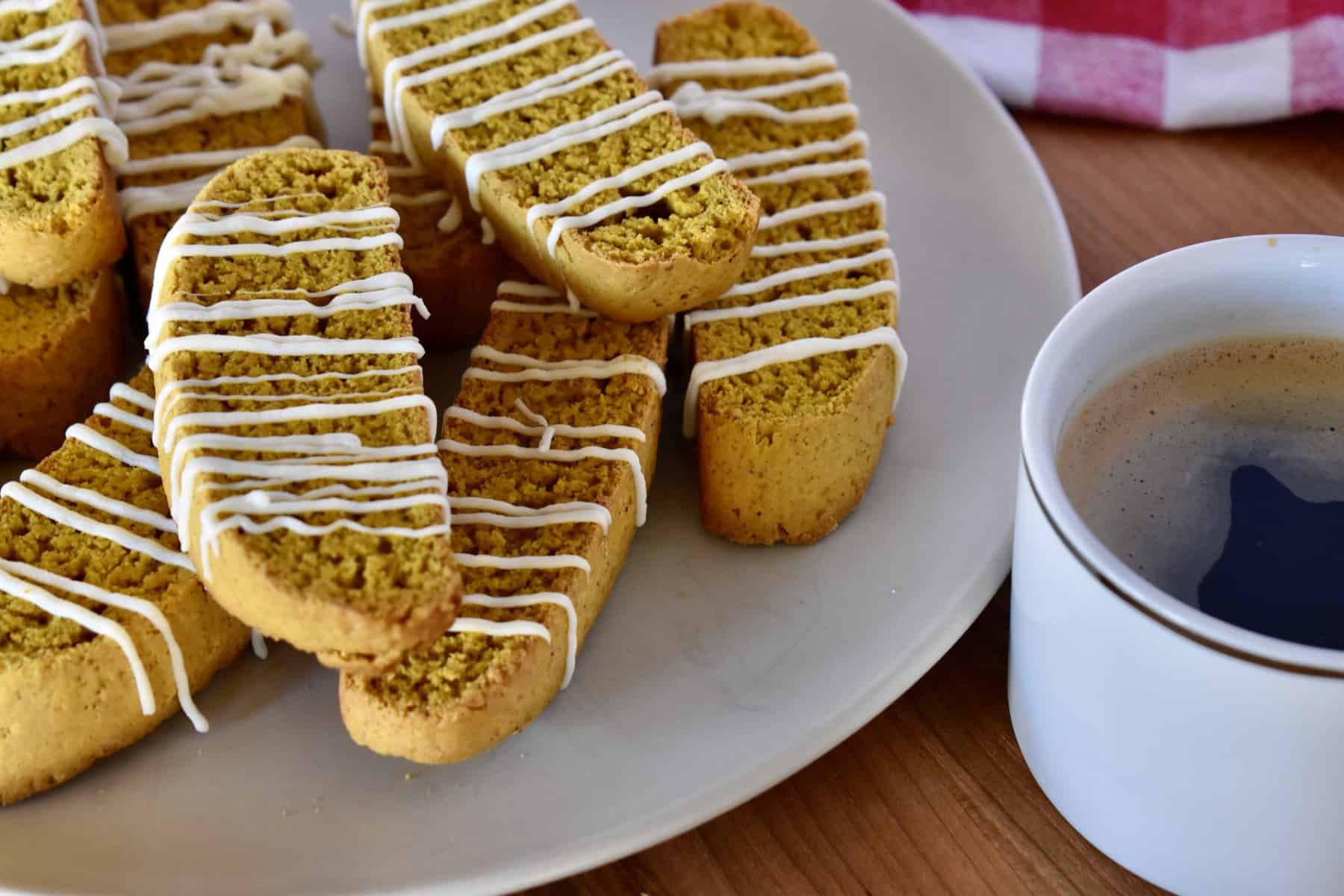 If you love pumpkin flavored snacks with white chocolate, be sure to try my Pumpkin Spice Energy Balls. For another delicious biscotti treat, don't miss these Cranberry Almond Biscotti.
More Pumpkin Desserts!
When it comes to fall baking, I'm all about the pumpkin desserts. Here are some of my absolute favorite pumpkin desserts that I know you are going to love too:
Pumpkin Muffins with Brown Sugar Topping
Ginger Pumpkin Cupcakes with Cream Cheese Icing
Pumpkin Pie Bars with Pecan Crumble Topping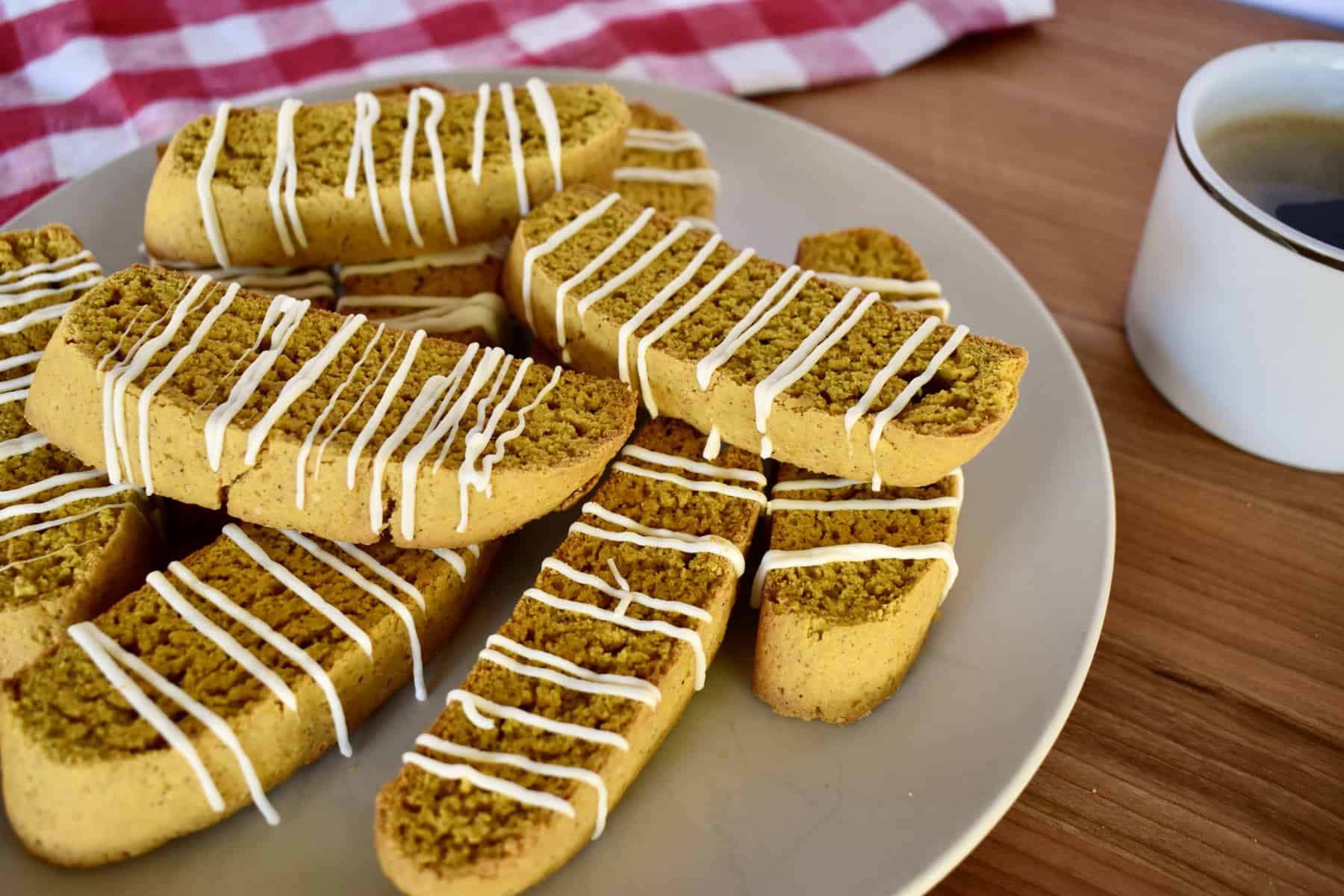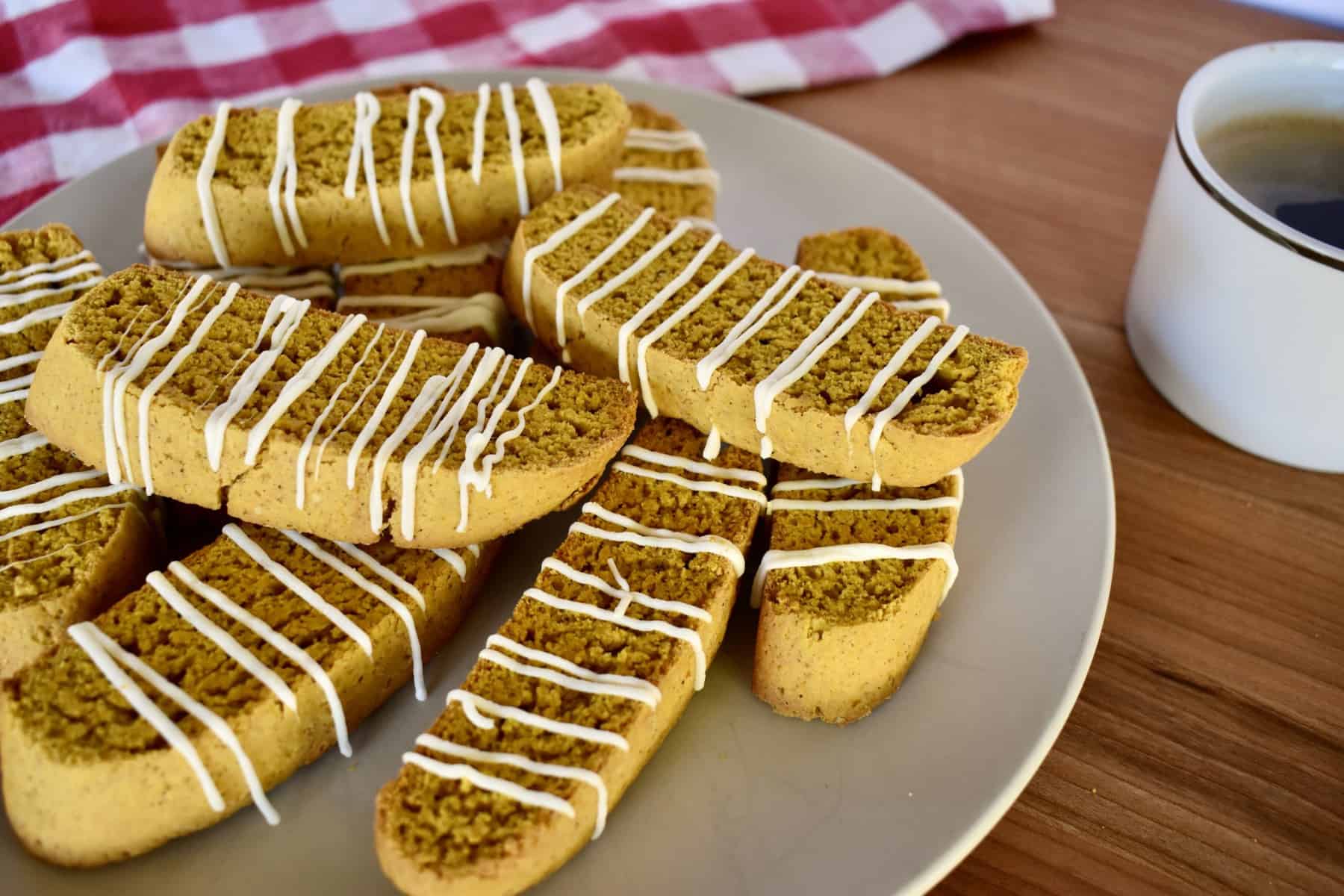 I hope you love this recipe for Pumpkin Biscotti with White Chocolate Drizzle! Be sure to comment below if you try them. Enjoy!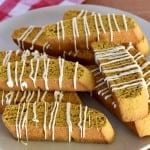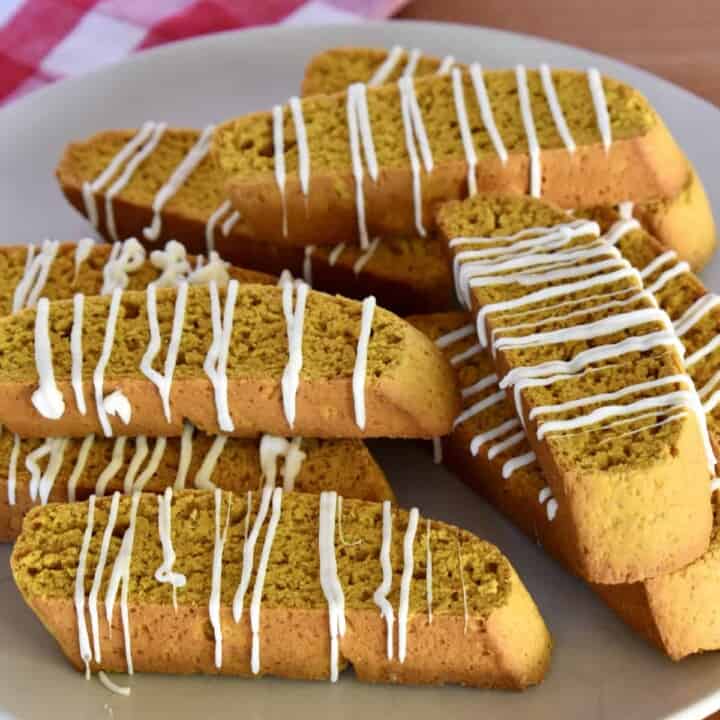 Print Recipe
Pumpkin Biscotti
Classic biscotti with a fun fall twist! These pumpkin biscotti are surprisingly easy to make. Drizzled with white chocolate, these biscotti are a great cookie for dunking in your coffee.
Equipment
baking sheet

serrated knife
Ingredients
¾

cup

sugar

4

tablespoons

unsalted butter, softened

(half a stick)

½

cup

pumpkin puree

1

large

egg

2

teaspoons

cinnamon

1 ½

teaspoons

baking powder

1

teaspoon

vanilla

1

teaspoon

nutmeg

½

teaspoon

ground ginger

½

teaspoon

salt

2 ¼

cups

all purpose flour

⅓

cup

white chocolate chips
Instructions
Preheat oven to 350 degrees. Line a baking sheet with either parchment or a nonstick baking pad; set aside.

In a large bowl, use a handheld mixer to beat together the butter and sugar until light and fluffy, about 2 minutes. Mix in the pumpkin, egg, cinnamon, baking powder, vanilla, nutmeg, ginger, and salt until well combined. Add in the flour and mix until a dough forms.

Scoop the dough onto prepared baking sheet. Divide the dough in half and shape it into two 10" x 2½" logs. Use your hands to press the logs into long rectangles and smooth evenly. Bake biscotti dough for 25 minutes.

Remove the biscotti logs from the oven and let rest on baking sheet for 5 minutes. Then, using a serrated knife, cut the logs either diagonally or crosswise into ½" to ¾" slices.

Lay the biscotti flat on the prepared baking sheet. Return biscotti to the oven and bake for 15-25 minutes more, until they start to turn golden brown on the edges. (The longer you bake, the crunchier your biscotti will be). Remove from oven and let cool on wire rack.

Place the white chocolate in a small microwave safe bowl. Microwave for 3-4 minutes on 50% power until the chocolate is melted; stopping to stir every 30 seconds. Transfer the chocolate to a small piping bag (or ziplock bag) and drizzle over the cooled biscotti. Let chocolate set before serving.
Notes
Pumpkin Biscotti can be stored at room temperature in an airtight container for up to a week. Or you can store them in the refrigerator or freeze for up to three months. 
Nutrition
Calories:
120
kcal
|
Carbohydrates:
21
g
|
Protein:
2
g
|
Fat:
3
g
|
Saturated Fat:
2
g
|
Polyunsaturated Fat:
0.2
g
|
Monounsaturated Fat:
1
g
|
Trans Fat:
0.1
g
|
Cholesterol:
7
mg
|
Sodium:
94
mg
|
Potassium:
39
mg
|
Fiber:
1
g
|
Sugar:
10
g
|
Vitamin A:
1025
IU
|
Vitamin C:
0.3
mg
|
Calcium:
30
mg
|
Iron:
1
mg