Italian Almond Ricotta Cookies are easy to make and perfect for every occasion. Made with ricotta cheese, almond extract, and topped with a delicious glaze, this is sure to be your new favorite Italian cookie recipe.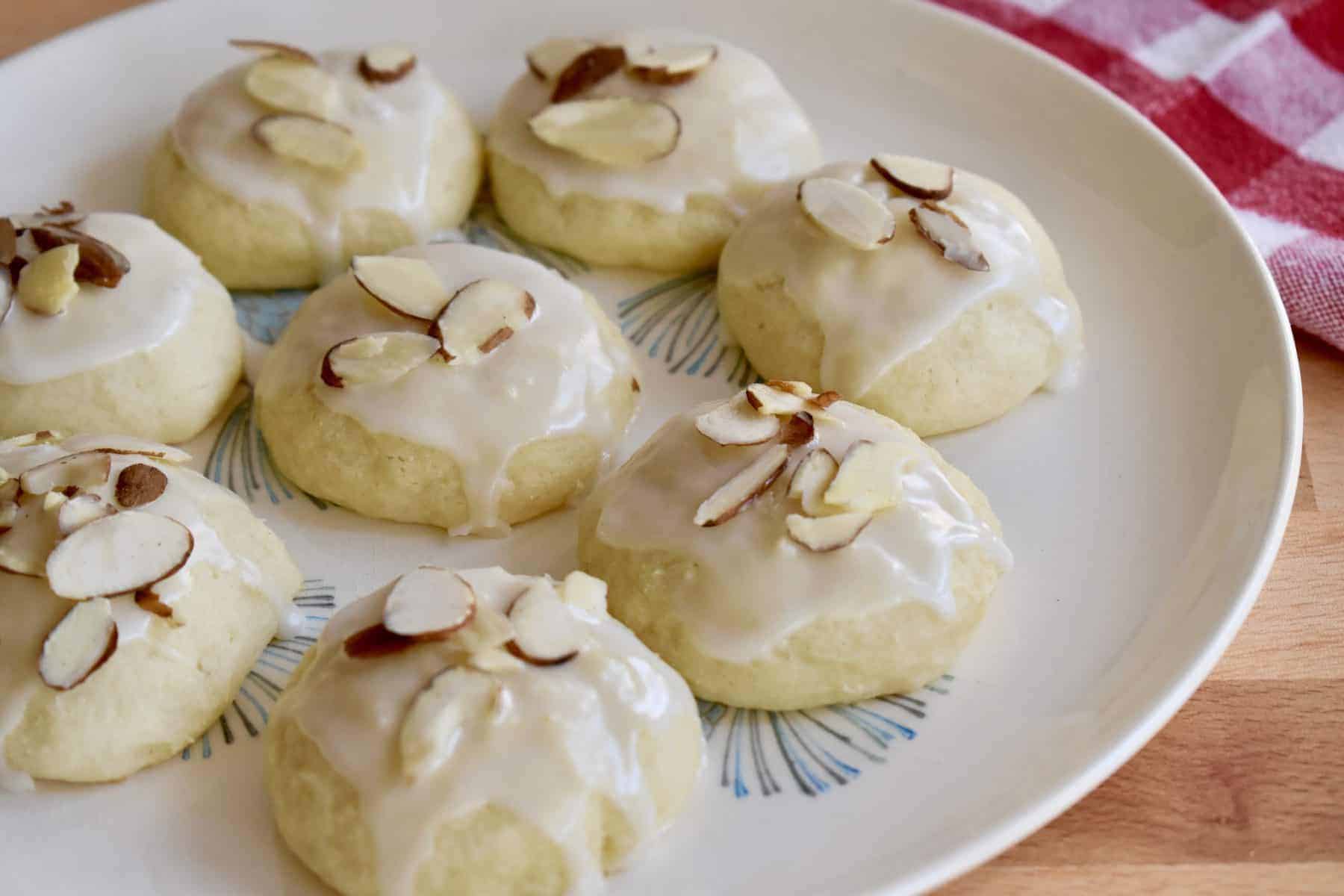 It's no secret that Italians love to cook with ricotta cheese. And for good reason! This delicious mild cheese adds a soft and velvety texture to everything you make with it.
These Italian Almond Ricotta cookies are a great recipe to try if you are just starting to bake with ricotta. The cheese adds both moisture and texture to the cookie, giving them a super soft finish.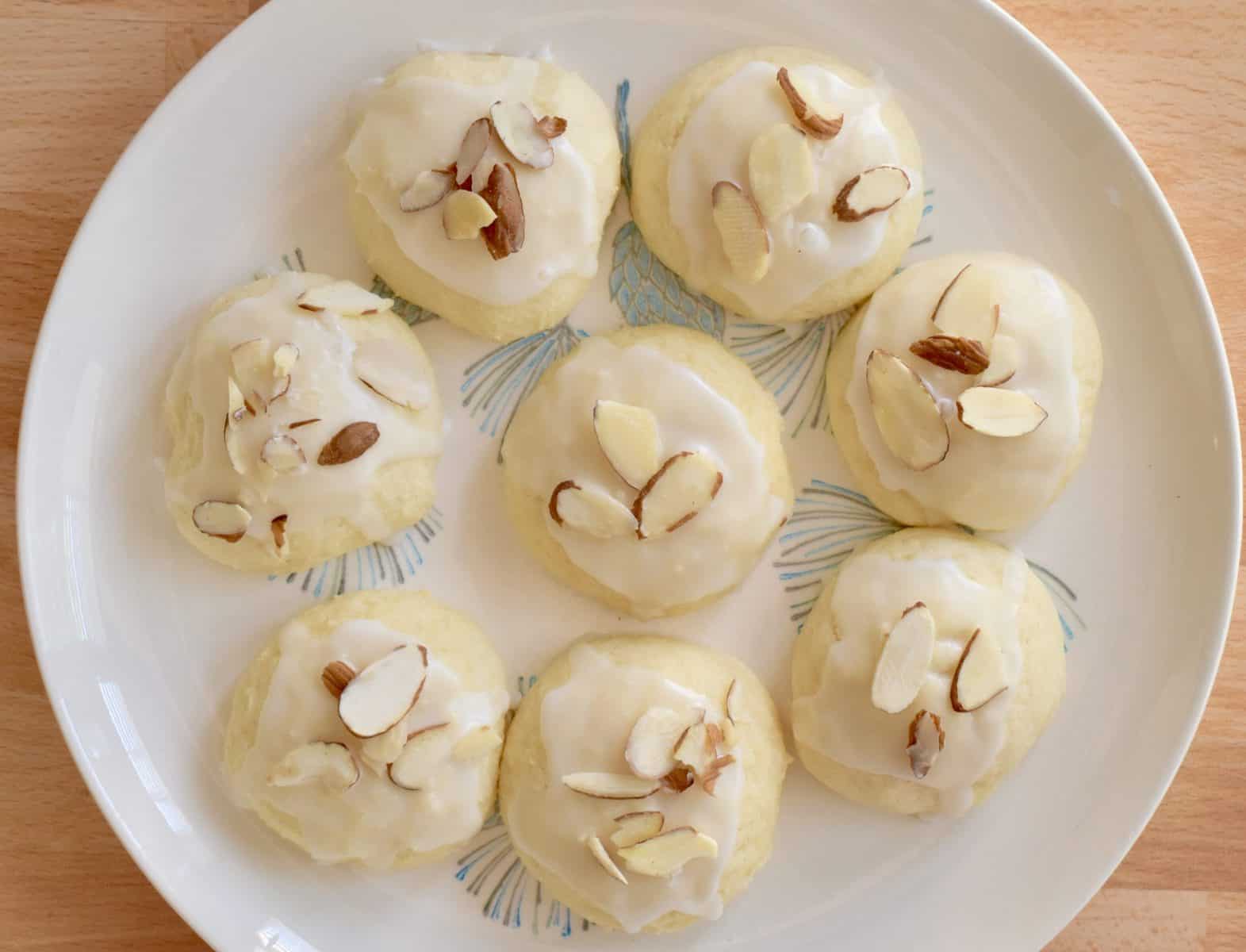 Almond Ricotta Cookies are great for any occasion. They are perfect for the holidays, but just as good served after dinner. I like to have some on hand in the freezer for snacking or for last minute guests.
What I love about these cookies is that they stay soft and flavorful even days after baking. I recommend storing the cookies in an airtight container in the refrigerator for up to a week, or you can freeze for up to a month.
For another classic Italian cookie, don't miss these Anise Cookies or Italian Wedding Cookies! And, for a simple three ingredient cake, try this Italian Walnut Cake recipe.
Baking with Ricotta
Italians love to bake with ricotta cheese. It gives baked goods a moist and fluffy texture, without adding a lot of extra fat. Here are some of my favorite ricotta baking recipes.
Italian Lemon Ricotta Cake is hands down a fan favorite recipe. This simple cake is made with lemons, ricotta, and a few pantry staples. Perfect for entertaining or just to have around for snacking.
Limoncello Ricotta Cookies are another fun ricotta cookie. This fluffy confection is perfect for cookie exchanges or if you are just looking for a slightly more grown up cookie.
Almond Ricotta Cake is another delicious Italian dessert. Perfect if you love that almond flavor, there are pieces of ground almonds sprinkled throughout.
There are many different recipes you can make with ricotta cheese. For baking purposes, you want to make sure that you are using whole milk ricotta cheese. Also, if using ricotta for a cake, be sure to beat the ricotta with a handheld mixer until it is light and fluffy.
And, if you're baking for the holidays, be sure to add these Cinnamon Sugar Blondies to your list! And definitely don't forget the Pumpkin Biscotti.
Italian Almond Ricotta Cookies
This simple recipe for Italian Almond Ricotta Cookies is sure to become your new favorite cookie recipe. Plus, it's simple to put together and yields about three dozen cookies... perfect for sharing!
To start, you want to make sure that you have enough time to chill the dough before baking it. I recommend refrigerating for at least two hours. You could even make the dough up to a day in advance before baking. In a pinch, you could bake without chilling the dough. For this, I would recommend using a small cookie scoop sprayed with cooking spray to handle the sticky dough.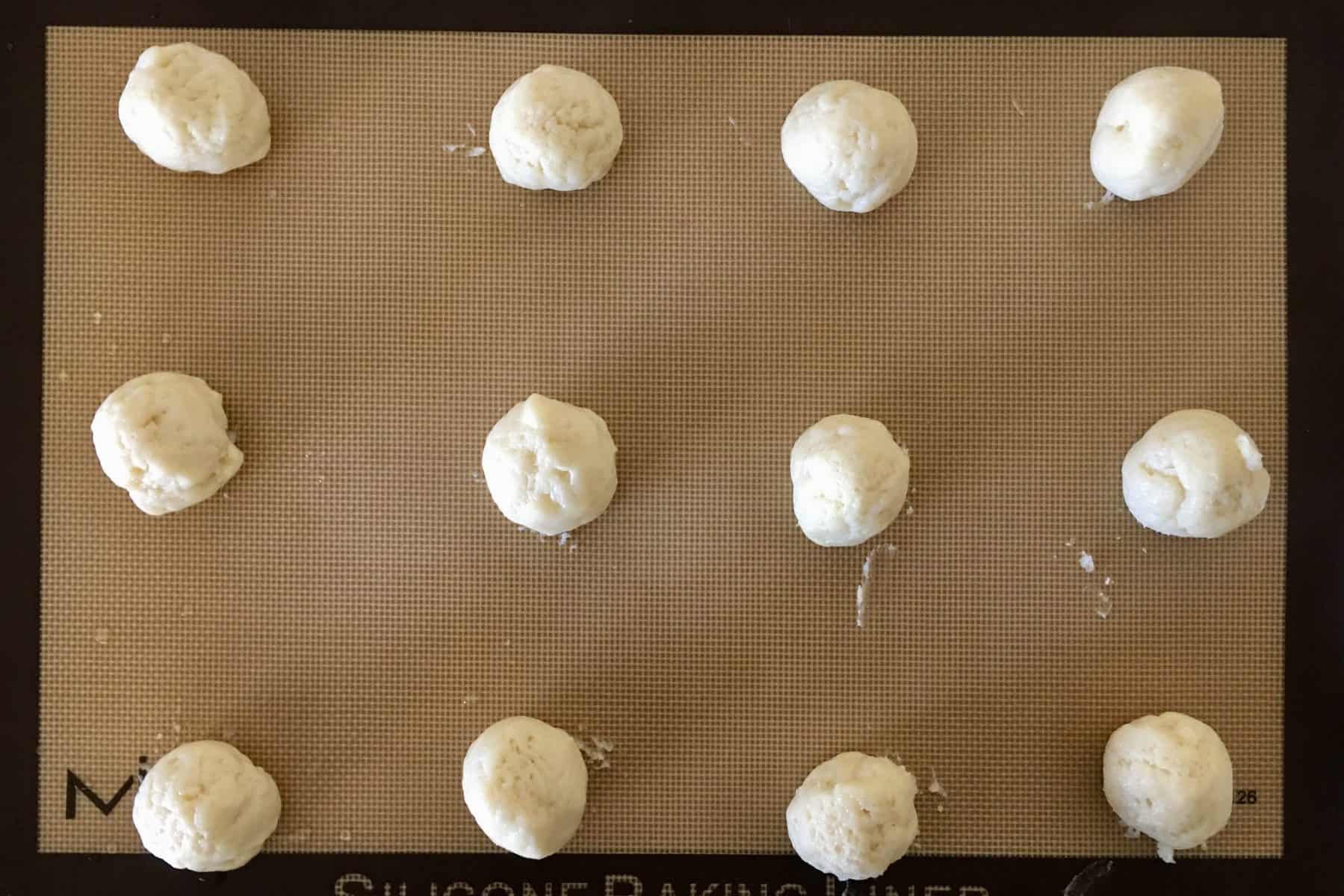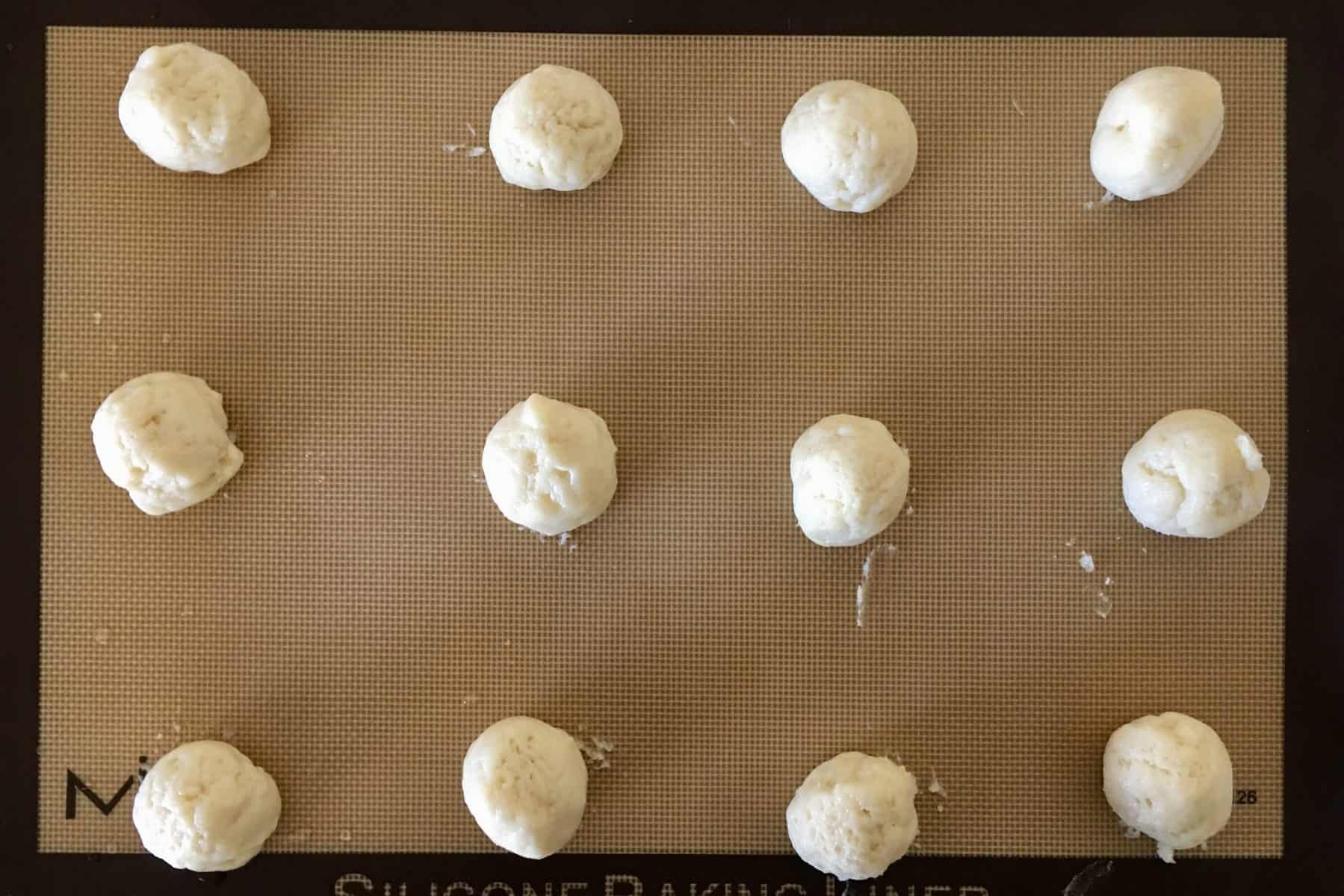 When baking, be sure to leave about 2-3 inches of space between each dough ball. Note that the baked cookies will not change much in color. Bake for about 12-14 minutes, or until the bottoms of the cookies are set and a slightly golden brown color.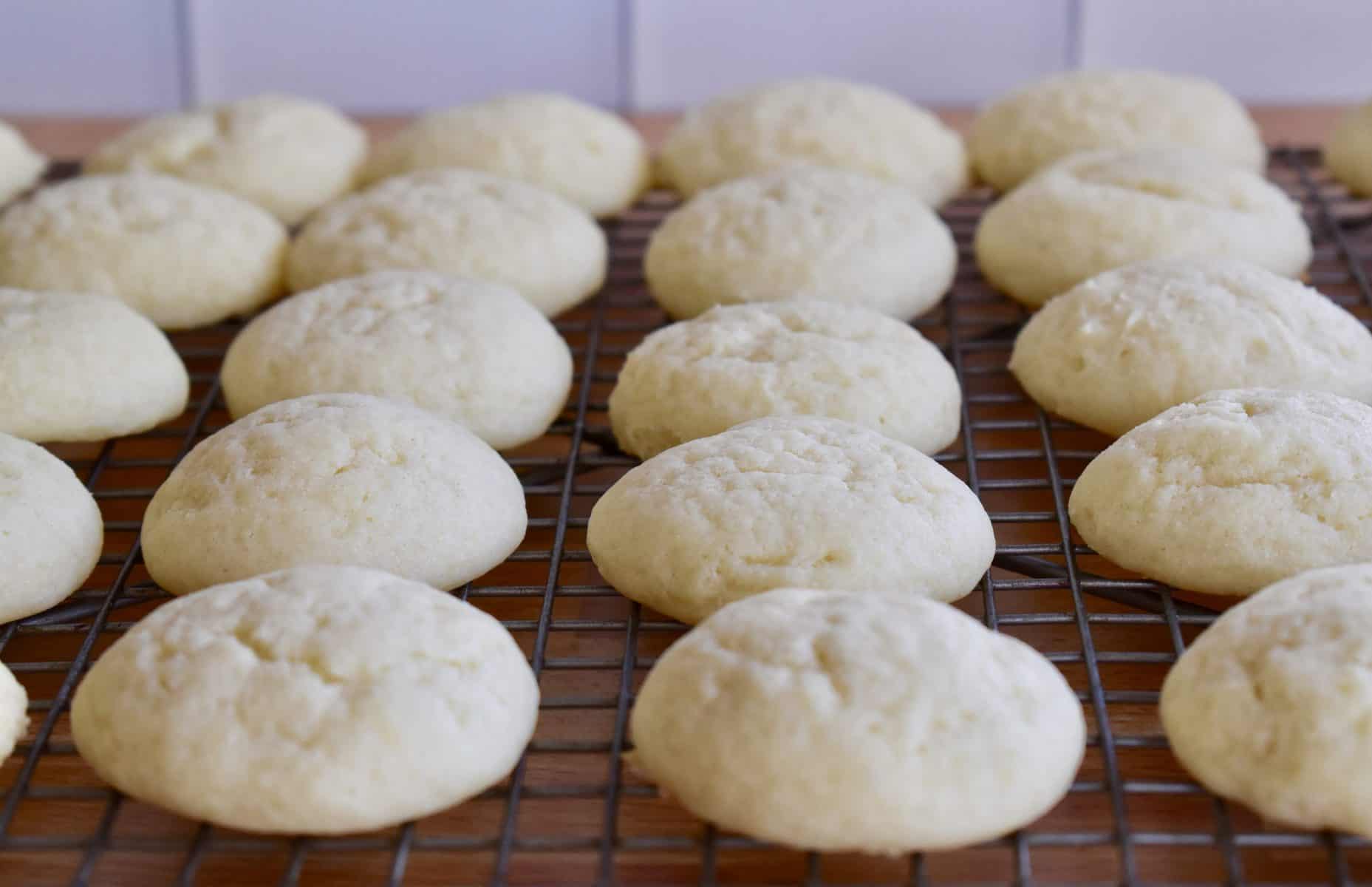 Once the cookies have cooled completely, you can add the glaze to the tops of the cookies. Additionally, you could bake ahead of time, refrigerate, and glaze before serving.
Simple Almond Cookie Glaze
The glaze for these Italian Almond Ricotta Cookies is super simple and only requires three ingredients: powdered sugar, milk, and almond extract. Moreover, you only need to flip and dip the cookie to glaze it.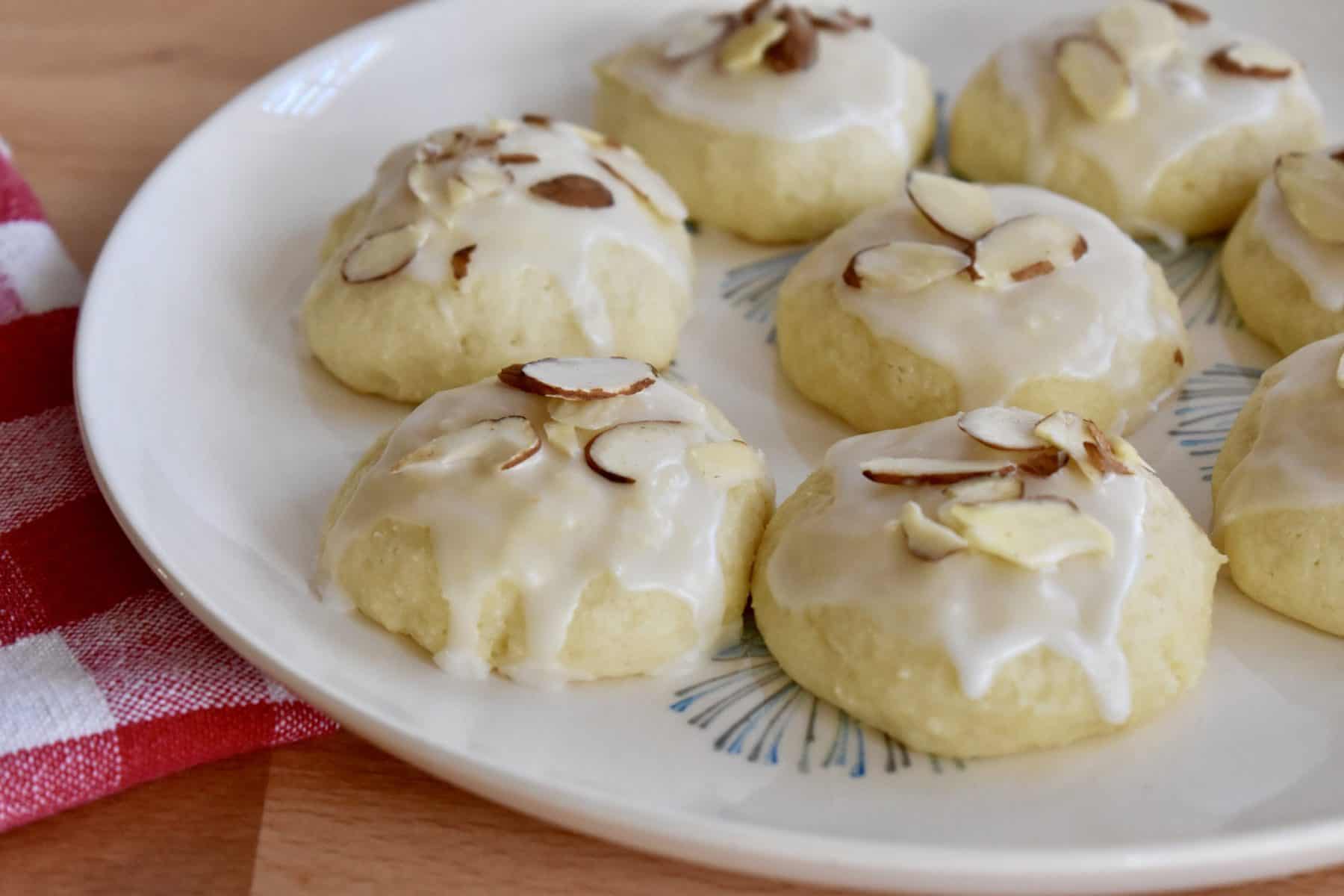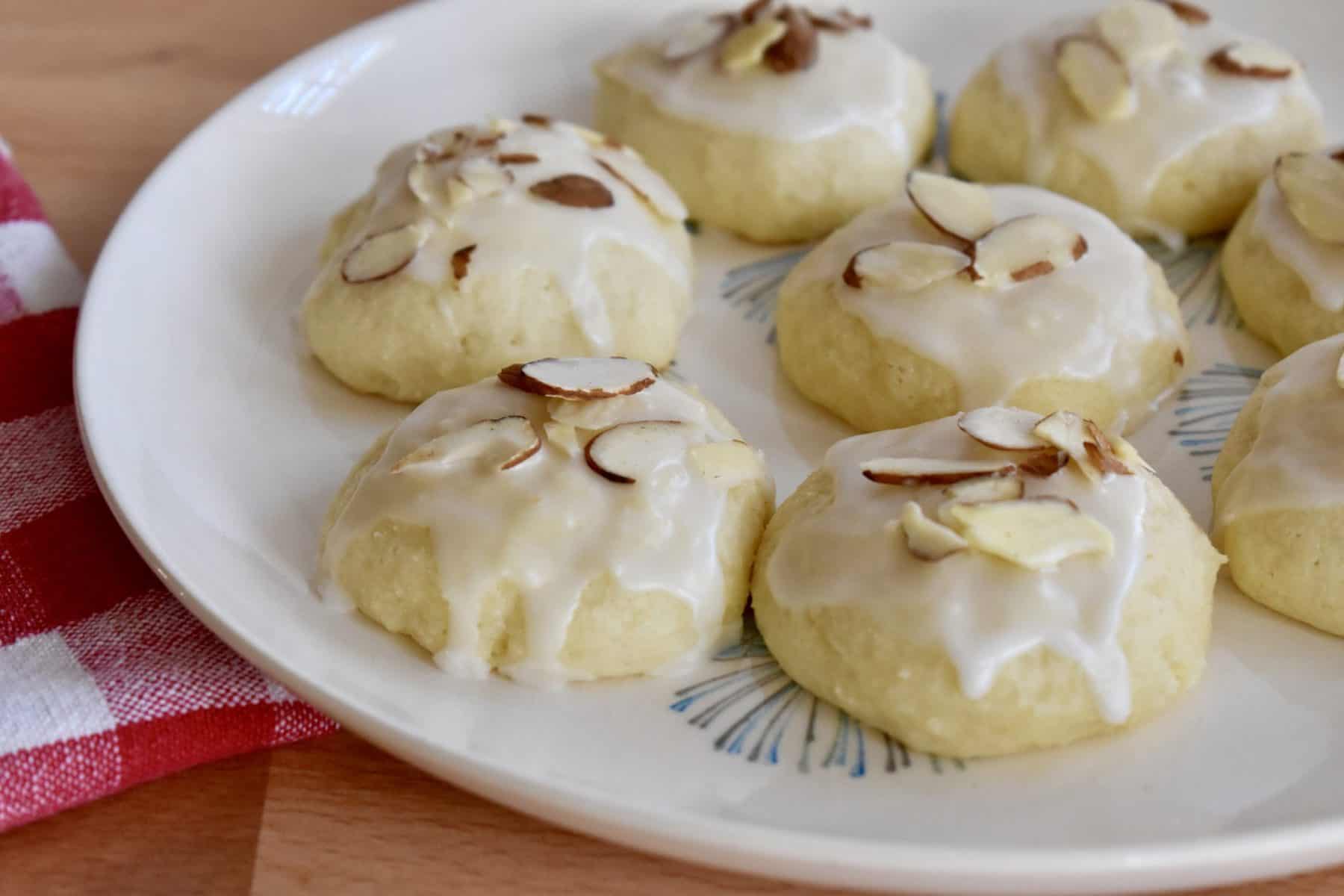 Lastly, if desired, top the finished cookie with sliced almonds for a pretty finish. Or you can use crushed or slivered almonds if you have them. And, for another delicious Italian Cookie with a simple glaze, don't miss my Taralli Dolci recipe!
Hope you love this recipe. Be sure to comment below if you try it. Enjoy!