This recipe for Italian Turkey Lasagna is simple, delicious, and so easy to make. Featuring ground turkey, no boil lasagna noodles, ricotta, and mozzarella, it's a great weeknight dinner that's tasty enough to entertain with.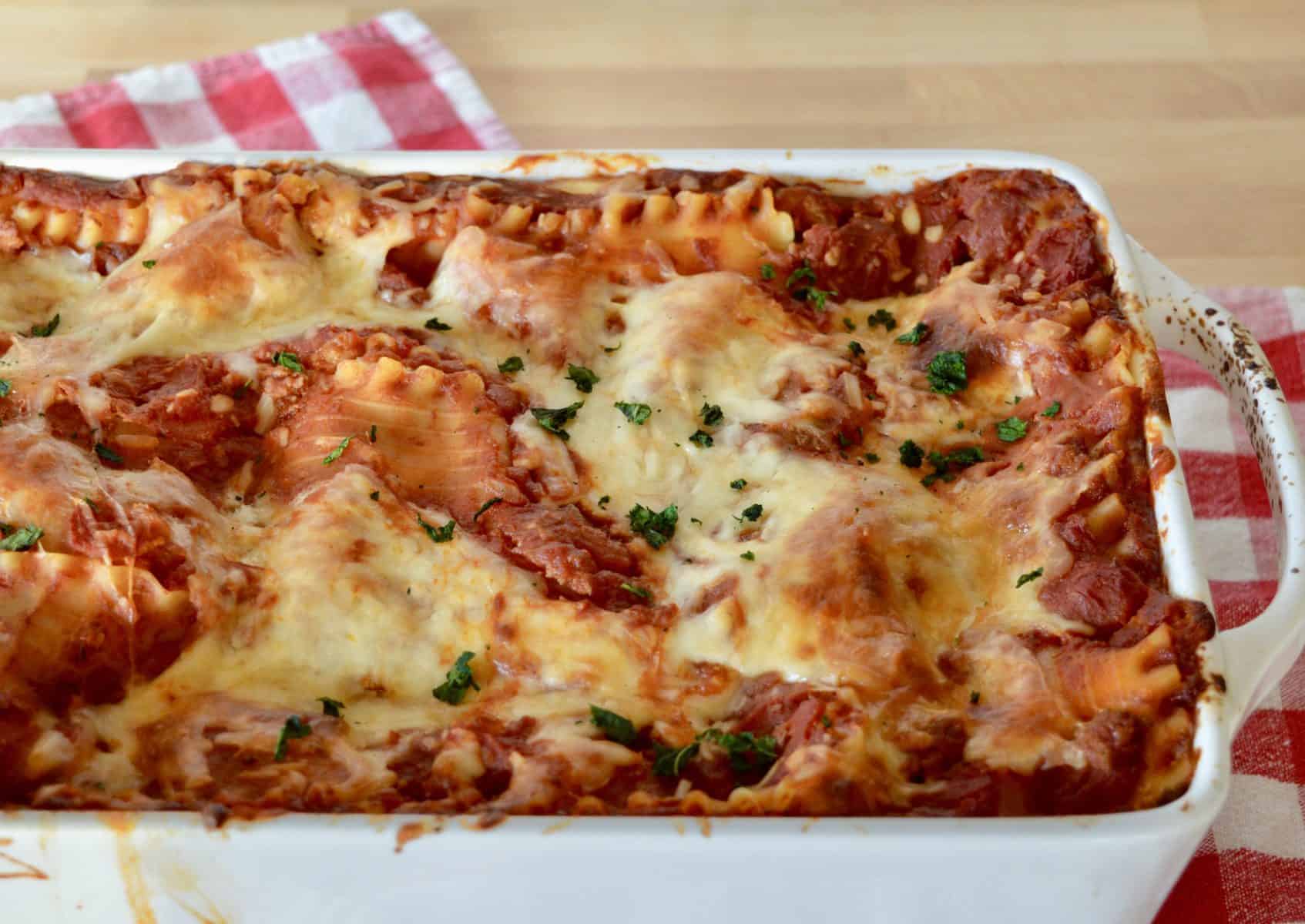 Ground turkey is a delicious healthy substitute for ground beef or pork in typical lasagna dishes. The meaty flavor gives all of the texture you love without all of the grease and fat.
This recipe for Italian Turkey Lasagna is guaranteed to be your new favorite way to make this classic Italian dish. Plus, it's easy to make from scratch and only takes minutes to put together.
With all of the delicious lasagna flavors you love, this recipe features ricotta, parmesan, a meaty sauce, and so much cheese! It's the ultimate comfort food.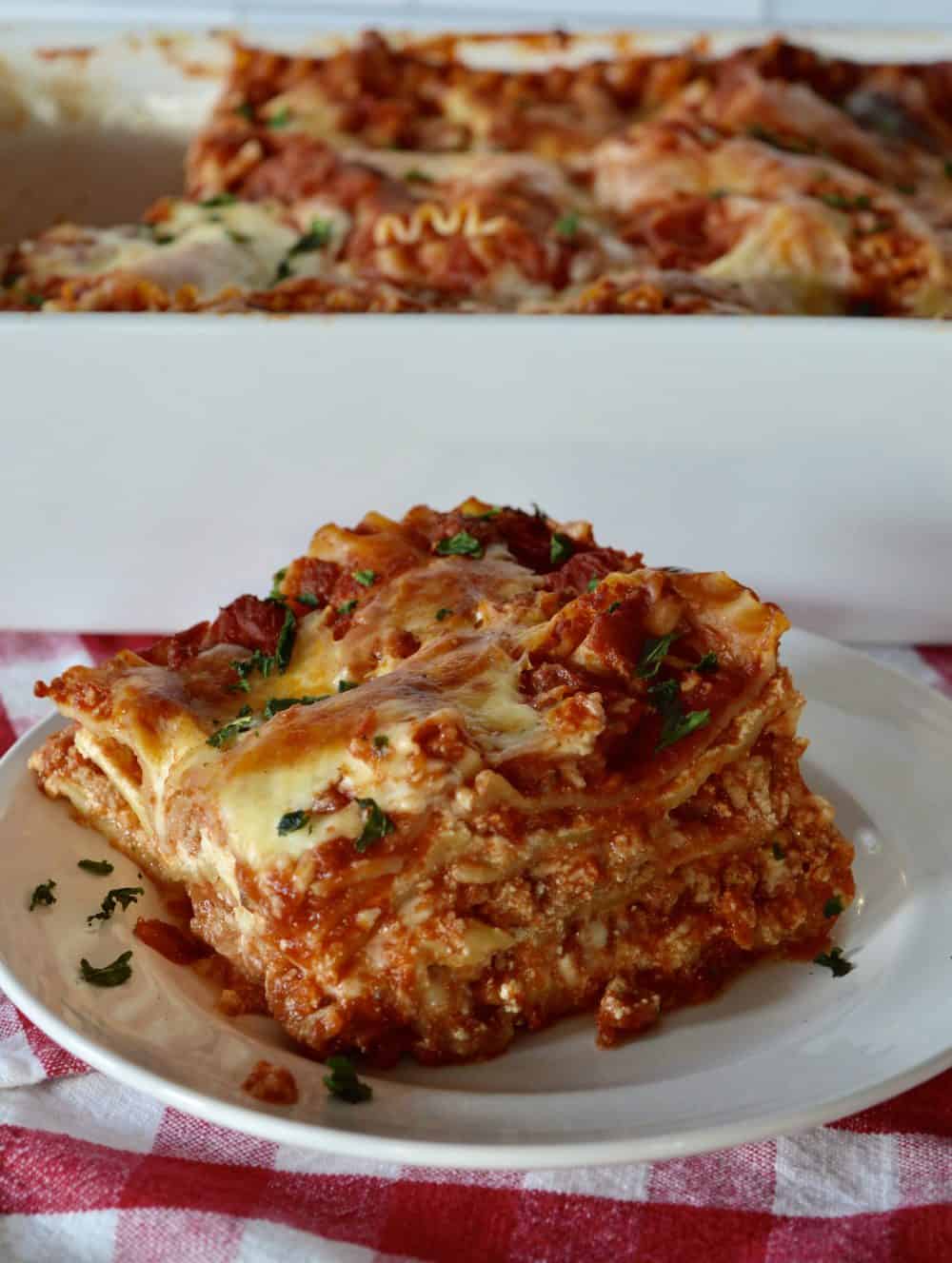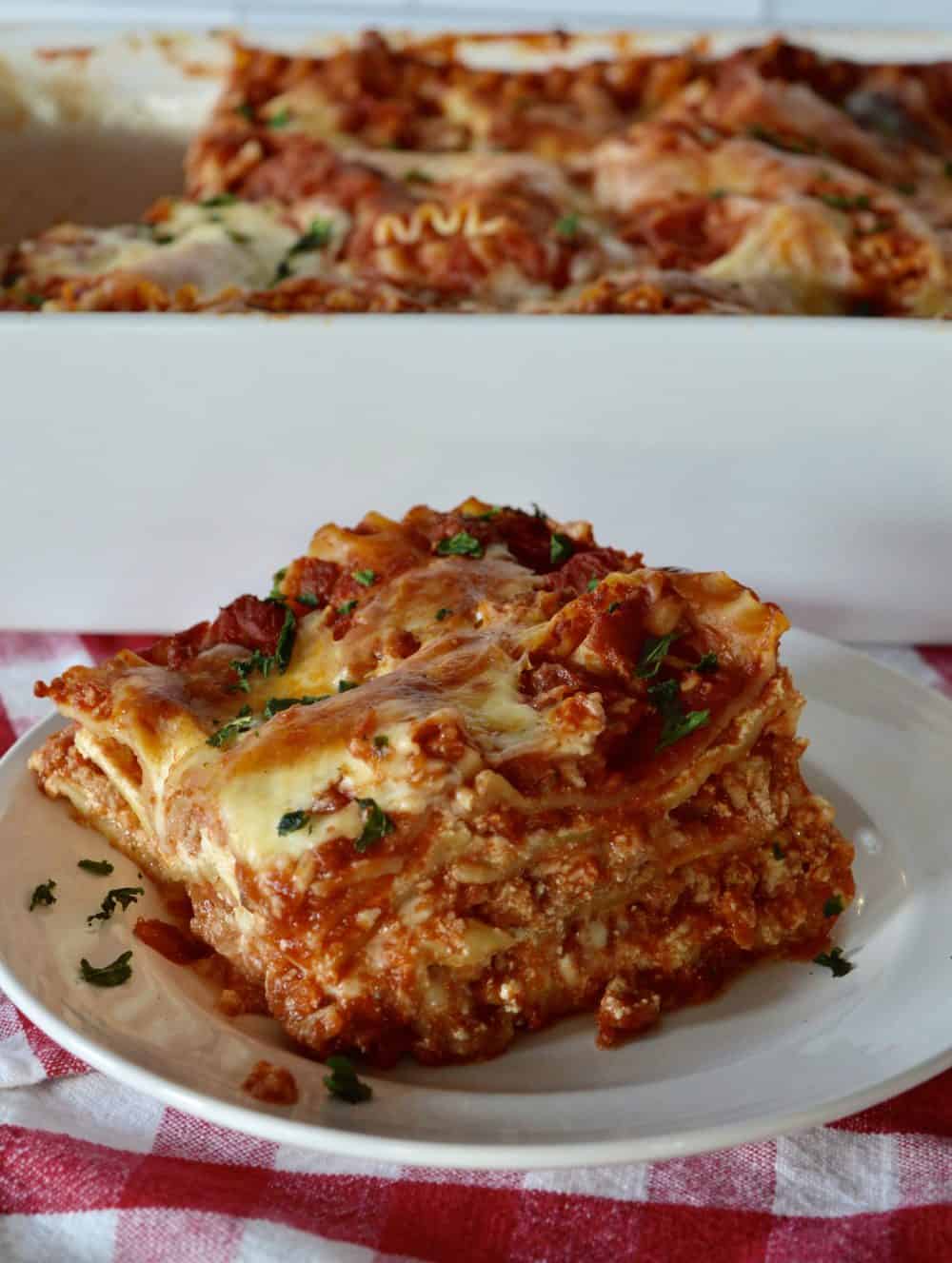 You can assemble this dish in less than 30 minutes and bake immediately, or refrigerate and bake later. Read on for how to make the BEST ground turkey lasagna recipe out there!
How to Make a Healthier Lasagna
There are many ways to cut calories and boost protein in your lasagna recipe. With only 379 calories per serving, this Italian Turkey Lasagna recipe is lower in fat and calories than most classic lasagna recipes.
Here are some more great ways to reduce calories when making lasagna:
Substitute lean ground meat for traditional beef or pork. Using ground chicken or turkey is a great way to cut calories while keeping the texture.
Add veggies to your sauce. In this Easy Vegetable Lasagna recipe, the veggies are pureed into the sauce, so you'd never even know they are there. Great trick for getting kids to eat more vegetables too.
Substitute cottage cheese for ricotta cheese. A good way to do this and keep the ricotta texture you love is by pureeing the cottage cheese in a food processor. Additionally, you could use part-skim ricotta or do half ricotta, half cottage cheese.
Use thinly sliced zucchini in place of traditional lasagna noodles. This is a great trick to cut calories and carbs from your recipe.
Half the amount of mozzarella in the recipe. You'll find by doing this you really don't miss the cheese at all. As long as you don't omit the cheese altogether.
And, if you just have to have the traditional lasagna, pair it with a healthy side or starter salad like this Italian Tomato Onion Salad. You may find that half a portion of lasagne is sufficient if you have a hearty salad to begin with.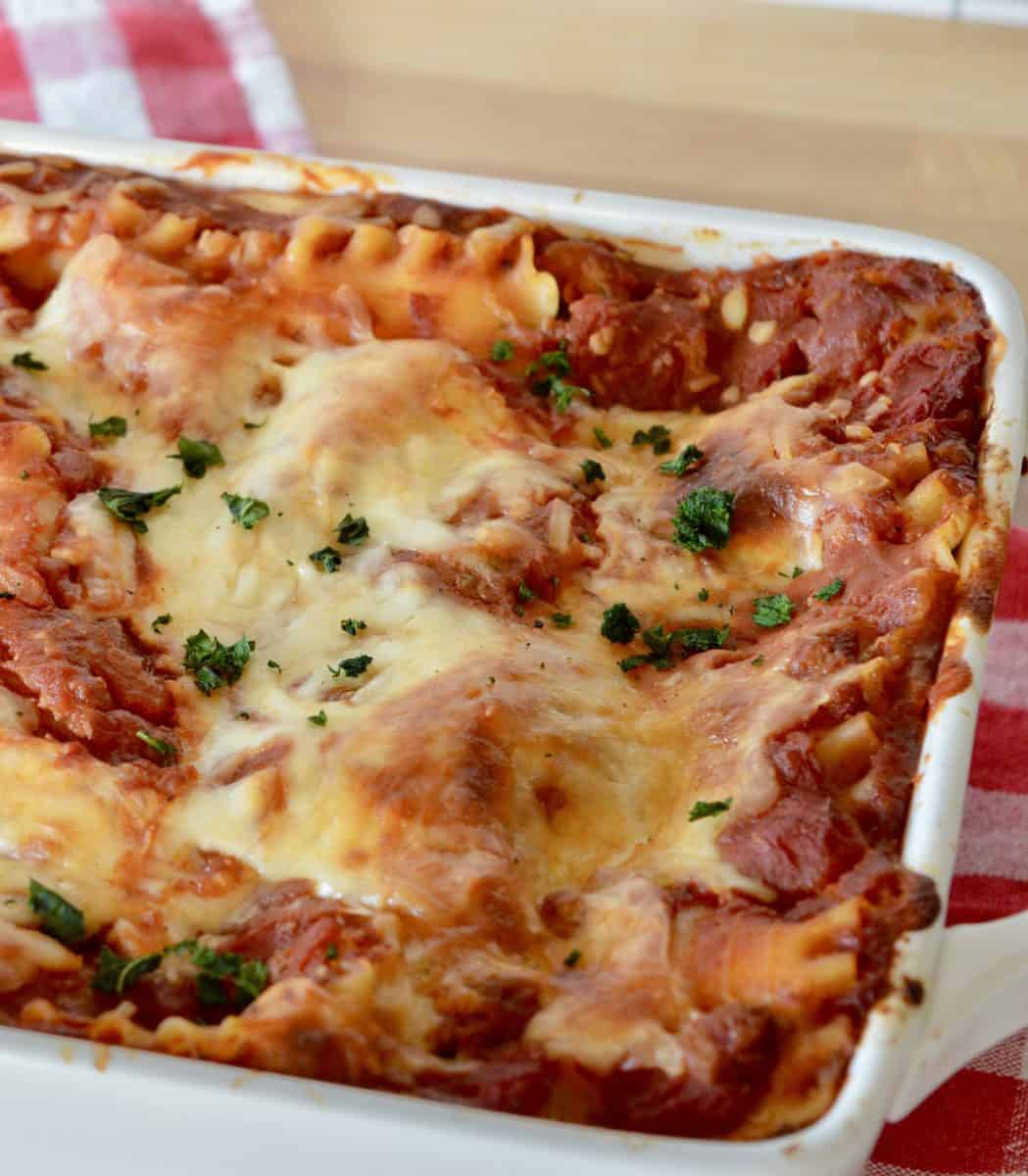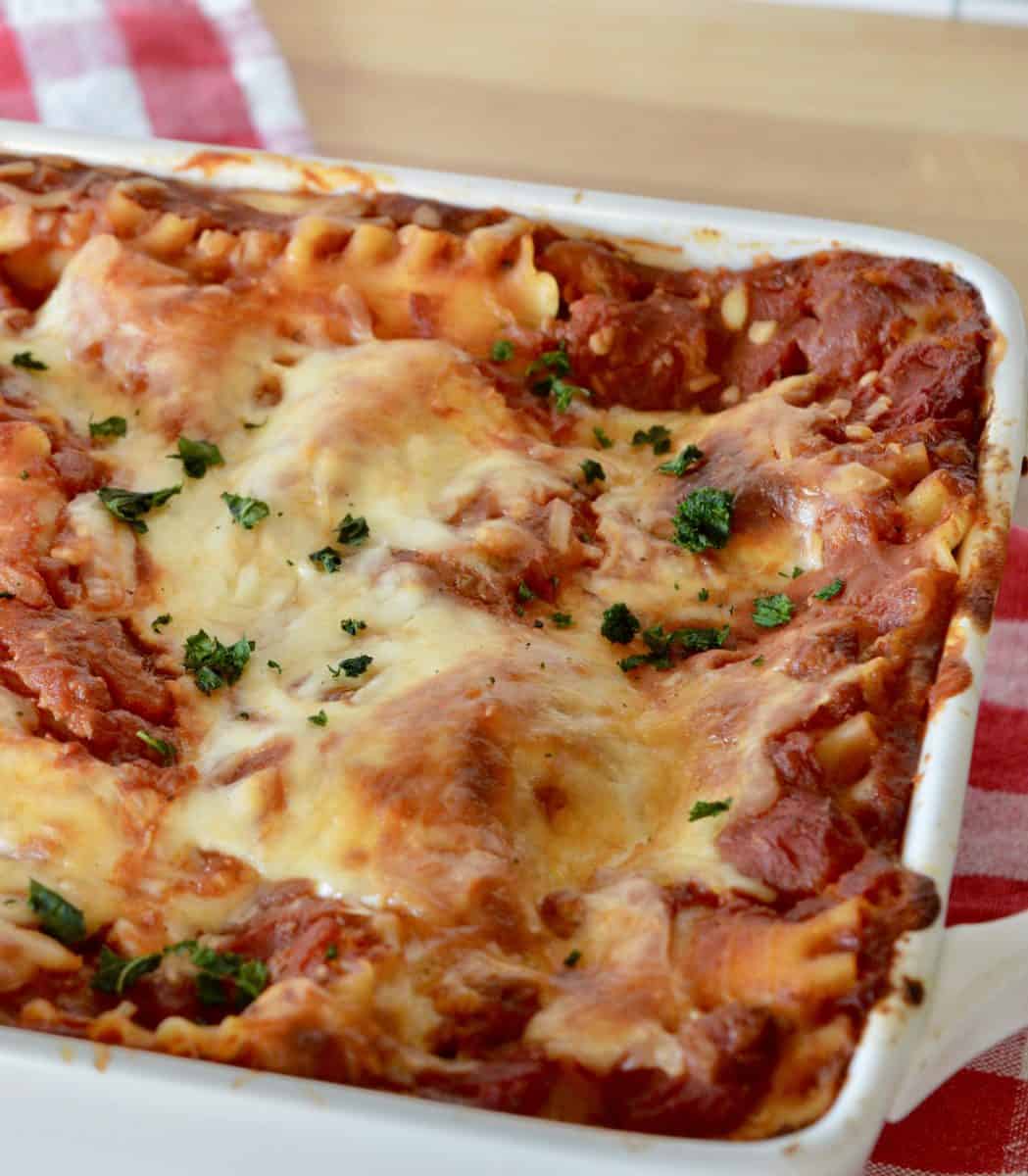 Are No Boil Lasagna Noodles Tasty?
They can be! No boil lasagna noodles have really come along way since their inception. Initially, these noodles were gummy and just didn't taste good. However, these noodles are much better now and truly make lasagna so much easier to put together.
After trying various different types of no-boil noodles, here are the best oven-ready lasagna noodles:
If you only have traditional noodles on hand, you can still use them for this Italian Turkey Lasagne recipe. Just cook until al dente and build the lasagna as usual.
Another tip for easily cooking lasagna noodles is to place the noodles in a large baking dish or casserole dish. Pour boiling water over the noodles, cover, and let sit for 10 minutes. Carefully drain and you'll find that you have perfectly al dente noodles for your lasagna.
So no more getting out that huge pot and waiting for water to boil for lasagna noodles. Give the no-boil noodles a shot and you will be pleasantly surprised.
Italian Turkey Lasagna Recipe
The key to making this recipe easy is to gather all of the ingredient and assemble the components ahead of time. The ground turkey lasagna consists of four layer components:
Ground turkey meat sauce
Shredded mozzarella
No-bake lasagna noodles
Once you have all of these prepared, assembling the Italian turkey lasagna is easy. It's just a matter of layering and repeating until you reach the top of the pan.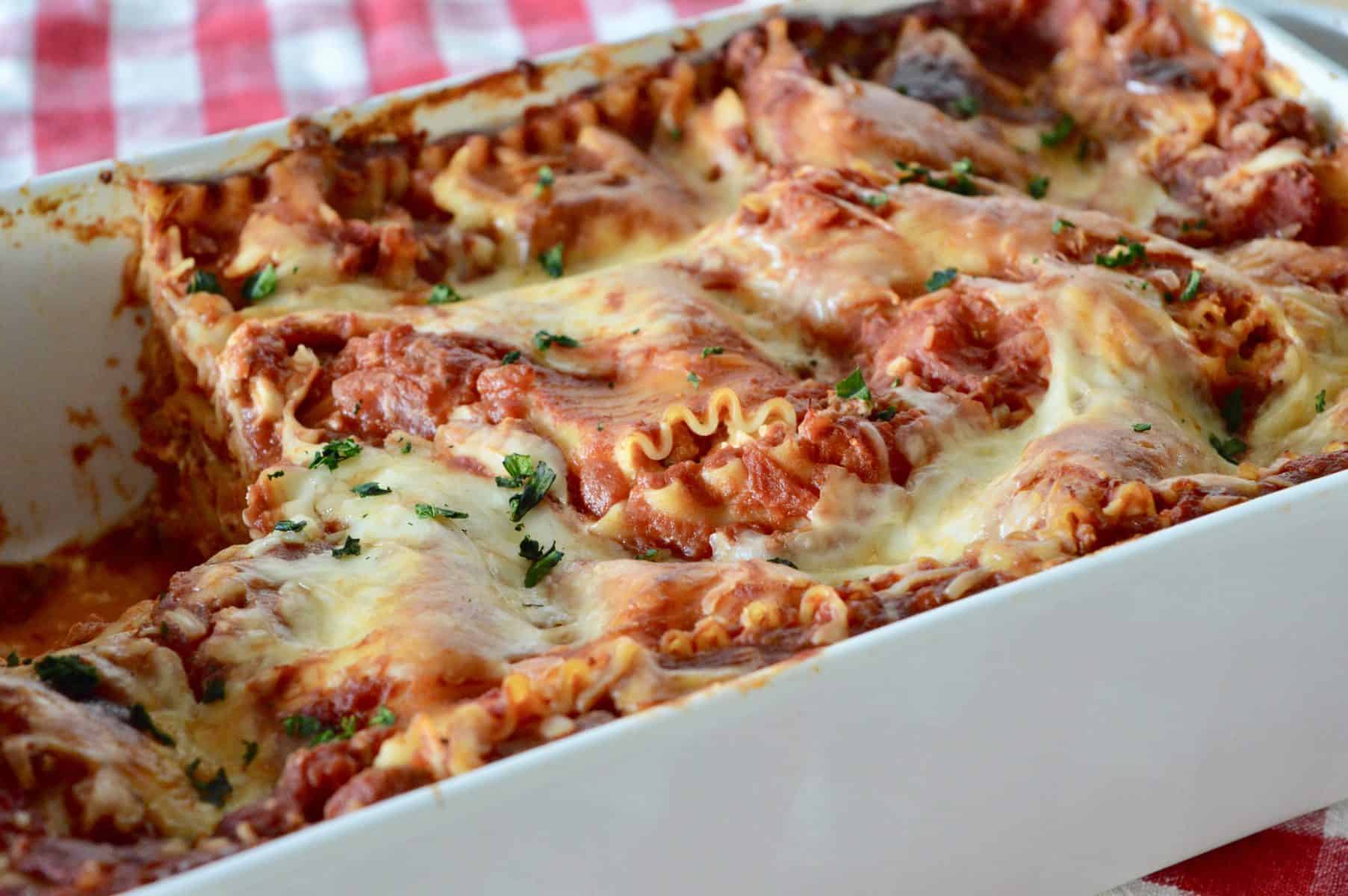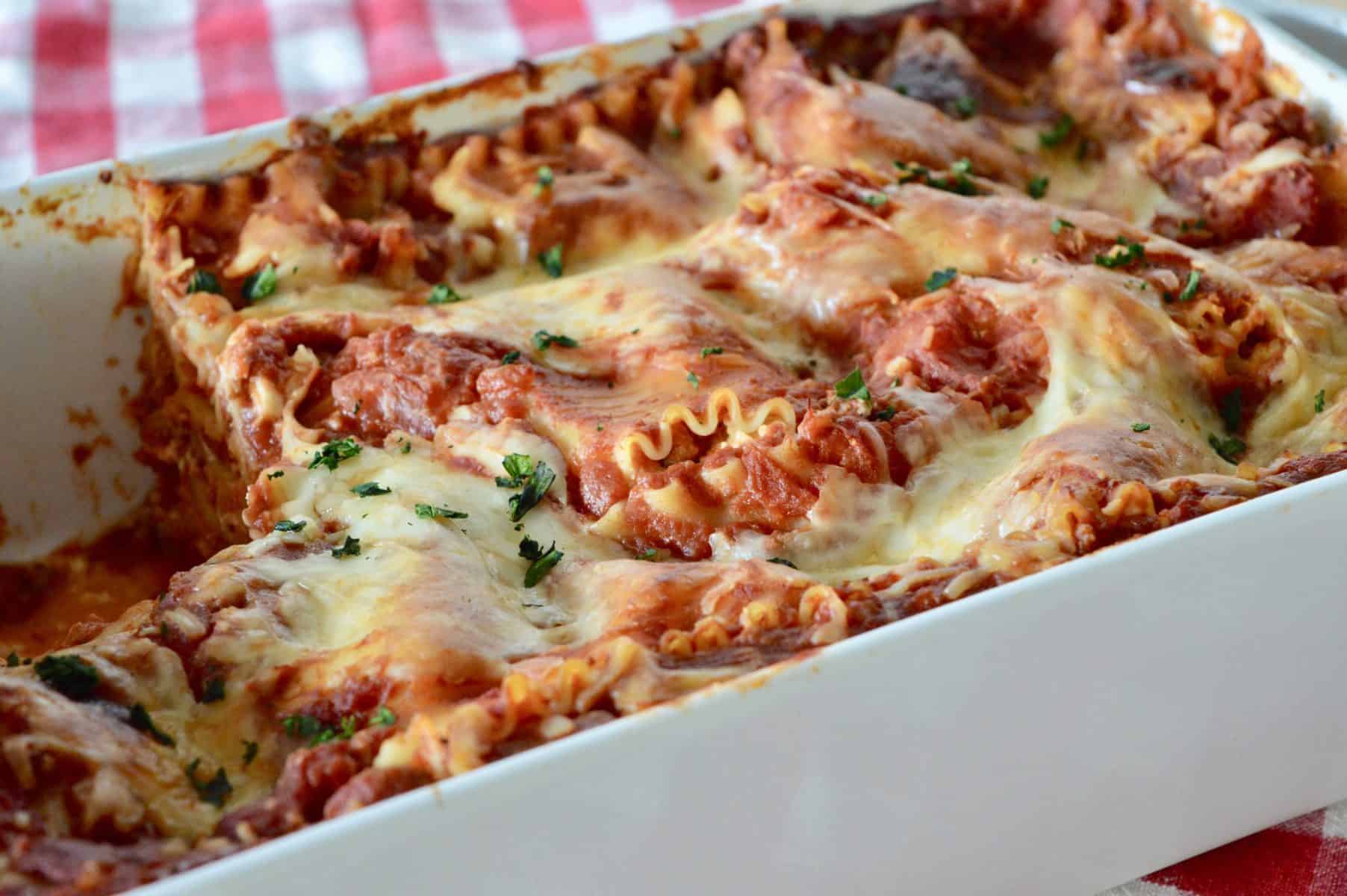 Firstly, you will need to prepare the sauce. This simple ground turkey meat sauce comes together quickly and only requires ground turkey, spices, canned tomatoes, and onions and garlic.
Next, the ricotta mixture is simply a blend of ricotta cheese, parmesan, and eggs. You could part-skim or whole milk ricotta cheese for this lasagna. Also, you could use a parmesan reggiano blend or all mozzarella if you like.
How to Assemble the Turkey Lasagna
Once you have your components ready, you can begin assembling. I recommend using a deep casserole pan with high sides, like this Emilie Henry Large White Baker. This is a 4-layer lasagna, so you will need room to layer.
Start with about half a cup of the sauce spread thinly on the bottom of the baking pan.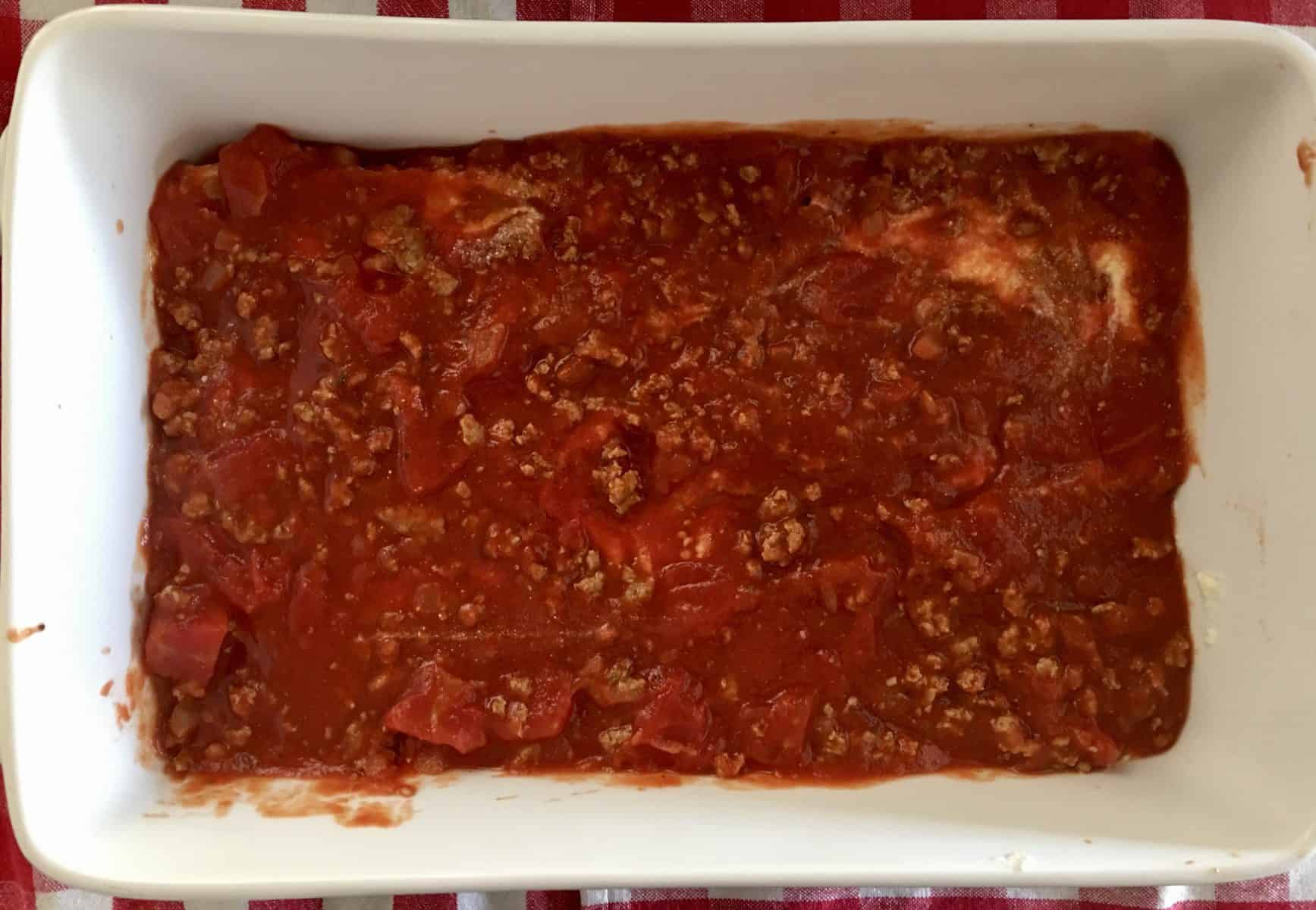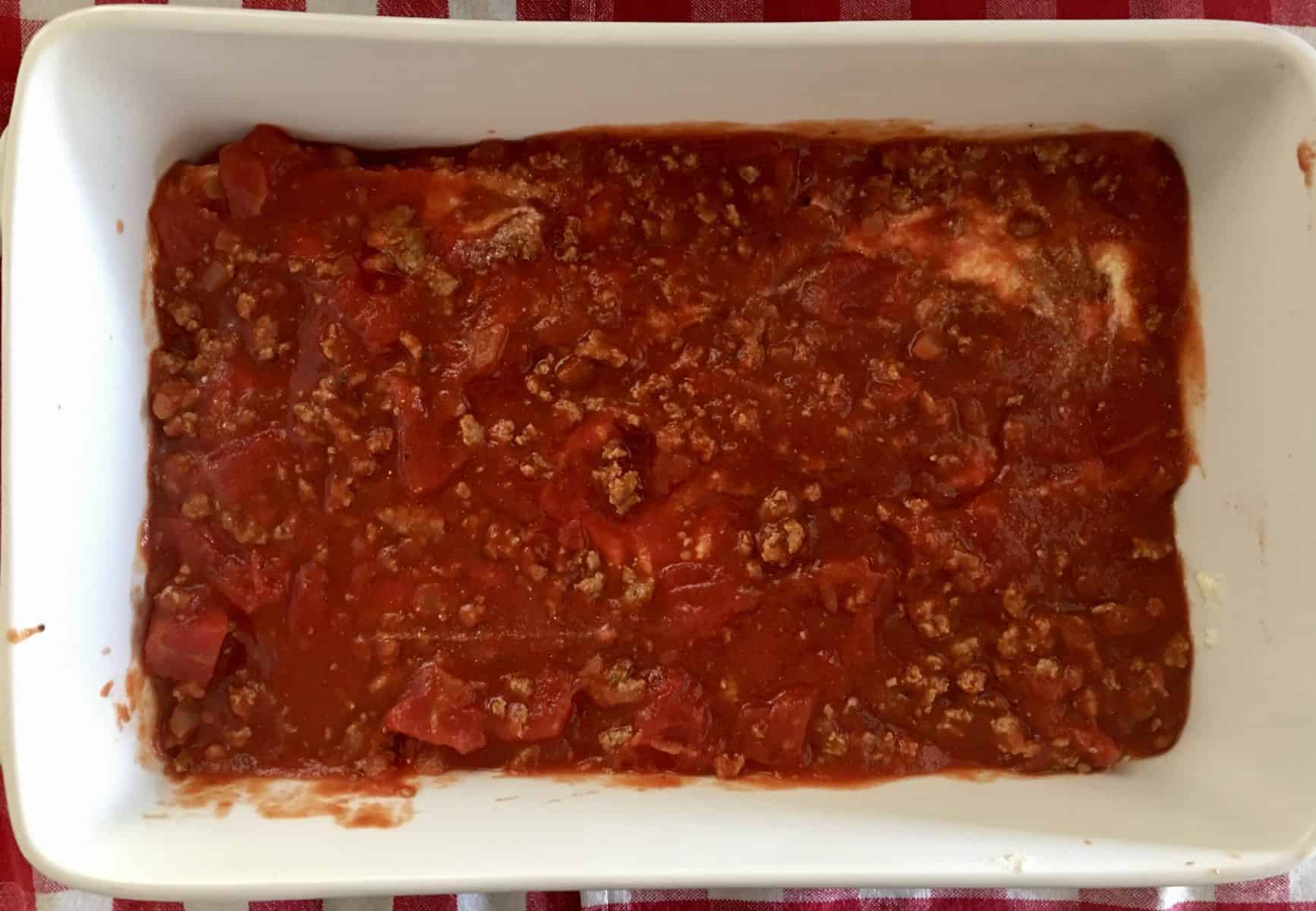 Next, layer on the no-bake lasagna noodles. If necessary, snap the noodles to into smaller sizes so they fit in the pan.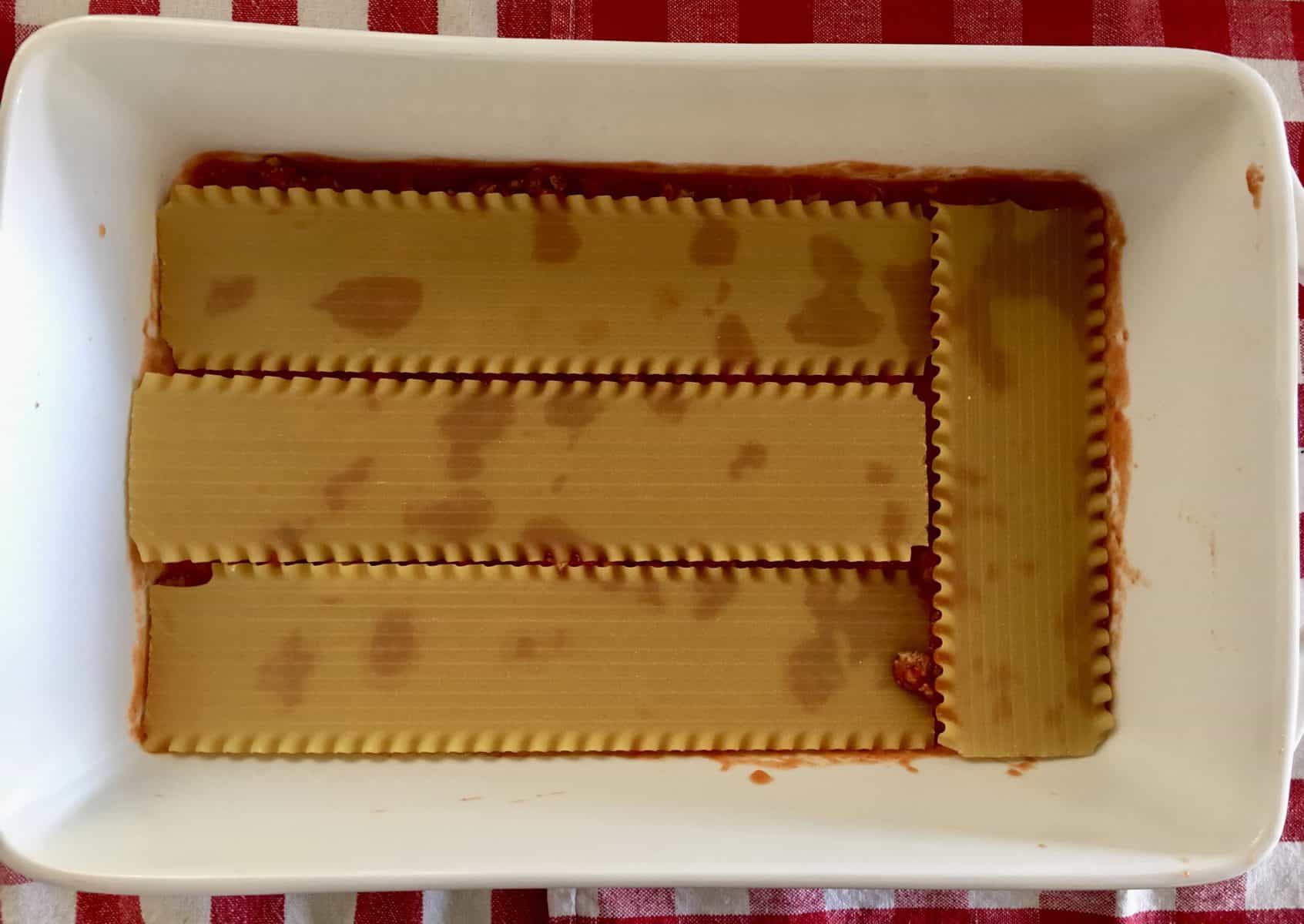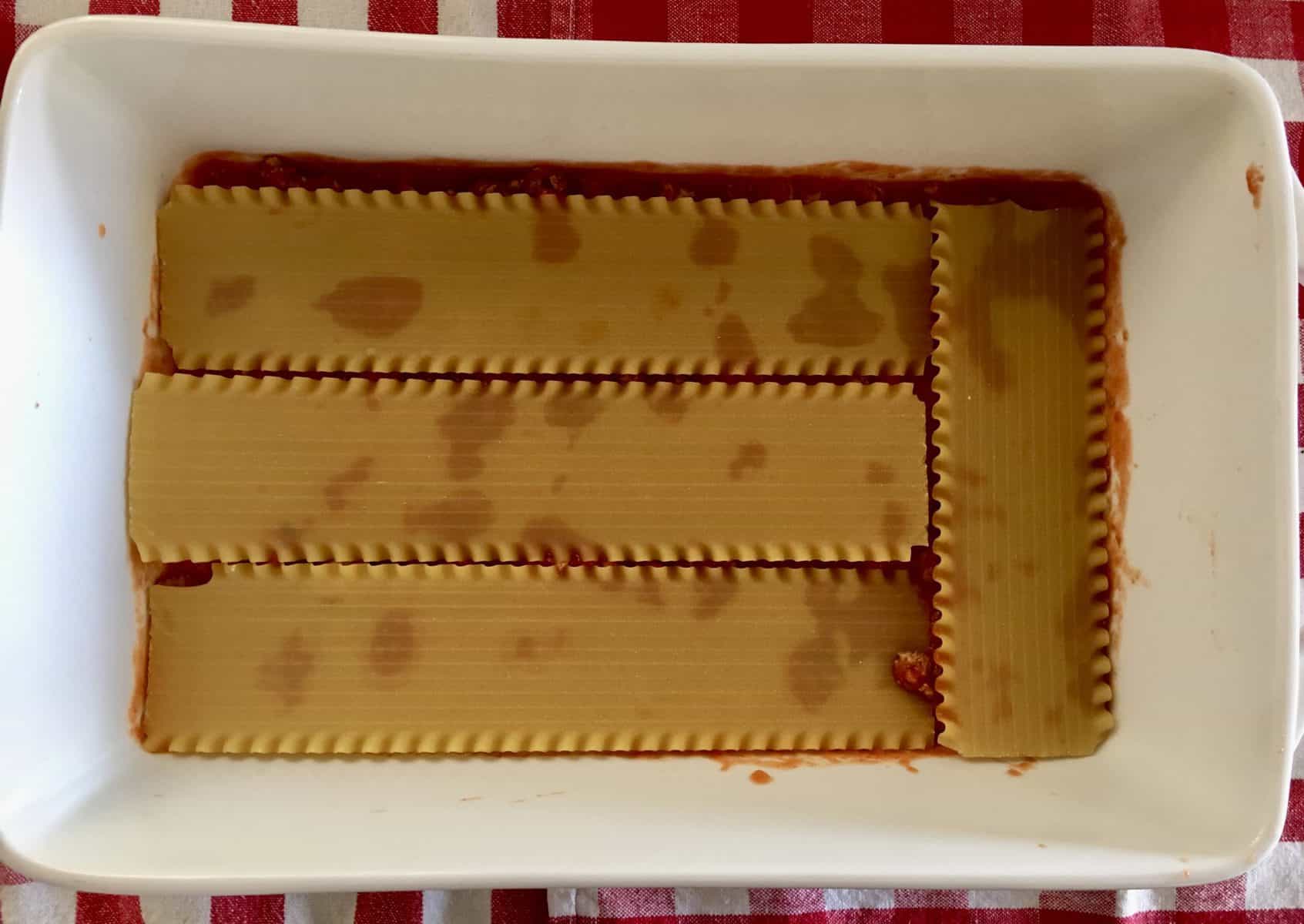 Spread on ⅓rd of the ricotta mixture so that it covers the top of the no-boil lasagna noodles.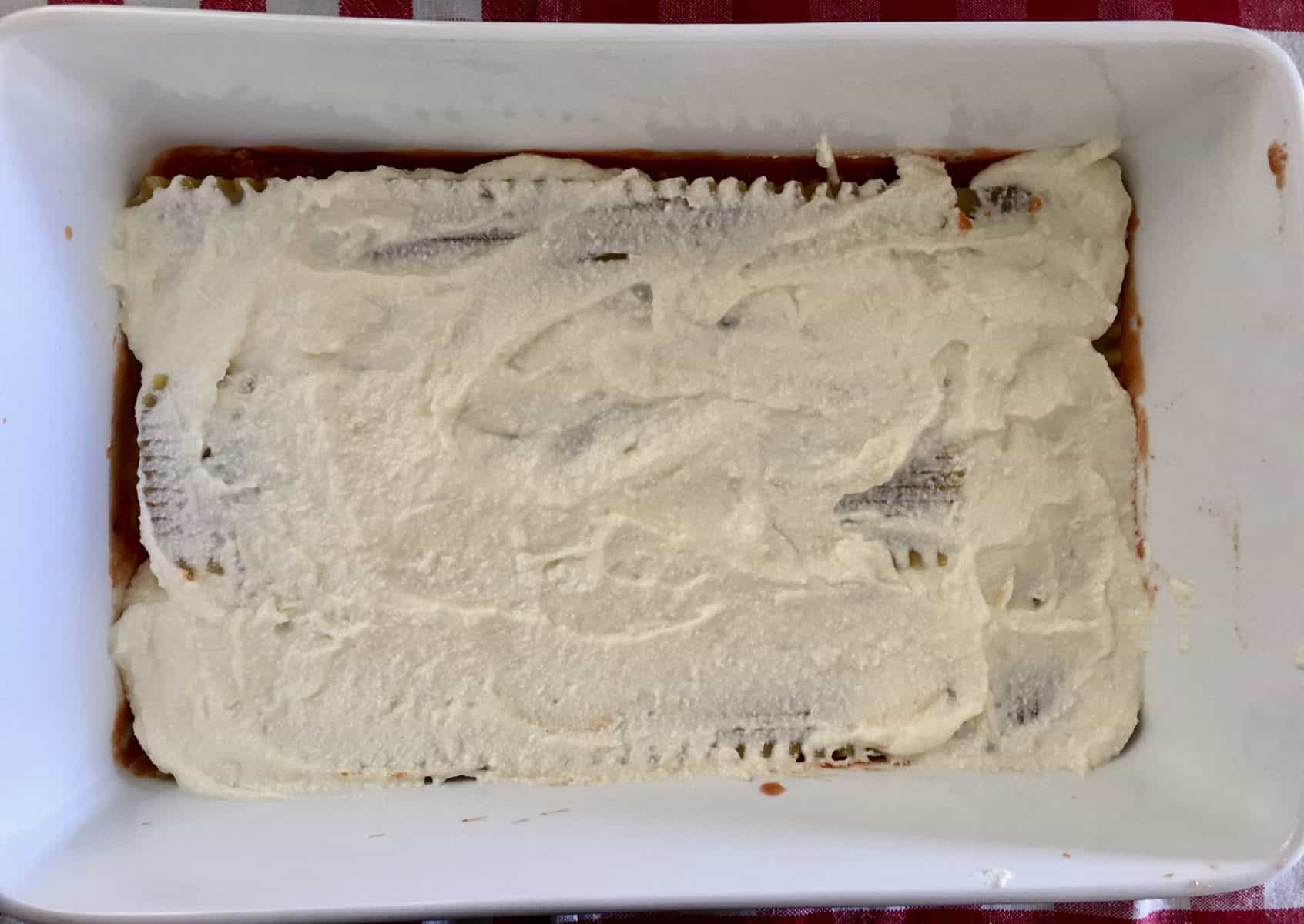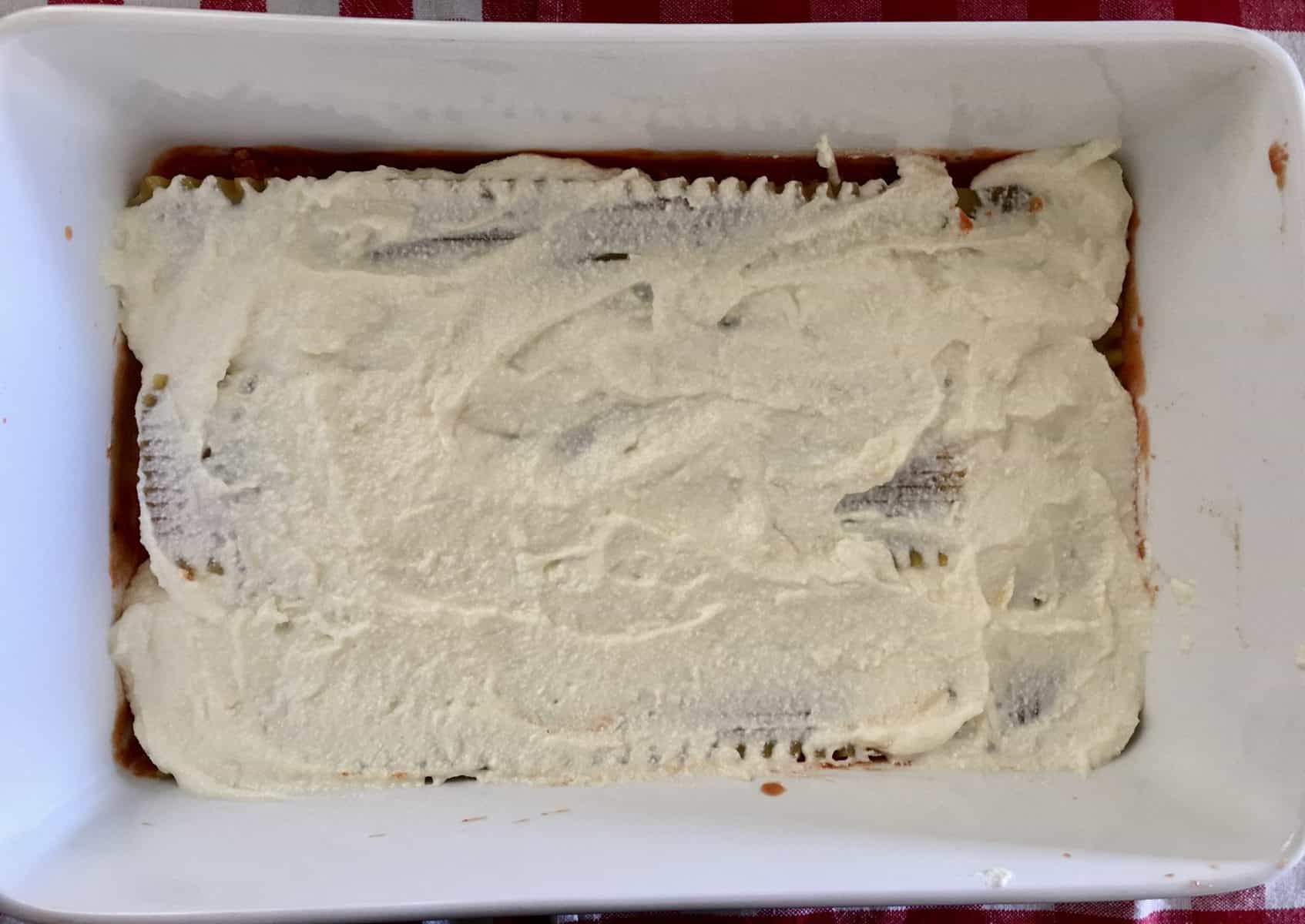 Then, spoon on about a cup of turkey meat sauce and sprinkle on ¼ of the mozzarella overtop of the ricotta.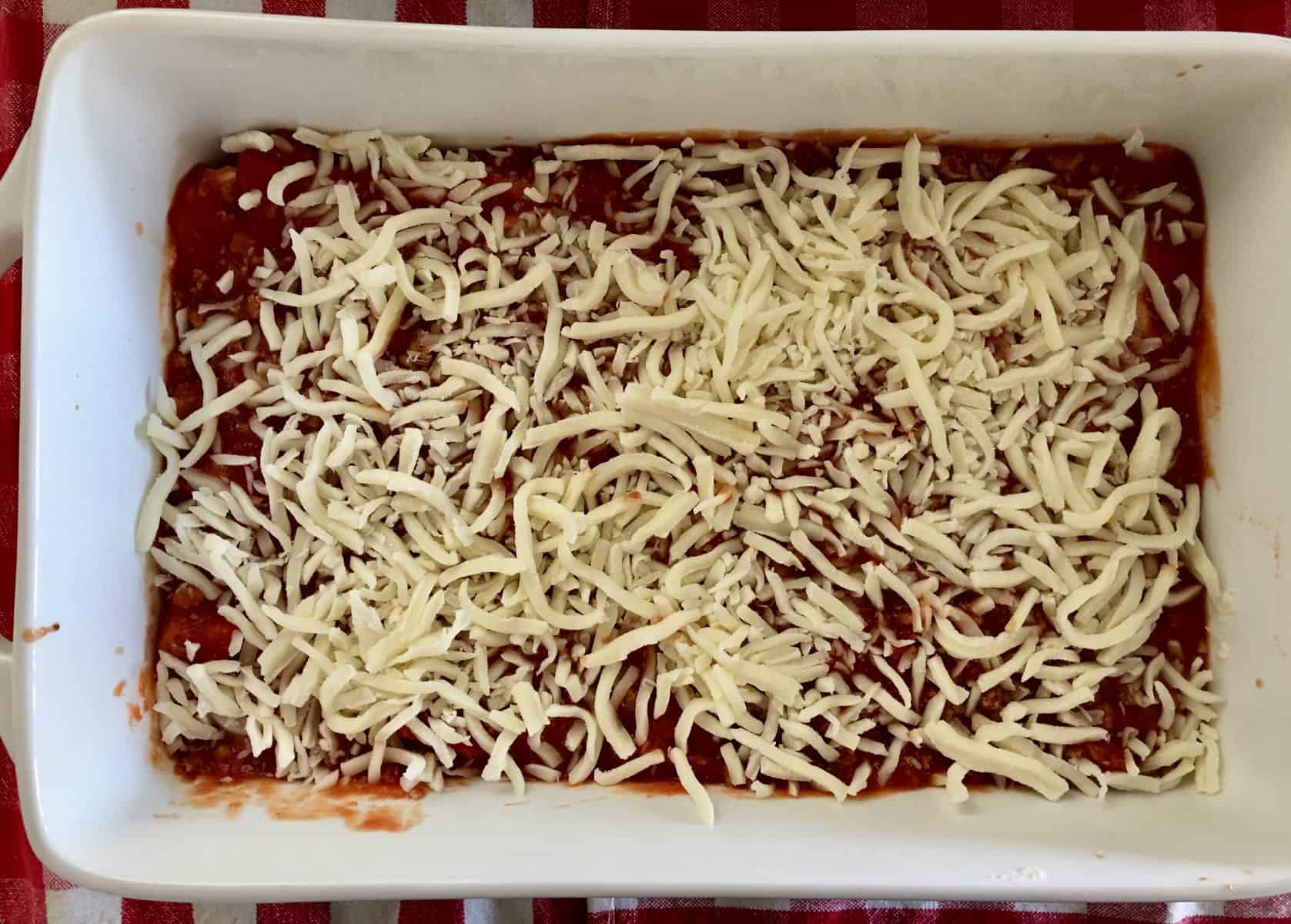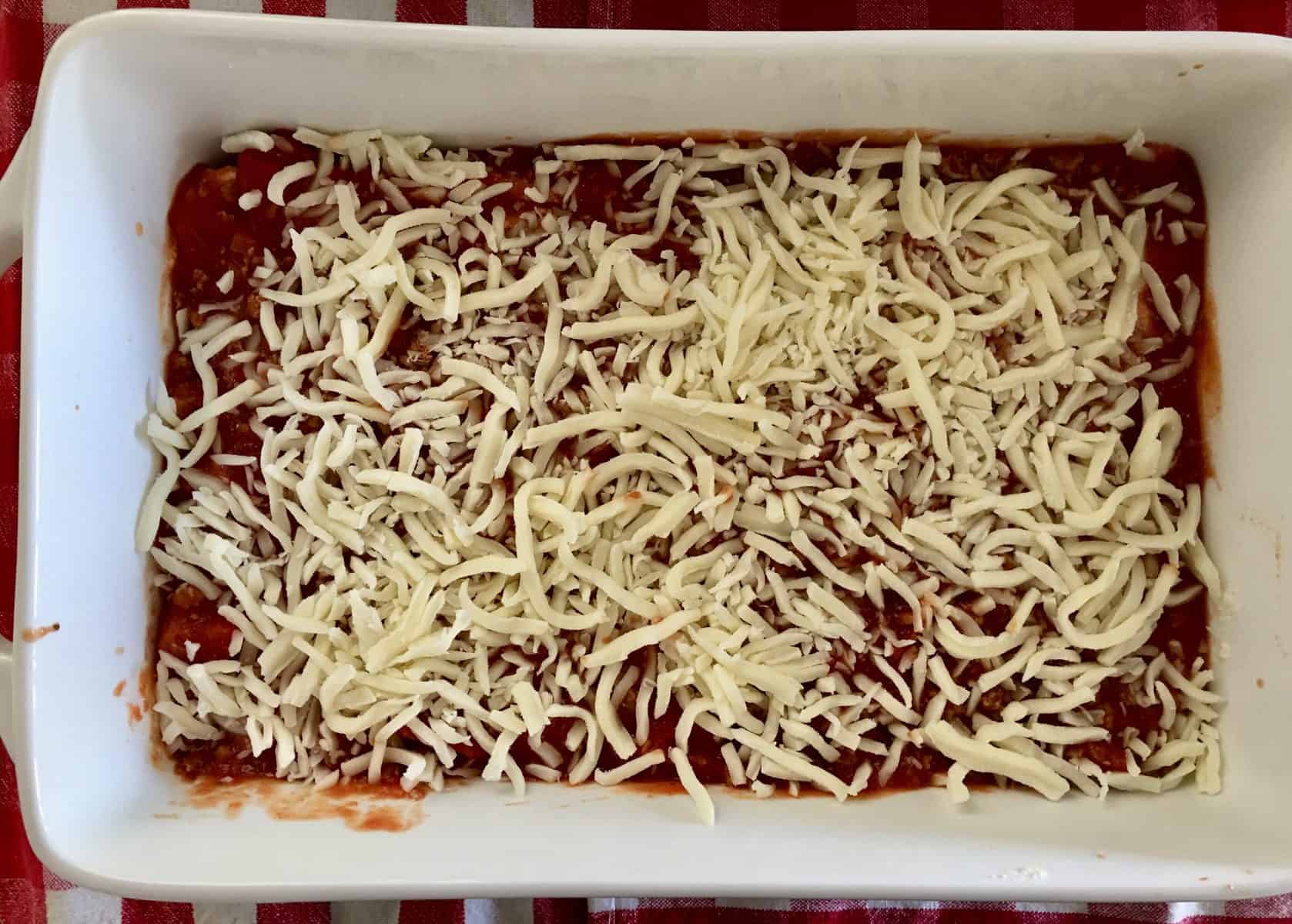 Repeat the layers, ending with sauce and the remaining mozzarella. Use non-stick foil or a sheet of foil sprayed with non-stick cooking spray to cover the lasagna.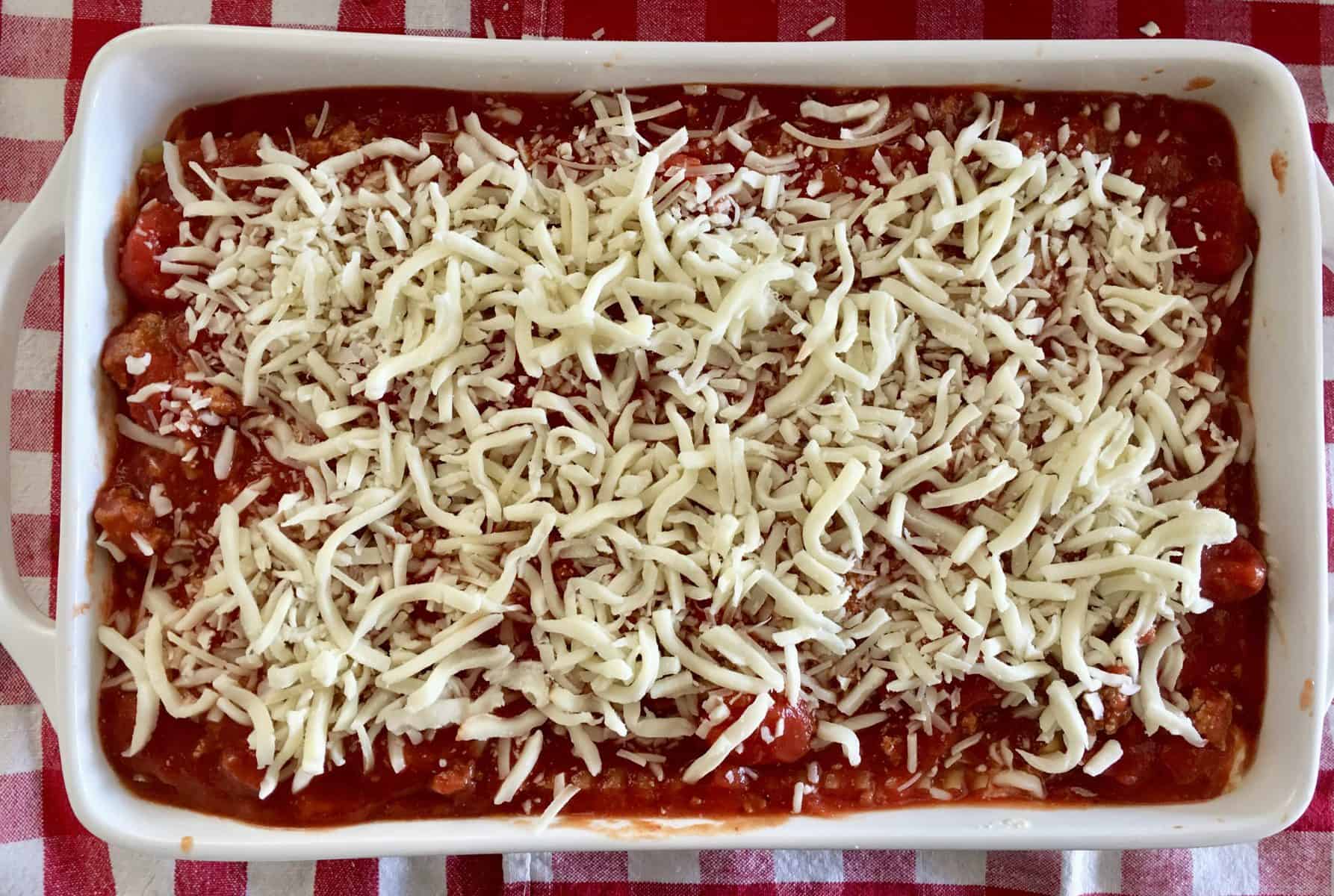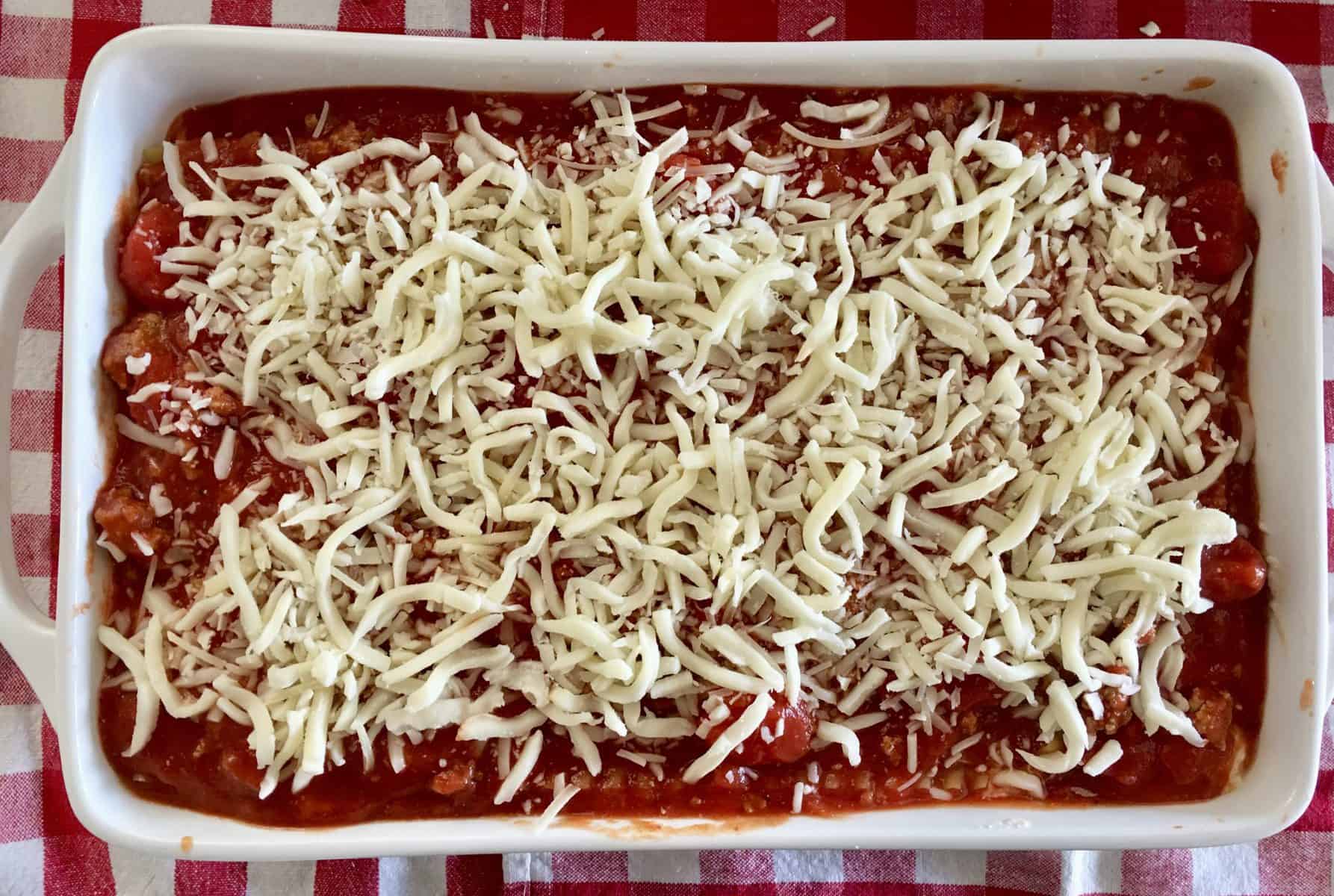 Bake for about an hour. Then, uncover and bake for an additional 10-15 minutes or until the cheese is melted and the lasagna is bubbly.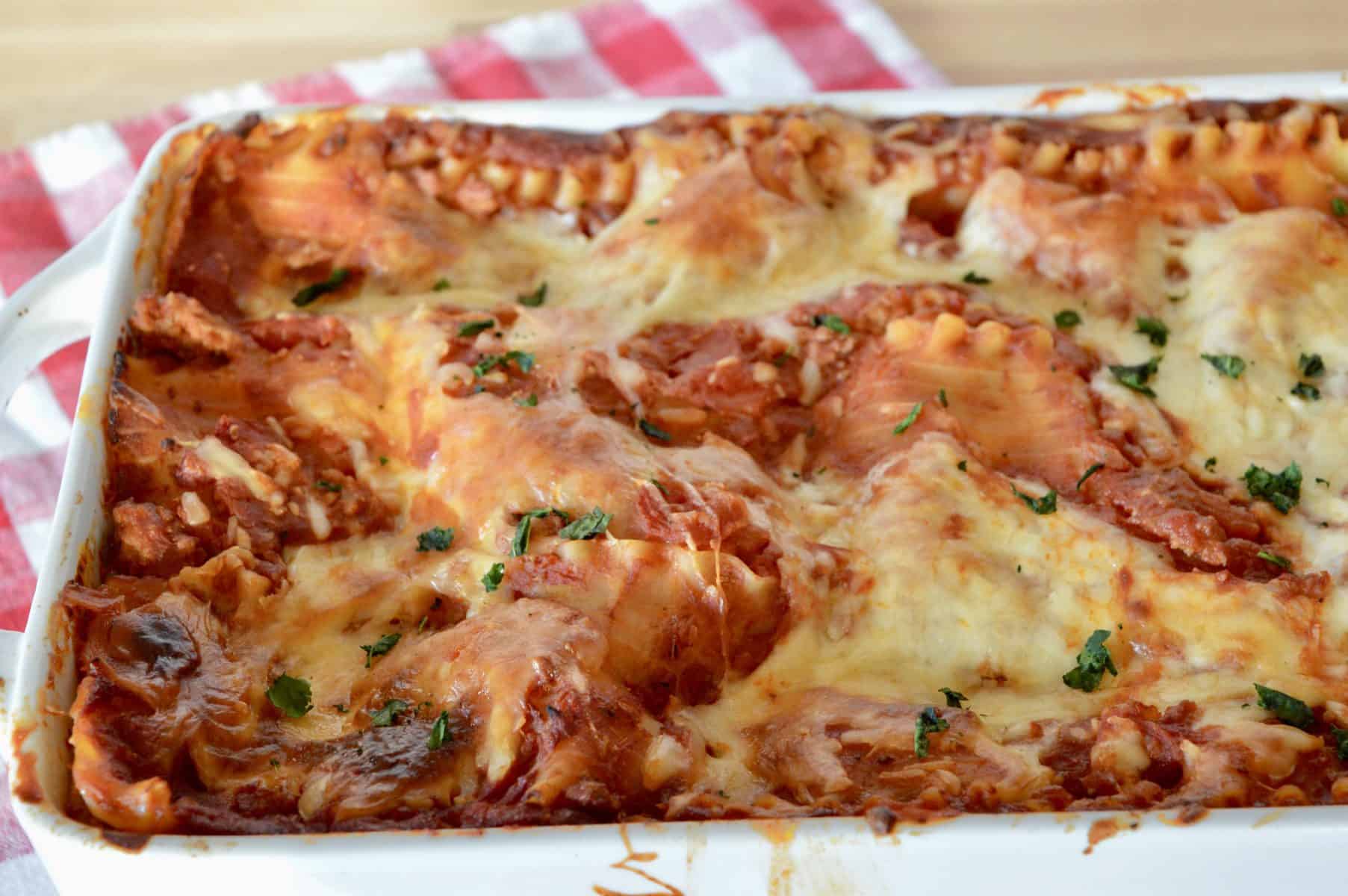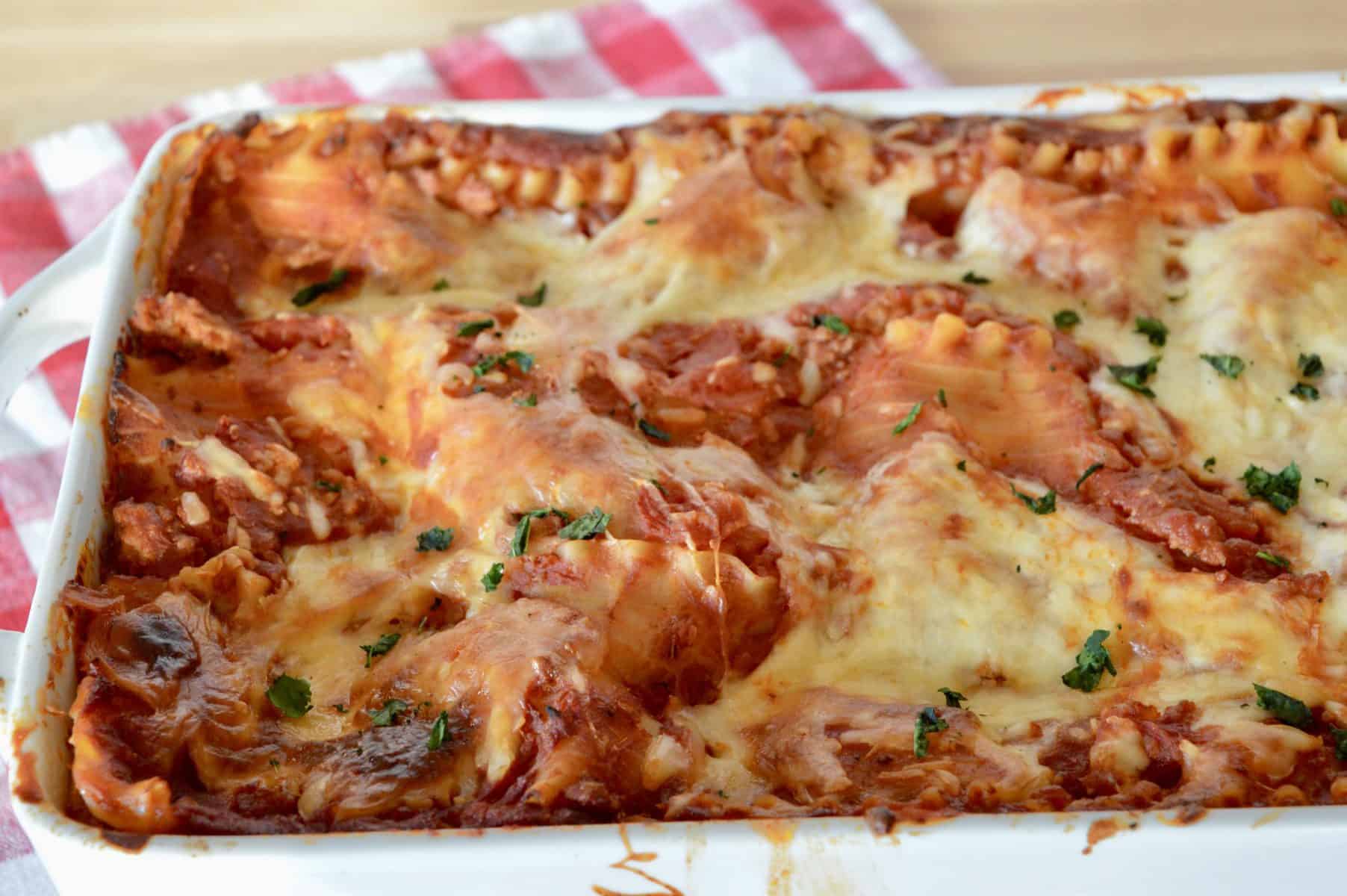 If desired, place the lasagna under the broiler for about a minute to lightly brown the cheese. Let the lasagna rest at room temperature for at least 10 minutes before cutting and serving.
Hope you love this recipe! Be sure to comment below and let me know what you think. Enjoy!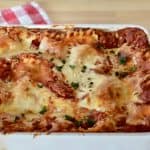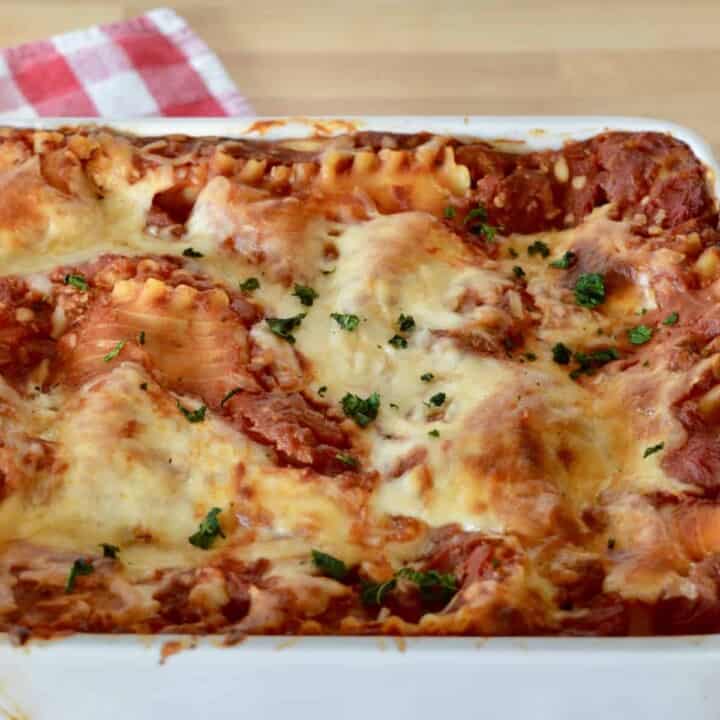 Print Recipe
Italian Turkey Lasagna
This simple and delicious recipe for Italian Turkey Lasagna comes together fast and is perfect for a weeknight dinner or entertaining. Made with ground turkey, ricotta cheese, mozzarella, and no boil lasagna noodles.
Ingredients
Turkey Meat Sauce
2

teaspoons

olive oil

1

pound

ground turkey

½

large

onion, diced

(about a cup)

3

cloves

garlic, minced

2

tablespoons

tomato paste

½

teaspoon

dried oregano

½

teaspoon

kosher salt

2

15 ounce cans

crushed tomatoes

2

15 ounce cans

tomato sauce
Ricotta Filling
2

15 ounce containers

ricotta cheese

(part-skim or whole)

1

cup

shredded parmesan

2

large

eggs, beaten
Lasagna Layers
1

12 ounce package

oven ready lasagna noodles

(about 16 noodles)

16

ounces

shredded mozzarella cheese

(about 2 cups)
Instructions
Preheat oven to 375 degrees. Spray baking dish with cooking spray; set aside.

Heat oil in a large skillet or pot over medium high heat. Add in the ground turkey and onions and cook until the turkey is no longer pink, breaking up the turkey meat with a spoon as it cooks. Stir in the garlic and cook for one minute. Add in the tomato paste, oregano and salt, and stir for another two minutes. Pour in the crushed tomatoes and tomato sauce and bring to a simmer. Let simmer for five minutes; set aside.

To make the ricotta filling, stir together the ricotta, parmesan, and eggs; set aside.

To assemble the lasagna, spoon about half a cup of sauce on the bottom of the baking dish. Place four of the lasagna noodles on top of the sauce, breaking the noodles to fit if necessary. Spread on ⅓rd of the ricotta cheese mixture, ¼ of the mozzarella, and about a cup of meat sauce. Repeat layers, ending with the last layer or lasagna noodles, sauce, and topping with remaining mozzarella cheese.

Cover the lasagna with nonstick foil and bake, covered for an hour. Remove foil and bake for an additional 10 minutes. Let rest for at least 5 minutes before serving.
Notes
This Italian Turkey Lasagna recipe can be assembled in advance and just baked before serving. Be sure to add about 10 extra minutes to the bake time. 
Nutrition