Easy and delicious recipe for Cheese Beef Stuffed Shells thats make-ahead friendly and so full of flavor. Homemade meaty sauce and step-by-step instructions on how to make this Italian classic.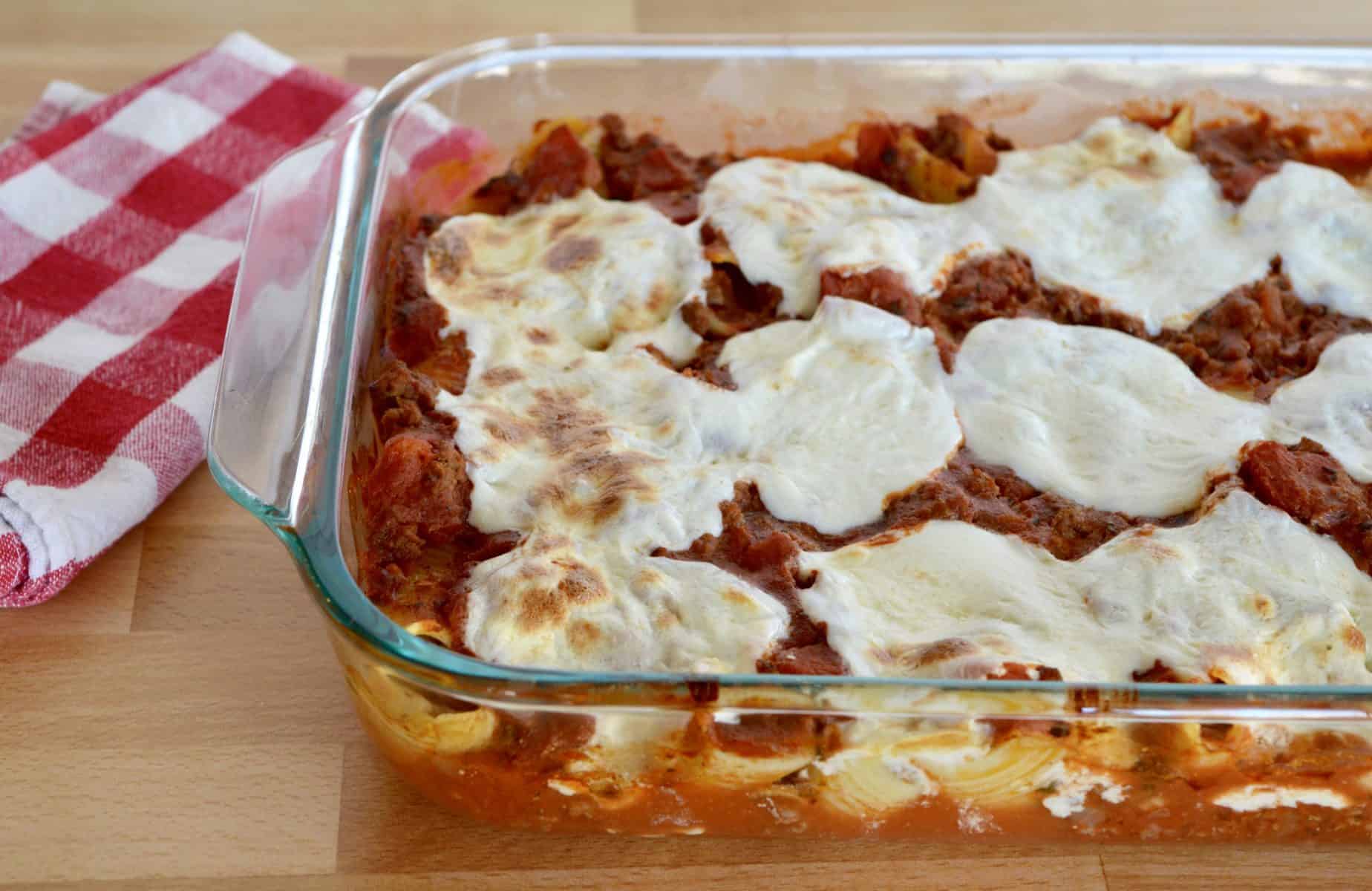 Just like Turkey Sausage Meatballs, this classic recipe for stuffed shells is the ultimate comfort food. Guaranteed to please even the pickiest eaters, you're going to love how easy this is to make any night of the week.
If the idea of making stuffed pasta seems intimidating, it shouldn't be. Stuffed shells is an easy recipe to tackle, even for a novice chef. If you are looking for a healthier stuffed pasta, you can try Turkey Spinach Manicotti made with ground turkey and spinach, or skip the meat and make this dish with just this Ricotta Filling Recipe. And don't miss this Authentic Italian Mostaccioli Recipe or the Classic Manicotti Crepes recipe!
Plus, the entire dish can be assembled ahead of time and baked before serving. Which makes it the perfect recipe for entertaining as well.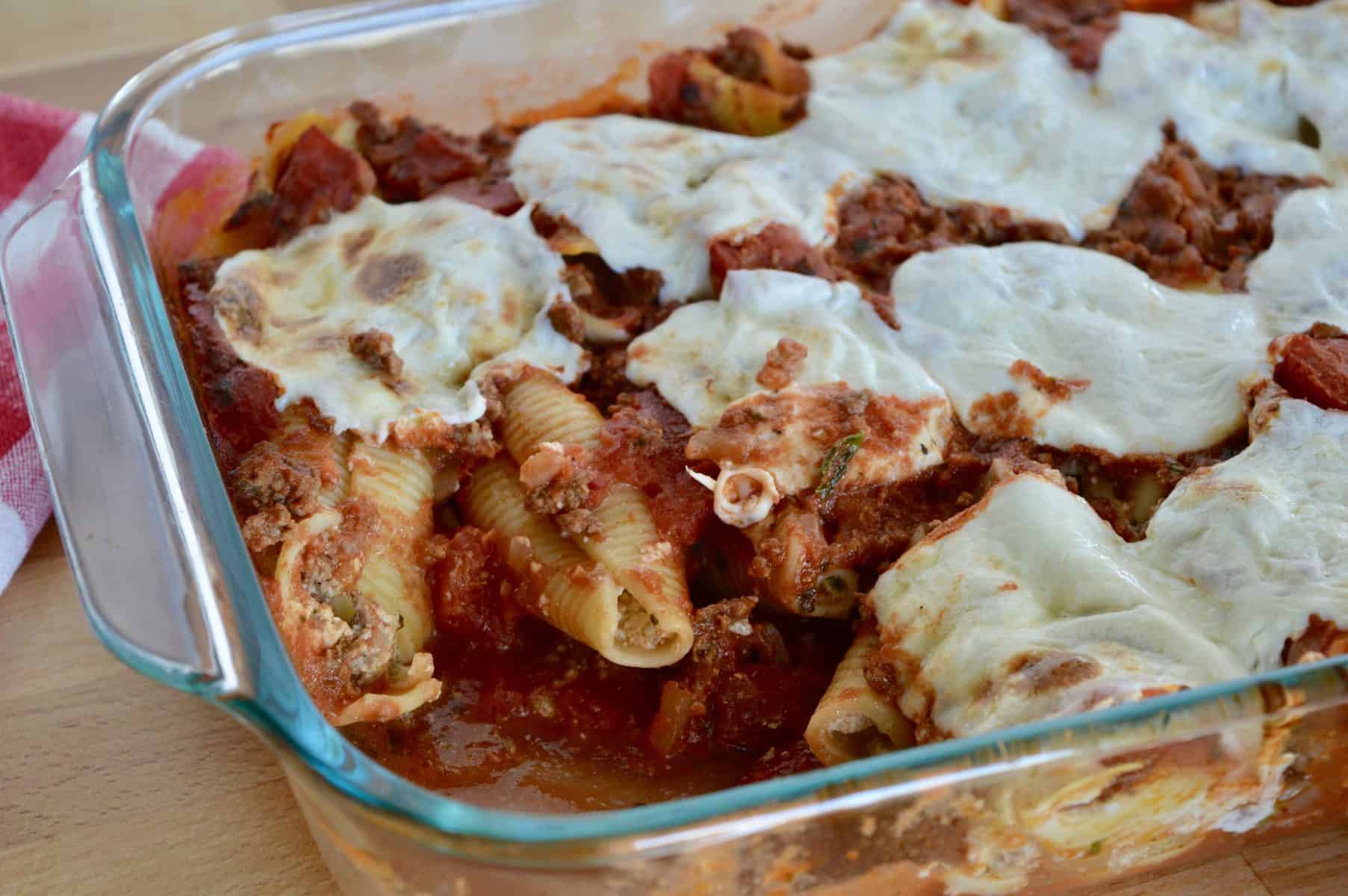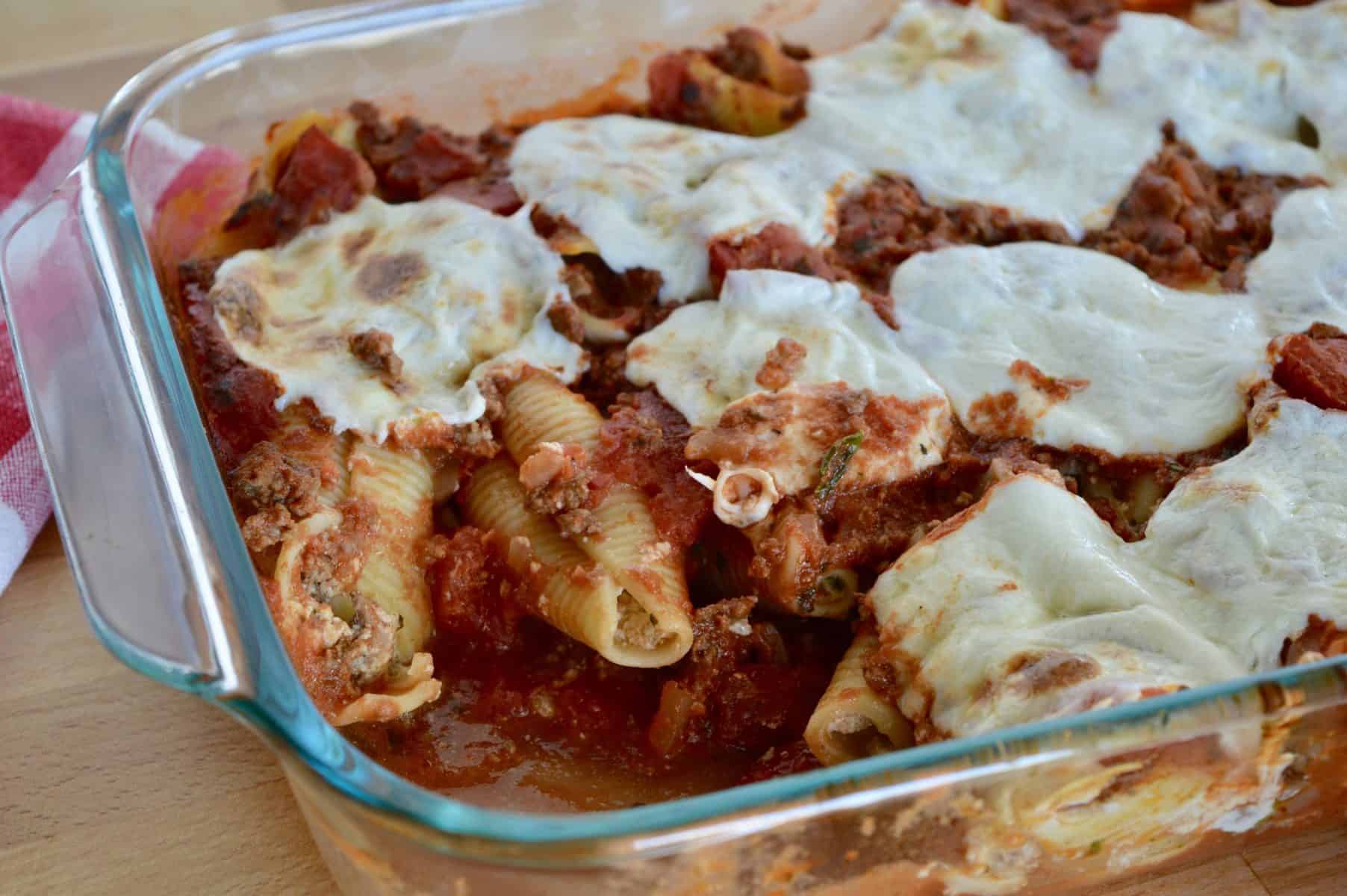 The jumbo pasta shells are easy to fill with no special tools required other than a spoon. So give this recipe a try and be sure to follow the step-by-step instructions below.
How to make cheese beef stuffed shells
To make stuffed shells with beef, you'll need to start with about a pound of ground beef. Here, you can use lean beef or whatever you have on hand. You could also substitute ground turkey or chicken in it's place.
For starters, you will need to a cook a 12 ounce package of jumbo pasta shells. Although you won't use them all, it's good to make the entire package in case you have ripped or broken shells. Cook until shells are just al dente; set aside.
Firstly, brown all of the meat in a skillet along with the onions and garlic. This meat will serve as part of the filling and part of the sauce for the recipe.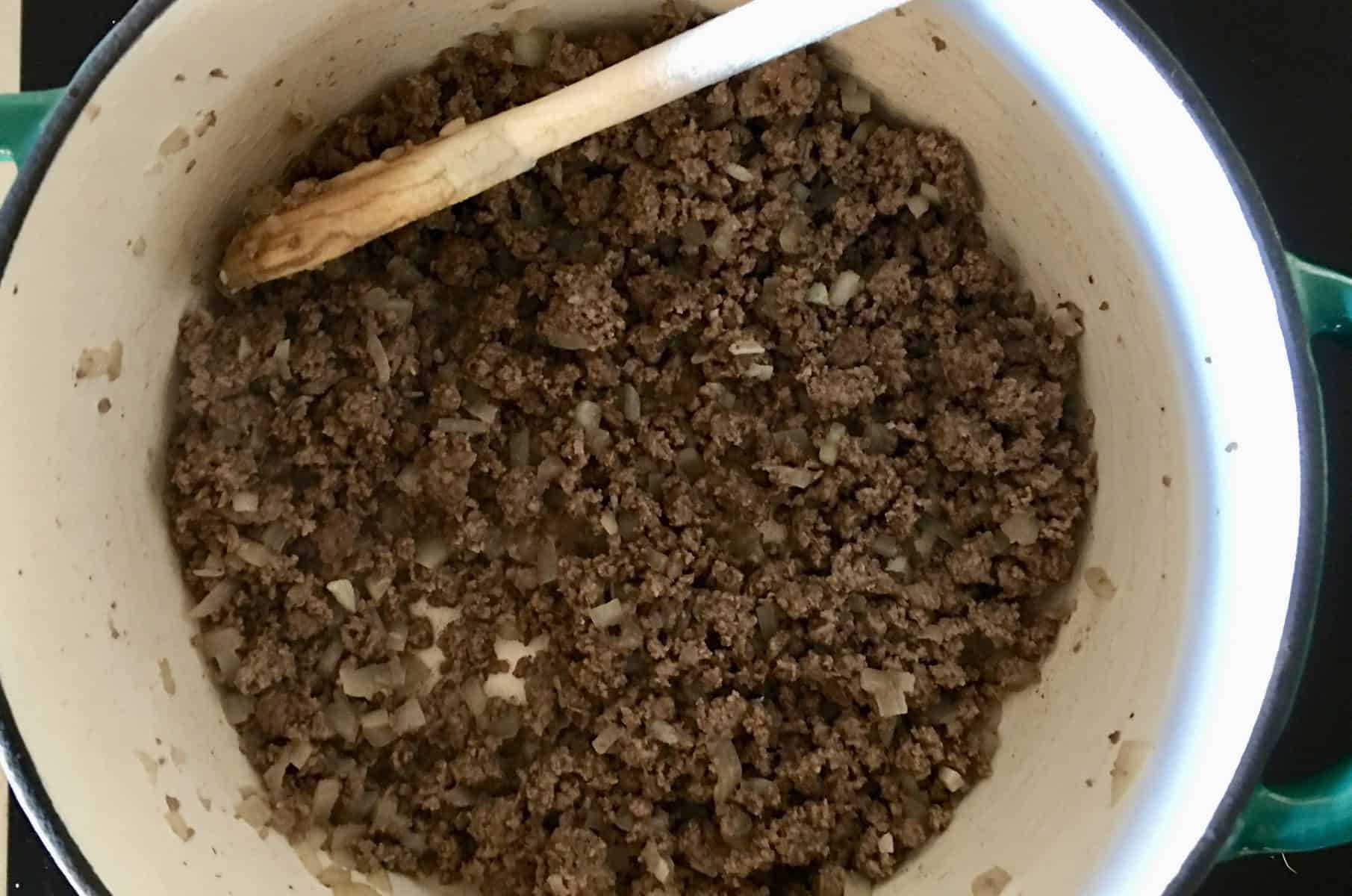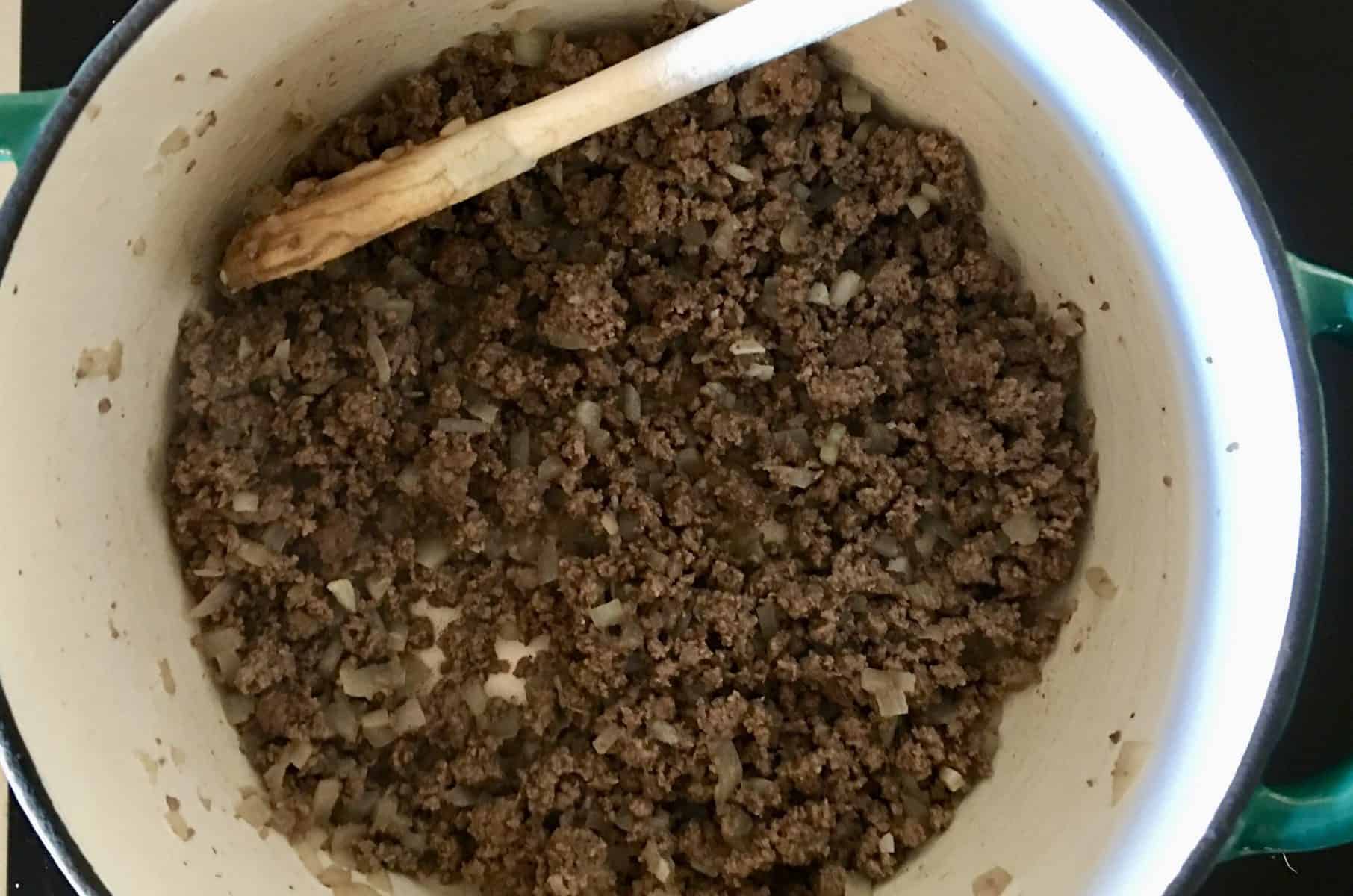 Next, spoon out half of the ground beef mixture and place in a bowl along with the ingredients for the stuffed shells. Mix together the ricotta cheese, parmesan, egg, meat, and seasonings; set aside.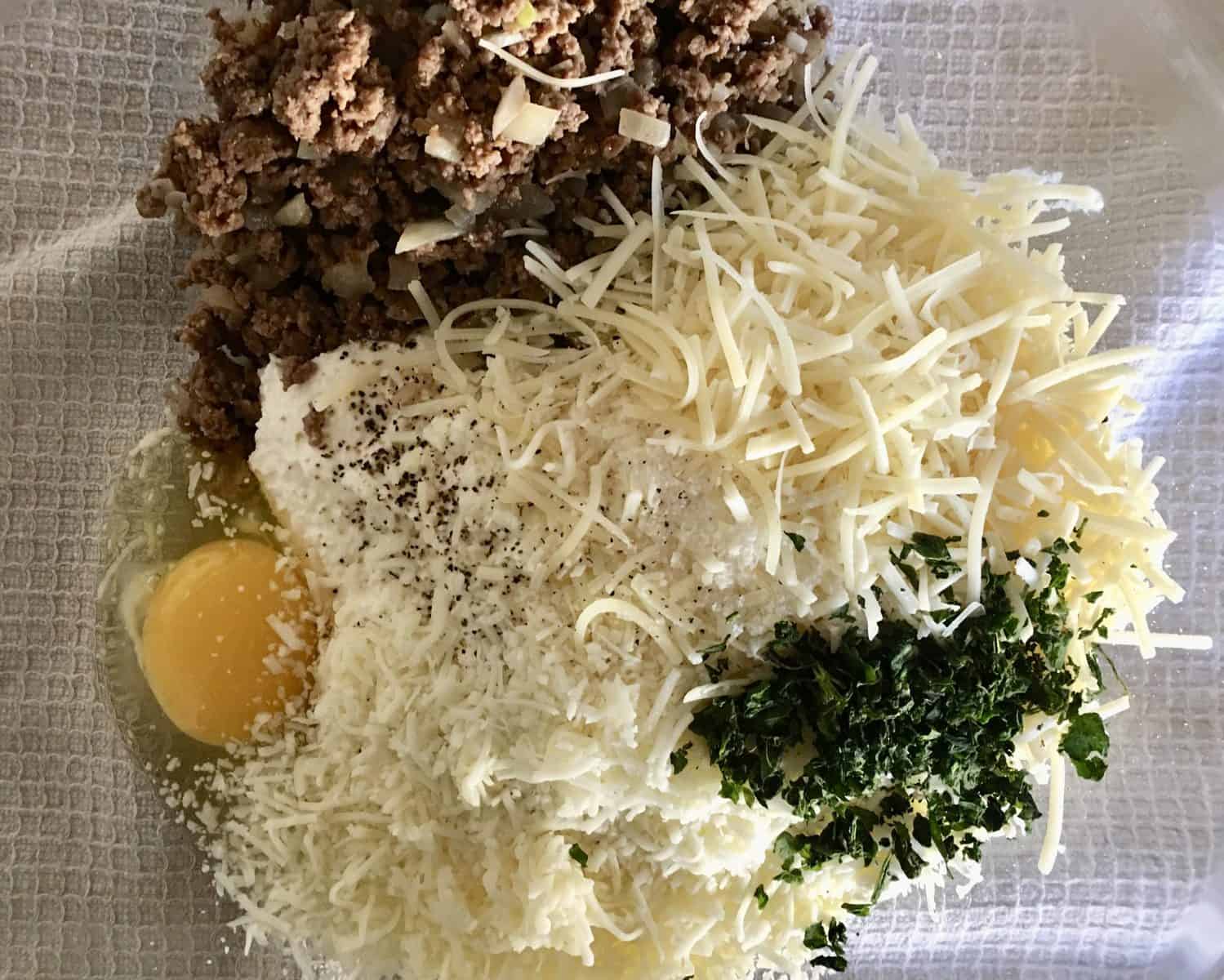 To make the sauce, simply add two 15 ounce cans of tomato sauce and/or crushed tomatoes to the meat mixture and bring to a simmer. Taste for seasonings.
Once you have all of the components ready for the cheese beef stuffed shells, it's time to assemble.
How to assemble stuffed shells
To start, gather the sauce, cooked shells, and filling for the cheese beef stuffed shells. Spoon a small amount of sauce on the bottom of a 9 x 13 baking dish.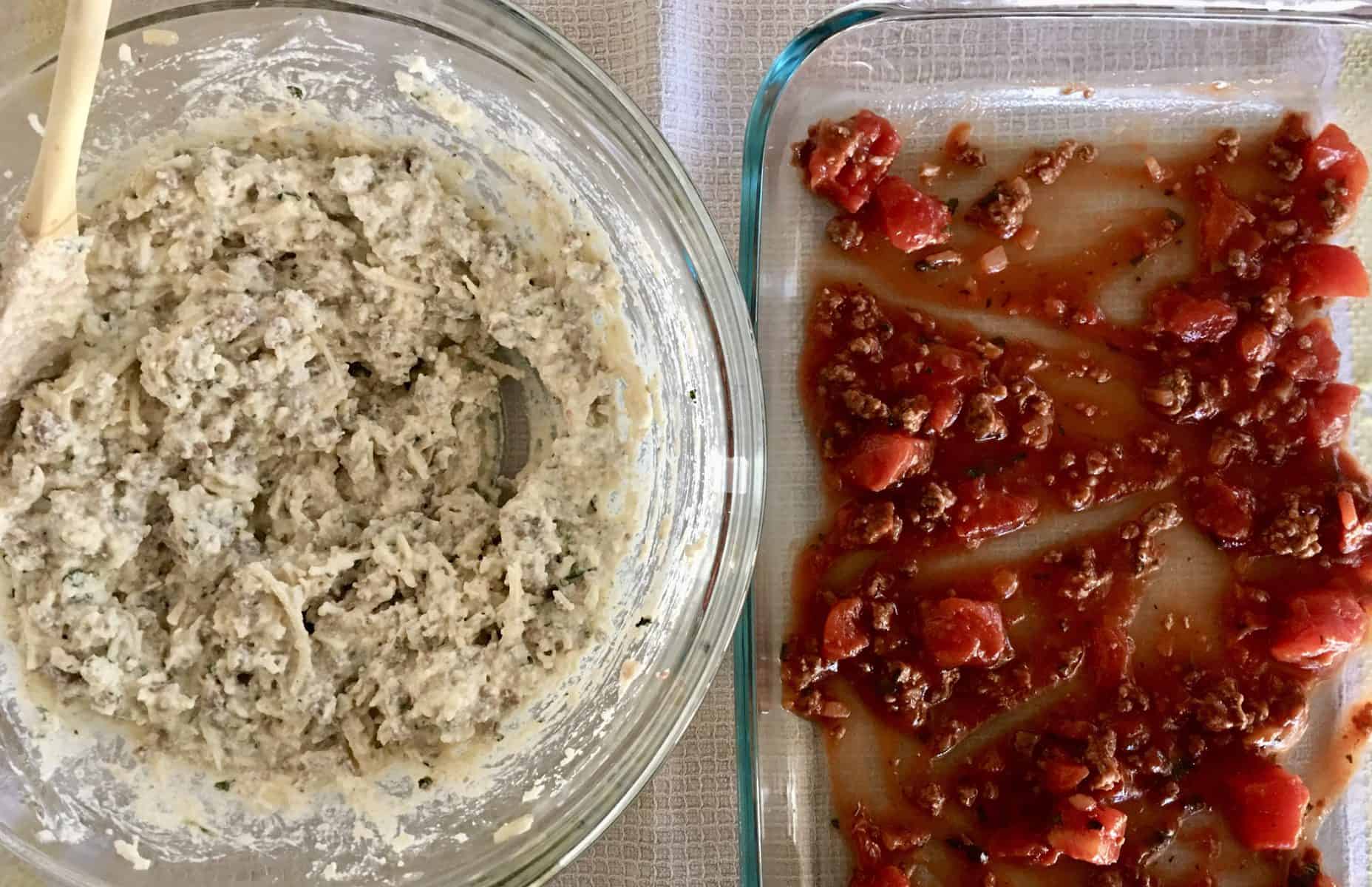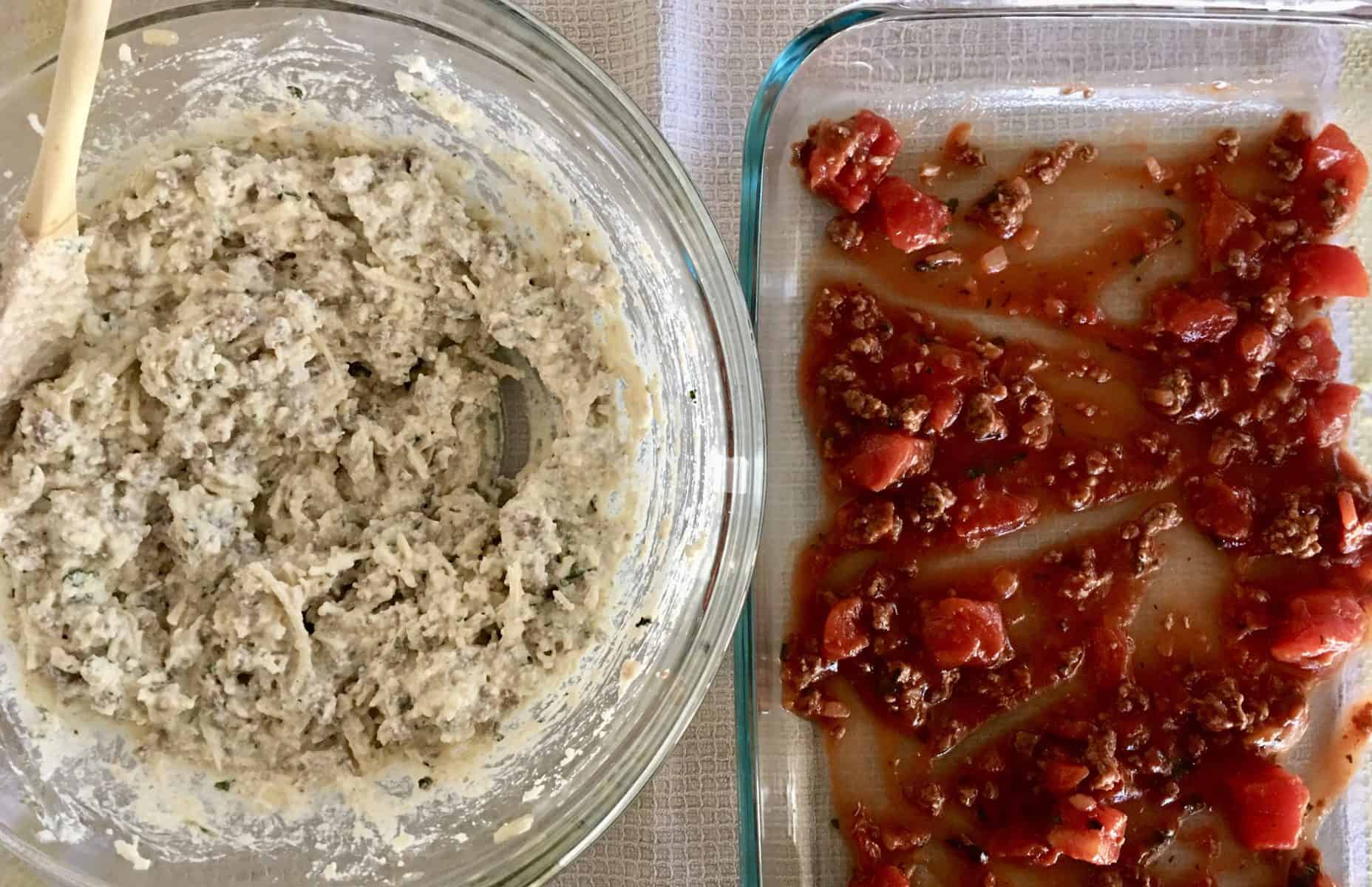 Next, place a cooked shell in your hand and spoon in about a tablespoon and a half of ricotta mixture. Don't worry if this process gets messy.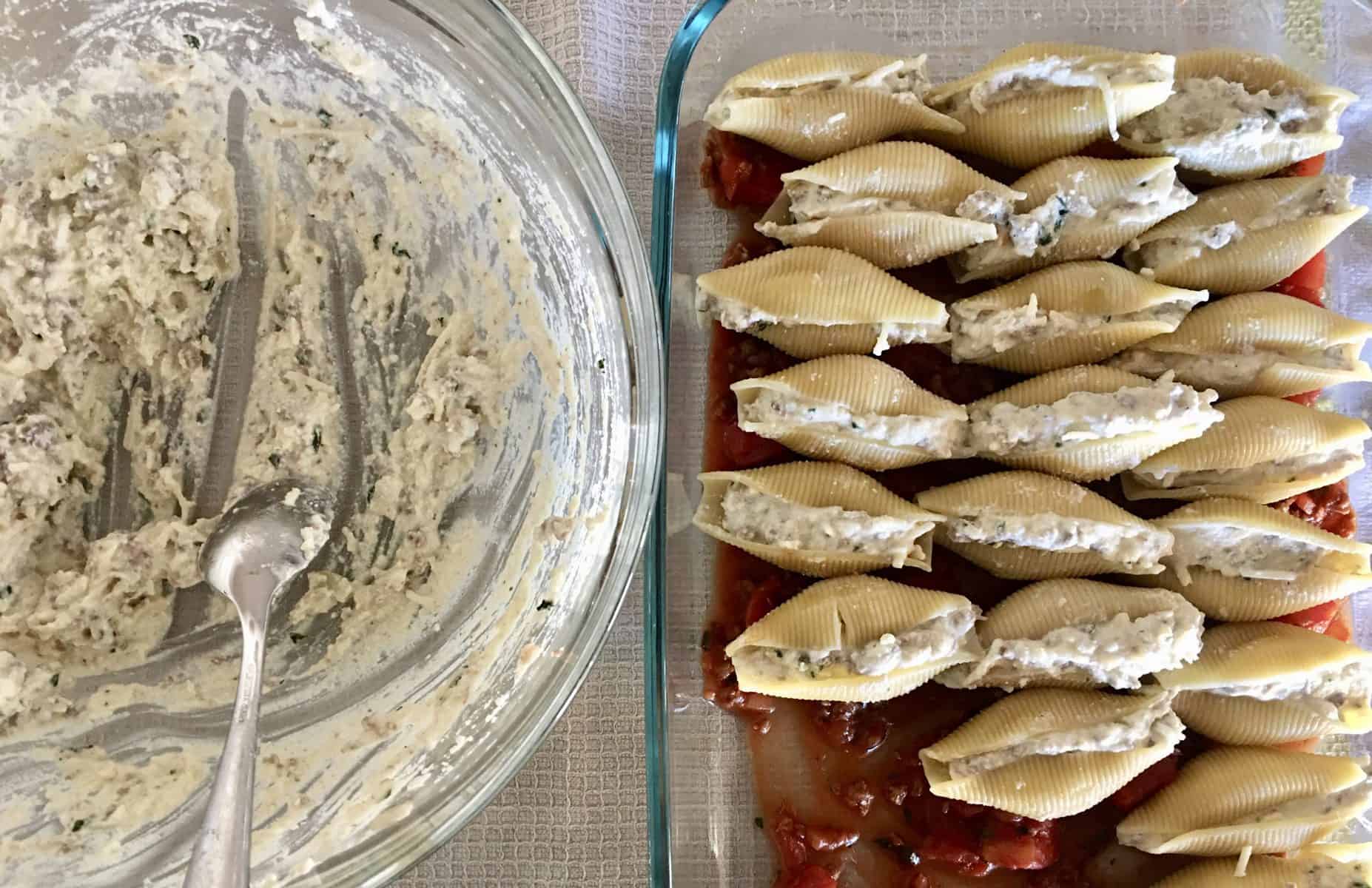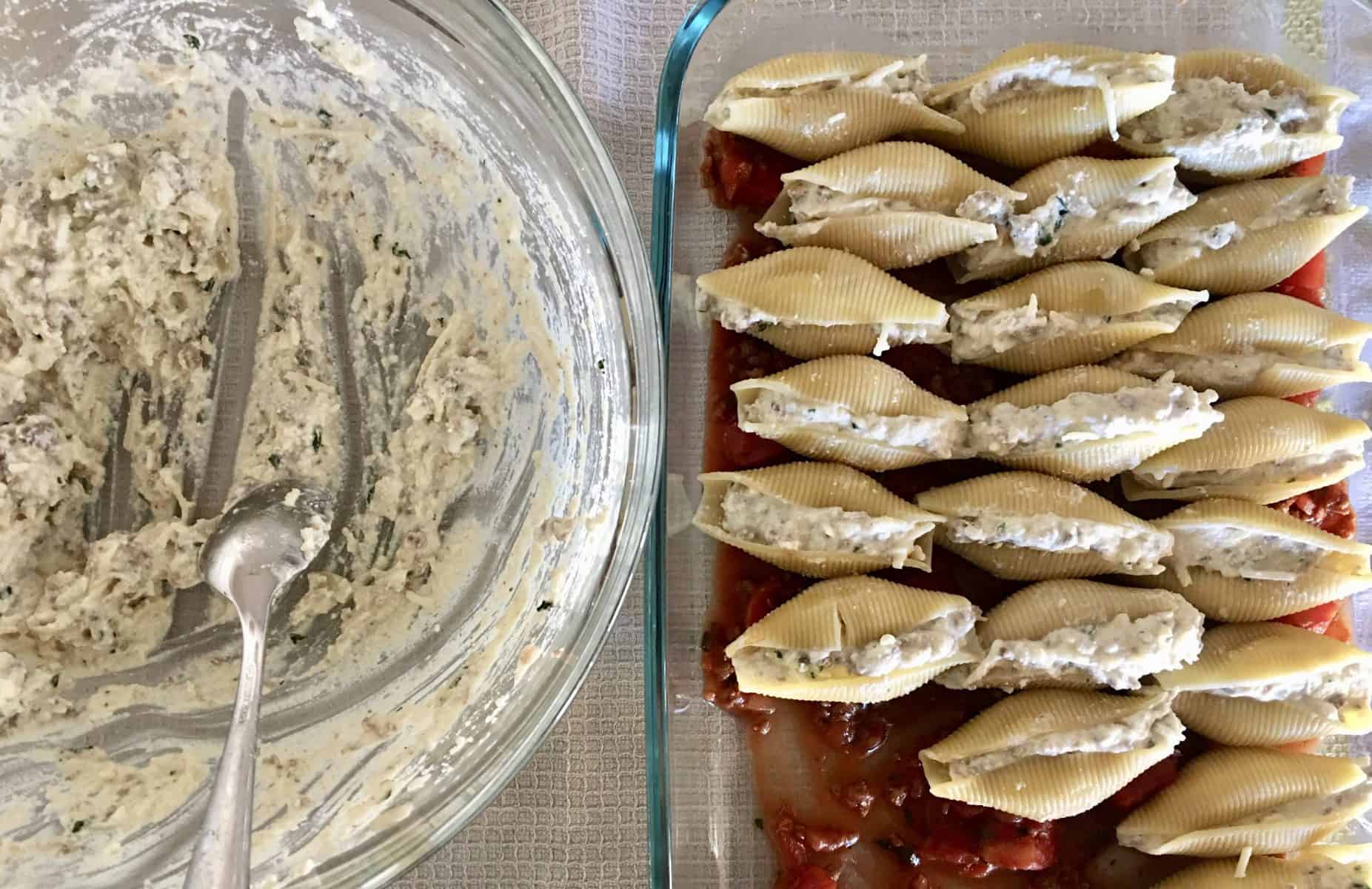 Lay the stuffed shell in the baking dish and continue with remaining shells, until all of the ricotta filling is used up.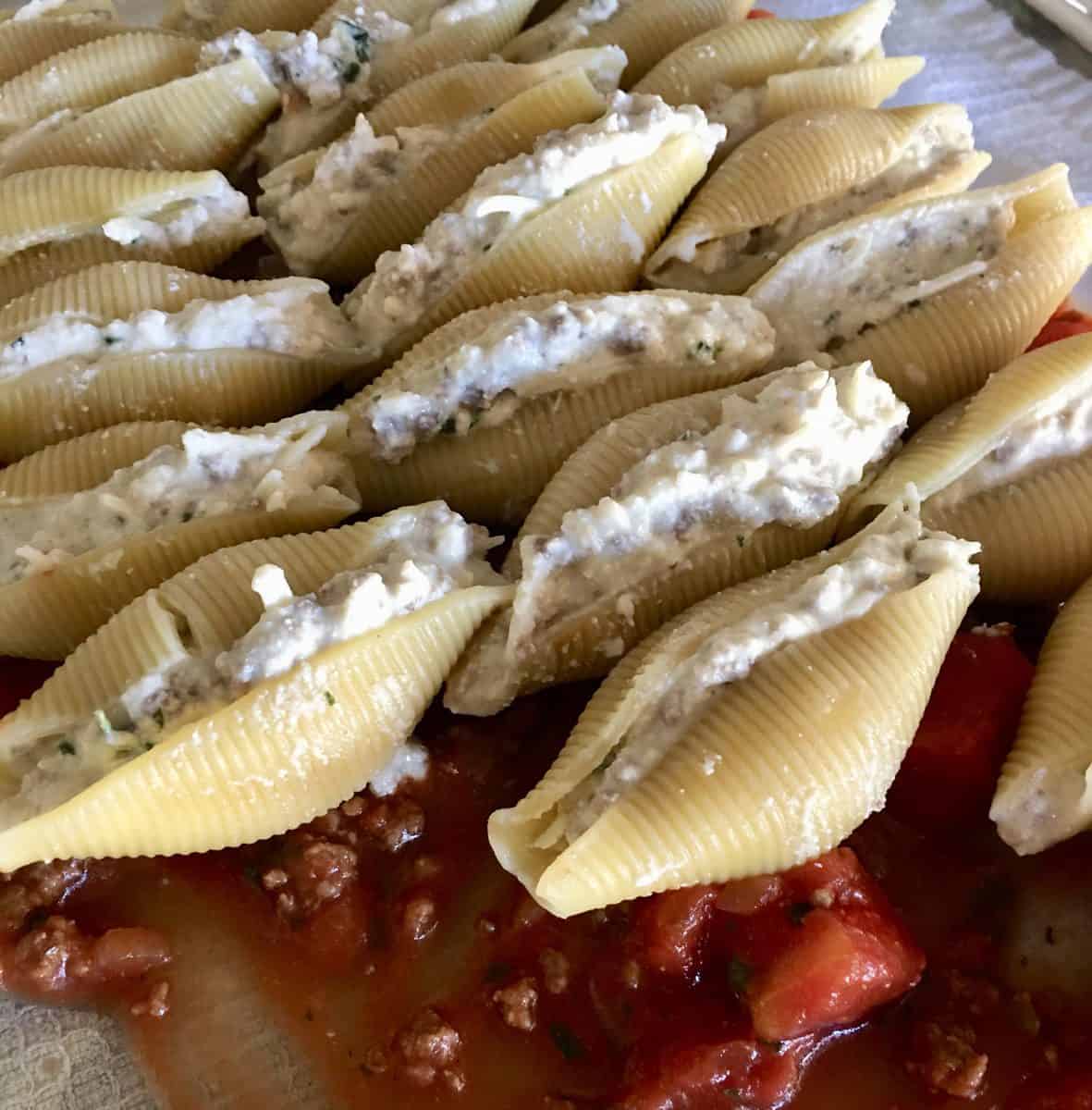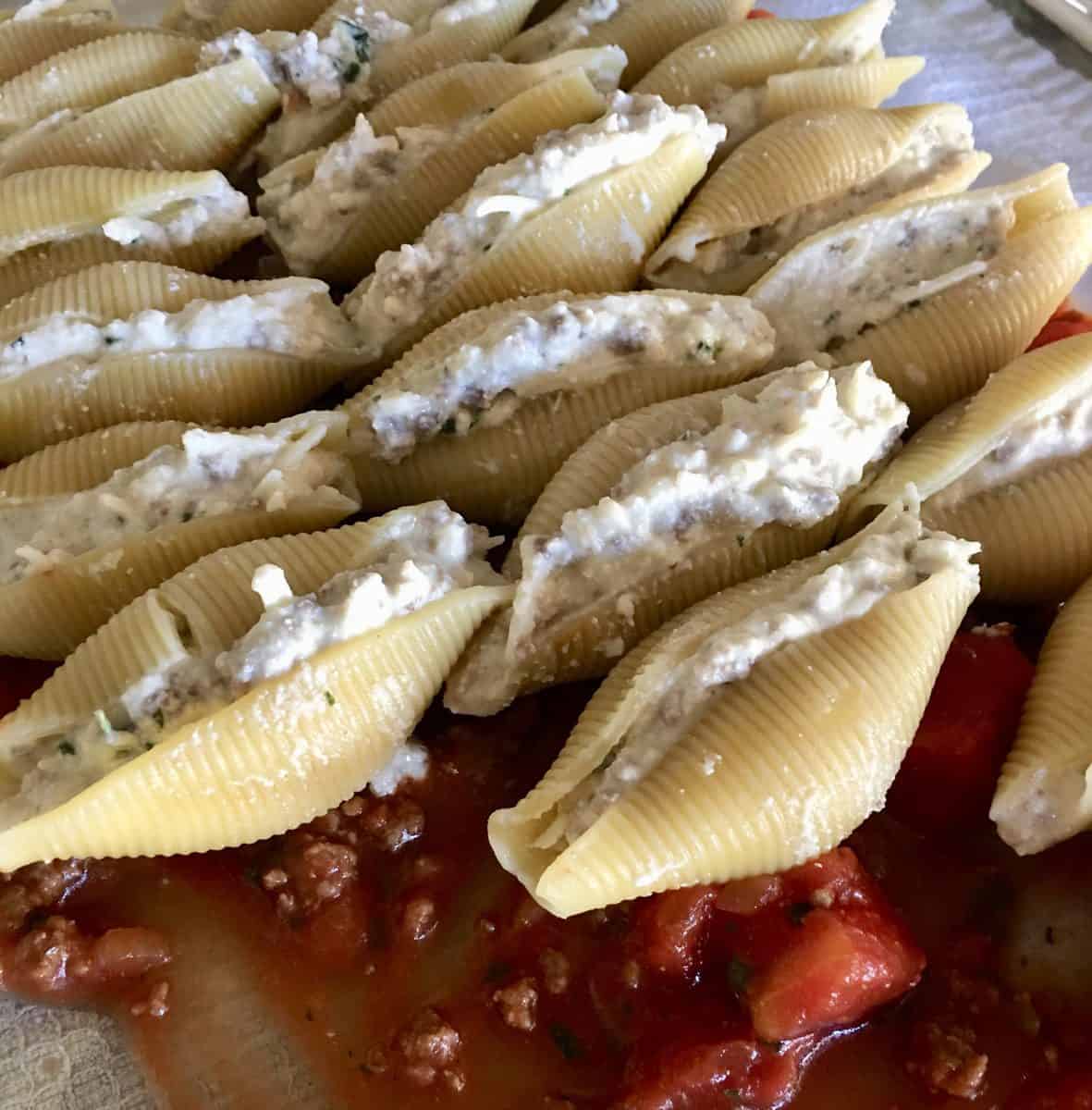 There should be enough filling and shells to fill the entire baking dish with stuffed shells.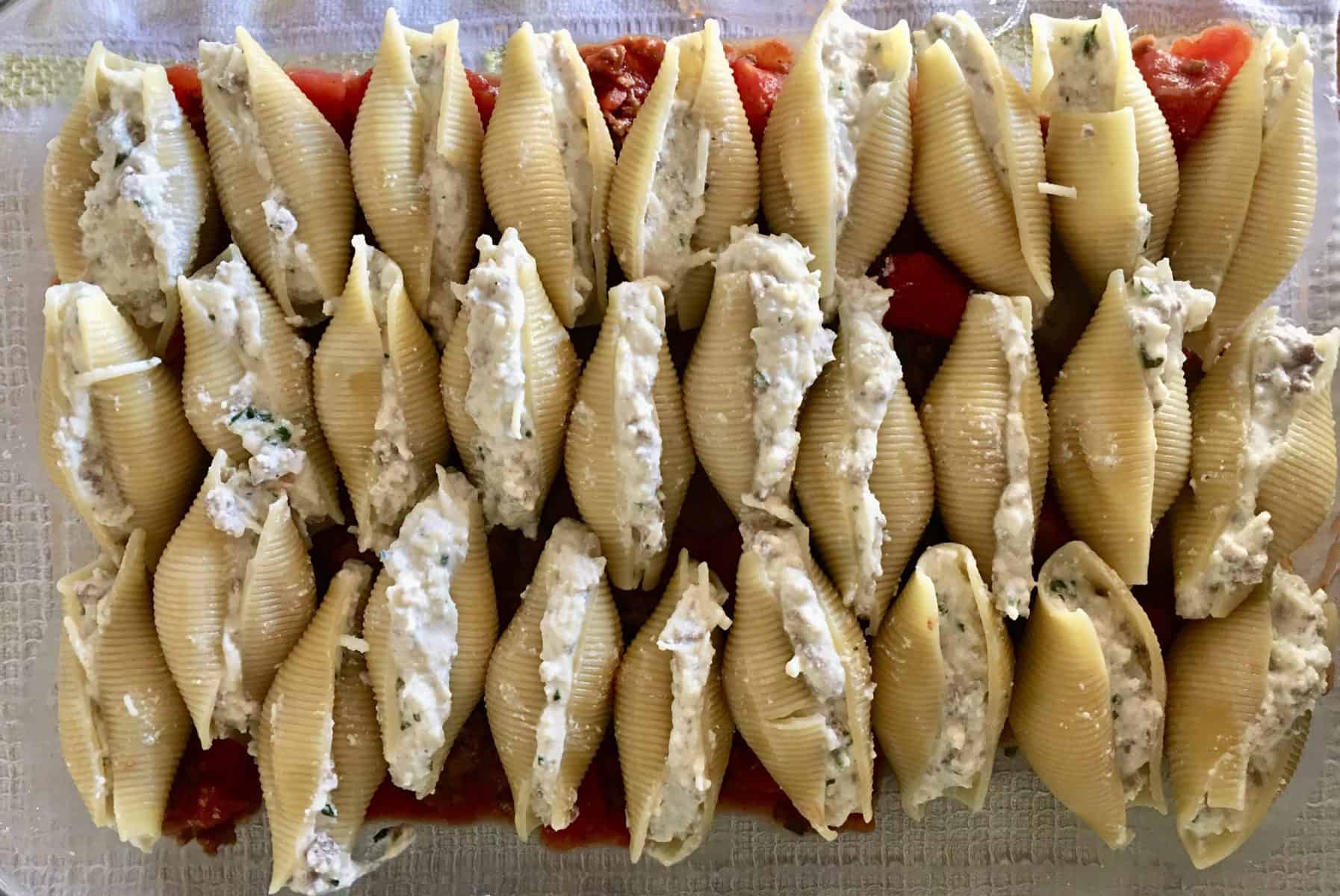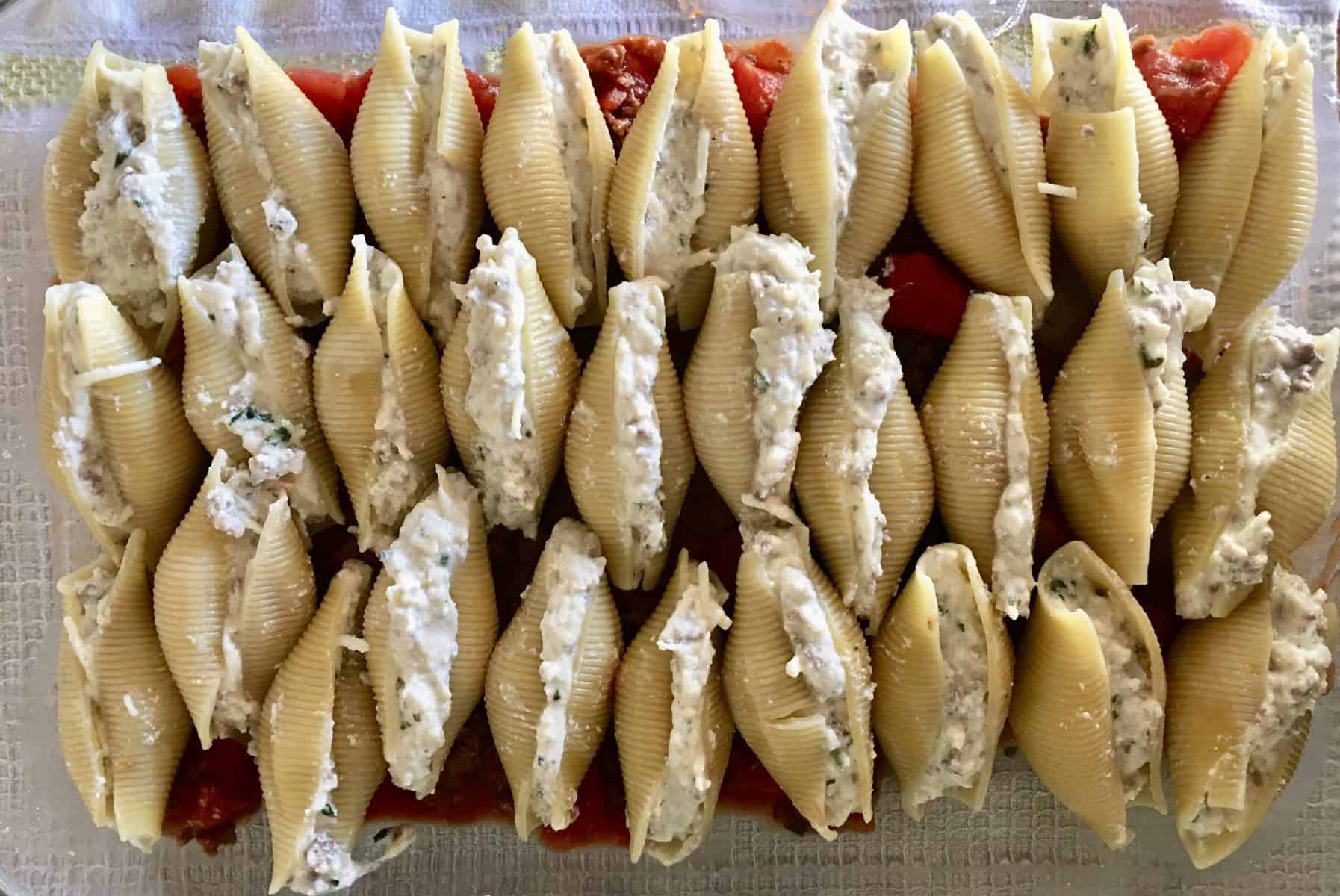 Lastly, spoon remaining meat sauce over the stuffed shells. Top with thinly sliced fresh mozzarella cheese (shredded mozzarella works too.)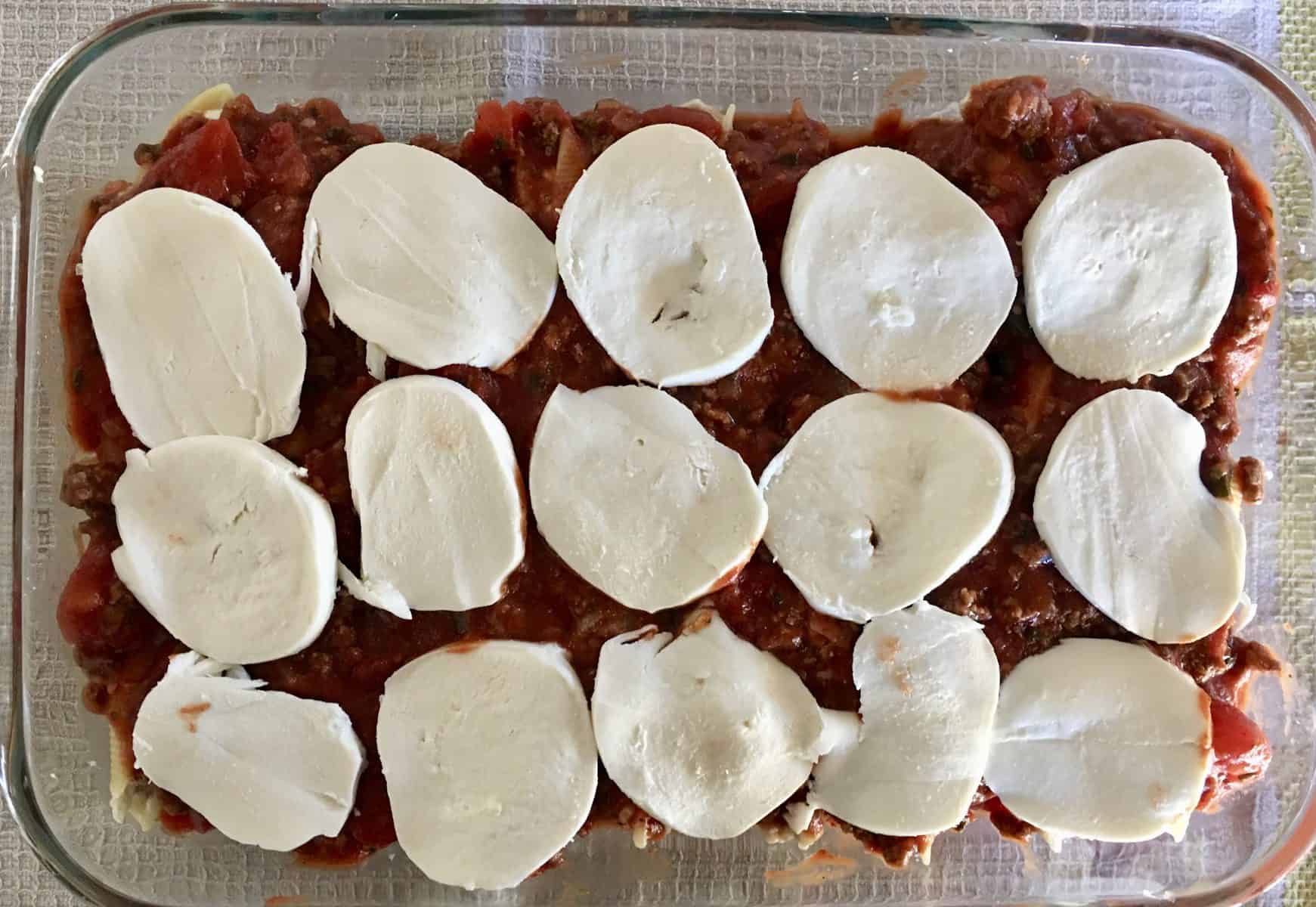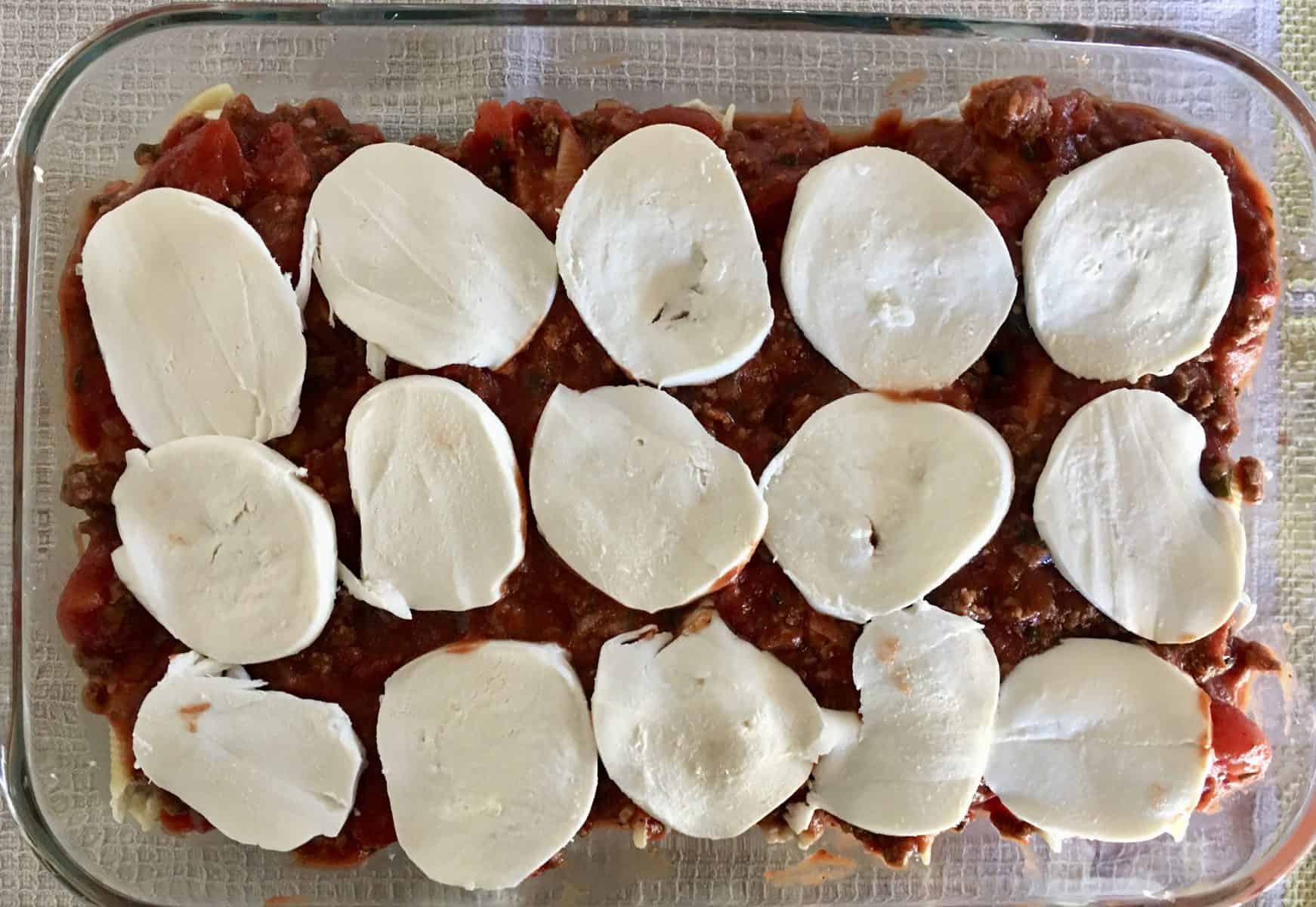 How to bake stuffed shells
If baking immediately, cover the baking dish with foil and place in a preheated 350 degree oven. You will want to bake until the sauce is bubbly, about 40 minutes. Then, remove the foil and bake for an additional 10 minutes, or until the cheese is melted.
To make ahead, cover and refrigerate the stuffed shells after assembly. When read to bake, remove from fridge and bake as instructed, adding about 10 minutes to the covered bake time.
You can freeze stuffed shells for up to a month. If baking from frozen, be sure to double the baking time or thaw in the refrigerator before baking.
What to serve with cheese beef stuffed shells
These Cheese Beef Stuffed Shells are a complete meal that would be excellent served with a simple side dish. For a traditional side, you could serve with Italian Tomato Onion Salad, a tasty dish with a balsamic kick. And, don't miss this traditional Sugo di Pomodoro recipe!
For a simple side veggie you can make while the stuffed shells bake, Roasted Brussels sprouts with garlic is always a delicious option. Another option, is to serve with a hearty starter salad like Kale Cranberry Feta Salad, a perfect make-ahead dish as well.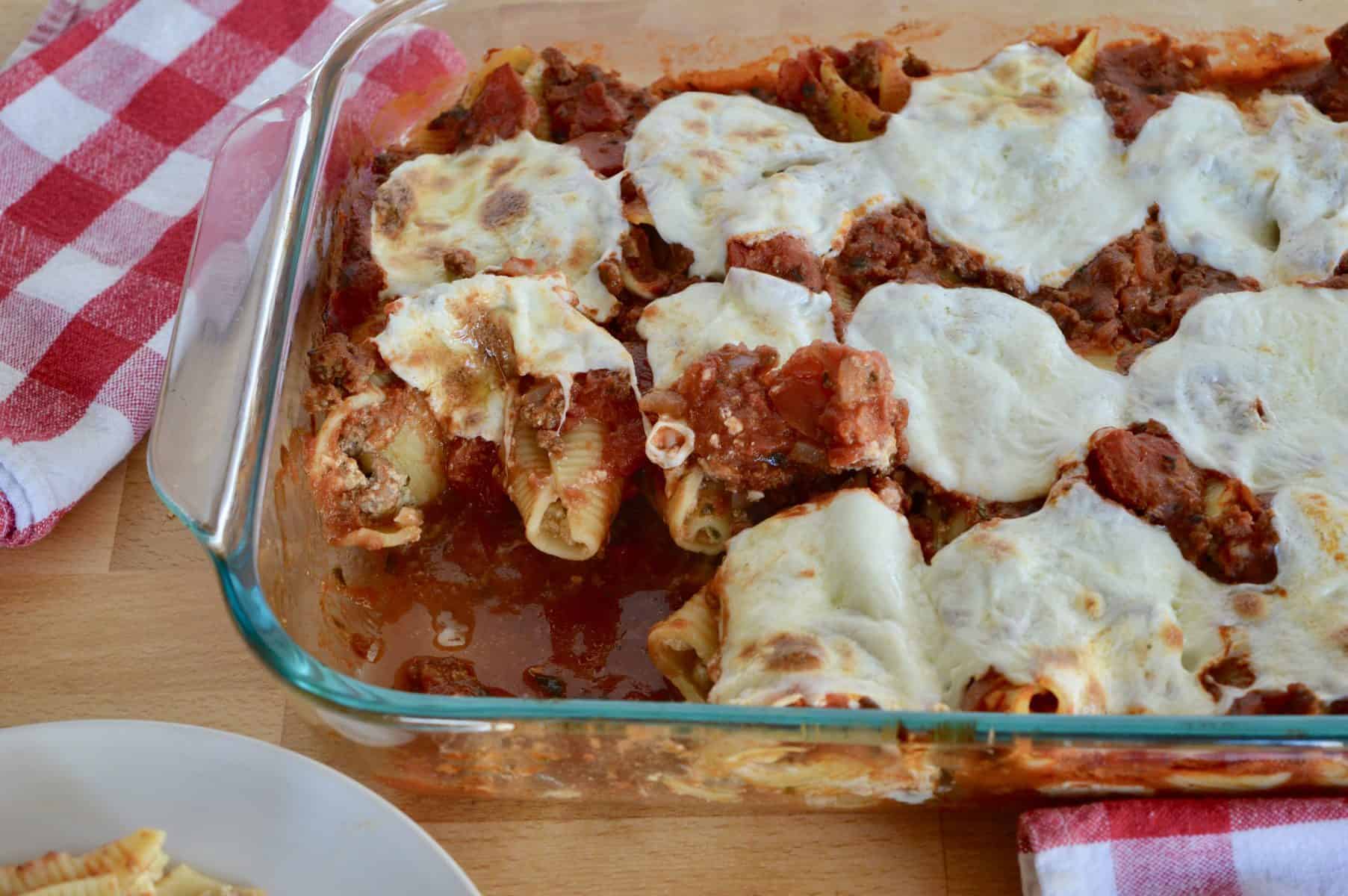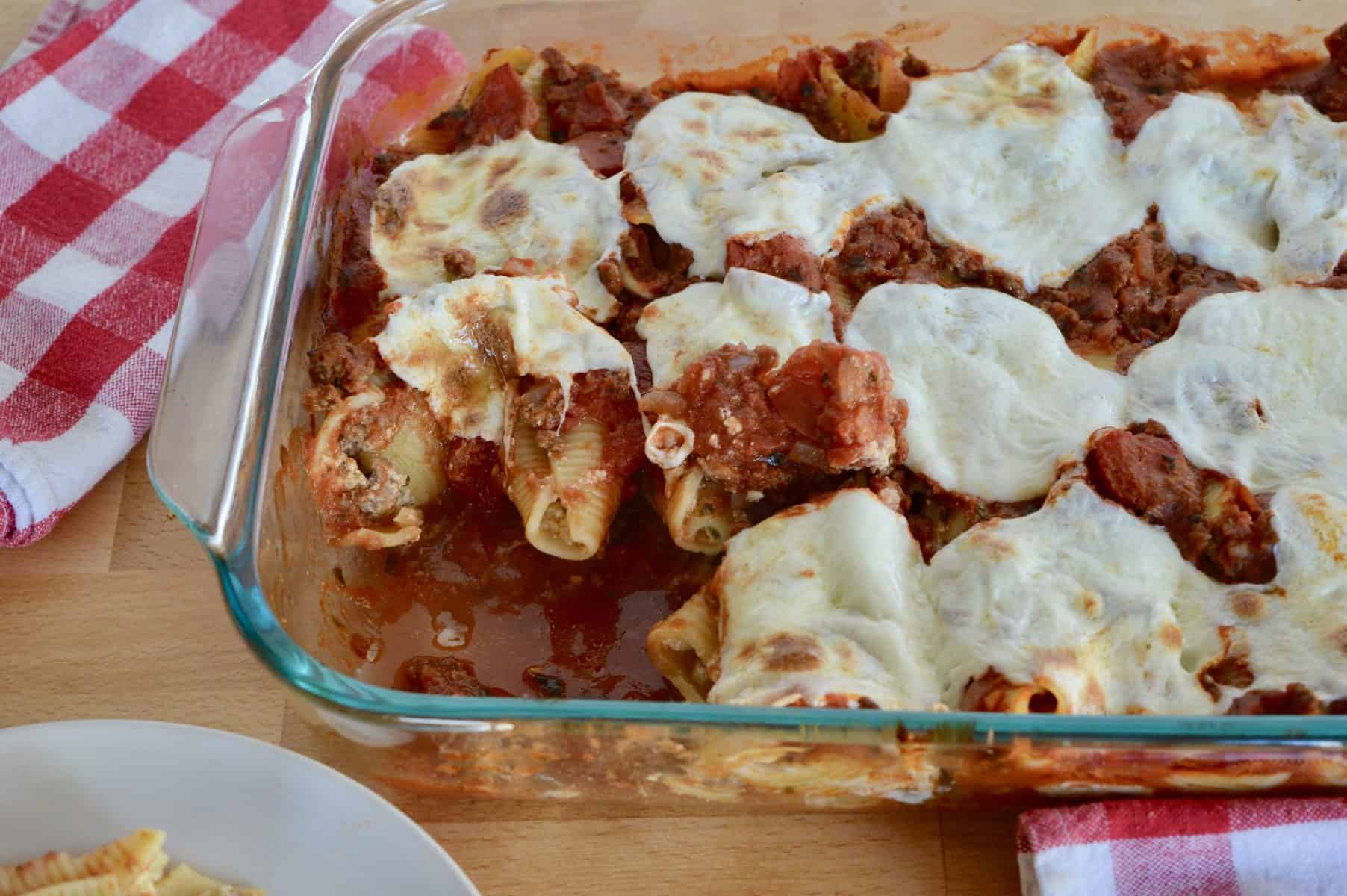 Hope you love this recipe for Cheese Beef Stuffed Shells!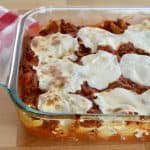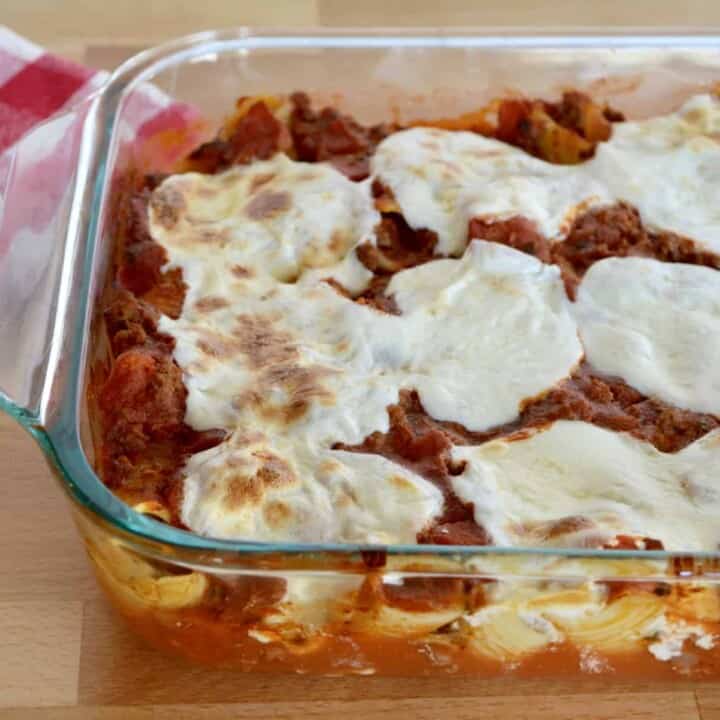 Print Recipe
Cheese Beef Stuffed Shells
This simple recipe for ricotta cheese and ground beef stuffed shells is a real crowd pleaser. This recipe comes together quickly and can be made ahead.
Ingredients
1

12 ounce box

jumbo pasta shells

1

pound

ground beef

½

large

onion, diced

2

cloves

garlic, minced

1

15 ounce container

ricotta cheese

1

cup

shredded parmesan cheese

1

large

egg

1

tablespoon

chopped basil

½

teaspoon

Italian seasoning blend

¼

teaspoon

kosher salt

2

15 ounce cans

tomato sauce or crushed tomatoes

8

ounces

fresh mozzarella cheese, thinly sliced

(shredded mozzarella works too)
Instructions
Preheat oven to 350 degrees. Bring a large pot of salted water to boil. Cook pasta shells according to package directions until al dente; drain and rinse in cold water. Set aside.

In a large skillet, cook ground beef and onion over medium heat until beef is no longer pink. Add in the minced garlic and cook one minute longer. Use a slotted spoon to remove half of the beef mixture to a large bowl, keeping the remaining beef in the skillet.

To the bowl with the beef, combine the ricotta cheese, parmesan cheese, egg, basil, Italian seasoning, and salt. Set aside.

To the skillet, add two cans of tomatoes and salt and pepper to taste. Bring to a simmer then remove from heat.

Spread about half a cup of the sauce into a 9 x 13 baking dish. Spoon about a tablespoon of the ricotta beef mixture into the pasta shells and place in baking dish. Pour the remaining sauce over the shells and top with sliced mozzarella cheese.

Cover the baking pan with foil and bake for 40 minutes. Uncover; bake for 10 minutes longer or until cheese is melted. Let sit 5 minutes before serving.
Notes
This is a great make-ahead dish. Simply assemble, cover, and refrigerate until ready to bake and serve. Allow an additional 5-10 minutes of bake time to reach the correct temperature. 
Nutrition