Limoncello Tiramisu is a simple and make-ahead Italian dessert made with Limoncello liqueur, mascarpone cheese, and ladyfinger cookies. Full of bright flavors, you are going to love this lemony version of classic tiramisu.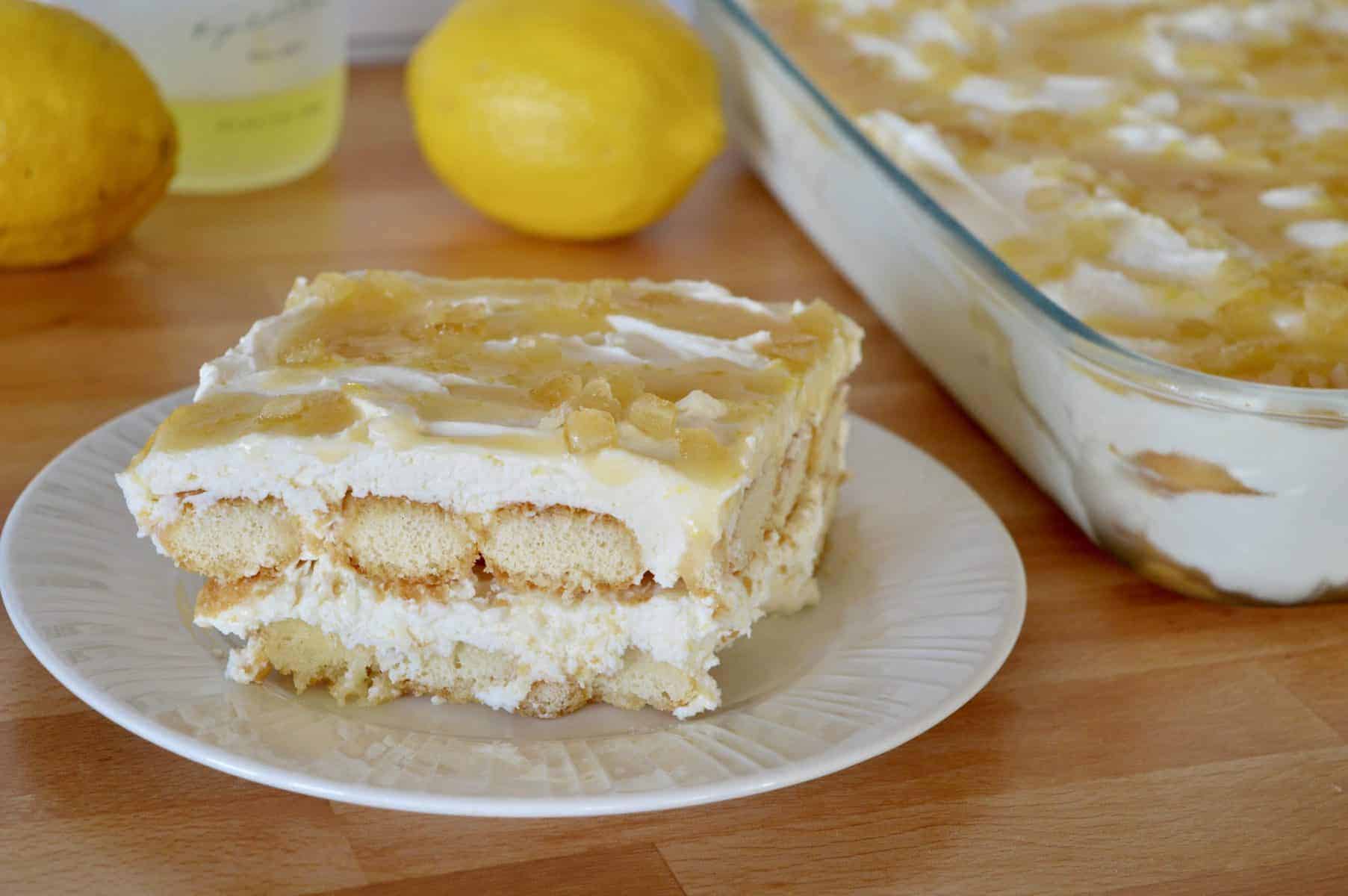 Classic tiramisu is a traditional Italian dessert consisting of ladyfinger cookies, soaked in coffee and layered with a mascarpone cream mixture and dusted with cocoa powder. The cake is traditionally spiked with rum or a coffee-flavored liqueur.
This Limoncello Tiramisu recipe has all of the traditional components of a classic tiramisu recipe, but is spiked with limoncello and lots of lemon flavors. This is the perfect dessert to make during the warmer months when you are craving those bright citrus notes.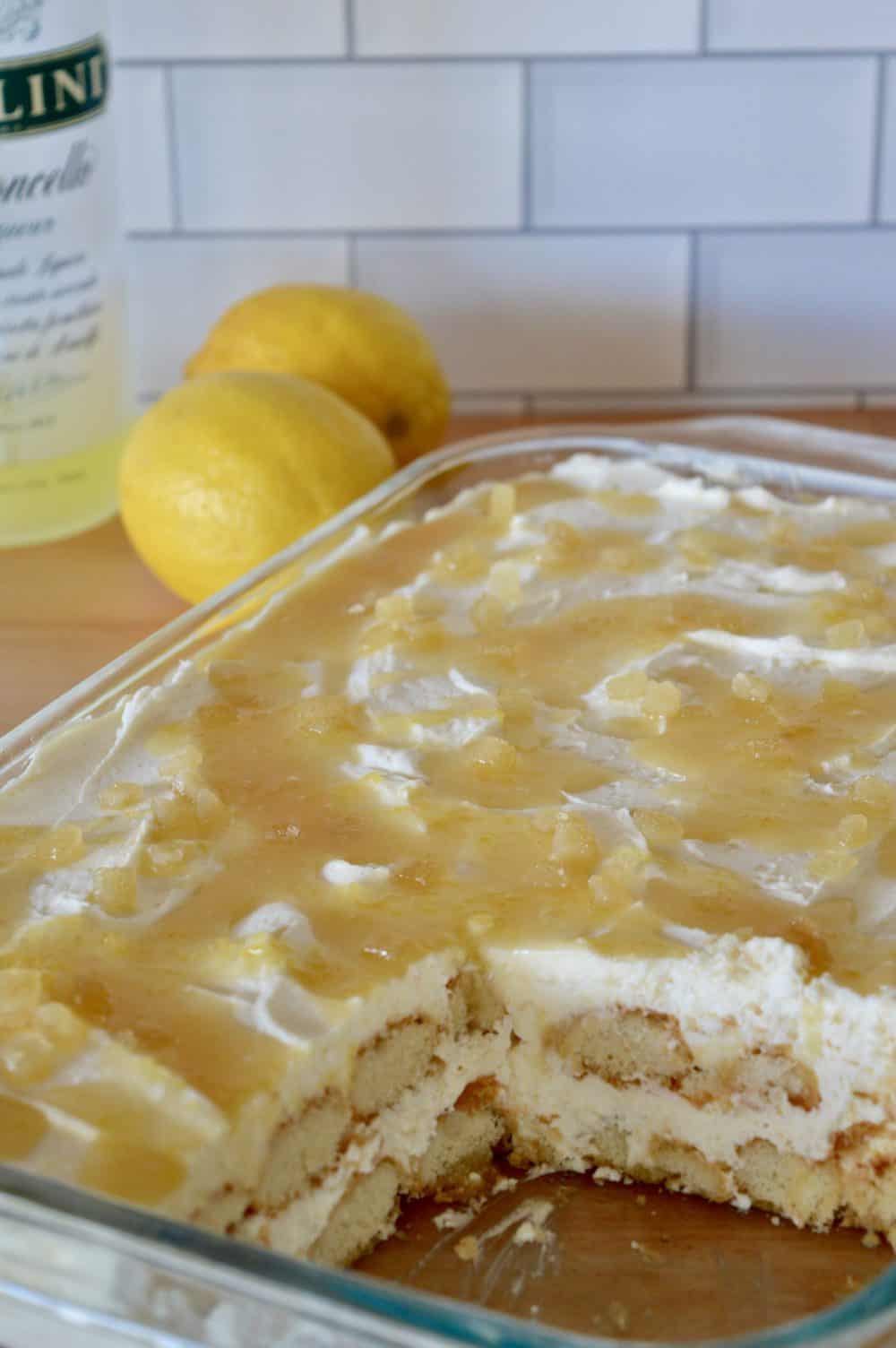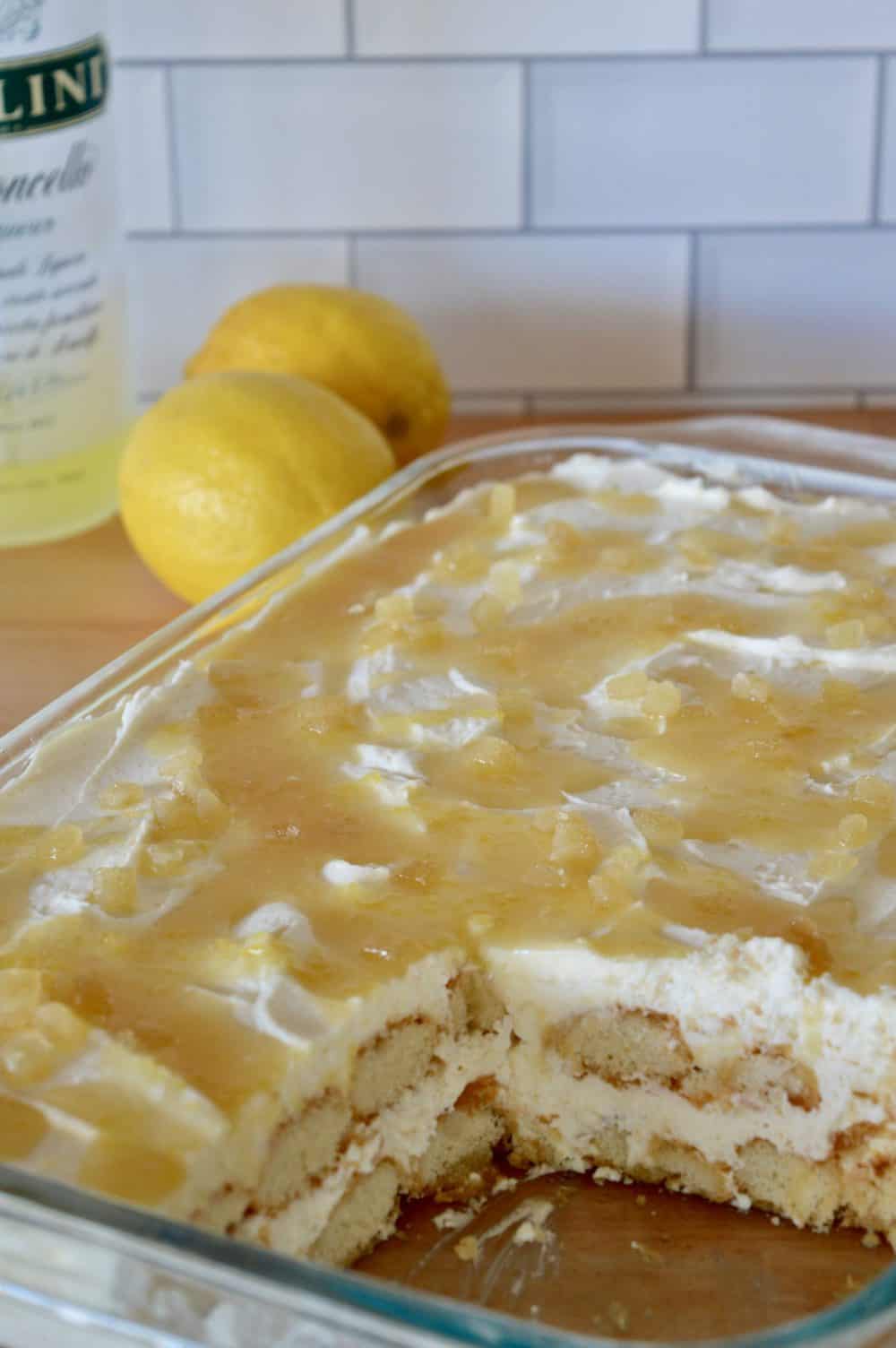 Make-Ahead Limoncello Tiramisu
Limoncello Tiramisu is the perfect make-ahead Italian dessert. Firstly, you must let it sit for at least 4 hours before serving. But, ideally, a day or two ahead in the refrigerator is a great way to allow the flavors to meld.
So if you are looking for delicious make-ahead dessert, then this is it. The ladyfingers are gently soaked in a lemon sugar mixture and come out the perfect texture as they refrigerate. Moreover, letting the tiramisu sit in the refrigerator for a day or two mellows the flavors and really allows them to combine nicely.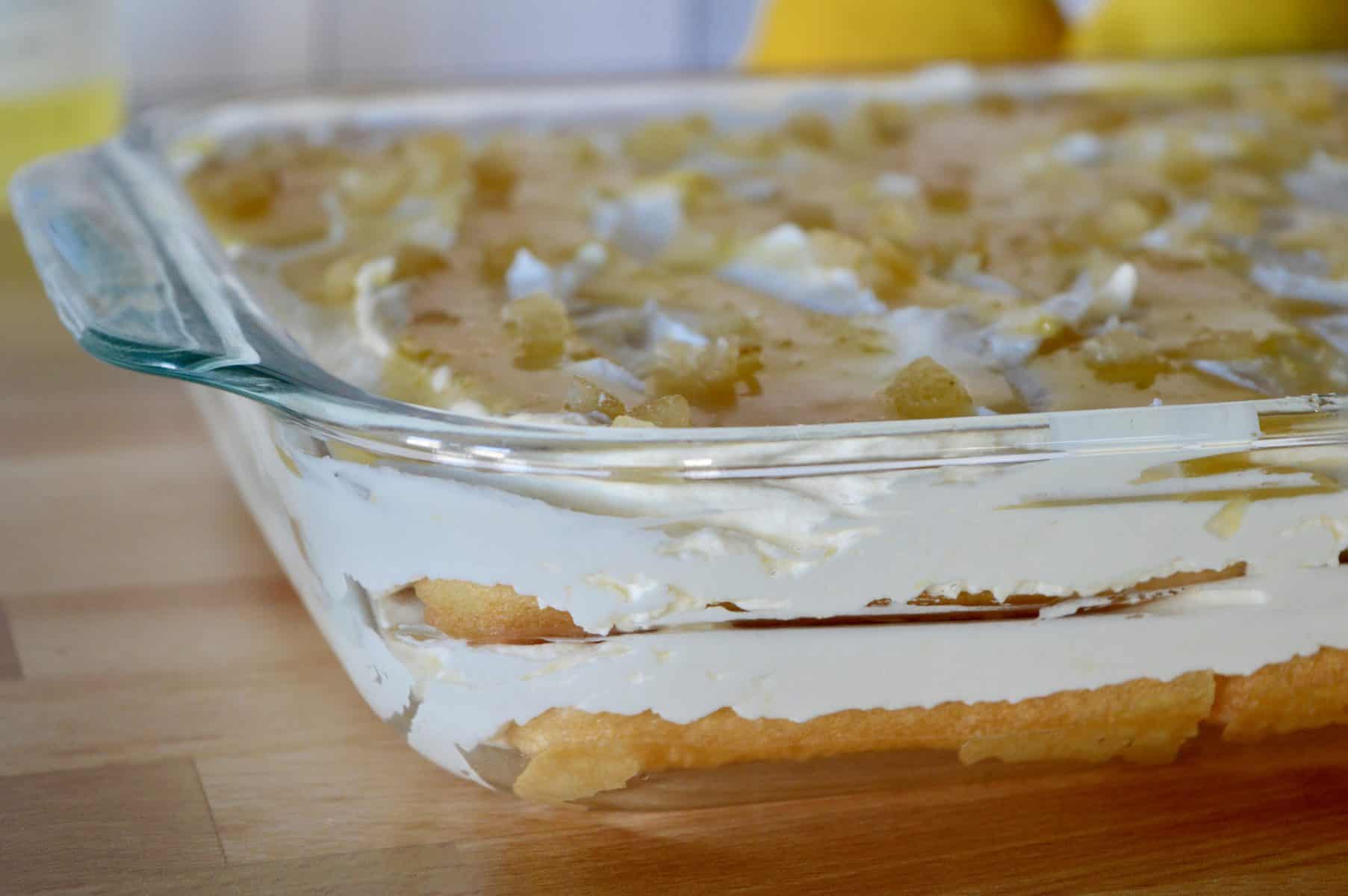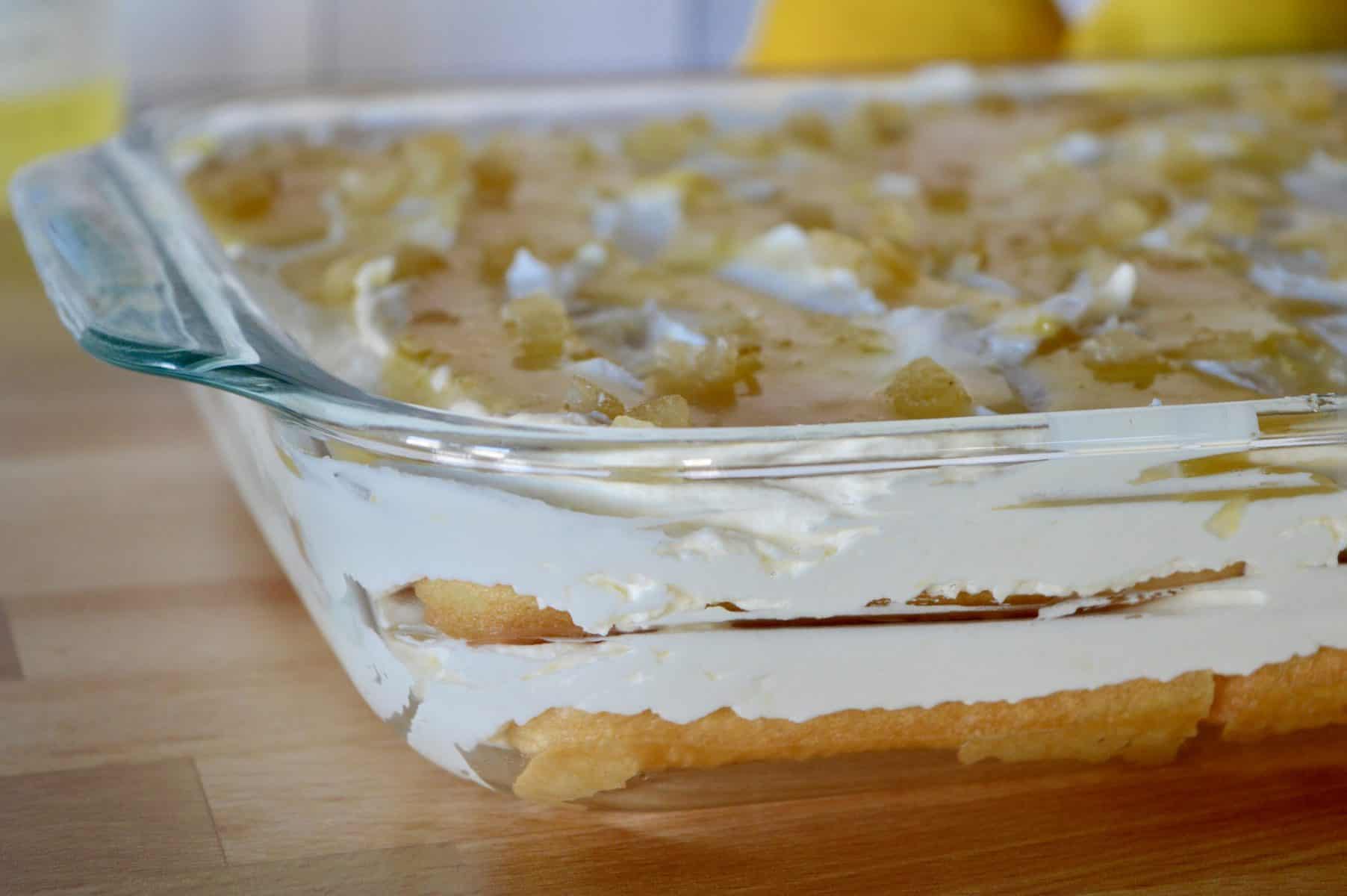 Can you substitute the Limoncello?
The total amount of limoncello in this dessert is minimal, but if you wanted to omit it altogether, this is definitely an option.
I wouldn't recommend doing a full lemon juice substitution for the limoncello because it would be too tart. You could mix a tablespoon of lemon juice with a tablespoon of sugar and two tablespoons of water to get a ¼ cup serving of limoncello.
You could also substitute frozen lemonade concentrate for the limoncello in equal parts. Be sure to thaw the juice concentrate before measuring and adding to the recipe.
Another option would be Torino lemon syrup. Just add half the amount initially then taste to see if it needs more or not.
Lastly, a bit of lemon extract could do the work. Again, start with a small amount, taste, and then adjust as needed.
Italian Lemon Desserts
Lemon is a very common flavor when it comes to Italian desserts. You may think of lemon gelato when you think of Italian lemon desserts, but many baked goods feature this fresh flavor.
One of the most poplar Italian lemon desserts is Lemon Ricotta Cake. This moist and slightly dense cake is simple to make is perfect for a light dessert or decadent breakfast.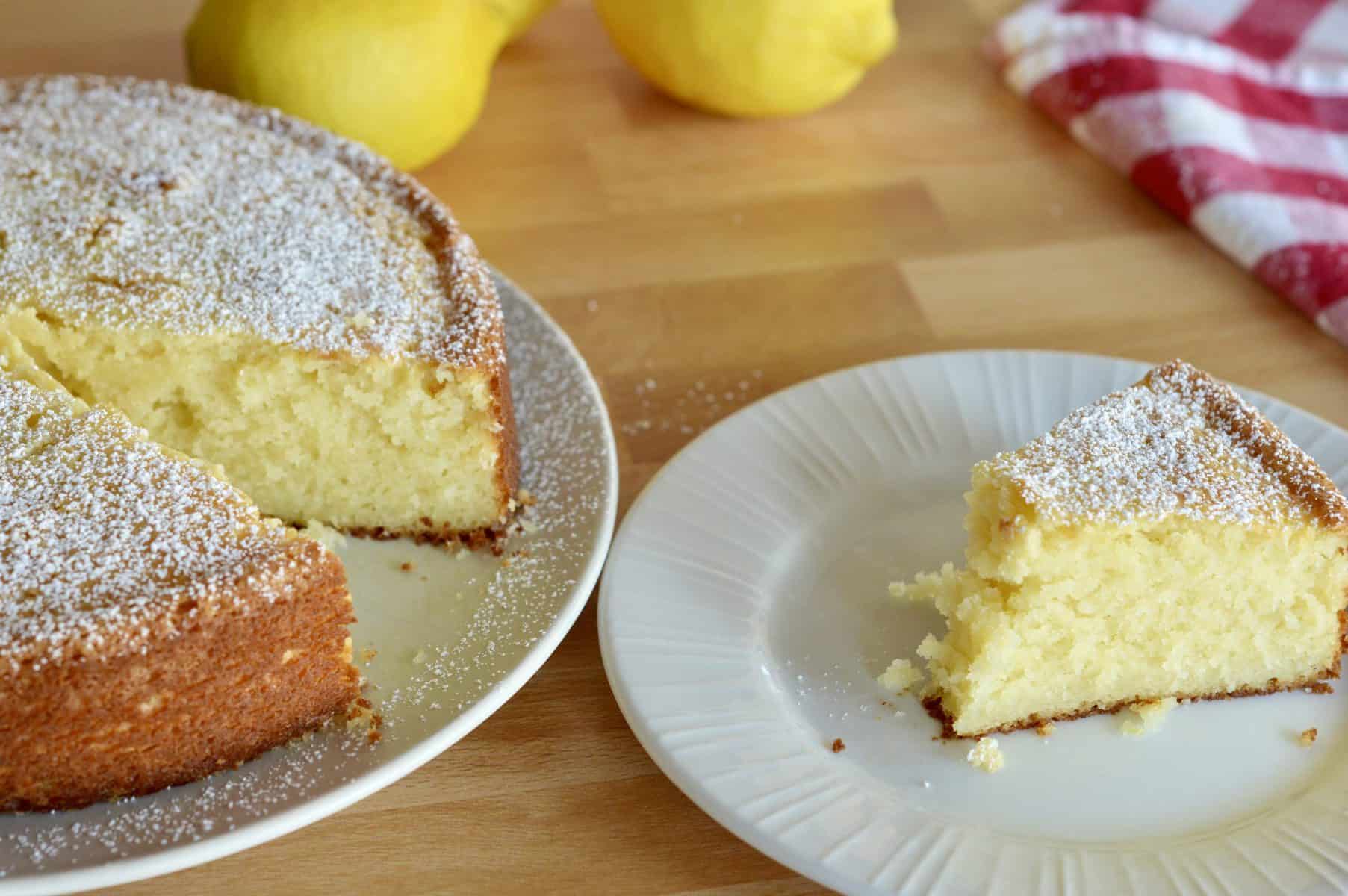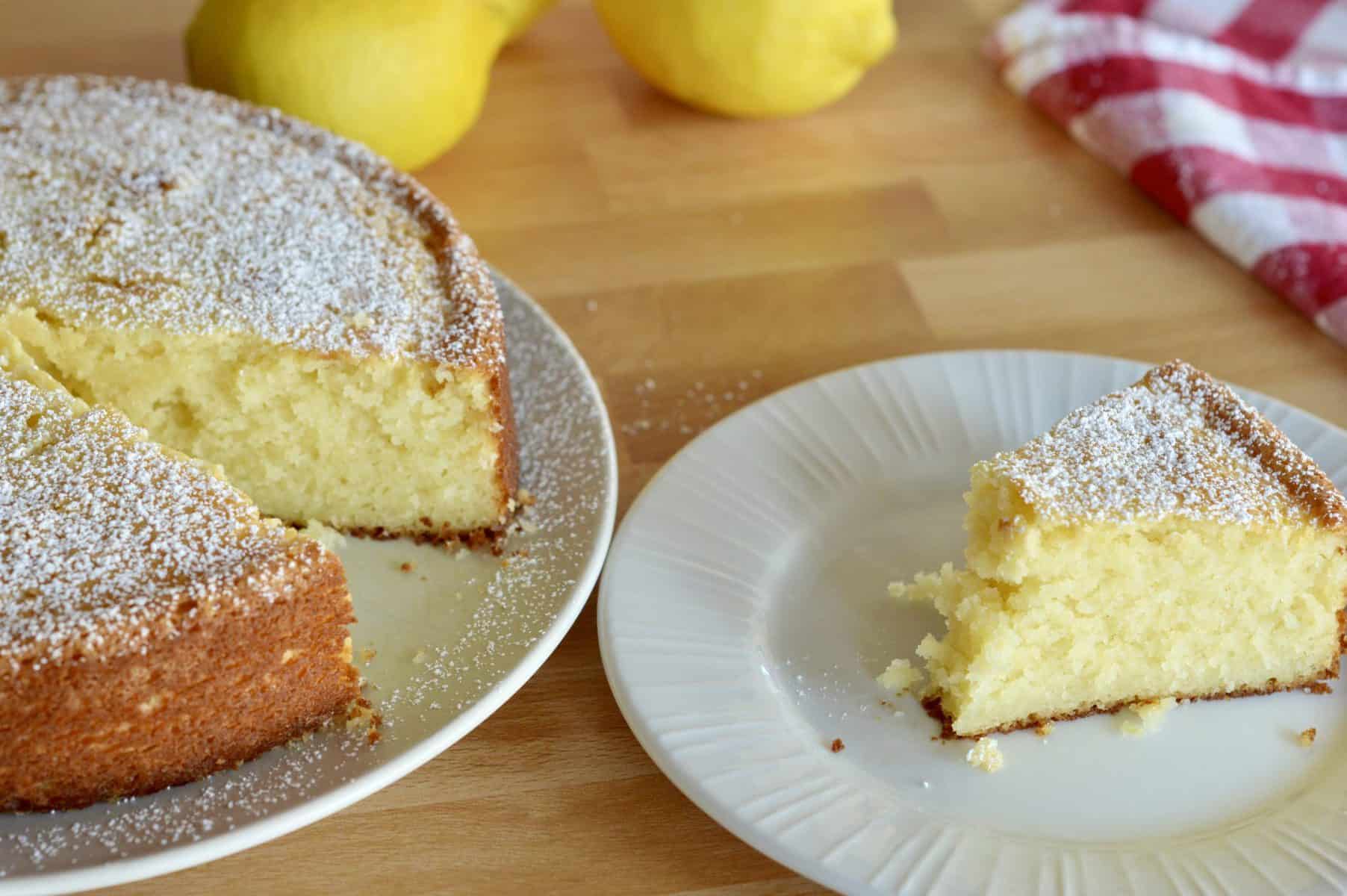 Celebrating an occasion? Then Limoncello Ricotta Cake with cream cheese frosting is a cake that everyone will love. Full of flavors and a light and airy texture, it's a great recipe to have on hand for special occasions.
Love lemon bundt cakes? Then this Lemon Ricotta Bundt Cake is guaranteed to be your new favorite dessert. Simple to make and so full of flavor, this cake is topped with a tasty lemony glaze.
Another great Italian lemon dessert are Limoncello Ricotta Cookies with a sweet limoncello glaze. These soft, cake-like cookies, are a delicious dessert for a cookie exchange or anytime of the year.
How to Make Limoncello Tiramisu
This is going to be one of your absolute favorite Italian desserts to make. The dish comes together quickly and is completely make ahead. Just make the layers and refrigerate until ready to serve.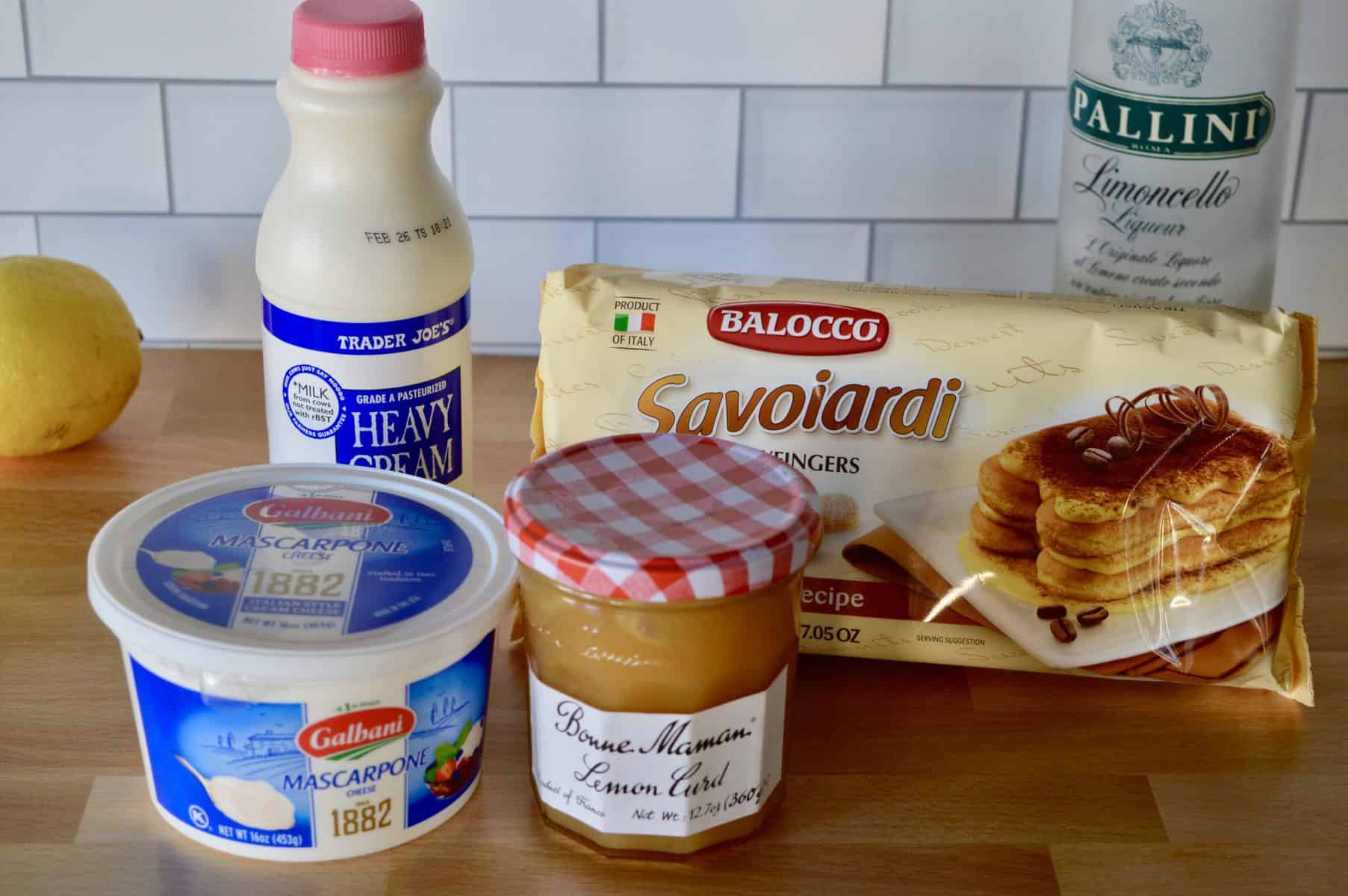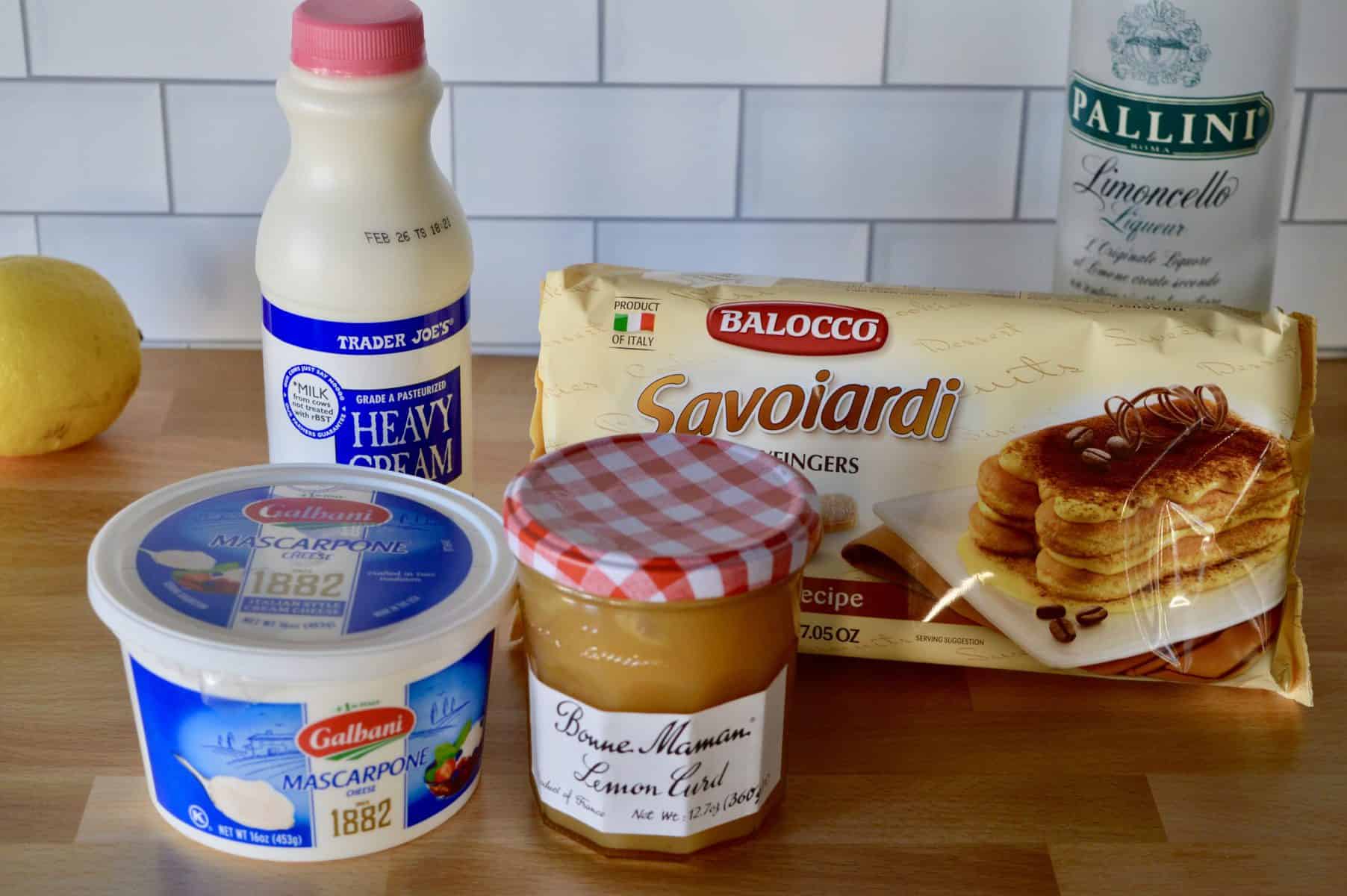 Tiramisu has two main components: the soaked ladyfingers and the mascarpone cheese filling. All you need to do is put together the soak and the filling, and you are ready to assemble.
Firstly, prepare the filling. You will need two large bowls for this: one for the whipping cream and one of the mascarpone.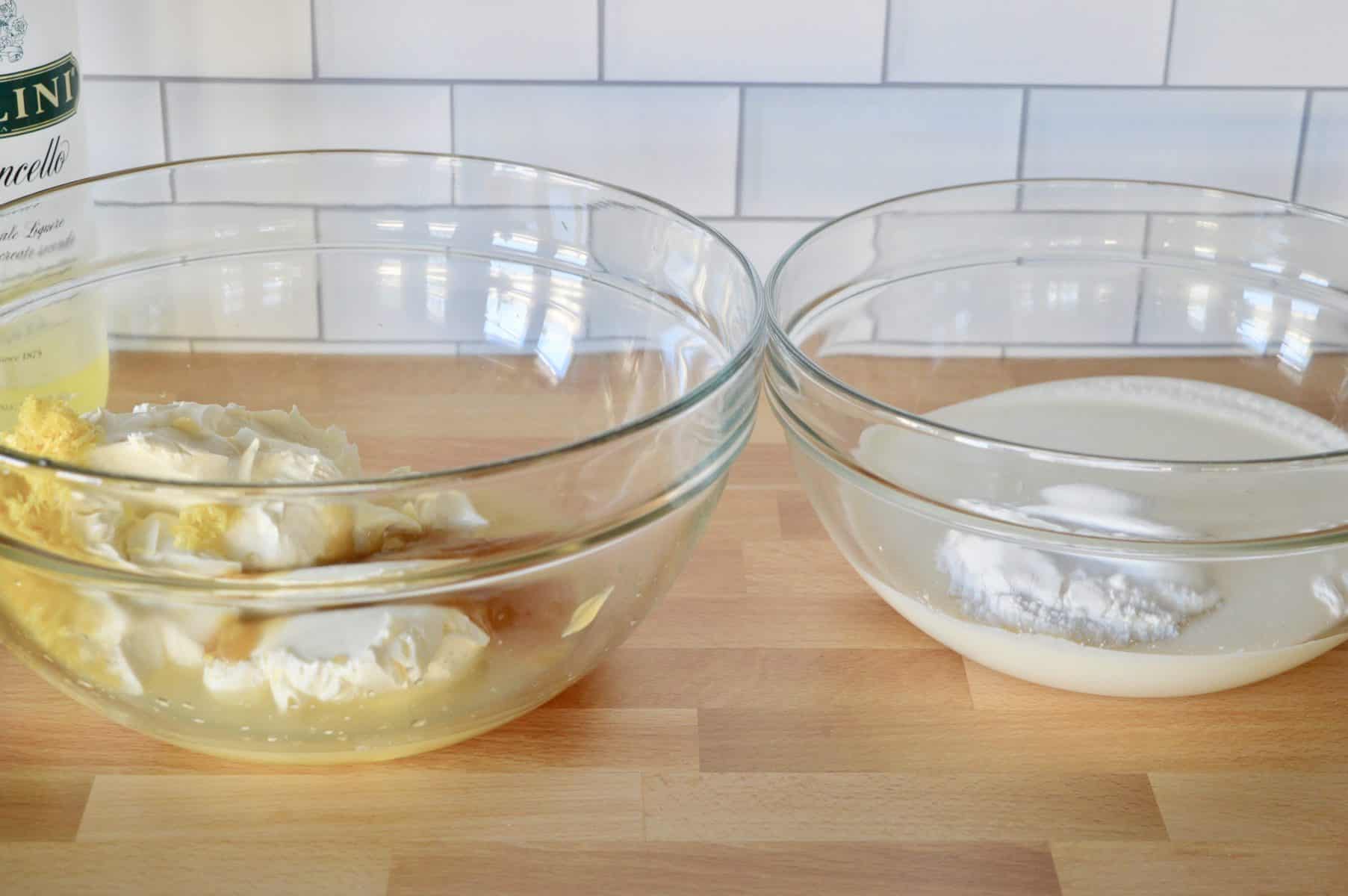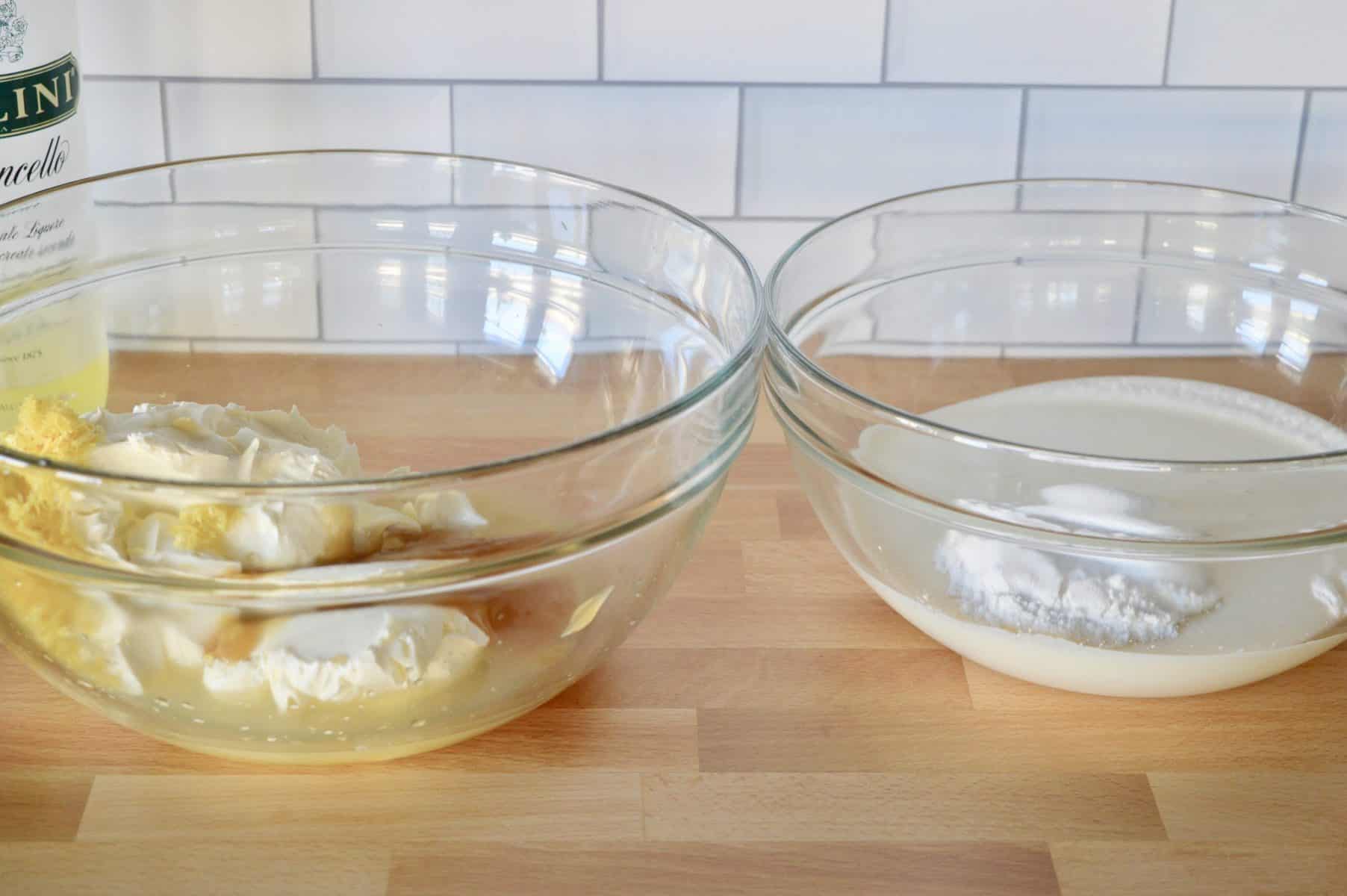 In the first bowl, combine the mascarpone, lemon curd, lemon juice, grated lemon zest, and limoncello. In the second bowl combine the cold whipping cream and powdered sugar. Beat the mascarpone to combine and whip the cream to stiff peaks.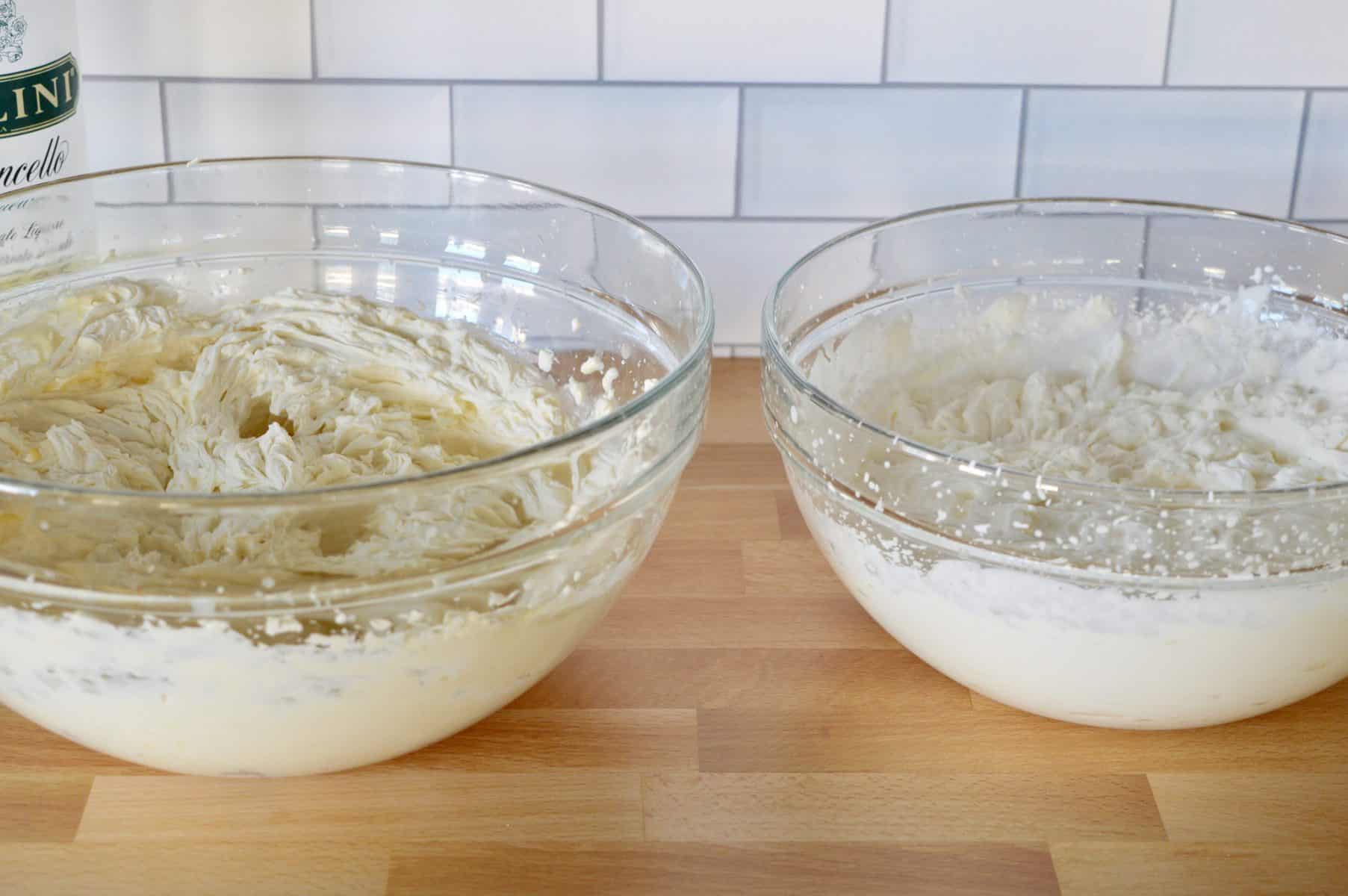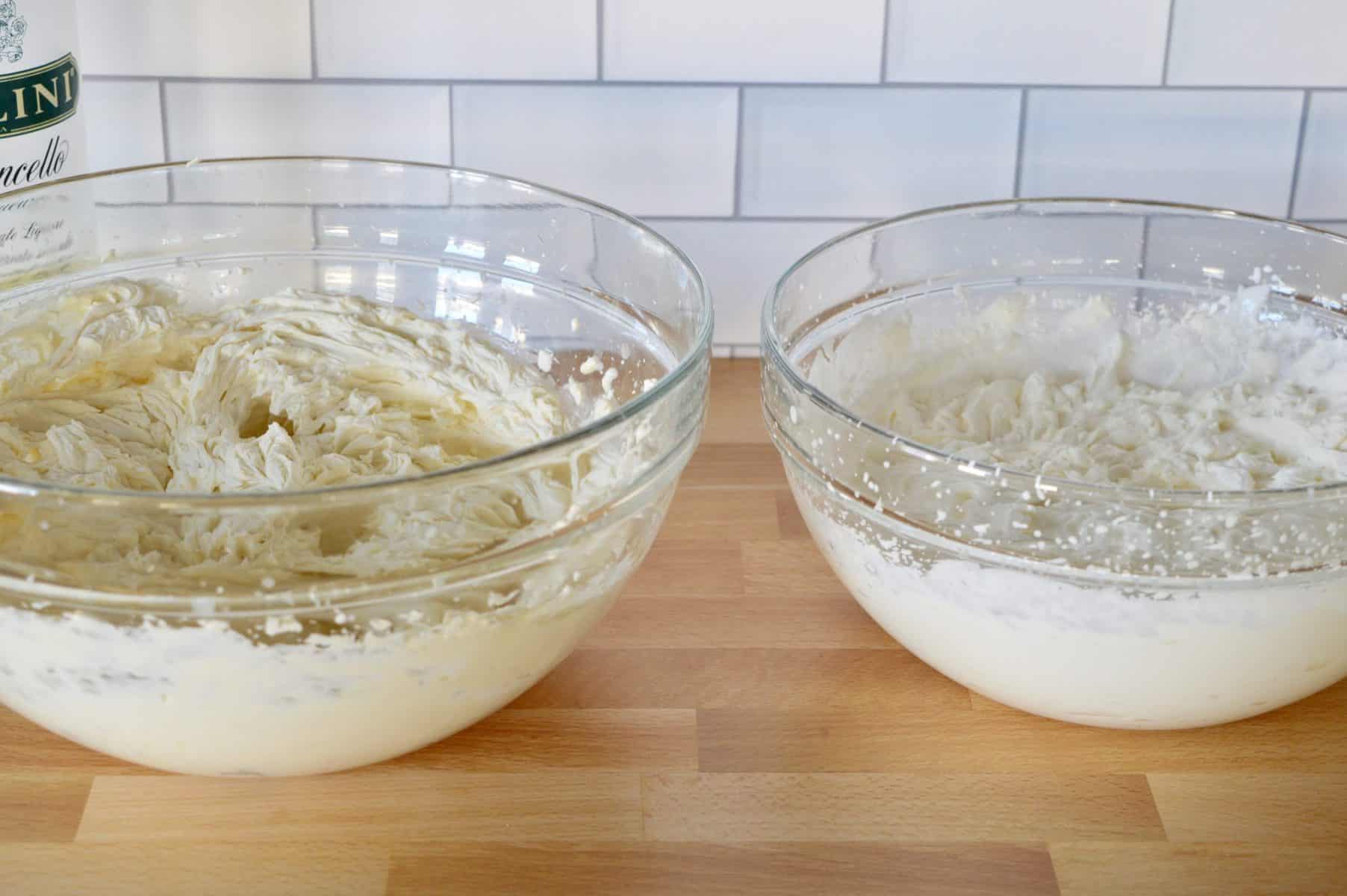 Next, fold the whipping cream into the mascarpone mixture. You don't need to be super gentle with this process. Mix to combine.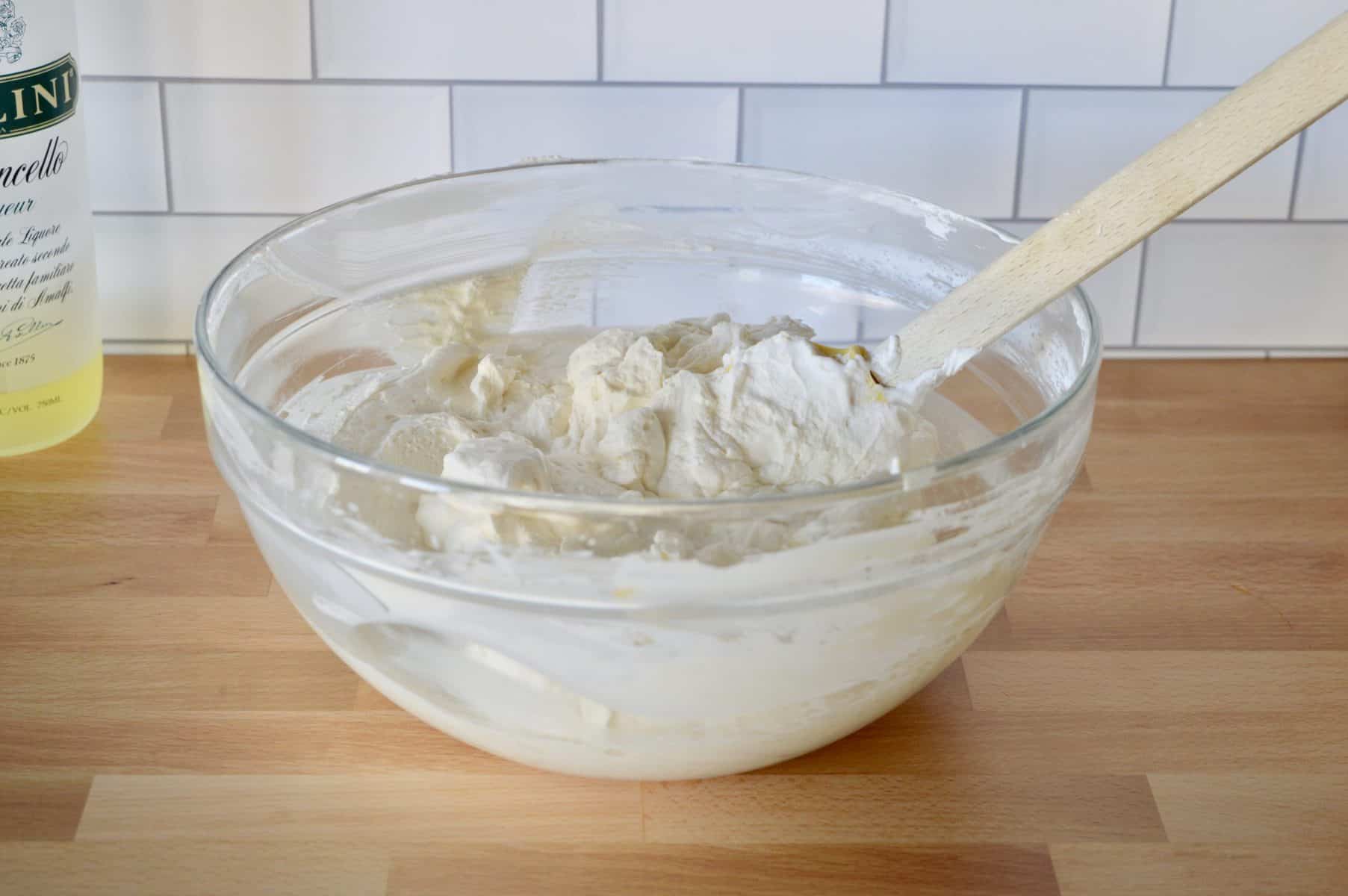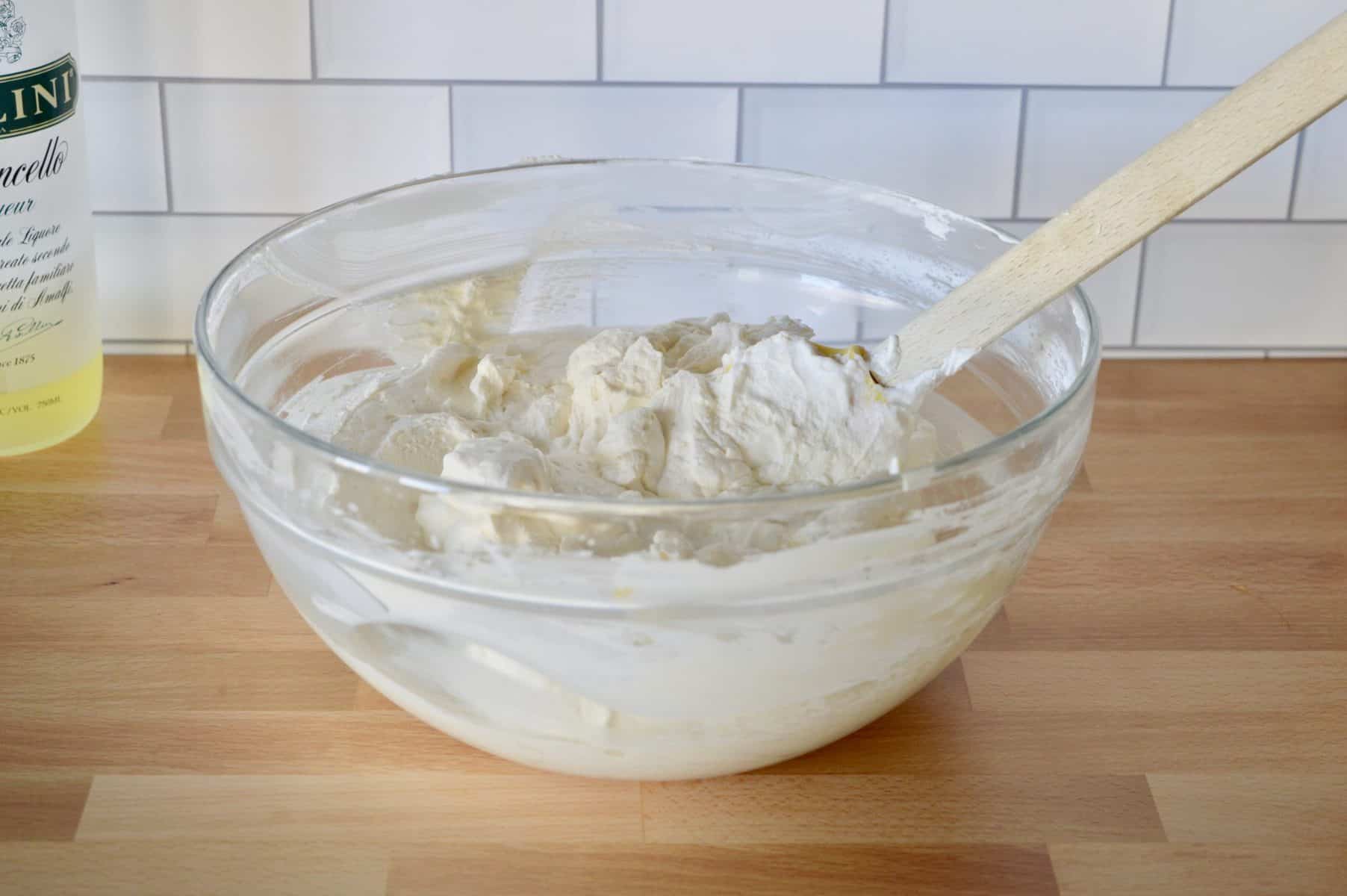 Secondly, you will need to prepare the soak for the ladyfingers layer. To do this, bring the sugar and lemon juice to a simmer on the stove. Simmer for about 2 minutes, just until the sugar has dissolved and the mixture has reduced slightly. Add in the limoncello.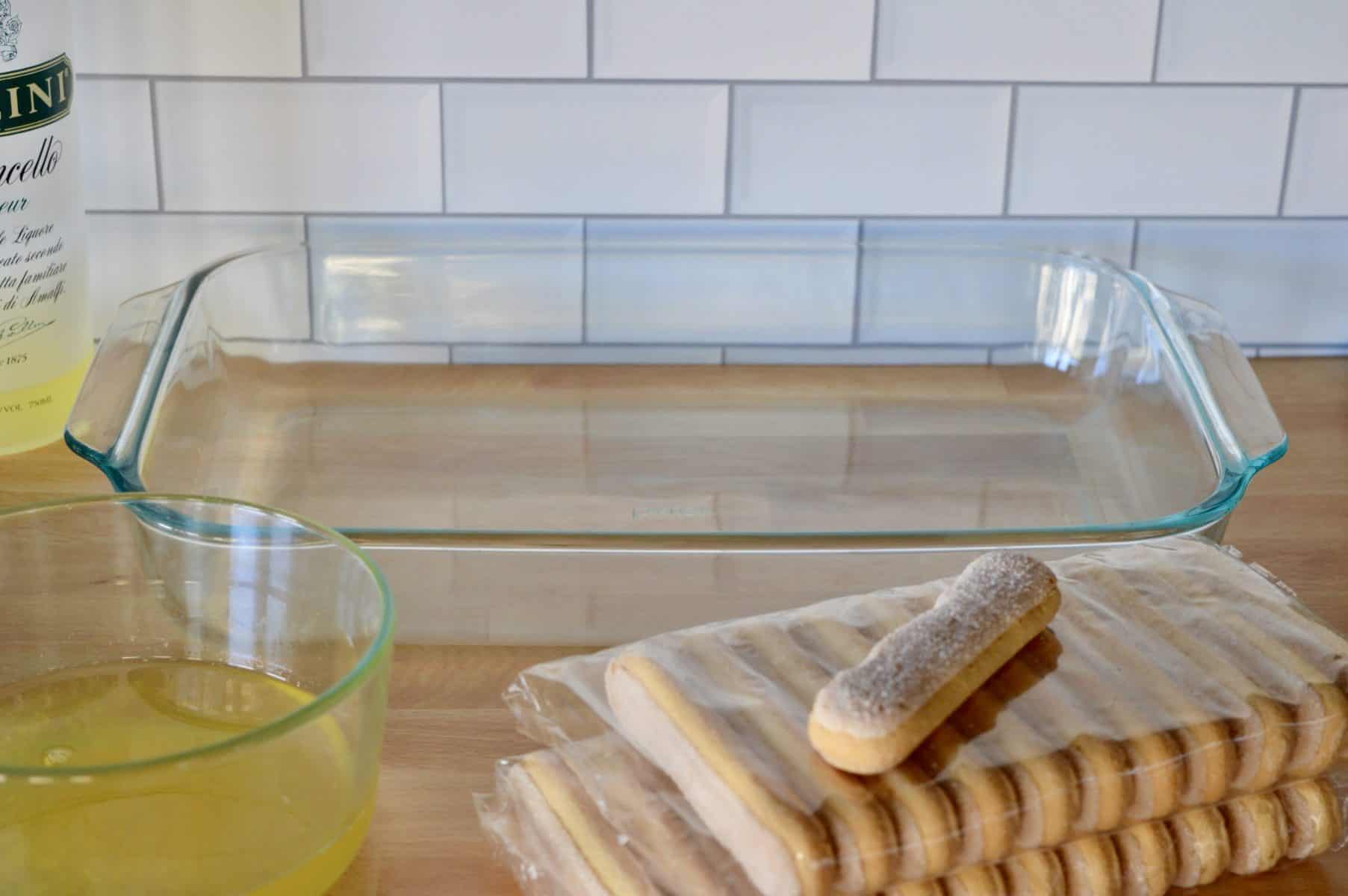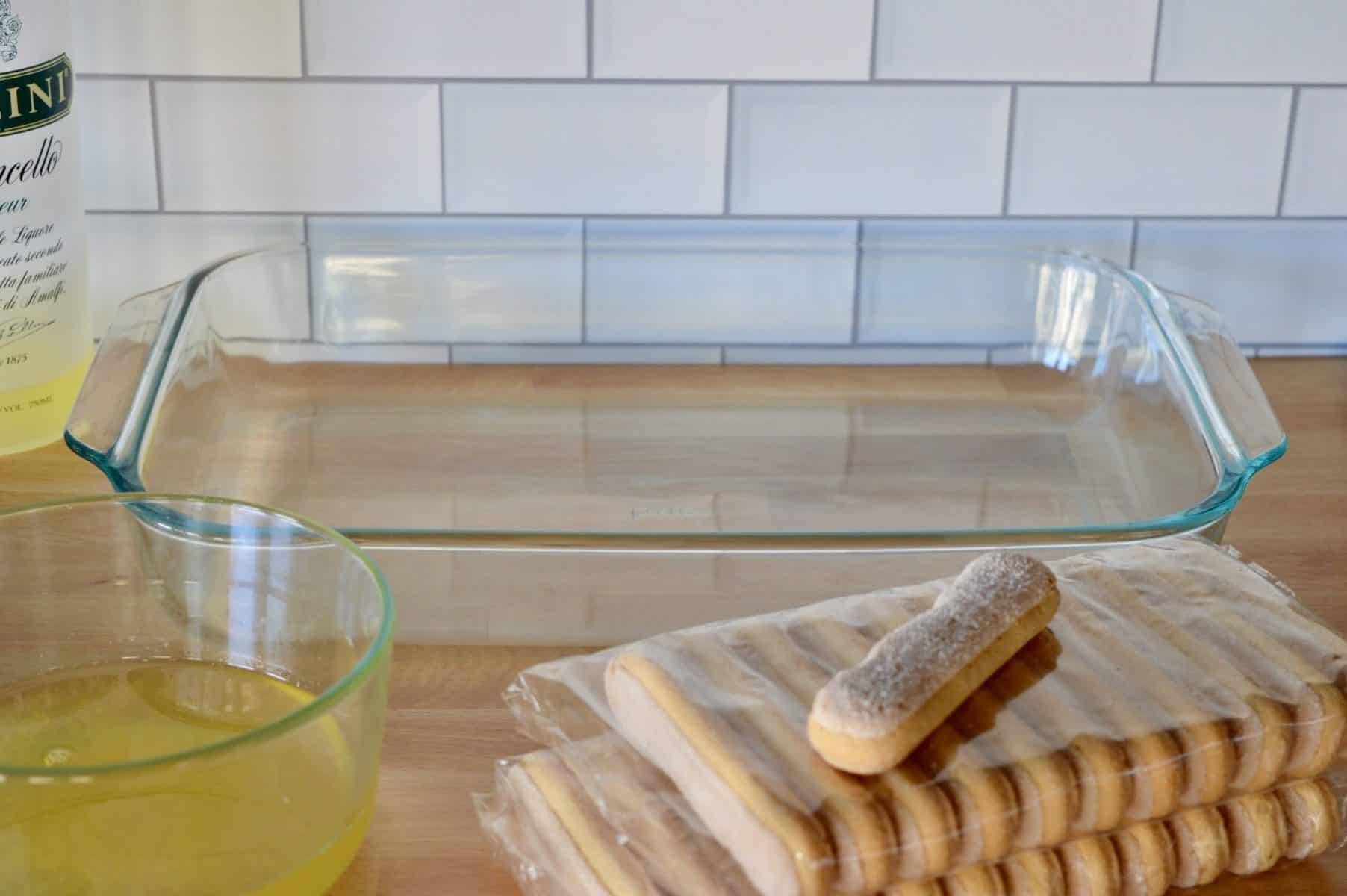 Once the soak has cooled slightly, you are ready to assemble the limoncello tiramisu.
How to Assemble Limoncello Tiramisu
To assemble the tiramisu, get all ingredients together near your 9 x 13 baking pan. The bottom layer is the soaked ladyfingers.
For this part, place the ladyfinger cookies in the soak. Allow the cookies to absorb the liquid. How long the cookies sit in the soak varies on the type of ladyfingers you use. As a rule of thumb, I find 10 seconds on each side of the cookie sufficient.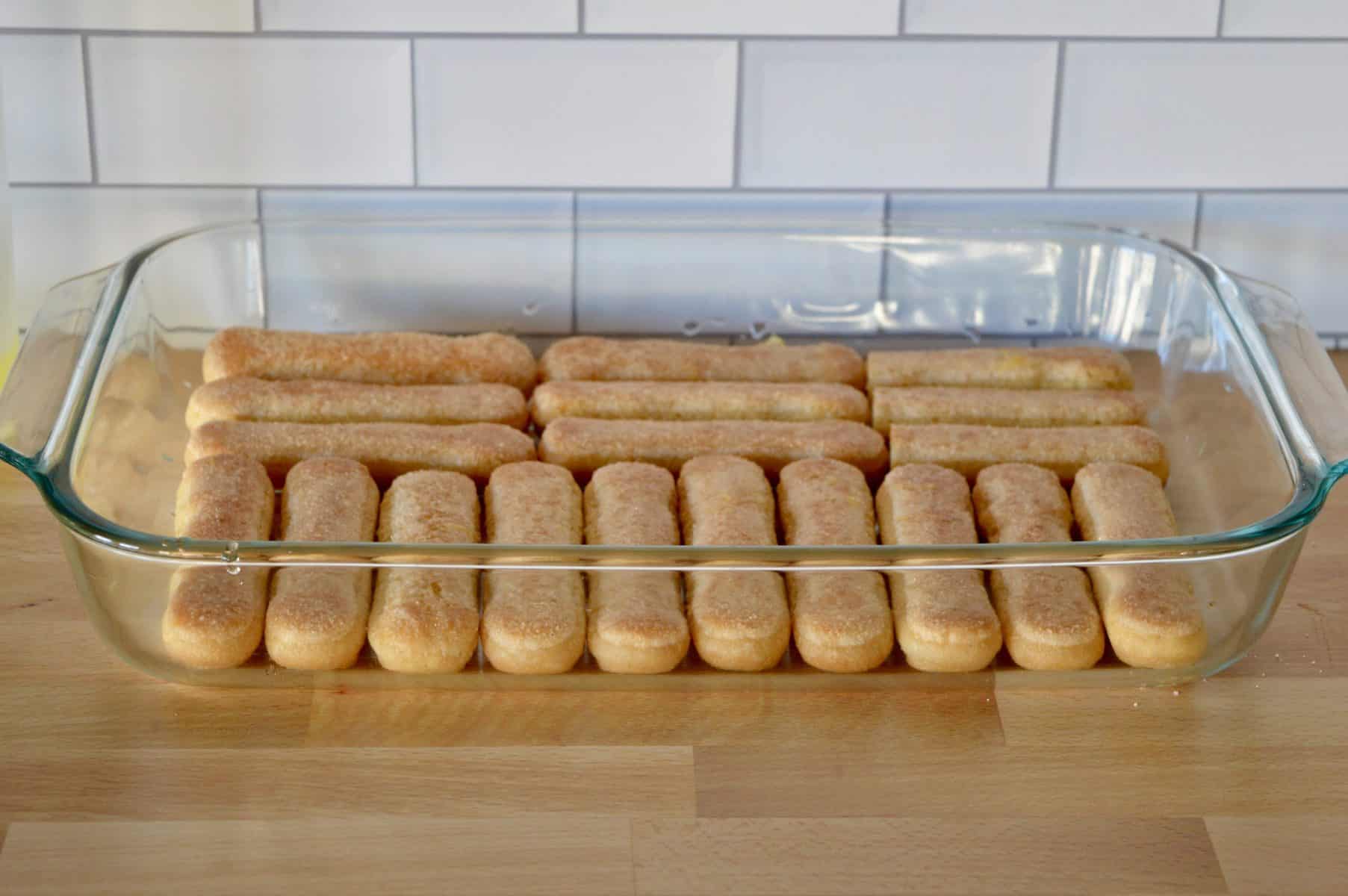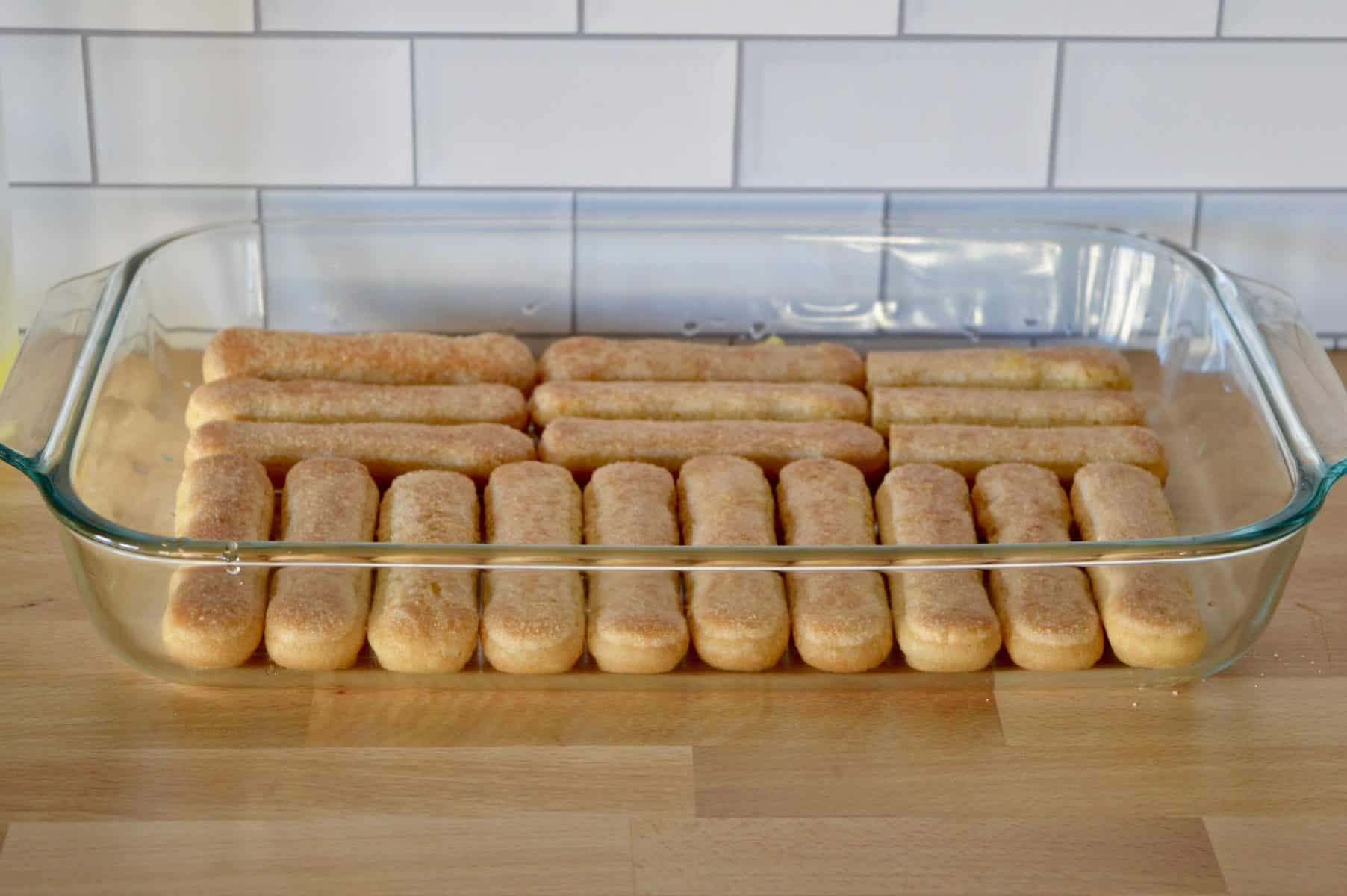 Fit the soaked ladyfingers to layer the bottom of the pan. You may need to trim the cookies with a sharp knife to fit into a single layer.
Next, spoon on half of the mascarpone mixture. Use a knife or spatula to help spread the mixture over the ladyfingers.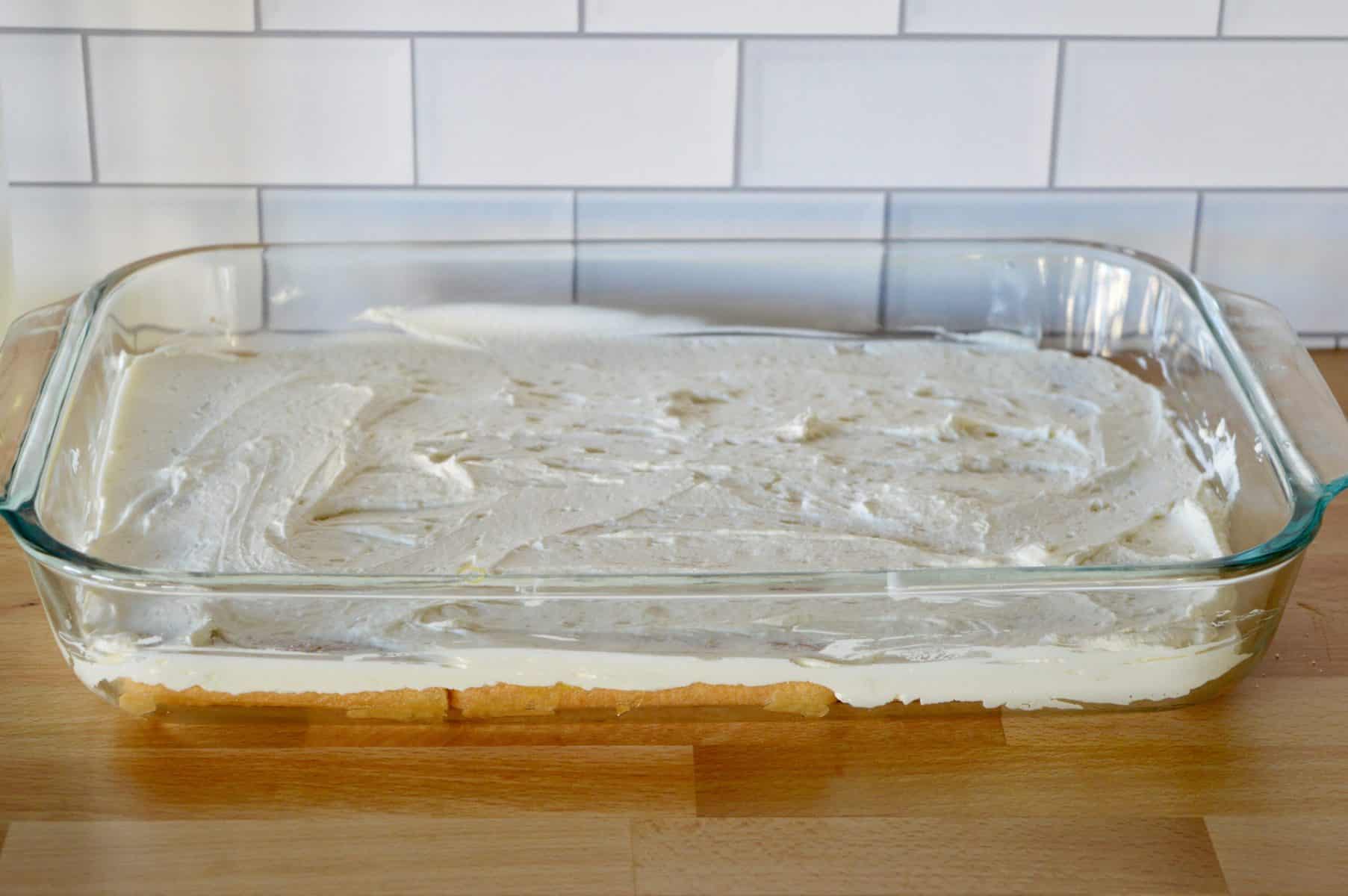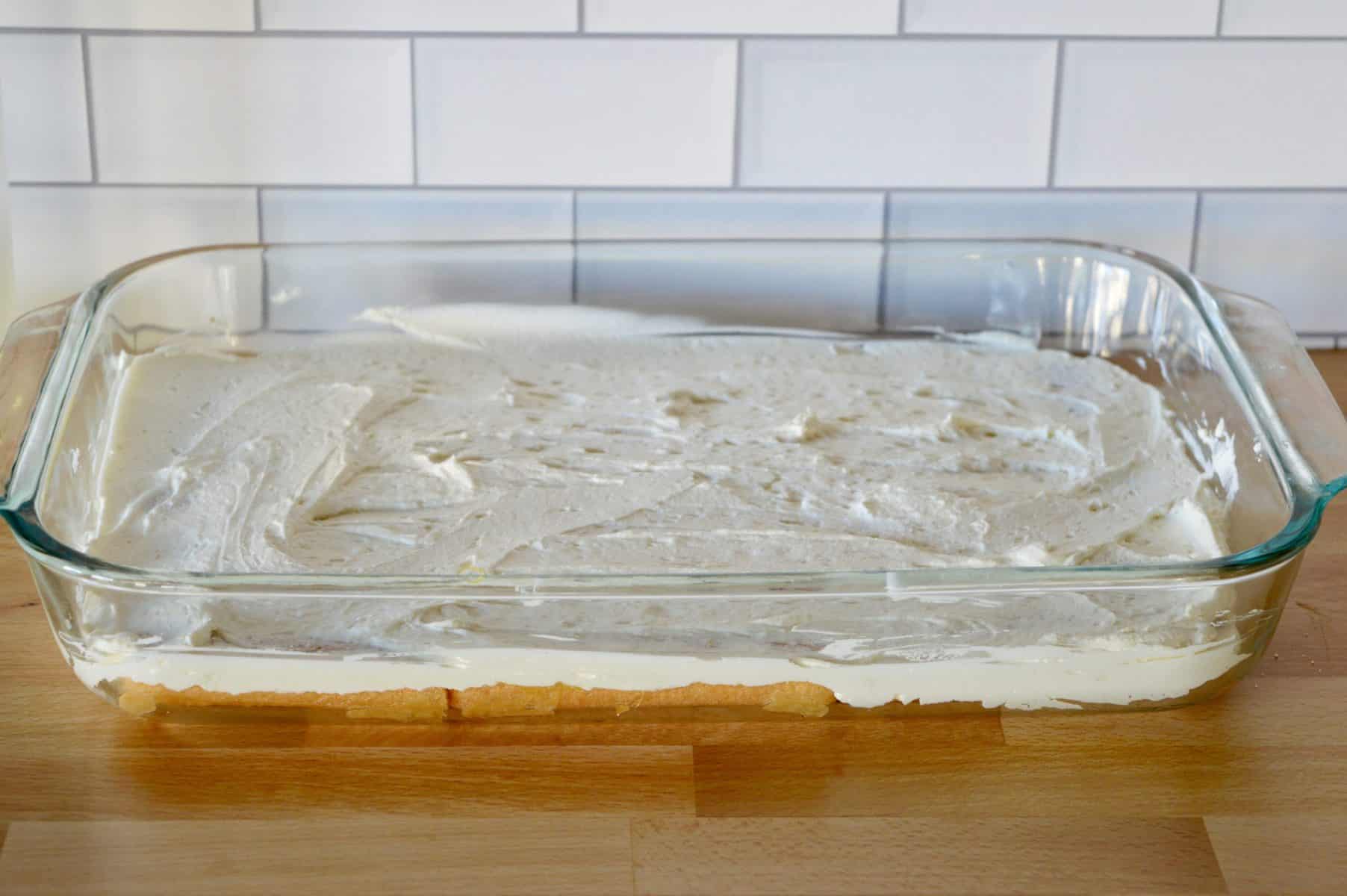 Repeat the layers. First the soaked ladyfingers then top with remaining mascarpone whipping cream.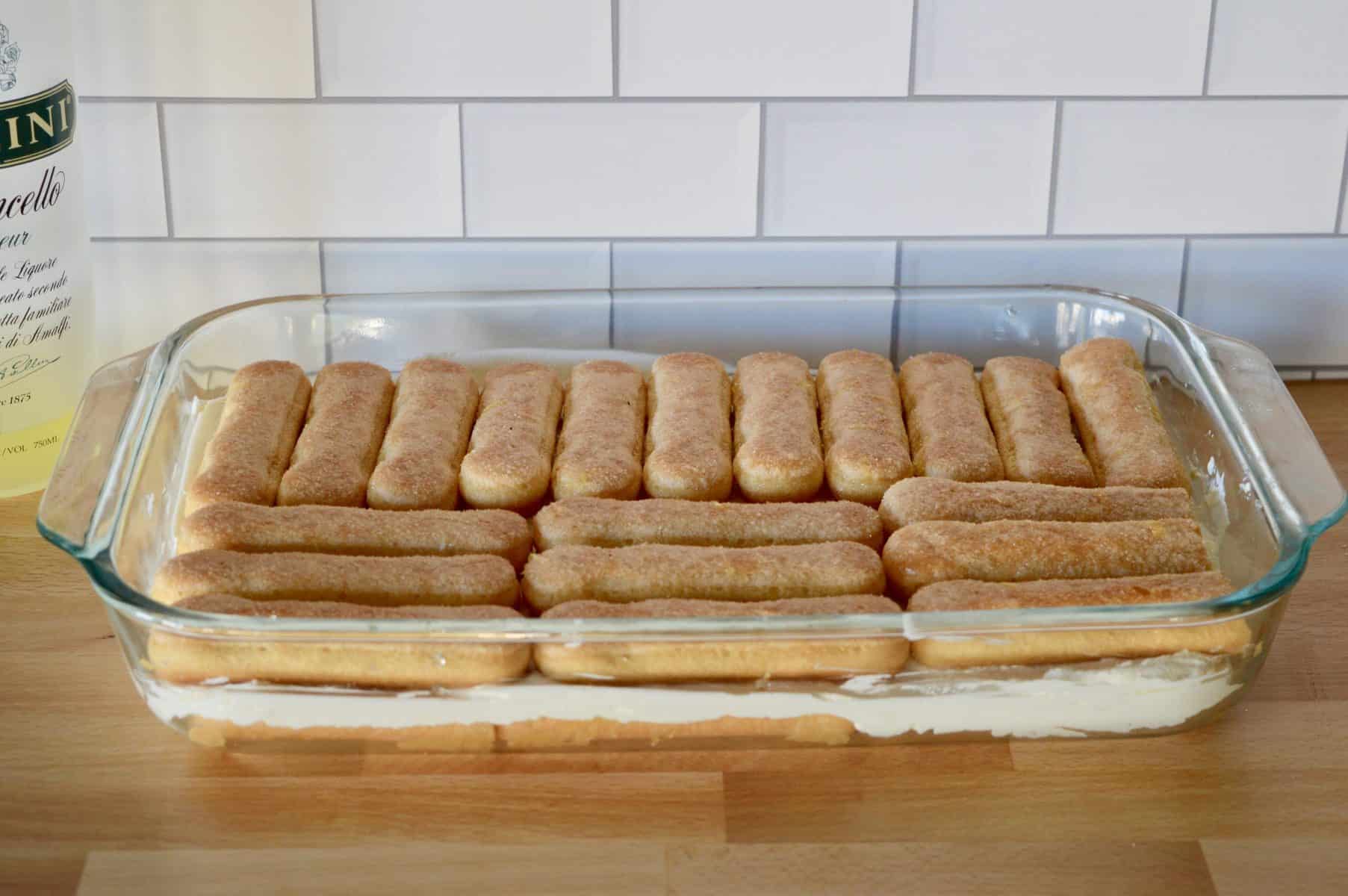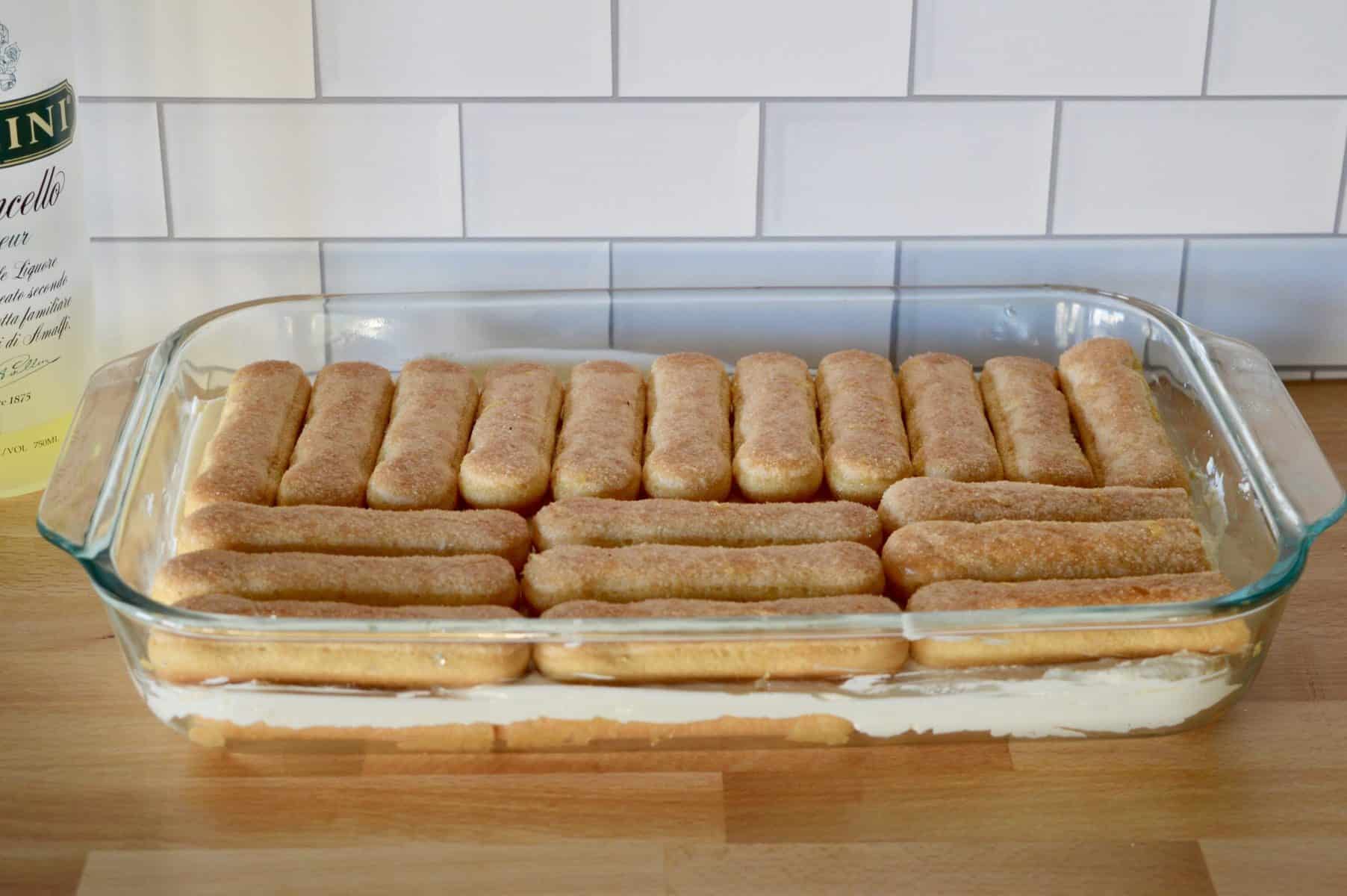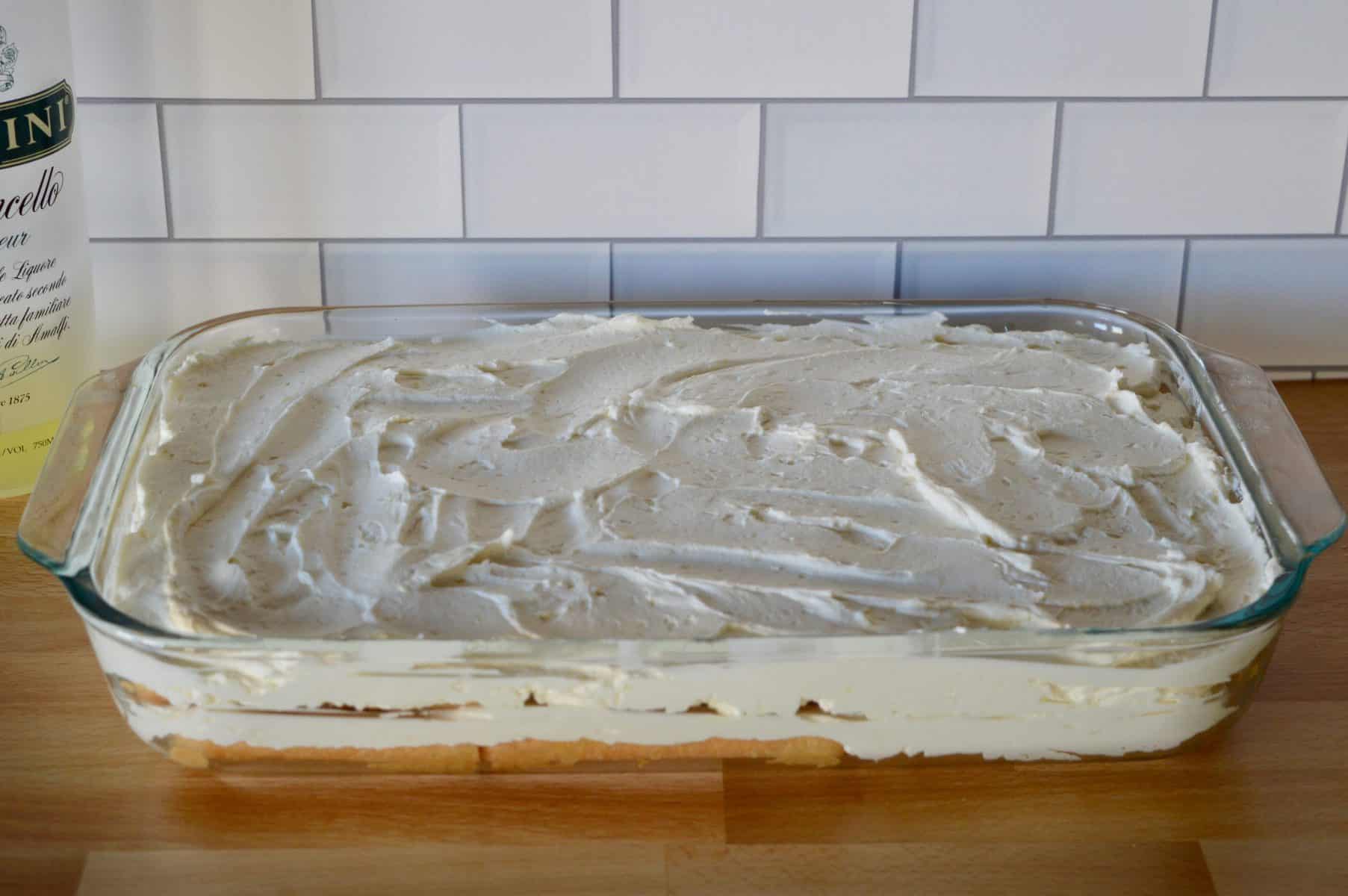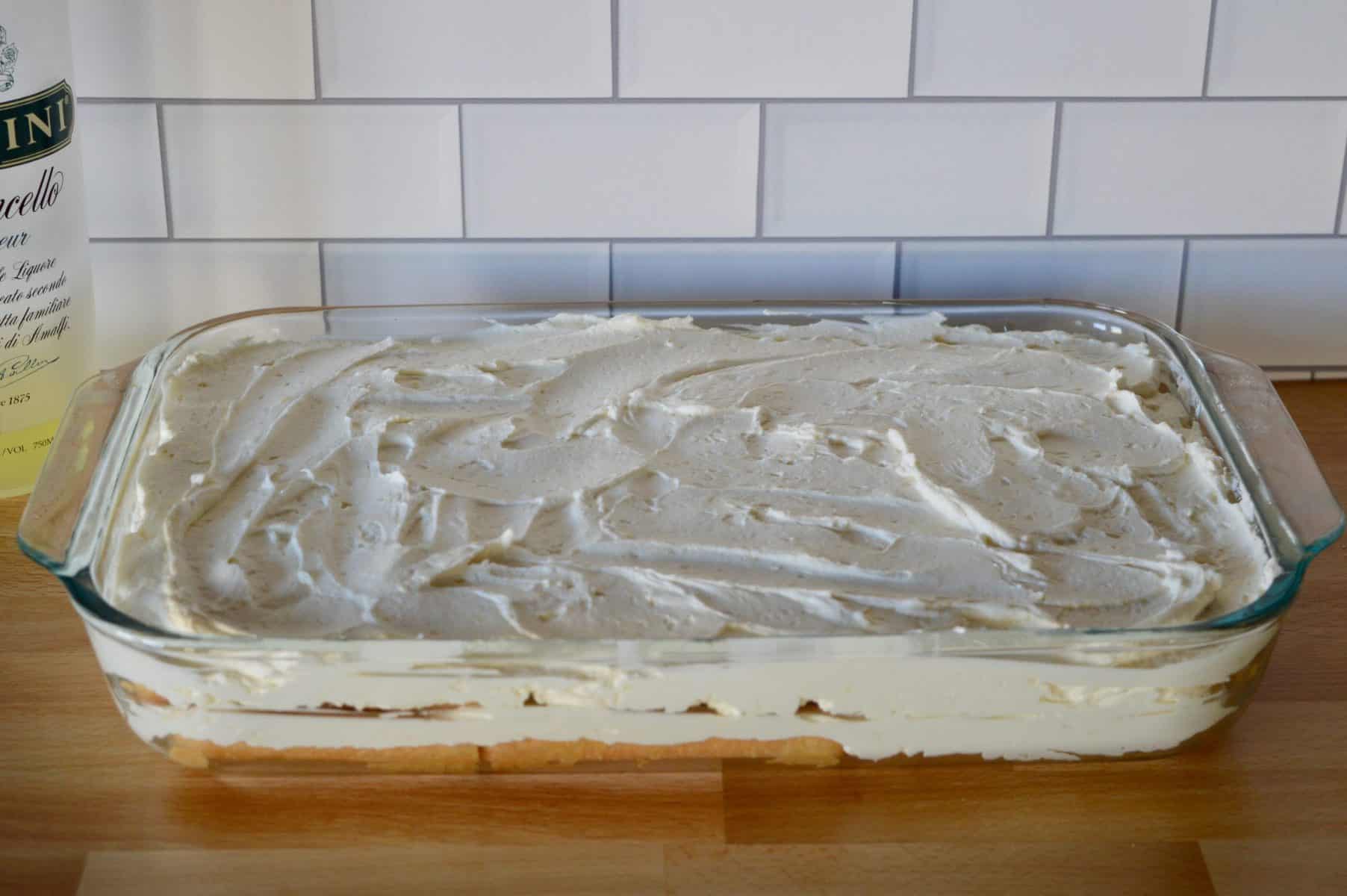 Lemon Curd Topping
Lastly, make the lemon curd topping for the limoncello tiramisu. This simple topping can be made one of two ways.
If you have any remaining soak, you can whisk the lemon curd with the soak to thin it out. However, if you don't have any left, you can just whisk the lemon curd with a tablespoon of limoncello.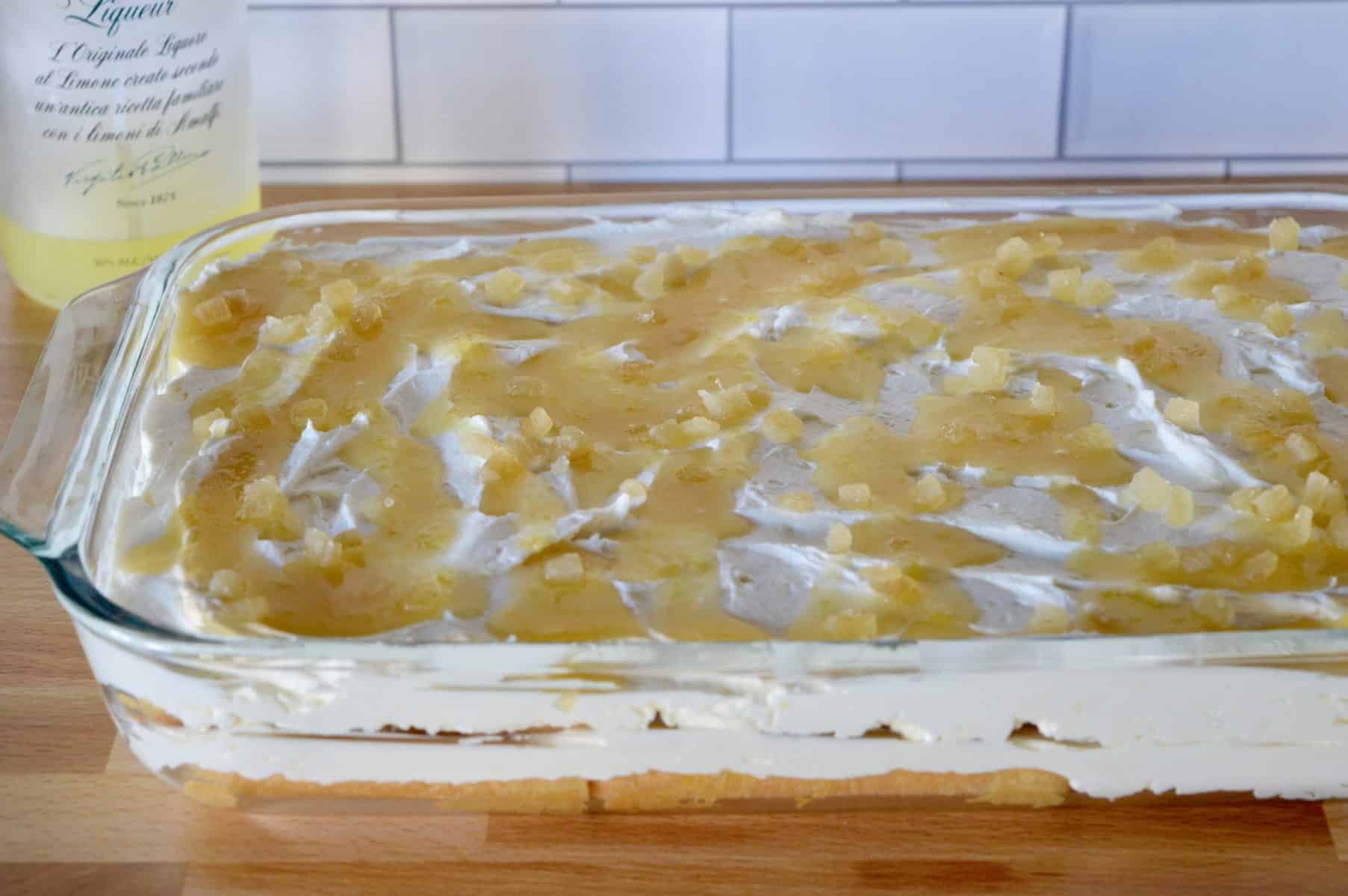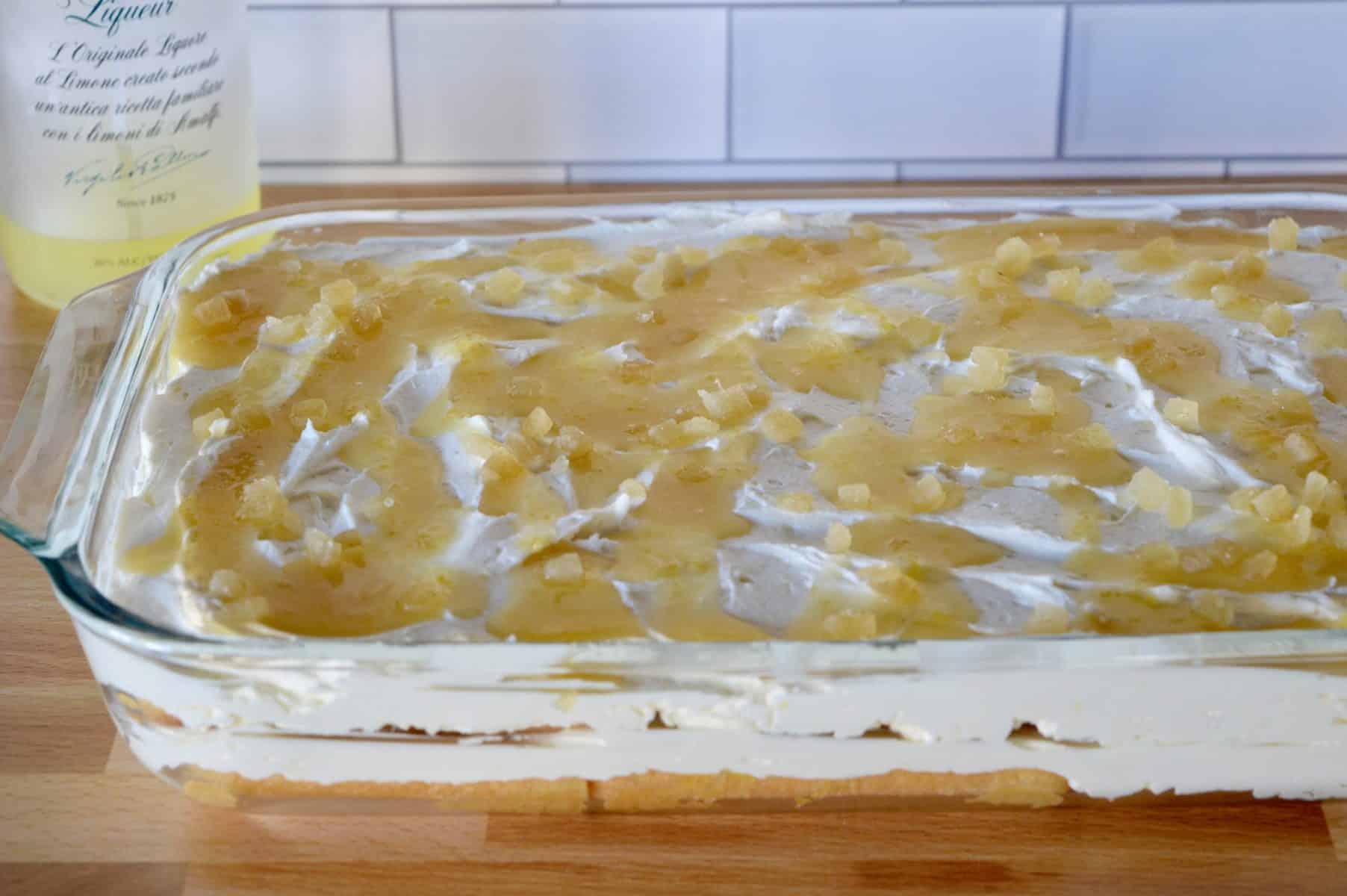 Pour the mixture into a pourable cup or spoon it directly on top of the tiramisu. Sprinkle on candied lemon peel if desired. Cover and refrigerate for at least four hours, or up to two days.
For the lemon curd, you can either make it from scratch or buy it premade. Most grocery stores carry lemon curd, but you can also buy it online here.
Lemon curd is made from lemons, sugar, and eggs. It is a fairly simple recipe but I find the jarred versions easy and just as tasty. And, for a delicious lemony cocktail, be sure to try this Limoncello Spritz!
Hope you love this recipe! Comment below and let me know what you think.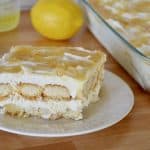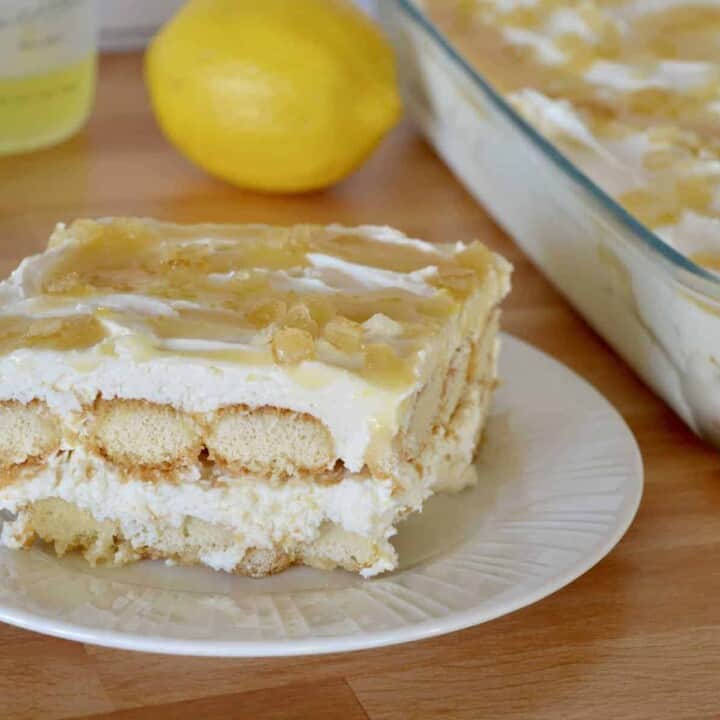 Print Recipe
Limoncello Tiramisu
This delicious no-bake Limoncello Tiramisu is easy to make and the perfect make-ahead dessert. Creamy and rich, this Italian lemon dessert treat is sure to be your new favorite way to make tiramisu.
Ingredients
For the Filling:
2

cups

mascarpone cheese

(16 ounce container)

¼

cup

lemon curd*

¼

cup

limoncello

1

lemon, zested and juiced

2

cups

heavy whipping cream

⅓

cup

powdered sugar
For the Soak:
1 ¼

cups

sugar

5

lemons, zested and juiced

¾

cup

limoncello

2

packages

ladyfinger cookies**

(about 40 cookies total)
For the Drizzle:
¼

cup

lemon curd

1

tablespoon

limoncello (optional)
Instructions
In a large bowl using a handheld mixer, cream together the mascarpone, ¼ cup lemon curd, ¼ cup limoncello, and the juice and zest of one lemon. Set aside.

In another bowl using a handheld mixer, cream together the heavy whipping cream and powdered sugar until mixture thickens into peaks.

Use a rubber spatula to gently fold the whipped cream mixture into the mascarpone mixture. Set aside.

To make the soak, bring sugar and the juice and zest of five lemons to a boil. Reduce to a simmer and cook for 2 minutes. Turn off the heat and pour in ¾ cup limoncello.

To assemble, take the ladyfingers and dip them in the soak mixture, allowing them to soak up the liquid until softened but not mushy. Repeat with half of the ladyfingers laying them to fit in the bottom of the baking pan, cutting to fit if necessary.

Gently scoop on half of the mascarpone mixture and spread over the ladyfingers. Repeat the layers with the remaining soaked ladyfingers, ending with the other half of the mascarpone filling.

To make the drizzle, thin out ¼ cup of lemon curd with either a tablespoon of limoncello, or remaining soak. Whisk and then carefully drizzle over top of the tiramisu.

Cover and refrigerate for at least 4 hours or up to a day before serving.
Notes
* You can find lemon curd near the jam/jelly section in most grocery stores. You can also order online here. To make homemade lemon curd, you can follow this Lemon Curd Recipe from Food Network. 
**Ladyfinger cookies are sold in the cookie aisle in most grocery stores or specialty food stores. Savoiardi Ladyfingers are the best and can be purchase online here. 
Nutrition