Italian Turkey Sausage Meatballs are moist, flavorful, and the perfect way to make classic Italian spaghetti and meatballs. These tasty meatballs are sure to become your new favorite.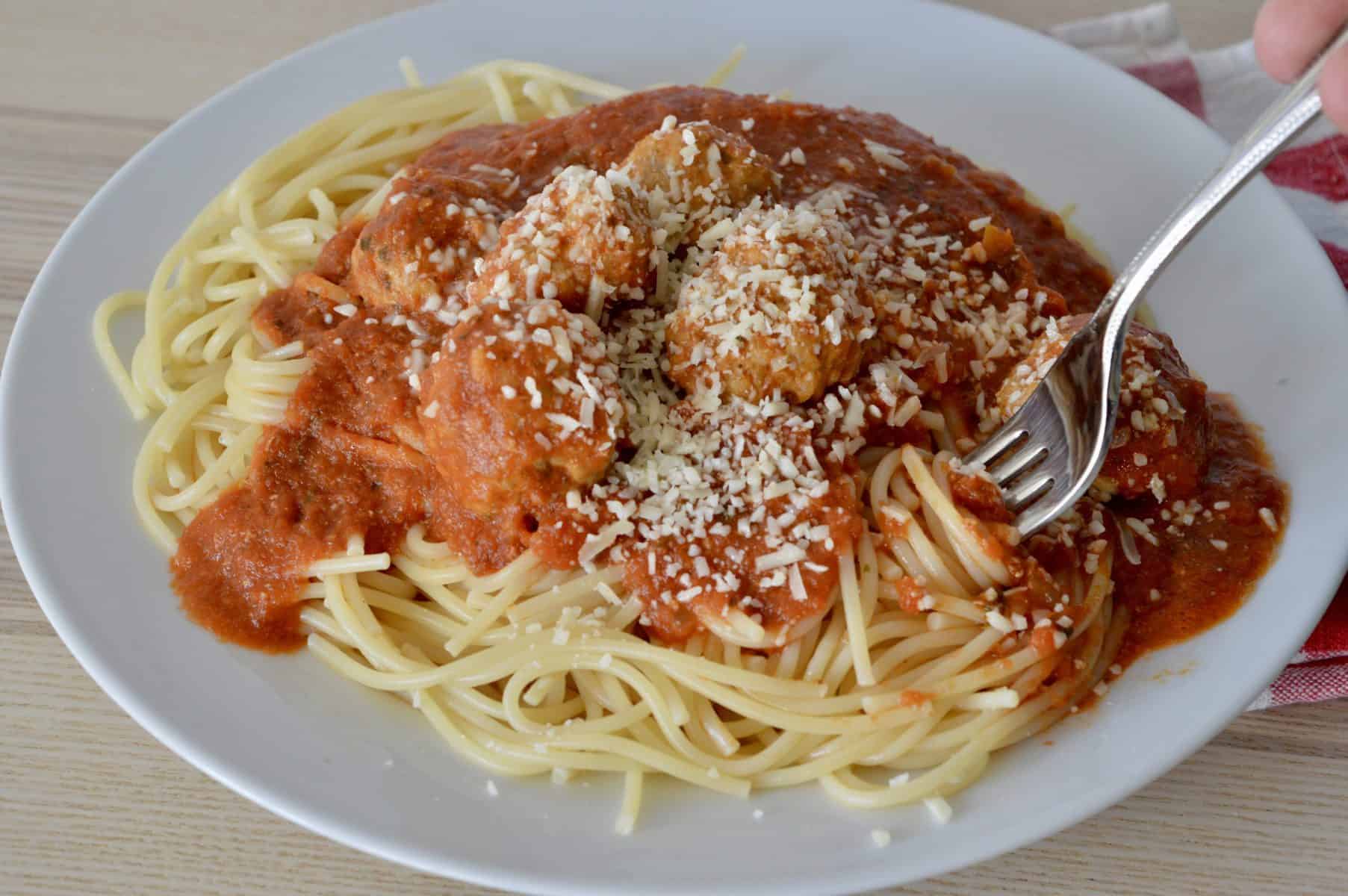 If there's one thing I'm know for cooking great, it's my meatballs. After years and years of trying different recipes and meat combinations, I have finally hit meatball gold!
These Italian Turkey Sausage Meatballs are the perfect blend of flavors and have the meatball texture you crave. The combination of turkey meat and Italian sausage make these meatballs both moist and without being over dense.
Traditionally, Italian meatballs contain a combination of beef, pork, and veal. However, I personally find that this combination can yield a fatty and overly dense meatball.
By using the combination of turkey and Italian sausage, you get the necessary fat and flavors from the pork. Cutting it with the turkey brings out those delicious tastes, without leaving you with a greasy mess.
Moreover, these meatballs are baked. Yes, this goes against everything my Nonna taught me about frying meatballs. But, honestly, I've tried them both ways and I prefer the flavor or baking, plus it's so much less mess.
If you love classic Italian dishes, don't miss my Anchovy Breadcrumb Pasta made with garlic and fresh breadcrumbs!
How to make a flavorful Italian meatball
Any good cook will tell you that meatballs are more than just meat! While the kind of meat you use will affect how your meatball tastes, you can really change up the flavors with what you add to them.
A great Italian meatball should contain the following:
Parmesan and/or Pecorino Romano cheeses
Dried bread crumbs
Finely chopped parsley
Fresh minced garlic
In addition, meatballs will require eggs to bind them together, milk to moisten the bread crumbs, and of course kosher salt and pepper to taste.
Additionally, you need to let the meatball simmer in the sauce. My sauce recipe, which is included below, is simple to put together and makes the tastiest base for the meatballs. Allowing the meatballs to simmer in the sauce after baking, really lets them absorb the flavors and stay extra moist.
This is also a great recipe to make ahead. Just prepare as instructed and place the entire pot of meatballs and sauce in the fridge or freezer. Bring to a simmer before serving.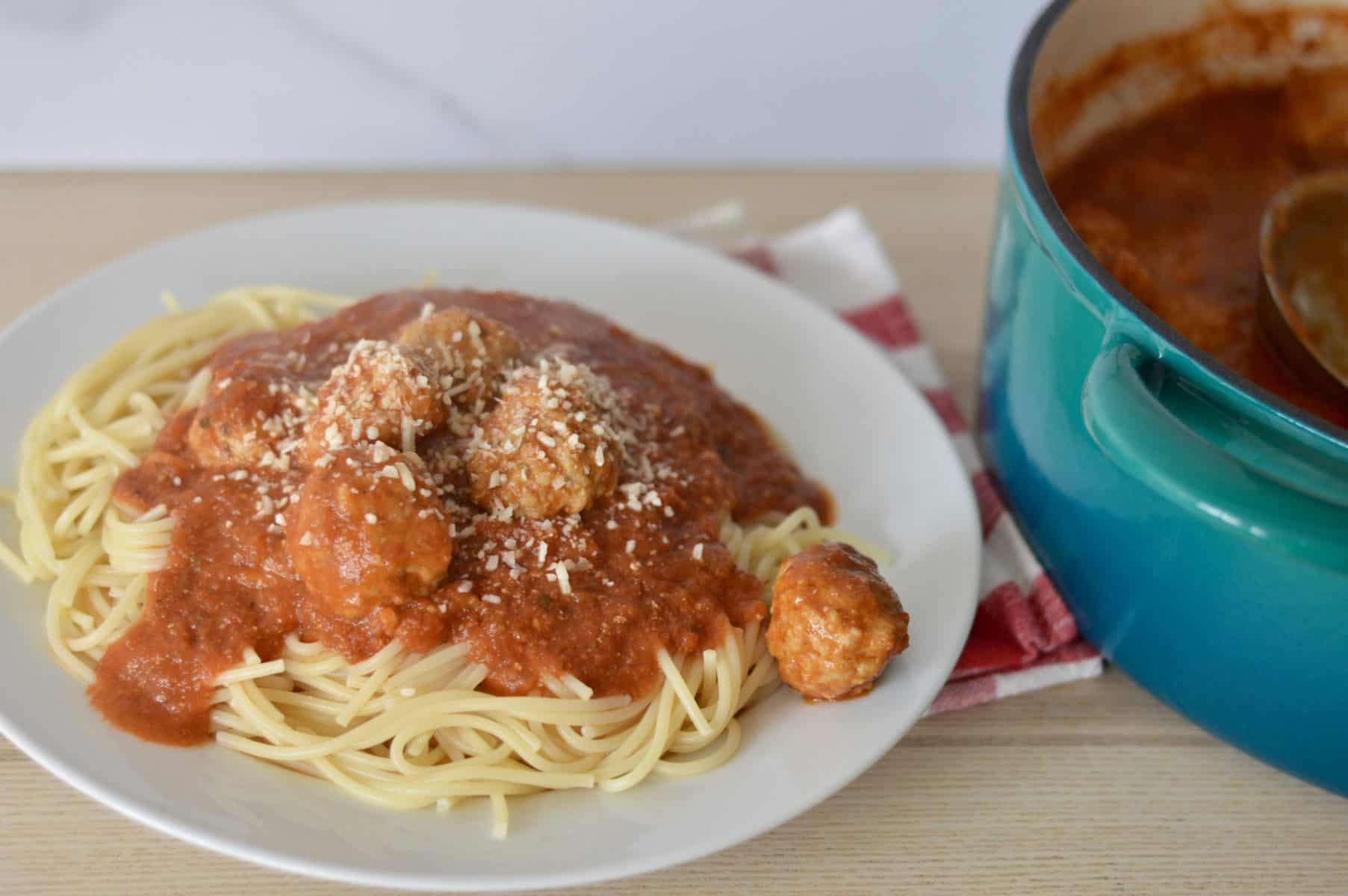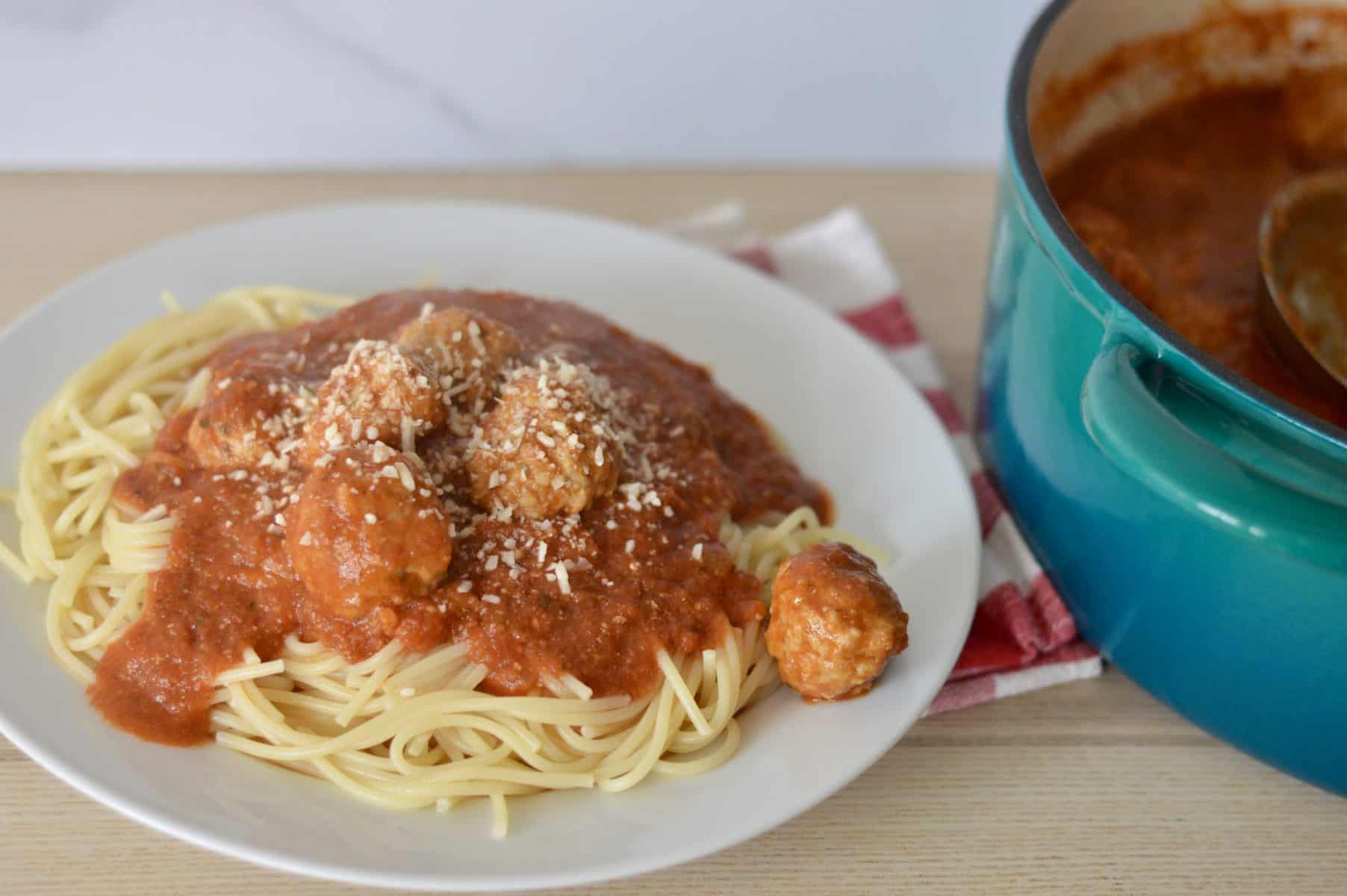 Meatball Appetizer and Sandwiches
Italian Turkey Sausage Meatballs are great served by themselves too! This is a fantastic appetizer to serve on a skewer. I've even just made a giant crockpot of meatballs and let guests serve themselves at a potluck.
Moreover, you can sandwich these meatballs between small pull apart roll for simple sliders. Check out my other recipe for Easy Italian Meatball Sliders to see how to assemble.
Another fun spin on these meatballs would be to stuff them with a piece of provolone cheese. Check out a similar recipe that does this for Provolone Stuffed Turkey Meatballs.
Italian Turkey Sausage Meatballs
To make these meatballs, you will need to start with about a pound and a half each of ground turkey meat and Italian sausage. I prefer to use the mild Italian sausage, but you could always go spicy depending on your preference.
I normally buy my Italian sausage at Costco, but you can find it at any grocery store meat counter. As for ground turkey, I recommend a fattier blend, rather than a lean all white meat turkey.
In a large bowl, combine the ground turkey and the Italian sausage, being sure to remove it from it's casings first. To do so, simply cut a slit down the length of the sausage and remove the meat.
Then, add the remaining meatball ingredients including finely diced onion, garlic, tomato paste, parsley, bread crumbs, parmesan cheese, eggs, milk, and salt. As for the bread crumbs, I prefer to use my homemade dried bread crumbs. However, you can substitute store brought bread crumbs or panko if you'd like.
Roll and bake Italian turkey sausage meatballs
Line a large baking sheet with foil (this makes for easy clean up). Use your hands or a spoon to mix the meatball mixture until combined. Scoop and roll the meatballs and place onto the baking sheet.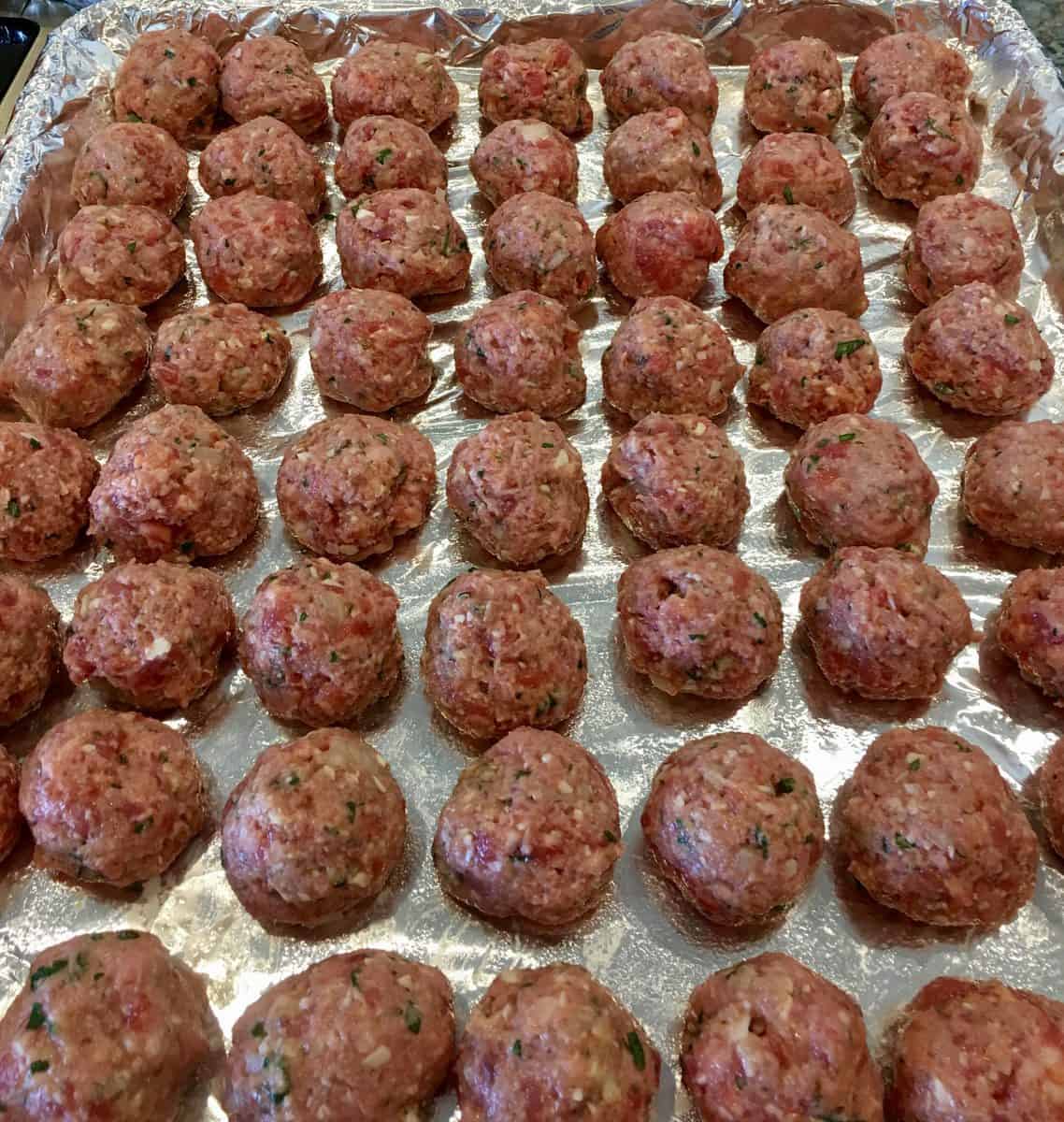 You'll find that the meatballs are slightly sticky. For this you can just use a regular muffin or cookie scoop (depending on the size you want) and just scoop the meat onto the baking sheet.
Or, if you wanted to roll the meatballs, it's a good idea to spray your hands with cooking spray before rolling or you can have a bit of water on hand to wet your hands between meatballs.
Place the meatballs in a preheated 425 oven to cook while you make the sauce.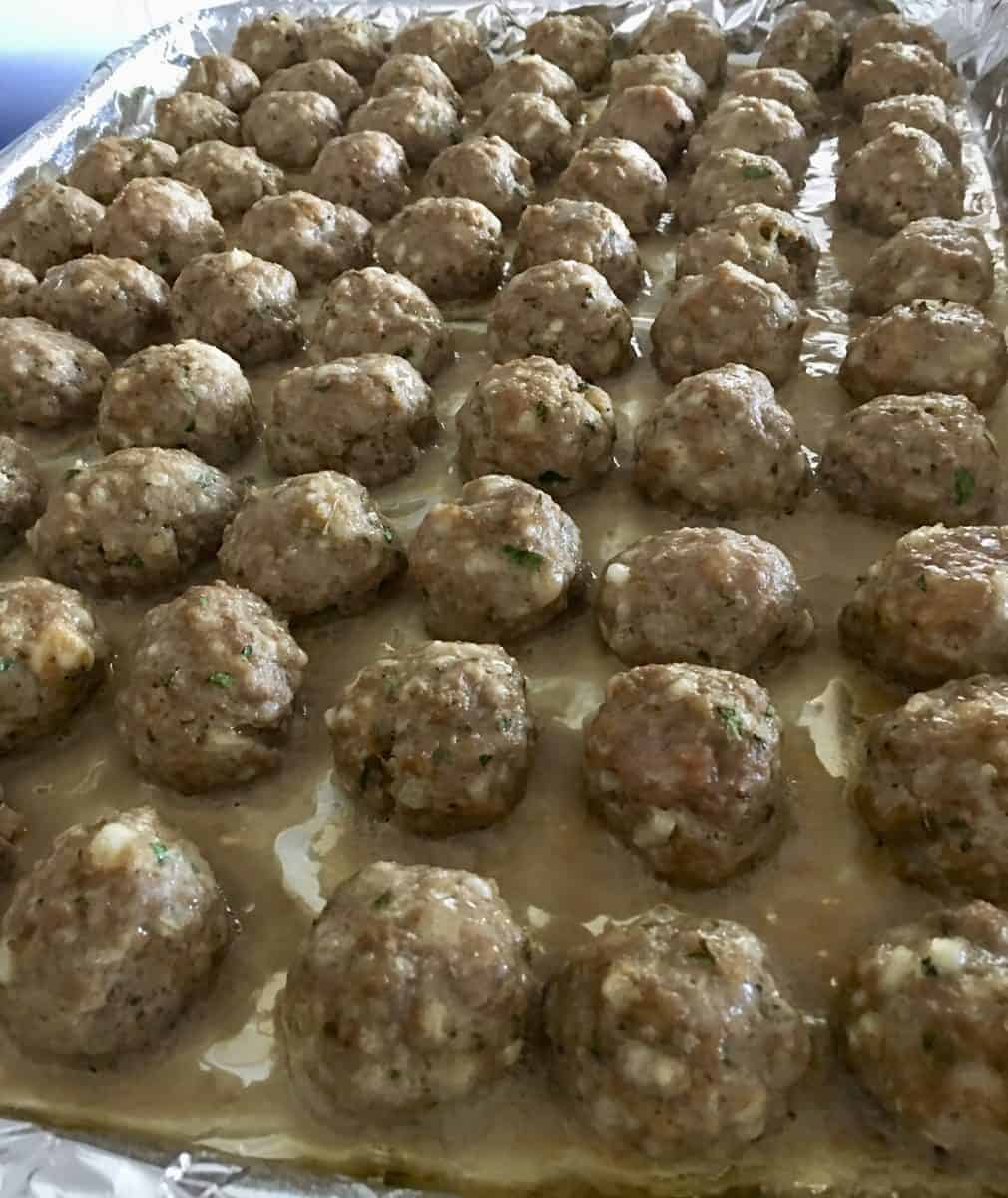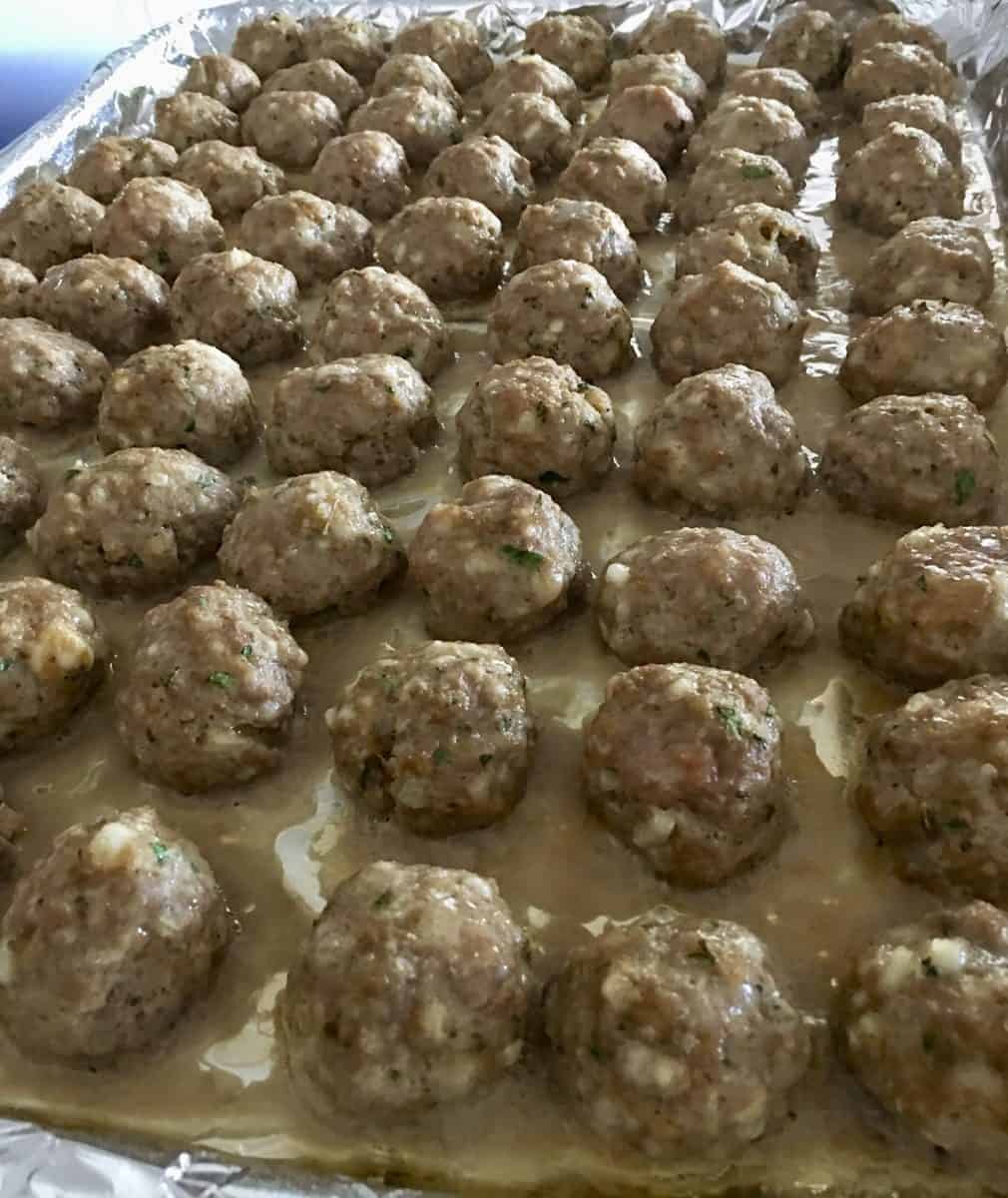 The perfect meatball sauce
While the meatballs are baking, make this simple and delicious sauce to go along with it. This simple marinara sauce is easy to put together and is the perfect flavor blend to go with the meatballs.
To start you will need large pot. I recommend using a dutch oven or Le Creuset if you have one as you can get a more even heat distribution.
Heat olive oil over medium heat and add the onions. Because this sauce gets pureed, you don't really need to worry about the uniformity of the cut onion. Once the onion has softened, add the garlic and cook for another minute.
Next, add the canned tomato sauce and crushed tomatoes, along with the seasonings. Let the sauce come to a simmer while the meatballs cook. If desired, use a handheld food blender to puree the sauce before adding the meatballs. You could also do this by add the sauce to a blender.
Once the meatballs are ready, just add the sauce and continue to simmer for about 20-30 minutes. Doing this really flavors the sauce without having to add additional seasonings.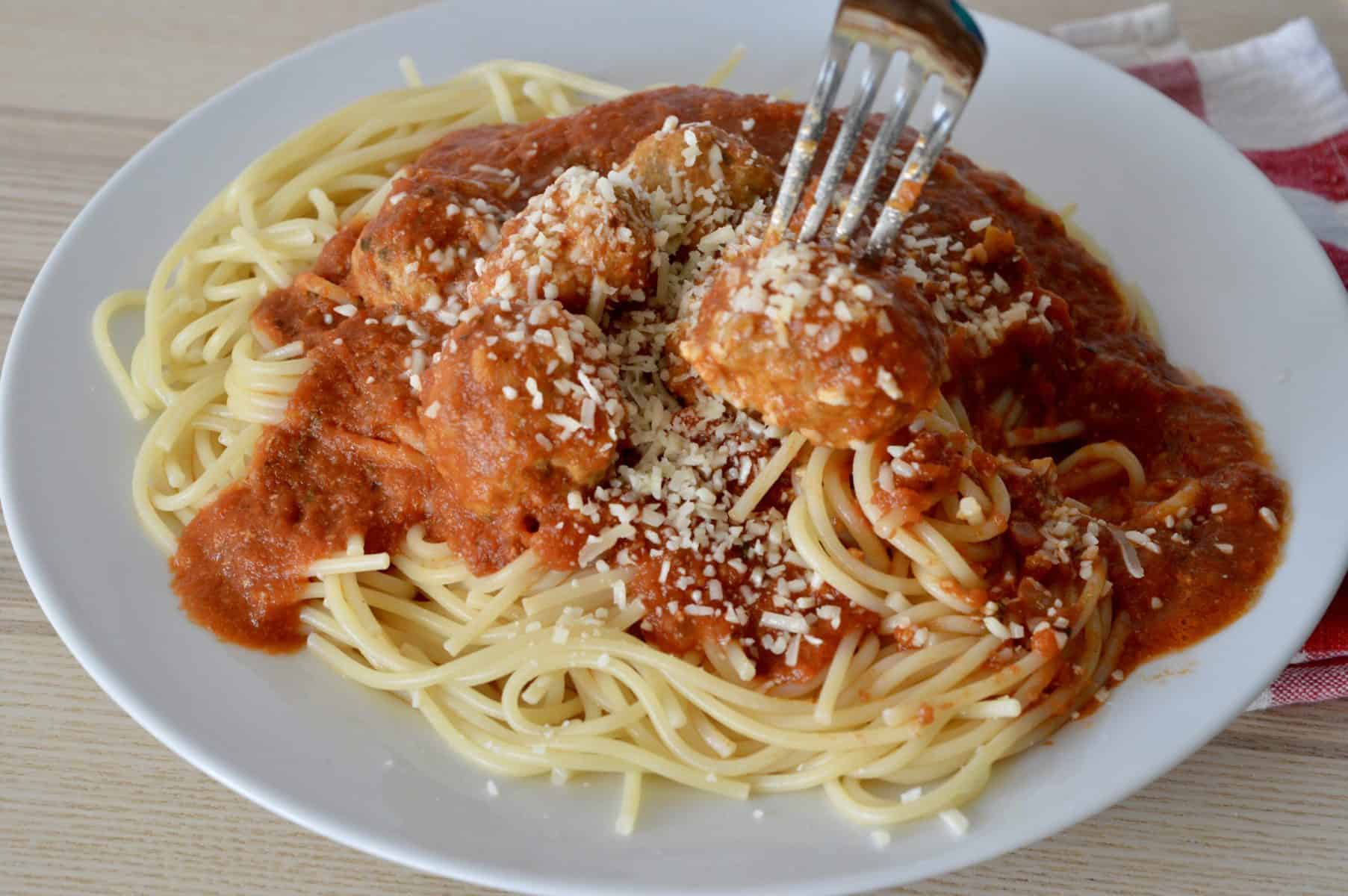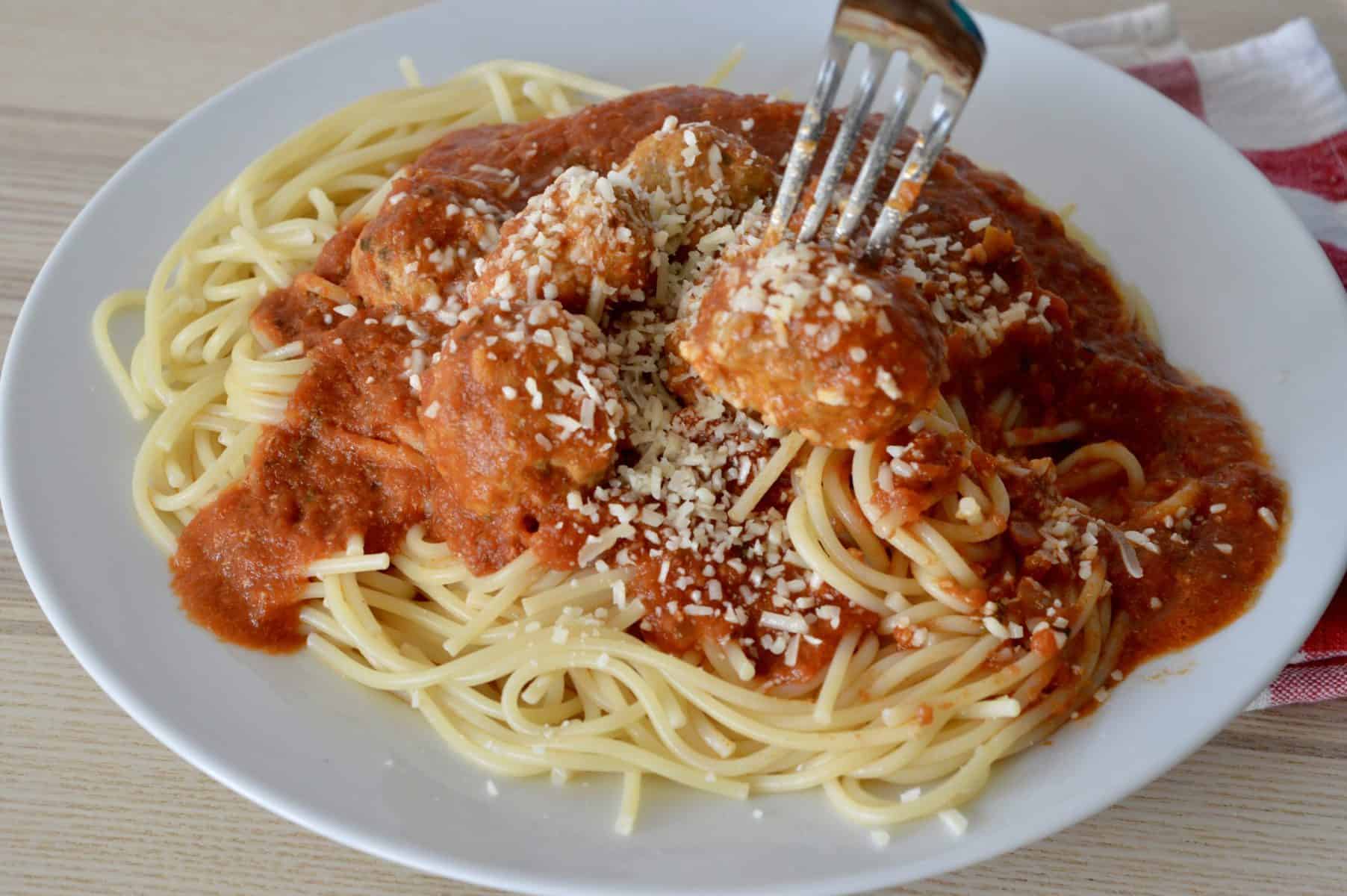 Serve the meatballs and sauce over a hot plate of spaghetti. Alternatively, these are delicious on their own and would be perfect at a potluck.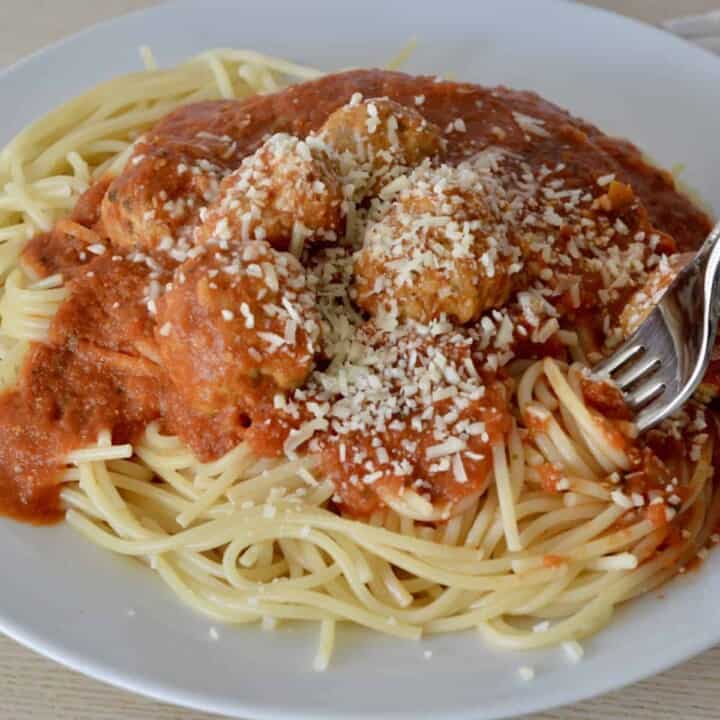 Print Recipe
Italian Turkey Sausage Meatballs
The combination of ground turkey and Italian sauage makes the moistest and most flavorful meatball ever! Simmer in this simple marinara sauce and serve over a hot plate of spaghetti or by themselves.
Ingredients
1 ½

pounds

ground turkey

1 ½

pounds

Italian sausage

(casings removed)

1

cup

onion, finely diced

(about half an onion)

1

cup

shredded parmesan reggiano

½

cup

bread crumbs

(homemade or store bought)

¼

cup

chopped parsley

¼

cup

milk

3

cloves

minced garlic

2

tablespoons

tomato paste

2

eggs, beaten

1

teaspoon

kosher salt
Marinara Sauce
3

tablespoons

olive oil

1

cup

onion, finely chopped

(about half an onion)

3

cloves

minced garlic

1

teaspoon

kosher salt

2

15 ounce cans

tomato sauce

2

15 ounce cans

crushed tomatoes

¼

cup

chopped basil leaves
Instructions
Meatballs
Preheat oven to 425 degrees. Line a large baking sheet with foil and spray with cooking spray; set aside.

Combine all meatball ingredients in a large bowl. Use a spoon or clean hands to mix together all ingredients.

Roll meatballs into desired sized balls using either a cookie or muffin scoop to get uniform size. If meatballs get sticky, wet your hands or spray with cooking spray. Place meatballs on prepared baking sheet and bake for 15-20 minutes, until cooked through.
Marinara Sauce
For the sauce, heat olive oil in a large dutch oven or pot over medium high heat. Add the onions and cook until softened, about 5 minutes. Then add the garlic and salt and cook for an additional minute. Add the cans of sauce and basil and bring to a simmer. Cook over medium heat for about 10-15 minutes, while meatballs are in the oven.

Optional: use an emersion blender to blend the sauce into desired consistency before adding in the meatballs.

Add the cooked meatballs to the sauce and simmer or medium for 20-30 minutes.
Notes
This classic meatballs in marinara is a great recipe to add over a plate of spaghetti and top with grated parmesan cheese. Also delicious served as is and would be a perfect served hot out of a crockpot. 
Nutrition
Calories:
365
kcal
|
Carbohydrates:
8
g
|
Protein:
26
g
|
Fat:
25
g
|
Saturated Fat:
9
g
|
Polyunsaturated Fat:
3
g
|
Monounsaturated Fat:
12
g
|
Trans Fat:
0.01
g
|
Cholesterol:
94
mg
|
Sodium:
1029
mg
|
Potassium:
421
mg
|
Fiber:
1
g
|
Sugar:
2
g
|
Vitamin A:
281
IU
|
Vitamin C:
6
mg
|
Calcium:
140
mg
|
Iron:
2
mg