Italian Deviled Eggs are a fun change from traditional deviled eggs. Made with salami, parmesan, and green onion, you're going to love this fun and easy appetizer that's great for parties and holidays.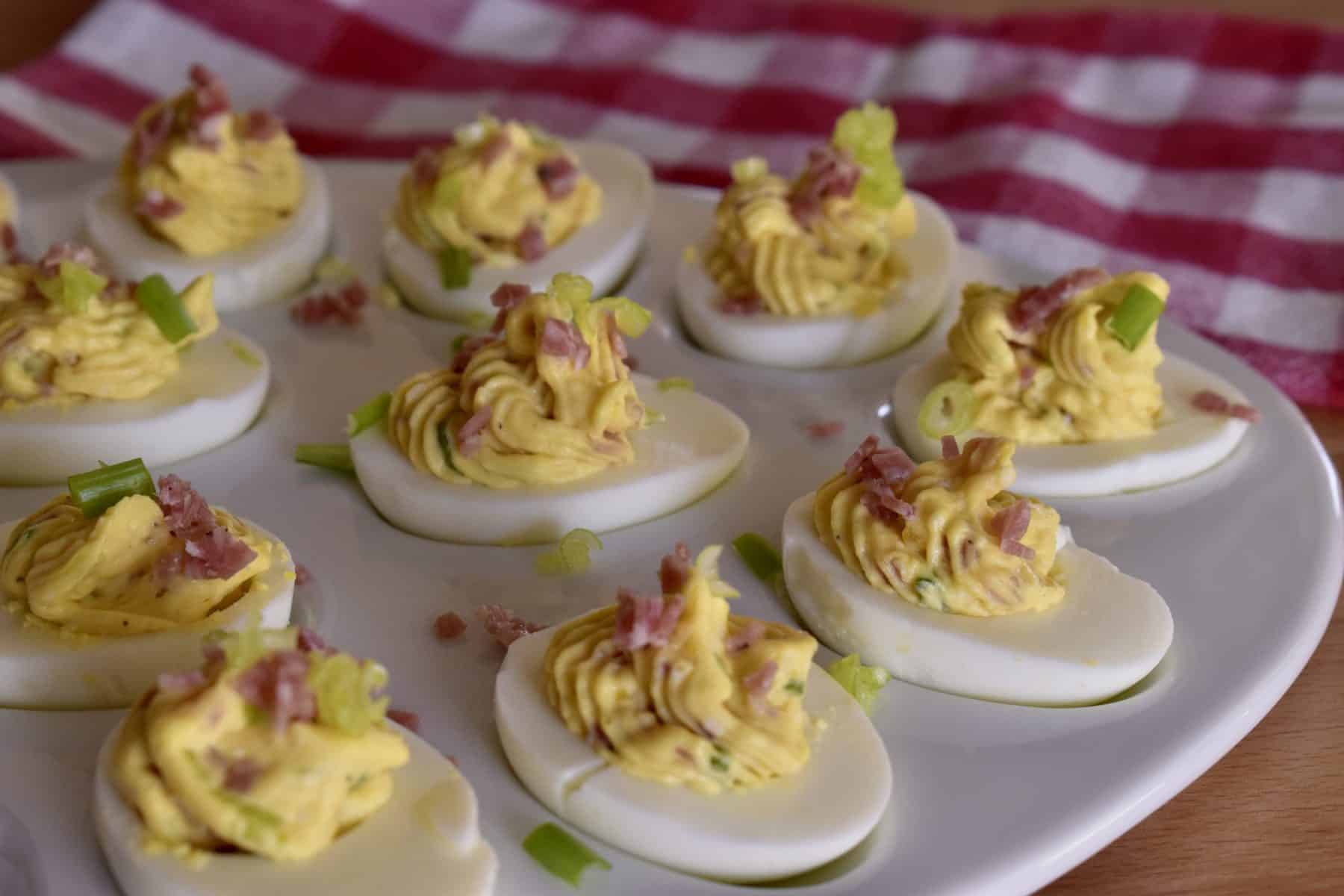 If you are looking for a fun and unique party appetizer, be sure to give Italian Deviled Eggs a try! Just like traditional deviled eggs, these are simple to make and a low cost appetizer option.
To give these deviled eggs and Italian-inspired twist, this recipe uses diced salami and parmesan cheese. However, you can always substitute whatever deli meats you have on hand: mortadella or prosciutto would be delicious.
Italian Deviled Eggs
To make these Italian Deviled Eggs you need just a few ingredients:
Hard boiled eggs
Mayonnaise
Dijon mustard
Salami
Parmesan cheese
Green onions
This recipe comes together fast and allows for substitutions. I also designed this recipe to include ingredients that are easy to find, and are likely to already have on hand.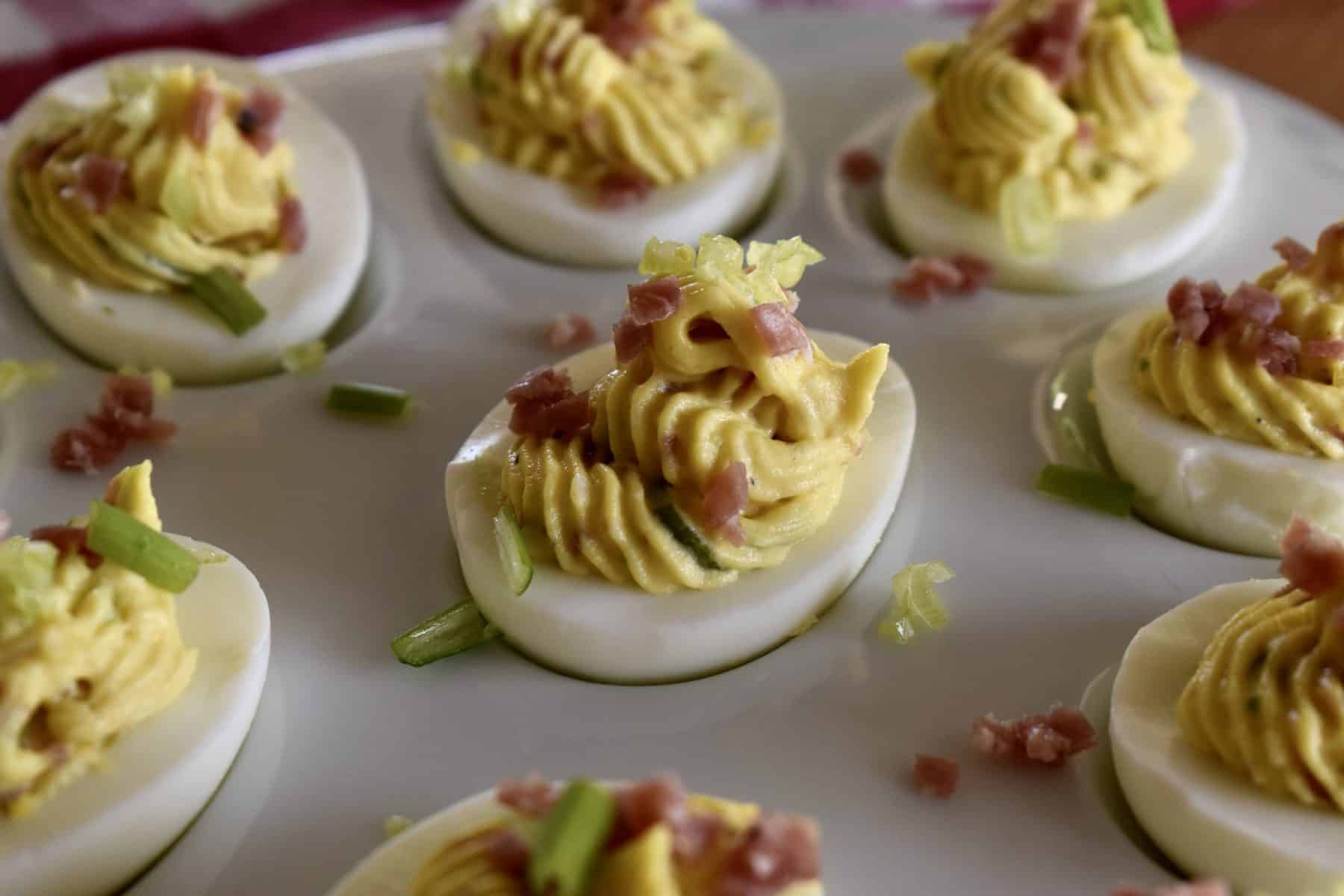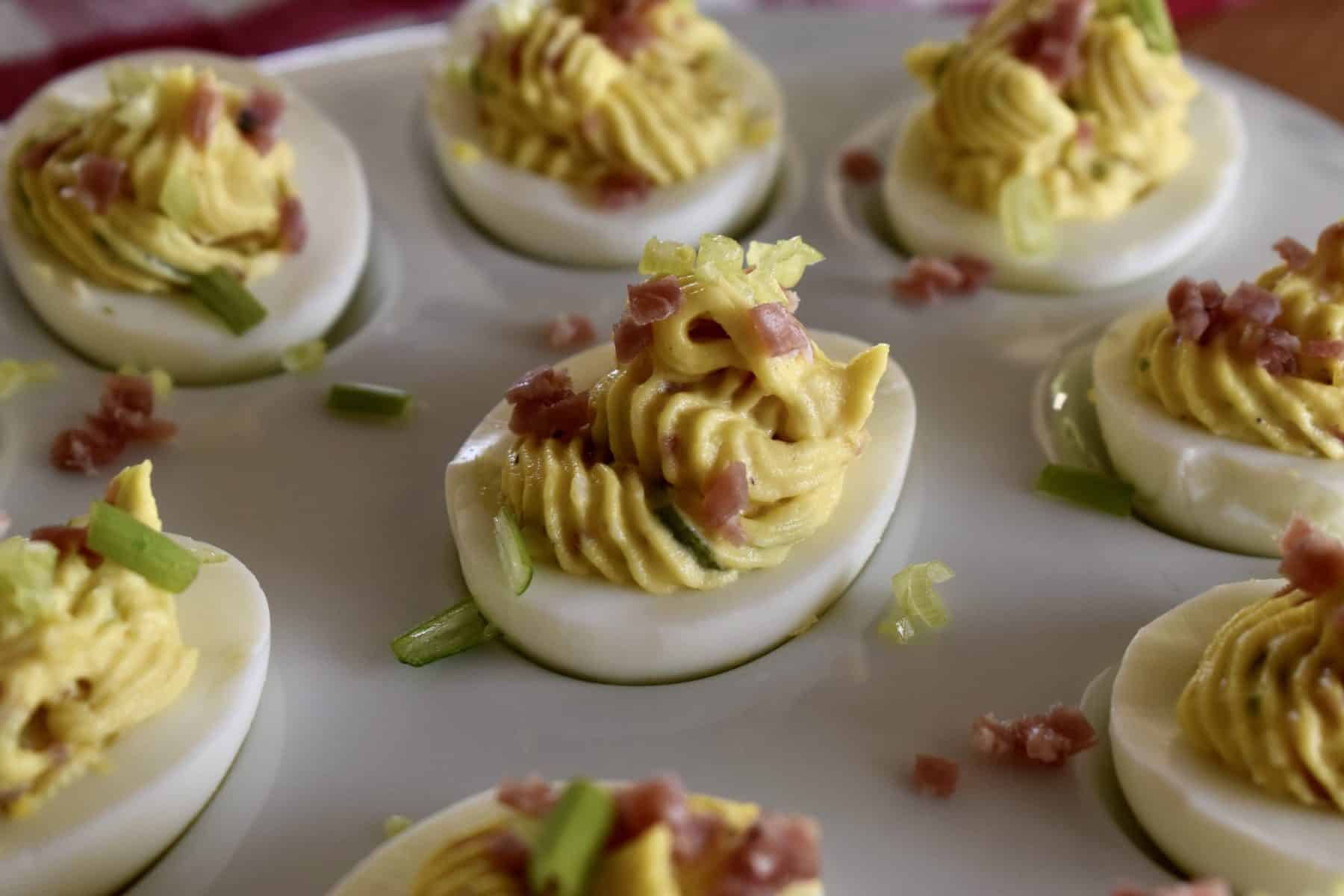 You can save time when making this recipe by using hardboiled eggs from the grocery store. Or, make the eggs ahead of time and refrigerate until ready to use.
How to boil eggs for deviled eggs?
This may seem like a simple enough task. However if you've ever had to try and pry shell off hard boiled eggs, or have gray unappetizing yolk, you'll know that it can be tricky.
Here is my no fail trick for making the perfect hard boiled eggs. Firstly, place the eggs in a small pot with a lid. Choose one that has enough room so that you don't have to stack the eggs, but is also snug enough that they are not rolling all over the place.
Then, fill the pot with cool tap water. Place the pot of eggs on the stove and bring the eggs to a low boil. Then, reduce the heat to a simmer, cover the pot, and let simmer for exactly ten minutes.
While the eggs are boiling, set out a bowl of very cold ice water. Then, after the ten minutes are up, use a slotted spoon to move the eggs to the ice water. Let them sit for two minutes, then crack the eggs and peel off the shell. If you followed these instructions, the shells should peel right off leaving you with perfect hard boiled eggs.
Italian Deviled Eggs Filling
These deviled eggs are similar to traditional deviled eggs but have a delicious Italian-inspired filling of salami and parmesan. Feel free to substitute whatever Italian deli meats or cheeses you have on hand.
Firstly, carefully cut your hardboiled eggs in half lengthwise. Then, use a small spoon to scoop the egg yolk out of the eggs and into a mixing bowl. I like to use a special deviled egg platter to hold the whites while I prepare the filling for my eggs.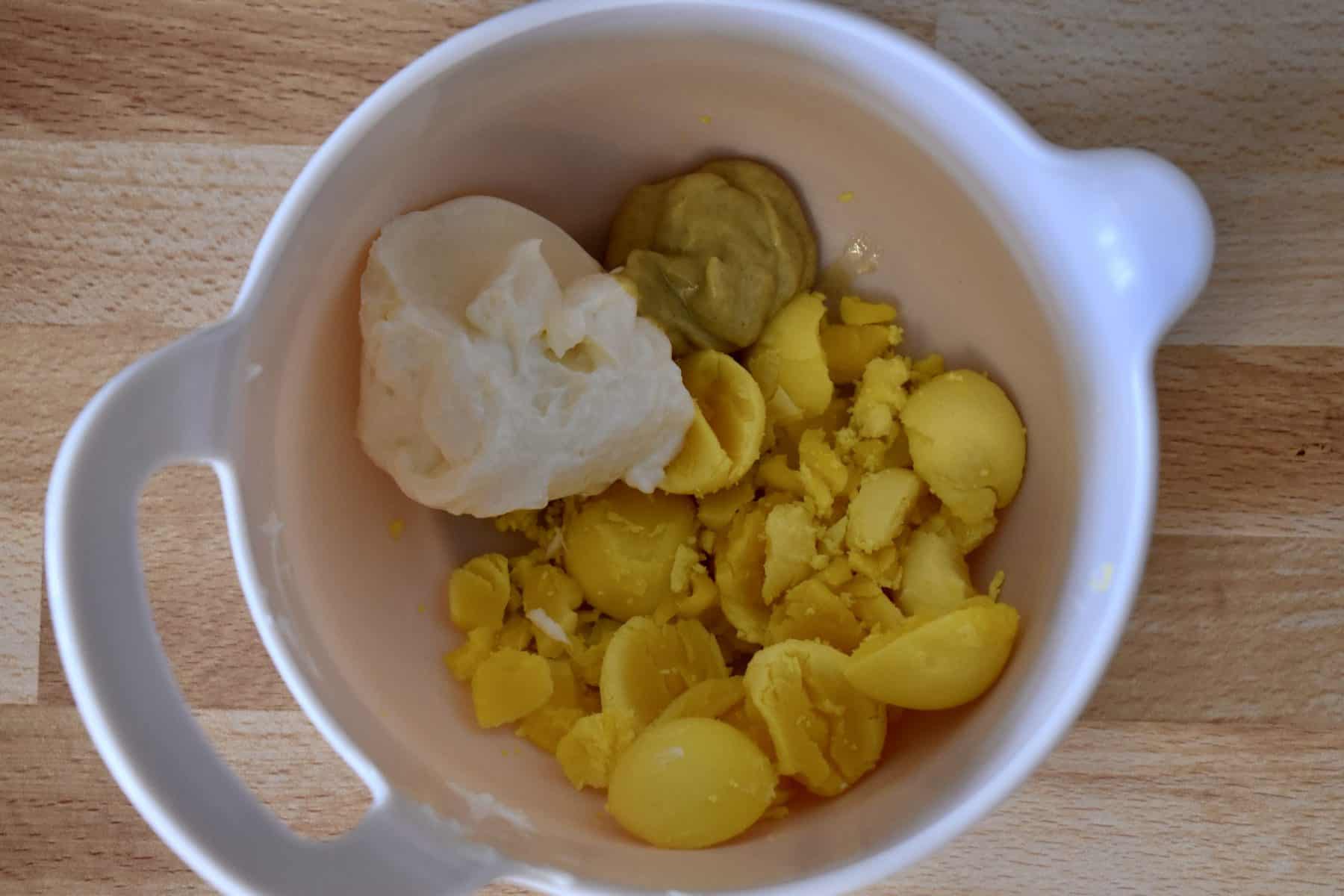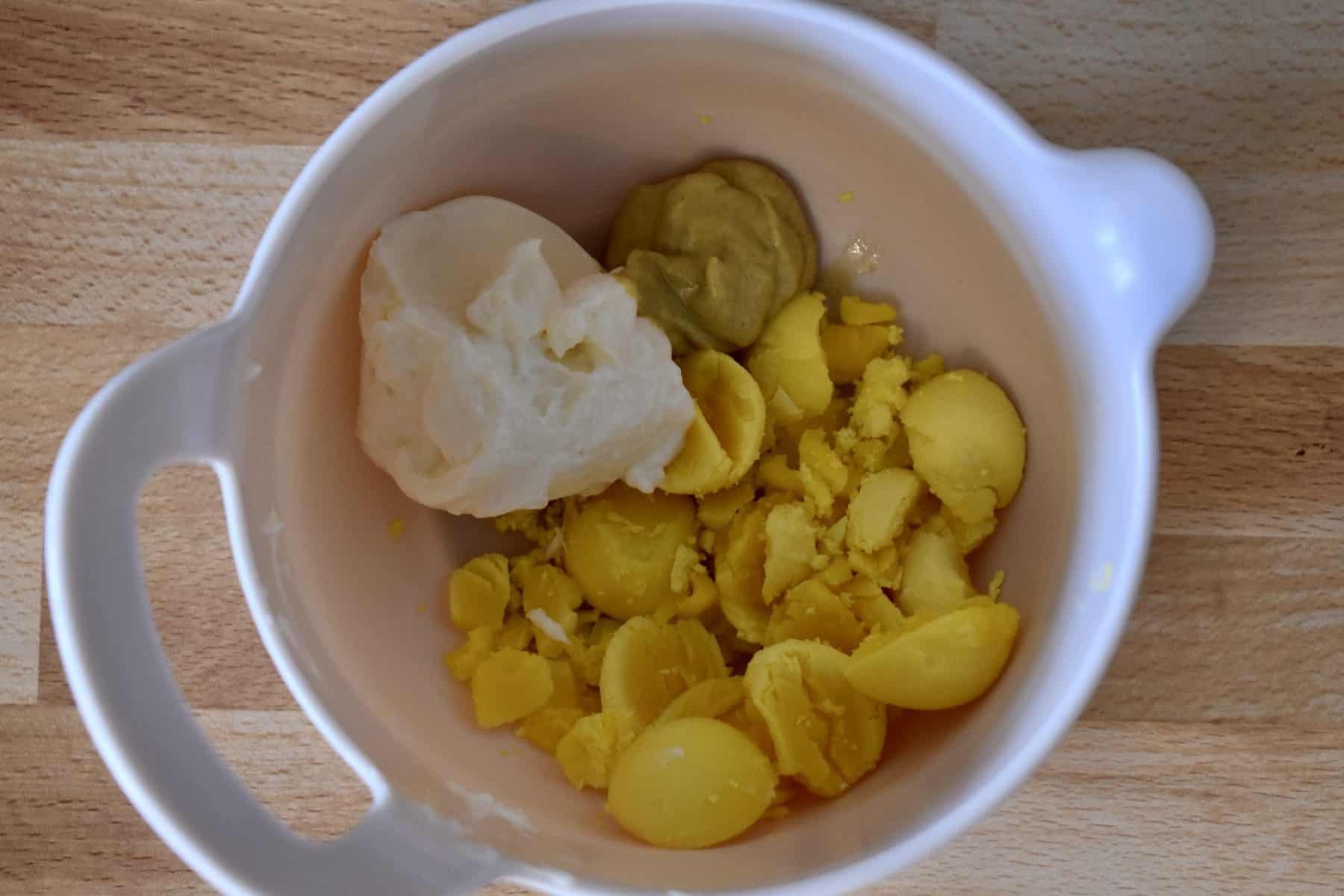 Next, use a handheld mixer to beat together the egg yolks, mayonnaise, and dijon. Using the mixer will make sure your egg yolks are smooth and creamy when you fill the eggs.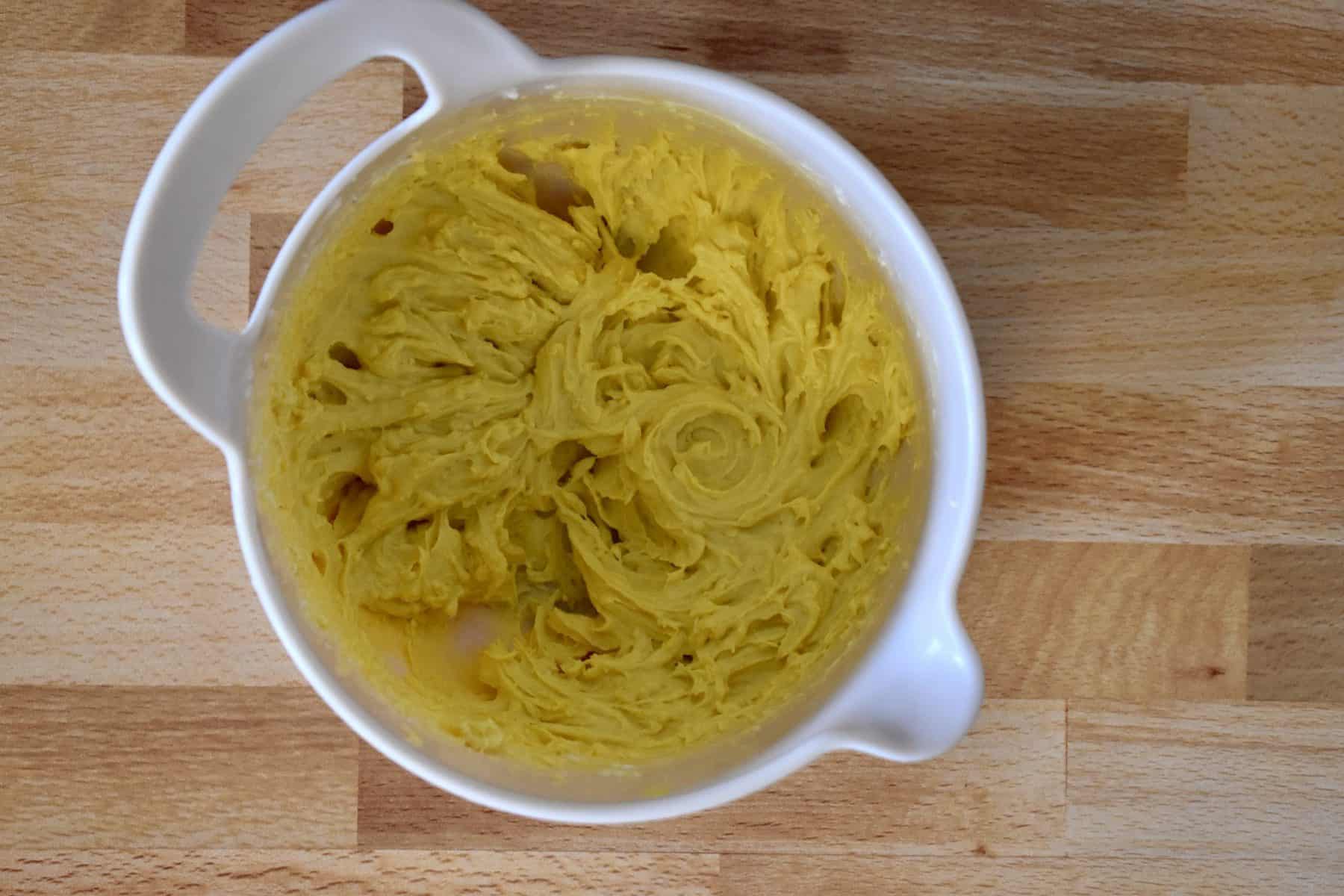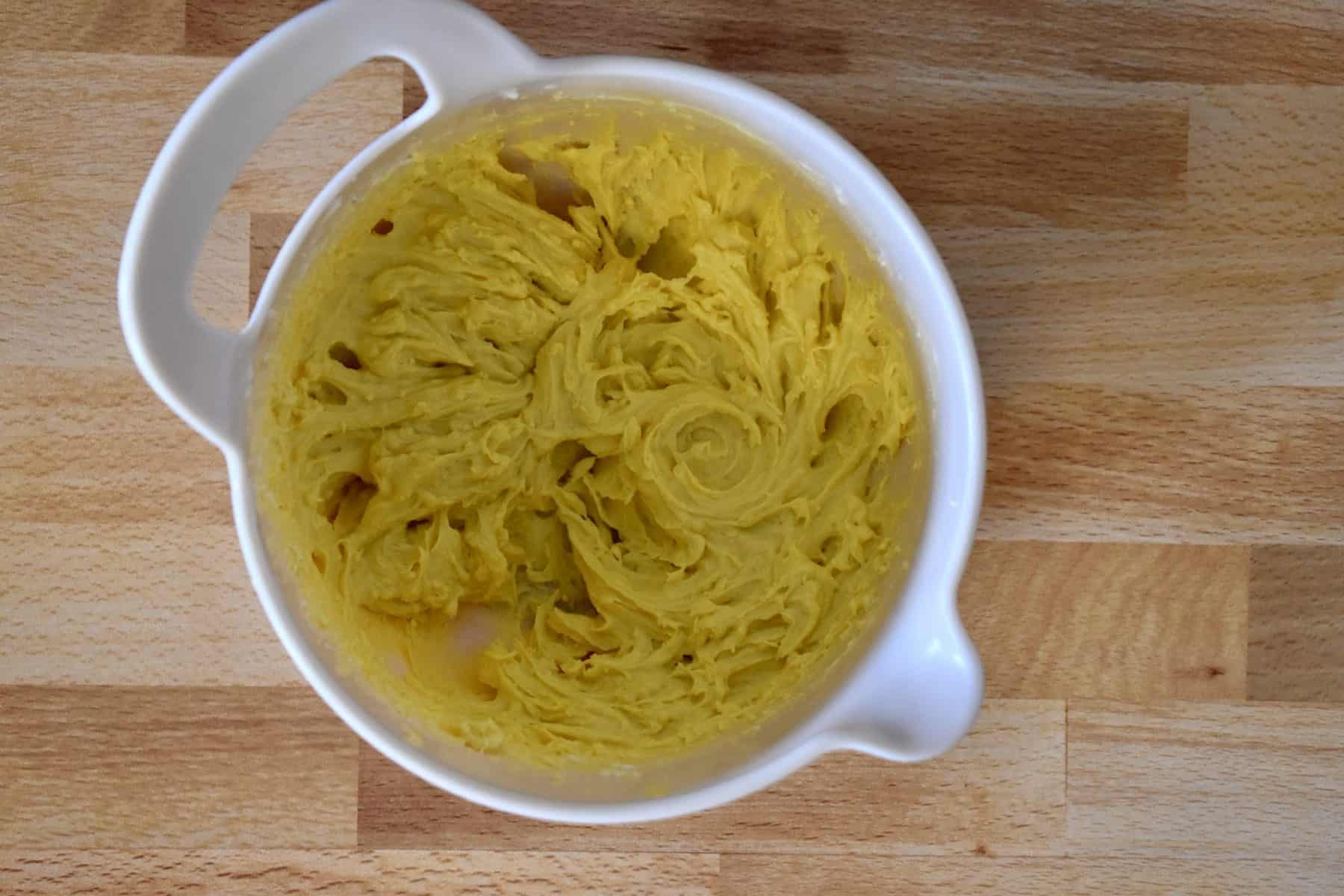 Then, add in the diced salami, grated parmesan, and diced green onion. Mix until well combined.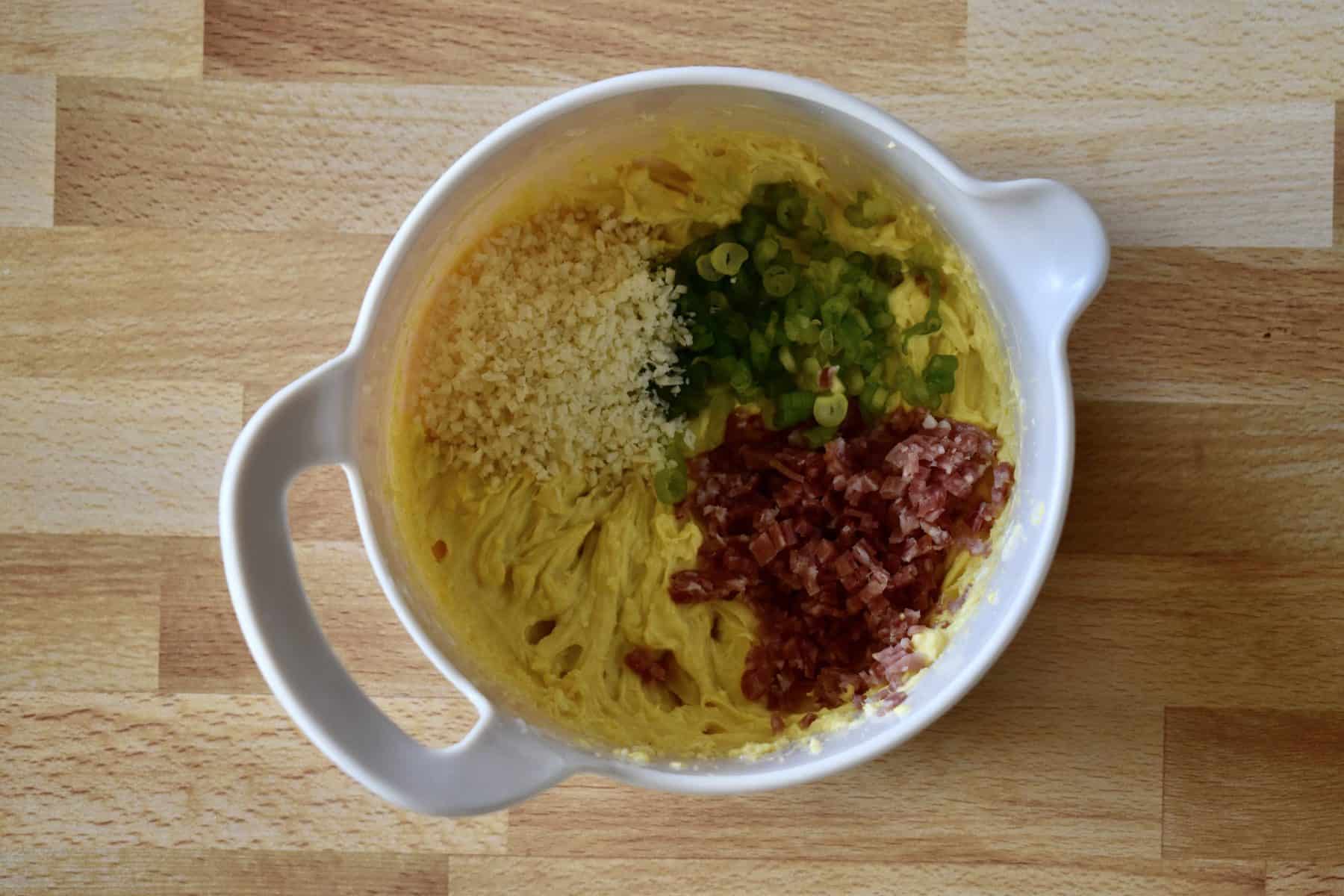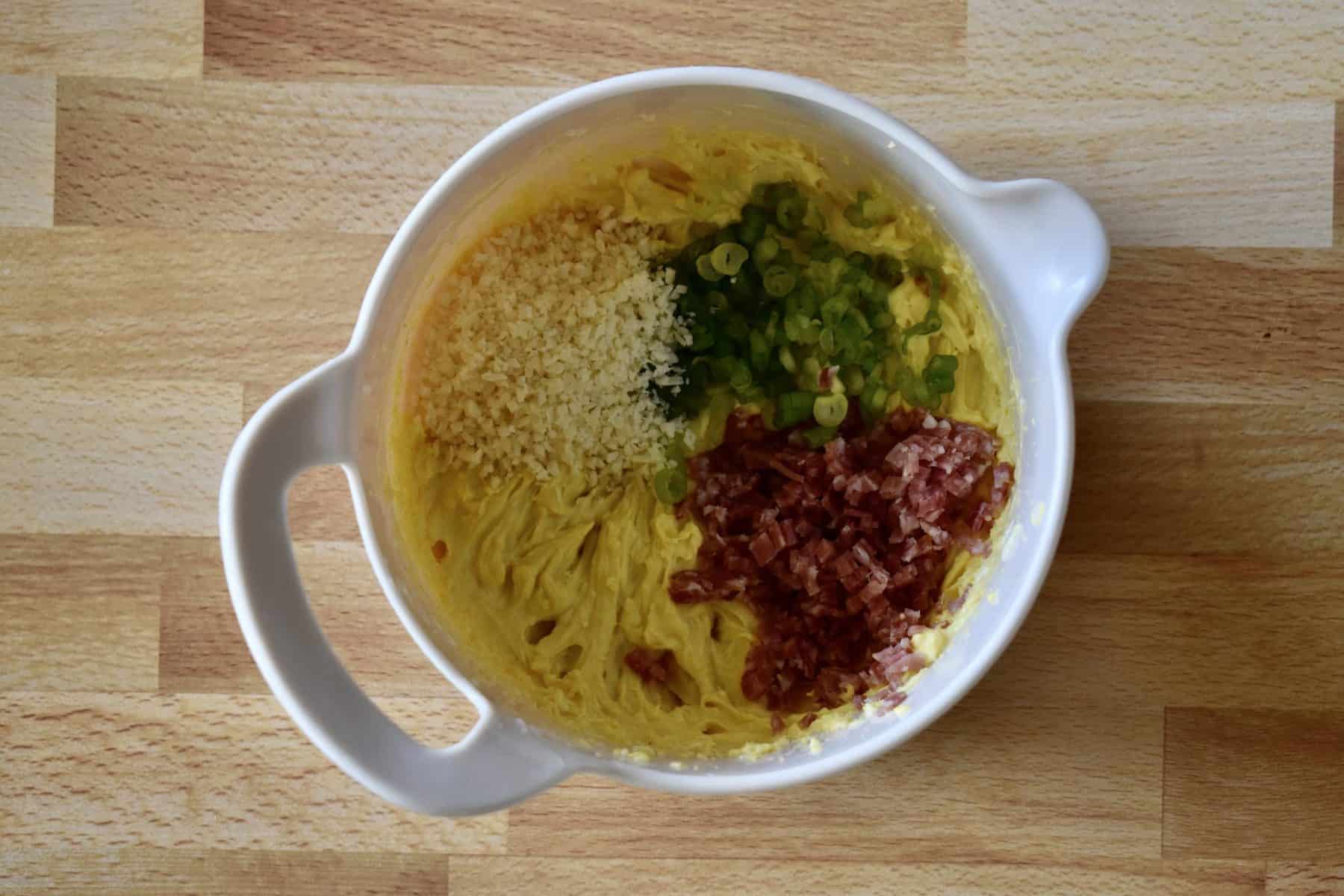 At this point, you can spoon the filling into the egg whites. Alternatively, you can place the filling into a piping bag fitted with a star attachment and pipe the filling into the egg whites.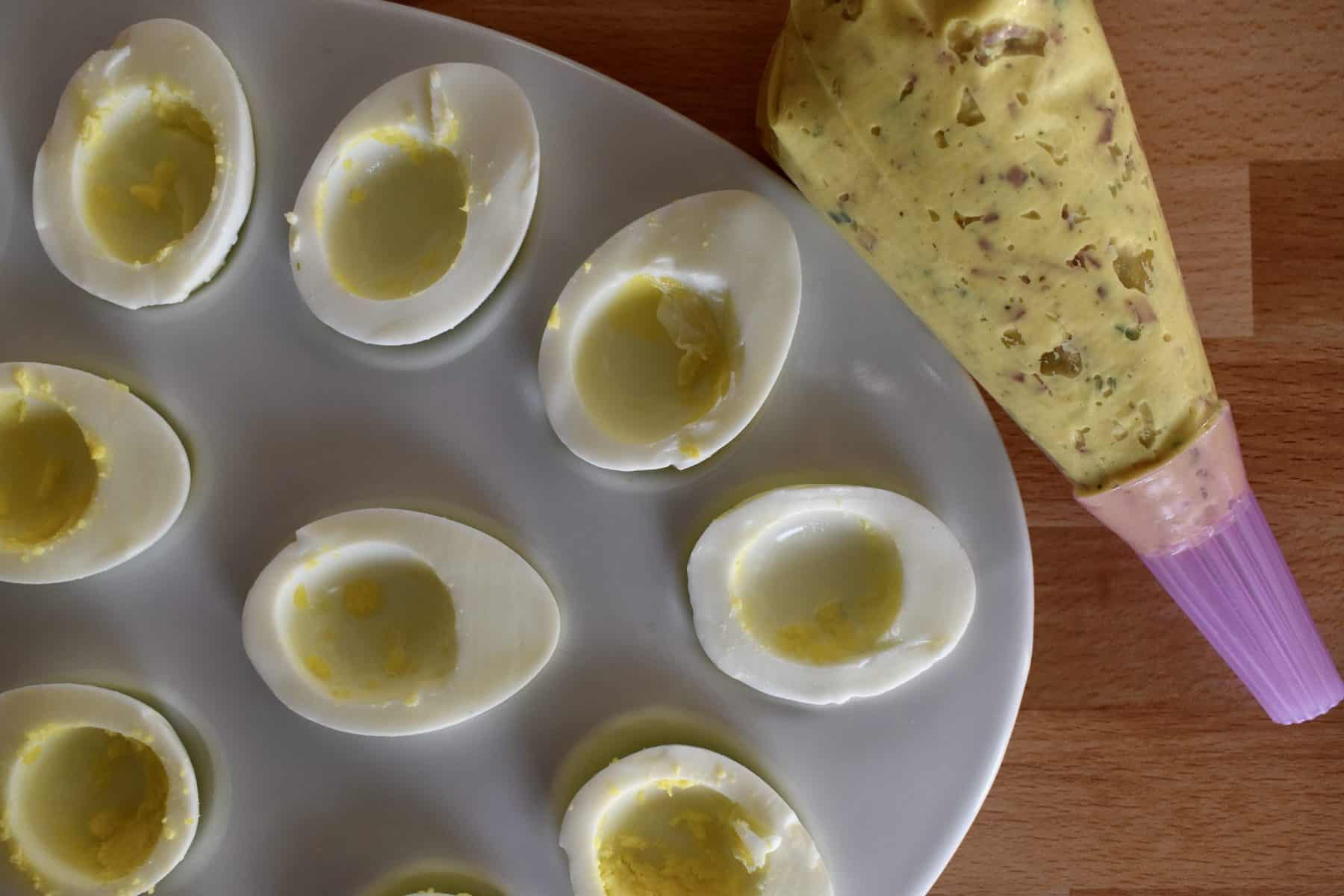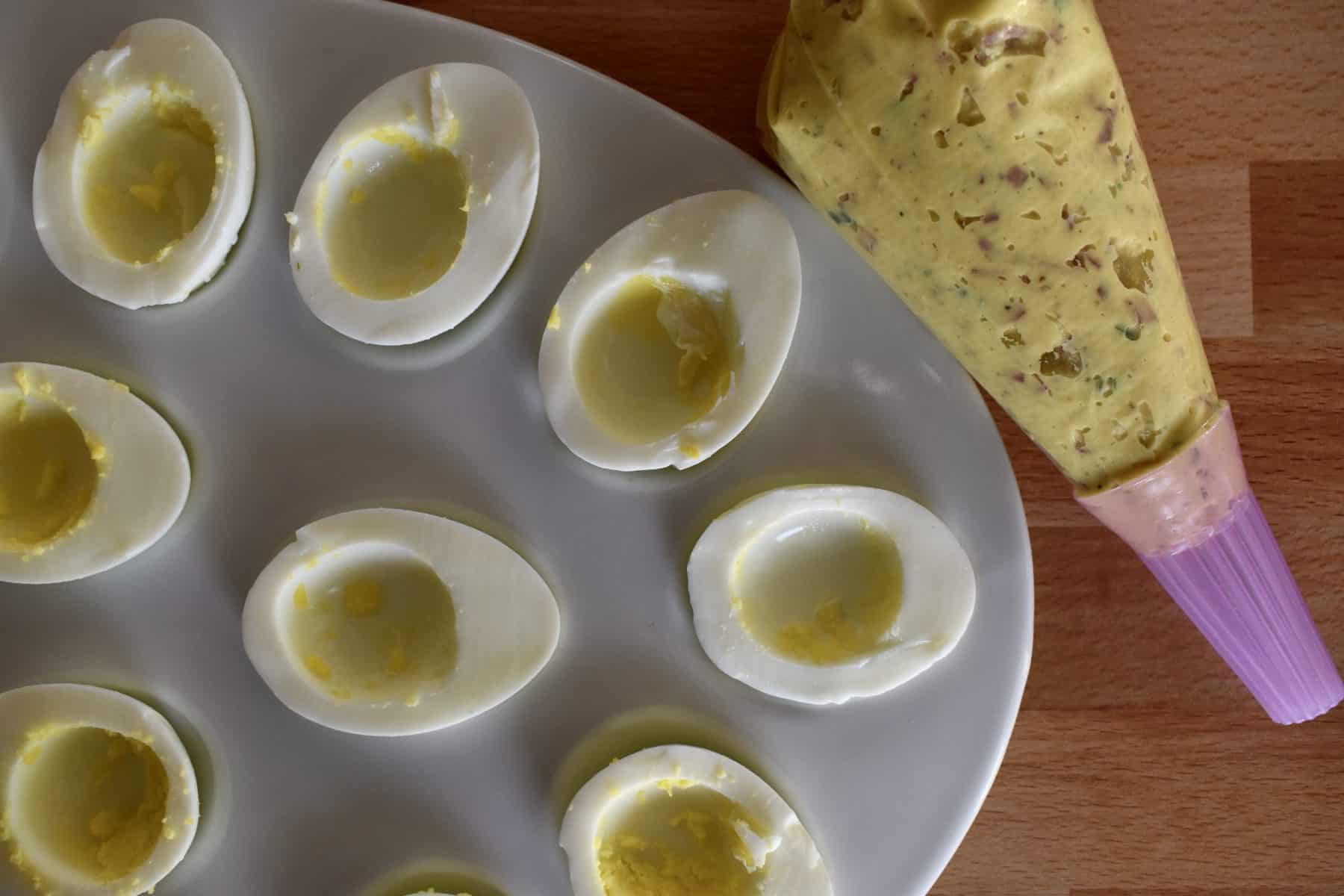 Lastly, garnish with a sprinkle of chopped green onion and salami if desired. You can make these eggs up to a day in advance, just cover and refrigerate.
Italian-Inspired Appetizers
If you love all things Italian, be sure to check out these other Italian-inspired appetizers for your next get together:
Italian Antipasto Pinwheels with Salami & Pepperoncini
Asparagus Tart with Lemon and Ricotta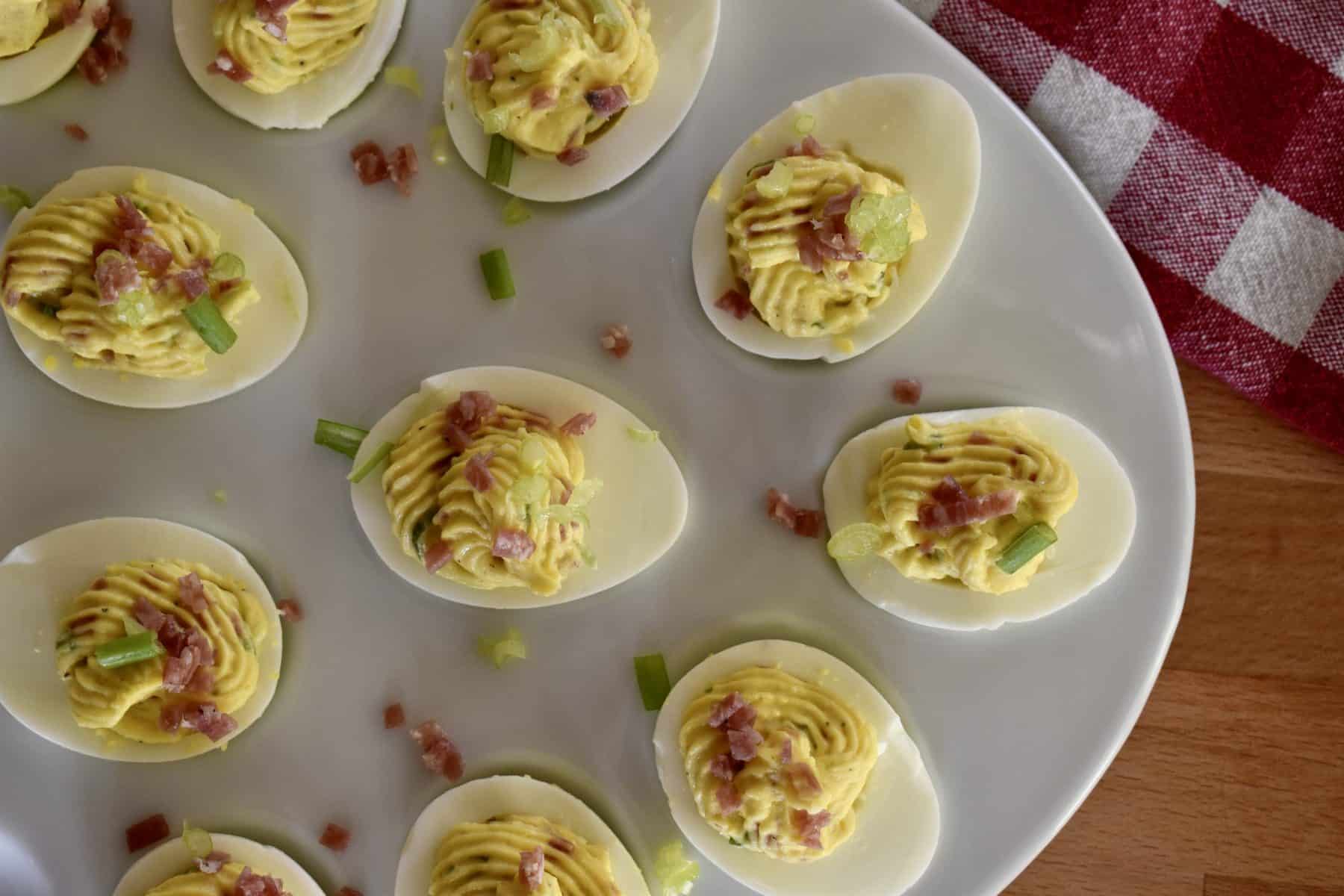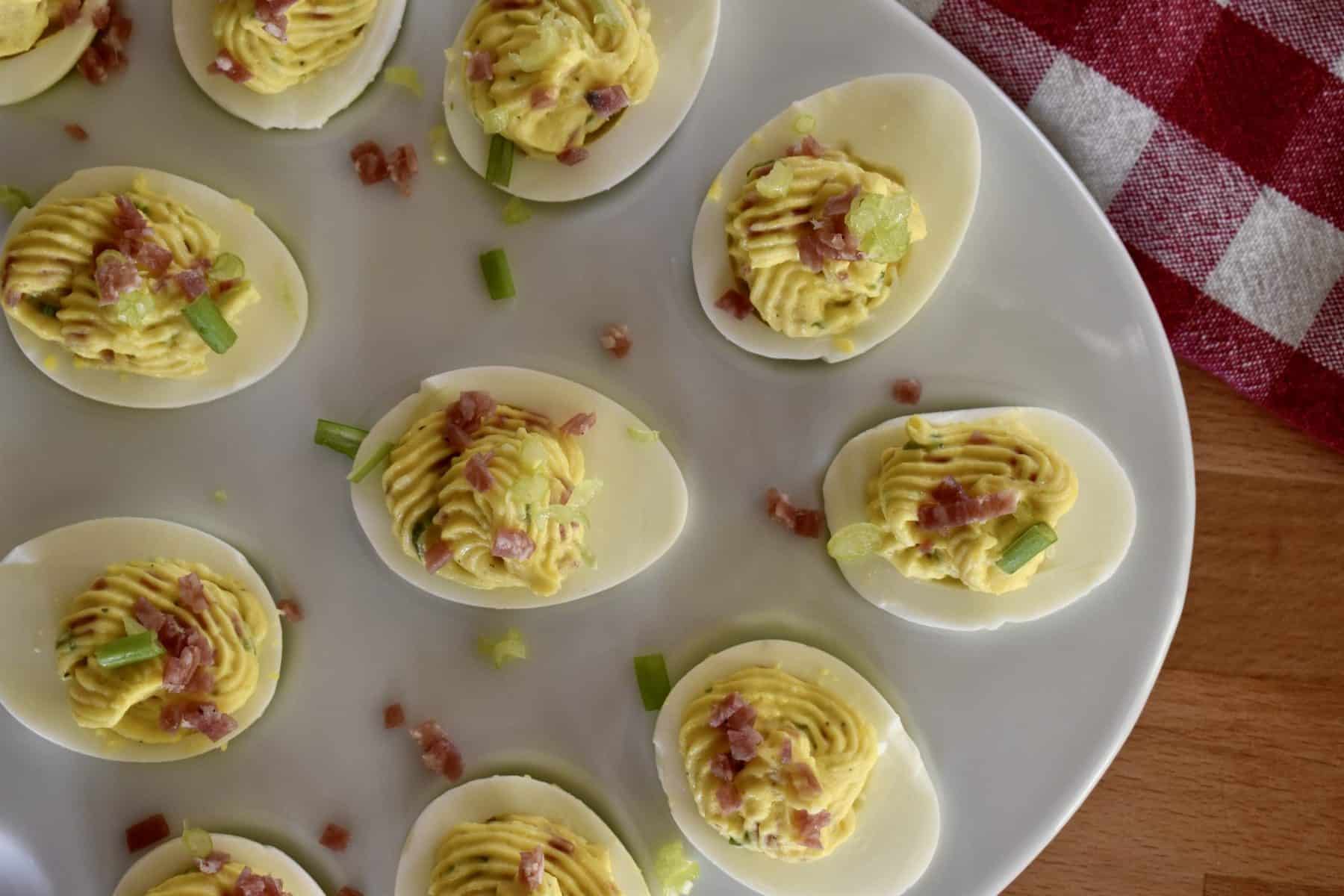 I hope you love this simple and delicious recipe for Italian Deviled Eggs. Be sure to comment below if you try them. Enjoy!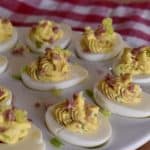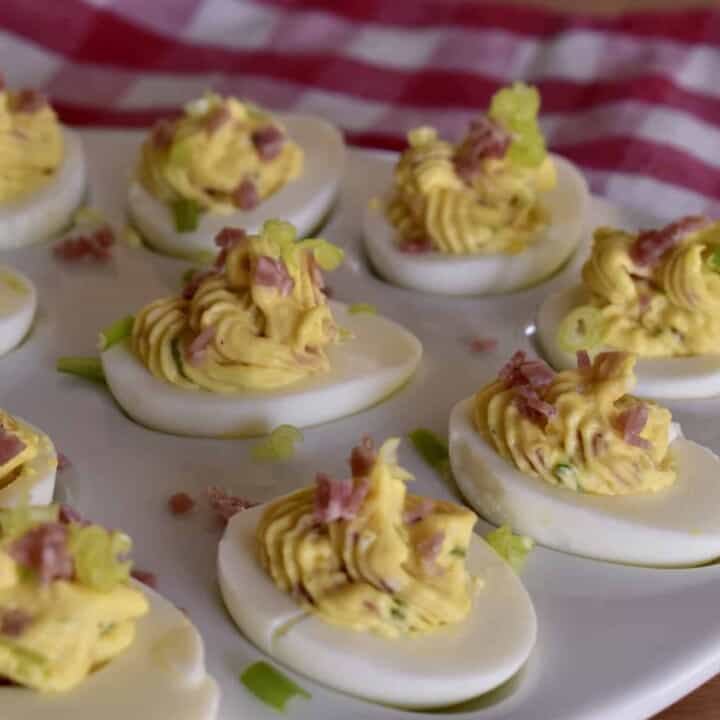 Print Recipe
Italian Deviled Eggs
Italian Deviled Eggs with salami and parmesan are fun twist on traditional deviled eggs. Change up your deviled eggs with this tasty Italian-inspired version.
Ingredients
6

large

eggs

¼

cup

mayonnaise

1

tablespoon

dijon mustard

¼

cup

salami, finely diced

2

tablespoons

parmesan, grated

1

tablespoon

green onion, finely diced

salt and pepper to taste
Instructions
Place the eggs in a single layer in a saucepan and cover with enough water to completely cover the eggs. Heat on high until water begins to bubble, then bring to a simmer and cover. Cook for 10 minutes. Remove from heat and immediately submerge eggs in ice water to cool. 

Crack the egg shells and carefully peel the shell off under cool running water. Slice the eggs in half lengthwise and remove the yolks to a bowl. Set the egg whites on a tray, cut side up.

To the yolks, add in the mayonnaise and dijon mustard. Use either a handheld mixer or whisk to mix, making sure the mixture is smooth. Stir in the diced salami, parmesan, and green onion.

Either spoon the filling mixture into the egg whites, or place the mixture into a piping bag fitted with a star tip to fill the eggs. Garnish with diced salami and green onion if desired.
Nutrition